Pressure cooker carnitas with bold flavors of salsa verde and plenty of seasonings will become your new favorite Instant Pot or Ninja Foodi pork dinner.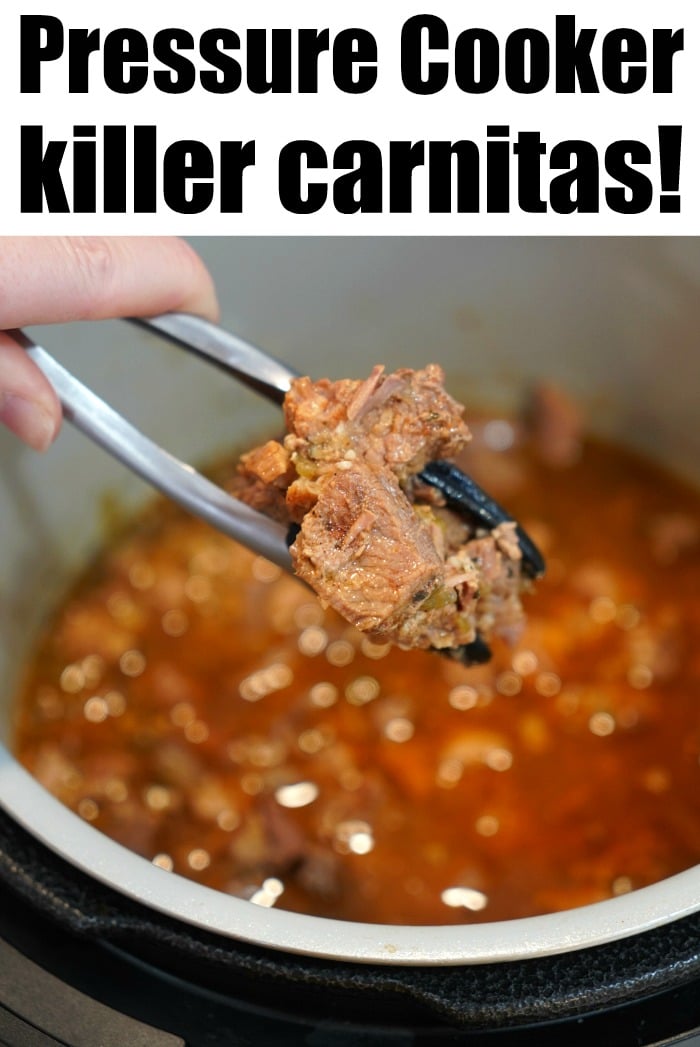 These pressure cooker carnitas came about quite by accident. Using what I had in the house I made some of the most amazingly tender pork in my Instant Pot. You've gotta' try these.
It was one of those days where I had defrosted a pork roast and realized it needed to be cooked. Thought about what we had in the fridge that would bring all the flavors to the next level and threw it all together.
When my family came home everyone said it was better than any shredded pork they'd had at any restaurant which meant it was a success!
It was such a hit I thought I'd share it with all of you.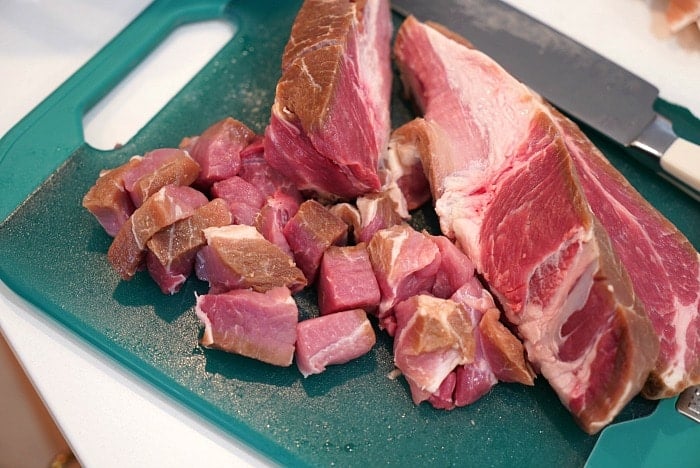 You can really call this whatever you like. It did have a Mexican flavor to it with the salsa verde I used so the closest thing I could compare them too would be Instant Pot carnitas.
What cut of meat is carnitas?
Carnitas are the Mexican version of pulled pork really. It's traditionally made with a pork shoulder, sometimes called a pork butt.

This is usually used because of the higher fat content which helps the meat stay super tender and juicy when it's cooked.
I used a pork roast because that's what I had on hand and it came out just as amazing.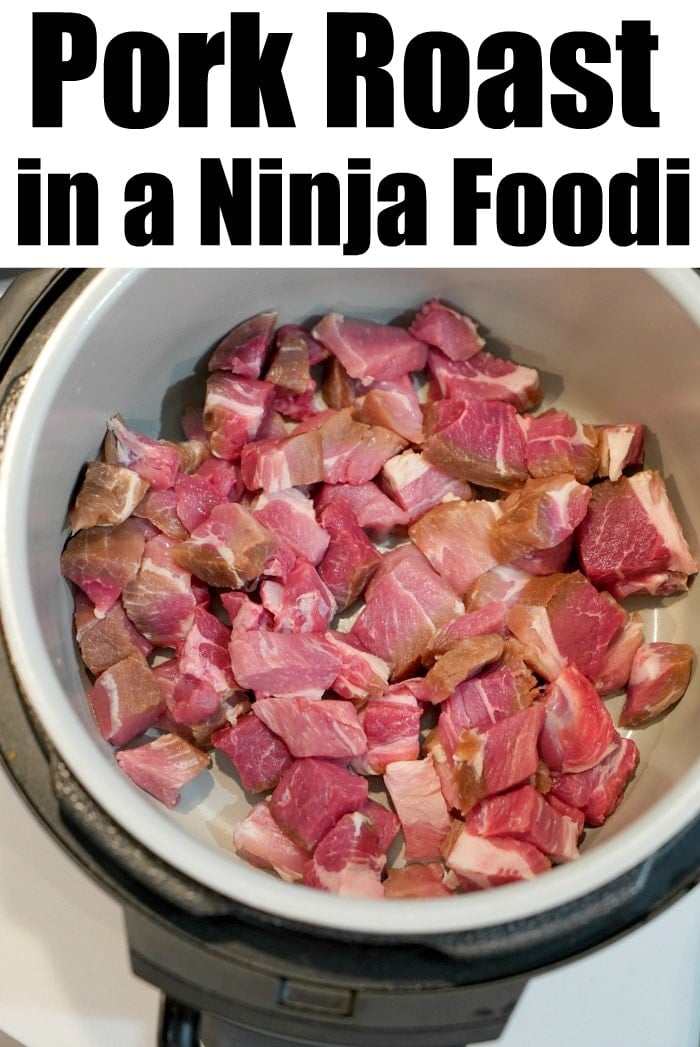 Are carnitas healthy? Well that depends. The fat content is a bit higher than other meats but it is a high protein meal that's packed with TONS of flavor. All in moderation I say.
This is what I used to make our pressure cooker carnitas
2.5 lb. pork roast

bone removed
some fat discarded
cut into cubes

This is the salsa verde I used
Onion diced
Minced garlic

3 tbsp or 5 fresh garlic cloves diced

Chili powder
Salt and pepper
Oregano
If you notice there is no cooking liquid per say added. That is okay! There is moisture in the salsa and when cooked the meat emits liquid as well so there's plenty when done.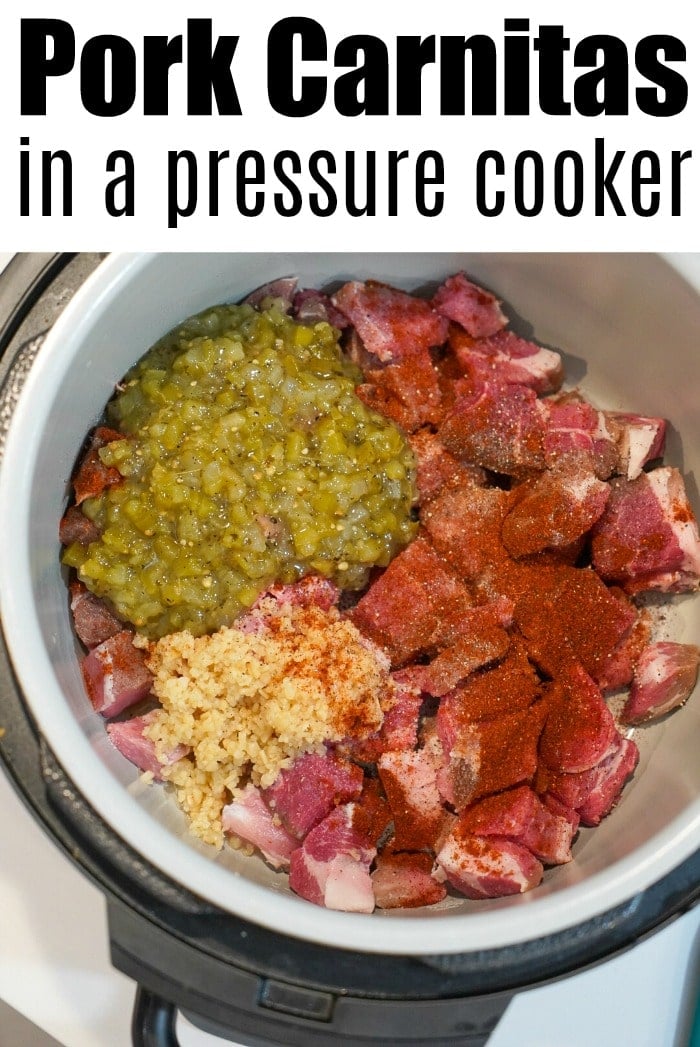 I used my Ninja Foodi pot to make this batch which worked fantastic. The only prep work is just cubing the meat, the rest is just thrown in and stirred together before setting it to pressure cook.
Mine had one bone in it which I removed.
Once I added everything in as you see below I put that bone back in and when it was dinner time gave it to our puppy (she was in heaven).
Feel free to leave all of the fat on and cube it into 1×1″ pieces, or remove some which is what I did.
Can you use pork chops for carnitas? Not really. You need a fattier piece of meat like the pork shoulder or roast because it has fat that will render down well and make it really tender with tons of flavor. Pork loin and pork chops are pretty lean.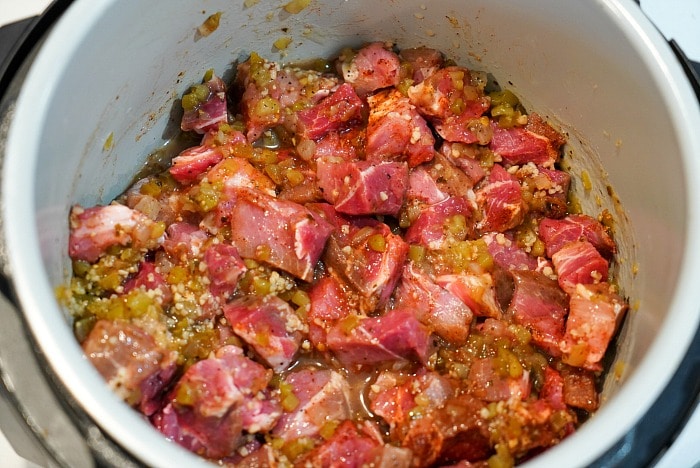 Here are the basic steps to follow to make these Instant Pot pork carnitas
Cut the pork into 1×1″ pieces and put into your electric pressure cooker

I would recommend this non stick pot if you don't already have one

Throw all your other ingredients inside and stir everything together so the meat is nice and coated.
Close your pressure cooker lid and seal your steam valve. Set to 25 minutes on high pressure for cooking time.
Allow steam to naturally release for 5 minutes before doing a quick release.
Remove lid and use forks or your tongs to shred the meat into the sauce.
If you want some of the liquid to evaporate set your pot to saute for about 5 minutes, then turn off.
Serve inside tortillas with toppings or on top of a bed of pressure cooker rice like you see here.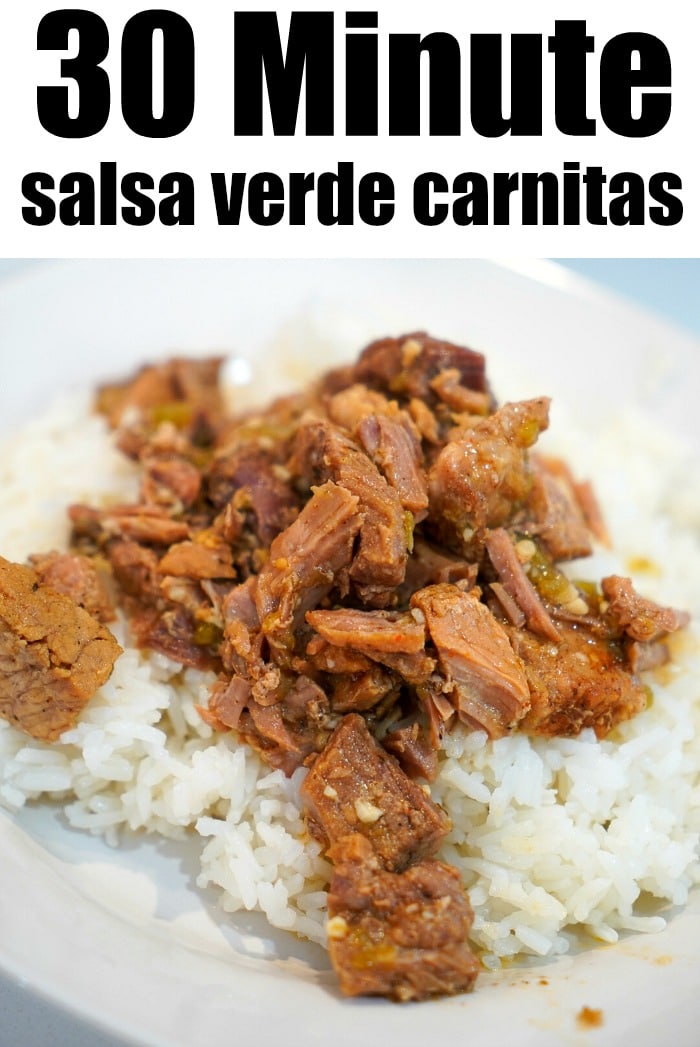 What can I make with pork carnitas meat?
They are so versatile! You can fill any taco or burrito with this, make pork quesadillas, OR use them as a topping for nachos!
Include them in a salad like this Chipotle Carnitas Salad! Serve them with the typical onion/cilantro topping typically seen served on Mexican food trucks OR a good Guacamole or Pico De Gallo!
What do you serve with carnitas tacos?
Put inside warm corn tortillas with chili verde. Serve along side air fryer empanadas. Or you can pile up on a plate with a side of vegetables for a low carb keto dinner.
Do you put cheese on carnitas?
If you ask us, cheese goes on everything! It is not typically served with it though. Put on top of a bed of refried beans with grated cheddar cheese. Place coriander, lime, onion, tomato and avocado onto a plate.

Or serve inside baked potatoes topped with red tomato salsa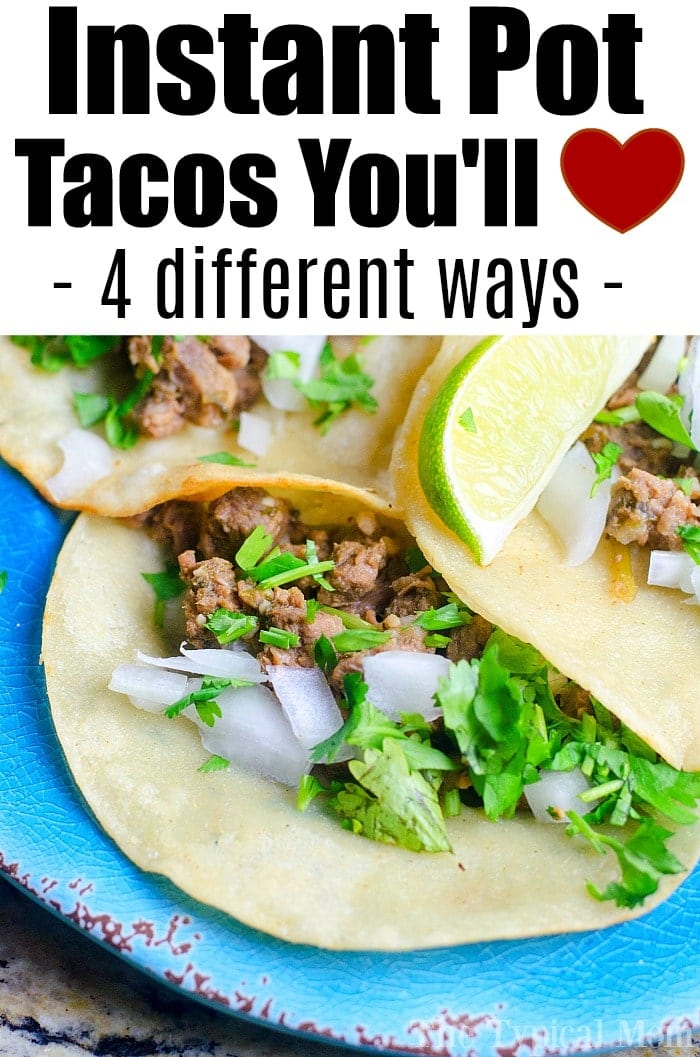 What do you eat with tacos?
First off you can make Instant Pot tacos a variety of ways, oh let me count the ways!
Black beans on the side is a given
Coleslaw gives them a fresh cool ingredient amongst the heat
Brown or white rice is a cheap option
Throw a pot of Instant Pot corn in for just 2 minutes and enjoy
Chips and salsa always works
Of course if you really feel like you need to sear the pork beforehand to get those crispy bits you can set to saute after you dice it up. Add a bit of olive oil and have at it, or rub with a bit of oil, set on a baking sheet for about 15 minutes to crisp them up too.
You can also cook these all day on low in your slow cooker but I'm all about fast!
Want more easy recipes and tips from The Typical Mom blog? Sign up for my free newsletter, and follow me on Pinterest!
***** If you LOVED this recipe give it 5 Stars below and let everyone know what you thought about it. 😉
Pressure Cooker Carnitas
Pressure cooker carnitas with bold flavors of salsa verde and plenty of seasonings will become your new favorite Instant Pot or Ninja Foodi pork dinner.
Instructions
Remove bone and cube pork into 1×1" pieces, put them into your pot.

Add all other ingredients and stir together so meat is coated.

Close pressure cooker lid and seal steam valve and set to high pressure for 25 minutes.

Allow for a natural release of steam for 5 minutes, then release the rest quickly.

Lift lid and use forks or tongs to shred meat (will fall apart). If you want some of the liquid to evaporate you can set pot to saute for about 5 minutes and then serve inside tortillas or on top of rice.
Nutrition Facts
Pressure Cooker Carnitas
Amount Per Serving (3 oz)
Calories 224
Calories from Fat 81
% Daily Value*
Fat 9g14%
Cholesterol 91mg30%
Sodium 1153mg50%
Potassium 612mg17%
Carbohydrates 4g1%
Protein 29g58%
Vitamin A 384IU8%
Vitamin C 2mg2%
Calcium 29mg3%
Iron 2mg11%
* Percent Daily Values are based on a 2000 calorie diet.