This is the most amazing caramel apple pecan Instant Pot coffee cake! Bake it in the oven or in your pressure cooker with some coffee for the perfect breakfast. Instant Pot coffee cake comes out moist with all of the flavors locked in and I love it so I can bake during the summertime and not heat my house up!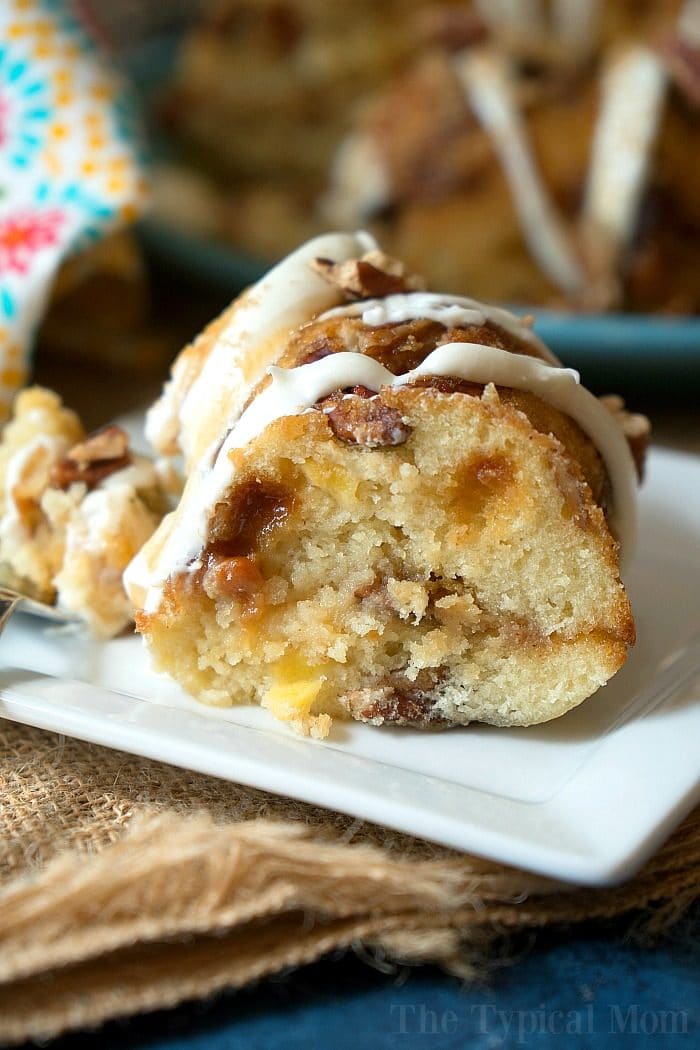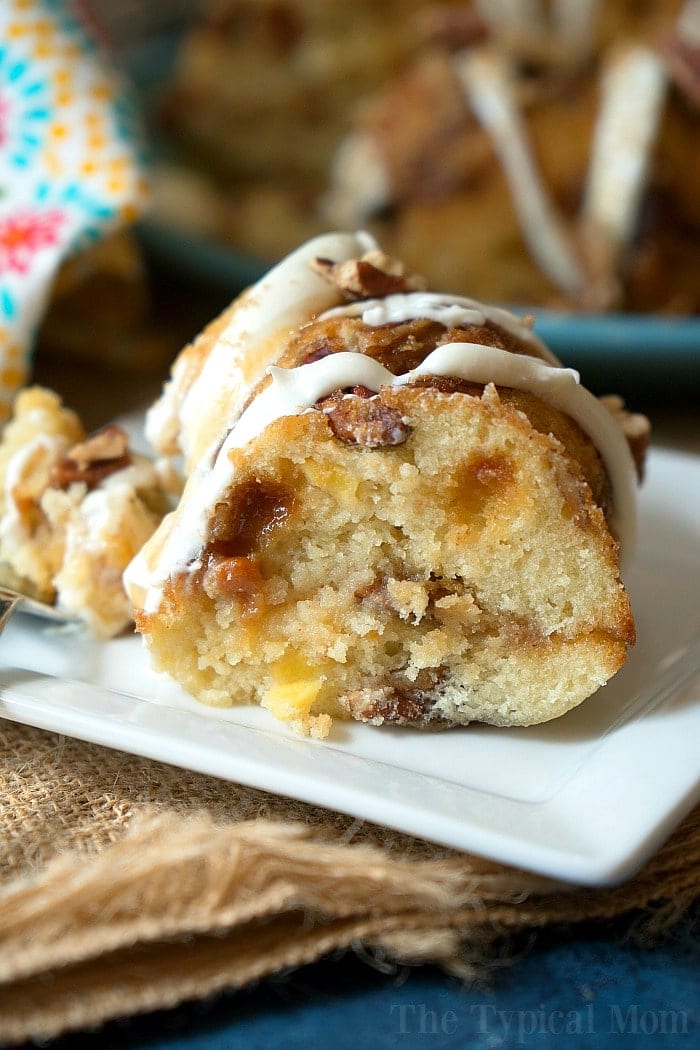 If you love those few moments in the morning when it's quiet and you can sit down to relax a warm cup of coffee (caramel is my fave) and a moist piece of coffee cake I've got you covered! Ok, so I don't always get a moment of silence in my house with three girls getting ready for school, but I always try to take a moment to get going for the busy day ahead. This caramel apple pecan Instant Pot coffee cake is such a perfect pair with my cup of coffee in the morning that I just had to share it with you, it's one of our favorite dessert Instant Pot recipes…let us know what you think. 😉 This is a sponsored conversation written by me on behalf of Folgers®. The opinions and text are all mine. (originally published 9/17)
Ok so my life is a little bit hectic….but isn't every moms??? Anything I can do to make my mornings a bit smoother I'm all for. Coffee is a given. Period.
GOOD coffee with natural flavors I love, like Folgers® Simply Gourmet™ Natural Caramel are my favorite because I enjoy added sweetness to just about every beverage I drink.
Pair that with this caramel coffee cake and "OH HELLO MORNING!" 😉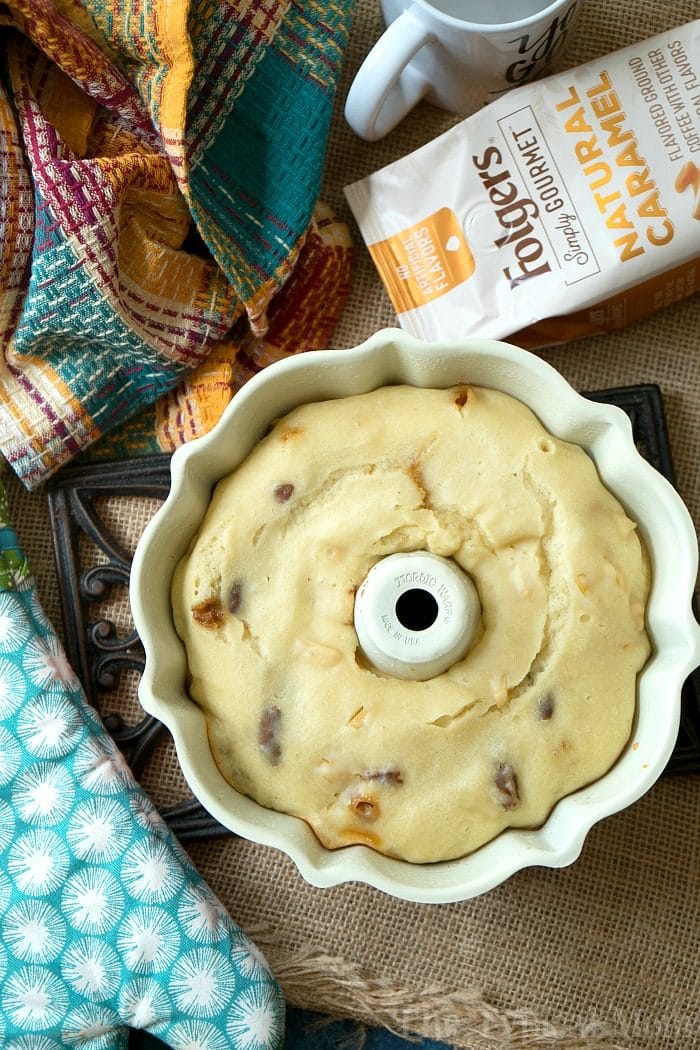 So here's how you make it, well the coffee cake that is. I don't think I need to show you how to make a pot or cup full of coffee. If you're like me and it's just part of your morning routine you've got that part down pat right??? As for this caramel apple pecan Instant Pot coffee cake, it's simple really.
You can bake this in the oven as well but if you have one of these fancy pressure cookers at home I will tell you that "baking" sweet breads in it makes them come out incredibly moist, my children and I agree that it is the only way to go really anymore.
Another reason why I love using my Instant Pot instead of my oven is when it's 100 degrees outside, like today, I am NOT about to turn on my oven. Sorry. Not happening.
It cooks quickly too, taking just 30 minutes total to come out perfectly moist with the little balls of caramel I baked within it popping and starting to ooze out….oh yes!
The picture above is once it is done and taken out of my pressure cooker.
Yes it doesn't look like a traditional coffee cake right now but once you flip it upside down on to a plate so everyone can share, it's just how you'd envision a caramel coffee cake to look, the trick is using this mini bundt pan below and allowing it to FULLY cool inside the pan so it can stiffen up and stay in tact when it is gently flipped over.
Here's what you'll need to make this caramel apple pecan Instant Pot coffee cake
Flour
Baking soda
Baking powder
Butter
Sugar
Eggs
Sour Cream – really!
Brown sugar
Spices
Optional add ins

Caramel bits
Diced apple
Chopped walnuts or pecans
Almond extract
Caramel sauce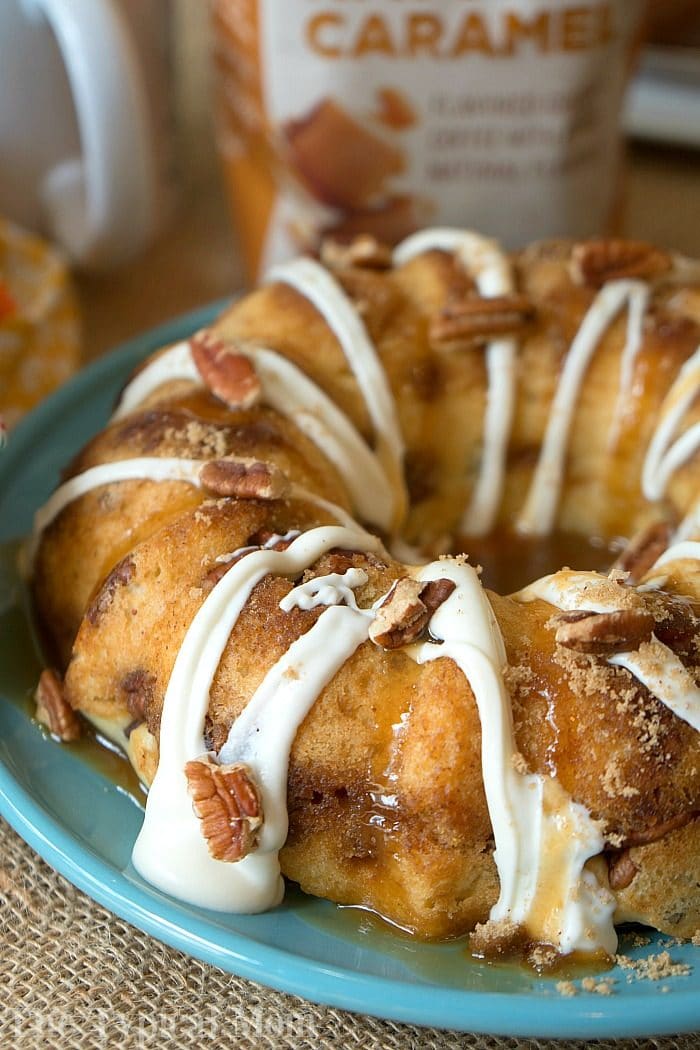 Brew a pot of your Folgers® Simply Gourmet™ Natural Caramel coffee, grab a cup, drizzle some melted frosting on your caramel apple Instant Pot coffee cake, add some caramel sauce, sprinkle and a few more pecans on the top and you've got yourself the perfect breakfast….or brunch.
Really you cannot go wrong with this combo!
Here's a video showing you how we made Instant Pot coffee cake it and the printable recipe:
Caramel Apple Pecan Instant Pot Coffee Cake
The most amazing caramel apple pecan Instant Pot coffee cake! Bake it in the oven or in your pressure cooker with some coffee for the perfect breakfast.
Ingredients
3

c

all purpose flour

(make sure you spoon into your measuring cup, do not scoop cups up)

1/2

tsp

salt

1 1/2

tsp

baking powder

1 1/2

tsp

baking soda

3/4

c

butter

softened

1 1/2

c

sugar

1

tsp

vanilla

1/2

tsp

almond extract

3

eggs

1 1/2

c

sour cream

2/3

c

apple

skinned and diced

1/3

c

caramel bits

1

c

pecans

chopped

3/4

c

brown sugar

1/2

c

caramel sauce

optional

3/4

c

vanilla icing

slightly melted, optional

1

tsp

cinnamon

1

tsp

nutmeg

1

Instant Pot or pressure cooker

1

6 cup bundt pan
Instructions
Mix flour, salt, baking soda, and baking powder together in 1 bowl.

On low speed mix butter, sugar, vanilla, almond extract, eggs, and sour cream until smooth.

Slowly add in dry ingredients, mix on low until smooth. Gently fold in the apples and caramel bits until well combined.

If using an Instant Pot or pressure cooker spray the inside of a 6 cup bundt pan with non stick spray.

Mix together 1/2 c. brown sugar, 1/2 c. chopped pecans, 1/2 tsp. cinnamon and 1/2 tsp. nutmeg in a small bowl.


Spoon in 1/3 of brown sugar mixture into bundt pan, then spoon in coffee cake mixture until 1/3 full, spread evenly.


Spoon in another 1/3 of your brown sugar mixture on top of batter inside your bundt pan.

Put another layer of coffee cake batter on top of your brown sugar/pecan sprinkles making sure bundt pan is 3/4 full, no more.

Put a piece of paper town across the whole pan, followed by a piece off foil over your bundt pan, then make a sling by rolling up a piece of foil like a bandana and place underneath so there are foil handles on either side to lift it in and out of your Instant Pot.

Put a trivet or small glass bowl inside your Instant Pot.

Pour 2 c. of water around your trivet or bowl.

Lower your bundt pan into your Instant Pot and on top of your trivet.

Close lid and steam valve.

Set to manual, pressure, high, for 25-35 minutes. (if you like a drier coffee cake set to 35, we did 25 and let it sit in the pan to continue to cook and stiffen up and liked it really really moist at 25 min but up to you)

Do a natural release.

Carefully lift bundt pan out using foil sling handles.

Remove foil / paper towel and set on a cooling rack until completely cool. (so it can continue to bake and stiffen up)

Carefully flip over on to a plate.

Serve, or slightly melt some frosting and drizzle over and add remaining 1/3 of pecan mixture on top. Can drizzle caramel sauce over it too and sprinkle more brown sugar and pecan mixture on top too.

This recipe makes 2 small bundt coffee cakes, or 1 large one with a little batter left over that I usually use to make 2 mini loaf pans full of coffee cake layering with this same method. Put mini loaf pans in convection or regular oven at 350 degrees for 28 minutes.

If not using an Instant Pot, make batter as directed, layer as explained in a regular size bundt pan and bake at 350 degrees for about 45 minutes or until slightly firm on top.
Video
Nutrition Facts
Caramel Apple Pecan Instant Pot Coffee Cake
Amount Per Serving (8 oz)
Calories 539
Calories from Fat 216
% Daily Value*
Total Fat 24g 37%
Cholesterol 86mg 29%
Sodium 454mg 19%
Potassium 228mg 7%
Total Carbohydrates 76g 25%
Protein 6g 12%
* Percent Daily Values are based on a 2000 calorie diet.
Fall really is a great time of year to reflect, spend time with family and friends, and enjoy the holidays together. Having an easy recipe on hand that screams fall and pairs nicely with a nice warm cup of coffee is perfect when I have company coming over or I just want to sit down with my family curled up in my favorite blanket, and watch a movie together.
It's these times that make me smile. 😉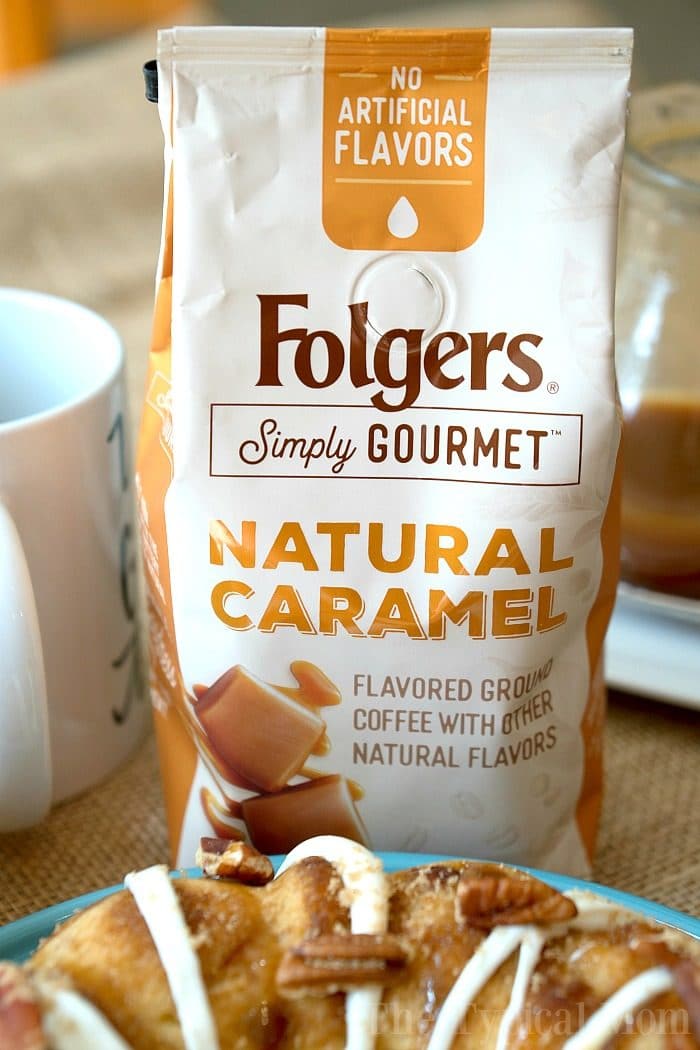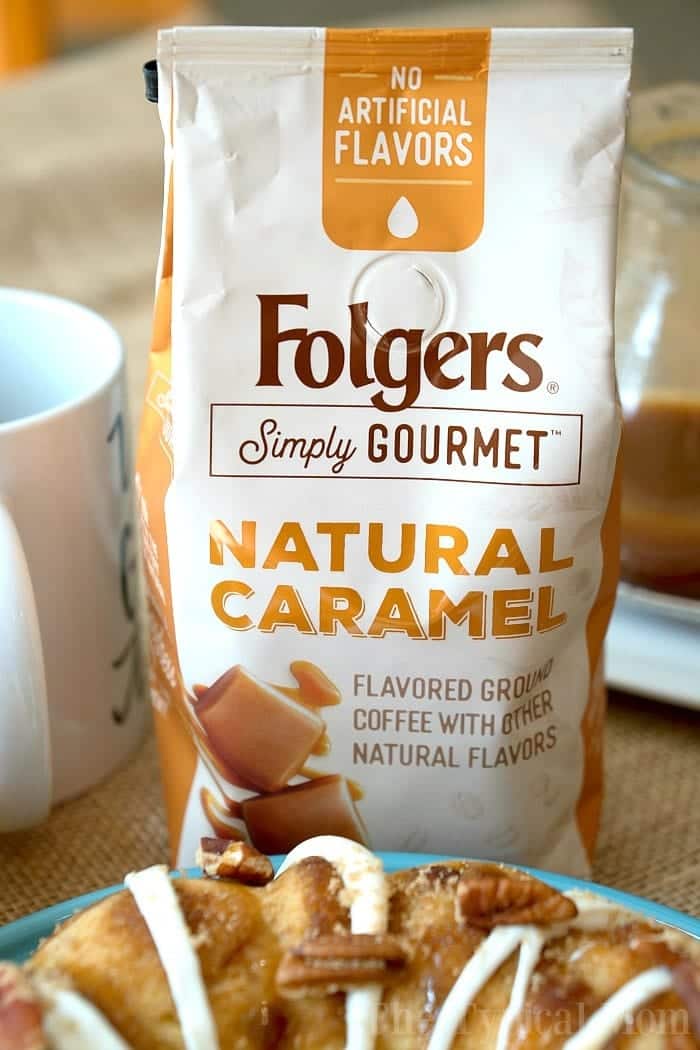 If you've never seen this type of coffee it's part of the Folgers® family you already know and love, called Folgers® Simply Gourmet™ coffee.
Perfect balance of natural flavor and coffee that are great when company comes over, and year round. Visit Folgers® for more information and for recipe details.
This is a sponsored conversation written by me on behalf of Folgers® . The opinions and text are all mine.