Try this 3 ingredient trendy Dalgona whipped coffee recipe! EASY to make this popular TikTok drink everyone is going crazy over. If you loved our frozen coffee recipe I bet you'll love this one too.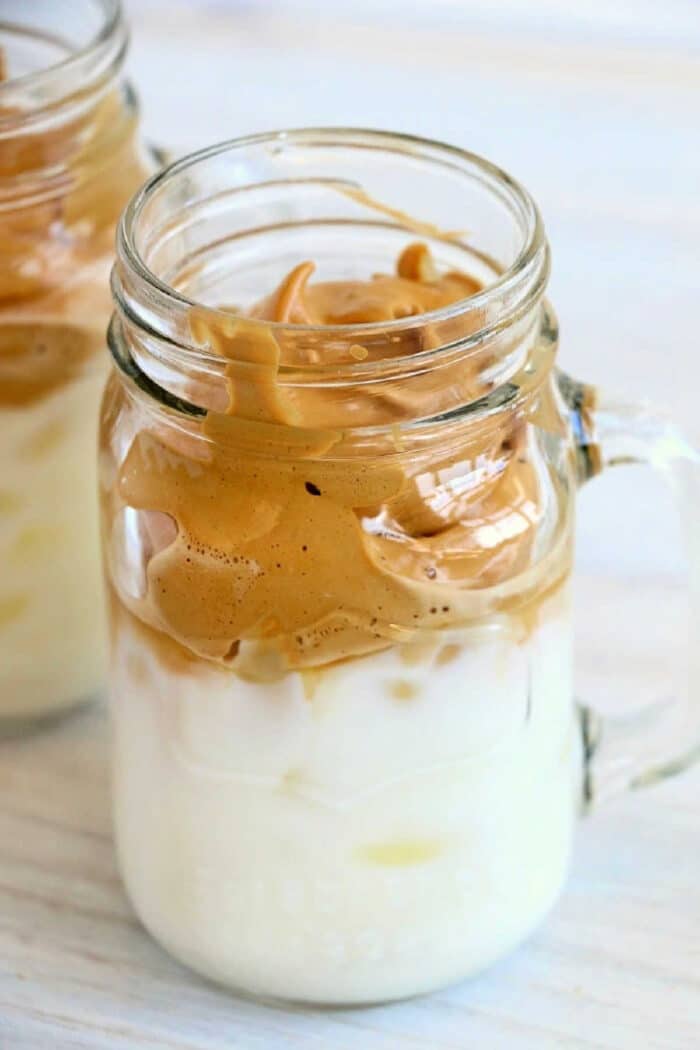 I know you've heard of Dalgona whipped coffee by now right??!! Well you're here so probably so. 😉 If you too want to try this Korean coffee it's easy with instant coffee and sugar! (affiliate links present)
Whipped Coffee Tiktok
If you've seen this pretty foamy cup of caffeine yumminess online, you want to try this too! It really is a site to see and a lot easier to make than it looks like. You can serve as is or add flavoring into the mix as well for an added punch.
Dalgona Coffee Ingredients
Sugar
Milk

use almond milk for a dairy free and lactose free drink

Water
Mini ice cubes are really fun when serving these. I also like using mason jars with or without handles so you can see all the layers and the whippedness. 😉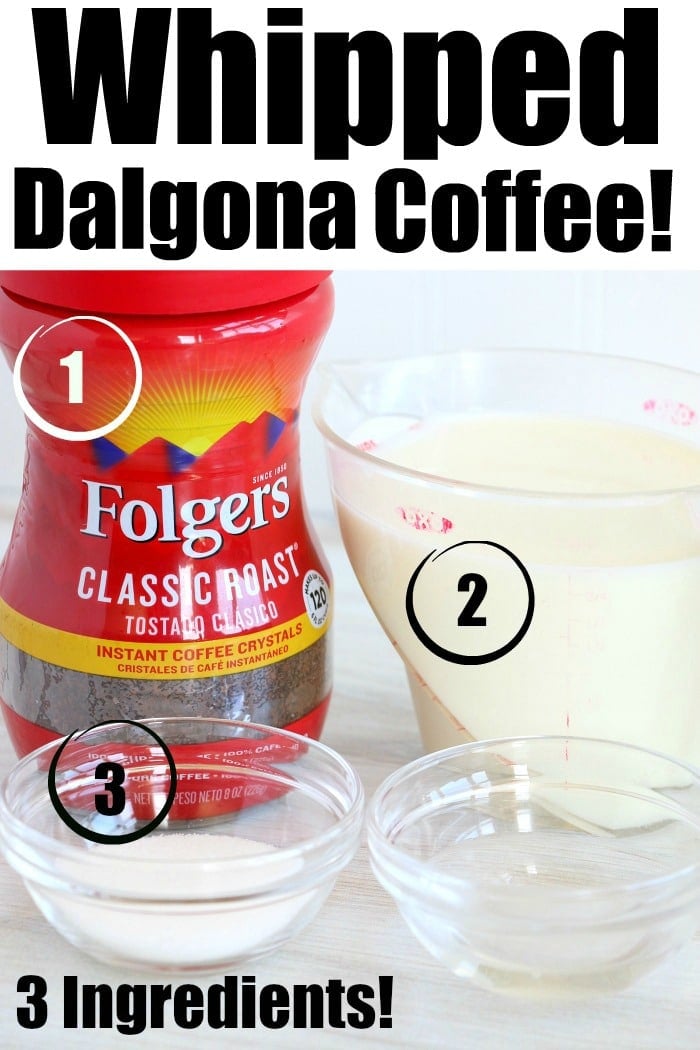 What is Dalgona Coffee?
This trendy TikTok coffee beverage is just made by whipping equal parts of instant coffee, granulated sugar and hot water until it becomes super creamy!!
Then you add cold or hot milk with ice cubes. Occasionally it is topped with more sprinkles of instant coffee, cocoa, whipped cream, crushed biscuits, or even crumbled honeycomb.
What is whipped coffee?
It's another name for this 3 ingredient coffee everyone wants to try. That's right, if you have water, sugar, and instant coffee you too can whip up this cloud like foamy drink and pour it over a glass of milk.
TikTok's Whipped Coffee
First you're going to put your instant coffee, granulated sugar and water into a large bowl like you see here. Using a hand mixer (easiest way to do it) whip it until it is fluffy just like this! It will have the appearance of almost like a meringue or whipped cream texture.
This recipe will make 2 cups full, or mason jars full so get those ready!
Use any type of vessel you like but these are fun and a good size to fit all the yum.
We showed you How to Make Cold Foam for Coffee in the past but this is something beyond that. Frothier, fluffier almost like whipped cream but with a coffee flavor.
Make Dalgona Coffee at Home
Once it forms peaks you've got it just right and can turn your mixer off. Fill your cups or jars halfway full with ice cubes (I like the cute tiny ones) and 3/4 cup of your milk into each one. Then spoon your whipped coffee mixture over the top of that.
How to Make Whipped Coffee
You can garnish it with just about anything but great ones are:
Cocoa powder
Cinnamon
A cinnamon stick is a nice touch
I don't know about you but once my youngest daughter arrived, I needed caffeine in the morning! Now that my girls are older I just enjoy it as a mid afternoon treat and love to make my favorites at home.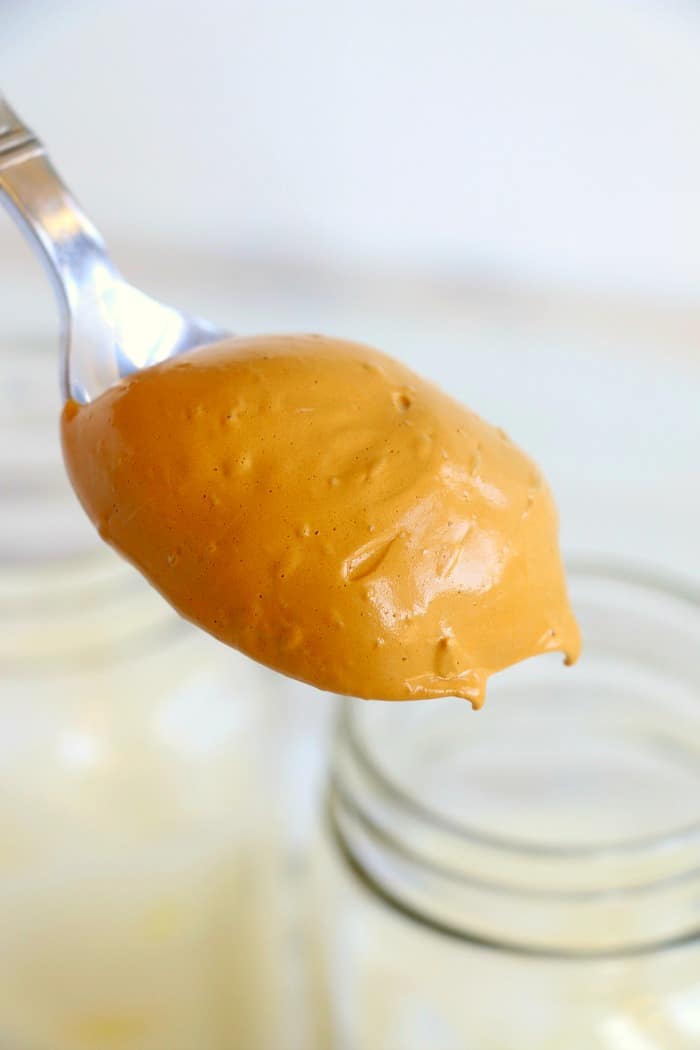 What is Dalgona coffee trend?
If you have tweens or teens like we do they are probably on TikTok and/or Twitter social media channels. That is where it got it's biggest hype! Named for a type of Korean candy is the latest food trend taking over even Instagram channels too.
My oldest daughter was going on and on about this last week and I just had to see what the hype was all about finally!! If you love unique coffee drink recipes then this one is for you.
I mean I am all about making things from scratch.
When I first made this homemade coffee creamer I couldn't believe how much better it was than store bought!
I think you'll agree that this homemade whipped coffee is the same.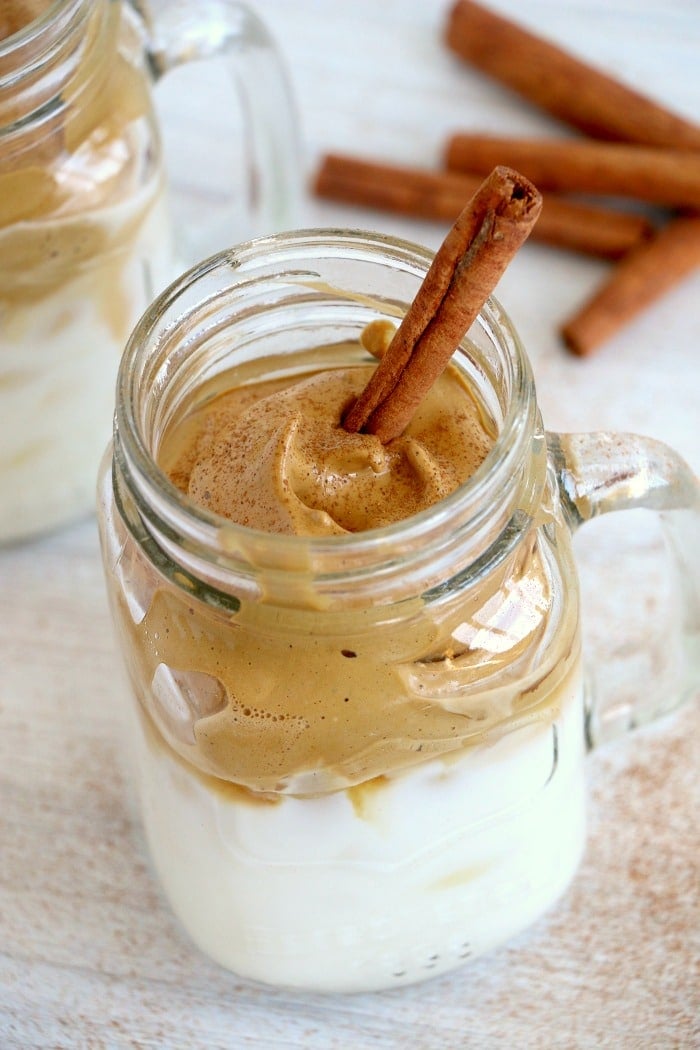 Do you need instant coffee to make whipped coffee?
Yes, it needs to be the instant coffee style, not ground beans. I am sure you already have hot water on hand, and sugar is a staple in our pantry. There is slight variations of course but typically it's two tablespoons of each ingredient.
Yes it is essentially coffee foam with whipped coffee on top and sweetened, but you'll just have to try it yourself. lol
What is fluffy coffee?
Once again, this is another name called Dalgona coffee! Just vigorously whisk instant-coffee powder with hot water and sugar until it becomes frothy, and then plop it atop cold milk, (or almond milk) and it's done! It went super viral on April 1 2020!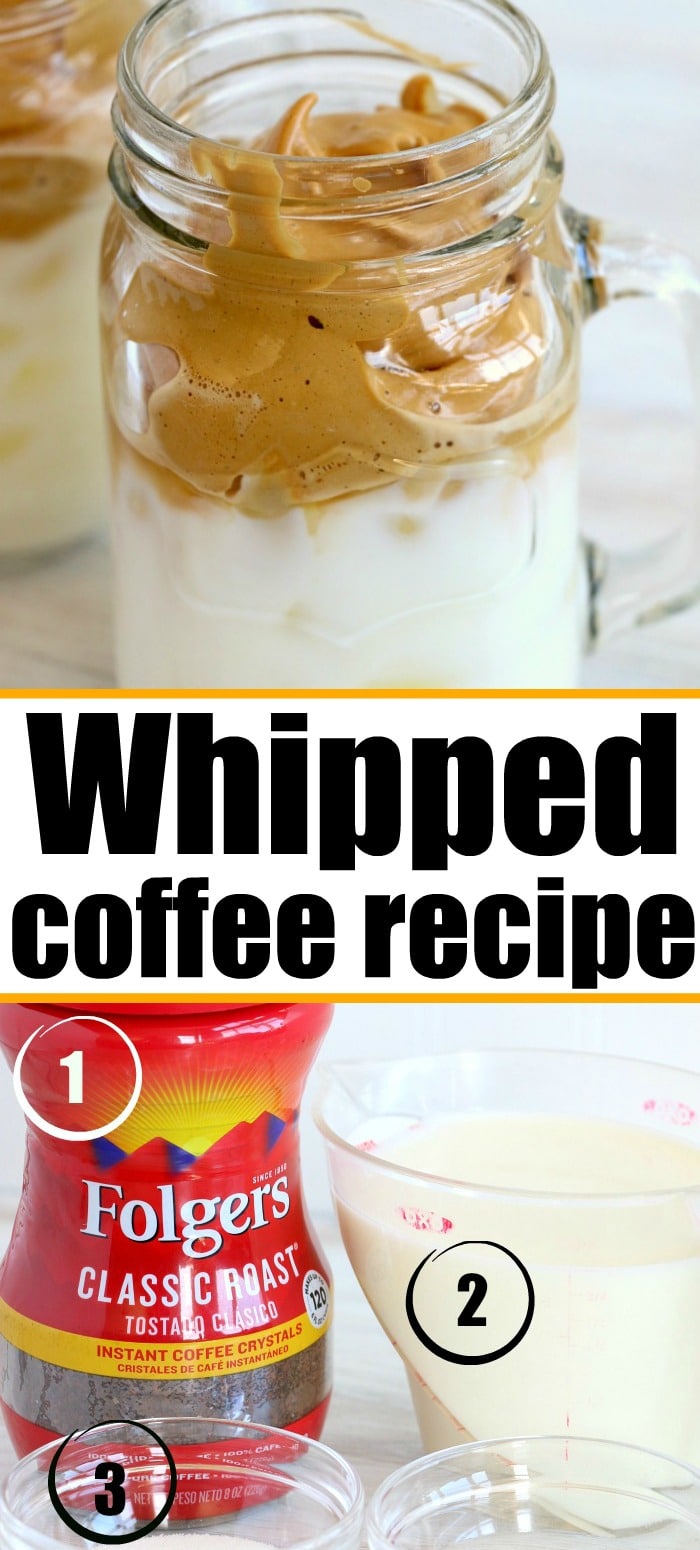 Who invented Dalgona coffee?
Actor Jung Il Woo was said to be the one who stumbled upon in a coffee shop in Macau and raved about it's taste. Said to be whipped 400 times it started to be talked about in early 2020 and spiked in popularity when people were told to self isolate for social distancing purposes.
Some videos have hit a million views in just one day. Use a hand whisk or make a large batch with a stand mixer whisk. You don't need to live in South Korea to enjoy this drink anymore, make it in your kitchen now.
If you too are a bit cooped up with your family this time of year you too might be thinking of new things to make.
What food goes best with coffee?
For breakfast make pumpkin streusel muffins or for added sweetness make our s'mores poke cake
A batch of hazelnut cookies is always a good choice
Coffee cake or coffee cake muffins are a given of course
Homemade or store bought biscotti is always a great side treat with hot or iced coffee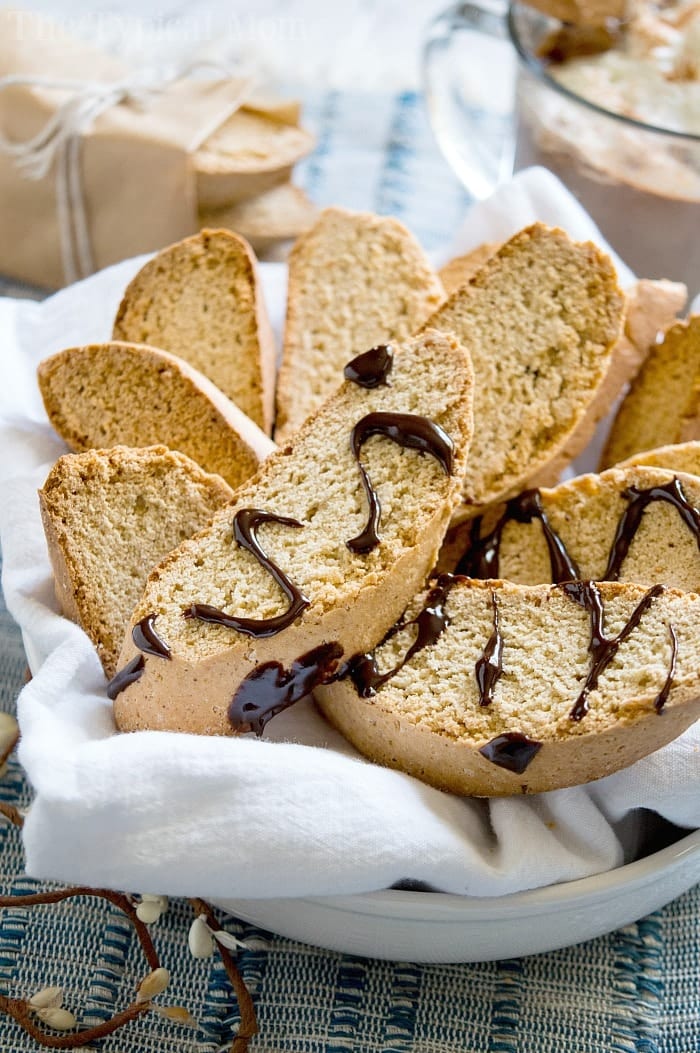 Make a batch for you and your loved one tonight and tell us what you think! Friends living afar, jump on a video chat with them and show them what you made. Then share this recipe so the next time you chat you can enjoy one together on your call. 😉
Love easy recipes like this one and want more emailed to you each and every week? Sign up for my newsletter here and enjoy.
Printable coffee recipe below for you to follow. Easy to make with step by step directions.
Want to see a few of my favorite things that I am totally obsessed with?? Take a peek and see how many you might already have…twinsies!
Looking for more easy family recipes and tips? LIKE The Typical Mom Facebook page?
Then sign up for my free newsletter, and follow me on Pinterest! 😉
***** If you LOVED this recipe give it 5 Stars below and let everyone know what you thought about it. 😉
Dalgona Whipped Coffee
Best 3 ingredient Dalgona whipped coffee recipe. Trendy Korean coffee drink on TikTok that has gone viral.
Instructions
Put instant coffee, sugar and hot water into a large bowl.

Using an electric mixer, beat ingredients together until it gets thick, fluffy, and peaks.

Put ice cubes into 2 glasses or mugs with 3/4 c milk into each one. Spoon whipped coffee mixture on top of each. Can garnish as desired.
Nutrition Facts
Dalgona Whipped Coffee
Amount Per Serving (3 oz)
Calories 176
Calories from Fat 54
% Daily Value*
Fat 6g9%
Cholesterol 18mg6%
Sodium 81mg4%
Potassium 418mg12%
Carbohydrates 25g8%
Protein 6g12%
Vitamin A 296IU6%
Calcium 214mg21%
Iron 1mg6%
* Percent Daily Values are based on a 2000 calorie diet.