This is a sponsored post written by me on behalf of The Hershey Company. All opinions are 100% mine.
Baking HERSHEY's Milk Chocolate S'Mores poke cake with kids is not only delicious, but fun too! It's our favorite treat.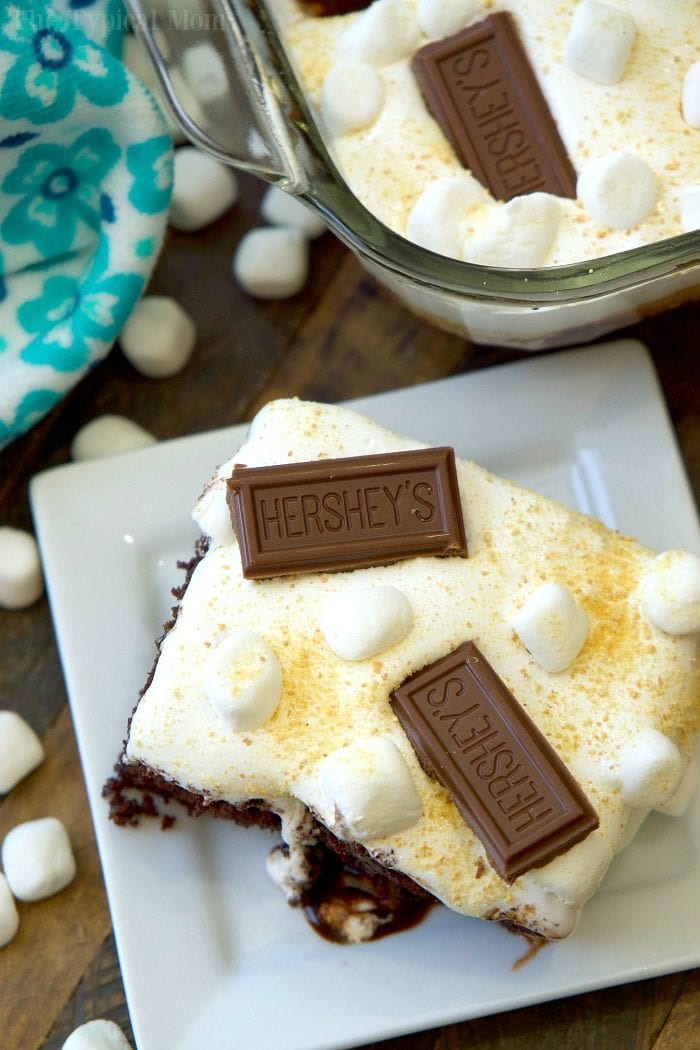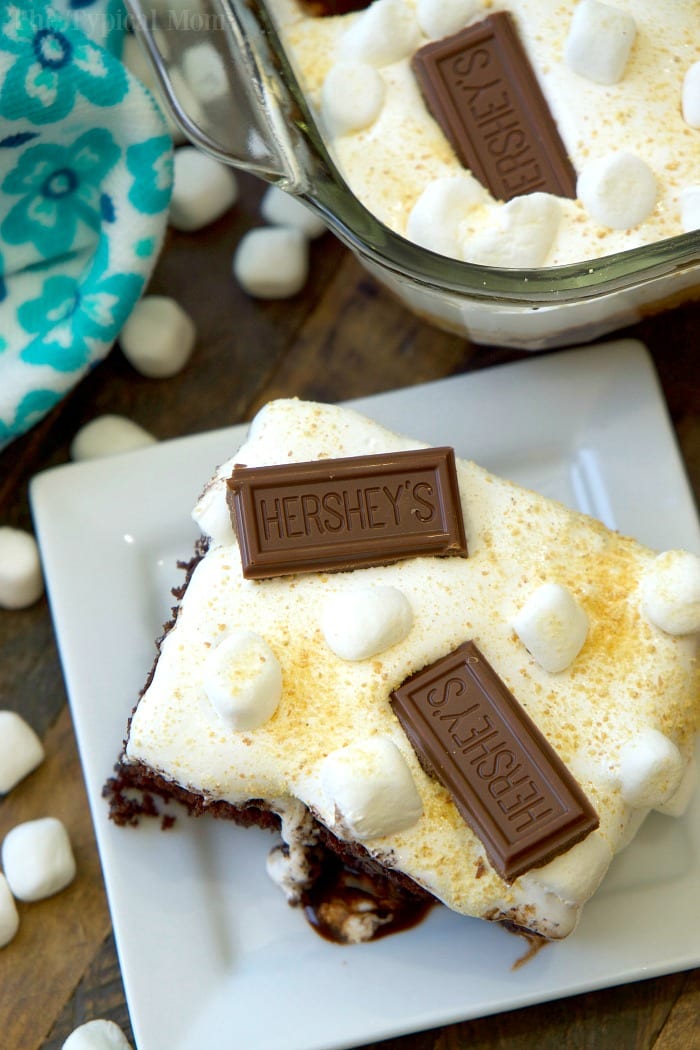 Ok, so my four favorite c's are chocolate, cake, coffee, and my children. 😉 I love being in the kitchen with my kids and one of our favorite desserts is this S'Mores poke cake. We LOVE S'Mores any way we can get them. It's part of my childhood. Sitting at the beach after a long day in the waves, with a marshmallow on my skewer, legs covered in sand…smooshing it between two graham crackers with a big block of HERSHEY's Milk Chocolate inside. I remember the friends I was with, the messes we made, and have lots of pictures of us all doing this that I can now share with my own kids.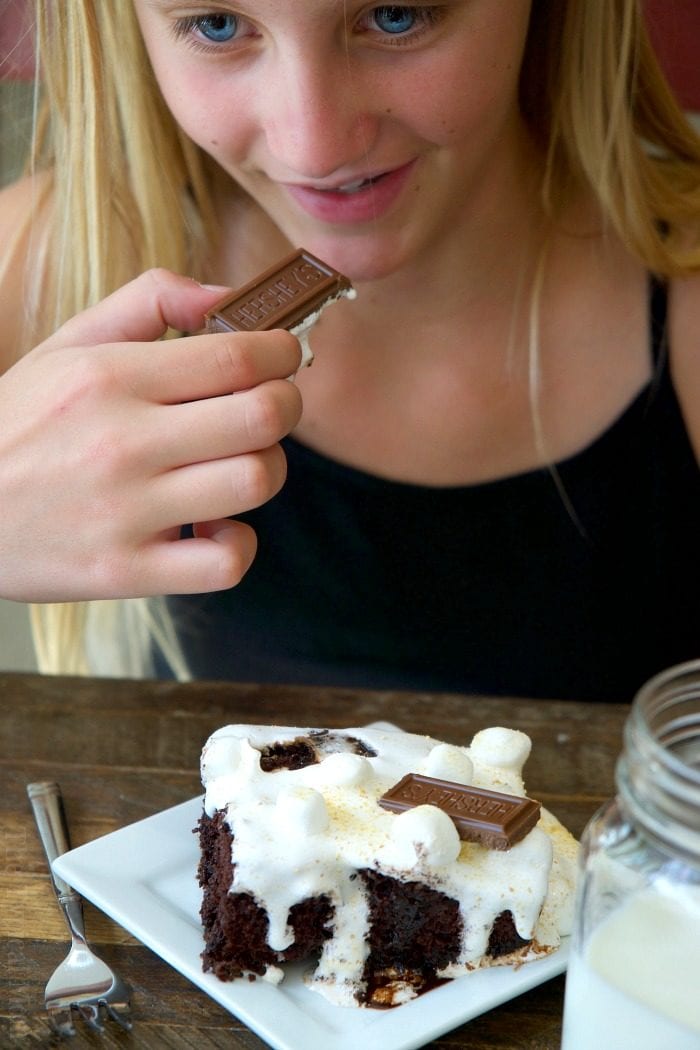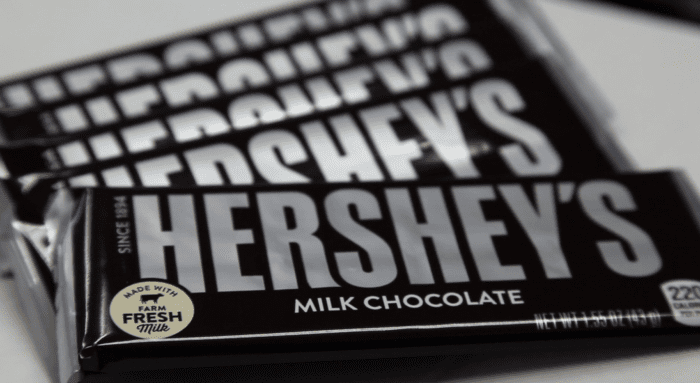 Now that I have three daughters of my own I want them to have those same memories, friends, and photos. I also want to share the memories I had with them as a child, and create memories of our own in the kitchen. Yes we still love traditional S'Mores when we are camping (and we do that quite often), but if it's chilly outside and we are ready to snuggle up together for movie night we love this S'Mores poke cake to bring those flavors inside the house and into our bellies. Every time we make anything resembling S'Mores, we reminisce about the adventures we've had traveling together each summer, and laugh at the chocolate covered faces and sticky noses made while huddled up around our campfire. lol  😉 Why not make them at home right in your oven we thought….well this is a great way to do just that.
If you love baking with your kids, this S'Mores poke cake is a great dessert to make with them.  It is sure to bring up a memory or two of your own, when you too were enjoying this sweet classic treat as a child….and how you enjoy them now as a family. This is what we use to make this creamy chocolatey dessert.
7 HERSHEY'S Milk Chocolate bars
1 box chocolate cake mix (& ingredients to bake)
Marshmallow creme
Mini marshmallows
Crushed graham crackers
If you've never made a poke cake before the whole idea is to "poke" holes into it and allow your favorite flavors to seep thru those holes and inside the cake, ours being melted milk chocolate! This is probably the kids' favorite part because you really can't do it wrong, just make sure to pour the milk chocolate over the holes so it can drain inside and you're good!
One of the many great things about HERSHEY'S Milk Chocolate bars is that they are made with farm fresh milk which makes them REALLY easy to melt and maintain that creamy smooth flavor. I learned all about the process and where their milk comes from last year when I visited Meadow Lane Dairy some of their milk is produced. That in itself was such an incredible experience, and just adds to the memories I have now when baking their chocolate!
Poured on top of this warm cake it sinks in and creates a little slice of heaven I tell you. I saved 1 of the bars to break up and put pieces on the top of the S'Mores poke cake when it was done, just to add to the "prettiness" of it all. It really doesn't matter what it looks like though…it's all about the taste!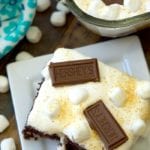 S'Mores Poke Cake
Baking Hershey's Milk Chocolate S'mores poke cake with kids is not only delicious, but fun too! Covered in goodness, it's our favorite treat.
Ingredients
1

box

chocolate cake mix

(and ingredients to make it as directed)

7

bars

HERSHEY'S Milk Chocolate

1

jar

marshmallow creme

14 oz

2

c

mini marshmallows

3/4

c

graham cracker crumbs
Instructions
Make cake as directed o box, pour mix into a 12x9 cake pan and bake as directed, just long enough so middle springs back when touched lightly (25 min. in the oven is perfect for us so it isn't overdone).

When done set on a cooling rack for about 15 min.

When cake is still warm poke holes all over so the holes go all the way thru to the bottom of the pan.

In a bowl break up 6 of your HERSHEY'S Milk Chocolate bars into smaller pieces and microwave for 30 seconds, stir, microwave for 30 seconds, stir. It should be warm and nice and smooth without any chunks now (or you can opt to use a can of chocolate syrup, 24 oz. can).

Pour over your cake making sure the melted chocolate is poured directly over the holes so it can seep thru.

Pour into the fridge for at least an hour, or until it is cooled.

Take out and spread your marshmallow fluff on top evenly.

Sprinkle your mini marshmallows on top of that.

Sprinkle your graham cracker crumbs.

Break up the remaining chocolate bar and push the pieces into the top layer of marshmallow gently so each piece that will be cut will include a HERSHEY'S square. Enjoy!
Nutrition Facts
S'Mores Poke Cake
Amount Per Serving
Calories 260
Calories from Fat 54
% Daily Value*
Total Fat 6g 9%
Sodium 338mg 14%
Potassium 128mg 4%
Total Carbohydrates 52g 17%
Protein 2g 4%
* Percent Daily Values are based on a 2000 calorie diet.
I want to thank The Hershey Company for working with me on this blog! For more information about HERSHEY'S Milk Chocolate and what makes it so delicious visit www.FreshMilkChocolate.com, You can also check out the graphic below!
What's the first memory that comes to mind for you when I say the word s'mores?