How to make frozen coffee at home is here! Add chocolate for an iced mocha if you like or just blend coffee ice cubes to make this favorite copycat Dunkin Donuts drink. If you loved our homemade peppermint frappuccino during the holidays you will love this one in the morning year round.
This easy homemade frozen coffee drink is the best way to start your drink. Enjoy as your breakfast or with an egg to get you going with a little caffeine but in a fun and cold way. Cheap compared to buying one each morning and tastes just as good as at the donut shop. (affiliate links present)
Dunkin' Frozen Coffee
Here we are going with plain, just the main ingredients without any add ins. If you love a mocha twist you could follow our chocolate stout cold brew recipe, freeze that base in your ice cube tray and go from there. Both are Dunkin Donut drink favorites that we have figured out how to make right at home in your kitchen.
Ok so you may not have one of these trays anymore because of the all too popular ice in the fridge. You can grab one for like a buck at the Dollar Store or I will share a link below to get one online too. The mini trays work too if you have one of those. The difference between using regular ice and blending the ingredients with it and this way is a lot.
Homemade Frozen Coffee Recipe
If you make it this way, freezing the actual main ingredient, it will be a bolder flavor. Think about it. Using the ingredients + plain water ice cubes will add a lot of flavorless liquid into the mix which will dilute your drink and it won't taste like you're used to. THIS is the way to mimic it in a copycat, almost identical way.
The same really can go for other drinks such as if you wanted to make frozen hot chocolate. No brewing required with that one but if you make or buy a gallon of chocolate milk, freeze into trays and blend with a milk product, or heavy cream you can make something your kids will love alongside you too.
Brew a cup or pot off coffee (approx. 8-10 oz for each serving).
Pour the brewed coffee into an ice cube tray and freeze for several hours or until firm.
Remove frozen cold coffee cubes the ice cube tray and place in a blender, along with milk and honey (or preferred sweetener).
Blend until you have a smooth consistency.
Pour iced coffee into a cup and top with whipped cream, cool whip, coffee frosting and/or chocolate shavings, if desired.
If you wanted to make it more like mocha with these steps you could add a few tbsp of chocolate syrup into the blender. Use the same whipped topping as we do in our 3 Ingredient Dalgona whipped coffee for a fun twist. Feel free to try a different tweaks like caramel sauce too to see which you love better.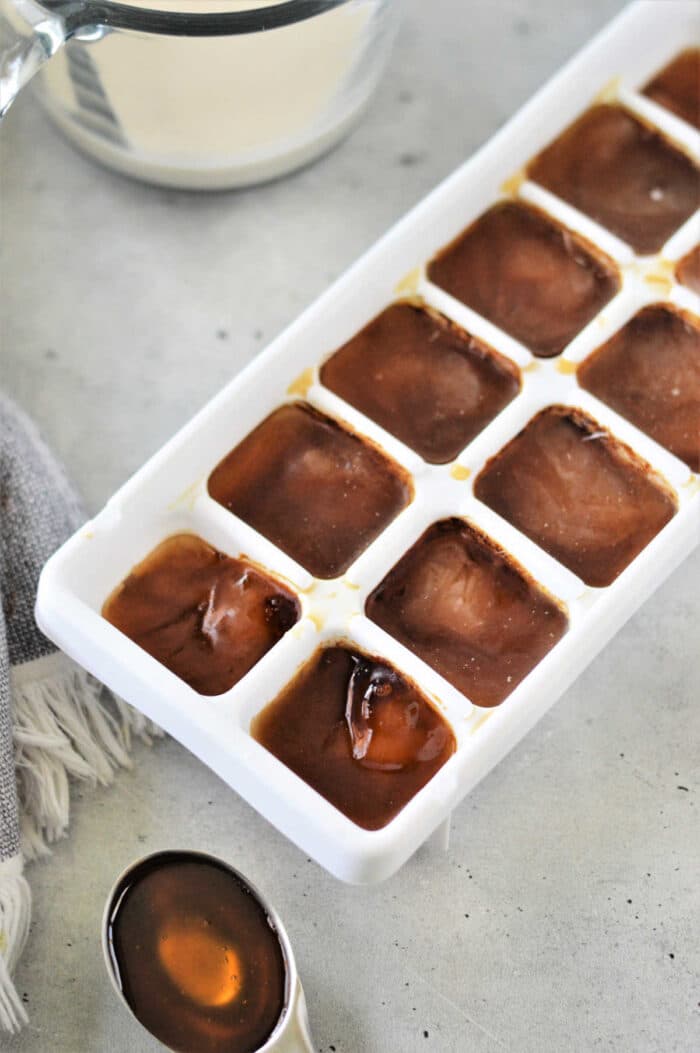 Skinny Frozen Coffee
Want to make this with less calories? Use vanilla almond milk instead or fat free milk. I will say that the less fat you add into the mix to blend together the less creamy it will be overall. Fat = creamy. It is easy to make this dairy free frozen coffee which my husband needs and you cannot tell the difference.
Either you can use cashew, almond, or even better use coconut milk in it or lactose free cows milk works too. As for the other 2 ingredients there are several alternatives as well. Let's talk about different sweeteners for a minute shall we. If you have an allergy or dislike, alternatives for honey would be;
How to Sweeten Frozen Coffee
Maple Syrup has a rich, distinct flavor that works well in both sweet and savory dishes. It can be used as a direct replacement for honey in most recipes.
Agave Nectar is a sweetener with a mild taste. It is sweeter than honey, so you may need to use less of it in recipes.
Liquid sugar is just that. Like a thick liquid it can be found in Sweet n Low sugar free forms too if you like.
Molasses has a stronger bolder flavor and can add depth to baked goods, sauces, and marinades.
Coconut nectar is a natural sweetener with a caramel-like flavor. It is often used as a honey substitute in vegan recipes.
Date syrup has a rich, sweet taste. It can be used as a one to one replacement for honey in most recipes.
Brown rice syrup has been fermented and strained from rice. It has a milder sweetness compared to honey and can work well in baking and sweetening beverages.
Bee Free Honee is a plant-based honey alternative made from apples. It mimics the taste and consistency and can be used in similar ways.
It's important to note that while these alternatives can provide sweetness, they may have different flavors and consistencies to the original ingredient. It's a good idea to experiment and adjust quantities based on your personal taste preferences and the specific recipe you are using.
How to Make Frozen Coffee
And then we come to the main ingredient and there are SO many options as far as coffee beans go. You will find slightly different flavors from brand to brand with the same label, such as blonde. There isn't an across the board taste because it depends on the processing, month the beans were picked, age of the beans, etc…. The main categories of coffee beans though would be;
Arabica beans are considered the higher quality and more desirable type of coffee beans. They have a more nuanced flavor profile, with notes of fruit, berries, chocolate, and floral undertones.
Robusta coffee beans are known for their higher caffeine content and stronger, more bitter flavor compared to Arabica beans. They are often used in blends, instant coffee, and espresso for their rich flavors and body.
Liberica beans are less common and account for a small portion of the coffee market. They have a distinct, almost fruity flavor with floral and smoky undertones. They are mostly grown in the Philippines.
Excelsa beans are now considered a part of the Liberica family. With a tart and fruity flavor with hints of dark fruit and a roasted, nutty character. They are typically used in coffee blends.
Within each category there can be additional variations in flavor profiles depending on factors such as the specific growing region, altitude, soil conditions, and processing methods. Choose lighter if you are adding flavors in the Fall to make something like our homemade pumpkin frappuccino style drink, or darker if "plain".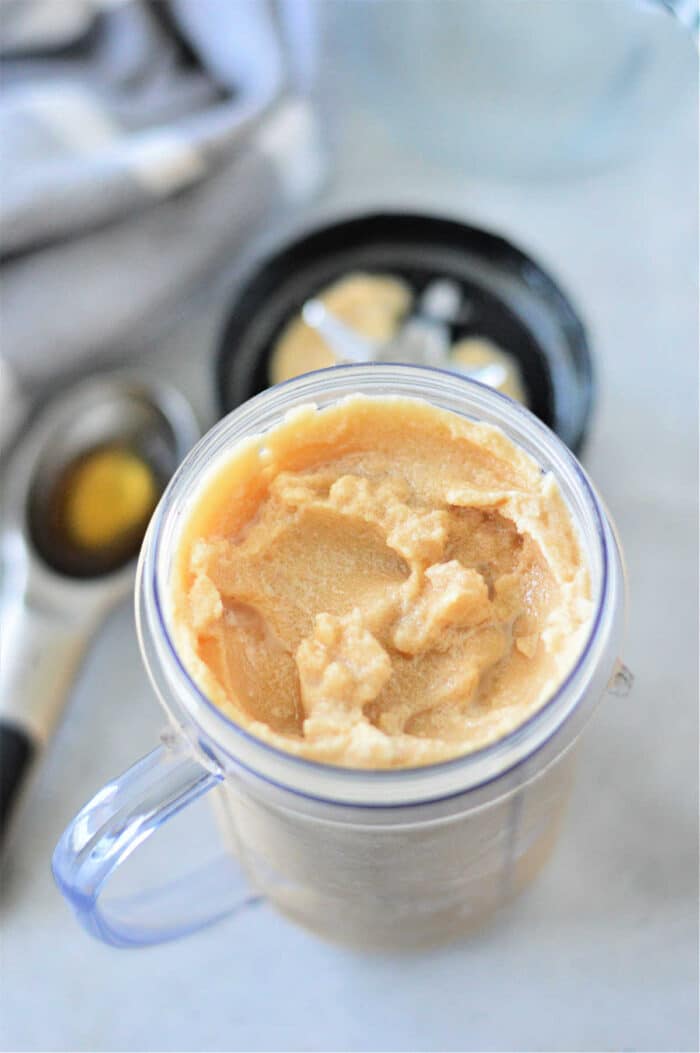 3 Ingredient Frozen Coffee
Ok so what to enjoy with your homemade coffee drink recipes is a big question. Sometimes all I want is this. Make the cubes the night before so I can blend, grab and go quickly when I wake up. If I am making a few of these on the weekends for us I might bake something to go with it, or just go with store bought muffins.
Probably the most popular duo is with our cake mix cherry coffee cake. You really can use any can of fruit filling you want but this one always gets thumbs up around here.
What is in Dunkin frozen coffee?
You really only need 3 ingredients to make this, we have a copycat Dunkin frozen coffee recipe for you here. Just coffee, or coffee extract, ice and cream or milk! We will show you the best way to make this popular breakfast drink right at home for cheap!
Is Dunkin frozen coffee like a frappuccino?
A little bit. It is a cross between their bottled style and the blended iced version at the restaurant. Best thing about making it homemade like we show you here is that you can add other ingredients like chocolate or caramel syrup.
Want to see a few of my favorite things that I am totally obsessed with?? Take a peek and see how many you might already have…twinsies!
Looking for more easy family recipes and tips? LIKE The Typical Mom Facebook page?
Then sign up for my free newsletter, and follow me on Pinterest! 😉
***** If you LOVED this recipe give it 5 Stars below and let everyone know what you thought about it. 😉
Frozen Coffee
How to make frozen coffee at home is here! Add chocolate for an iced mocha if you like or just blend coffee ice cubes to make this drink.
Equipment
1 coffee maker

1 blender
Instructions
Brew a cup of your preferred type of coffee (approx. 8-10 oz). Pour the coffee into an ice cube tray and freeze for several hours or until firm.

Remove frozen coffee from the ice cube tray and place in a blender, along with milk and honey (or preferred sweetener). Blend until you have a smooth consistency.

Pour into a cup and top with whipped cream and chocolate shavings, if desired.
Nutrition Facts
Frozen Coffee
Amount Per Serving (1 oz)
Calories 103
Calories from Fat 18
% Daily Value*
Fat 2g3%
Cholesterol 7mg2%
Sodium 29mg1%
Potassium 214mg6%
Carbohydrates 20g7%
Protein 2g4%
Vitamin A 99IU2%
Vitamin C 0.1mg0%
Calcium 81mg8%
Iron 0.1mg1%
* Percent Daily Values are based on a 2000 calorie diet.