This is how to make a peppermint frappuccino at home with just 3 ingredients! Easy recipe to make a copycat Starbucks frappuccino at home.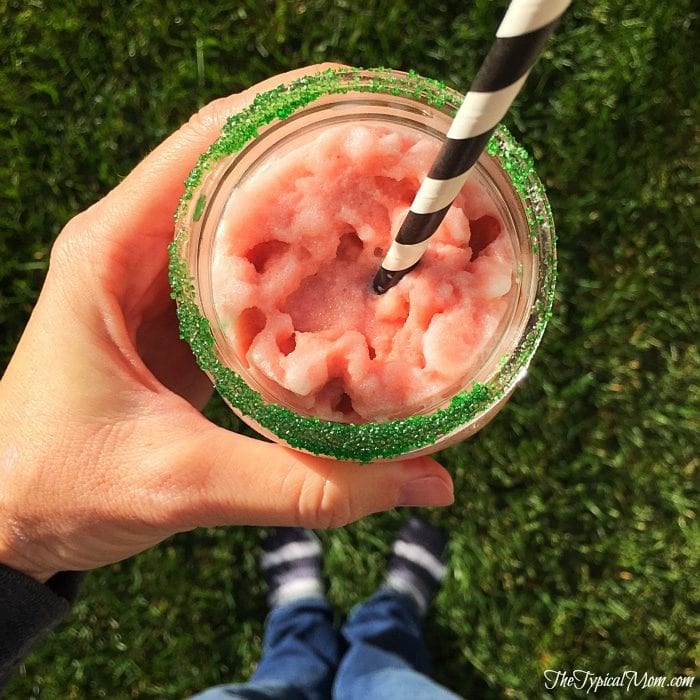 Have you ever wondered how to make a peppermint frappuccino at home??!! Well I did and I started experimenting in my kitchen. I came up with the easiest and tastiest way to make any type of frappuccino at home using just 3 ingredients….seriously, I made a pumpkin frappuccino at home too. Let me show you how to make a homemade peppermint frappuccino this time! Special thanks to Nutri Ninja® for sponsoring this post so we could share how well it works for this easy recipe and others. (originally published 11/15)
Peppermint Frappuccino Recipe
It looks pretty yummy doesn't it??!!
Perfect for the holidays and you can make it without the coffee for the kiddos so it is kinda' like a peppermint slushee of sorts, they will love it.
Homemade Peppermint Frappuccino
If you have a coffee maker or espresso machine at home, some ice, and flavored creamer (of any kind) you too can make a homemade frappuccino. We happened to have an espresso machine at home so we first make about 2 shots (2 ounces) of espresso.
You can cool this in the fridge first if you'd like, or make a larger batch and keep it in the fridge…..we just pour it directly over our ice and go!
How to Make a Frappuccino at Home
You will need to use a blender, we have a Nutri Ninja® so that is what we use and it is great because it makes one serving at a time and blends it REALLY well. Add about 2 cups of ice, or until the large cup is about 3/4 full. Pour the hot or cool espresso on top, you could make really strong coffee if you don't have an espresso maker too, no worries.
Now you will need some flavored creamer. I have used pumpkin spice before as well as this peppermint mocha flavor that is great during the holidays! I use about 3/4 of a cup.
Start with 1/2 c. of creamer, use the ultra blend auto IQ setting which lasts a minute. It starts and stops on it's own to guarantee that it all nice and super smooth when it's done.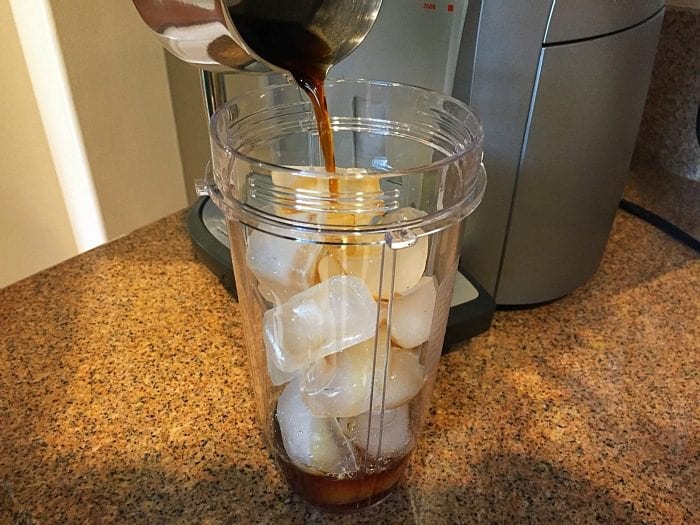 Taste it, and if you want it more liquidy or need more flavor add more and work from there. Some people really like a strong peppermint flavor and others like less so the first time just play with it and come up with the right amount for you…..then you'll know for future frappuccino mornings!
Homemade frappuccino
Ice
Espresso brewed, or strong coffee
Flavored creamer – this is how to make homemade coffee creamer in any flavor you want
Crushed candy canes canes can be sprinkled on top

use extras for melting peppermint candies into bowls!
Peppermint frappuccino
How to Make a Peppermint Frappuccino
This is how to make a peppermint frappuccino at home with just 3 ingredients! Easy recipe to make a copycat Starbucks frappuccino at home.
Ingredients
2

oz

espresso

or dark brewed coffee

2

c

ice

1/2-3/4

c

creamer

flavored, peppermint
Instructions
Use a blender and all all ingredients, start with 1/2 c. creamer then add more at end if you want it creamier.

Pulse until frappuccino is smooth.

Add more flavored creamer if desired.
Nutrition Facts
How to Make a Peppermint Frappuccino
Amount Per Serving (3 oz)
Calories 31
% Daily Value*
Sodium 6mg0%
Potassium 190mg5%
Carbohydrates 7g2%
Vitamin C 7.4mg9%
Iron 0.3mg2%
* Percent Daily Values are based on a 2000 calorie diet.
We have made with candy cane dip too which everyone loves. Paired together you'll have a Christmas taste in your mouth for sure.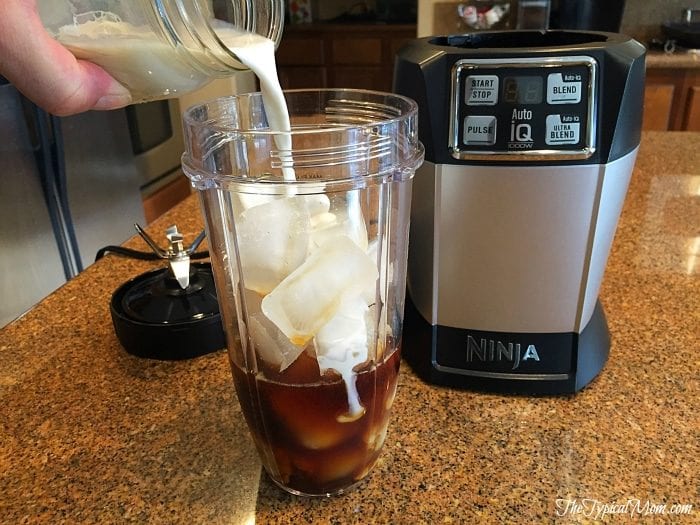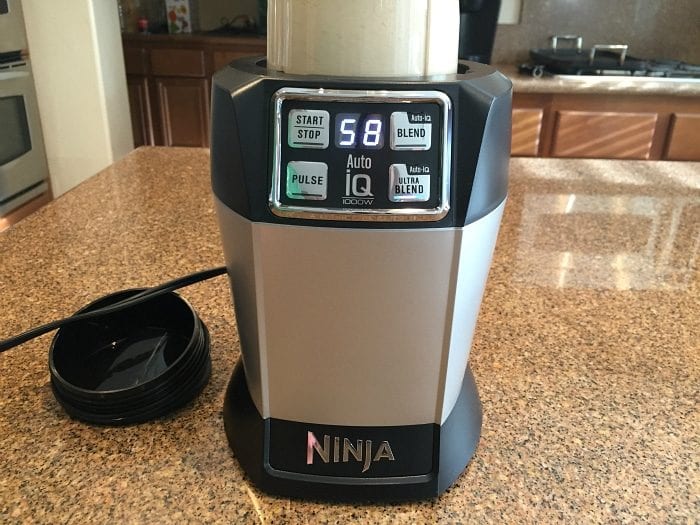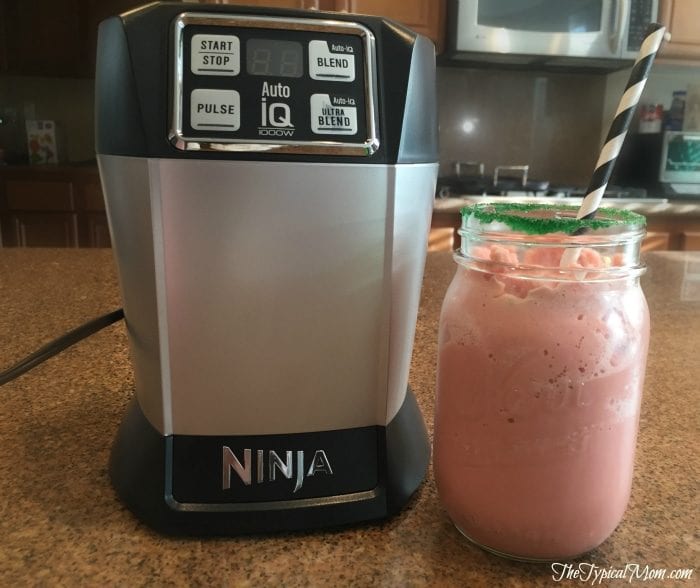 I lined it with some green sprinkles and you're done! It is a great drink to make at holiday parties. Give it a try with any flavored creamer you desire, believe me you'll be hooked. If you don't have a Nutri Ninja® yet it's super handy to have as you can see. You can find it at Walmart and it's a great gift idea too. 😉