This shop has been compensated by Collective Bias, Inc. and its advertiser. All opinions are mine alone.
I will admit, I am a coffee snob! Whether it's hot or cold I desire I want something fruffy (is that a word), sweet, and when it comes around to the holiday season I want everything pumpkin!! I am frugal by nature and although I would love to spend $6 a day and not think twice about it to get my perfect coffee drink…. I just can't bring myself to do it. SOoooooo, I figured out how to make an easy pumpkin spice frappuccino recipe right at home using only a few ingredients……I seriously won't ever buy one of these again because they are so easy and delicious!!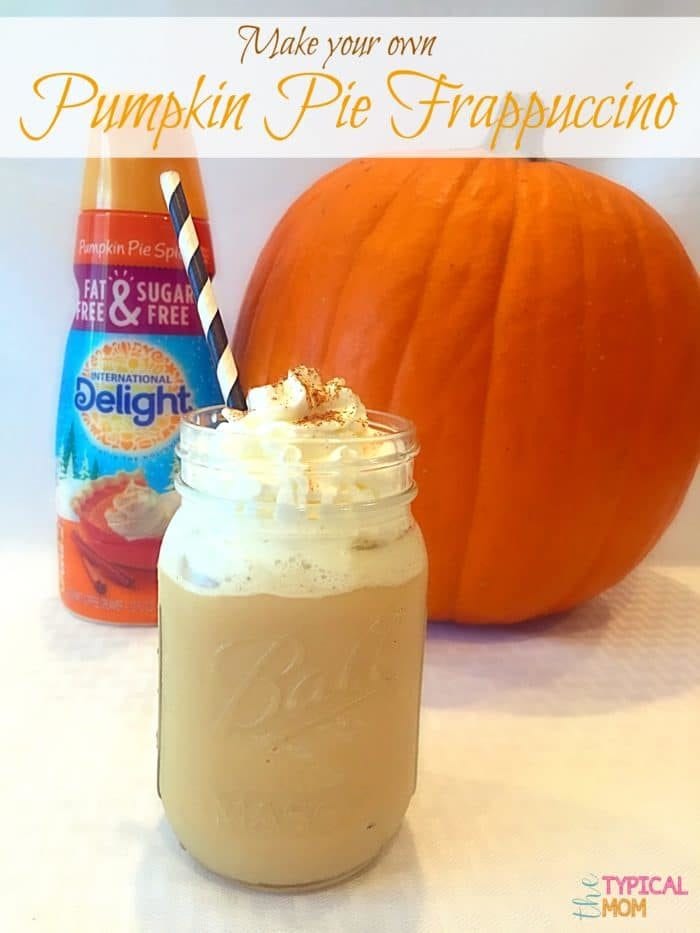 I seriously can't tell you how easy and delicious this copy cat frappuccino drink is (I'm drinking one right now as we speak). I will tell you the basics and a few alternatives if you don't have something at home (like an espresso machine), then you can make your own pumpkin spice frappuccino at home too. 😉 Here is what you will need.
Of course the key to this make your own pumpkin spice frappuccino recipe is……the pumpkin, so you will want to head to Walmart and pick up a quart of International Delight Pumpkin Pie Spice creamer in the back refrigerated part of the store where they keep the milk. They only happened to have the fat & sugar free version this time, but they also a "regular" version as well (either one works great). Typically you will find this and other holiday flavors appear in mid September so keep your eyes open. The other items you will need will be a can of whipped cream (right next to the creamers), a bit of sugar, and either some coffee beans to use in your espresso maker or some strong coffee/k-cups to make in the coffee device you have at home (remember The Typical Mom is flexible right). 😉 If you want to add a bit more pumpkin spice on the top just pick up a small container of it in the baking section where you would find the cinnamon etc…
The first thing you want to do is make 2 shots of espresso (about 2 ounces). If you don't have an espresso maker just brew some really strong coffee and use 2 ounces for this recipe. You can chill this and get it nice and cold first but typically when we are in the mood we want to get it all done at once….so we just a add a bit more ice than if we used chilled espresso.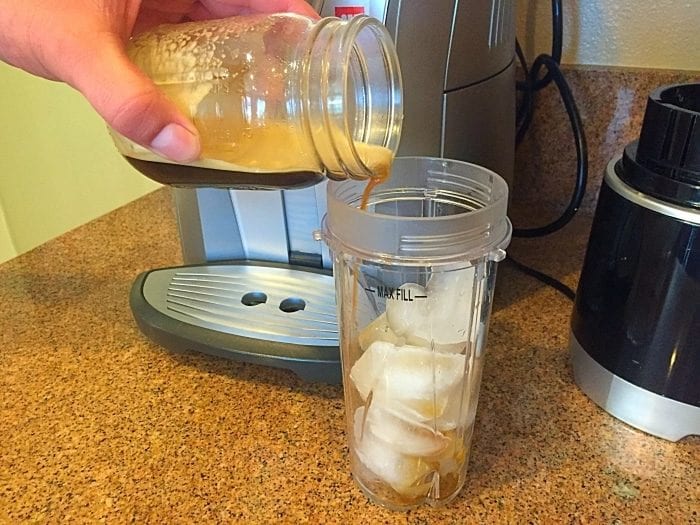 This recipe makes enough to fill a 16 oz. jar or cup, so if you want to make an entire pitcher full just adjust the recipe as such. Fill your cup or blender with 1 1/4 c. ice (a bit less if you use really chilled espresso liquid). Add the 2 ounces of coffee you've made on top of the ice.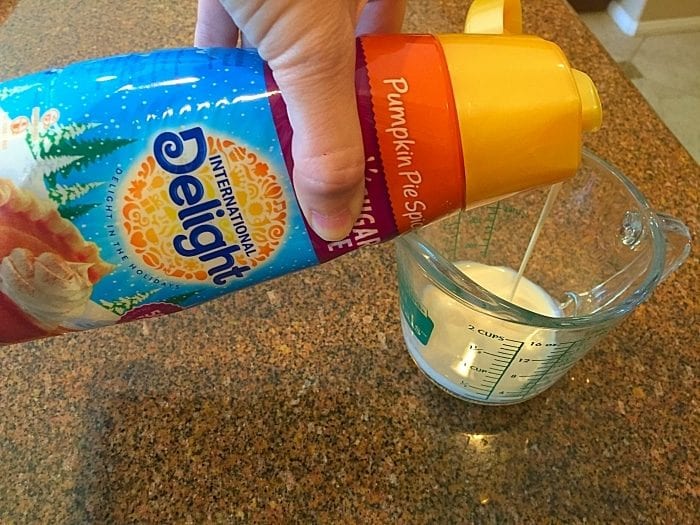 Then measure 1/3 c. of International Delight Pumpkin Pie Spice creamer and add that into your cup/blender as well as 1 tbsp. granulated sugar (this is according to your taste, if you get the non sugar free version you will most likely use less sugar).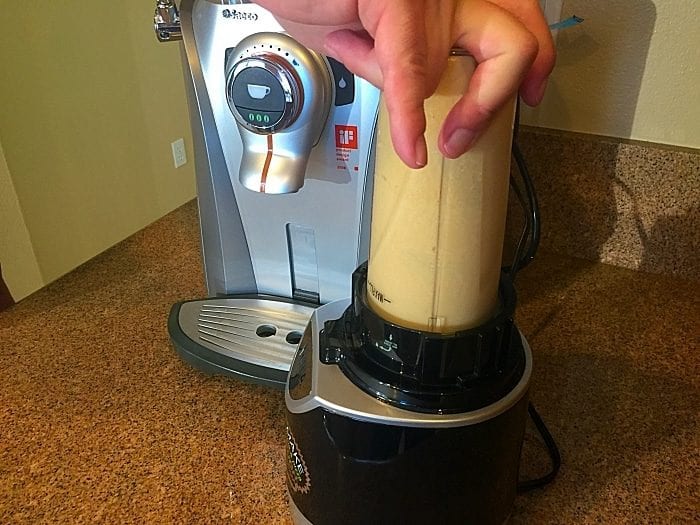 Blend until it looks like frappuccino consistency and you're done…..well before you add some yummy whipped cream and a dash of pumpkin pie spice (optional).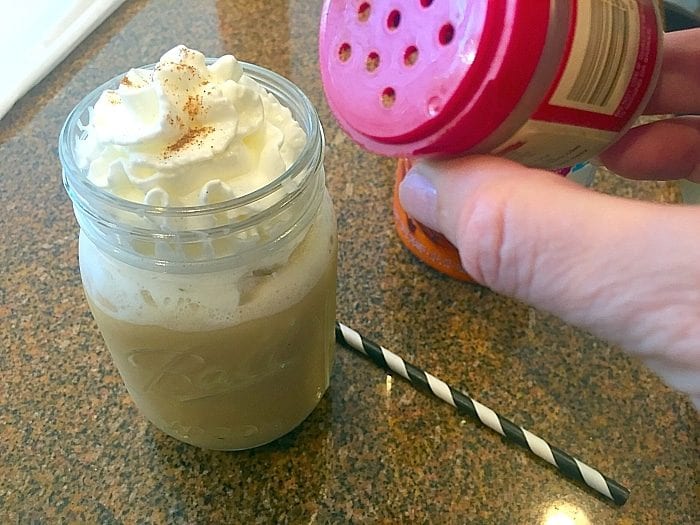 Pumpkin spice frappuccino recipe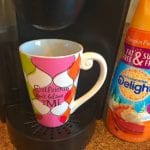 Pumpkin Spice Frappuccino Recipe
Ingredients
1/3

c

. International Delight Pumpkin Pie Spice creamer

2

ounces

espresso or dark roast coffee

1 1/4

c

. ice

1

tbsp

. sugar

whipped cream

dash of pumpkin pie spice
Instructions
Make 2 ounces of espresso or dark roast coffee. Add to blender with 1 1/4 c. ice. Add 1/3 c. pumpkin pie spice creamer and 1 tbsp. sugar and blend together until smooth. Add whipped cream and pumpkin pie spice to top if desired.
Occasionally there are demos at Walmart to show you other great ways of using yummy products such as this one from
International Delight
. So whether you're enjoying your morning cup of coffee or ready to treat yourself and your guests (great recipe for a holiday get together), this yummy pumpkin spice creamer really puts you in the mood….enjoy my friends!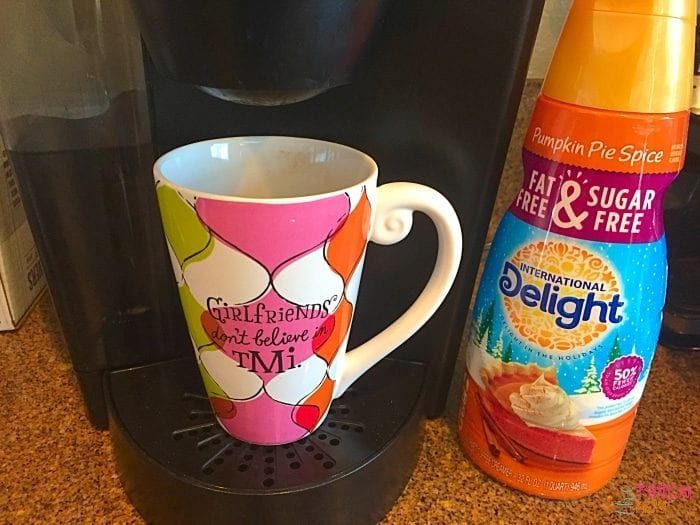 For more easy recipes, tips and crafts please LIKE The Typical Mom on Facebook and follow me on Pinterest! You can also sign up for my free weekly newsletter which is packed with goodies I know you'll love. 😉
Visit The Typical Mom's profile on Pinterest.height="525″ />