Pressure cooker pumpkin puree is so easy to make in your Instant Pot, Crockpot Express or Ninja Foodi! Use it to make pumpkin butter, inside recipes and more. Homemade and perfect every time.
If Instant Pot pumpkin puree is something you want to make this year, we have a recipe for you! Of course you could use your oven and the "old fashioned" way to cook a pumpkin but this pressure cooker pumpkin method is SO much easier. It makes this October vegetable so tender and perfect for canning or making delicious pumpkin butter too! Just one more addition to our long list of easy Instant Pot recipes for you to use. 😉 Here's how we did it. (originally published 8/18, affiliate links present)
I got this squash from a relative out of her garden. In researching what it was it was found it to be a long pie pumpkin.
Cooked it tastes just like the traditional circular orange versions.
I knew you could pop a whole pumpkin in your Instant Pot but it was a bit long so I cut up into large pieces. It worked great!
You can cook pressure cooker pumpkin either way, in large pieces or whole.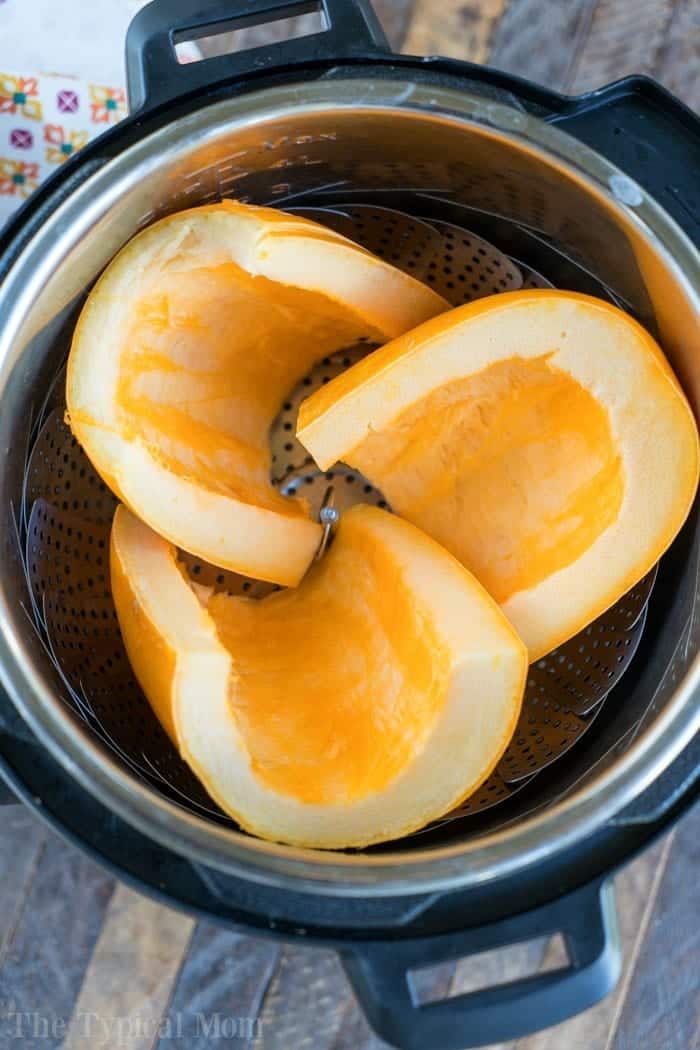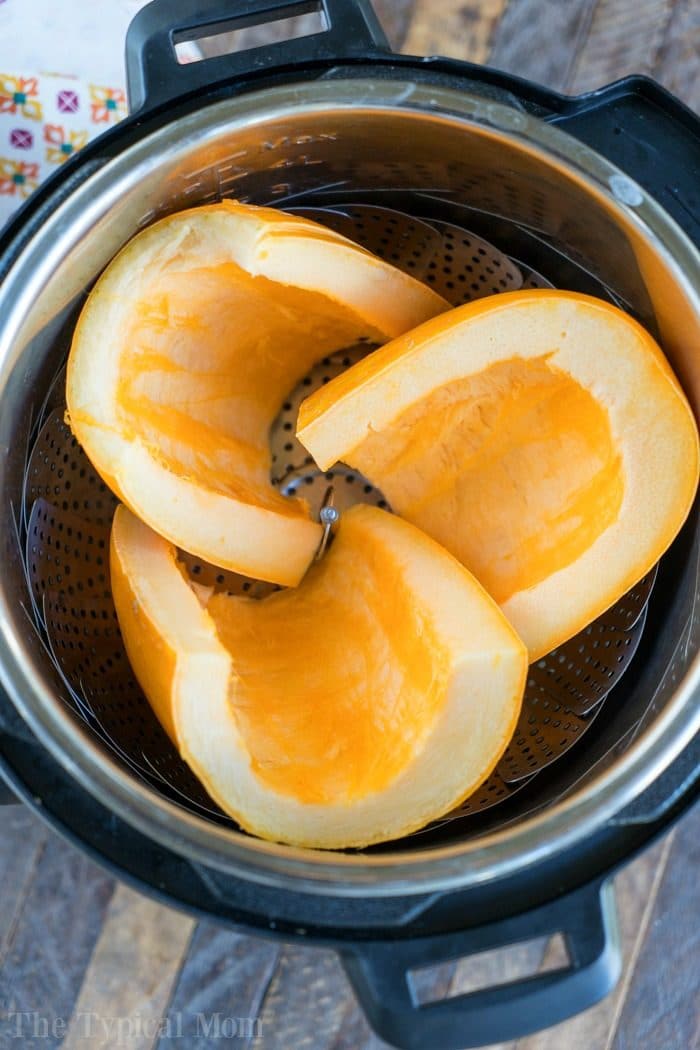 Another difference if you cut the pumpkin vs. sticking the whole thing in is you can remove the seeds beforehand. Don't throw them out though!! Once you scoop out the seeds put them in a strainer and get the gunk off.
I guess it depends on what you're making, I was on a mission to make homemade pumpkin butter so I preferred for the seeds and "gunk" to be gone beforehand.
This is all you need to make homemade pumpkin puree
Pumpkin – if left whole make sure it fits into your Instant Pot with enough room for the lid to close. Or cut into larger chunks
Trivet – I like this one with handles or vegetable steamer basket
Cup of water
Blender
Mason jars for storing in fridge, or pint size freezer bags if making it in bulk and freezing it
The oven version has always worked fine but I am all about easy. Making this Instant Pot pumpkin really is a breeze. With a super short pressure cooking time you may never buy canned again.
What's great about this Instant Pot pumpkin recipe is you can leave it plain, or add any spices you like.
LOVE nutmeg, add a bit more than others might.
Prefer a sweeter sugar pumpkin puree, then add a bit of brown sugar to your mixture when you put it into the blender or food processor.
Now once you're done with the cook on high pressure stage don't do a quick release. Rather, allow for a natural pressure release for 5 minutes first, then scoop the insides out. Throw this pulp into your blender with just a dash of liquid. Once it's as smooth as you'd like you'll have your own pressure cooker pumpkin puree to use as you wish.
Since we were making it a bit sweet we added some goodies like sugar, nutmeg and more. We will share what we made with you below. It was so yummy!!
Can you cook big pumpkins?
Not really. I mean it has to fit inside your pressure cooker. Yes you can cut it in half or even into fourths if you wanted but there's still a limited capacity. It might be easier to use a big pot on your stovetop with a trivet in the bottom for a rather large one. I would choose a small / medium one for this method.
Some have asked how do you make pumpkin powder?
That isn't what we're sharing here, but we have made shared how to dehydrate apples and you'd use the same machine. If you'd rather make a powder (for whatever reason) there are instructions here.
Canning pumpkin is an option if you're making a large batch and want it to use for multiple recipes. Or use it immediately like we did when we made our pumpkin butter. You can use the same process for butternut squash and make soup this way too!
Either way it is a lot easier than you might think to cook a fresh pumpkin!
Want to make some homemade pumpkin butter now?? That's how we used ours!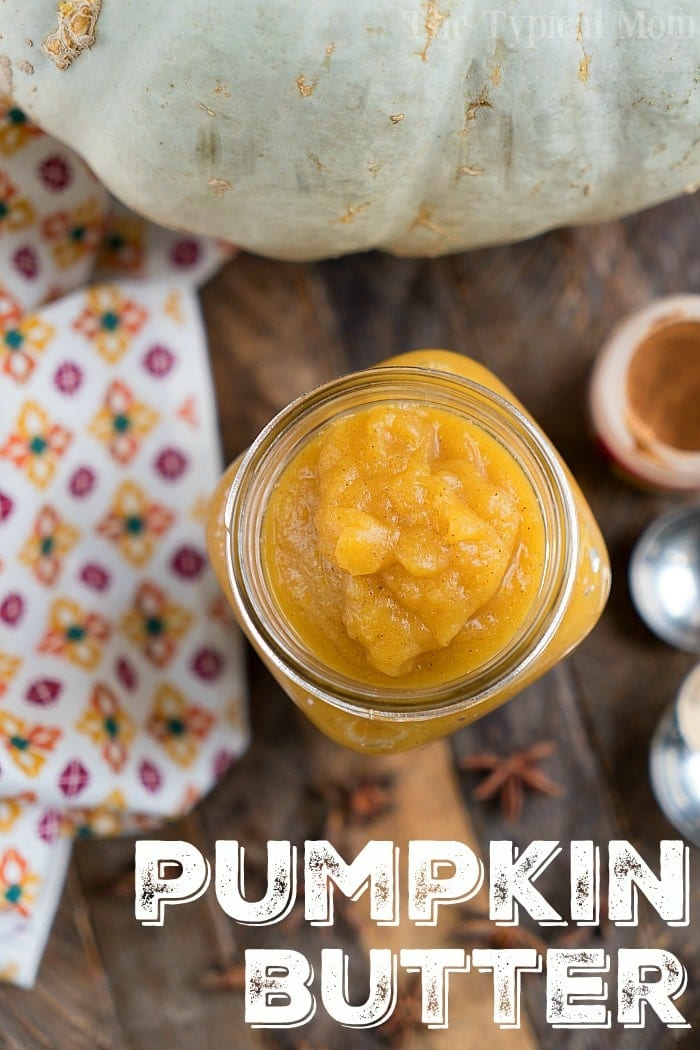 We hope that helped you understand how to cook pumpkin quickly!
Now how long does pumpkin puree last in the freezer?
It can last up to a year if stored properly!! That means you can make "all things pumpkin" all year long with this! Make a big batch and then store in airtight containers or in pint size freezer bags. Make sure to remove the air, zip them closed, and lay them flat. I like to freeze as much as I would typically use in one use. That's about the size of a can of pumpkin I'd buy at the store.
Take one out at a time and allow to thaw out on the countertop, then bake away with it!
Here are some ideas on how to use cooked pressure cooker pumpkin once it's done:
Is this how you make Ninja Foodi pumpkin puree too? Yes!! Follow the same instructions below if you have that pot.
We have even made pumpkin angel food cake which is just amazing, and more October Instant Pot recipes here.
Pressure Cooker Pumpkin
Wondering how to make pumpkin puree using your Instant Pot well it's never been easier using this method. Pressure cooker pumpkin is the way to go. Period!
Instructions
Put your water and vegetable steamer basket inside your pressure cooker.

Place your whole (small enough pumpkin to fit in your Instant Pot) in whole or cut into large pieces and arranged so it fits inside with the lid on.

If cut into large pieces (and seeds/inside removed) set to pressure high for 9 minutes. If left whole it takes closer to 13 minutes.

Allow to naturally release for 5 minutes, then release rest of steam.

Take pieces, whole pumpkin out and allow to cool so you can handle it.

Once cool enough use a spoon to scrape the inside of the pumpkin out and into a blender. (if you used a whole pumpkin put the seeds and stringy chunks to the side.

Pulse blender or put it on a low speed to make pumpkin puree to use in a variety of recipes like our homemade pumpkin butter I will link to above this recipe card.
Nutrition Facts
Pressure Cooker Pumpkin
Amount Per Serving (2 oz)
Calories 58
% Daily Value*
Sodium 5mg0%
Potassium 770mg22%
Carbohydrates 14g5%
Protein 2g4%
Vitamin A 19295IU386%
Vitamin C 20.4mg25%
Calcium 49mg5%
Iron 1.8mg10%
* Percent Daily Values are based on a 2000 calorie diet.