Wondering how to make pumpkin puree using your Instant Pot well it's never been easier using this method. Pressure cooker pumpkin is the way to go. Period!
If you're looking up how to cook fresh pumpkin quickly and recipes using pumpkin puree we've got some goodies for you! Of course you could use your oven and the "old fashioned" way to cook a pumpkin but this pressure cooker pumpkin method is SO much easier and makes it so tender and perfect for canning pumpkin or making delicious pumpkin butter or pies too! Just one more addition to our long list of easy Instant Pot recipes for you to use. 😉 Here's how we did it.
I got this squash from a relative out of her garden. In researching what it was it was found it to be a long pie pumpkin.
Cooked it tastes just like the traditional circular orange versions.
I knew you could pop a whole pumpkin in your Instant Pot but it was a bit long so I cut up into large pieces. It worked great!
You can cook pressure cooker pumpkin either way, in large pieces or whole.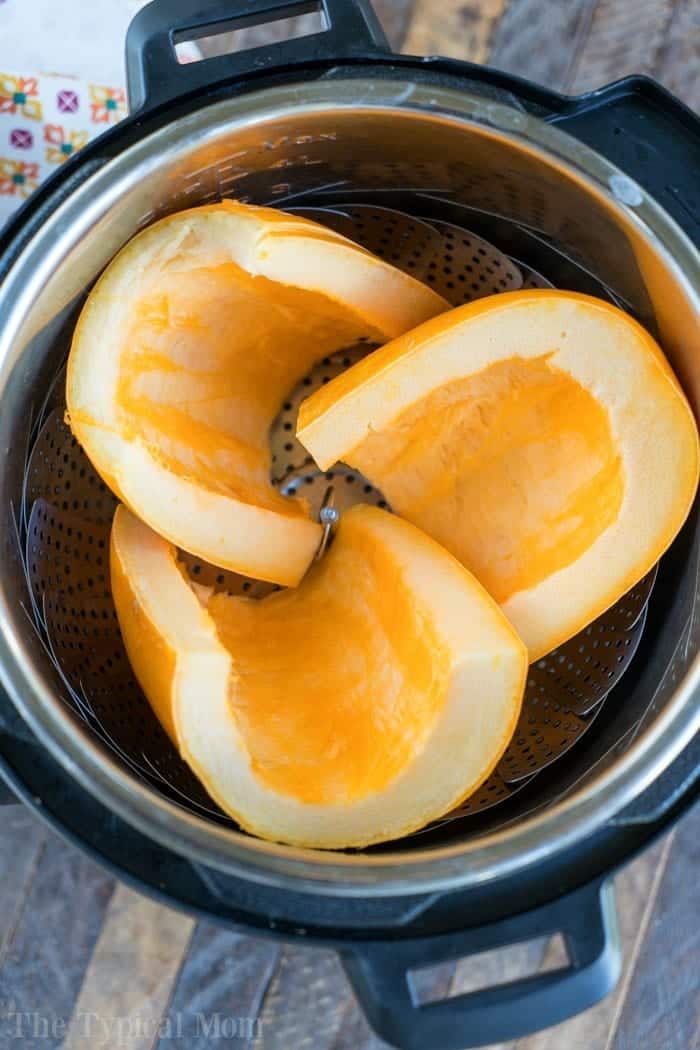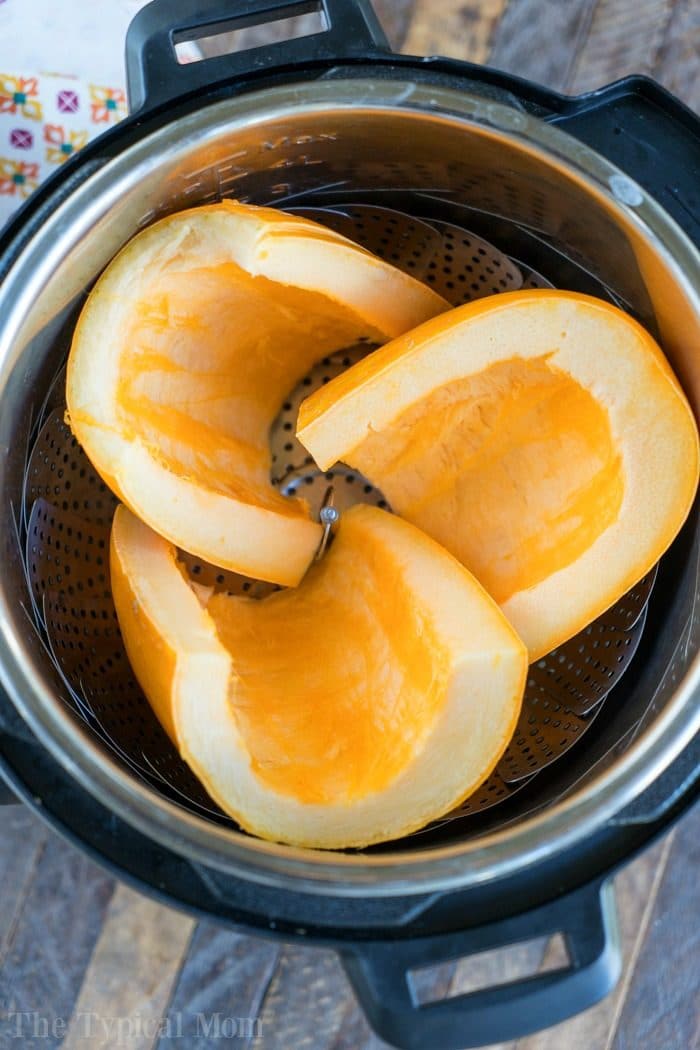 Another difference between cutting it up vs. sticking the whole thing in is you can clean the insides out if cut ahead of time, totally your preference.
I guess it depends on what you're making, I was on a mission to make homemade pumpkin butter so I preferred for the seeds and "gunk" to be gone beforehand.
Once your pumpkin is steamed and cooled the "meat" literally slides off of the outside skin/outside that you'll toss out.
This is all you need to make pressure cooker pumpkin
Pumpkin – if left whole make sure it fits into your Instant Pot with enough room for the lid to close. Or cut into larger chunks
Trivet
Trivet – I like this one with handles or vegetable steamer basket
Water
The oven version has always worked fine but I am all about easy. Making this in a pressure cooker pumpkin really is a breeze.
Scoop the insides out and throw the pulp into your blender with just a dash of liquid. Then you'll have your own pumpkin puree to use as you wish.
Canning pumpkin is an option if you're making a large batch and want it to use for multiple recipes. Or use it immediately like we did when we made our pumpkin butter.
Either way it is a lot easier than you might think to cook a fresh pumpkin!
Here are some ideas on how to use cooked pressure cooker pumpkin once it's done:
We have even made pumpkin angel food cake which is just amazing.
Pressure Cooker Pumpkin
Wondering how to make pumpkin puree using your Instant Pot well it's never been easier using this method. Pressure cooker pumpkin is the way to go. Period!
Instructions
Put your water and vegetable steamer basket inside your pressure cooker.

Place your whole (small enough pumpkin to fit in your Instant Pot) in whole or cut into large pieces and arranged so it fits inside with the lid on.

If cut into large pieces (and seeds/inside removed) set to pressure high for 9 minutes. If left whole it takes closer to 13 minutes.

Allow to naturally release for 5 minutes, then release rest of steam.

Take pieces, whole pumpkin out and allow to cool so you can handle it.

Once cool enough use a spoon to scrape the inside of the pumpkin out and into a blender. (if you used a whole pumpkin put the seeds and stringy chunks to the side.

Pulse blender or put it on a low speed to make pumpkin puree to use in a variety of recipes like our homemade pumpkin butter I will link to above this recipe card.
Nutrition Facts
Pressure Cooker Pumpkin
Amount Per Serving (2 oz)
Calories 58
% Daily Value*
Sodium 5mg0%
Potassium 770mg22%
Carbohydrates 14g5%
Protein 2g4%
Vitamin A 19295IU386%
Vitamin C 20.4mg25%
Calcium 49mg5%
Iron 1.8mg10%
* Percent Daily Values are based on a 2000 calorie diet.