How long to bake pumpkin seeds at 350 or air fryer pumpkin seeds is here! Don't throw out those tasty crunchy snacks, here's how you roast them until they are crispy.
How long to bake pumpkin seeds in oven is answered. Roasted homemade and crispy, these are the best snacks made like roasted spaghetti squash seeds but better!! If you've been throwing these out when carving please don't! You're missing the best part and I bet your kiddos will love this snack too. (affiliate links present)
How to Bake Pumpkin Seeds
If it's Fall you're probably thinking about your favorite pumpkin zucchini muffins you want to make. I like to make my own homemade Instant Pot homemade pumpkin puree first because it's SO easy and cheap to make.
Then it's ready for all the other easy pumpkin desserts way beyond pumpkin pie y'all. We will start with the basics of how to clean your veggies out and what to do step by step from there with this pumpkin seed recipe to snack on or use dry seeds on top of sweet breads etc…
How Long to Bake Pumpkin Seeds at 350
First you're going to need to need tip and tricks for the best way to carve a pumpkin. You first cut the top, or bottom, off and scoop out all the yuck. It is handy to have a large strainer in your sink ready to throw all the gunk in there and separate it from what you want. This is How to Keep Pumpkins from Rotting on Porch to last the longest.
Go ahead and read our post on how to clean pumpkin seeds now and then come back.
Oven Roasted Pumpkin Seeds
What is the benefit of eating pumpkin seeds?
Well besides the fact that they are a tasty snack with lots of fiber (if consuming it with the shell) it has B vitamins, magnesium, iron and protein too.
What is the best time to eat pumpkin seeds?
Actually, if you weren't aware, they're a great source of tryptophan which can help promote a sleepy state. SO, eating them before bed is a good idea, but any time of day is great if you ask us.
Should pumpkin seeds be soaked before roasting?
Yes. Soaking and/or boiling them gets rid them of enzymes in order to make them easier to digest.
Why are my roasted pumpkin seeds chewy?
Let them rest first! If you eat them right out of the oven when they're still hot or warm they will likely have a softer chewier texture. Wait until they're cool and try again. You'll be more pleased with them. You may not have dried them long enough at the beginning either. Overnight is best if you can.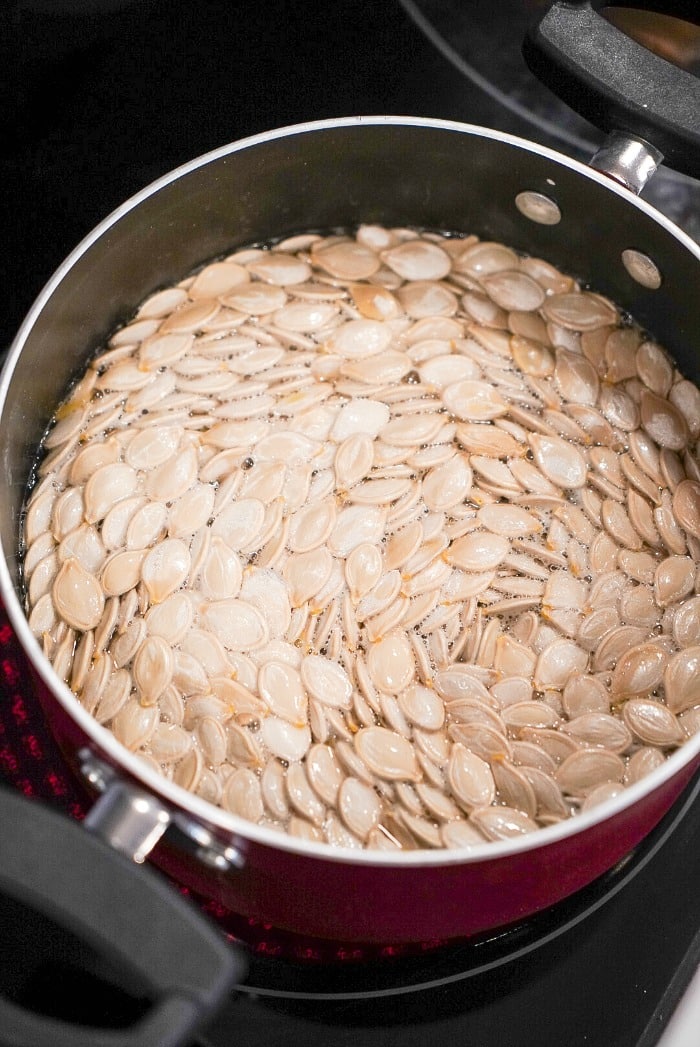 Is it okay to soak pumpkin seeds overnight?
You can in some warm water with some salt. Just make sure they're submerged with about 1 tbsp salt. Then the next day, drain, pour on to a bunch of paper towels and allow to dry for the day if you can.
To be honest I don't usually take this much time.
I like boiling them as opposed to just soaking because it gets all the strands and gunk off easily.
Seeds get as clean as possible as you see below.
Then I just pour on a wad of paper towels and press out as much water as possible.
If I have a few hours I will leave them on the baking sheet to dry out in the kitchen a bit longer.
The longer to allow them to dry before baking the crispier they will become.
Of course you don't want to waste the vegetable itself though. Set that aside and decide whether you want to pressure cook, bake or air fry pumpkin to enjoy that too. Now let's talk about how long to bake pumpkin seeds in the oven.
How to Roast Pumpkin Seeds
Clean pumpkin seeds from your pumpkin. Remove pulp left on seeds and discard or make into puree. Use hands to separate and scoop the seeds into a bowl. Put pot of salted water in pot on stovetop and wait until it is at a rolling boil. Add seeds and allow to boil for 4 minutes. Use a slotted spoon to remove and put on a few paper towels.
Lay on new dry towels and let them sit to dry as long as possible, or as long as you have time for.
Line a baking sheet with parchment paper or non stick spray.
Preheat oven to 350 degrees. Toss the seeds with melted butter (or olive oil) and toss. Add 1/2 tsp seasoned salt or garlic powder and chili powder and mix.
Spread the seeds in a single layer on a non stick prepared baking sheet and sprinkle with remaining 1/4 tsp of salt.
How Long to Cook Pumpkin Seeds a number of different ways are here.
Once golden brown remove and let them cool or they won't be as crispy.
About 3 cups of seeds fit on my cookie sheet at a time without overlapping. This is important because if they're on top of one another they won't get really crispy.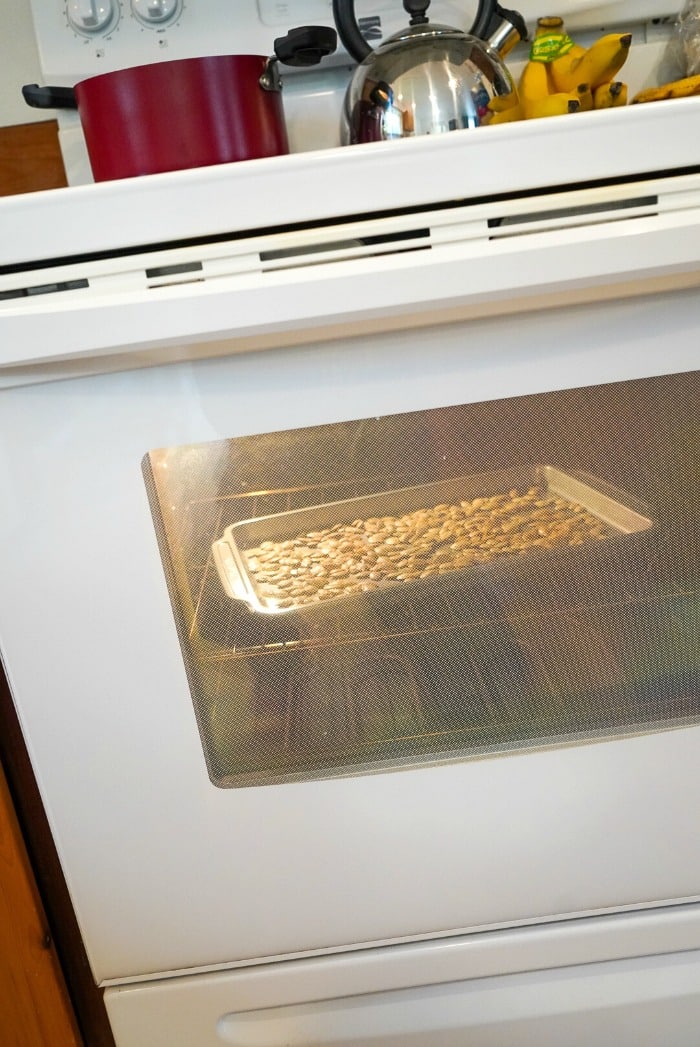 Roasted Pumpkin Seeds
Things you will need to make these are simple. I use the simplest of seasonings but I have other ideas below you could try too. Mix it up and make a few batches with different flavors to see which you love best.
Clean seeds once removed from jack o lantern
Strainer to separate seeds and bits of pumpkin away from gunk
Water and salt to boil pumpkin seeds before roasting
Paper towels for drying
Melted butter or olive oil (I personally prefer butter)
Baking sheet for roasting the seeds
Pumpkin Seed Seasonings
For more oomph you can add just about anything you'd like. I make it easy on myself and just use Lawry's salt, but Truffle salt is great too.
So… how long to bake pumpkin seeds at 350 is technically about 20 minutes for the oven. Below we share detailed step by step directions. You can print it out too if you'd like to keep it in your recipe book but feel free to come back a few times this year and next because we love "seeing you" of course.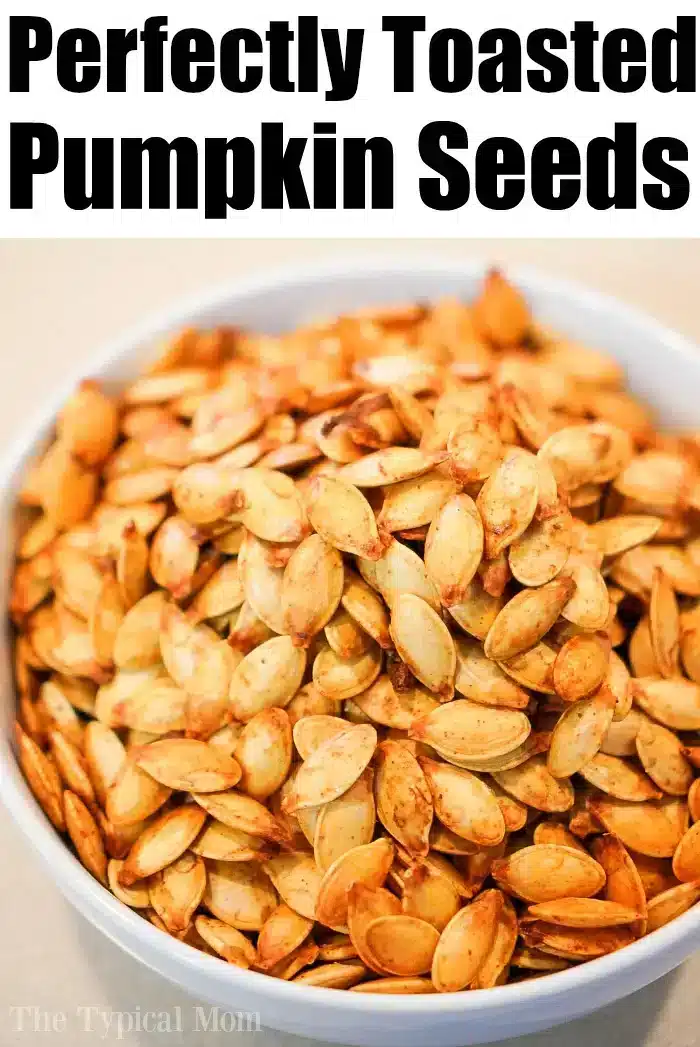 Want to see a few of my favorite things that I am totally obsessed with?? Take a peek and see how many you might already have…twinsies!
Looking for more easy family recipes and tips? LIKE The Typical Mom Facebook page?
Then sign up for my free newsletter, and follow me on Pinterest! 😉
***** If you LOVED this recipe give it 5 Stars below and let everyone know what you thought about it. 😉
How Long to Bake Pumpkin Seeds at 350
How Long to Bake Pumpkin Seeds at 350 in the oven on a baking sheet so they are crispy and crunchy ready to to become a healthy snack.
Instructions
Clean pumpkin seeds. Put pot of salted water in pot on stovetop and wait until it is at a rolling boil.

Add seeds and allow to boil for 4 minutes until they float. Use a slotted spoon to remove and put on a few paper towels.

Fold towel and absorb excess water on seeds until they are dry. Put on new dry paper towels and leave to sit and dry as long as you can, or have time for.

Preheat oven to 350 degrees F. Put seeds in a bowl with melted butter and toss. Add 1/2 tsp seasoned salt and mix.

Pour coated seeds on a non stick baking sheet and sprinkle with remaining 1/4 tsp of salt.

Put into oven for 10 minutes, then use spatula to move around so they can crisp and brown on both sides.

Continue cooking for 10 minutes or until they're as crispy and browned as you'd like.

Allow to cool completely so they will be as crispy as possible and then snack!
Nutrition Facts
How Long to Bake Pumpkin Seeds at 350
Amount Per Serving (1 oz)
Calories 85
Calories from Fat 72
% Daily Value*
Fat 8g12%
Cholesterol 8mg3%
Sodium 317mg14%
Potassium 86mg2%
Carbohydrates 1g0%
Protein 3g6%
Vitamin A 89IU2%
Vitamin C 1mg1%
Calcium 5mg1%
Iron 1mg6%
* Percent Daily Values are based on a 2000 calorie diet.