Here are some helpful tips on how to keep pumpkins from rotting on porch! Including ways to carve them and preserving pumpkins with bleach so they last a long time using this solution!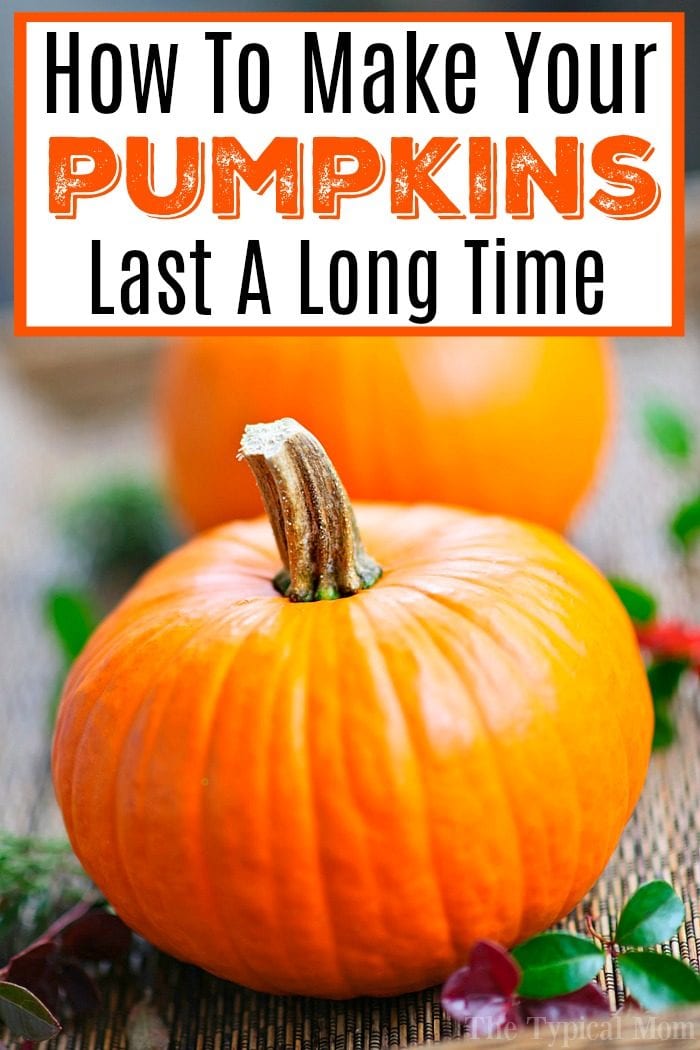 When it comes to Halloween it is surely full of excitement and planning. Visiting pumpkin patches are the best, and we love to visit different ones to see what each one has to offer and of course pumpkins! Here are some helpful tips for carving pumpkins and how to preserve pumpkins as well. (originally published 8/13, affiliate links present)
How to Keep Pumpkins from Rotting on Porch
One thing my kids love doing is picking out just the right pumpkin once October arrives, and desperately want to be the one to put the candle in and turn it into something fantastic. I knew early on that once they stuck that knife inside though it wasn't going to last, even long enough for the actual holiday.
I used to make them wait and wait and wait which was painful for everyone because I knew after a week or so it would become a mushy mess. NOT anymore!! With just a few common ingredients you can make at home you can now know that your creations will last and last on your porch for everyone to see.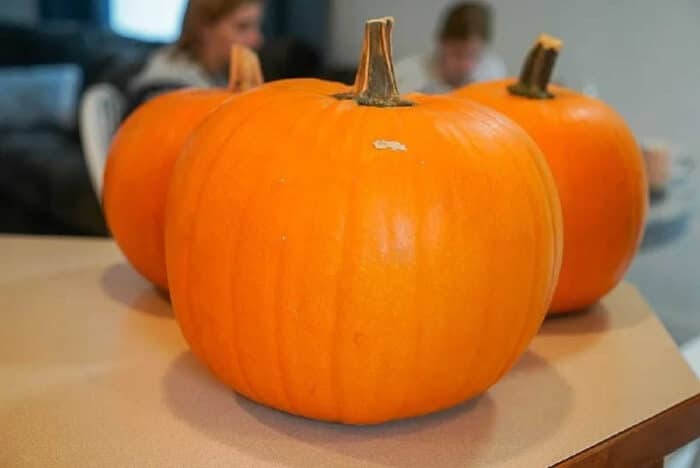 How to Preserve Carved Pumpkins
Since 2 out of 3 are still a bit young to be carving, I like them to take part in some of it, and here is where this tip comes in.
It is tricky to allow a child to light a candle with the traditional cutting off the top of the pumpkin.
This requires even a steady adult hand to maneuver a lit match into the candle below.
Even lighting it first and then trying to lower it into that slender opening at the top leaves fingers a bit warm, so here is some help.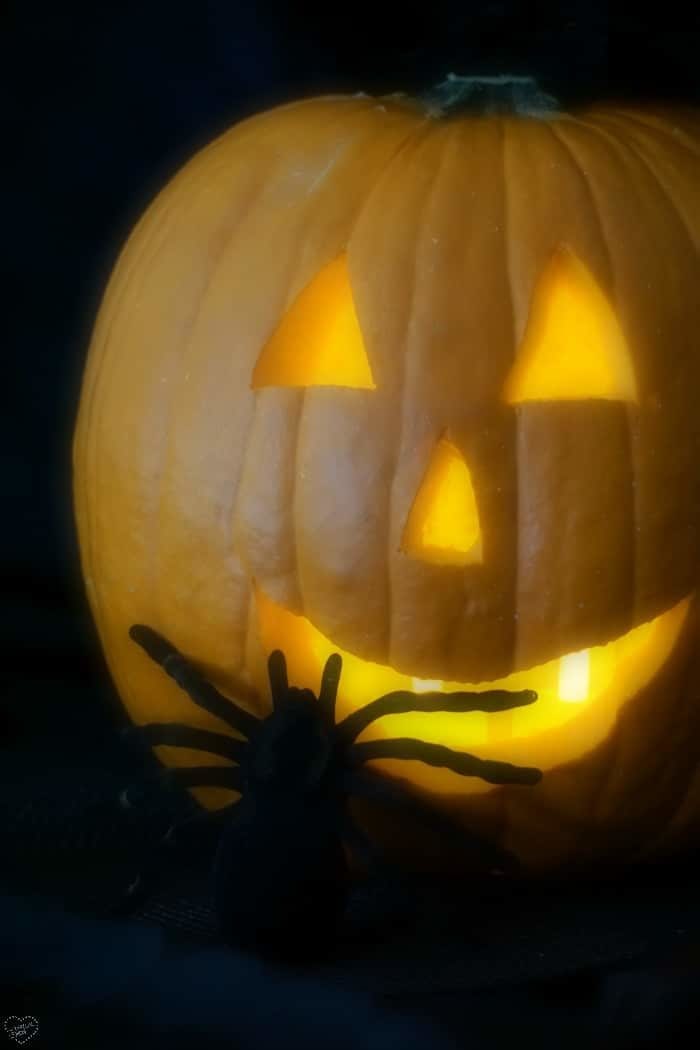 Best Way to Carve Pumpkins
Instead of cutting all the way around in a circle at the top of a pumpkin, cut down on the back side in a rectangular shape like you see below (you won't be able to tell once it's face is carved & the top is put back on).
Clean pumpkin seeds, discard pulp, then make air fryer pumpkin seeds for a healthy snack.
Or roast in the oven for homemade pumpkin seeds.
Then you can place a tea light right in and light it with plenty of room for your hand to reach in straight, then place the top right back on. 😉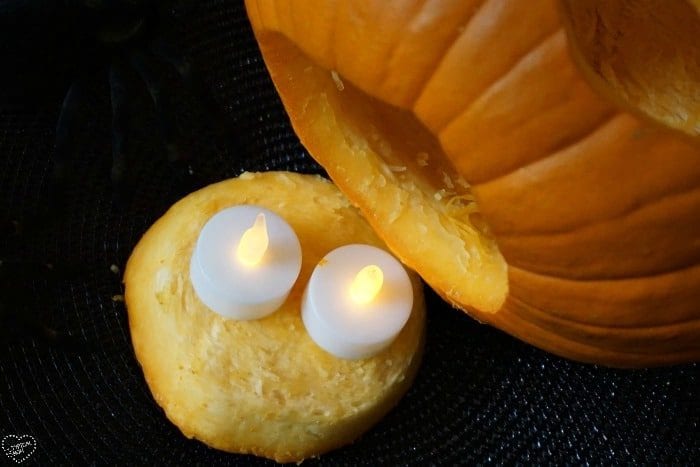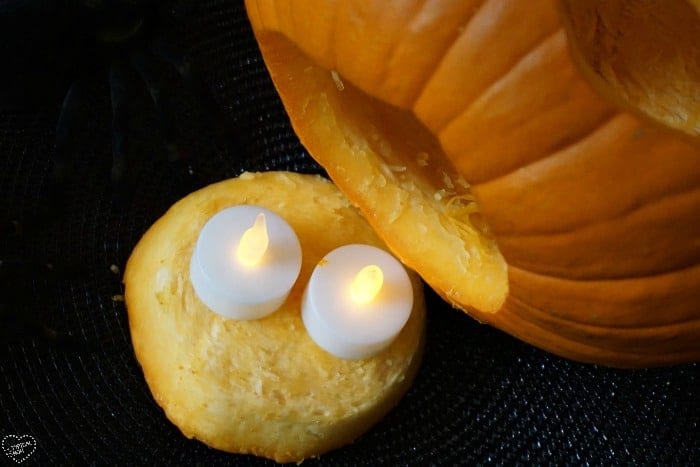 Tips for carving pumpkins
Another way is the cut a whole in the bottom of the pumpkin as you see above and in this video below.
Then scoop out the insides, spray with the solution shown below to preserve them as long as possible
Place 1-2 battery operated flameless tea lights on the bottom and lower the top back on
These are best for kids and are inexpensive to buy too…no worries about blowing real candles out or getting burned either.
If you want to have some added fun you should try cooking a pumpkin! Takes just 15 minutes and then you can make homemade pumpkin butter and pumpkin zucchini muffins.
If you want your pumpkins to last as long as possible make this simple solution below and spray inside so it won't wilt right after you carve it!
How to Preserve Pumpkins with Bleach
Pumpkin preserving spray with bleach solution = use 1 tbs. of bleach for every 4 cups of water. Put it in a spray bottle.
Time needed: 15 minutes
Preserving Pumpkins
Clean

Remove dirt by wiping the outside of the pumpkin using a damp cloth.

Combine

Make the bleach solution listed above using liquid bleach + 4 cups of water. Put it in a spray bottle.

Spray

Spray the pumpkin on the inside and on any cut areas of the pumpkin with this mixture. It will kill a lot of the bacteria. This will mean that it will take longer to create mold and eventually rotting.

Dry

Let it dry for 20 minutes or so. Then rub all of the cut areas with vaseline / petroleum jelly.
This will help keep the mold away longer and slow down the shrinking pumpkin you see after it's been cut.

Wipe

Wipe away extra vaseline and spray solution with a paper towel.

Display

Keep your pumpkin out of harsh sun, in the shade, and try to keep it as cool as possible. This will help preserve your pumpkins for longer than just a few days if you didn't do anything at all
If you keep them on the front porch just find a spot that has a bit of a cover to prevent soft spots from occurring as quickly.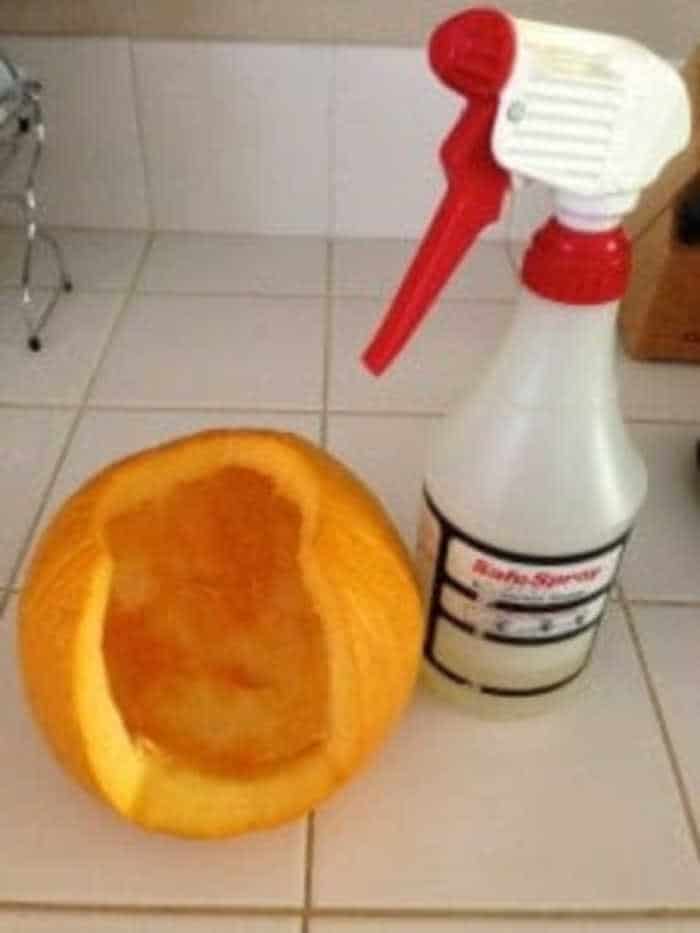 How to Preserve Pumpkins with Vinegar
If you do not want to use bleach you can use vinegar instead. The difference with this one is instead of a pumpkin preserve spray of sorts you will instead submerge your jack o lantern in the solution. You can use this whether they are carved or uncarved pumpkins.
In a large bucket or container, mix together a solution of water and vinegar. The recommended ratio is approximately 1 part vinegar to 10 parts water. For example, you can mix 1 cup of vinegar with 10 cups of water.
Submerge the carved or uncarbed pumpkins in the vinegar solution, ensuring they are completely immersed. Let them soak for about 8-12 hours. This process helps kill bacteria and mold spores that can cause rotting.
After soaking, carefully remove the pumpkins from the vinegar solution and place them on a clean surface. Allow them to air dry completely. This step is crucial as excess moisture can lead to decay.
Once the pumpkins are dry, find a suitable storage location. It's ideal to keep them in a cool, dry area with good ventilation. Avoid direct sunlight and extreme temperatures, as they can accelerate the decay process.
When you're done with this and ready for some yummy and fun Halloween fun try these!
Want to see a few of my favorite things that I am totally obsessed with?? Take a peek and see how many you might already have…twinsies!
Looking for more easy family recipes and tips? LIKE The Typical Mom Facebook page?
Then sign up for my free newsletter, and follow me on Pinterest! 😉
***** If you LOVED this recipe give it 5 Stars below and let everyone know what you thought about it. 😉