How to make peppermint chocolate cream cold foam homemade is here. Chocolate cold foam cold brew iced coffee is delicious and cheap to make. Serve on top of your cold brew coffee, frappuccino or frozen coffee at home for added YUM.
There's no better way to warm your taste buds than with the irresistible combination of peppermint and chocolate. If you're a coffee freak, you're in for a treat, as Peppermint Chocolate Cold Cream Foam takes your cold coffee drinks to a whole new level. Let's talk about homemade Cold Cream Foam, how it's made, and why it's a must try during the winter months. (post may contain affiliate links present)
Chocolate Cold Foam
Chocolate Cream Cold Foam is a luscious and velvety topping designed to enhance the flavor and pretty your drink creations. Like our Pumpkin Cream Cold Foam, this one adds a cool peppermint, rich chocolate, and creamy frothy goodness not only adds a beautiful layer but gives it a burst of festive flavor.
Chocolate Sweet Cream Foam
This is How to Make Cold Foam for Coffee in general. You don't have to add mint at all if you don't want to. There are 2 ways you can do this though, either with a bit of syrup or extract or crushed candy canes on top! I prefer the latter of the two because it adds crunchy texture and makes it a lot prettier too.
Heavy cream will provide the creamy foundation for the foam, delivering a luxurious texture.
Peppermint extract is the star of the show, imparting that refreshing and invigorating minty flavor.
Cocoa powder or chocolate syrup adds the rich, indulgent chocolate element to the foam.
A sweetener like sugar or a syrup is used to balance the flavors and provide sweetness, but optional.
Cocoa powder and Malt powder gives it that chocolate omph
If you want to give the cream cold foam recipe a festive touch, you can add a drop or two of red food coloring for a subtle pink hue.
Pour the copycat Starbucks chocolate cold foam over any beverage you like. Iced coffee is the most common but even on top of our Homemade Peppermint Frappuccino is great.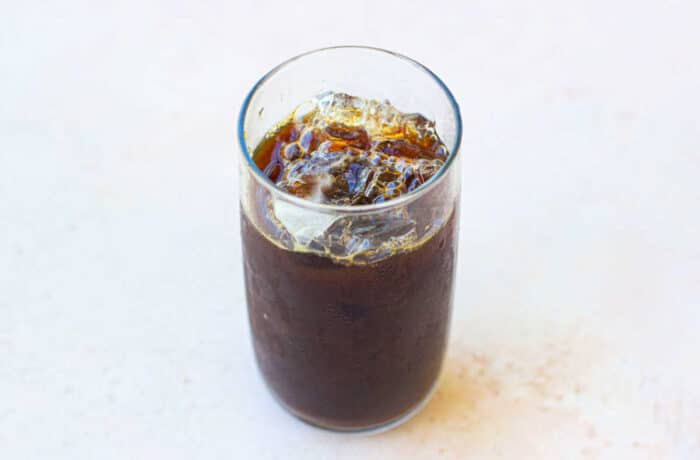 Chocolate Cream Cold Foam
There are tips to your success you should follow when making this copycat recipe you may have had at Starbucks. Once you get the hang of how it is done you can tweak in many different ways.
Want vanilla sweet cream cold foam on top of your Chocolate Stout Cold Brew? Use the vanilla malted milk and skip the cocoa. Use the same cream, milk but vanilla syrup would replace the mint.
To ensure the cream whips up nicely, start with a chilled mixing bowl and whisk or an electric mixer.
In the chilled bowl, combine heavy cream, peppermint extract, cocoa powder or chocolate syrup and malted milk powder.
Use the whisk, milk frother or electric mixer to whip the mixture until it reaches a thick and frothy consistency. The foam should be able to hold its shape but remain spoonable.
Once it reaches a defrosted Cool Whip consistency, taste and adjust to your liking.

if you want it sweeter you can add a bit of sugar or a sweetener of your choice
more minty, add a bit more extract too
Spoon it generously over your cold brew beverage. It will create a delightful layered effect. Can add crushed candy canes to the top too for flare. (I enjoy it with a slice of Peppermint Cake too)
Peppermint Cream Cold Foam
With each sip, you'll experience your favorite blend of cool peppermint, rich chocolate, and the invigorating the taste of your cup of cool Joe beneath. For this version you are going to need;
Milk, 2% is best
Heavy cream
Cocoa powder
2 tbsp malted milk powder comes in chocolate flavored or vanilla
Extract of your choice, mint in this case. This is the easiest way to change things up. Keep the rest the same but change to salted caramel if you like. Homemade vanilla syrup is delicious as another one. Change things up and see which combination is your favorite one.
Now let's talk about how you can vary this with different flavors so you can enjoy it all year long. There are tons of ways to tweak it for sure. During the Fall months you can make chocolate pumpkin cream cold brew cold foam recipe as well!! This duo sounds odd but is pretty yummy. For that one you would need;
Pumpkin puree 1.5 tbsp.
Cocoa powder 1 tbsp.
Cooled brewed coffee 3\4 cup
Heavy Cream 3-4 tbsp.
Milk 1 tbsp.
Vanilla 1 tsp.
Pumpkin pie spice 1 tsp
Peppermint Cold Foam
When done with your coffee drink recipe pour the chocolate cream cold brew Starbucks copycat fluff on top of your favorite drink and enjoy. If you wanted to add a tropical sorta' flare just use the recipe below but instead of mint use coconut extract instead!! OMG is that choice wonderful on top of iced coffee.
Can you store sweet cold foam?
Sweet cold foam, like other types of cold foam, can be stored, but it's important to do so correctly to maintain its texture and flavor. It should be stored in the refrigerator between 32°F to 40°F to keep it fresh. Place it in an airtight container to prevent odors from affecting its taste and aroma. It really is best when it's freshly made though and will lose its texture and flavor over time. Try to use it within a day or two of preparation for the best results.
How do you keep cold foam thick?
Ensure that all your equipment, including the mixing bowl, whisk, and the milk or cream, is well-chilled. Cold ingredients and utensils help the foam hold its shape. Using heavy cream will make it creamy with a lower fat milk to keep it light and frothy.
Want to see a few of my favorite things that I am totally obsessed with?? Take a peek and see how many you might already have…twinsies!
Looking for more easy family recipes and tips? LIKE The Typical Mom Facebook page?
Then sign up for my free newsletter, and follow me on Pinterest! 😉
***** If you LOVED this recipe give it 5 Stars below and let everyone know what you thought about it. 😉
Peppermint Chocolate Cream Cold Foam
How to make peppermint chocolate cream cold foam homemade is here. Chocolate cold foam cold brew iced coffee is delicious and cheap to make.
Instructions
In a mason jar combine all ingredients. Use a milk frother moving up and down in the glass to combine and thicken up for about 20-30 seconds.

Taste and adjust the amount of peppermint you want in it. Start with 1/8 as it is strong and add a bit more if you want stronger. Thin out with a bit more milk to your liking.

** If you want a real deep chocolate flavor use chocolate malted milk, for tamer use the vanilla version.
Nutrition Facts
Peppermint Chocolate Cream Cold Foam
Amount Per Serving (1 oz)
Calories 295
Calories from Fat 225
% Daily Value*
Fat 25g38%
Cholesterol 77mg26%
Sodium 84mg4%
Potassium 264mg8%
Carbohydrates 14g5%
Protein 6g12%
Vitamin A 998IU20%
Vitamin C 1mg1%
Calcium 150mg15%
Iron 0.4mg2%
* Percent Daily Values are based on a 2000 calorie diet.