Copycat Dunkin Donuts chocolate stout cold brew recipe is here! Homemade iced coffee that tastes amazing and way cheaper made at home. Just one of our favorite Easy Homemade Coffee Drinks you will love in the busy morning.
There's nothing quite like the thrill of creating your favorite café drinks right in your own kitchen. Especially when it's a refreshing, indulgent drink! This recipe takes your standard cold brew to the next level by introducing flavors of rich mocha and creamy chocolate. (affiliate links present)
This drink is a mix of robust cold brew coffee, sweet and chocolaty mocha syrup, and a luxurious topping of homemade chocolate cream cold foam. Each sip is a perfect blend of bitterness from the coffee and sweet creaminess from the foam. It's the perfect pick-me-up on a warm afternoon with a Dunkin Donuts Apple Fritter!
Copycat Starbucks Chocolate AlmondMilk Cold Brew
We love making our favorite drinks at home. Not only does it save you a ton of money but you can tweak each one to make it just the flavors you want. Just like our lotus drink recipe, this creamy blend can be made with a ton of different flavor hints.
To those who have tried Starbucks' Chocolate AlmondMilk Shaken Espresso, this recipe brings a similar delightful taste but with a unique twist. The Starbucks copycat chocolate stout cold brew features a chocolatey, robust flavor profile similar to their version, but we've enhanced it with a more complex taste using our chocolate cold foam. The resulting drink offers a rich, smooth, and velvety chocolate experience with every sip.
When it comes to making the cold brew, patience is your friend. To achieve a smooth base like in our 3 ingredient Dalgona whipped coffee, we suggest brewing the coffee the night before. Make it faster with ice cubes done the day before too. This way, you'll wake up to a flavorful cold brew ready to be transformed into your café style coffee drink.
Now, if you're curious about the other ingredients in this drink, here's the list: brew with sweet cold coffee, mocha syrup, heavy whipping cream, milk, vanilla, cocoa powder, and ice. These ingredients together create a symphony of flavors that's truly hard to resist.
Chocolate Cold Brew
In the process of making the chocolate cold brew, the first step is to infuse your coffee with mocha syrup. This brings a new depth of flavor to your cold brew, making it taste richer and more satisfying. You then follow it up with the creation of a homemade chocolate cold foam.
This foam is made by beating together heavy cream, milk, vanilla extract, and cocoa powder. The result is a velvety smooth, creamy, and frothy topping that complements the bold cold brew perfectly. We make it without the cocoa to top our homemade pumpkin frappuccino too, so good.
Homemade Iced Mocha
Adding ice to your serving glasses is the next step. It provides a delightful chill to your drink. You then pour your mocha-infused cold brew and top it with generous spoonfuls of your homemade chocolate cold foam. If you're a fan of Starbucks Chocolate Cream Cold Brew, I guarantee that this recipe is sure to please.
What is a good substitute for mocha syrup?
If you don't have mocha sauce on hand, you can substitute it with homemade vanilla syrup or even a mix of cocoa powder and granulated sugar. Remember, the goal is to add a hint of sweetness and a boost of flavor to your cold brew. So all bets are really off, if you want to go over the top our coffee frosting is SWEET!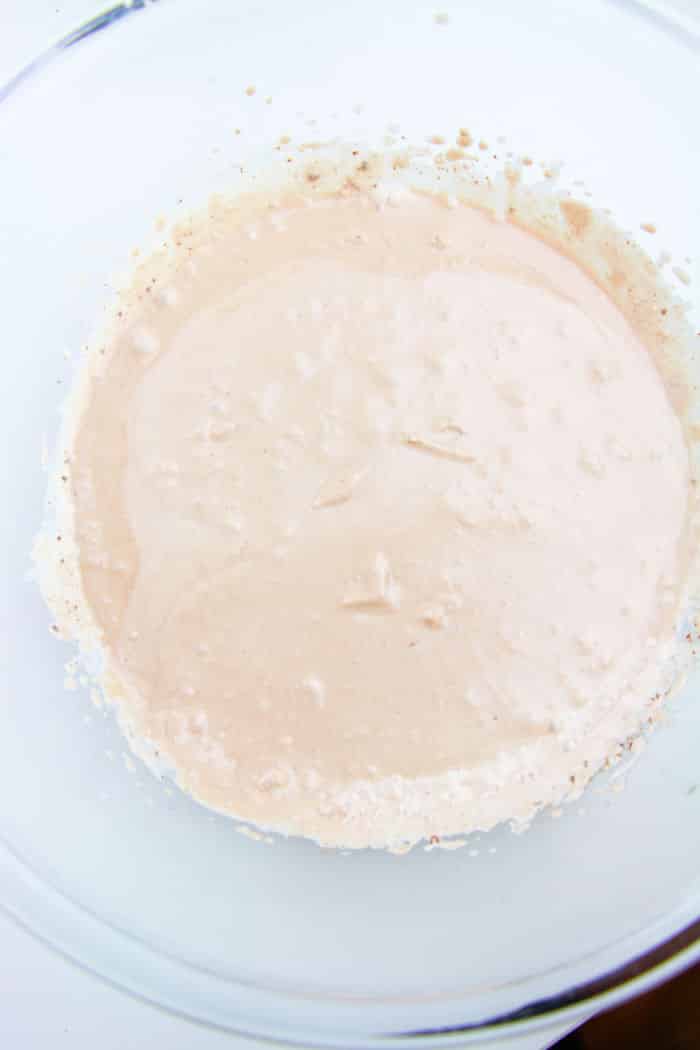 Remember, you can also make this drink dairy-free by using almond milk in place of regular milk. This substitution not only makes the drink lighter but also adds a subtle nuttiness that pairs wonderfully with the chocolate. Cold brew with dark cocoa almondmilk foam? Yes please!
I also want to mention that the homemade chocolate cold foam can be prepared using a handheld milk frother. It's a great tool that helps to achieve that airy, frothy texture quickly and effortlessly.
How to Make Sweet Cold Foam
Creating Pumpkin Cream Cold Foam is perhaps the most fun part of this recipe. It's also where you can get creative. If you like your coffee drink extra chocolaty, feel free to add a little more cocoa powder. Alternatively, you could experiment with different flavors like using chocolate malt powder or malted milk powder instead of cocoa.
Once your foam is ready, top your glass filled with the cold brew and ice, and voila – your homemade Chocolate Stout Cold Brew is ready to enjoy.
And when you're ready to experiment with other café-style drinks, we have others like frozen coffee that is more like a frappe and more on our site.
Dunkin Donuts Chocolate Stout Cold Brew
As for the foam, if you have a handheld milk frother, use it! This tool will help you achieve that light, airy texture in no time. If not, a simple whisk will do, though it may take a little more effort. If you're using almond milk for the foam, make sure to whisk vigorously to achieve the desired frothiness. Almond milk doesn't froth as easily as regular milk.
In case you're wondering, it's not necessary to stick with whole milk for the foam. You could switch to almond milk for a slightly different flavor profile. The almond milk cold foam is lighter and nuttier, offering a delightful contrast to the robust flavors of the mocha-infused cold brew.
Of course, if you're in a hurry or don't feel like making cold brew from scratch, you can use store-bought cold brew coffee. Just remember to pick a high-quality one that's smooth and low in acidity.
And now for a bit of nostalgia! If you're a fan of Dunkin Donuts' chocolate stout cold brew, try adding a smidgen of your homemade vanilla syrup for a touch of extra sweetness.
How to Make Cold Brew
Dunkin Donuts, another beloved coffee shop, has also had its version of chocolate cold brew. While we've made our version somewhat akin to Starbucks, it's also comparable to what a Dunkin cold brew offers. The homemade experience, however, gives you the power to tweak the flavors to your liking. If you'd prefer your cold brew to have a darker chocolate flavor, feel free to add more cocoa powder. Maybe you're more in the mood for a malty flavor? Try adding some malted milk powder.
Throughout the brewing process, remember that patience is key. Give your cold brew time to extract fully and your foam time to whip to the perfect consistency. For a fun twist, try adding your homemade coffee creamer to the brew. You could also enjoy this cold brew with our amazing cake mix cherry coffee cake for a cafe style treat at home.
And there you have it a coffee store style Chocolate Stout Brew that you can make right at home! With each sip, you'll enjoy a burst of robust coffee flavor, followed by a silky touch of chocolate cold foam. Whether you're a fan of Starbucks, Dunkin, or just a coffee lover, this recipe will not disappoint.
Want to see a few of my favorite things that I am totally obsessed with?? Take a peek and see how many you might already have…twinsies!
Looking for more easy family recipes and tips? LIKE The Typical Mom Facebook page?
Then sign up for my free newsletter, and follow me on Pinterest! 😉
***** If you LOVED this recipe give it 5 Stars below and let everyone know what you thought about it. 😉
Chocolate Stout Cold Brew
Copycat Dunkin Donuts chocolate stout cold brew recipe is here! Homemade iced coffee that tastes amazing and way cheaper made at home.
Ingredients
6

c

cold brew coffee

3

tbsp

mocha syrup

1

c

heavy whipping cream

1/2

c

milk

whole or 2%

1

tsp

vanilla

1-2

tbsp

cocoa powder

depending on how intense you want

2

c

ice
Instructions
Place cold brew in a pitcher and stir in the mocha syrup. Set aside. In a large bowl, beat heavy cream, milk, vanilla extract and cocoa powder together for 4-5 minutes until soft peaks form.

Fill your serving glasses with ice and fill with mocha infused cold brew. Top each glass with 2-3 Tablespoons of the chocolate cold foam. Refrigerate remaining coffee and foam until ready to enjoy.
Nutrition Facts
Chocolate Stout Cold Brew
Amount Per Serving (2 oz)
Calories 151
Calories from Fat 135
% Daily Value*
Fat 15g23%
Cholesterol 47mg16%
Sodium 23mg1%
Potassium 82mg2%
Carbohydrates 3g1%
Protein 2g4%
Vitamin A 616IU12%
Vitamin C 1mg1%
Calcium 55mg6%
Iron 1mg6%
* Percent Daily Values are based on a 2000 calorie diet.