How to make lotus drink recipes using 3 ingredients, make any flavor you want like watermelon, pink lotus, blue lotus, coconut, peach. A refreshing sweet drink with natural caffeine from green coffee extract is a perfect bit of energy in the morning or mid day.
Have you ordered a lotus drink recently and fell in love??!! Now you want to make the same lotus drink recipe at home so you can have it more often? It's super easy and we will share with you just how to make one at home right now! (affiliate links present)
Lotus Energy Drinks
This concentrate isn't just lip service when it says energy on the front. There are actually several antioxidants, amino acids, B vitamins, natural coffee extract of 80mg of caffeine per 1 oz serving (2 Tbsp = 2 pumps). I used to spend a few dollars each morning to get a Starbucks refresher for some get up and go, not anymore.
Since you can buy this base in bulk, and a bunch of different Torani flavorings it now only costs less than .75 for the same amount of drink. AND I can switch up the flavors to try different combinations which I love. Ok so my girls who are teens turned me on to this carbonated drink.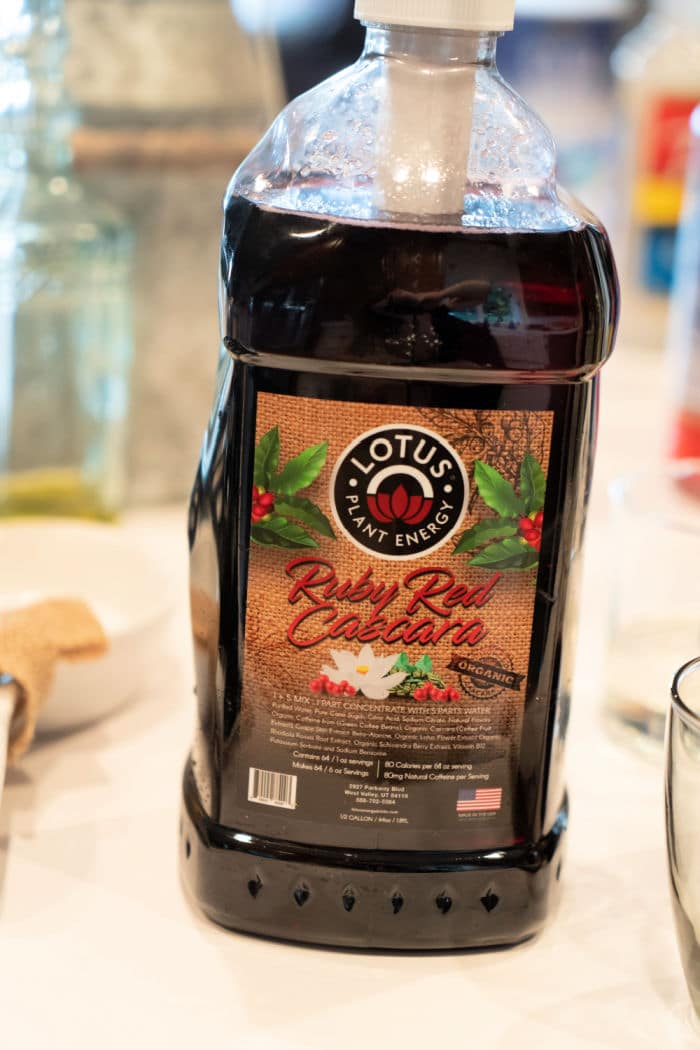 My youngest said they were making these at school at almost 4 dollars for a small and it got me thinking. "I bet we could make that easily at home", and it didn't take long for us to figure it all out. Then I was hooked too, and my husband, then my middle daughter. You get the idea. 😉
I had to share this finding with all of y'all because it's become a beginning to our days now. Yes we start out early in the morning, to get to HS, start my day writing as a blogger, taking care of pets. Ok so adulting requires caffeine y'all, period.
I do love me a glass of Dalgona coffee but that is on the heavier side, and has a lot more calories too for sure. It was just too much but I do need a bit of a pick me up. Problem solved. Now let's talk about what this is all about….
What is a Lotus Drink
Is Lotus drink good for you?
I mean everything in moderation of course but Lotus in particular does offer benefits such as potentially killing cancer cells, decreasing swelling, reduces blood sugar and more. You can now use this plant based energy concentrate to make delicious drinks! Here is a recipe to follow.
How to Make a Lotus Drink
So when we each had one made for us at a local coffee shop up here in Northern Idaho we sat together and tried to guess what was in it. We saw the Lotus energy drink bottles on the counter, and Torani is literally the best way to flavor any drink. The base was what we were questioning.
At first I thought, 7-up or Sprite was it. When trying the concentrate though it had more sweetness than I initially thought it would. Soda would make it way too sweet in that regard. Club soda, that was the key to get it carbonated but not add flavoring.
Lotus Energy Drink Combinations
You literally have hundreds of possibilities since you could mix two and come up with something totally different all together. As is though the most popular would be;

Watermelon
Blue raspberry
Peach
Coconut
Lemon and/or Lime together or separately
Orange
Vanilla
Caramel and Pumpkin pie might be interesting during Fall months.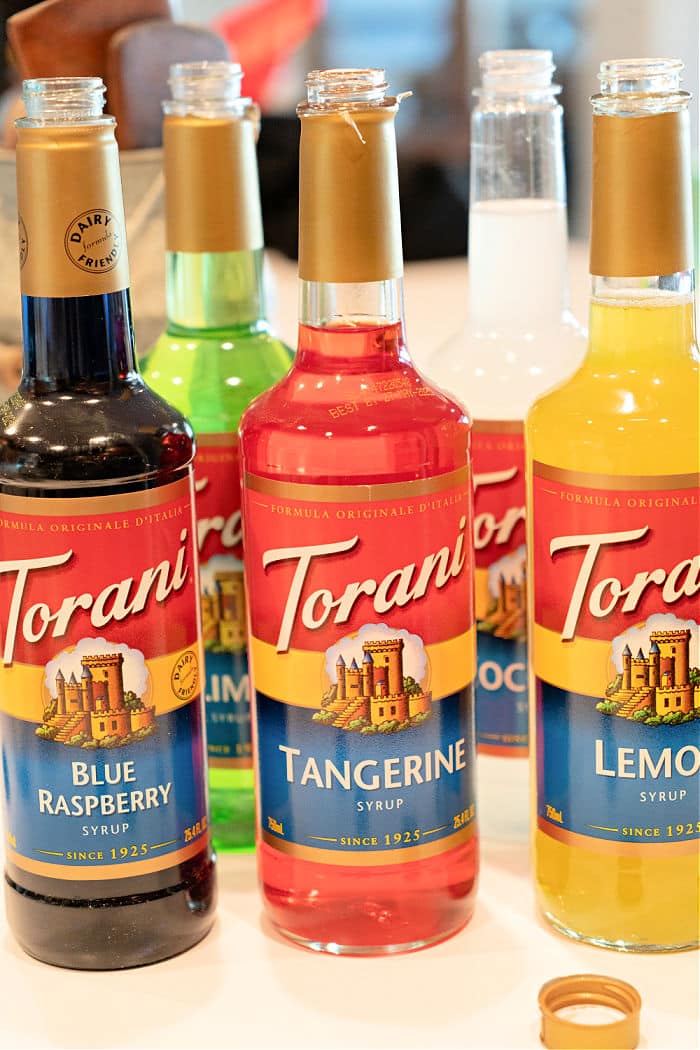 Lotus Drink Recipe
Since my daughter had tried this many more times than I she worked with the combinations to find the right balance between the 3 ingredients. Of course you could double or triple it for more but use the same ratios as listed below for the ideal blend.
Club soda – we buy the store brand in 2 liters because that is by far the cheapest way to go
You have to buy Lotus energy syrup on their site, they aren't selling plant based energy concentrates on Amazon quite yet
Torani flavored syrups come in a ton of flavors so choose your favorite or a few
We use mason jars for our glasses at home and they are perfect because they fit one exact serving plus half a glass full of ice. You can buy pumps here for the bottles which is super handy to have, or use 1 Tbsp for each pump.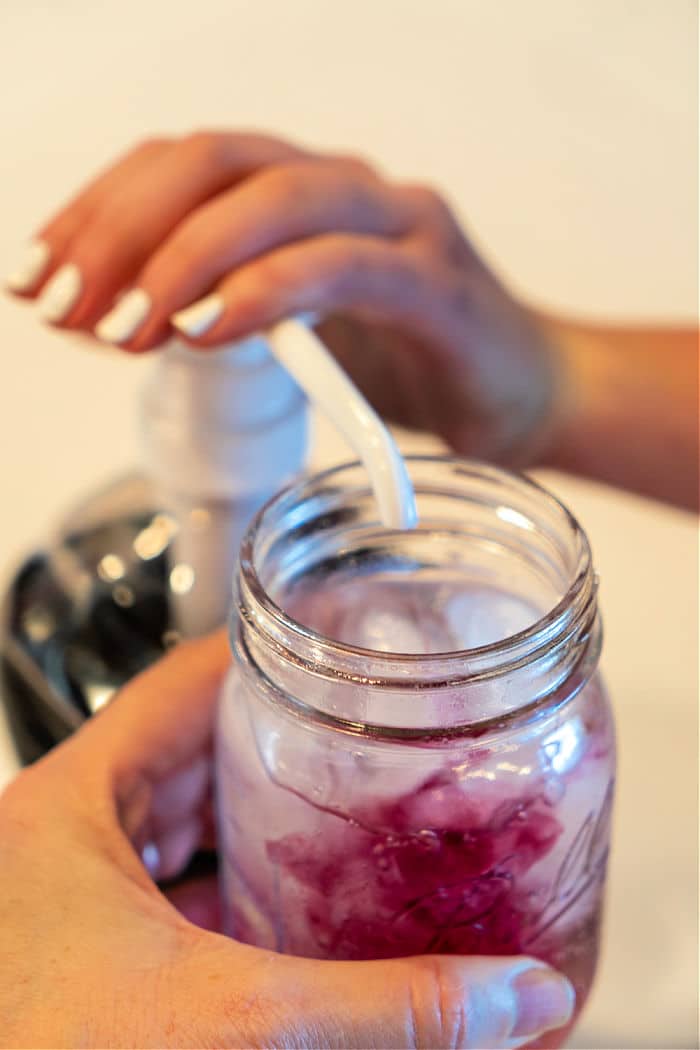 Lotus Drink Flavors
Like I said, choose your favorite one. The base comes in a variety of flavors and so do the syrups so together you can tweak the color and flavor of each one. Can you substitute soda water for club soda? These two terms are pretty synonymous. Even flavored seltzers work though you kinda' want it plain here.
If yo have other natural flavors and sweeteners that are sugar free that you like, go for it! Many who have to control their blood sugar would need an alternative to the Torani, you can find many online.
You just add soda water and pump your clear, red, blue energy mix to make. To make a Lotus super cream drink you could add a dash of heavy whipping cream to it. Of course that will add a bit of fat and more calories to it but you'll create a whole new flavor entirely, a bit like an Italian soda in a sense.
Pink Lotus Drink
Blue Lotus Drink
This is just the beginning. If you use the ruby red coffee fruit cascara type you see at the top it will turn out pink. We will create a blue version using the clear version and blue raspberry next. When we do that post it will be published and linked here. Happy creating friends!
Want to see a few of my favorite things that I am totally obsessed with?? Take a peek and see how many you might already have…twinsies!
Looking for more easy family recipes and tips? LIKE The Typical Mom Facebook page?
Then sign up for my free newsletter, and follow me on Pinterest! 😉
***** If you LOVED this recipe give it 5 Stars below and let everyone know what you thought about it. 😉
Lotus Drink
How to make lotus drink recipes using 3 ingredients, make any flavor you want like watermelon, pink lotus, blue lotus, coconut, peach etc…
Instructions
Get out a glass and fill 1/2 way full of ice. Pour in 1 cup of club soda.

Pump in 2 pump of your choice of Lotus energy drink concentrate (1 tbsp = 1 pump) + 1 pump of your choice of Torani flavoring (more if you want it sweeter).
Nutrition Facts
Lotus Drink
Amount Per Serving (1 oz)
Calories 0
% Daily Value*
Sodium 50mg2%
Potassium 5mg0%
Calcium 12mg1%
Iron 0.02mg0%
* Percent Daily Values are based on a 2000 calorie diet.