This pressure cooker jam takes 15 minutes and you can use any fruit you want in your Instant Pot or Ninja Foodi. If you're wondering how to make homemade jam with no pectin quickly I have the answer for you!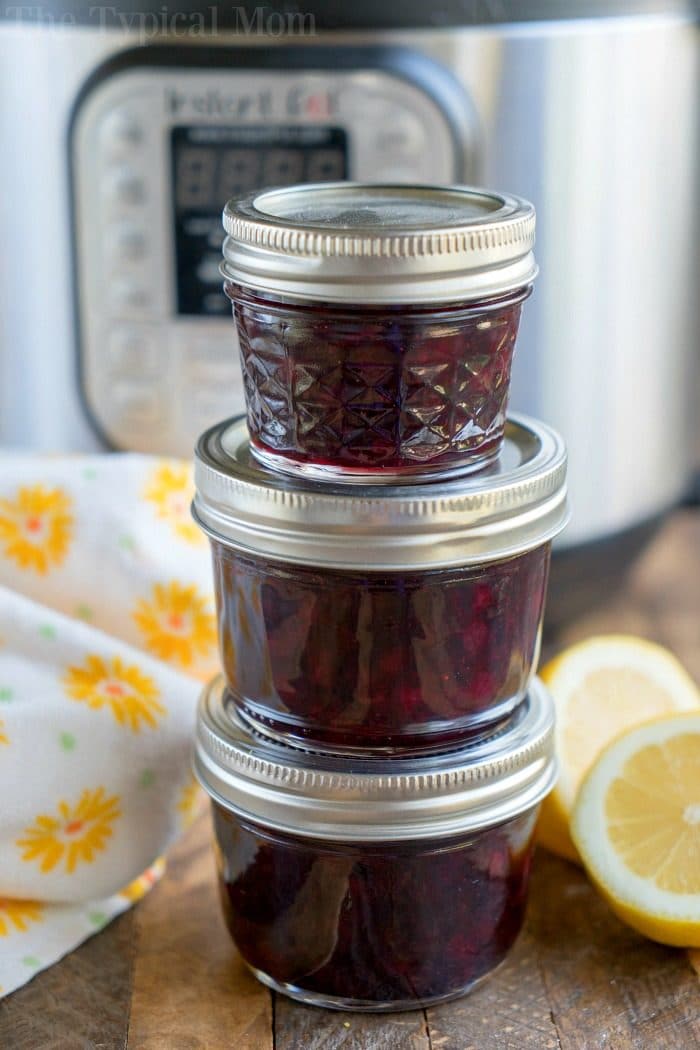 I have always wanted to make homemade jam but never really got around to it until now! My Instant Pot is just an amazing thing and figured I could probably make some easy pressure cooker jam with fresh huckleberries I bought. It came out delicious and is now added to our 101+ Instant Pot Recipes here on my site. 😉 (originally published 9/18, affiliate links present)
Jam in Instant Pot
You can make this as an easy Ninja Foodi recipe as well, or in a Crockpot Express. They all work the same with high pressure. After you're done you can enjoy it in the next few weeks as is or this is how to can jam so it lasts so much longer.
You cannot use this machine for InstaPot canning as stated by the manufacturer but we will show you how to do that the old fashioned way. Fresh is always best though and it never lasts long in our house enjoyed for breakfast or dessert.
FIRST – You should sign up for my free newsletter so you get new posts emailed to you twice a week and never miss out on anything! Now let's start with a few basic tips:
Make sure to Bookmark our InstaPot recipes page. We add new ones each week!
Then PRINT this —–> Instant Pot cooking times cheat sheet that will help you understand how long meat, vegetables and beans take to cook in your pressure cooker.
For reference, this is the pressure cooker I have (a 6 quart) and use for all recipe creations.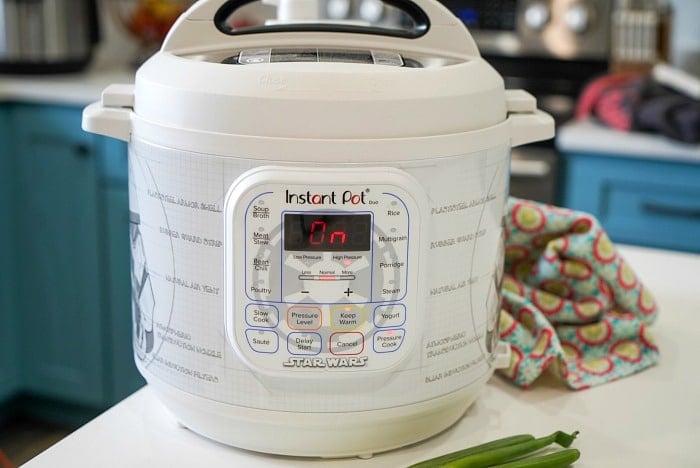 If you want to make this same homemade jam on your stovetop, follow our huckleberry jam recipe. You can use any fresh or frozen berries to make either of these. I opt for quick versions though and you must too. 😉
I bought a bunch since they're only in season once a year here in Idaho. I started by making this huckleberry cobbler.
You can use any berries or even peppers you might have but this is what I used this time. Later on I made green pepper jelly <—-using this recipe but the instructions here for a pressure cooker vs. stovetop.
I had about 1.5 lbs. which didn't look like quite enough fruit when I put it into my pressure cooker, so I added 3/4 of a container of fresh strawberries from our garden too. So the total was 2 lbs. of fresh fruit and the combination turned out to be great.
Instant Pot Jam
I suppose you could make Instant Pot jam with frozen berries but I haven't tried that yet. If I did I probably wouldn't adjust the time since fruit cooks so fast in an Instant Pot.
When I try that I will update this to let you know how that turns out. Or if you use frozen let me know below so I can share that info. 😉
Can you peel plums to make jam?
Yes! If that is your favorite fruit then by all means remove those skins and use those. I have had people comment to me that this fruit works rather well and delicious.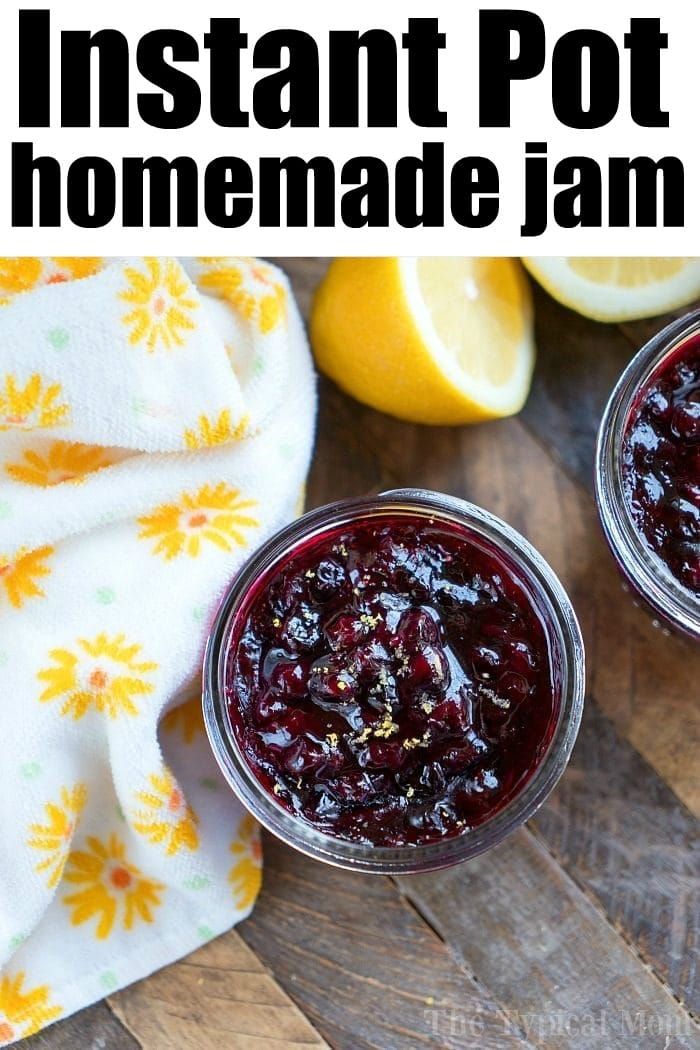 Ninja Foodi Jam
When it is summertime we are all about fruit because it's so fresh and inexpensive when it's in season. There are tons of farms out here so we get on their email list and schedule trips up to pick fresh peaches, blackberries and anything else we can get our hands on.
If you have a backyard garden I suggest planting strawberries and trying to make homemade jam this year. It is SO simple and I guarantee you won't buy a jar at the store after you try it. I would involve your kids in the process too, I assure you they'll love it.
Can you make jam from canned fruit?
You can if that is really all you have. You'll just need to drain the liquid out of the can first. It won't have the same consistency, it will be smoother without the chunks of fruit you see here. It will be more like jelly versus jam.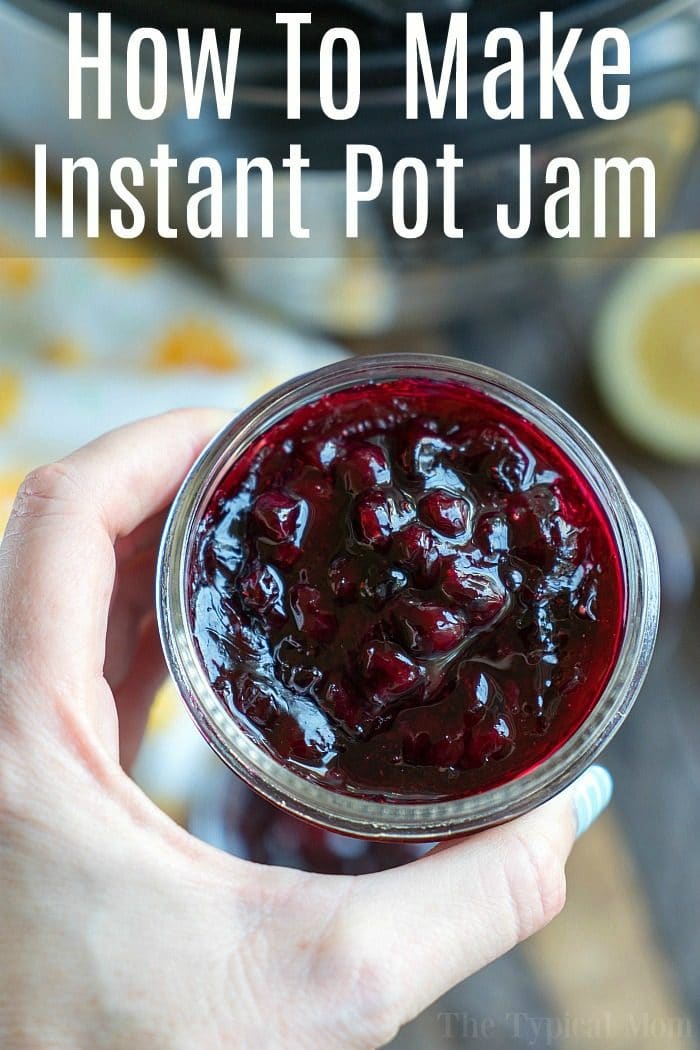 Fruit releases a lot of juice so liquid really isn't necessary. Then you just add a bit of cornstarch and water at the end to thicken it up.
The combination of huckleberries and strawberries worked well too. It brought some added sweetness to the typically slightly sourness of fresh huckleberries. Sugar was also needed to sweeten it up.
If I were to use something like peaches I would add less sugar. Closer to 3/4 of a cup instead of 1 but that is personal preference. Use this guide to make your own Instant Pot strawberry jam or whatever flavor you prefer and sweeten to your liking. 😉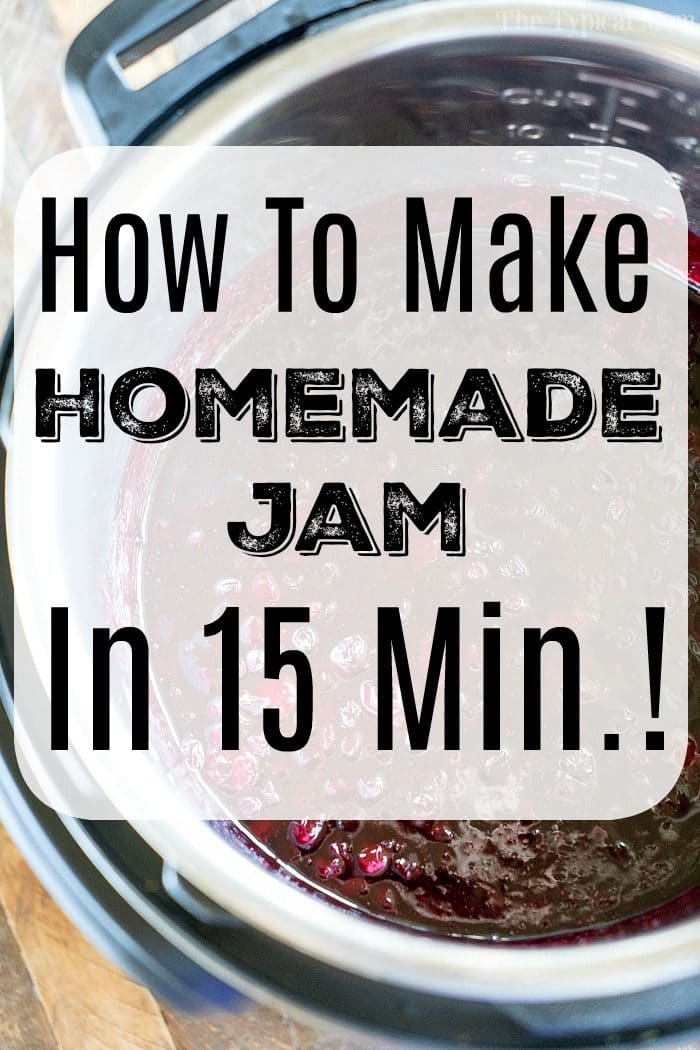 Here are a few questions and answers you might have right about now, let us know below if you have others we can help with…
How long does homemade jam last
?
We usually only have it for 1-2 weeks or freeze some for later.
If you do not can properly and just save it in jars inside your refrigerator it should last up to three months.
Can you use a pressure cooker for canning
?
Nope! It is not recommended by Instant Pot to do this because it doesn't reach the optimal temperature to kill all bacteria and store on the shelf safely.
InstaPot Canning
You may have heard some people online stating that they do this, it is not advised. You need to ensure that the temp. inside the device reaches a very high heat in order to kill all the bacteria that may be present and seal well. It is stated on their website that even under high pressure it will not quite get to that point.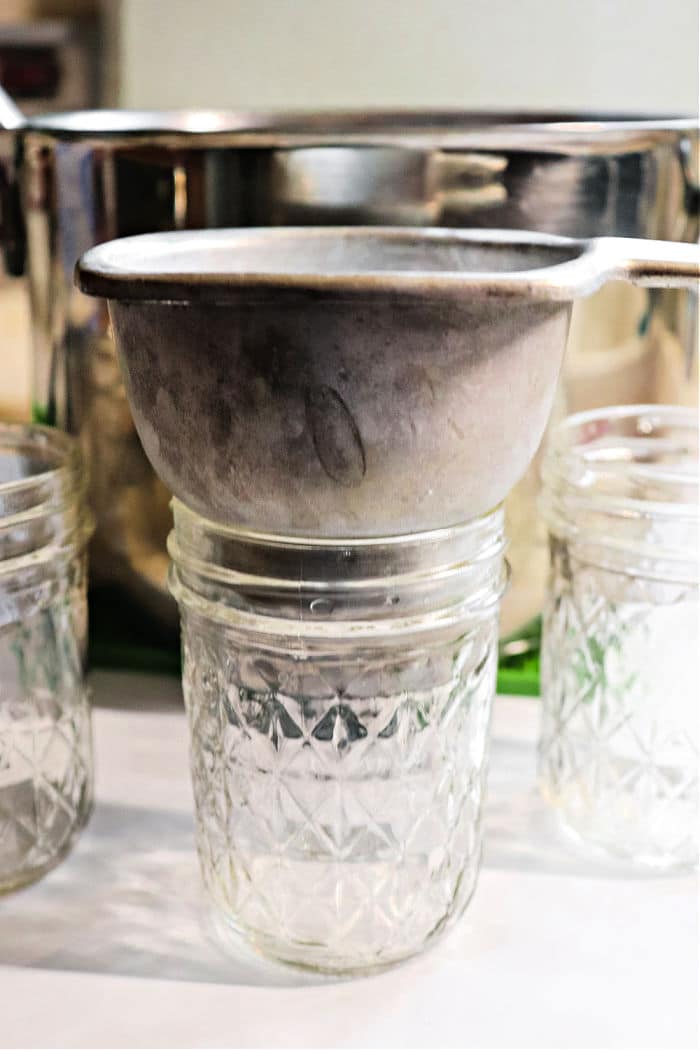 Pressure cooker jam with fruit
Here are a few things you're going to need in order to get started on this;
Small mason jars – these mason jars for jam are perfect for yourself and to tie a ribbon around and use as gifts
Fresh fruit – 2 lbs. made 4 jars for us, the 3 shown in the pic at the top and one other one not shown.
Sugar
Cornstarch
Water

Vanilla extract & lemon juice – I think both are a good addition to any fruit jam but that is personal preference

It's a fun mason jar gift idea
Why do you add lemon juice to jam?
I like the flavor in small doses. Another reason is that it prevents the growth of bacteria if you're canning your homemade jam. Then make this homemade bread recipe or our easy rolls and serve them together.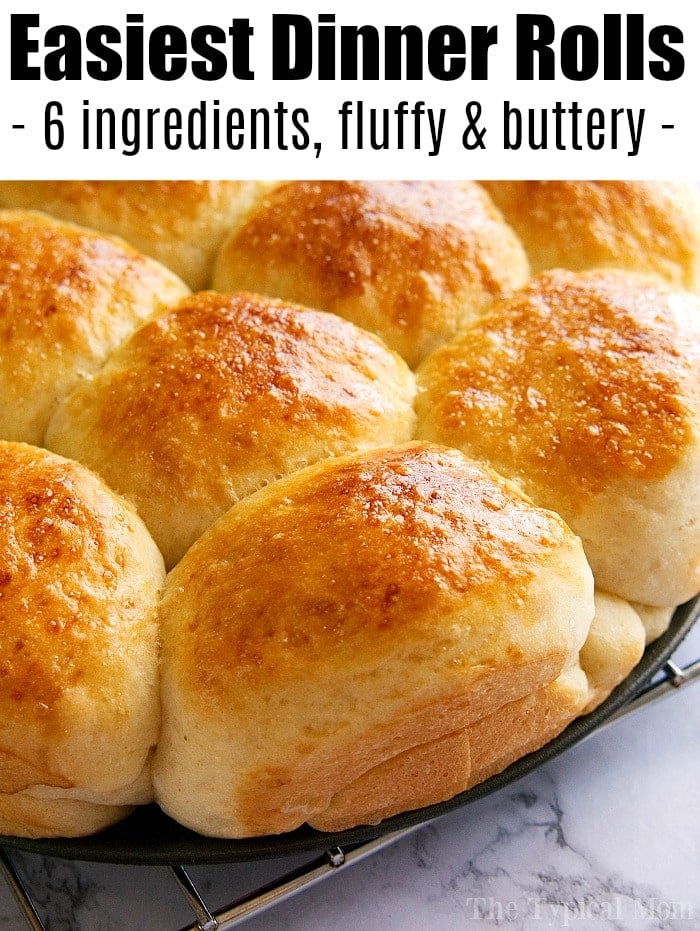 How to Make Jam in Instant Pot
Basic steps to follow are:
Add fruit into Instant Pot or Ninja Foodi with sugar and vanilla. Close and lock the lid. Set to high pressure cook time for 1 minutes! Allow to naturally release steam for 10 minutes and then open valve to release the pressure remaining. Remove the lid and set aside.
In a small bowl add cornstarch and water, stir to combine. A whisk works well to get it nice and smooth. I do not add fruit pectin to this, cornstarch is easier and I always have it on hand.
Set pot to saute and once bubbling add slurry for 2-3 minutes to thicken and then turn off. Take inner pot out of machine and put on cooling rack or pour jam into mason jars immediately so it doesn't continue to cook. Allow to cool before storing in the fridge. Could can to last longer too.
Entire process including cool time should take about 30 minutes. Find more Instant Pot recipes here.
Want to see a few of my favorite things that I am totally obsessed with?? Take a peek and see how many you might already have…twinsies!
Looking for more easy family recipes and tips? LIKE The Typical Mom Facebook page?
Then sign up for my free newsletter, and follow me on Pinterest! 😉
***** If you LOVED this recipe give it 5 Stars below and let everyone know what you thought about it. 😉
Pressure Cooker Jam
If you're wondering how to make homemade jam quickly I have the answer! This pressure cooker jam takes 15 minutes and you can use any fruit you want.
Instructions
Wash and cut stems off berries, if present. Dice larger fruits you might be using into bite size pieces (we left huckleberries whole and cut strawberries in half).

Put berries into pressure cooker with sugar, and vanilla if you're adding those. Gently stir so all berries are coated.

If you want a sweeter jam allow this mixture to sit for about 15 minutes or so to allow sugars to really seep in.

Put lid on, close steam valve and set to pressure high for 1 minute.

Allow to naturally release steam for about 10 minutes, then release rest of steam.

In a small bowl whisk together cornstarch and water until smooth, empty contents into pot with berries and set Instant Pot to saute.

Stir consistently and slowly until mixture bubbles, do this for 2-3 minutes so jam begins to thicken. Turn pot off and transfer to small mason jars (what we used). Do not put lids on until completely cooled. Put lids on and refrigerate, enjoy on just about everything!
Nutrition Facts
Pressure Cooker Jam
Amount Per Serving (1 oz)
Calories 87
% Daily Value*
Sodium 3mg0%
Potassium 50mg1%
Carbohydrates 22g7%
Vitamin A 170IU3%
Vitamin C 2mg2%
Calcium 3mg0%
Iron 0.2mg1%
* Percent Daily Values are based on a 2000 calorie diet.