How to make homemade huckleberry jam on your stovetop or in your Instant Pot is here! Add some chia seeds and this is great on toast or bagels. One of our favorite huckleberry recipes yet.
Huckleberry jam is amazing. If you're wondering how to make homemade jam it is literally the easiest thing in the world. You may never buy jarred ever again after this. Using fresh or frozen fruit you can make this on the stove or in a pressure cooker. (affiliate links present)
Huckleberry Jam Recipe
If you want to make this in a pot on your stovetop, follow along here. BUT if you are looking to make Instant Pot jam <—— go to this post and follow those directions instead. Either way you only need a few ingredients and it thickens up nicely in the fridge.
Then you can enjoy immediately or this is how to can jam so it will last for years. Served on top of a piece of toast, bagel or dollop on top of a bowl of oatmeal it's our favorite flavor.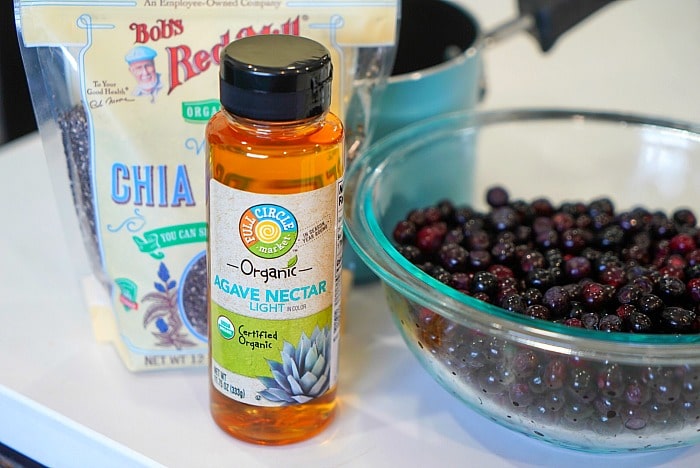 Homemade Jam Ingredients
If you wanted to use other fruits you could with this same process essentially. Now our plum jelly we used pectin instead of seeds which is a quick way to thicken.
Fresh berries
Agave nectar

could use pure maple sugar instead

Chia seeds
Vanilla
You can add a bit of sugar, Stevia or liquid sugar to sweeten
If you want it smoother, use a masher
Sugar Free Huckleberry Jam
Use regular or liquid aspertame to sweeten this to your liking. Making this on your stove only takes about 20 minutes total. Cooling it to room temperature takes a while though so don't be in a hurry. With this basic recipe you can make just about any fruit flavor you like.
There is a lot of variance to this depending on how sweet you want it. Agave isn't really sweet so it will be subtle. If you want it above and beyond that you should make, let it cool, add liquid sweetener and then store in fridge.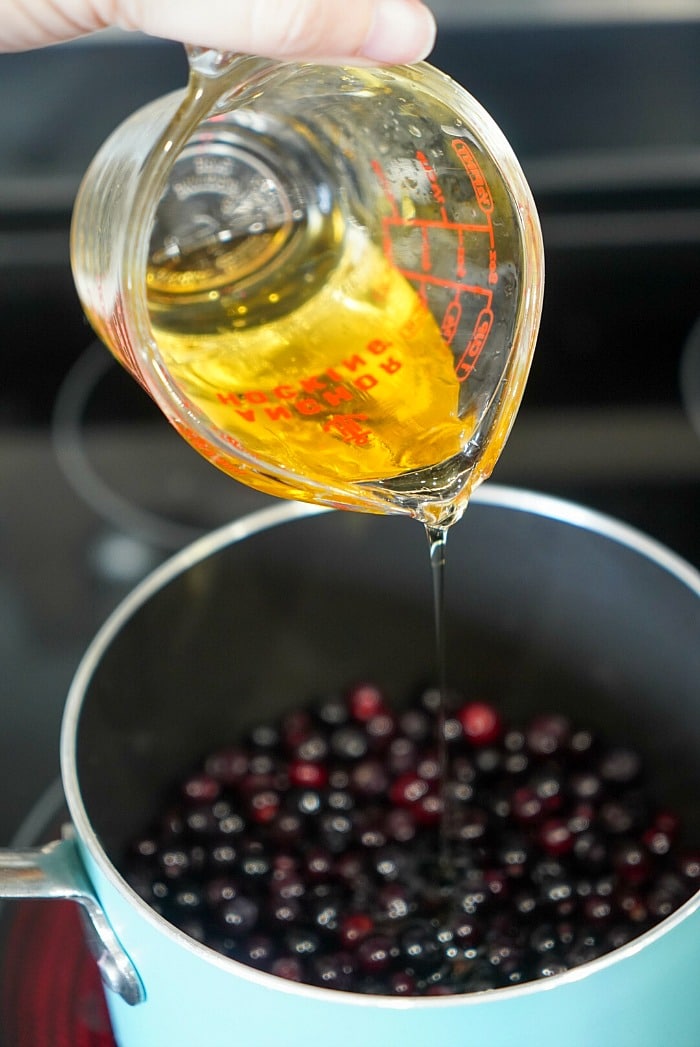 Wild Huckleberry Jam
How long does homemade jam last? If you can it properly it will last up to 2 years. Other than that if it is just put into jars in your fridge you can use it for up to 3 months. Then you can use it on your homemade white bread with toast.
How do you make jam from scratch?
You'll want frozen or fresh berries to start. Add some sweetener then boil to let fruit break down. Add in a way to thicken it like chia seeds or pectin and cool. Store in the refrigerator in jars.
How can I thicken jam without pectin?
You can use cornstarch, chia seeds or even lemon juice. Surprisingly enough lemons will actually "set" your jam. For each quart of jelly, add approximately 2 tablespoons bottled lemon juice.

It will continue to thicken in the fridge too so allow it to sit for 24 hours before using.
Similar to making Instant Pot cranberry sauce, you'll want to allow your berries to cook down and "pop". I don't smash the because I like more texture in the end result. For more of a jelly you might want a masher.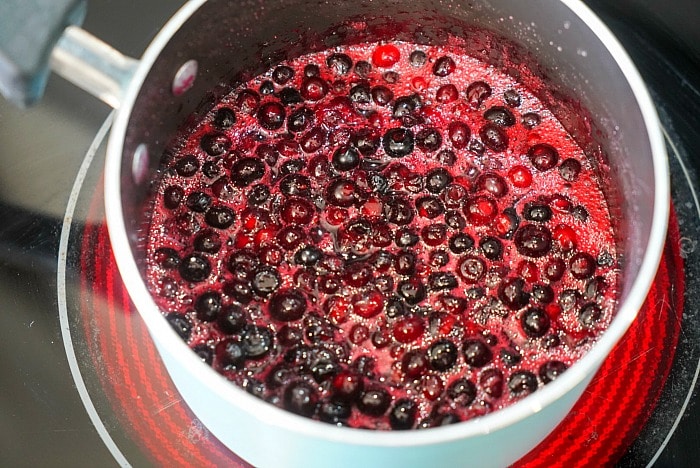 Homemade Huckleberry Jam
Yes you could easily use this same recipe with fresh blueberries, blackberries, raspberries as well as wild huckleberries. A combination of a few of these makes a great wild berry combination too.
Over medium heat add berries and agave. Stir intermittently allow it to come to a rolling boil where fruit will pop, then add chia seeds.
Stir consistently for about 5 minutes until sauce thickens, then remove from heat and stir in vanilla.
Allow homemade huckleberry jam to come to room temperature, then taste. If you want it sweeter add a bit of liquid sugar or Stevia.
Pour into jars with lids. If you can jam it can be stored up to 3 years, or just keep in fridge for up to 3 months in sealed air tight containers.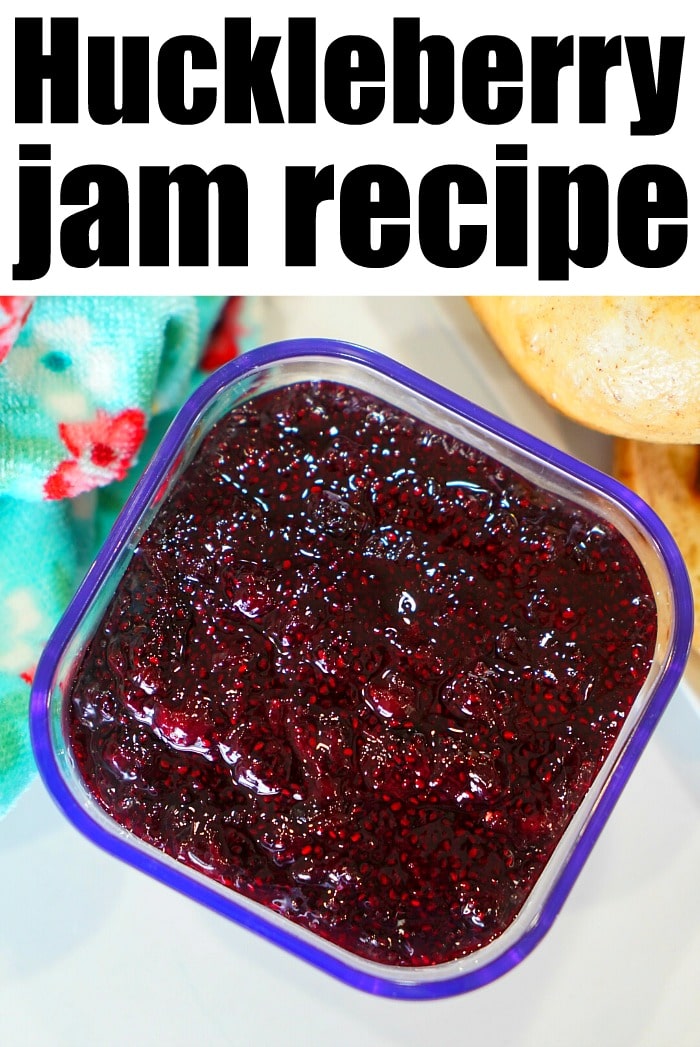 What crackers go best with jam?
That is totally up to you, I personally like this or our homemade pumpkin jam on toast. If I had to choose one though I might say Ritz or saltines are pretty great.
Do you put butter on toast before jam?
I don't use both but yes it is better to put this on top. Butter is thicker and will prevent jelly from soaking into bread, instead creating layers of flavors.
Want to see a few of my favorite things that I am totally obsessed with?? Take a peek and see how many you might already have…twinsies!
Looking for more easy family recipes and tips? LIKE The Typical Mom Facebook page?
Then sign up for my free newsletter, and follow me on Pinterest! 😉
***** If you LOVED this recipe give it 5 Stars below and let everyone know what you thought about it. 😉
Huckleberry Jam
How to make homemade huckleberry jam on your stovetop or in your Instant Pot is here! Add some chia seeds and this is great on toast or bagels.
Instructions
Over medium heat put berries and agave in a pot. Heat until berries soften and start to break down.

Add chia seeds and sugar, continue stirring slowly until it begins to thicken, about 5 minutes. The longer you allow it to cook on a slow rolling boil the thicker it will get. Taste, if you want it sweeter you could add some sugar or stevia.

Remove from heat, add vanilla, stir. Allow to cool completely and taste. If you want it sweeter add a bit of liquid sugar. Then transfer to glass jars to refrigerate. It will continue to thicken as it gets colder.
Nutrition Facts
Huckleberry Jam
Amount Per Serving (1 oz)
Calories 27
Calories from Fat 9
% Daily Value*
Fat 1g2%
Sodium 3mg0%
Potassium 7mg0%
Carbohydrates 5g2%
Protein 1g2%
Vitamin A 23IU0%
Vitamin C 1mg1%
Calcium 16mg2%
Iron 1mg6%
* Percent Daily Values are based on a 2000 calorie diet.