Need food delivery to your door right now? Here are plenty of groceries delivered to your door options for produce, meat, and dry goods. No need to leave your house anymore!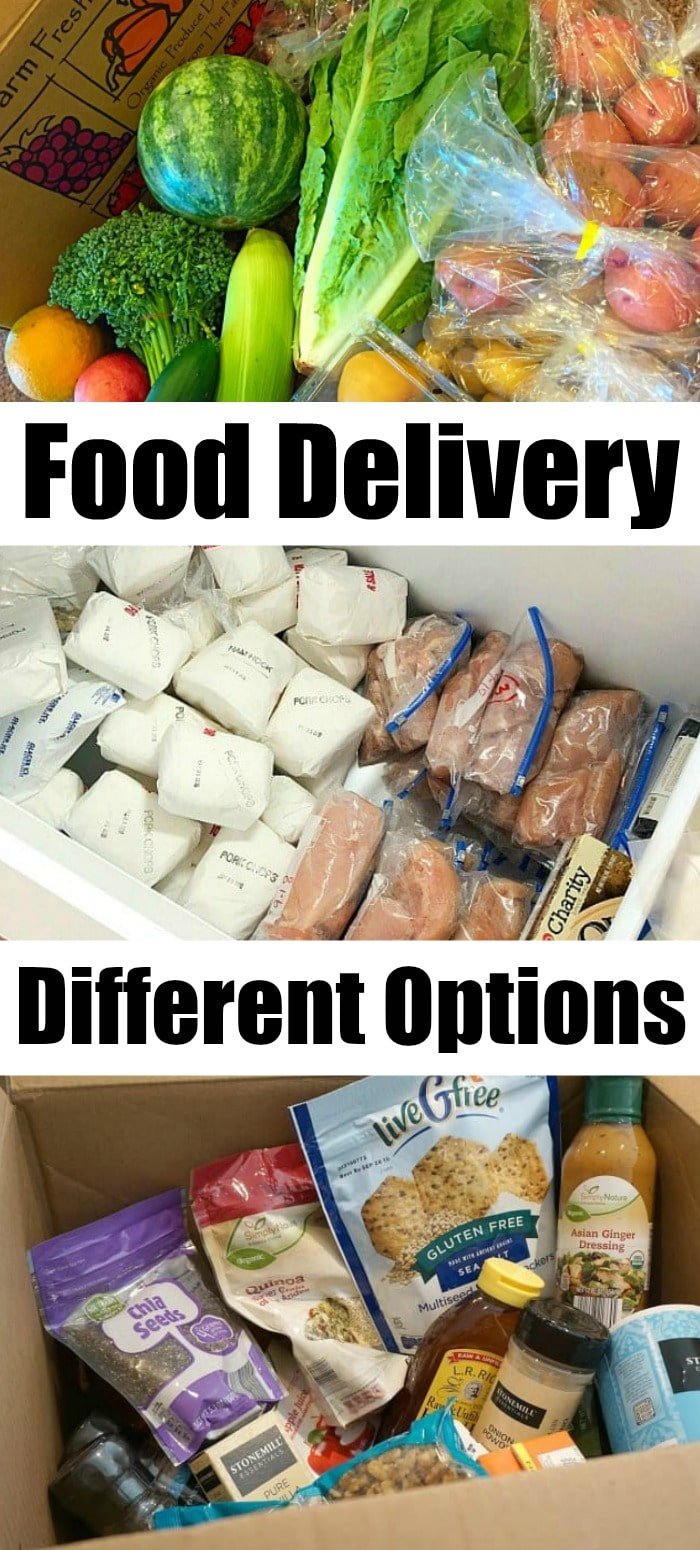 Food delivery to your door nowadays is a necessity! With a mandate to stay home for weeks on end, we need options! Whether you need pantry items, chicken, or fruits and vegetables, we have resources you can order from depending on where you live.
Groceries Delivered to your Door
Most of us are in this category right now. Let's start with my favorite food delivered to your door companies focusing on fresh produce!
Get fruit and vegetables delivered to your door here with FarmBox Direct, or Imperfect Foods.
I like this company because you can specify which fruits and veggies you do NOT want delivered. Then they take that into account and include things that are in season right now.
For sweet treats I swear by Goldbelly (you can get $25 off your order too) for cakes, cookies, bagels and more.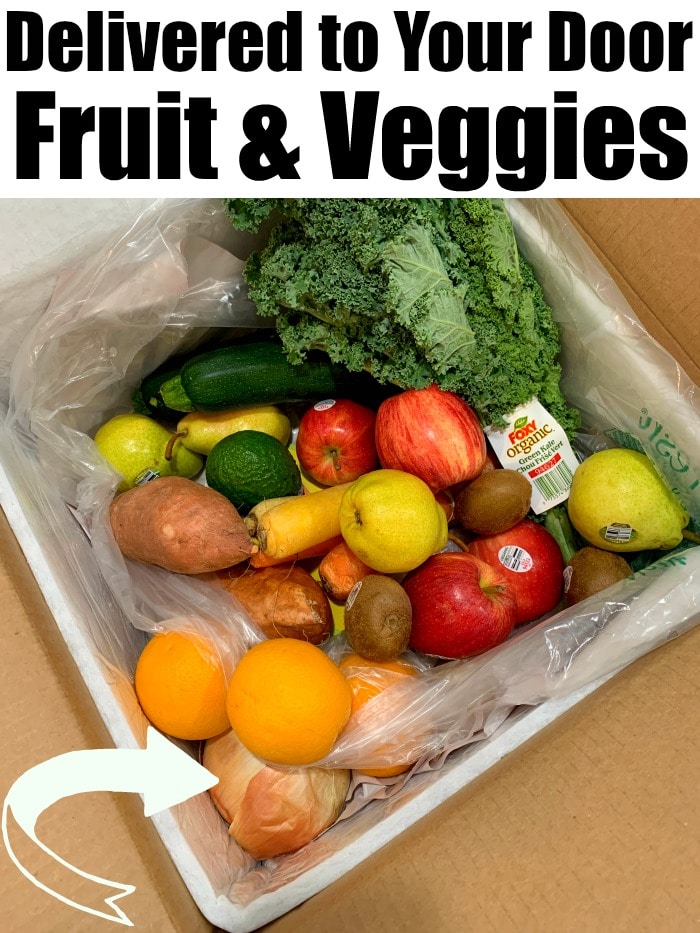 Grocery Delivery Services
Here is a photo of what they delivered to our door last week! Very fresh and a variety of both veggies and fruits.
Having fresh produce brought to you is more than fabulous. Eating what's in season is always best since you get the most vitamins and nutrients this way.
ALSO it is a great opportunity to try things you wouldn't normally pick up at your local grocery store! We once got some star fruit and it was a fun surprise that day for the kids, and me!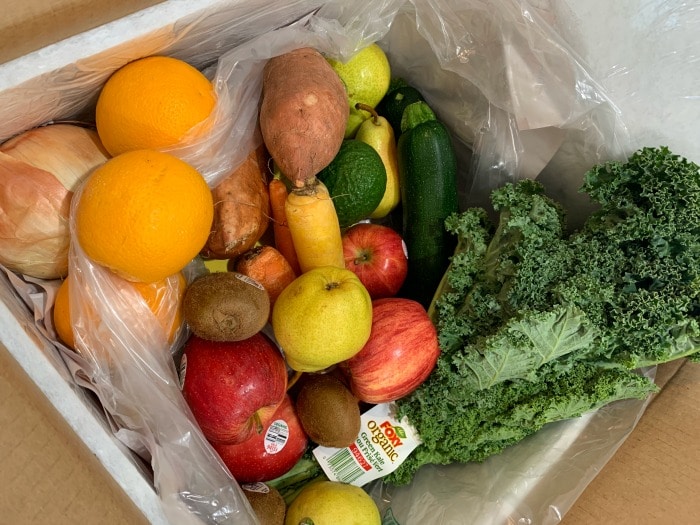 Produce Delivery to Your Door
There is another company similar to this that is a bit cheaper called Misfit Market.
They aren't available in a lot of states yet but you might get lucky.
The premise is that they offer misshapen fruits and vegetables for front door delivery at rock bottom prices.
I love the premise and would use it all the time if it were available in Northern Idaho but sad they aren't in our state quite yet. Here's to hoping soon!!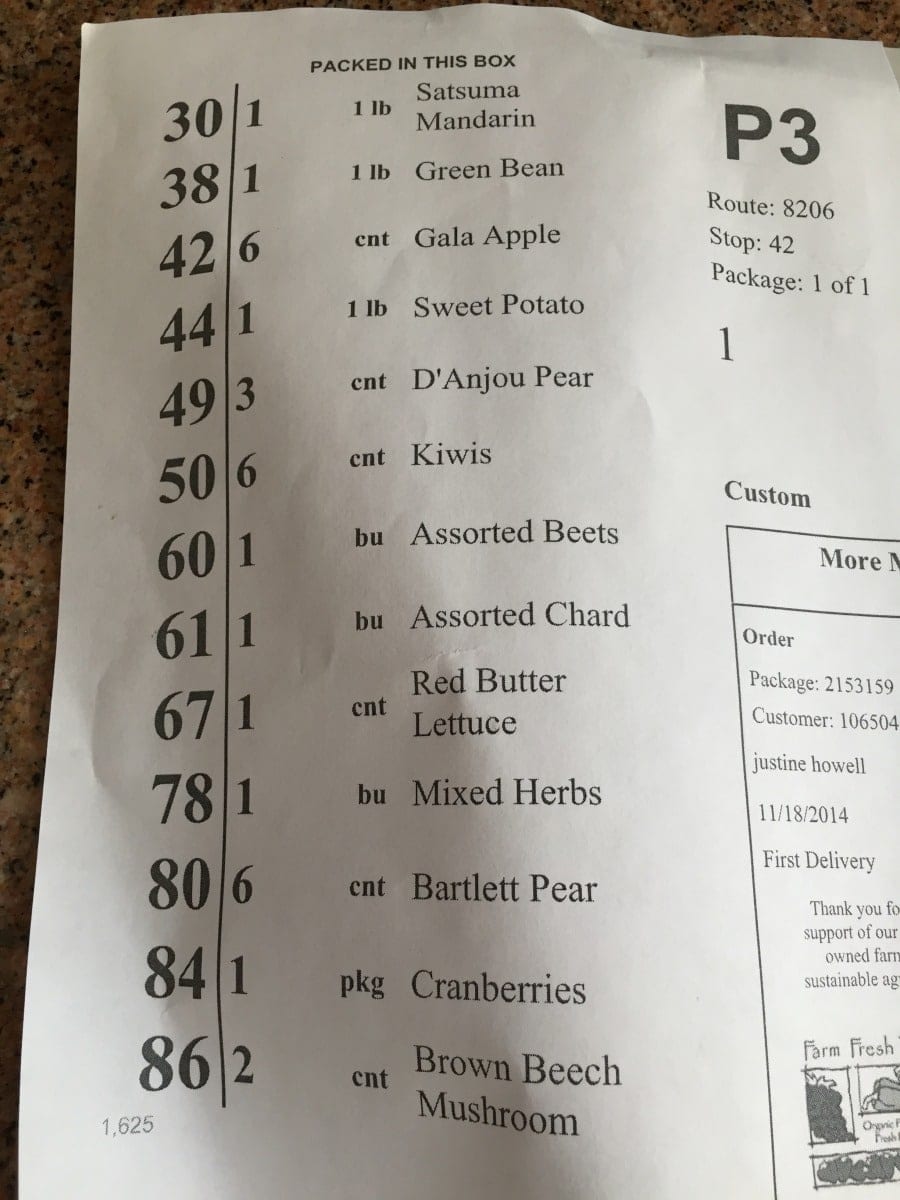 You may be lucky enough to have Amazon Fresh delivery available in your area too!! We did for quite a while in SoCal but when we moved they didn't offer it. They're opening a new facility near us so I am praying this comes back because it was a game changer!!
Typically you get $25 off your first order!
It varies but it's usually a $40 minimum order to get free delivery which isn't hard to do with groceries.
Amazon Pantry is something we've had for a long time.
Is Amazon Pantry free with Amazon Prime?
If you do have Prime you will get free delivery on these orders when you spend $35 or more. Prime members who place a Pantry order under $35 pay a flat shipping fee of $5.99 per order.
You can have meat, fresh produce and pantry items delivered right to your door in insulated containers. You unload them, and then leave them empty on your front doorstep to be collected later.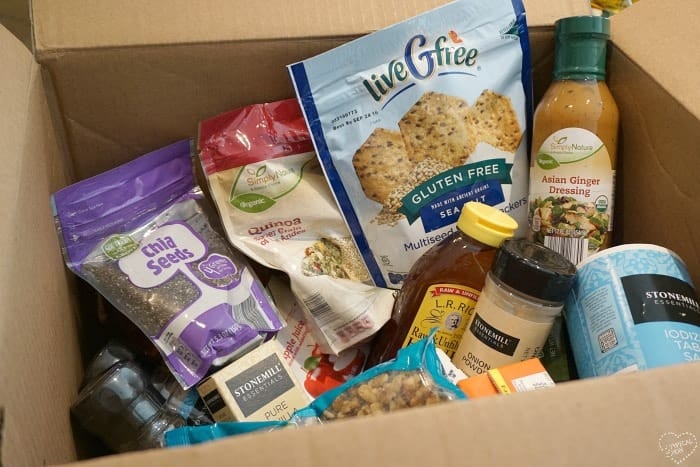 Can you buy meat online?
Yes!! Let's talk about where to buy bulk meat online! YES, you can have chicken, beef, pork, fish and ground beef delivered to your door. This is not only great to save money on food but also so you have to visit the grocery store a lot less often.
We personally live in Idaho where it is "totally normal" to buy half a cow or a whole pig from a local farmer. That is what we do once a year. I love it!! This way we know it is organic, grass fed, free range….all the things.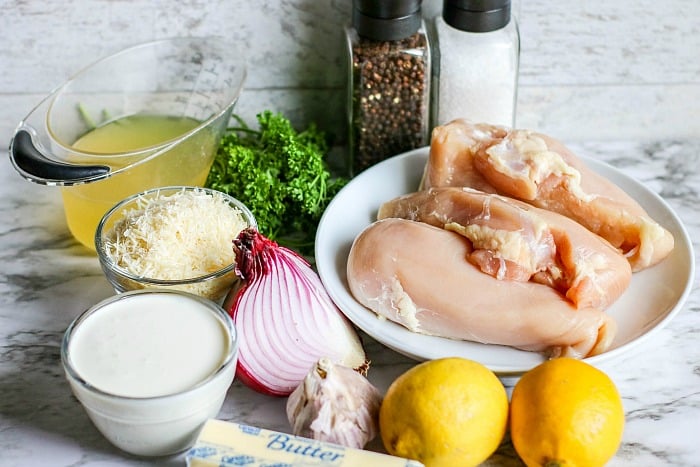 Is buying meat cheap online?
It really depends on where you purchase it and what you buy, but typically if you buy it in bulk it is quite a bit cheaper than buying it packaged. It's also worth it to me because then I know I have beef for the entire year in my deep freezer at all times.
Of course this isn't an option for everyone, though you may be surprised if you do some research in your area that you can do it too. 😉
Aside from that my favorite place to buy meat online is called Butcher Box + get free food when you sign up.

Typically you get free bacon which I will tell you is the MOST Delicious bacon I've ever had in my life!

You can order from Omaha Steaks too.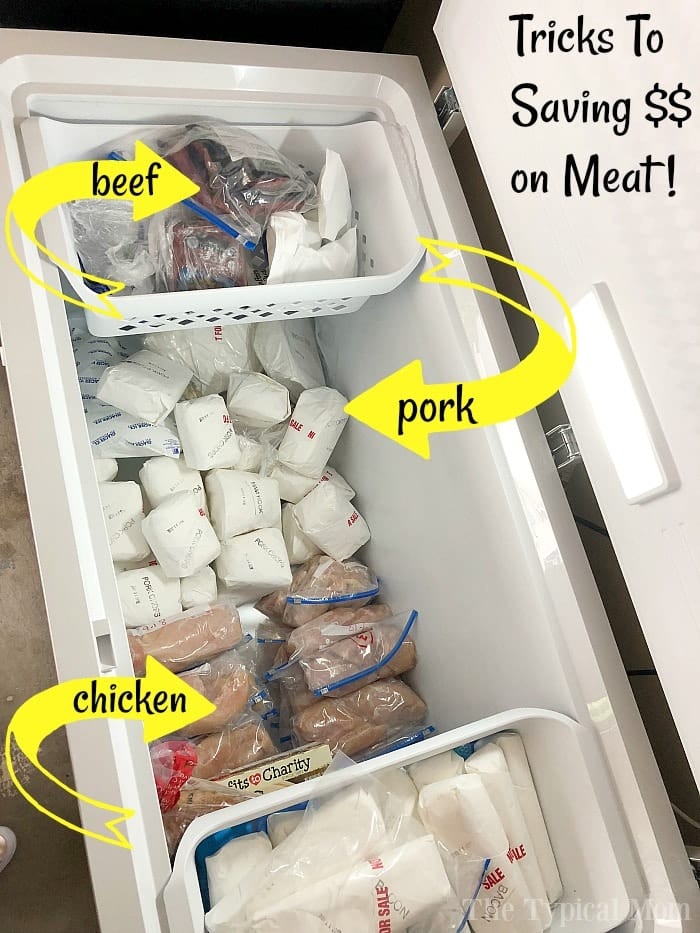 Grocery Stores that Deliver
Walmart groceries is probably the most well known and widespread.

Especially if you live in small towns like we do you may not have any other options.
Typically you have to drive to the store though and they will load everything up in your car.
Some may offer doorstep delivery but ours doesn't.

Instacart is great and available almost anywhere! Get $10 off your order here!
Generally you can get groceries delivered within a 2 hours period with Albertsons grocery delivery.

With Covid 19 this isn't always guaranteed.
It is now powered by Instacart.
What stores are associated with Albertsons?
I should know since Albertsons on Broadway was the first one, in Boise! Other family of stores are: Safeway, Vons, Pavilions, Randalls, Tom Thumb, Carrs, Sav-On, Jewel-Osco, Acme, Shaw's, Star Market, United Supermarkets, Market Street, Amigos, Haggen and United Express.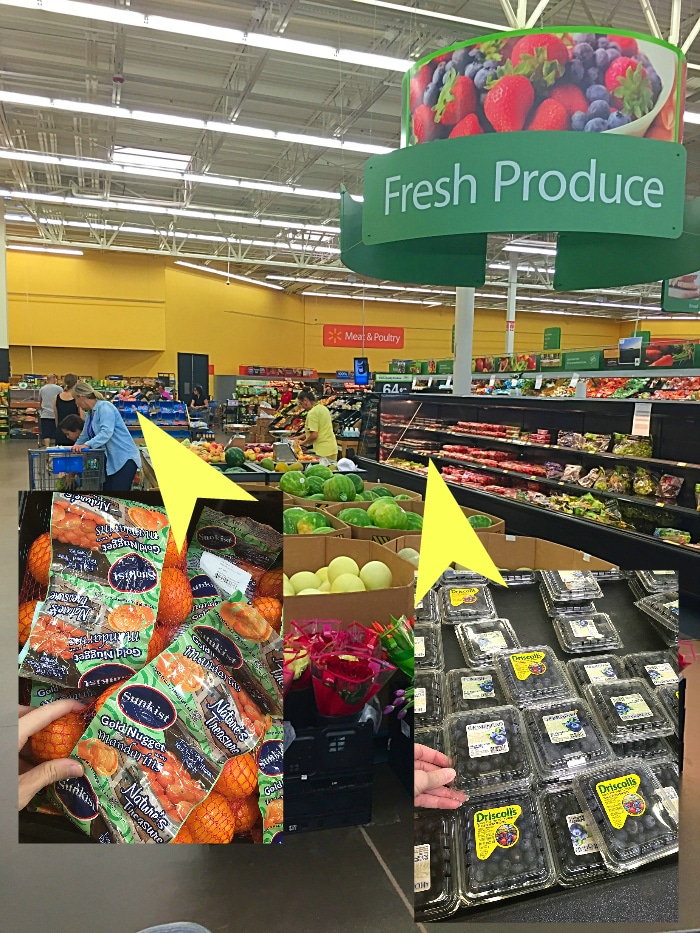 Ok, now on to restaurants that deliver food to your house.
What fast food places delivery to your house?
NOW you can seriously get anything delivered though if you use GrubHub!
Other than that you can choose from other places directly.
This list of food delivery to your door is growing FAST because of the need for it at this moment in time. So far it is as follows:
Burger bliss
Burger King we have done before
White Castle
Five Guys is one of our favorites
Pizza Hut
California Pizza Kitchen is so good
Subway does if you didn't know
Chick-fil-a does in some areas
Buffalo Wild Wings
Kentucky Fried Chicken
Believe it or not Taco Bell does!!
Want to see a few of my favorite things that I am totally obsessed with?? Take a peek and see how many you might already have…twinsies!
Looking for more easy family recipes and tips? LIKE The Typical Mom Facebook page?
Then sign up for my free newsletter, and follow me on Pinterest! 😉
***** If you LOVED this recipe give it 5 Stars below and let everyone know what you thought about it. 😉