Moist huckleberry muffins with crumble are great for breakfast or dessert. Using fresh fruit with a brown sugar and oat crumble on top, you're sure to love these. It's one of our favorite huckleberry recipes to make during the Fall.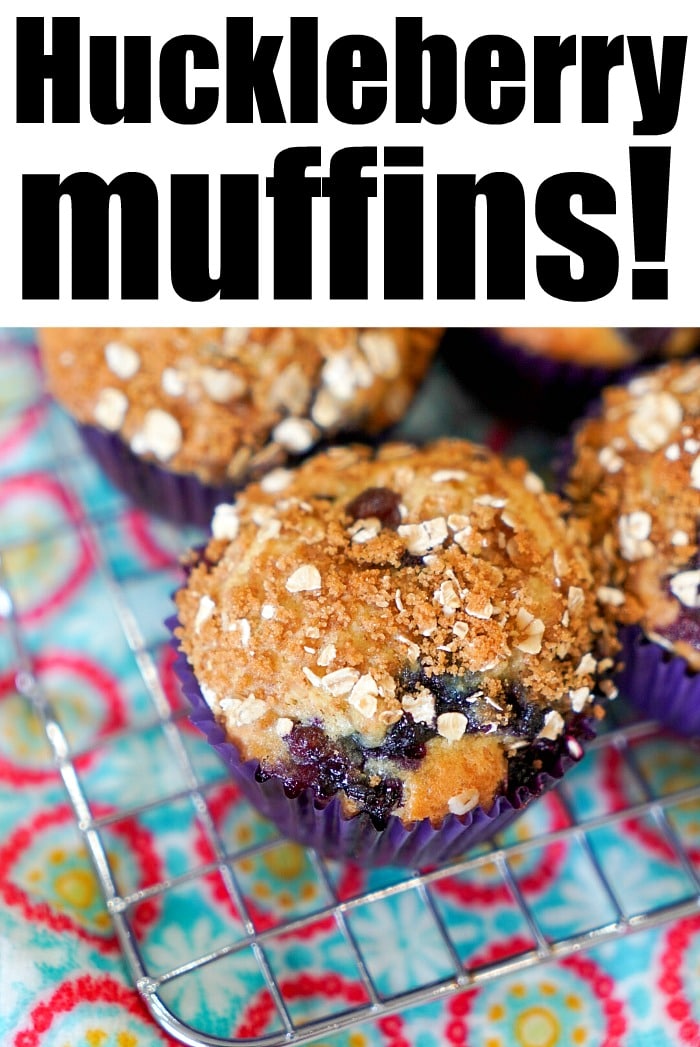 Ready to make some huckleberry muffins this morning? We were after we picked a bunch the other day and they came out great. One of the best muffin recipes we have using fresh berries. (affiliate links present)
Moist Huckleberry Muffins
We're going to start with this easy muffin recipe base for the batter. You can really add any sort of berries to this but since we were lucky enough to pick a few cups full, they'll work great.
Have you ever seen a huckleberry bush? If you live in areas like Montana, Idaho, Oregon or Washington you might find a few in the mountains like we did. My girls and I had a great time picking them the other afternoon. One of our favorites, and what to make with huckleberries you should try this season.
Huckleberry Muffins with Crumble
You could add a crumb topping for muffins or just leave these babies plain. If you aren't familiar with this small fruit it is really packed with flavor. Sweet with just a bit of tang.
Where can I find huckleberries in Idaho?
They're in the Rocky Mountains and the Pacific Northwest. We are outside of Sandpoint and off a rocky road in Bonners Ferry there were thousands of them as early as mid July to pick.
How do you know if you have a huckleberry plant?
You can see our photo above, refer to this. Berries vary from deep red to dark purple. The darker the more ripe and sweet they are.
What do huckleberries taste like?
You might confuse them for blueberries, they're more tart than that though.
It is said that you really should not eat them raw, especially if found in the forest. They can be poisonous, but once cooked they are safe to eat. It's just safer to make a huckleberry cobbler or these muffins to enjoy!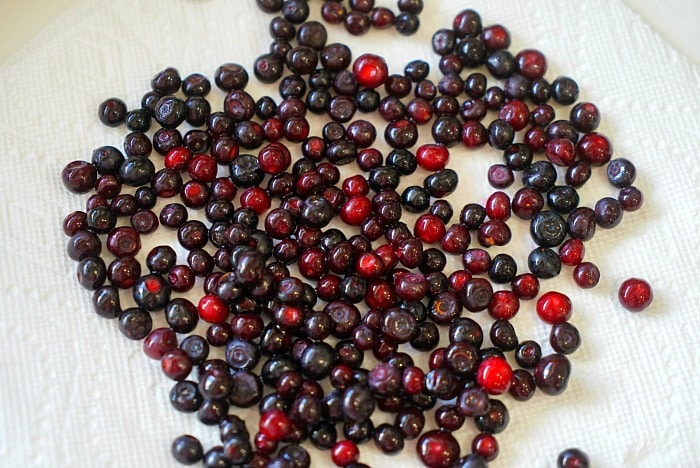 Huckleberry muffin recipe
All purpose flour
Eggs
Baking soda and baking powder
Butter
Sour cream
Brown sugar
Milk
Berries
Lined muffin cups are extremely helpful, or make muffin tops.
If you want to make a muffin crumble for the top you'll need:
Brown sugar
Oats
Cinnamon
Could add some crushed nuts too
I like to use my stand mixer to make things easier. Just make sure you don't add berries until the very end. Gently fold those in so they don't get crushed and stay whole.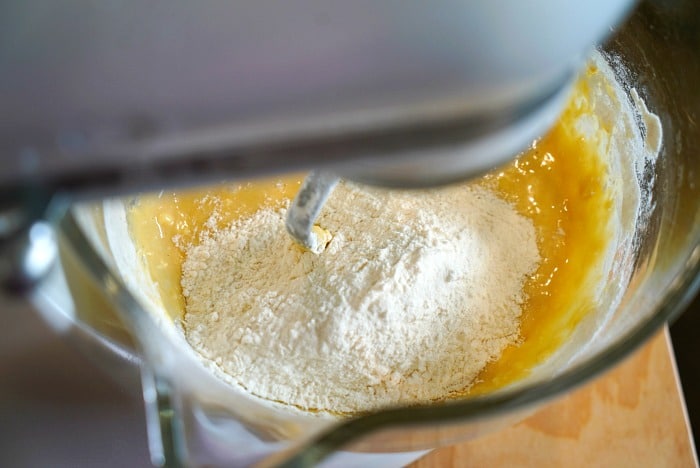 Homemade Muffins with Huckleberries
I do have an entire printable recipe card at the bottom of this post. You can keep it handy in your recipe box or just come back time and time again each time you want to make them. Here's a quick rundown of how we made them.
In a large bowl combine flour, sugar, baking powder and salt together well.
Mix wet ingredients together and then slowly incorporate your flour mixture.
Gently fold in fresh or frozen huckleberries. Frozen berries would probably work just fine but will have a bit different texture. Since we went huckleberry picking we had fresh.
Wild blueberries work the same way for these berry muffins.
Preheat oven to 425 F. Fill the muffin tin holes 3/4 of the way full. Mix crumble topping and spoon 1 tsp on top of each one. Use back of spoon to press gently so topping doesn't fall off.
Bake for 5 minutes at this temp.
Turn temperature down to 350 degrees F and continue baking muffin cups for 12 minutes. When toothpick inserted into your huckleberries blueberries lined muffins, take them out. I often just touch the middle and if it springs back they're done too. You don't want to over bake these. OR make air fryer muffins.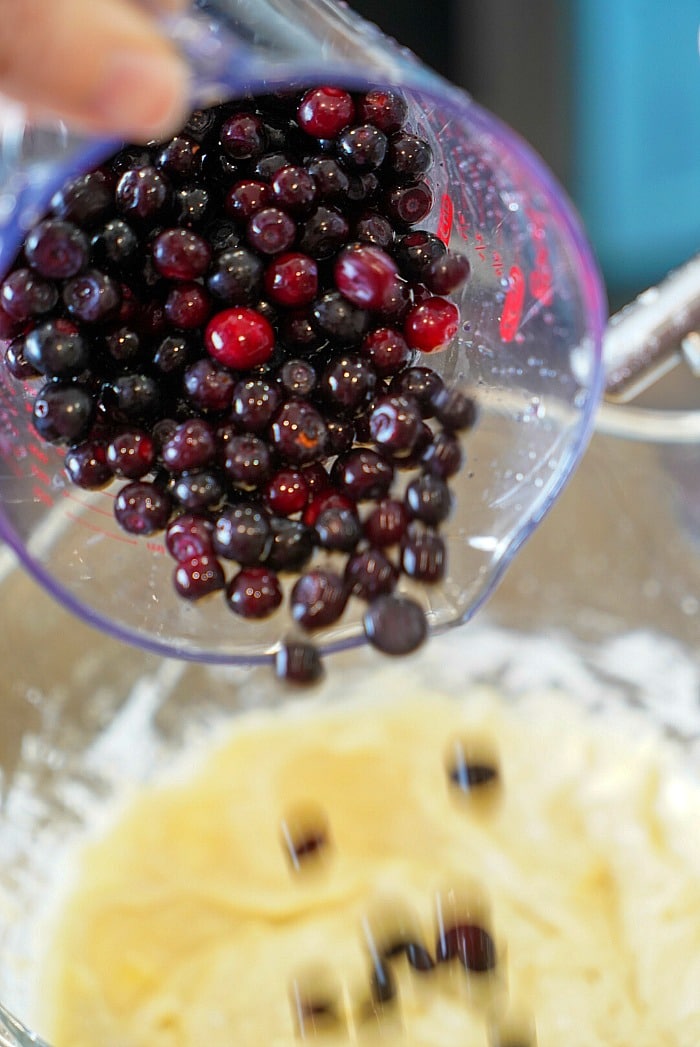 Wild Mountain Huckleberry Muffins
This is how long to bake mini muffins if you want teeny tiny sizes. It is a great recipe for breakfast of course, but we think blueberry muffins are great for a quick dessert too.
The biggest tip I can share for baking the perfect moist muffin is to take them out RIGHT WHEN they're done. Cooking even 2 minutes longer will dry them out and you won't get that pop of juice when you bite into them. I give you an approx. amount of fruit to use too. I use the max and increase by 1/2 cup to 2 full cups because we like a lot in there.
The biggest difference if you use frozen berries is that the juice is going to escape once you defrost them.
This is an issue in regards to how moist your recipe will turn out.
Instead of the berry itself being juicy, there will be a lot of liquid in the bowl which you'll likely need to drain off before adding. If you don't drain that first you'll have too much liquid in your muffin batter which will be an issue too.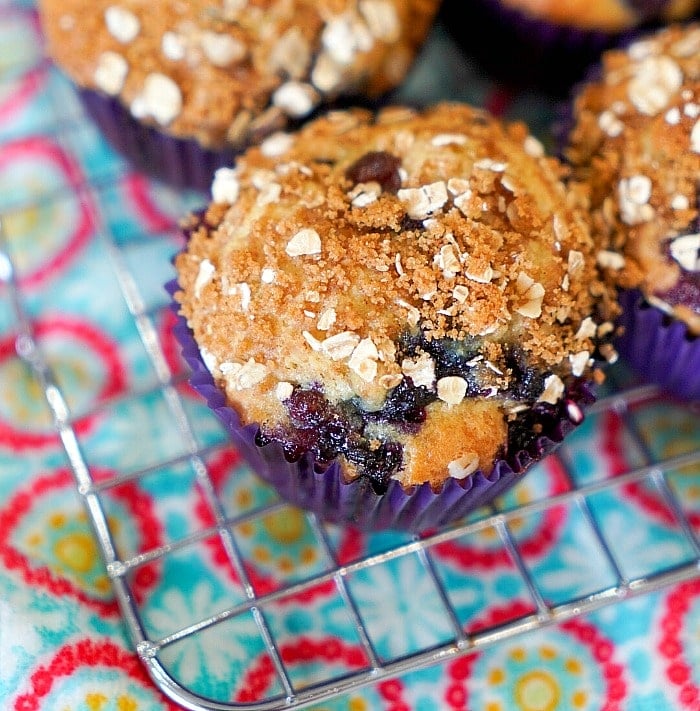 Muffin Recipes with Fresh Berries
With that said, fresh berries are always best for baking. If you don't have access to those then defrost, use juice in that bowl instead of water (if your recipe calls for any water), drain remaining liquid and then fold in.
Other easy dessert ideas you can try are:
Want to see a few of my favorite things that I am totally obsessed with?? Take a peek and see how many you might already have…twinsies!
Looking for more easy family recipes and tips? LIKE The Typical Mom Facebook page?
Then sign up for my free newsletter, and follow me on Pinterest! 😉
***** If you LOVED this recipe give it 5 Stars below and let everyone know what you thought about it. 😉
Huckleberry Muffins
Moist huckleberry muffins are great for breakfast or dessert. Using fresh fruit with a brown sugar and oat crumble on top, you're sure to love these.
Instructions
Mix dry ingredients in a bowl.

In a bowl using a stand mixer, blend together wet ingredients, then add 1/2 dry ingredients to incorporate before adding remainder and mixing until smooth.

Move bowl off stand and gently incorporate huckleberries.

Preheat oven to 425 degrees F. Spoon batter into muffin cups 3/4 of the way full.

Mix together ingredients for crumble and spoon 1 tsp full on top of each muffin. Use back of spoon to gently tap so topping stays on.

Bake at 425 degrees for 5 minutes, then decrease to 350 degrees F for 12 minutes or until top springs back when touched gently touched in the middle. Do not over bake.
Nutrition Facts
Huckleberry Muffins
Amount Per Serving (2 oz)
Calories 184
Calories from Fat 63
% Daily Value*
Fat 7g11%
Cholesterol 36mg12%
Sodium 169mg7%
Potassium 90mg3%
Carbohydrates 28g9%
Protein 3g6%
Vitamin A 250IU5%
Vitamin C 1mg1%
Calcium 50mg5%
Iron 1mg6%
* Percent Daily Values are based on a 2000 calorie diet.