Instant Pot blueberry muffins are the perfect bite size breakfast that's quick & kids love! If you're looking for a pressure cooker breakfast we've got it!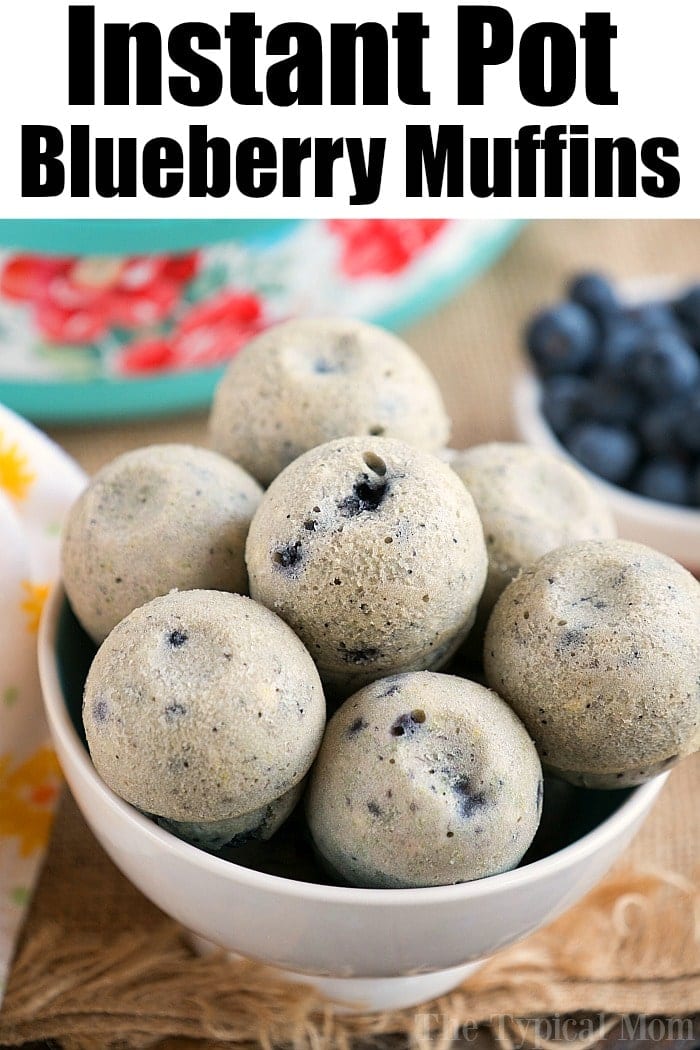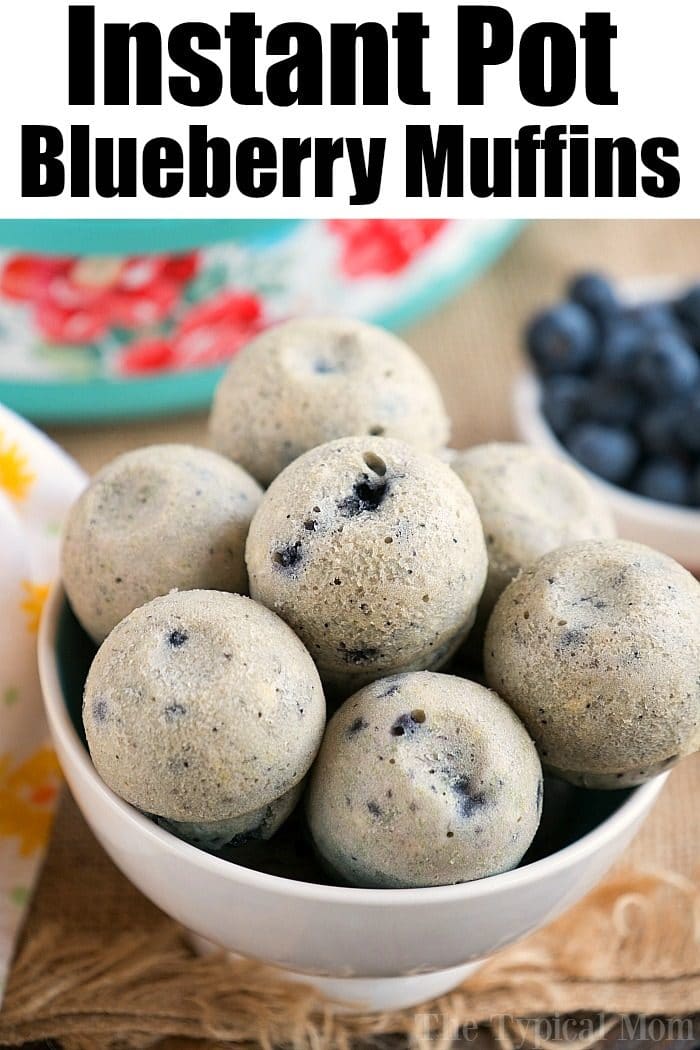 We made muffins in our pressure cooker the other morning and they were so fluffy and delicious!! If you'd like to make Instant Pot blueberry muffins too we will show you how easy they are. Perfect for busy on the go morning when you need to grab something to eat and go! It's one of our favorite breakfast Instant Pot recipes.
I grew up on blueberry muffins for breakfast. But my mom never had a way to bake them other than in the oven using little muffin cups.
Those were good but now that I am OBSESSED with making everything in my pressure cooker so I had to make Instant Pot blueberry muffins!
And this is all you need. Seriously it's never been easier. You don't have to heat up your oven or house to make them now.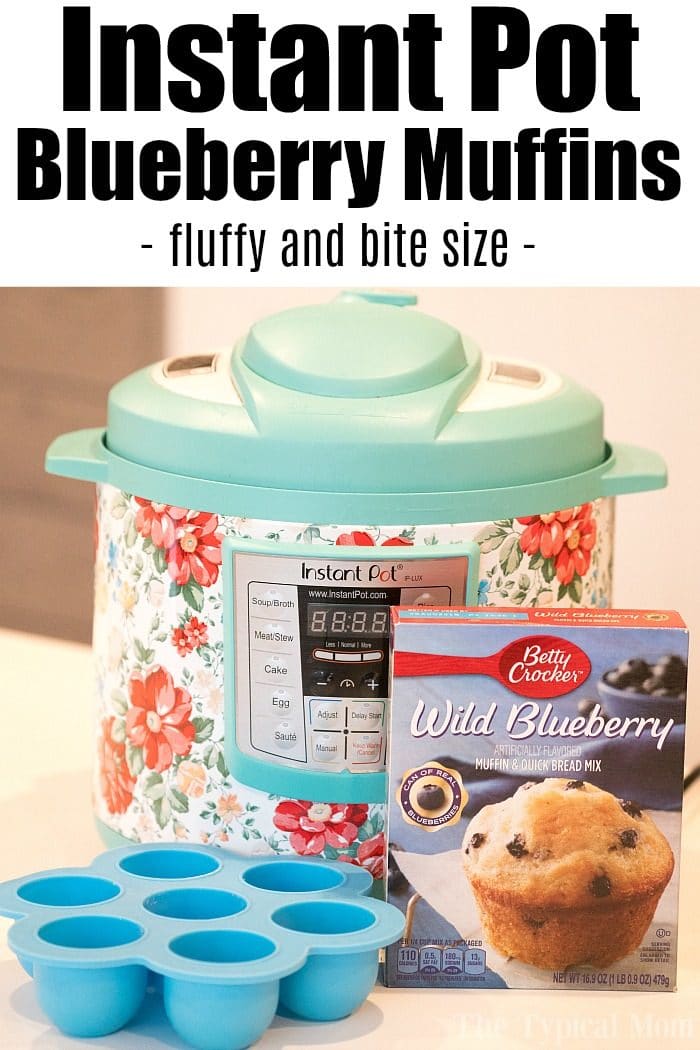 Back in the day it was all about Jiffy muffin mix. Let me say that those were okay but we've progressed beyond that. I will tell you the best way to make Instant Pot blueberry muffins:
Use this blueberry muffin mix – This comes with actual blueberries in a can, not dried out that have to be rehydrated
You will need an egg mold – There are lots of other Instant Pot egg mold recipes too we will share below. You'll be able to use this a ton
Tablespoon measuring spoon is helpful – 2 heaping tbsp. of mix fits perfectly in each egg mold hole. You get exactly 2 batches out of one box of mix prepared.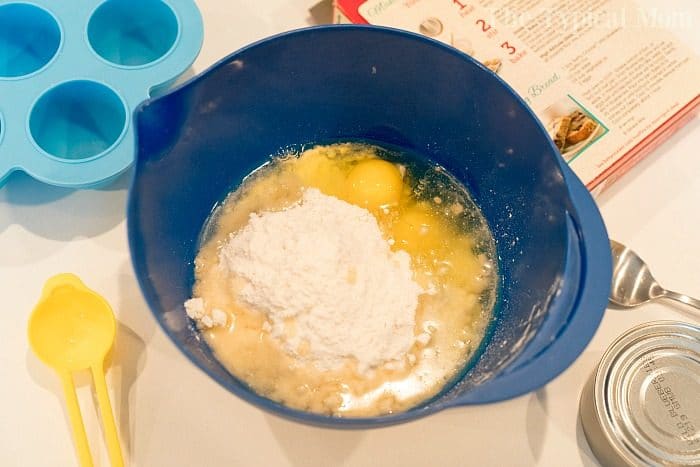 Tips for making the best Instant Pot blueberry muffins
If you go with my suggestion and use the blueberry muffin mix I mentioned above, it has a can of blueberries instead of dried fruit. I'd suggest mixing all the other necessary ingredients and folding in the blueberries at the very end.

This prevents them from being totally broken apart and you'll get a better result.

Do not overfill the holes in your pressure cooker egg mold

Fill 3/4 full which is about 2 heaping tbsp. full
Use a tbsp. measuring spoon to fill the holes to avoid a whopping mess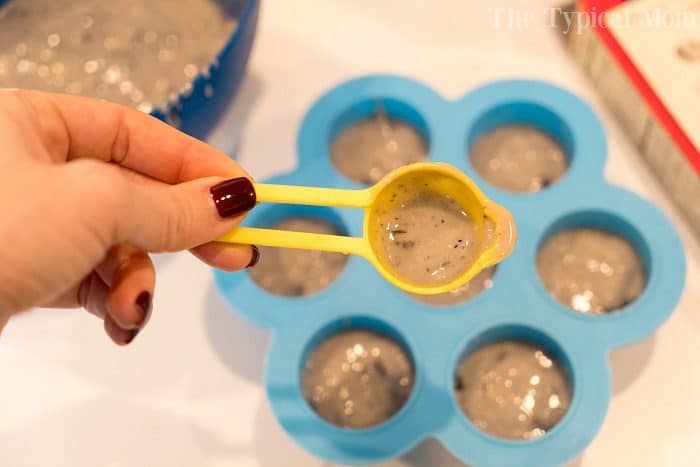 Allow pot to naturally release for 5 minutes before releasing the rest of the steam

This will make the muffins fluffier as they cool down gently
Take the foil off immediately after removing your egg mold from the pot

This will prevent your muffins from becoming wet on the top. If not the condensation will begin to drip off the foil on to your muffins

Remove your blueberry muffins as soon as possible from the egg mold

If you leave them in they will continue to cook and become a bit wet on the bottom
I pop each one out on to a paper towel to cool off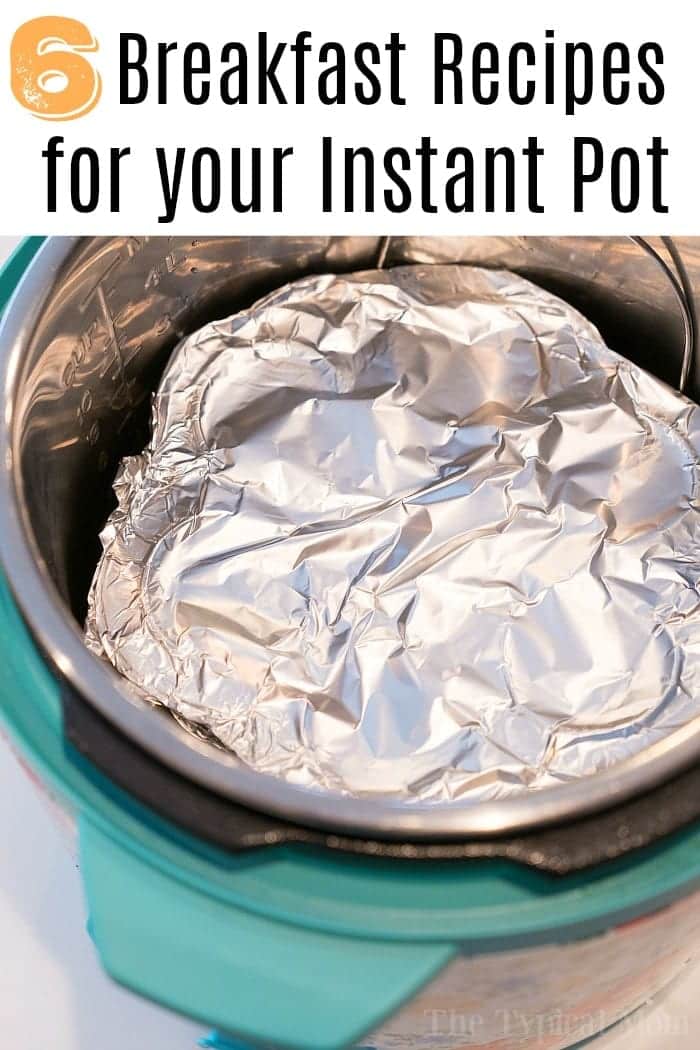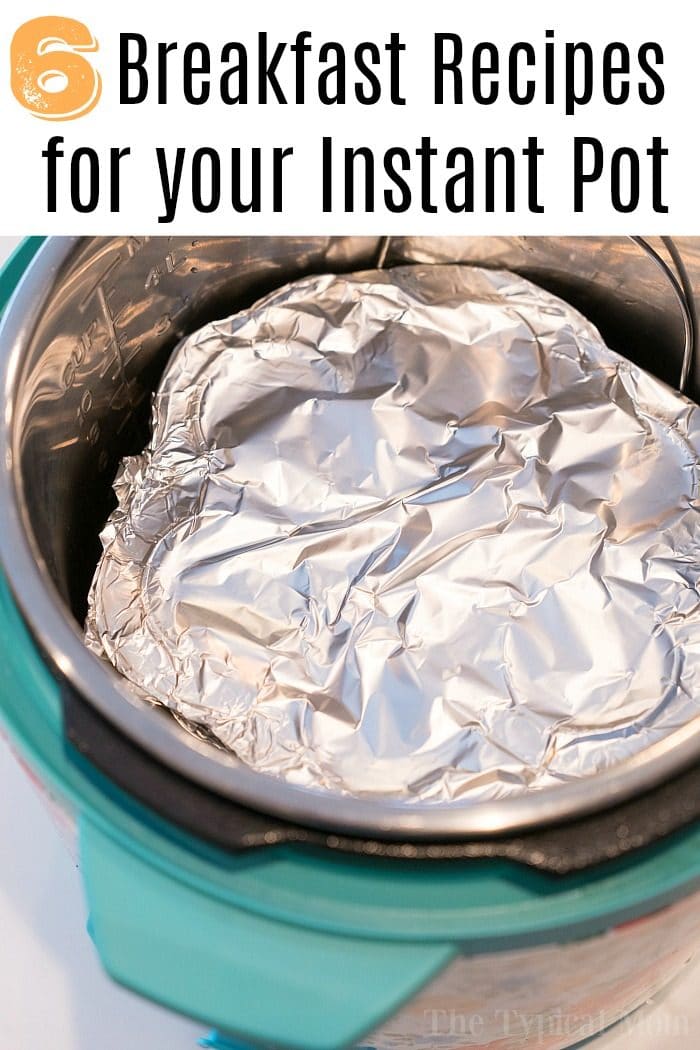 Here's what your Instant Pot muffins will look like immediately after removing the foil.
When you pop them out and flip them over they'll be round and pretty. They really do come out fluffy and quite similar to baking them in the oven. They just won't be brown on the top.
I haven't tried this with any other quick bread mixes but I assume it would work just the same using the timing I've explained.
You just don't want to overfill them. The muffins will rise but there's foil over the top so they'll ooze and spread out over the mold and just not work.
If your kids love mini muffins like those called Little Bites in those small bags they will love these….and they're much better than the packaged variety.
Of course you could always make homemade blueberry muffin mix and try that but I'm all about quick so using a quick bread is perfect for what I was looking for here.
Let me know if you use another mix and you'd recommend it…we'll give that a whirl too!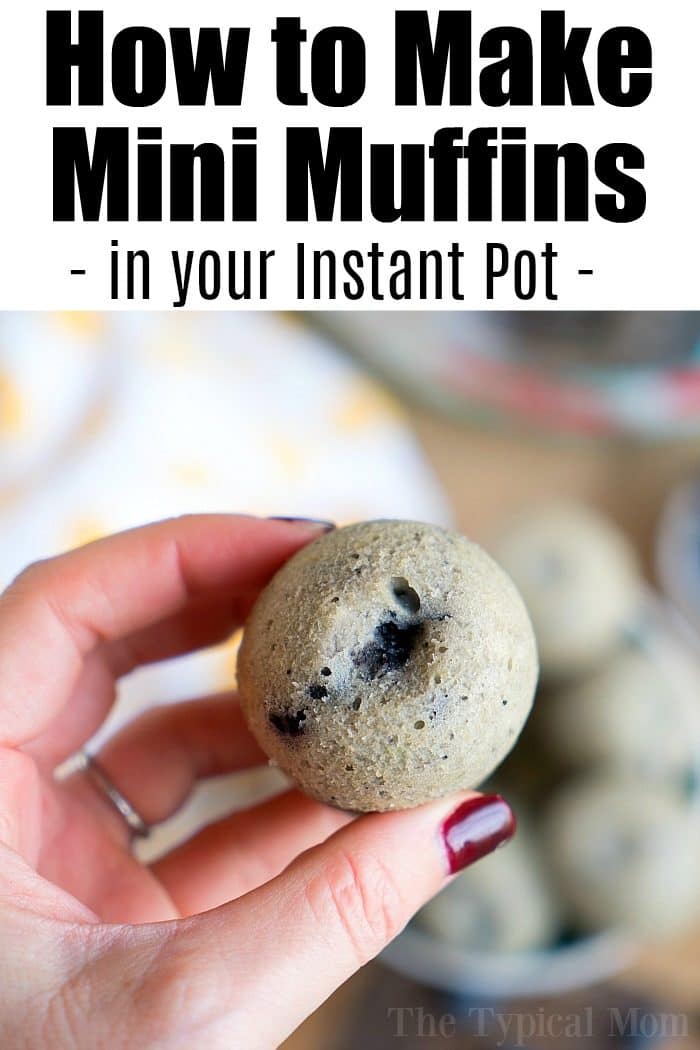 Another of our easy brunch menu ideas you can make for the holidays or when people come over.
Crockpot Express blueberry muffins instructions:
Follow instructions below
Press manual pressure button, then 10 minutes

If you don't have manual pressure button, press pressure adjust then toggle to high and set for 10 minutes
Let's share a few other Pressure Cooker breakfast recipes:
Instant Pot Blueberry Muffins
Instant Pot blueberry muffins are the perfect bite size breakfast that's quick & kids love! If you're looking for a pressure cooker breakfast we've got it!
Ingredients
1

box

blueberry muffin mix

and ingredients to make it as directed
Instructions
Make blueberry muffin mix as directed on the back of the box.

Spoon about 2 heaping tbsp. of mix into each egg mold hole (about 3/4 full).

Cover egg mold with foil.

Pour 1.5 c of water into your Instant Pot and lower down a trivet.

Put egg mold on to trivet. close lid and steam valve.

Set to high pressure for 10 minutes.

Allow to naturally release for 5 minutes, then release rest of steam.

Lift out egg mold and remove foil.

Gently push on the bottom of each hole to pop out each muffin and put on a paper towel or plate (leaving them in the mold will make them a bit moist on the outside and they will continue to cook too.

This recipe will make 2 batches using your egg mold.
Nutrition Facts
Instant Pot Blueberry Muffins
Amount Per Serving (2 oz)
Calories 251
Calories from Fat 63
% Daily Value*
Fat 7g11%
Cholesterol 1mg0%
Sodium 492mg21%
Potassium 68mg2%
Carbohydrates 41g14%
Protein 4g8%
Vitamin A 70IU1%
Calcium 34mg3%
Iron 1.5mg8%
* Percent Daily Values are based on a 2000 calorie diet.