Pressure cooker churro bites are delicious for dessert or breakfast on the go! Cinnamon and sugar coated donut churros treats that are baked, not fried, right in your Instant Pot, Ninja Foodi or Crockpot Express.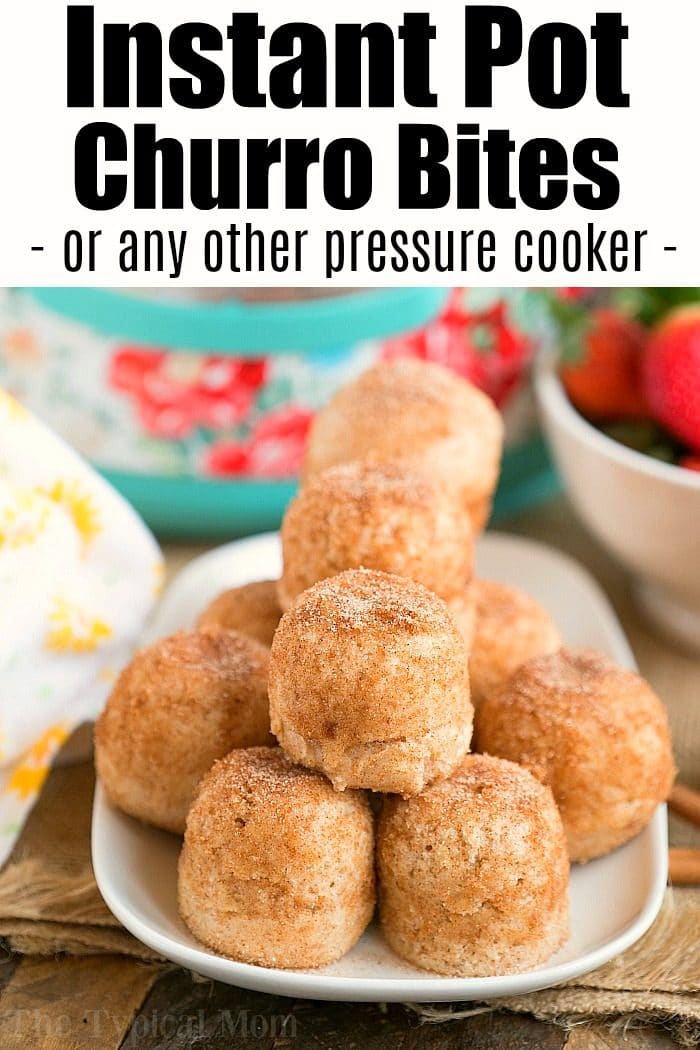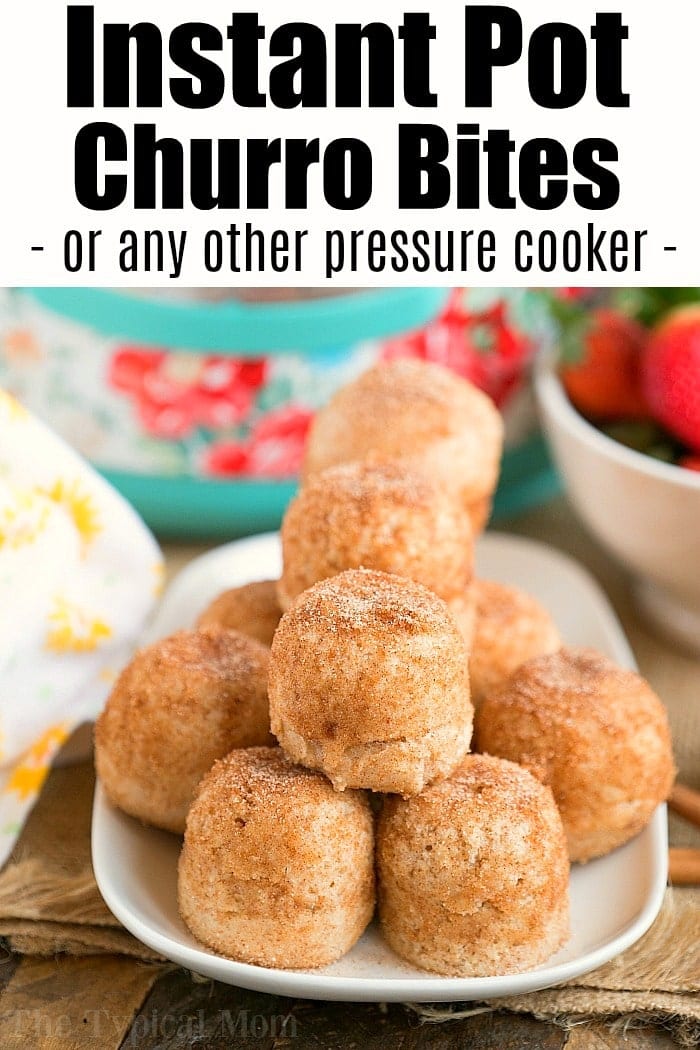 These pressure cooker churro bites were a hit!! I made them at breakfast time and were a bit like a churros donut that the kids loved and even my husband raved about. Now one of our favorite breakfast Instant Pot recipes here on The Typical Mom blog. (affiliate links present)
Who doesn't love churros??!!
I mean seriously. You've never had one?? Well traditionally churros are long donuts essentially that are fried and rolled in cinnamon and sugar.
We decided to call these pressure cooker churro bites. Yes they are baked / steamed instead of fried but we like that even better. Essentially creating cinnamon and sugar Instant Pot donuts y'all!
Have you tried these egg molds yet??
We've made a few different recipes in them that are NOT eggs at all…they're so versatile and easy to use!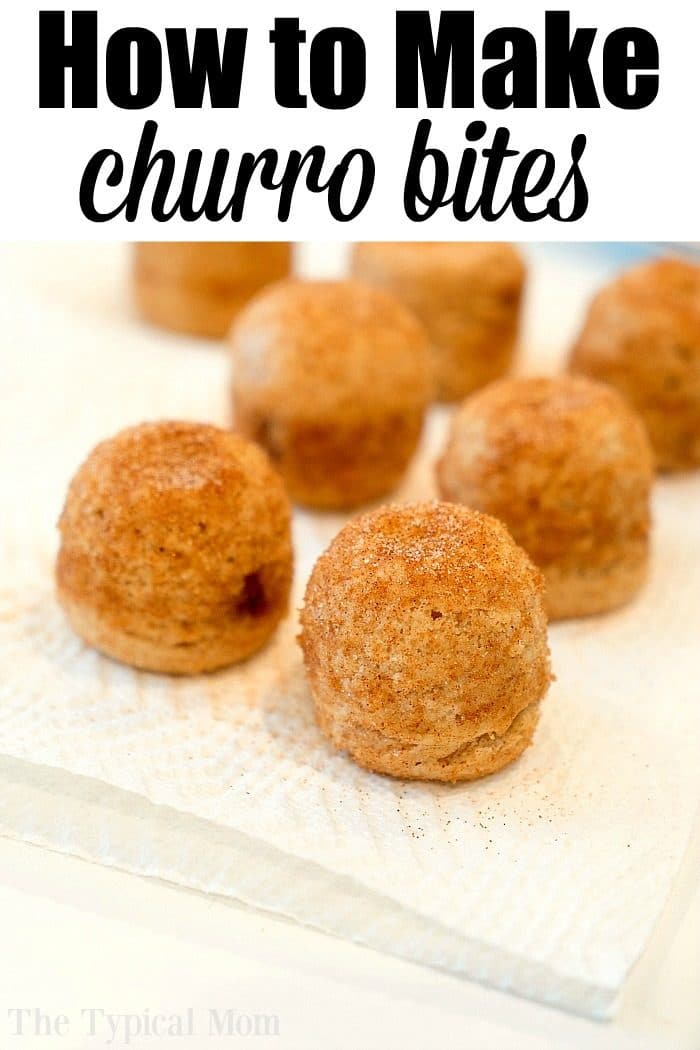 Of course you can make homemade pressure cooker churro bites but um…..I am all about easy so we're gonna' use good old cinnamon muffin mix here my friends. 😉
First in a bowl mix your ingredients well, then prepare your silicone egg mold.
The trick to making perfect pressure cooker churro bites
Use only a little bit of non stick spray inside your silicone egg bite mold
Only fill holes 3/4 full

any higher and they will overflow and not "bake" well

Allow the Instant Pot (or other brand of pressure cooker) to naturally release for 10 minutes after it beeps that it is done cooking

creates a fluffier consistency
don't quick release!!

Carefully remove the egg mold and foil when done

you don't want them to continue to cook or they will be overdone
removing the foil immediately prevents condensation from dripping down on to your doughnuts and making them wet

Only wait a few minutes before popping your churro bites out of the mold

waiting a few minutes so it cools down and you're able to handle the mold is good, don't burn yourself
leaving them in the mold much longer than a few minutes will make your bites a bit wet and sticky as they "sweat" inside there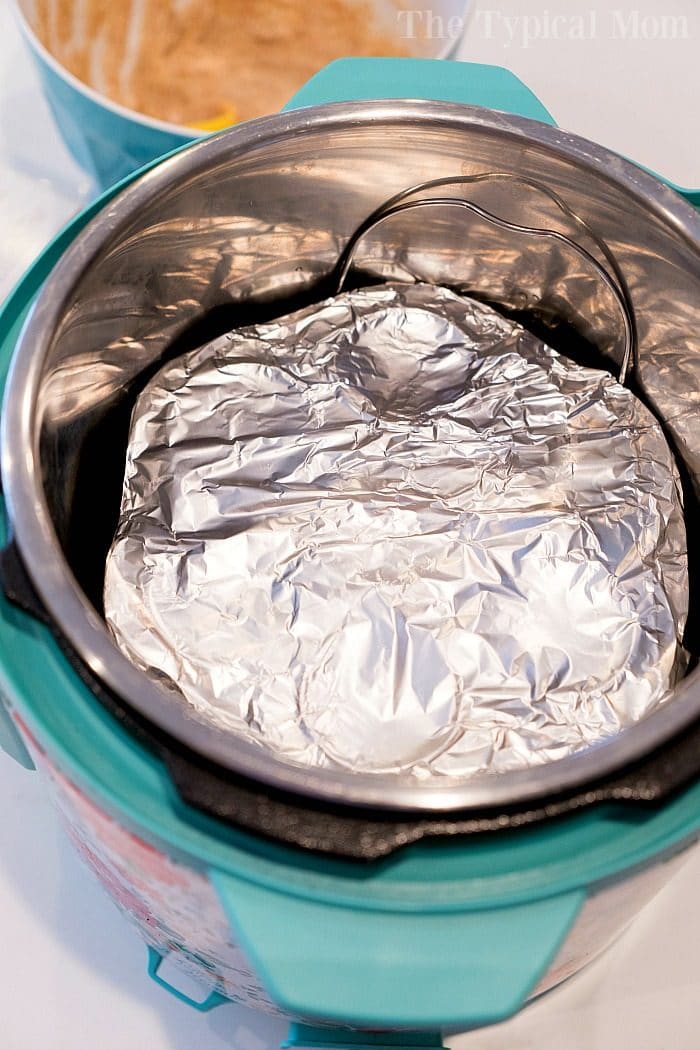 This is what it should look like right before you put the lid on.
We rolled our Instant Pot churro bites in plenty of brown sugar.
Then I sprinkled a mixture of sugar and cinnamon on top (generously) to taste as similar to churros as I could get.
I had no idea if this would work because sometimes "baking" in a pressure cooker isn't a success in my opinion and I'd rather use my oven but they were SO good!! Even my husband who is picky about textures couldn't keep his hands off of them.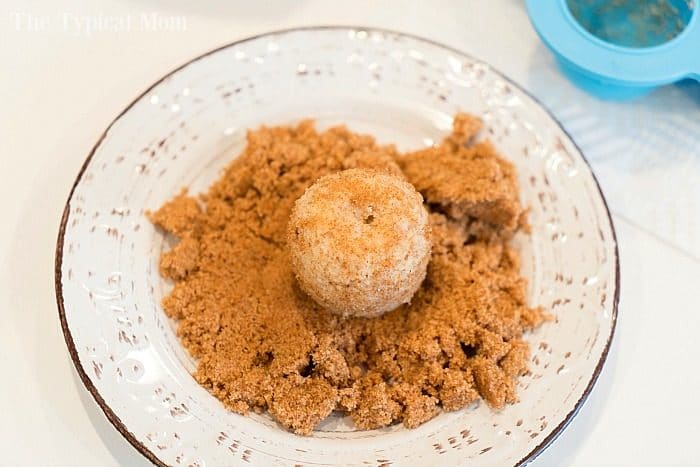 I say they are the perfect pressure cooker breakfast item, okay they are dessert too but early in the morning anything is fair game as far as I am concerned.
Can you double this pressure cooker churro bites recipe?
Yes!
If you have two egg molds you can stack them on top of one another (fits in my 6 qt. IP) and cook two batches at the same time.
12 minutes is fine for a double batch too, we've done it successfully!
Are you convinced yet that you need to make these like ASAP???!!
This is what you need to make our pressure cooker churro bites
Cinnamon swirl muffin mix – we have used spice cake mix as well – this is the cake mix one we used

If you have a hard time finding a boxed mix you can try to make homemade coffee cake and use that as your batter as an alternative, but I haven't tested it out so you'd have to let me know if it's a go as well.

Cinnamon

Can increase to 1 tbsp cinnamon total for stronger flavor

Mixture of cinnamon and sugar
Brown sugar
Eggs
Pressure cooker – this is the pretty Instant Pot I have
Once you've enjoyed these you've got to try our Instant Pot bread pudding recipe and pressure cooker brownies bites using this egg mold too!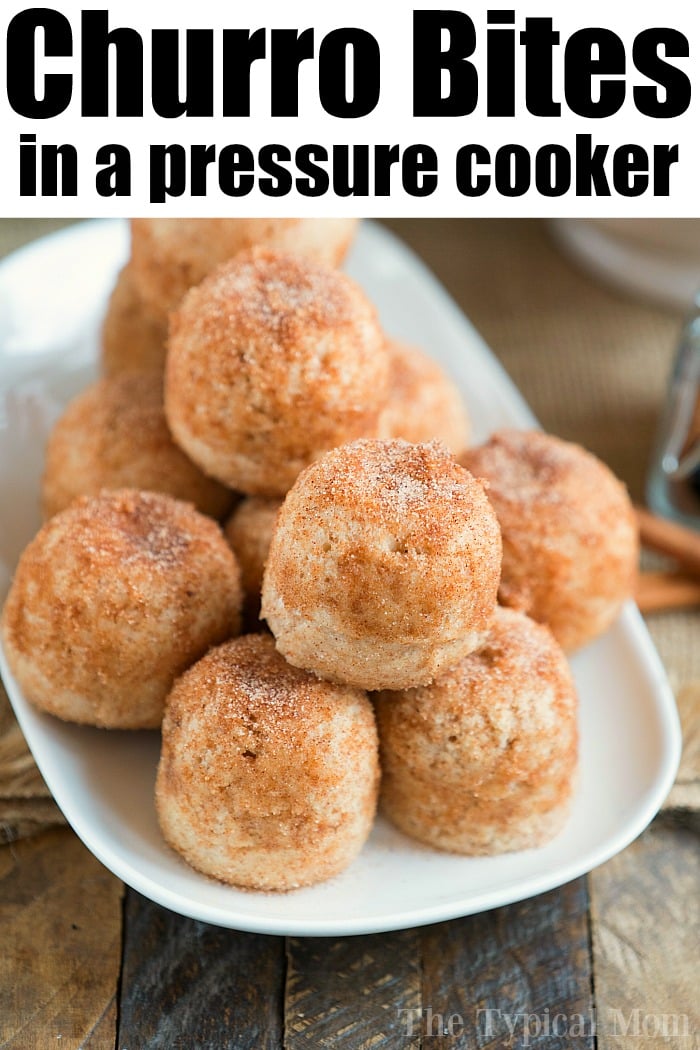 Pressure Cooker Churro Bites
Pressure cooker churro bites are delicious for dessert or breakfast on the go! Cinnamon and sugar coated baked churros, not fried, in your Instant Pot.
Ingredients
1

box

cinnamon muffin mix

Krusteaz

3/4

tbsp

cinnamon

topping

4

tbsp

brown sugar

topping

2

eggs

1

c

buttermilk

3/4

c

brown sugar mix

packet included in the box

1

tbsp

sugar

topping
Instructions
Mix cake mix, 1/4 tsp cinnamon, eggs, 3/4 c. of the brown sugar mix in the packet that is included in your muffin mix box, and buttermilk until smooth.

Spray your egg mold with a bit of non stick spray and fill your cups 3/4 of the way full. Add 1.5 c water into your pot and put a trivet into pot as well.

Cover egg mold with foil, use a sling to lower it down on to your trivet. (if you have 2 egg molds you can stack both in the same pot for the same time and make a double batch at once)

Close lid and steam valve.

Set Instant Pot or other pressure cooker to high pressure for 12 minutes. Allow to naturally release all steam.

Remove egg mold and take off foil.

Allow to cool for just a few minutes, until you can pick up the mold.

Gently push on the bottom of each hole to pop out each churro bite.

Add 4 tbsp. brown sugar on to a plate or bowl and roll each churro bite into it so they are coated, will stick to outside.

Mix remaining 1/2 tbsp cinnamon and 1 tbsp sugar into a bowl and sprinkle on top of each one generously.

Enjoy!

Can use an injector filled with cream cheese frosting to push frosting into the center of each one too if you want.
Video
Nutrition Facts
Pressure Cooker Churro Bites
Amount Per Serving (2 oz)
Calories 108
Calories from Fat 27
% Daily Value*
Fat 3g5%
Cholesterol 25mg8%
Sodium 168mg7%
Potassium 55mg2%
Carbohydrates 17g6%
Protein 2g4%
Vitamin A 80IU2%
Calcium 40mg4%
Iron 0.6mg3%
* Percent Daily Values are based on a 2000 calorie diet.