Easy Instant Pot or Ninja Foodi pressure cooker brownies that are fudgy like flourless cake! The best chocolate pressure cooker dessert I've made so far! Add peanut butter for a little slice of ultimate heaven or make into brownie bites too.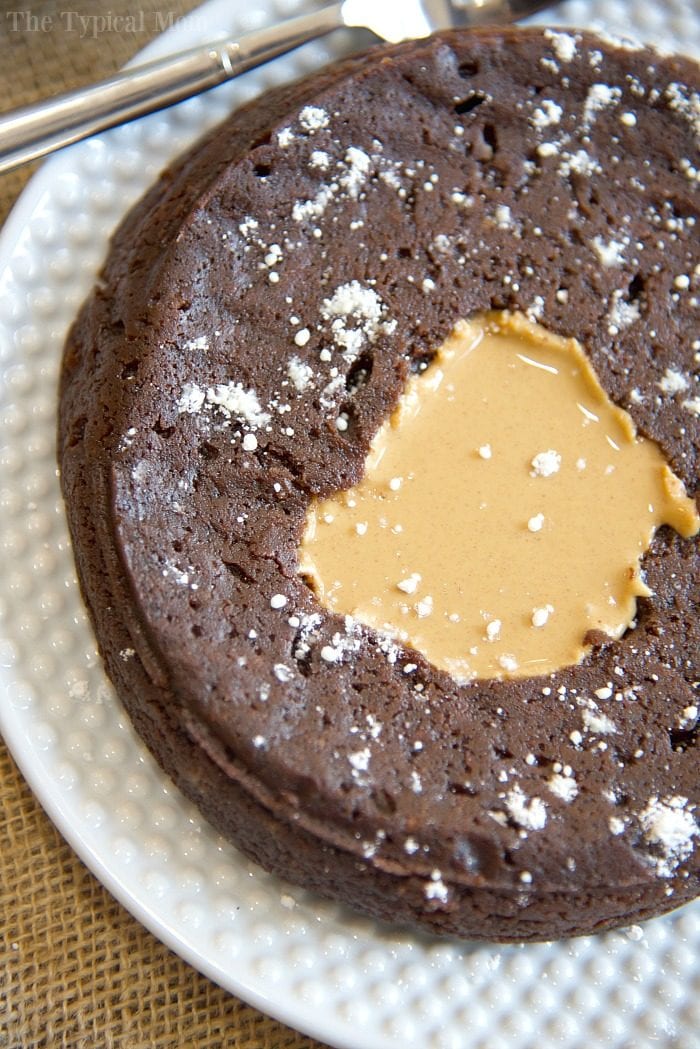 Yes I am at it again with my Instant Pot creating delicious recipes like this amazing peanut butter filled pressure cooker brownies! I know, just the sound of it is amazing and when you take a bite you will be in heaven!! You can make it plain (still good) or filled with caramel or peanut butter (go the extra mile will you, it's amazing). If you've never tried a pressure cooker dessert it's quite easy and I'll walk you thru the whole process and what you will need. This is now one of our very favorite dessert Instant Pot recipes! (originally published 3/17)
A great way to "bake" during the summertime when the last thing you want to do is turn on your oven! Brownies are my favorite dessert I think and I thought of making this after I made a brownie in a mug that was fantastic.
I know!! A big well full of peanut butter than just oozes out when you take a bit out of the outside. I have made this two ways, with caramel and chocolate in the middle using Rolo candies, or with a few tbsp. of peanut butter in the middle…not sure which one is more heavenly but personally I go with peanut butter every time.
It is the perfect size for the 5 of us for dessert. It is so decadent and rich that you really only need a small piece. . Based on the same idea I modified it to work well for the pressure cooker.
Items needed to make our pressure cooker brownies
This is what it will look like once you add it into your pan.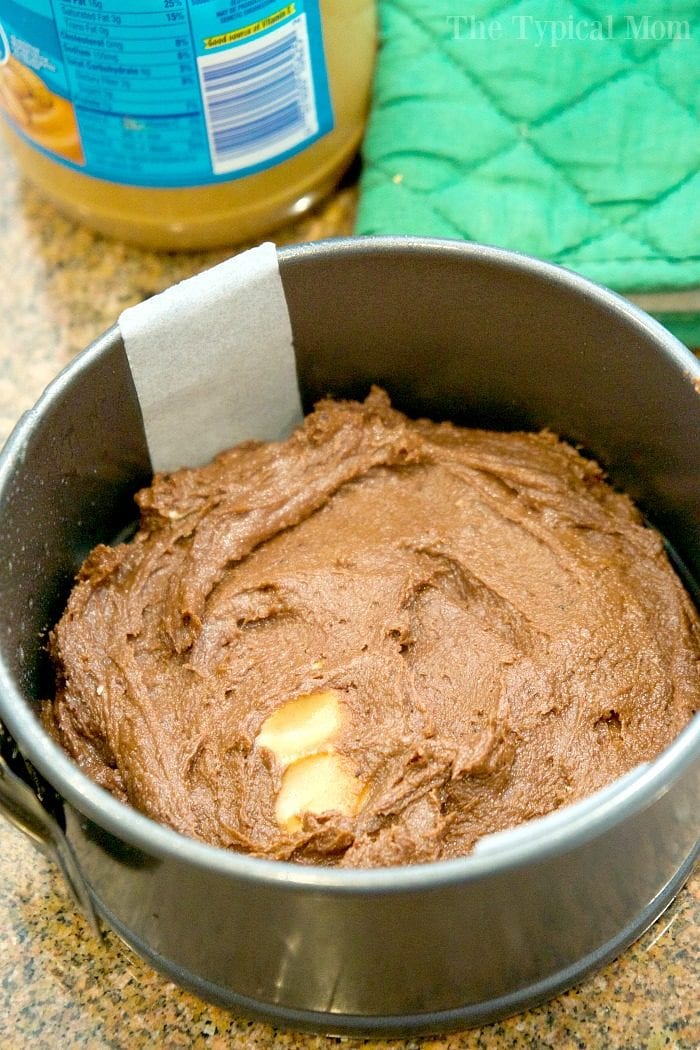 If you love flourless chocolate cake with it's dense fudgy consistency you will love these and this is what it reminds me of. It is a decadent brownie that I seriously can only make like once a month or I'd roll out the door. It's so good that it's hard to resist. I will say you only need a very small slice of it to really enjoy this homemade brownie so there's that….
If you're looking for a slice of heaven you've come to the right place with this one.
Ingredients you'll need to make your homemade Instant Pot brownies
Butter
Flour
Sugar
Cocoa powder
Eggs
Baking powder
Instant Pot or pressure cooker
I will say the peanut butter version (if you like pb) is Aaaahhhhhhmazing!! 50 minutes on high in a 6″ springform pan is just right for us but if you like it more gooey you can try a few minutes less etc… The first time is always a trial to see how you like it perfectly, then the next time you will know exactly how many minutes (just make a notation when you print out my recipe here for yourself).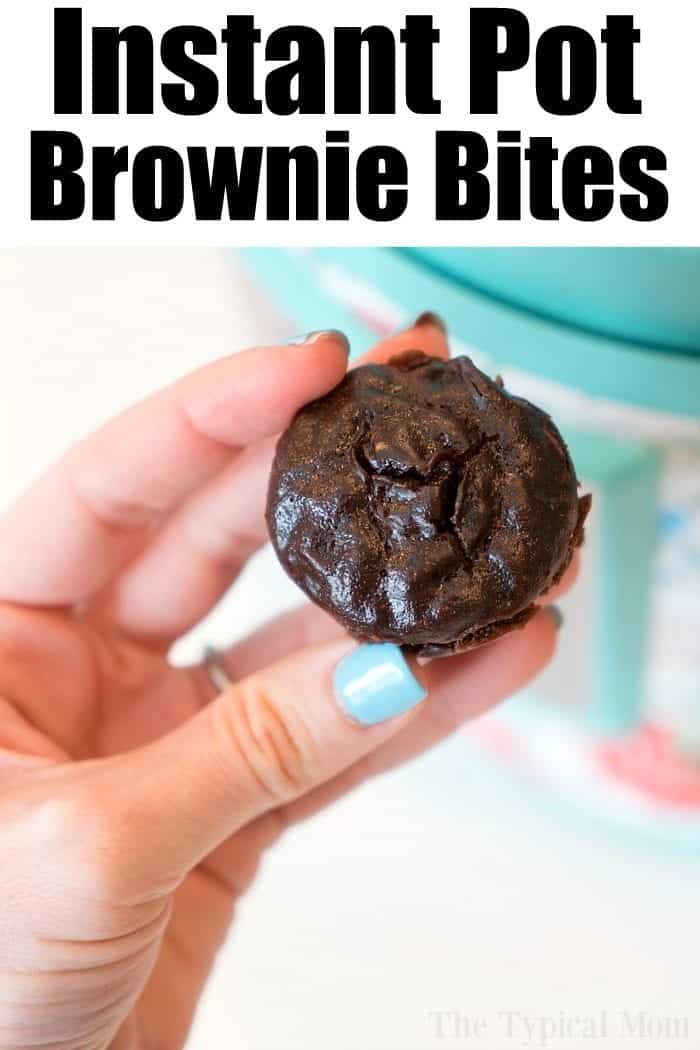 Now let's say you want to make mini pressure cooker brownies!
You will need this egg mold
I used a box of brownie mix – or you could use this brownie recipe without the peanut butter

Fill egg mold 3/4 of the way full
Cover egg mold with foil
Put 1.5 c water into your pressure cooker
Put a trivet inside with your egg mold on top
Set to high pressure for 22 minutes
Do a natural release
Take egg mold out, remove foil, allow to completely cool before popping them out and eating!
You can make Ninja Foodi brownies too!
Follow same instructions above.
They will be dense and ooey like flourless chocolate cake consistency.
If you love these peanut butter filled pressure cooker brownies you should try these other Instant Pot desserts we've made:
Here's the printable recipe and a video showing how we made them too.
Pressure Cooker Brownies
Easy pressure cooker brownies that are fudgy ooey gooey and just amazing! The best chocolate pressure cooker dessert I've made so far in my Instant Pot and Ninja Foodi!! You have got to try these for a little slice of heaven. Add peanut butter for added yum.
Instructions
Add dry ingredients in 1 bowl and wet in another, stir each.

Add all ingredients together into 1 bowl (minus the optional ingredients). If you are adding nuts fold into brownie mixture.

Spray non stick spray on inside walls on springform pan.

Lay precut parchment paper liner into pan and put tbsp of peanut butter in the middle, or caramel pcs in the middle.

Pour brownie batter on top and spread so it is the same thickness across the pan.

Put aluminum foil over the top.

Put a small glass bowl at bottom of your Instant Pot , or trivet, and pour 1 1/2 c. of water around it.

Put filled springform pan on top of cup or trivet and put IP lid on.

Set to manual, pressure, 50 minutes on high for a 6" pan

Do a slow release (meaning move steam valve just a bit open so the steam comes out really slowly).

Allow to cool completely, then release the clasp on the side of the springform pan and take outer rim off. Put a plate on top and flip over carefully, then remove parchment paper and serve. It will be a very dense flourless cake - fudgy style consistency.
Video
Nutrition Facts
Pressure Cooker Brownies
Amount Per Serving (8 oz)
Calories 317
Calories from Fat 108
% Daily Value*
Fat 12g18%
Cholesterol 80mg27%
Sodium 122mg5%
Potassium 172mg5%
Carbohydrates 48g16%
Protein 4g8%
Vitamin A 375IU8%
Calcium 47mg5%
Iron 1.6mg9%
* Percent Daily Values are based on a 2000 calorie diet.
For more easy recipes, tips and free printables please LIKE The Typical Mom on Facebook and follow me on Pinterest! You can also sign up for my free weekly newsletter which is packed with goodies I know you'll love. 😉