Pressure cooker egg bites are the perfect protein packed breakfast for busy mornings. A great Keto Instant Pot or Ninja Foodi recipe with just a few ingredients. Tastes just like the ones you buy at Starbucks. If you loved our air fryer egg bites but what them super tender try these.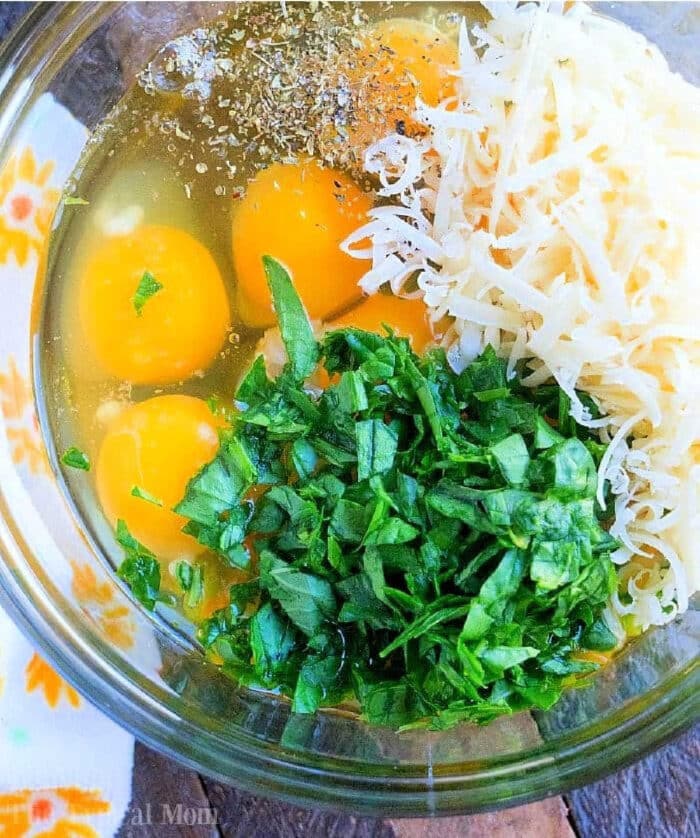 Do you buy Starbucks egg bites in the morning with your coffee, well I did for a long time until I figured out how to make these pressure cooker egg bites at home!! We've even had them for dinner. 😉 Yet another favorite easy Instant Pot recipes added to our list here on The Typical Mom. (originally published 11/18, affiliate links present)
Ninja Foodi Egg Bites
You can add just about any ingredients you like, but this version is meat free but still full of flavor and great when you're on the go. This is listed in our Ninja Foodi recipes roundup too. It doesn't matter what brand you use.
What is fun is you can change it up every single time you make them. Meat lovers is great, vegetarian works well too and low calorie like Instant Pot egg white egg bites works great too.
FIRST – You should sign up for my free newsletter so you get new posts emailed to you twice a week and never miss out on anything! Now let's start with a few basic tips:
Make sure to Bookmark our InstaPot recipes page. We add new ones each week!
Then PRINT this —–> Instant Pot cooking times cheat sheet that will help you understand how long meat, vegetables and beans take to cook in your pressure cooker.
For reference, this is the pressure cooker I have (a 6 quart) and use for all recipe creations.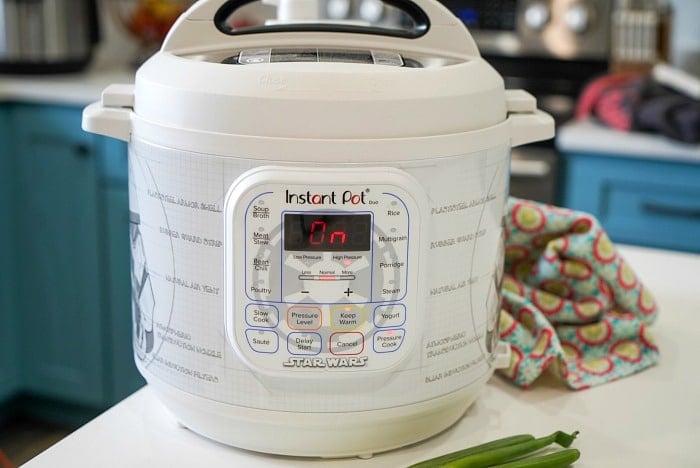 Instant Pot Egg White Bites
I have made hundreds of easy Instant Pot recipes but the first time I attempted Instant Pot hard boiled eggs they were gone that very day…needless to say we're an egg loving household.
Like I said you can use the whole thing with the yolk or just the whites if you are trying to make these healthy with less fat in them. Keep in mind that it won't have nearly as much flavor if you do this but to each their own. Adding precooked bits of meat is our favorite add in for sure.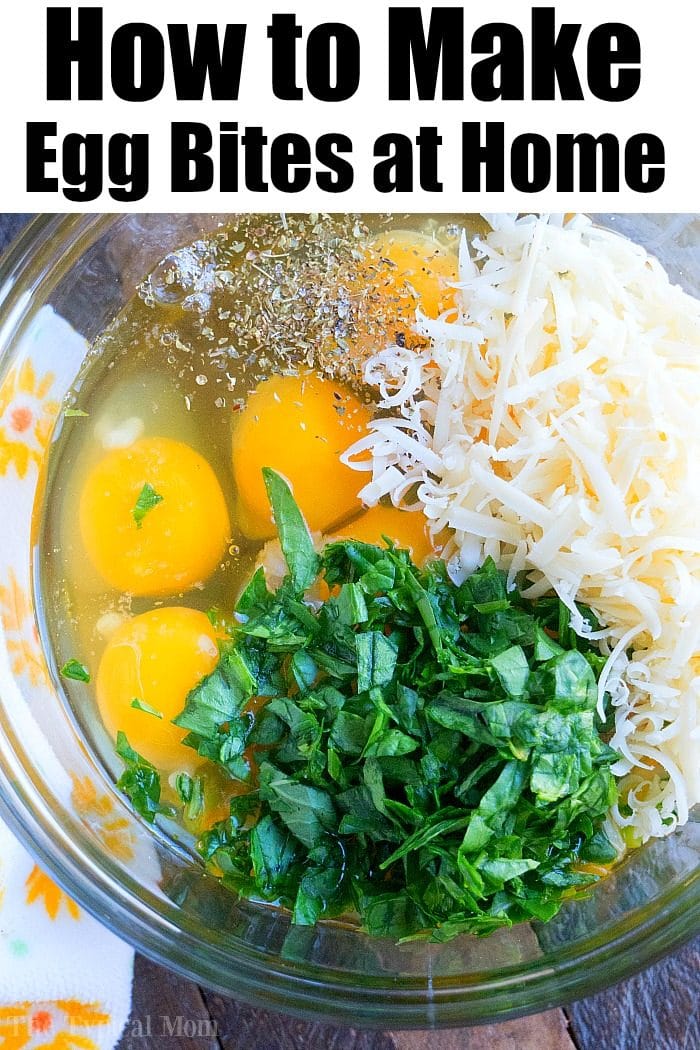 Ninja Foodi Egg White Bites
You can see many of the items here before we prepared them. I made a few batches, one with less cheese and more eggs, and this one with the opposite. We enjoyed more cheese personally but you could cut the cheese amount in half and add 2 more eggs instead if you'd rather.
That is why this egg bites recipe is so great, you can customize it to your liking.
We went for a vegetarian version this time but if you had leftover meat you could dice it up and add that too, I'd just cut down the cheese by 1/2 cup and add in 1/2 cup pre cooked meat you may have on hand. Customize them to your (and your kids) preferences. You can go nuts with these and there are tens of hundreds of different combinations that could be created.
What is in a Starbucks egg bite? They have a few options so it depends on which one you choose. I will say these taste quite similar to those once they're done, and are very fresh since you can eat them right after popping them out of the Instant Pot silicone mold.
Most have cheese, bacon, and diced bell peppers and/or fire roasted red peppers.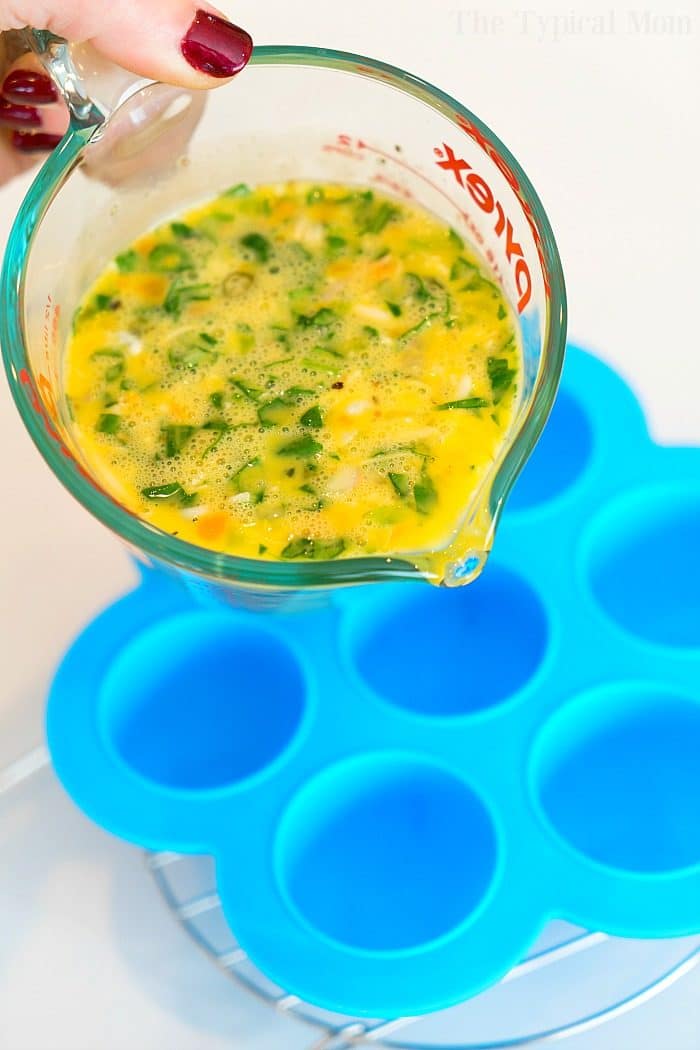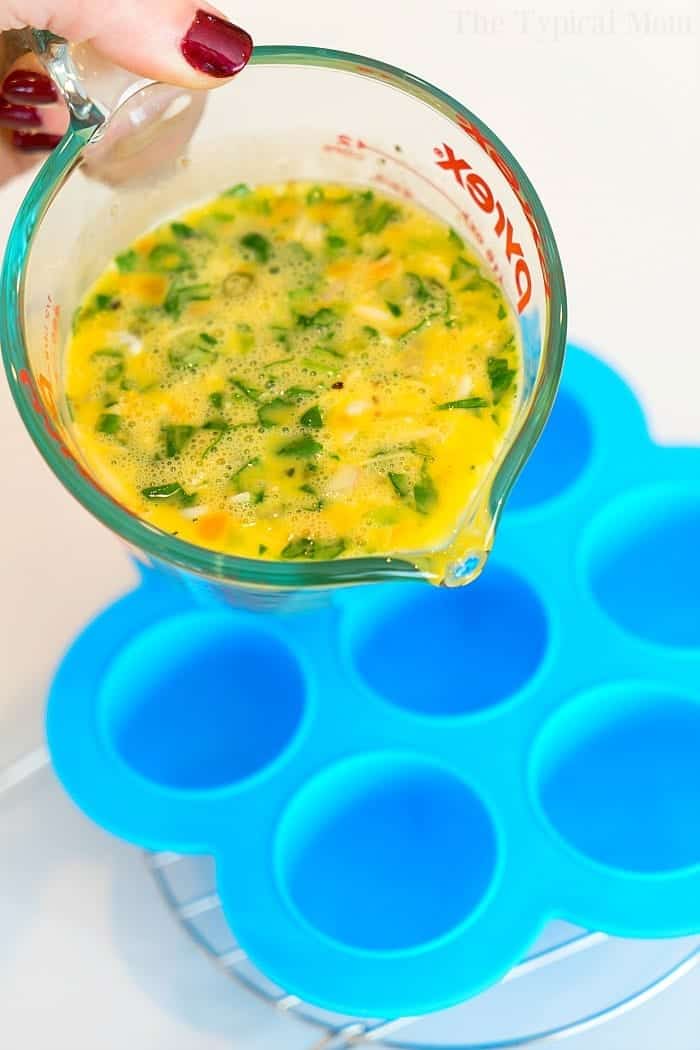 Starbucks Instant Pot egg bites
If you wanted to make their red pepper version that would be easy. Just dice your veggies small, saute and lay on paper towels so you aren't adding oil into the mix.
Precook your meat and vegetables you're going to add

It is important to precook your veggies too to decrease the amount of water so it cooks properly

Use a large measuring cup to whisk your ingredients together so then you can pour it into your Instant Pot egg bites mold easily with little to no mess
Add herbs and spices you like, pretend you are making an omelette and add what you normally would if making 6 eggs at a time
Cover the egg bites mold tightly with foil before lowering into your Instant Pot

Use a trivet with handles like you see here and/or create a sling out of foil so you can lift it out easily when it's done
Why should you use aluminum foil on the top? If you don't the steam will create a lot of water on the top of your eggs. This will not only make the texture weird, but it won't cook properly with the additional liquid added to each hole.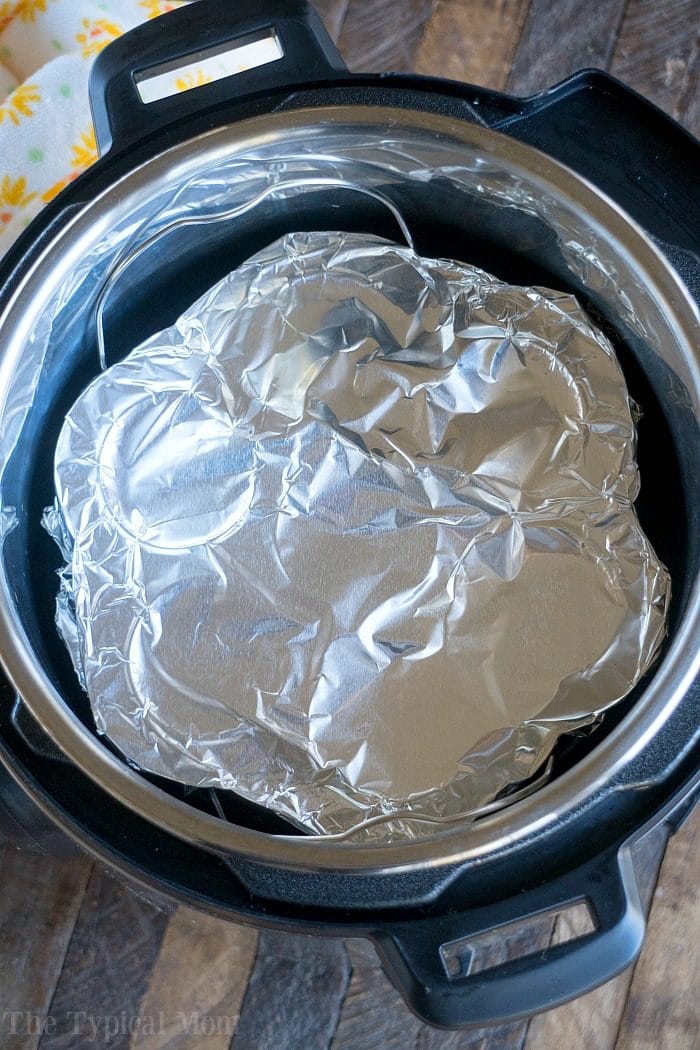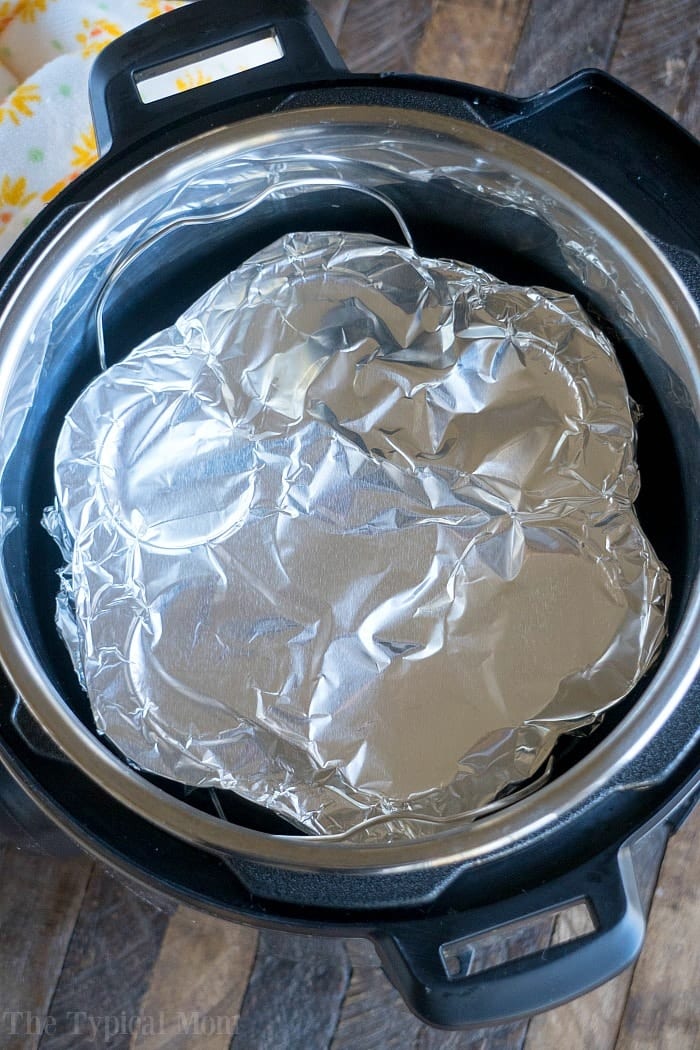 Instant Pot Egg Bites without Cottage Cheese
I don't add this, in fact it is easy to make these dairy free too. Just use alternatives into the mix and you'll never know the difference. For my husband I do this all the time and they still come out great.
Allow steam to naturally release for 4 minutes
Take mold out immediately after that

Remove foil immediately
Pop Instant Pot egg bites out of the mold immediately and put them on a paper towel that is placed on a plate.

There will be a bit of water at the bottom of each hole because of the steam and you don't want the egg to sit in that too long, the texture won't be good.
How many egg bites in a serving? Typically 2 is considered a serving, and enough to fill up an average size adult or teen. Once again it depends on what you add. If you are making keto low carb egg bites you may have packed them with meat which will fill you up more than veggies.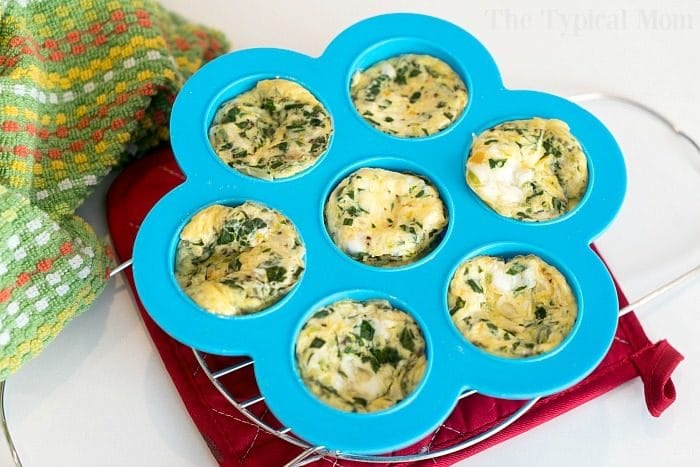 Dairy Free Instant Pot Egg Bites
When your egg bites are done they will be a bit puffy. Once you pop them out and flip them over they're smooth.
I suggest putting them on paper towels at first to absorb any liquid that has accumulated at the bottom of the mold.

This will then make the underside of your egg wet and you'll want to get that off so it doesn't start to disintegrate that area and make it mushy.

Of course the overall appearance of them will vary depending on the ingredients you add. But if you follow the ratio I've provided below they are sure to taste just as amazing as ours.
They will also pop out of your Instant Pot egg bites mold easily
They're a protein packed breakfast. Very similar to a copycat Starbucks egg bites recipe.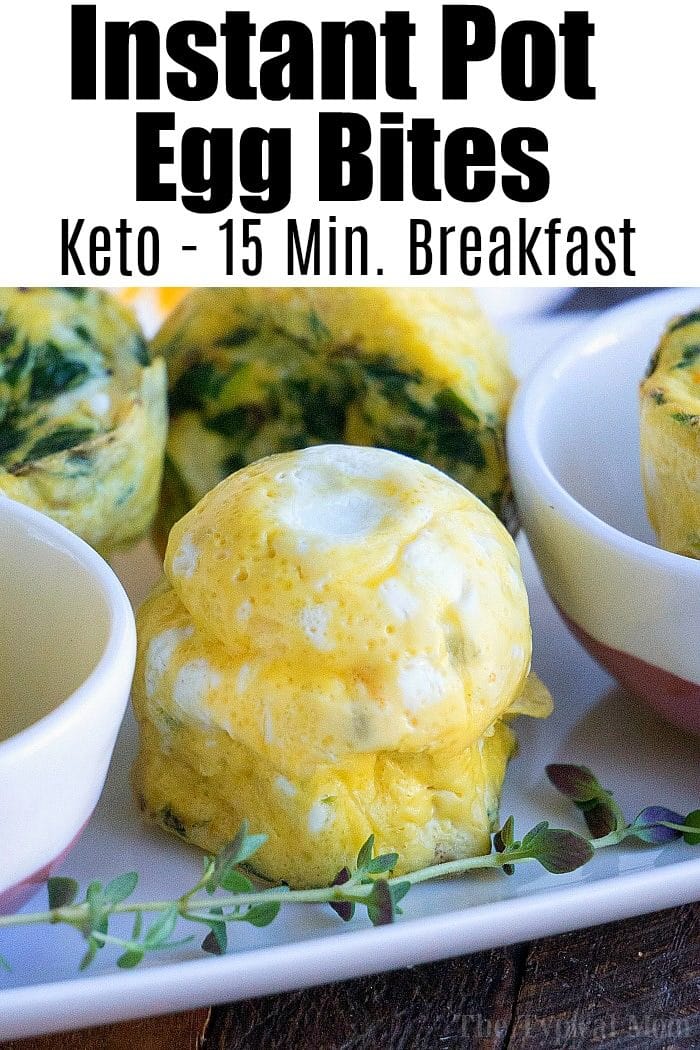 Pressure cooker egg bites
Instant Pot egg bites mold (15% off with code

TYPICALM at checkout)

Eggs

I haven't made it with just egg whites as of yet

Cheddar cheese – or other type, we used Swiss
Fresh spinach
Bell pepper
Shallot
Oregano
Salt and pepper to taste
Diced green onions could be added
Cup of water
How many calories are in an egg bites?
This varies A LOT depending on what you're adding. If you really need a very accurate account you'd need to add together the calories of each item and how much you used. Do this before cooking to get an exact number.
At Starbucks the lowest calorie egg bite there is their Egg White & Roasted Red Pepper with spinach and Monterey Jack cheese with just 170 calories. Yes you could double the recipe if you wanted. You just have to cook in batches with the silicone muffin mold.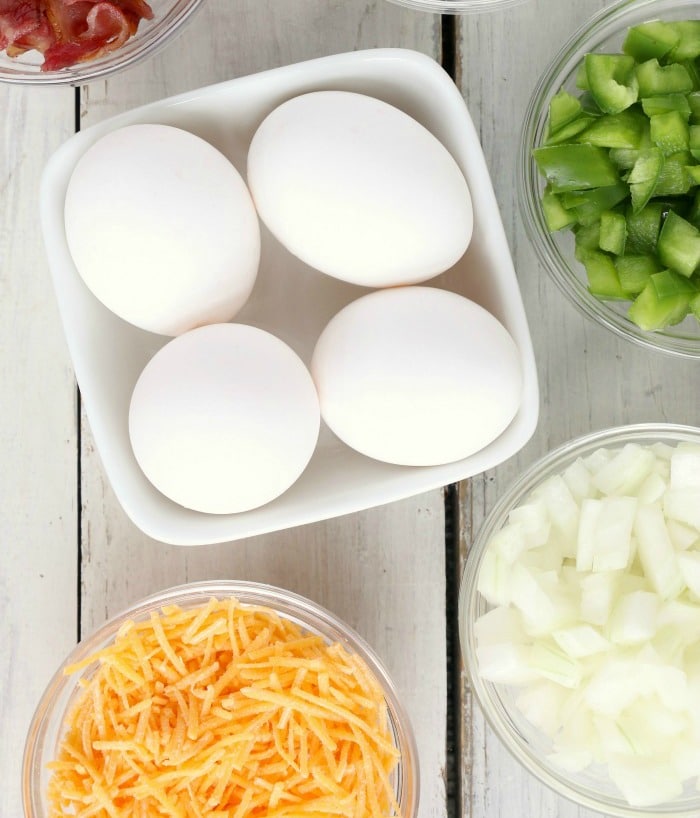 Egg bites in Ninja Foodi
If adding veggies into your Ninja Foodi breakfast, saute them inside the pressure cooker pot, or on stovetop in a pan.
Dump on paper towel when done to absorb any liquid.
Whisk eggs together in a bowl
Add cooked veggies, cheese, seasonings, all the things
Place trivet inside pot, add 1 cup water inside as well.
Fill egg molds, cover with foil
Put molds on top of trivet
Close lid and set to high pressure to pressure cook for 8 minutes cooking time.
Allow 4 minutes natural release when time is up, then let out rest of pressure
Your Starbucks sous vide egg bites grab and go breakfasts are done!
How long do egg bites last in the fridge?
Instant Pot sous vide egg bites can be stored in the refrigerator if packaged in airtight bags or containers for up to 5 days.
Personally we've never had any left when I make them, they go fast! I did throw 2 in though just to test this and it is fine after a few days.
When you're ready to reheat egg bites just use your microwave.
Put on a paper towel, then on a plate for 30 seconds.
These could also be frozen and reheated in the microwave for one and a half to two minutes.
Want to make air fryer egg bites too?? They're great! Other delicious recipes below to try too.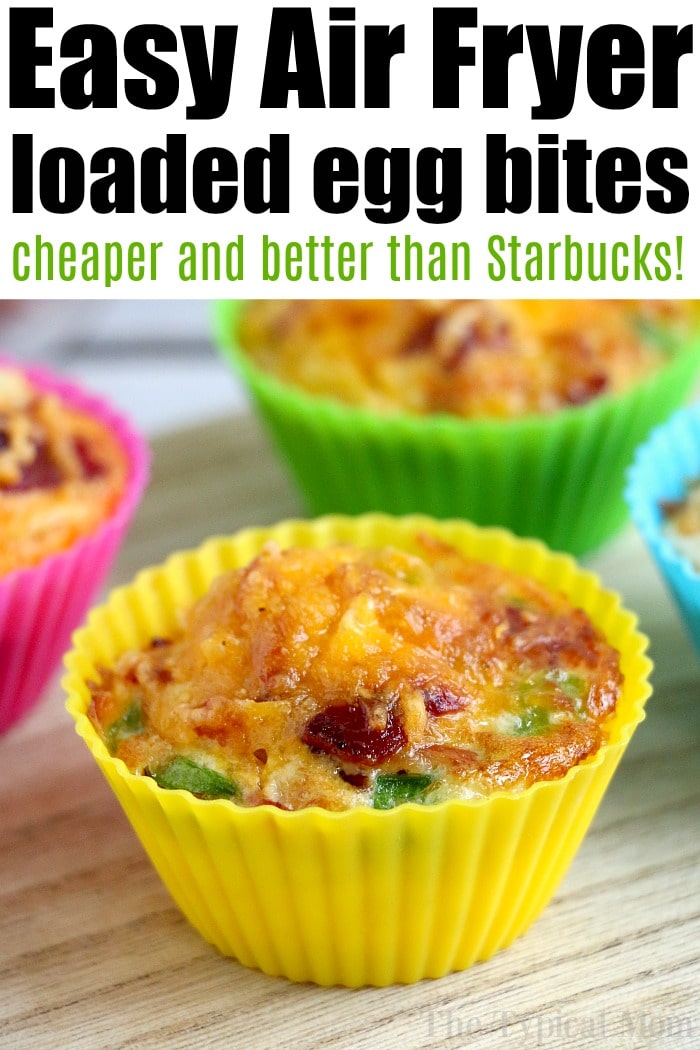 Here are a few other great Instant Pot recipes we've enjoyed:
Want to see a few of my favorite things that I am totally obsessed with?? Take a peek and see how many you might already have…twinsies!
Looking for more easy family recipes and tips? LIKE The Typical Mom Facebook page?
Then sign up for my free newsletter, and follow me on Pinterest! 😉
***** If you LOVED this recipe give it 5 Stars below and let everyone know what you thought about it. 😉
Pressure Cooker Egg Bites
Pressure cooker egg bites are the perfect protein packed breakfast for busy mornings. A great Keto Instant Pot recipe with just a few ingredients.
Ingredients
Instructions
On the stovetop in a pan, med. heat, add shallot/onion, diced fresh spinach, and diced bell pepper, cook for about 2 minutes just until moisture is cooked out.

Scramble 6 eggs in a bowl, add vegetables you cooked briefly on the stovetop.

Add cup of shredded cheese, any hard cheese works, we use swiss.

Add salt and oregano if desired, whisk all ingredients together with a fork.

Spoon or put mixture into a measuring cup and pour egg into egg bite mold. Will fill all 8 spots evenly, just below rim.

Cover egg mold with foil.

Add 1 1/2 c water into your pressure cooker. Put egg mold on to a trivet with handles and lower down into pot.

Close lid and steam valve and set on pressure high for 8 minutes.

Allow to naturally release steam for 4 minutes, let out rest of steam and lift trivet with egg mold out.

Remove foil and pop egg bites out of mold and on to a plate. Serve and eat immediately for best taste!
Nutrition Facts
Pressure Cooker Egg Bites
Amount Per Serving (2 oz)
Calories 125
Calories from Fat 72
% Daily Value*
Fat 8g12%
Cholesterol 157mg52%
Sodium 238mg10%
Potassium 110mg3%
Carbohydrates 1g0%
Protein 8g16%
Vitamin A 835IU17%
Vitamin C 14.3mg17%
Calcium 138mg14%
Iron 0.9mg5%
* Percent Daily Values are based on a 2000 calorie diet.