Best churros recipe is here! How to make this popular Mexican dessert at home with just a few ingredients so your family can enjoy them as much as mine did. Sprinkle with cinnamon and sugar or make filled churros.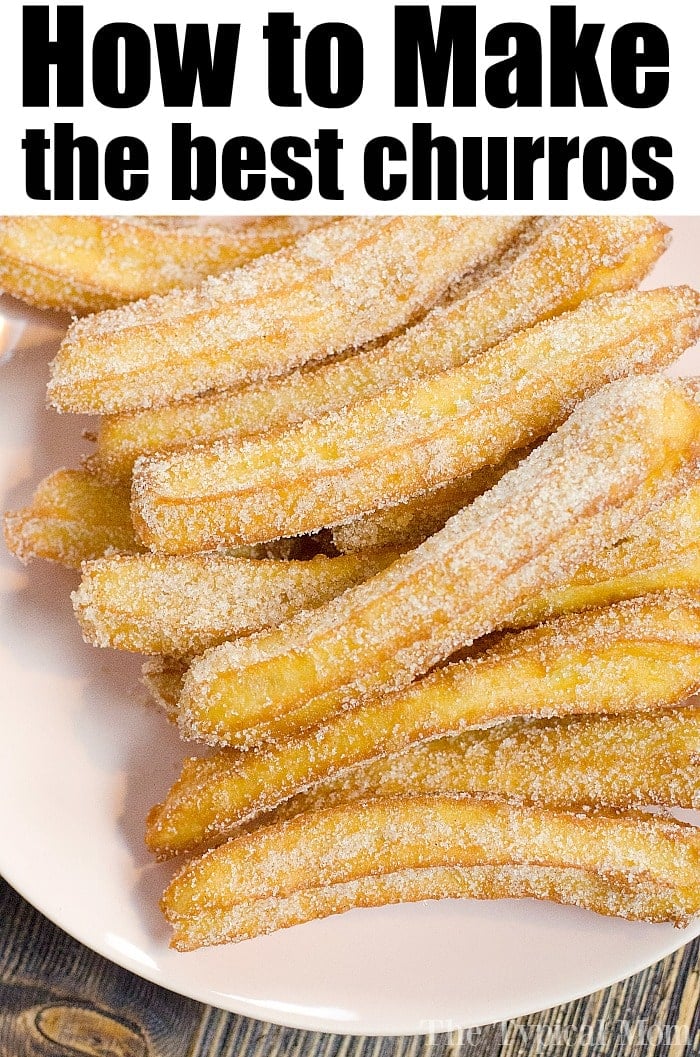 Have you ever had churros at a fair and wondered how to make them at home year round? Well this is the best churros recipe around because it's so easy to do right in your own kitchen. Sprinkled with cinnamon and sugar it is one of our favorite long donuts to enjoy for breakfast or dessert. (originally published 9/19, affiliate links present)
Dairy Free Churros
I have had to tweak many recipes lately for my husbands belly. He is now lactose free and feels so much better without dairy in his diet now. Over time I have figured out what to substitute to make it taste just like the original. I will explain my choices below for you, both ways. 😉
Homemade Churros Ingredients
I mean of course you could buy them frozen. In your microwave you can heat and enjoy but um they will be soft and not at all the right texture you would imagine them to be off the truck at the fair.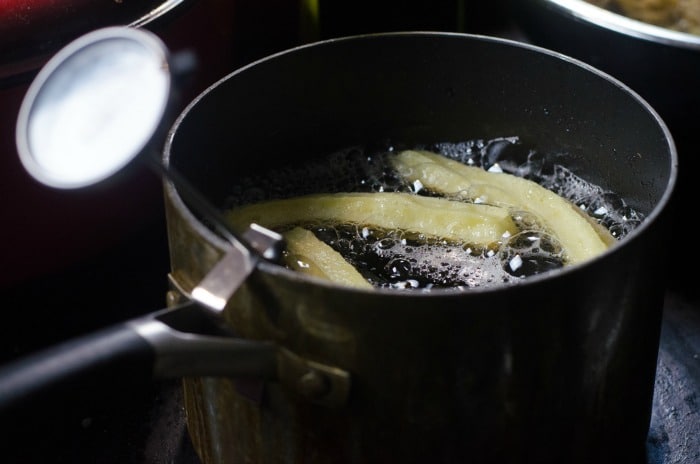 What is a churro made of?
Traditionally made in Portugal, they were commonly eaten at carnivals, fairs and other celebrations. They originally were made at street stands with a dough that was a mixture of flour, water and salt. Some other variations are made of potato dough. Ours uses flour and a few other ingredients with an added sweetness you will surely love.
You could easily make these dairy free if you needed to. I do that now for my husband and nobody ever notices the difference. I like vanilla almond milk because it adds a bit of sweetness to the batter but cashew or coconut milk would be great too. You can find plant based vegan butter products too now.
Flour – this is how to measure flour properly
Milk
Butter
Eggs
Salt
Water
Sugar and cinnamon
Vegetable oil and a large pot for frying
Paper towels to absorb some excess oil when they're done
Piping bag fitted with a star tip on it, or gallon freezer bag with corner cut off to pipe dough out in long pieces like you see here
Thermometer if you want to check temperature of the oil
At first I didn't have a thermometer so I just put a drop into the oil when I thought it is ready. If it started to fry right away, it's ready. If it fries and turns brown immediately it is too hot.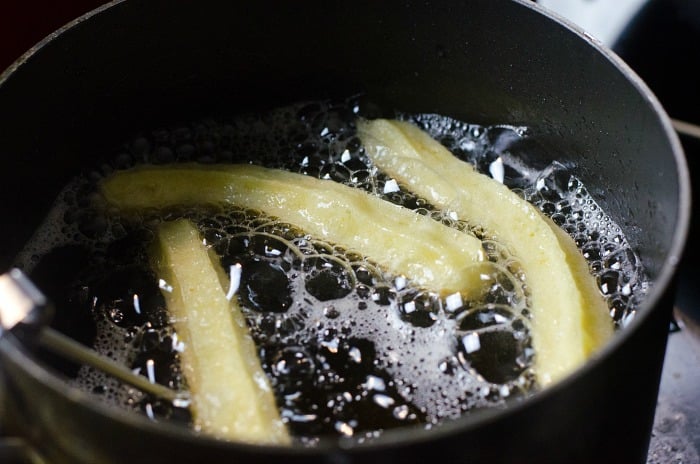 What do churros taste like?
Mexican churros taste like fried dough or a donut basically. There are different types of churros but the most common are closer to fried pastry and a bit salty. They are typically long and crispy. If you think outside the box I have made them softer like churro bites in a pressure cooker too.
Are churros and donuts the same?
Churros are special South and Central American doughnut sticks essentially. They're often called a "Mexican doughnut." They are tube-shaped, without yeast, sticks of dough piped from a star-tipped pastry bag, fried in oil, and rolled in cinnamon sugar.
Why is it called a churro?
History is divided on how these came to exist. Some say they were the invention of Spanish shepherds. The Spanish learned of the new treat from their neighbors and put their own spin on it by passing the dough through a star-shaped tip. This is what gives it its signature ridged shape.
How to make homemade churros
First you'll want to get out a stand mixer, have your cinnamon sugar mixture ready in a bowl or plate, and get your piping bag ready.
Now over medium high heat add your milk, water, butter, sugar and salt and bring to a boil.
Then remove from heat and add flour slowly using a wooden spoon to create the fist step of this churro dough.
Add this into your stand mixer, allow to cool and using a paddle attachment adding your eggs one at a time.
At this time, once the egg is incorporated well, it should be easy to pipe into your pastry bag.
Wait until your oil is nice at hot, 350 degrees is great in order to get them golden brown.
Squeeze dough directly into the hot oil flipping once. Fry until golden brown.
Sit on folded paper towels to absorb excess oil
Roll in cinnamon sugar mixture while still hot so it sticks nicely.
Looking for more donut recipes?
Churros at home are the best, let's just say that to begin with. A few other treats you can throw together quickly are here. Let's start with these easy air fryer donuts!
Are churros good the next day?
Piped raw churros should be good in the fridge for a few hours but I haven't tested it for a full day. It stands to reason they'd keep that long too. Churros can be kept warm in an oven before coating with cinnamon sugar for probably up to an hour before they might get dry. They're best FRESH on the first day though for sure.
Want to see a few of my favorite things that I am totally obsessed with?? Take a peek and see how many you might already have…twinsies!
Looking for more easy family recipes and tips? LIKE The Typical Mom Facebook page?
Then sign up for my free newsletter, and follow me on Pinterest! 😉
***** If you LOVED this recipe give it 5 Stars below and let everyone know what you thought about it. 😉
Best Churros Recipe
Best churros recipe is here! How to make this popular Mexican dessert at home with just a few ingredients so your family can enjoy them as much as mine did.
Ingredients
Instructions
Put a star tip inside a piping bag and have ready.

Whisk together your cinnamon, 1 1/2 c of sugar in a bowl. Set aside.

Bring milk, butter, salt, 1/2 c water, and 1 tbsp sugar to a simmer in a pan over medium/high heat.

Using a wooden spoon add in flour quickly and mix fast for about 30 seconds until it creates a dough. Remove from pot and place in the bowl of your stand mixer.

Allow to cool slightly for 5-10 minutes.

Use paddle attachment for your stand mixer and mix at medium/low speed. Add eggs to dough one at a time. Incorporate each egg well before adding the next one.

Scrape the sides of the bowl to ensure everything incorporates well into the dough. After all eggs are added it should be easy to spoon into a piping bag.

Heat vegetable oil in a pot on the stovetop until it is about 350 degrees or until a small drop of dough fries immediately and floats to top.

Squeeze out 4-5 inches of your dough into the hot oil and cut off with a knife quickly so it drops in and stays one long piece.

Fry a few at a time, not overlapping as they will stick together. 2 minutes on each side until lightly brown.

Remove and put on paper towel to drain excess oil. Mix together rest of sugar and cinnamon. Sprinkle on churros, all sides.

Enjoy immediately for best taste.
Nutrition Facts
Best Churros Recipe
Amount Per Serving (2 oz)
Calories 502
Calories from Fat 801
% Daily Value*
Fat 89g137%
Cholesterol 42mg14%
Sodium 199mg9%
Potassium 29mg1%
Carbohydrates 26g9%
Protein 2g4%
Vitamin A 190IU4%
Calcium 21mg2%
Iron 0.5mg3%
* Percent Daily Values are based on a 2000 calorie diet.