Easy air fryer donut recipe using cinnamon rolls and cinnamon and sugar! Soft on the inside and crispy outsides, make these doughnuts in your Ninja Foodi tonight!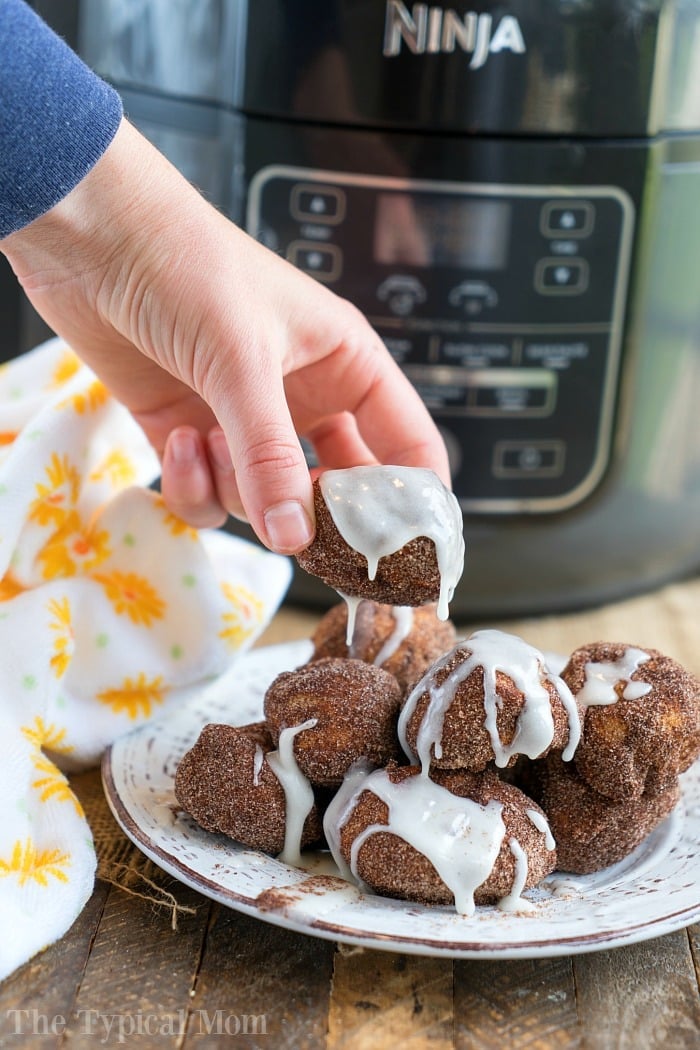 We're back with the best air fryer donut recipe around! These didn't last long in our house after I made them in my Ninja Foodi. Covered with cinnamon and sugar with a drizzle of frosting on top they were great for breakfast. For dessert would be ideal too. If you're ready for some comfort food in one bite, you're in for a treat with these air fryer doughnut holes. (affiliate links present)
Here are a few resources to start with:
Now on to making this air fryer donut recipe using refrigerated cinnamon rolls.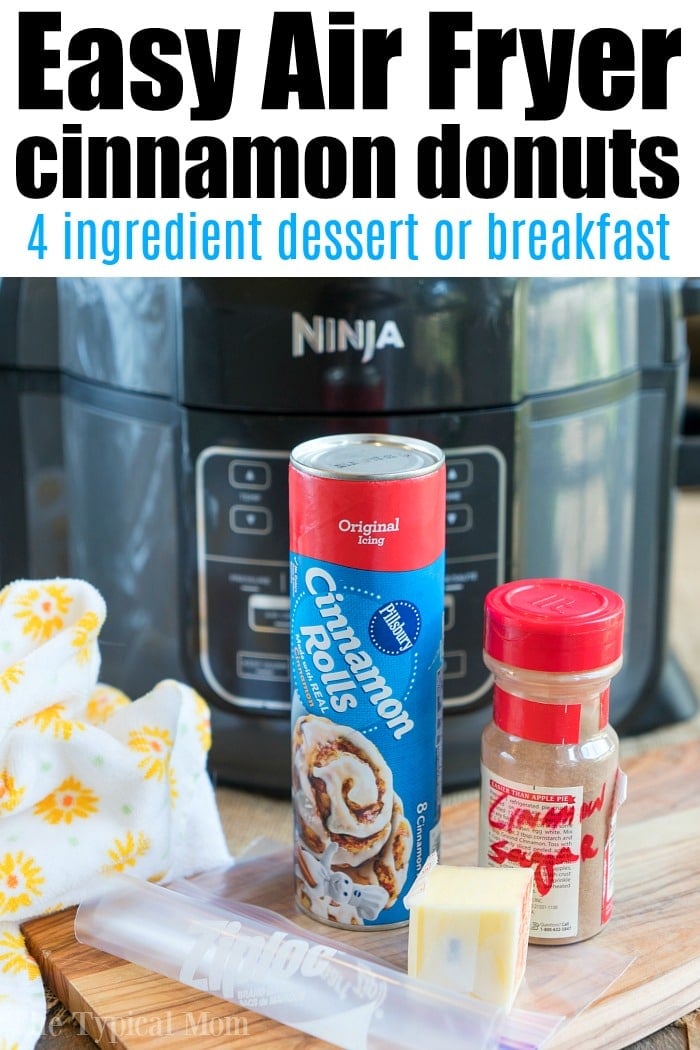 We started this earlier by sharing how to make air fryer cinnamon rolls as well as semi homemade sticky rolls. They were SO good that we just kept going and these were created one night. If you haven't baked in your new machine that needs NO oil for things to get extra crispy you should.
Unlike a pressure cooker it really creates the perfect texture you want for fried foods but with a lot less calories and/or fat.
Ingredients needed for air fryer donuts:
Refrigerated cinnamon rolls
Butter
Baggie is helpful but you can use a plate instead as an alternative
Toppings:
Melt frosting from container
Sprinkle powdered sugar on top with some cocoa powder
Drizzle chocolate glaze on top
Melt chocolate chips smooth with a touch of coconut oil
I create a sort of assembly line on a flat surface like you see here to make them while I'm waiting for my machine to preheat to 390 degrees.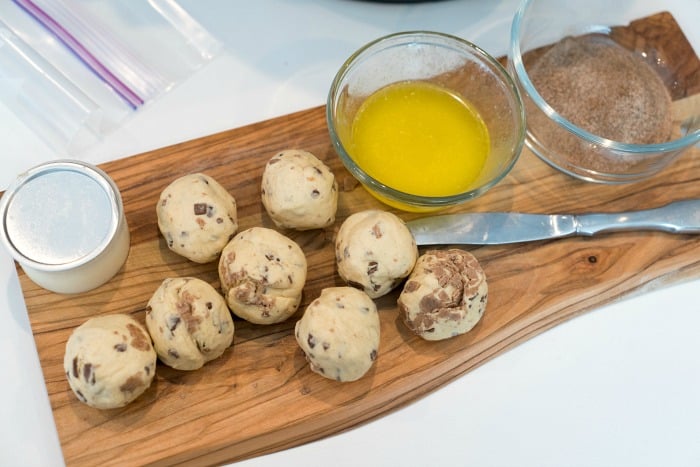 Start with popping open your container and removing your vanilla icing cup. You will use this when they're done so don't toss it!
In a small bowl melt your butter.
Mix together cinnamon and sugar in another small dish, or use a pint size freezer bag.

1/3 cinnamon and 2/3 sugar is approximately the measurements I use but quite honestly I don't measure this perfectly, I can tell by the color if it's perfect.

We're using cinnamon rolls cut in half instead of from scratch, so no lightly floured surface or yeast is involved here.
Roll each half in your hands so they're small balls.

Biscuit cutters are great for slicing, or a pizza cutter.

Now you're ready to coat and cook!
Dip in the butter, roll in your sugar mixture and put into your air fryer basket so there is space between them.

keep in mind they will "grow" and expand so they'll need a bit of space.

Cook for about 6 minutes, flipping halfway through.
Then put into your baggie with more sugar cinnamon mixture and toss again so they're WELL coated with goodness.
Drizzle frosting on top and eat!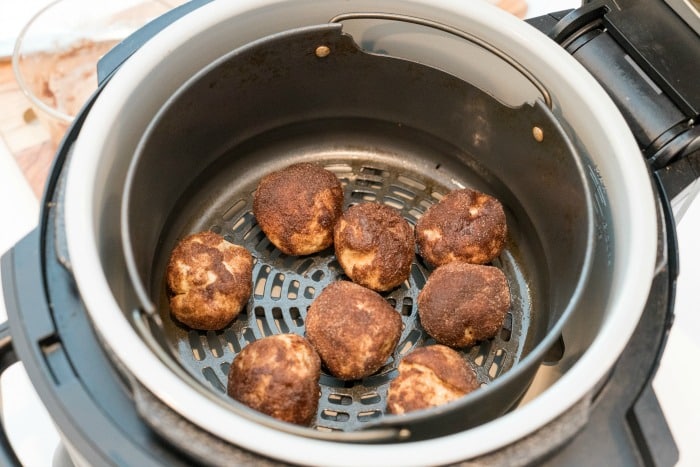 Tip: Lightly grease your air fryer basket at the beginning. Setting them on a cooling rack when done is great too (they may disappear quickly though).
Typically I add half the halved rolls in each batch so they can spread out. So one package will need 2 batches to completely cook properly and perfectly. Total cook time is 5-6 minutes depending on how crispy you like the outsides.
You can enjoy them straight out of the basket but we like our air fryer doughnuts coated with a bit of extra sweetness so we toss them for a second time.
I experimented with this recipe before sharing it here and slicing the rolls in half was best. If you roll the entire piece into a ball and cook them they expand too much and don't resemble donut holes anymore. The outsides get too done before the insides have enough time to cook too so I recommend cutting them.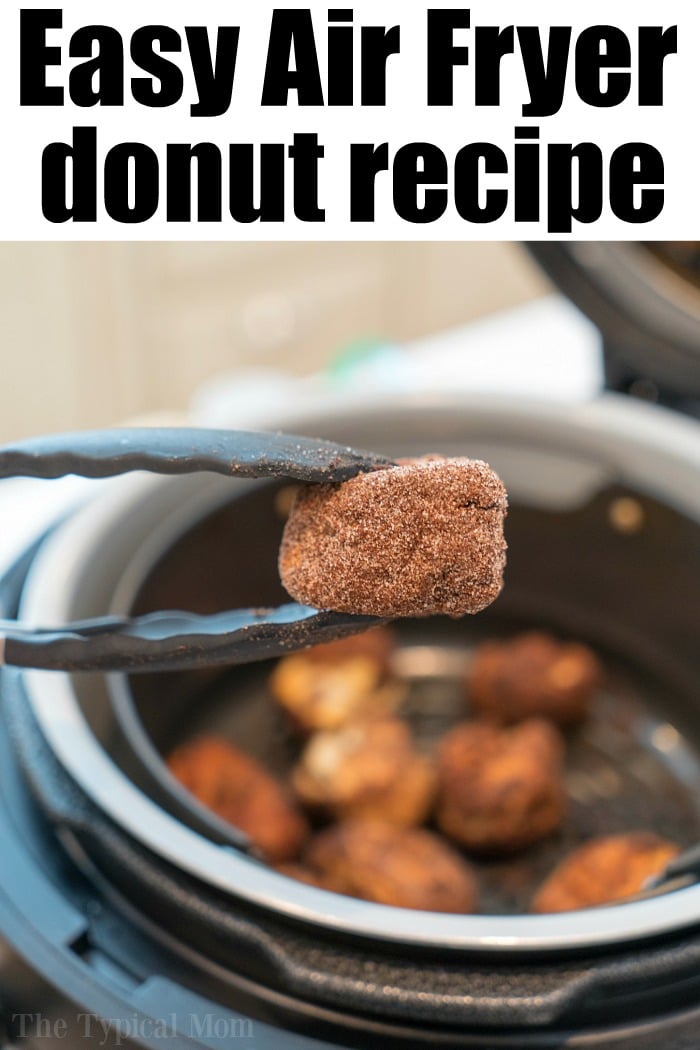 When they come out they kinda' look like donut cut holes in the middle that get neglected typically but shouldn't! They're just as good as a full doughnut and we think more fun because they're the perfect size to pop right into your mouth!
They're seriously the perfect bite size air fryer breakfast recipe.
How much oil do you need to fry donuts in your air fryer?
ZERO!! That is the beauty of this fancy air fry machine. You can get the perfectly fried donuts you love without all the fat and calories.
Of course these always need a bit more sweetness on top but that is why using cinnamon rolls comes in handy. They all come with a small container of frosting so just pop that into your microwave for 15 seconds and it will be melted. Use any other tub of frosting flavors you like too.
Looking for more easy air fryer recipes for your Ninja Foodi or other brand?
We've made something similar in our Instant Pot too. We called them pressure cooker churro bites and people rave over them too.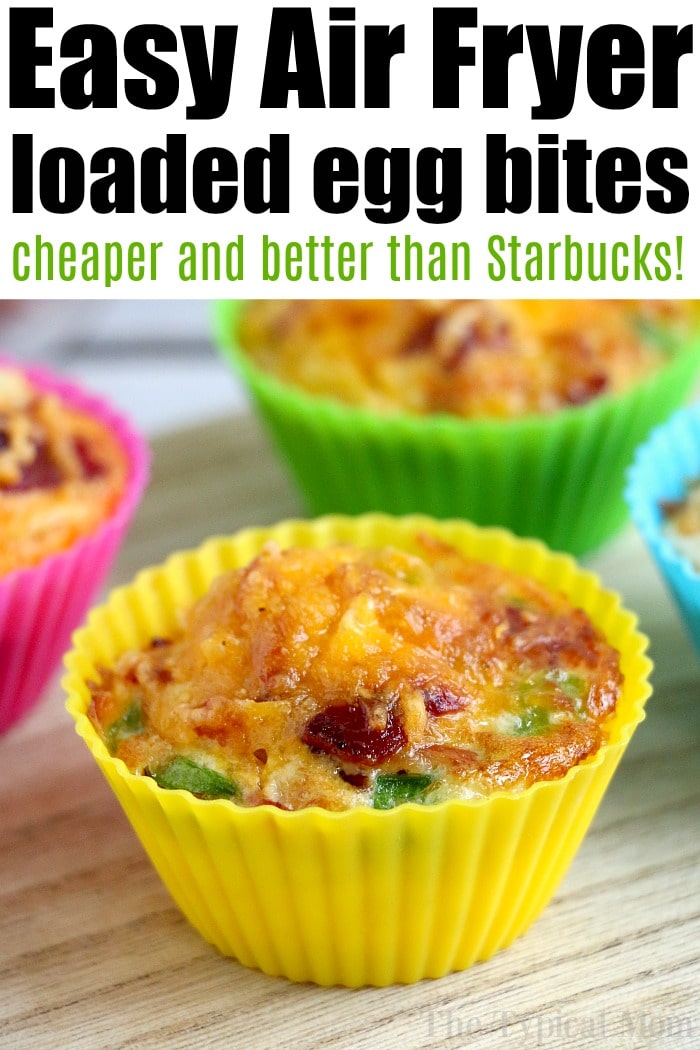 If you want to make homemade donut holes we have an easy recipe for that too.
Air Fryer Donut Recipe
Easy air fryer donut recipe using cinnamon rolls and cinnamon and sugar! Soft on the inside and crispy outsides, make these in your Ninja Foodi tonight!
Ingredients
Instructions
Preheat air fryer to 390 degrees. Cut refrigerated cinnamon rolls in half and roll each one into a tight ball.

Melt butter in a small bowl. Pour cinnamon and sugar into a pint size baggie and shake to mix well.

Dip each rolled cinnamon roll into the butter so it is coated, then put into the baggie and shake so the outside is coated with cinnamon and sugar.

Spray air fryer basket with non stick spray and put coated pieced inside basket with room in between them (they will spread a bit). I put 8 pieces in at a time = half the container.

Close the lid and continue to air fry at 390 degrees for a total of 5-6 minutes, flipping them after minute 3. Check at minute 5 to see if yours are done through, if not use the last minute.

Put remaining sugar and cinnamon into a new baggie (the other one will be a bit wet). Take each one out one at a time and shake in new baggie to recoat with more sugar and cinnamon.

Drizzle or dip each one in frosting that came in your cinnamon roll container and enjoy.
Nutrition Facts
Air Fryer Donut Recipe
Amount Per Serving (2 oz)
Calories 312
Calories from Fat 117
% Daily Value*
Fat 13g20%
Cholesterol 10mg3%
Sodium 474mg21%
Carbohydrates 47g16%
Protein 3g6%
Vitamin A 118IU2%
Iron 1mg6%
* Percent Daily Values are based on a 2000 calorie diet.