The best air fryer cinnamon rolls ever! I made these Ninja Foodi sticky buns using no yeast in just 20 minutes total and they were the best breakfast ever!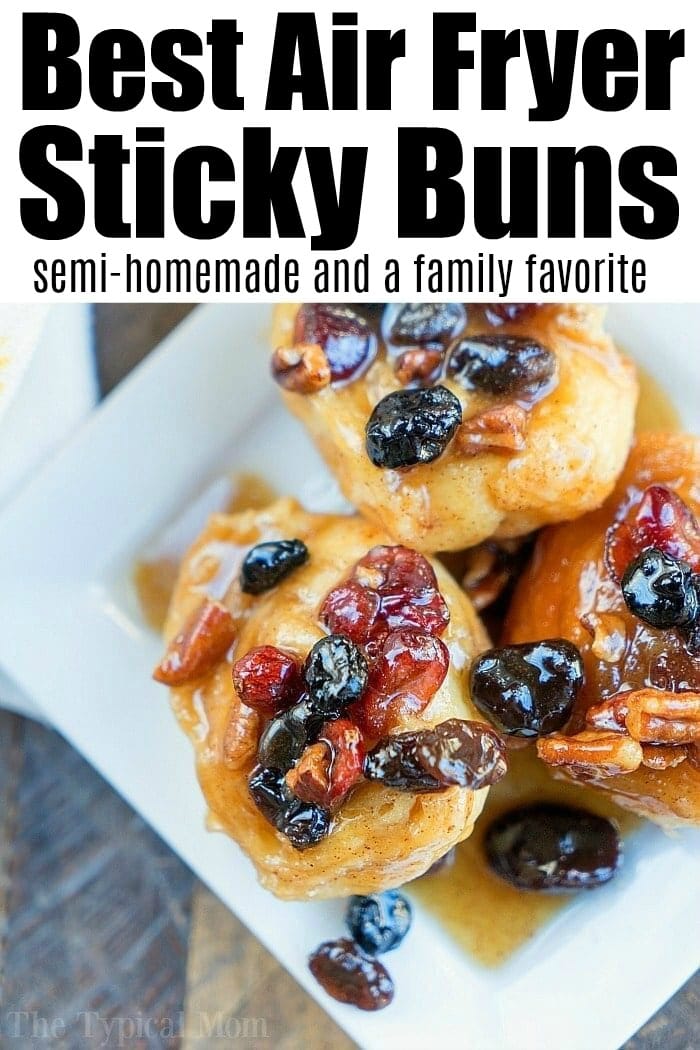 I'm a little obsessed with creating new air fryer recipes lately since I got my Ninja Foodi machine! For breakfast today I made these air fryer cinnamon rolls and sticky buns and let me tell you they were a hit! (originally published 2/19, affiliate links present)
I will share how to make cinnamon rolls in an air fryer 2 different ways, but I will say the sticky buns are heaven on a plate!
We used our Ninja Foodi but you can use any electric air fryer.
Before you move on, LIKE our easy air fryer recipes page to get new ideas for meals and snack ideas daily!
At the top they are done and incredible, below is in process right before I start the air fryer process.
So you might be here because you're asking can I bake cinnamon rolls in an air fryer?
YES!
They cook quickly
There's no need to heat up your oven
Cinnamon rolls in the air fryer come out crispy on the outside and perfectly soft on the inside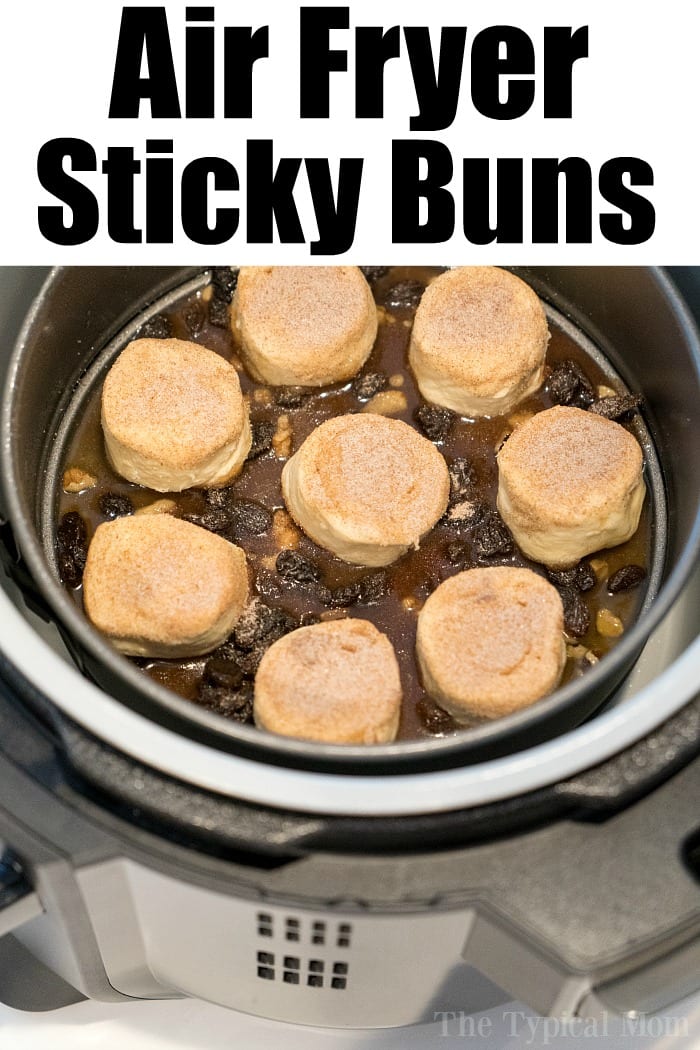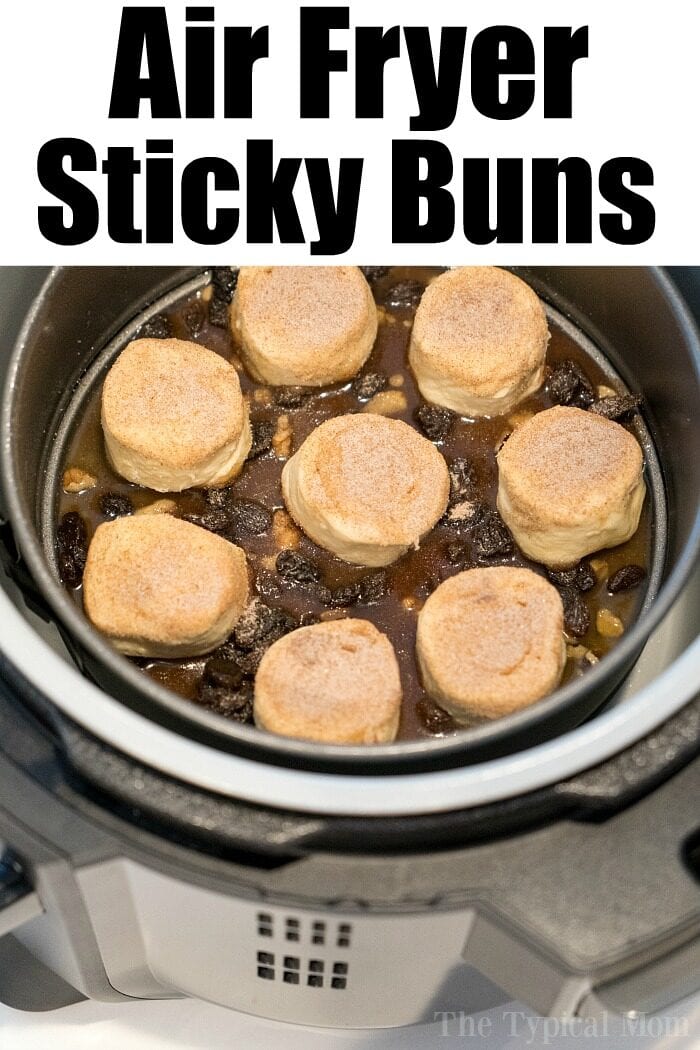 These are the semi-homemade no yeast sticky buns I talked about. You can make traditional refrigerated cinnamon rolls in your air fryer too, a close second if you want something really fast.
The trick to making air fryer cinnamon rolls is to flip them halfway through the cooking process.
For the air fryer sticky buns you can add the toppings:
Chopped nuts
Raisins
Dried cranberries
Dried blueberries
Toppings for traditional Ninja Foodi cinnamon rolls:
Vanilla frosting – or cream cheese
Chopped nuts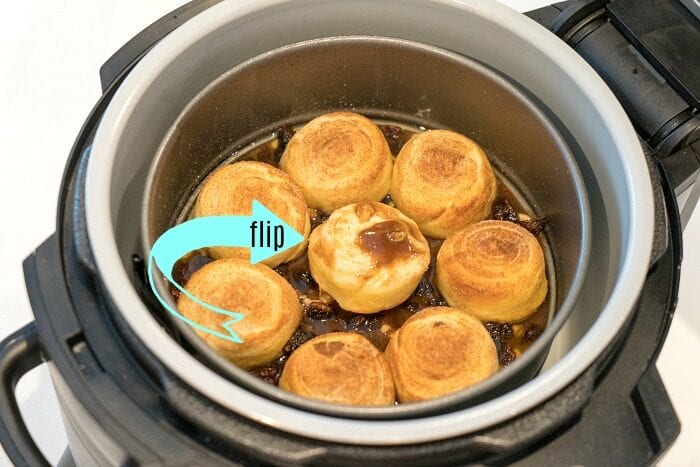 If you want to make traditional air fryer cinnamon rolls you will need:
Roll of refrigerated cinnamon rolls

Can sprinkle chopped nuts on top when done
Frosting is included in the package
Directions to cook Pillsbury cinnamon rolls in the air fryer
Put a trivet into your pot (necessary for a Ninja Foodi)
Spray the inside of an 8″ springform pan with non stick spray

other models may just have a drawer so you wouldn't need a trivet or pan

Unroll your package of regular cinnamon rolls or Pillsbury Grands into your pan as you see here

you could try this homemade cinnamon rolls recipe instead but note I haven't done this yet

Close your air fryer lid (one that is attached on the Ninja Foodi)
Set to air crisp, 345 degrees for 5 minutes
Open and flip all pieces over so bottoms can cook
Close lid again and reset to 345 degrees for 4 minutes
Remove and drizzle frosting on top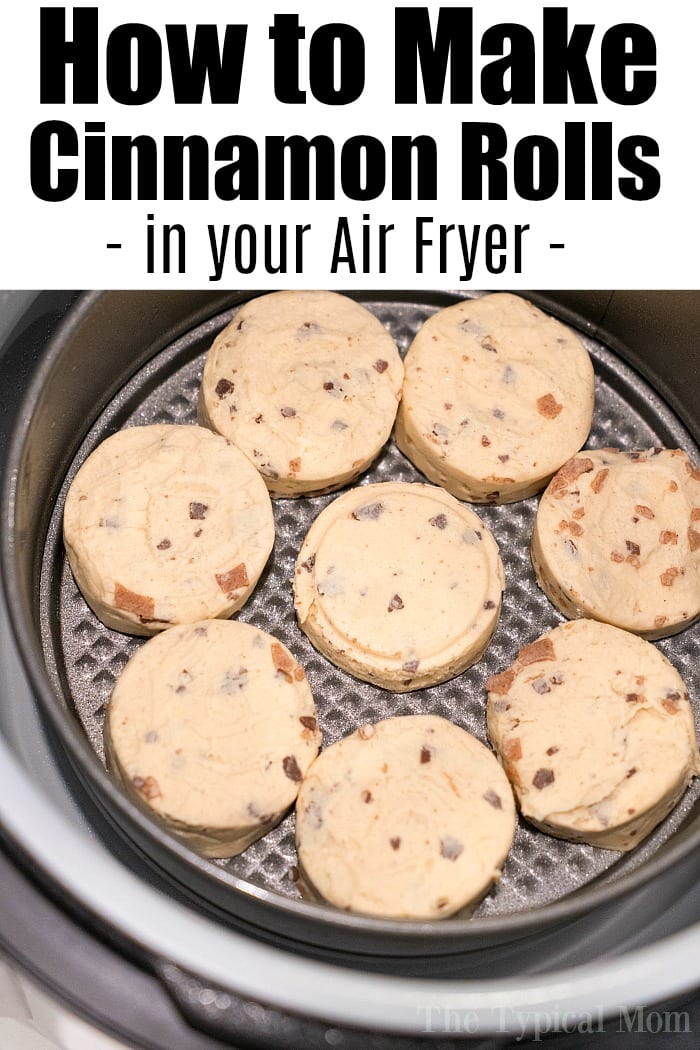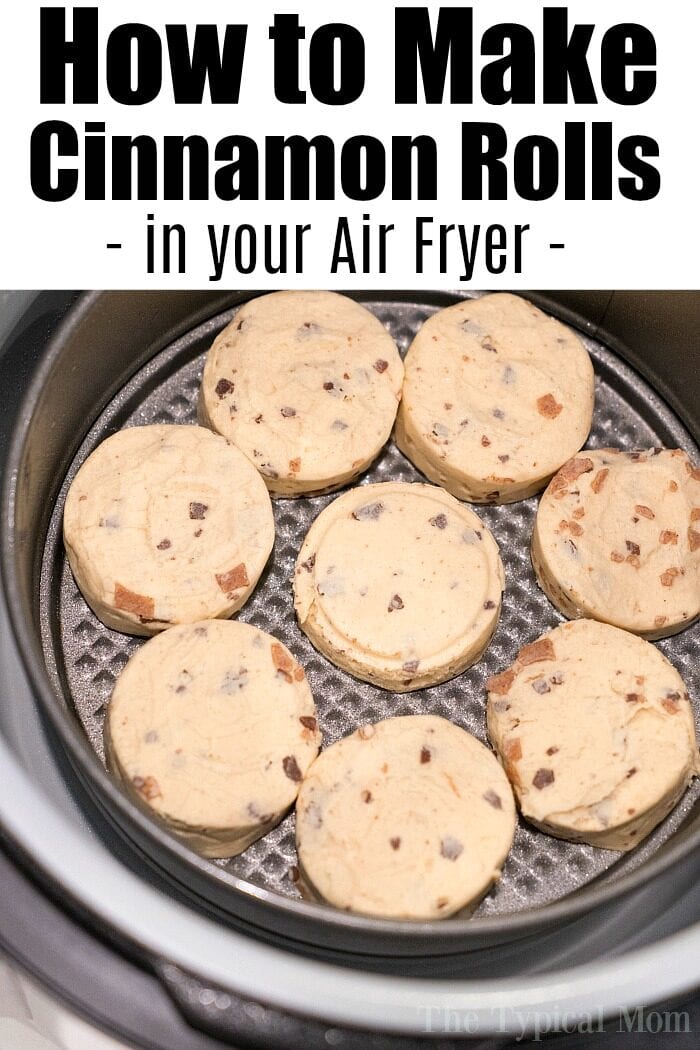 If you're wondering what is the best air fryer this is the one we have and would recommend because it's a pressure cooker too.
Can you double this air fryer cinnamon rolls recipe?
Not really
The 8″ pan only holds the 8 cut rolls and the air fryer basket isn't much bitter
Smaller air fryers may hold less and you may need to cook half at a time
This cinnamon roll breakfast casserole is fantastic too if you're in need of other great brunch menu ideas.
Things you need to make sticky bun air fryer cinnamon rolls
Refrigerated crescent rolls
Brown sugar
Butter
Maple syrup
Toppings

Raisins
Dried cranberries
Chopped nuts
Oven recipe for pecan sticky buns is here. You can even make a cinnamon roll in a mug for fun. More easy air fryer recipes are below.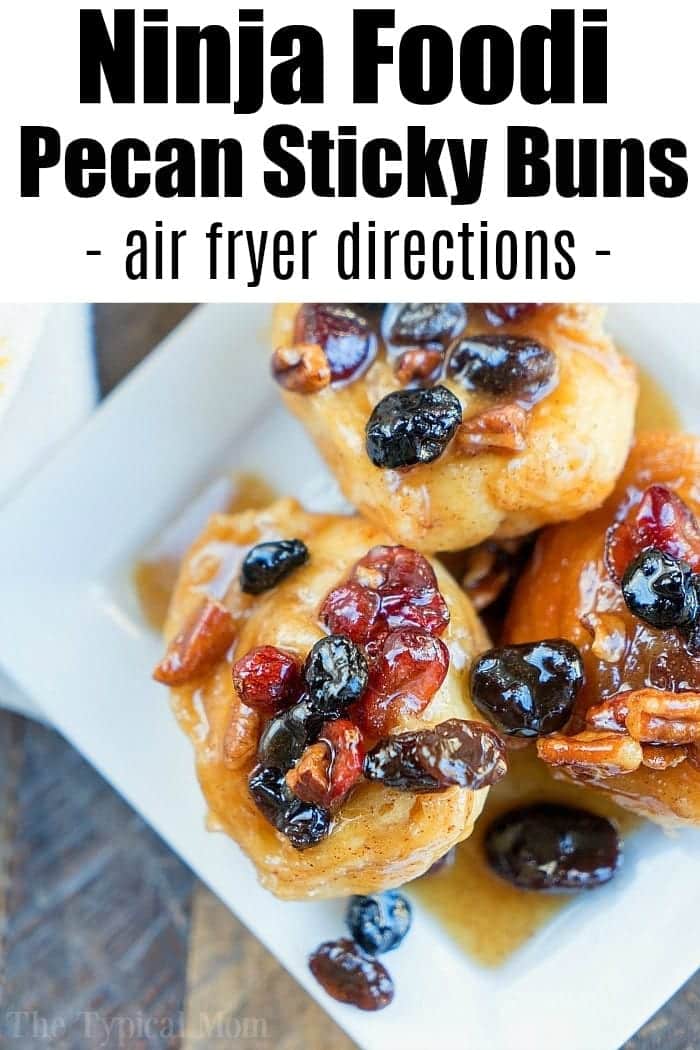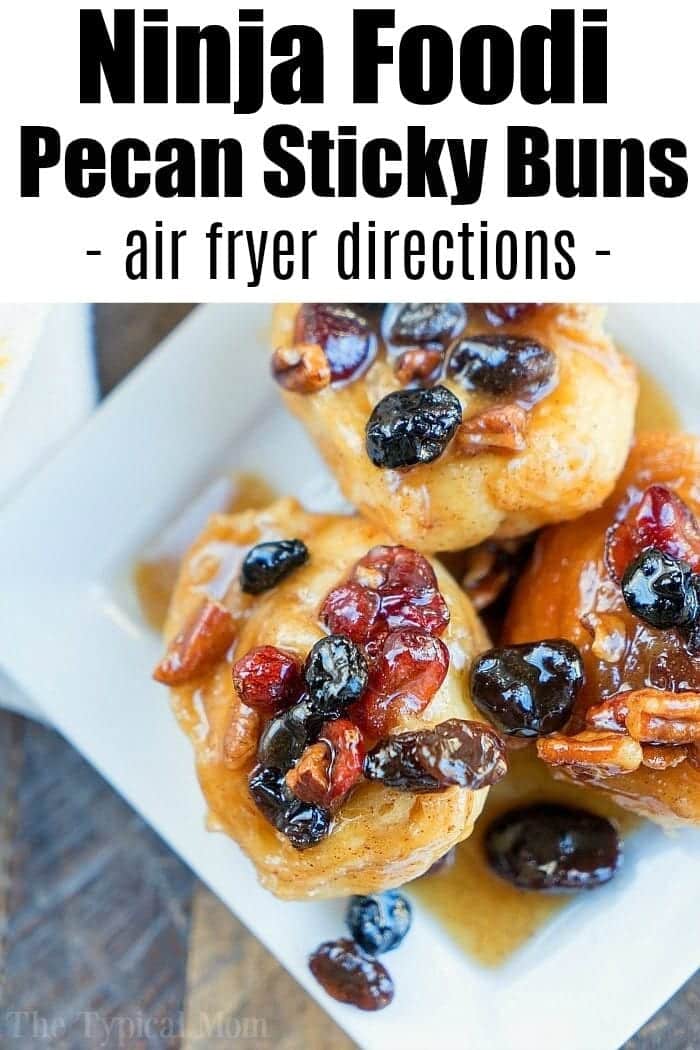 If you're looking for more Ninja Foodi recipes try these:
Want to make homemade cinnamon rolls with no yeast, we have a recipe for that too.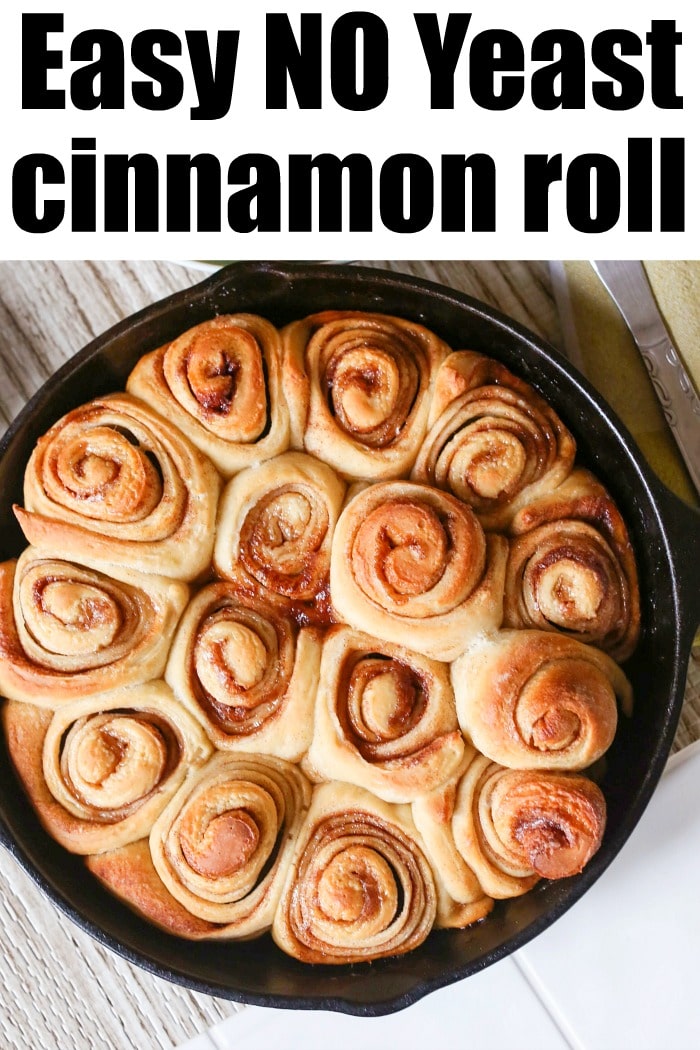 Air Fryer Cinnamon Rolls
The best air fryer cinnamon rolls ever! I made these Ninja Foodi sticky buns using no yeast in just 20 minutes total and they were the best breakfast!
Instructions
Whisk together your melted butter, brown sugar and maple syrup.

Put a trivet inside your air fryer/Ninja Foodi and an 8" springform (or other style) pan that's been sprayed with non stick spray on top.

Pour your brown sugar mixture inside your pan. Sprinkle your nuts and raisins (can add dried cranberries too) into the pan too.

Open your package of refrigerated crescent rolls but DO NOT unroll the crescent roll roll as you normally would. Instead put it on a cutting board and cut it in half (use a non serrated knife so it doesn't smush down when slicing).

Then cut those pieces in half again, and again until you get 8 equal pieces.

Mix your cinnamon and sugar in a bowl and dip the bottom and top of each cut crescent roll piece in it. Then put each one into your pan on top of your brown sugar mixture with the sugar mixture facing up.

Close your air fryer lid (one attached on the Ninja Foodi) and set to air crisp, 345 degrees, for 5 minutes.

Open lid and flip each crescent roll piece upside down.

Turn air fryer on again, press air crisp, 345 degrees for 4 more minutes (5 if you want them crispier on top).

Immediately remove pan, place cooked sticky buns on a plate and spoon mixture at the bottom of the pan on top of your rolls. Enjoy!!
Nutrition Facts
Air Fryer Cinnamon Rolls
Amount Per Serving (2 oz)
Calories 143
Calories from Fat 72
% Daily Value*
Fat 8g12%
Cholesterol 16mg5%
Sodium 58mg3%
Potassium 77mg2%
Carbohydrates 17g6%
Protein 1g2%
Vitamin A 190IU4%
Vitamin C 0.2mg0%
Calcium 24mg2%
Iron 0.4mg2%
* Percent Daily Values are based on a 2000 calorie diet.
For more easy recipes, tips and free printables please LIKE The Typical Mom on Facebook and follow me on Pinterest! You can also sign up for my free weekly newsletter which is packed with goodies I know you'll love. 😉