This cinnamon roll recipe no yeast needed is amazing! Using a sourdough starter these overnight rolls turn out fluffy and baked to perfection. A fun new way to make a sweet rolls treat for breakfast or dessert!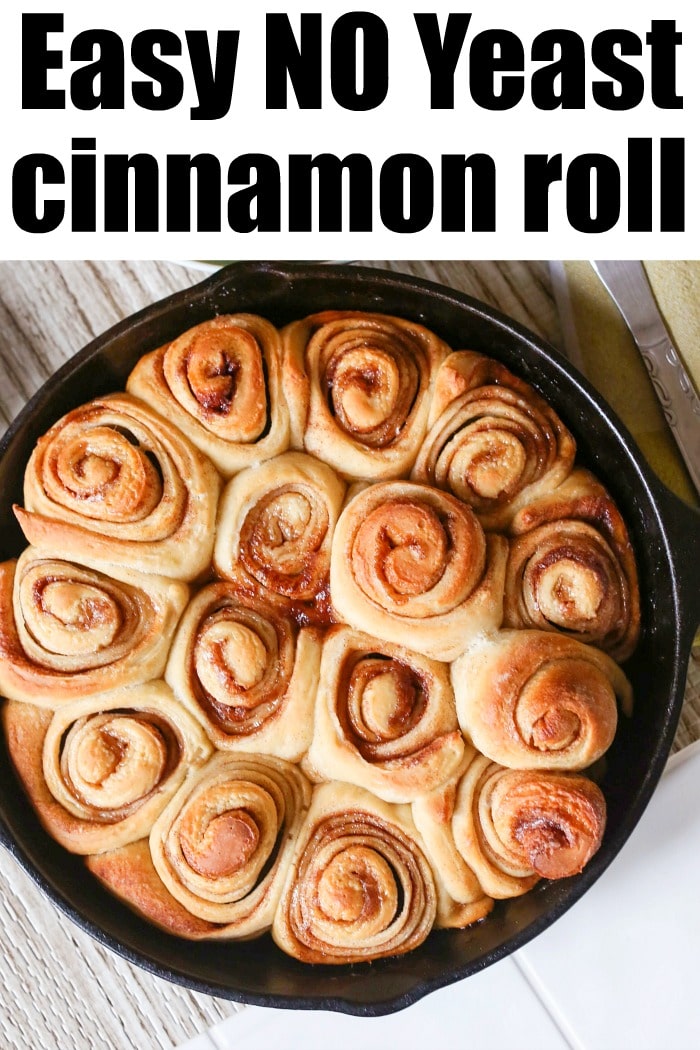 I know you've been wondering if you could actually make a cinnamon roll recipe no yeast version. Well you can! Sourdough cinnamon rolls are the bomb and so worth making homemade for the holidays or weekend. (originally published 4/20, affiliate links present)
No Yeast Cinnamon Rolls
Ready for the best no yeast cinnamon rolls you've ever tasted. When you make homemade baked or slow cooker cinnamon rolls without yeast you have to have some way to get them to rise. That is where sourdough starter comes into play.
If you have never made this we have instructions below, AND where you can just buy it if you're not in the mood to do it yourself.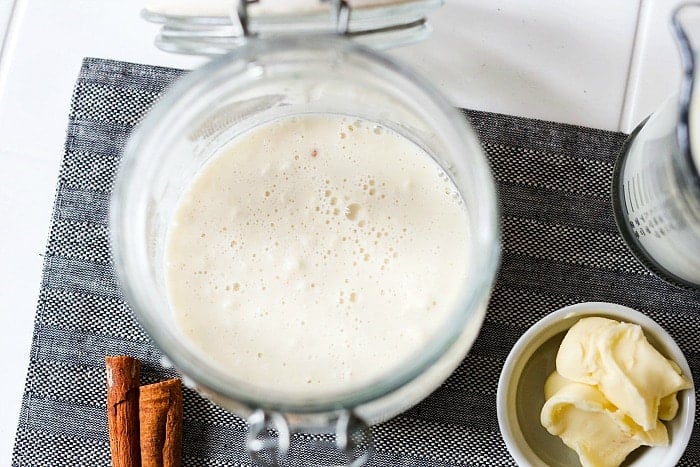 Sourdough Discard Cinnamon Rolls
It's so easy even my friend's daughter has figured it out…watch her video and make a batch yourself to get started. If you don't have yeast this is a great thing to know how to make. Once it is done you can use it to make pizza dough, waffles, pancakes, no yeast rolls, the list goes on and on……
Can you buy a sourdough starter?
Yes you can here!! King Arthur Flour makes it and can have it shipped right to your door if you don't want to go through the trouble of making it yourself. A ready made sourdough starter will set you back about nine bucks which isn't bad really.
Once you get the hang of it it isn't too hard.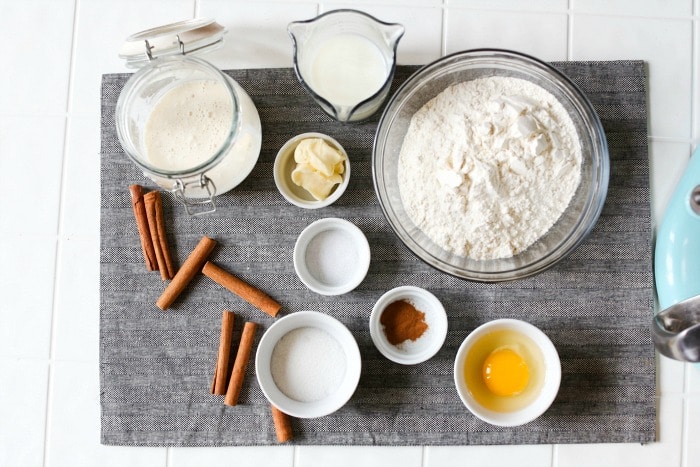 When should I feed my sourdough starter?
Feed starter daily. If you aren't going to use your starter on a regular basis, you can refrigerate it for 3 to 4 days at a time. You should "feed it" at least twice a week for best results.
It MUST be super active or you won't get the dough to rise properly. I've done this with our Pumpkin Sourdough Bread and I was super sad when it wasn't as fluffy as I wanted.
Ok now once you have that done and ready, you can proceed to the next steps. Here's a printable step by step guide on How to Make Sourdough Starter printable as well to keep on hand.
Once you have it done, make sure to keep it "healthy" in case you don't use it that day, or want to use some later next week.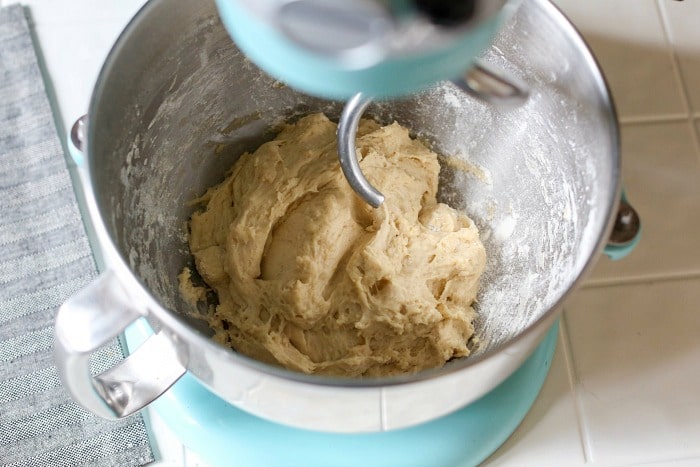 Easy cinnamon roll recipe no yeast
1/2 c. of active sourdough starter <—– can be bought here, or make it yourself)

What is sourdough starter made of?

1/2 cup of flour (any type of flour will work)
1/4 cup warm water
1/2 teaspoon of granulated sugar

Milk
Butter
Egg
Sugar
All purpose flour
Salt
Cinnamon
Cast iron pan or baking dish
A stand mixer is extremely helpful to have for this, pretty much a necessity. Use a paddle and dough hook attachments.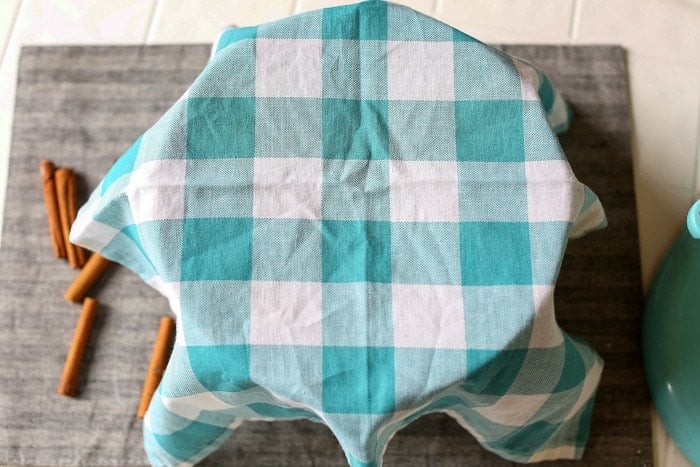 Now the most time will come when allowing the cinnamon roll dough to rise, and then rise again.
Make sure you prepare for these several days before you want to eat them.
If you already have an active starter then you just need to prep them the day before.
How to prep your overnight cinnamon rolls
The dough needs to rise overnight so keep that in mind if you're making this as a Christmas morning dessert, or for a Sunday morning treat.
Ensure your sourdough starter is active and bubbly
Heat milk and butter until it melts on the stovetop, set aside to cool
In your mixer bowl combine your starter, egg, and 2 tbsp. sugar and mix
Slowly add in your warm milk mixture
Then slowly incorporate the flour, salt and cinnamon for your dough. Reading thru this and realize you need something quicker? Try our cinnamon roll muffins instead.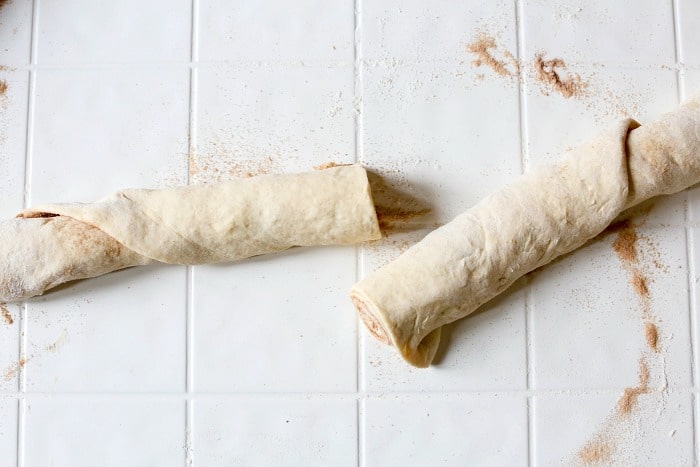 Now your dough should be well incorporated. Leave it in your bowl, cover with a warm towel and allow to sit for 30 minutes undisturbed.
Then put it back on your mixer stand and using a dough hook mix on low for about 5 minutes.
Knead 4-5 times on a lightly floured work surface and then place it into a dutch oven that has been lightly coated with oil.

If you don't have one of these you could use a bowl.

Cover and let this sit overnight for 8-12 hours so dough can double in size.
How to prepare homemade cinnamon rolls the day you want to eat them!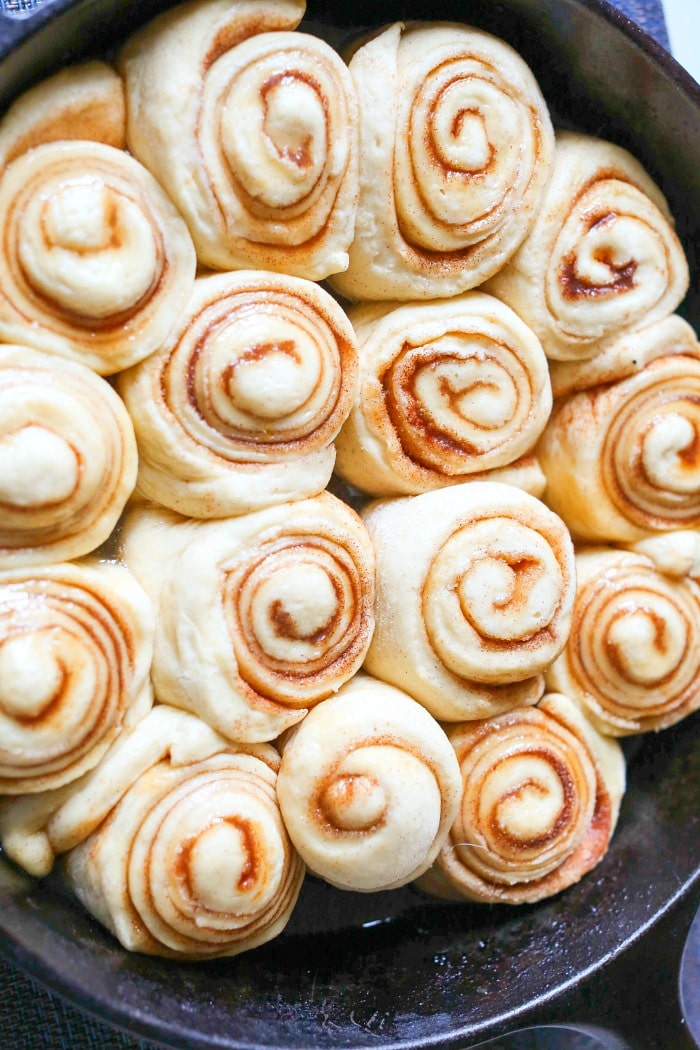 Small Batch Cinnamon Rolls No Yeast
Remove dough that has been sitting and rising all night long. Place on lightly floured surface and "punch" down in the middle to remove the air bubbles. Then let it rest for 15 minutes.
Now it is time to roll these sweet rolls out!
Use a rolling pin and make it into the shape of a rectangle, about 1.5″ thick all the way across so it bakes evenly.
Use a spatula (or your hands) to spread the room temperature butter on top.
Mix the cinnamon and sugar used for your topping together in a bowl, then sprinkle this on top of your butter layer.
Roll that baby up in a long log and use a serrated knife (so it doesn't smash) to cut the dough about 1.5″ wide.

remember they're going to rise and expand again so they'll get bigger

Lightly grease a large cast iron pan pan and place them inside with a bit of space in between them.
Again, place a warm towel over the top of the pan and allow them to rise and expand again for 60-90 minutes.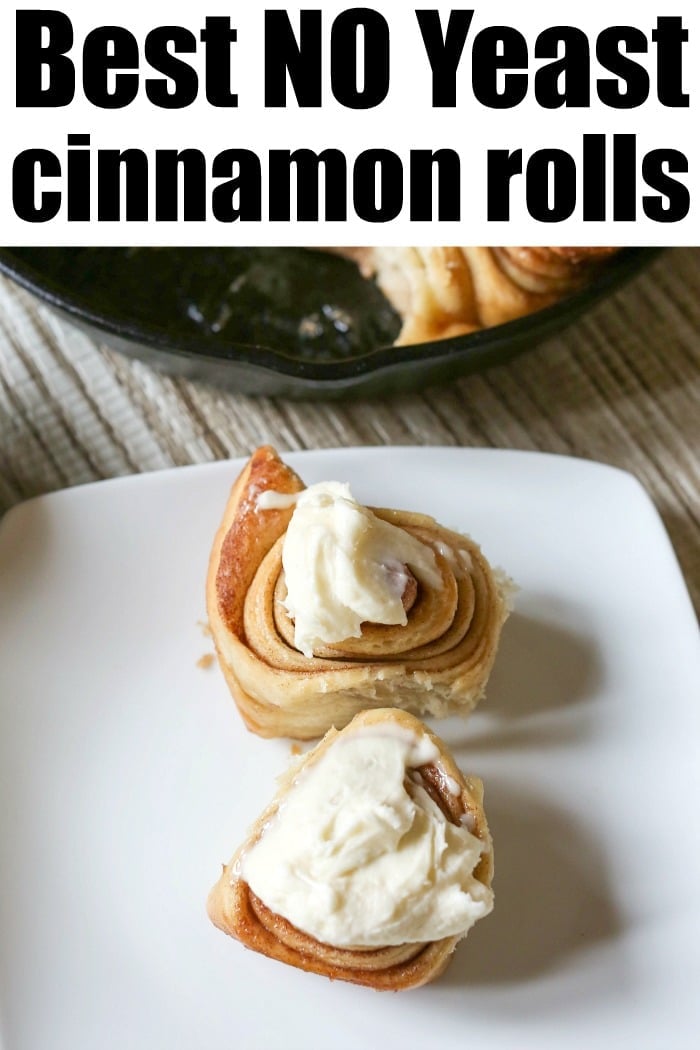 Then preheat your oven to 350 degrees and bake for 35-40 minutes or until the tops are golden brown and cooked thru. Allow to cool in the pan a bit before removing and spreading frosting over the top.
I just warm cream cheese frosting in a small bowl while rolls are baking. Then pour some over the top of each one for ultimate YUM of the century!
Printable recipe for easy no yeast cinnamon rolls are below. Sign up for our newsletter here to get more recipes delivered to your email each week.
Want to see a few of my favorite things that I am totally obsessed with?? Take a peek and see how many you might already have…twinsies!
Looking for more easy family recipes and tips? LIKE The Typical Mom Facebook page?
Then sign up for my free newsletter, and follow me on Pinterest! 😉
***** If you LOVED this recipe give it 5 Stars below and let everyone know what you thought about it. 😉
Cinnamon Roll Recipe No Yeast
This cinnamon roll recipe no yeast needed is amazing! Use a sourdough starter for overnight rolls that are fluffy and baked to perfection.
Ingredients
Instructions
The night before you want to eat these make sure you do the following: ensure your sourdough starter is active and bubbly. Then warm butter and milk on stovetop until butter melts. Set aside to cool just slightly.

In a mixing bowl add egg, sourdough starter and sugar. Turn mixer on low speed and slowly add in cooled butter and milk mixture until combined. Slowly add in flour, salt and cinnamon for dough.

Once dough forms, cover bowl with warm towel and allow dough to rest for 30 minutes. Then remove cover, use dough hook to mix on low for 5-6 minutes.

Remove, knead yourself 4 times and place inside a lightly greased dutch oven or bowl, cover with lid or towel and let sit overnight.

The morning you want to eat these do the following: The dough should've risen quite a bit in the 8-12 hours by now.

Put dough on lightly floured cutting board and press down in middle to remove air bubbles. Let dough rest for 15 minutes.

In a bowl combine cinnamon and sugar for filling. When dough has rested, roll it out into a rectangle that is about 1/2" thick all the way across.

Spread dough with softened butter using hands or a spatula. Then sprinkle cinnamon and sugar mixture on top.

Roll this into a long log. Using a serrated knife slice into rolls about 1.5" thick. Place rolls into a cast iron pan or non stick baking dish.

Let rolls rise covered for 60-90 minutes until they've almost doubled in size

Preheat oven to 350 degrees and bake for 35-40 minutes or until they're lightly browned on the top.
Nutrition Facts
Cinnamon Roll Recipe No Yeast
Amount Per Serving (2 oz)
Calories 199
Calories from Fat 63
% Daily Value*
Fat 7g11%
Cholesterol 30mg10%
Sodium 159mg7%
Potassium 51mg1%
Carbohydrates 31g10%
Protein 4g8%
Vitamin A 219IU4%
Calcium 27mg3%
Iron 1mg6%
* Percent Daily Values are based on a 2000 calorie diet.