Lots of easy homemade bread recipes with yeast are here! From white to wheat and sweet breads too, we have lots to choose from to make your meal perfect.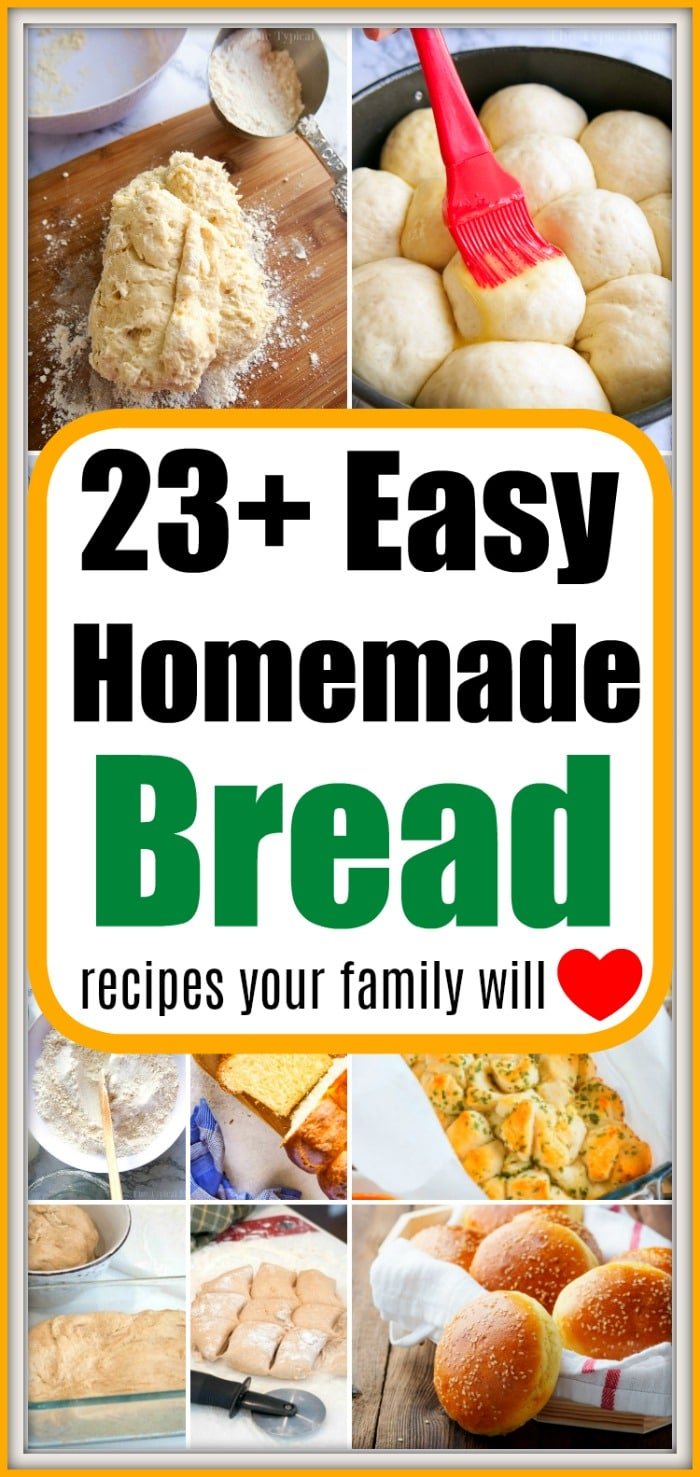 Looking for a few new and easy homemade bread recipes with yeast??!! We've got you covered, along with a few no yeast bread recipes too. 😉 Get your apron and baking hats on because we're gonna' keep you busy this month with yumminess!
What happens when you bake bread?
How does baking bread work? As the dough heats up it becomes more fluid. The gas cells expand and the dough begins to rise.
You will need a package of active dry yeast (or instant yeast some call it) to make all of these easy bread recipes.
All purpose, bread flour, or wheat flour are also necessary as well as a few loaf pans to "house" your bread dough.
Is King Arthur flour better?
It depends on whom you ask, though it does offer more protein than other brands. Gold Medal is usually what people have in their cupboards.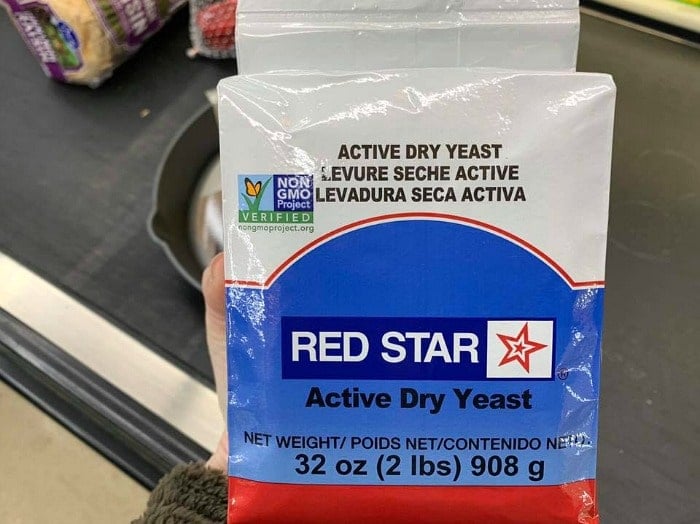 What are the ingredients used in making bread?
Yeast
All purpose flour

or bread flour like in our fluffy homemade white bread recipe
here is our all purpose flour substitute guide if you can't find it at all

Liquid
Sugar
Salt
Fat, typically vegetable or olive oil
Where do you bake bread in the oven?
You'll want to adjust two of your oven racks so one is in the lowest position and the other is in the middle.

Tip

: Place a broiler pan on the bottom rack while the oven preheats.

When the pan is hot, carefully pour about 1 cup hot tap water into it.
Why do you put water in the oven when baking bread?
The steam helps create a golden brown, crisp, crackly crust.
We are going to start with the basics first. Baking bread at home is easier than you might think. Other than the basics, I suggest having a stand mixer like mine for mixing and a cutting board to knead the dough.
I have never owned or used a bread machine but I have heard those are amazing too.
I'll use my pressure cooker though to proof dough in Instant Pot.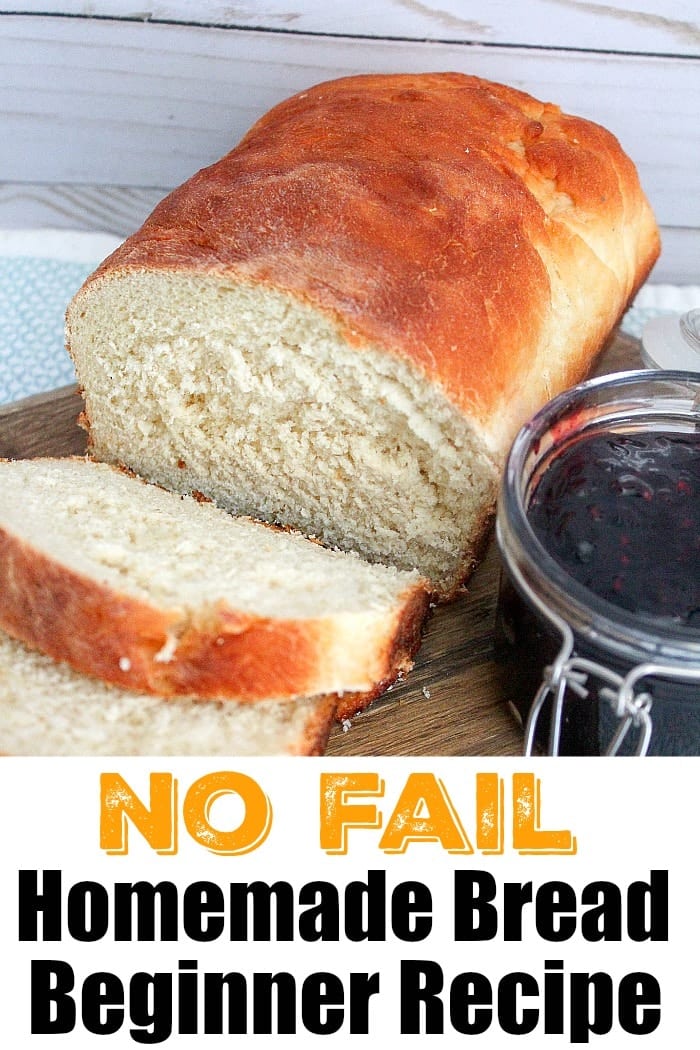 Then we'll go on to share how to make homemade hamburger buns! Yes you can buy packaged and they aren't that expensive BUT with these you can vary them with sesame seeds or everything bagel seasoning on top!!
How do you know when bread is done baking?
When the temperature reads between 190 and 210 degrees, your bread is done. If you don't have a way to measure the temp. then insert a toothpick or a sharp knife into the middle at the thickest part. If it comes out with batter stuck to it, it isn't quite done yet.
Once you've made a loaf like you see above, you should try our easy roll recipe. These are also great to serve with just about any dinner.
Only have a few of you at home? Make 1-2 batches and freeze them. Take out one at a time, thaw on the counter and warm in the microwave for 10 seconds each.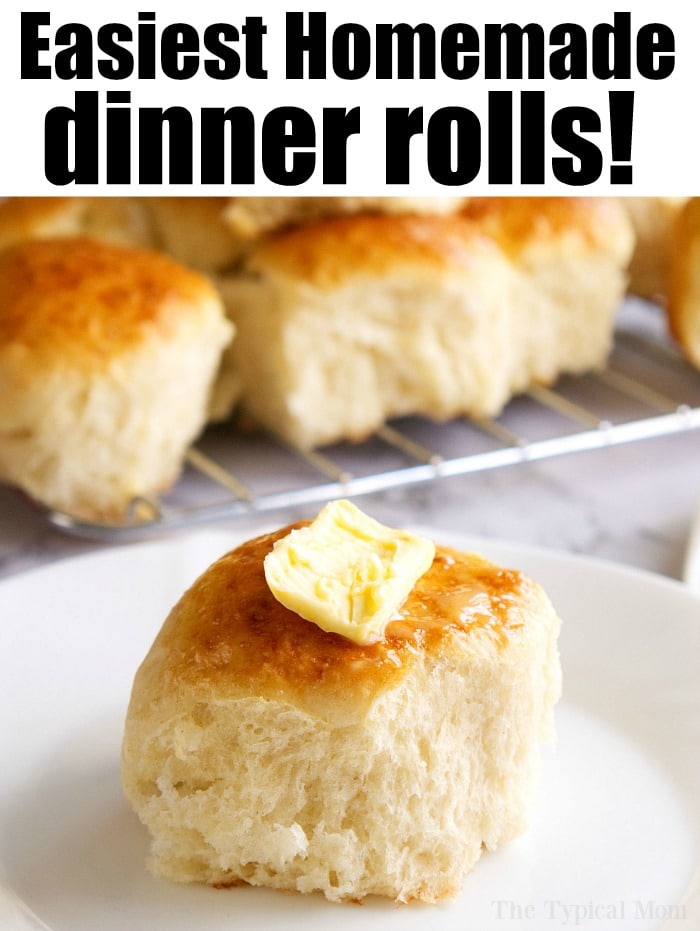 Remember when preparing homemade bread you'll need a bit of time. Not only do you have mixing and kneading the bread but it needs to sit for a good 30 minutes to 45 minutes in a warm area to rise.
If you want it to turn out great, don't be in a rush!
How long should bread rest after baking?
It's important to let your homemade loaf of bread to cool all the way. If it is barely warm that is okay but slicing it hot is a no no. Homemade rolls will take only about 20 minutes, where bread baked in a loaf pan can take as long as 1 hour or slightly longer.
Removing it from the pan and on to a cooling rack does help speed up the process a bit.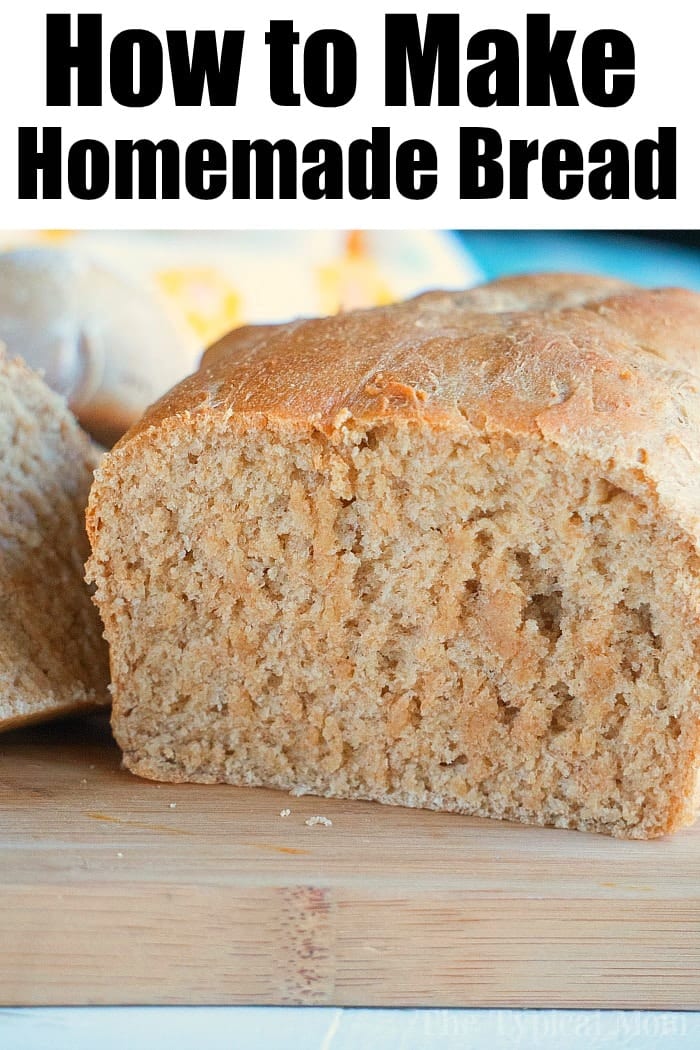 We also have this easy soft pretzel recipe. It isn't a traditional loaf of bread, but a nice carb to serve on the side with a variety of meals. We love them just as a snack too with mustard dip.
If you love easy honey wheat bread you can make this bread in a bag recipe! With the leftovers of any of these, give our air fryer crouton recipe a whirl. I hate wasting so this is a great way to use them up.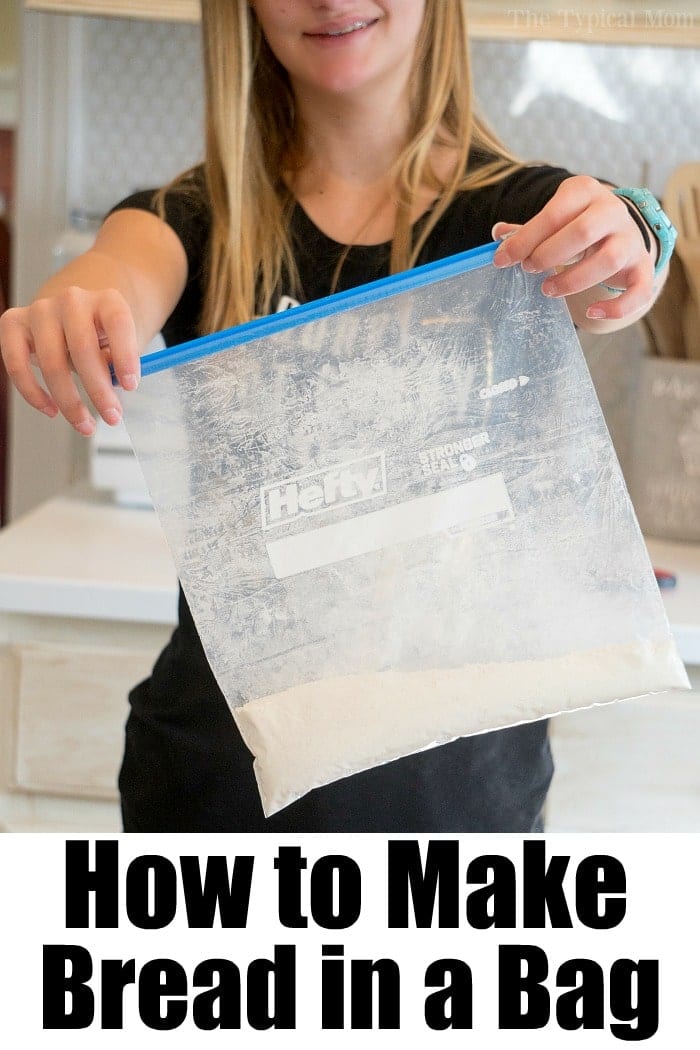 That's right!! It is great when baking with kids because they can really get involved. Just use a gallon freezer bag with all of your ingredients inside.
It is not just a great kitchen / Science experiment for kids though, it tastes amazing too! A sweet slice with some butter and cinnamon and sugar is probably our favorite breakfast or dessert.
Or if you want to really wow your guests, make this cinnamon bread wreath together.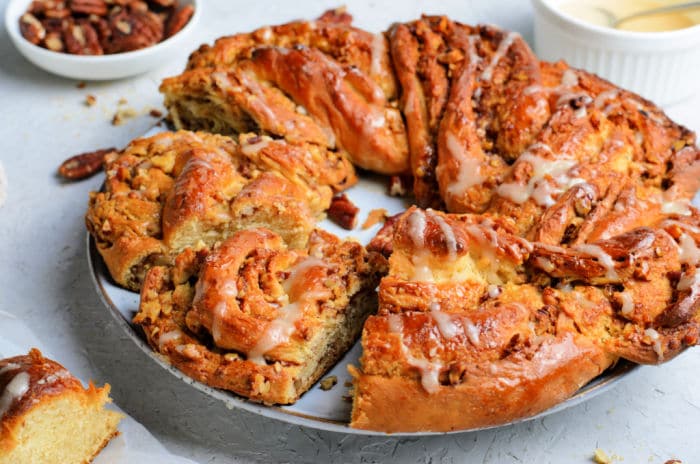 Want to inspire your kids to love cooking? This is a great recipe to start with for sure. I haven't experimented with it beyond this style of bread. We loved it so much we stopped there but you may be able to make white bread this way too.
Double it and freeze a few loaves for the coming weeks too. 😉
Then try our Dutch Oven bread recipe.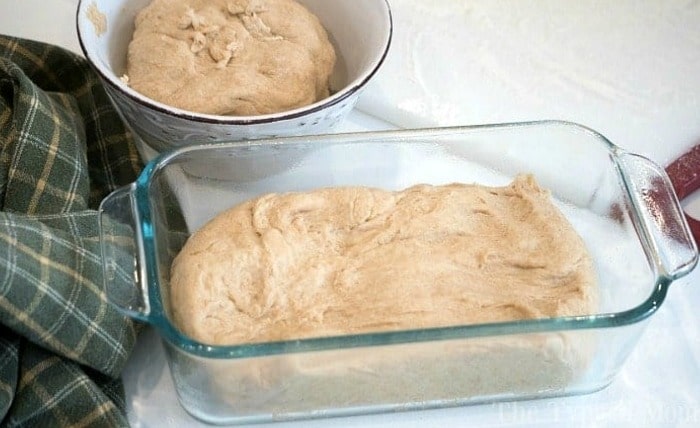 Yes we have some sweet bread recipes as well here on The Typical Mom blog. Of course we do, you know I'd eat dessert before dinner every night if I could. lol
This brown molasses bread is great too. I call is Squaw bread and even though it is a bit sweet it is great for turkey sandwiches with avocado. Pita bread is fun for that too.
No knead cinnamon raisin bread is pretty amazing too. With just 1/2 cup of these little babies it will create a great breakfast bread for everyone.
Wondering how to make Challah? If you aren't familiar with this traditional Jewish sweet braided bread it is fantastic! I ate it frequently as a child at my friend's house and it has wonderful memories, I can smell it now.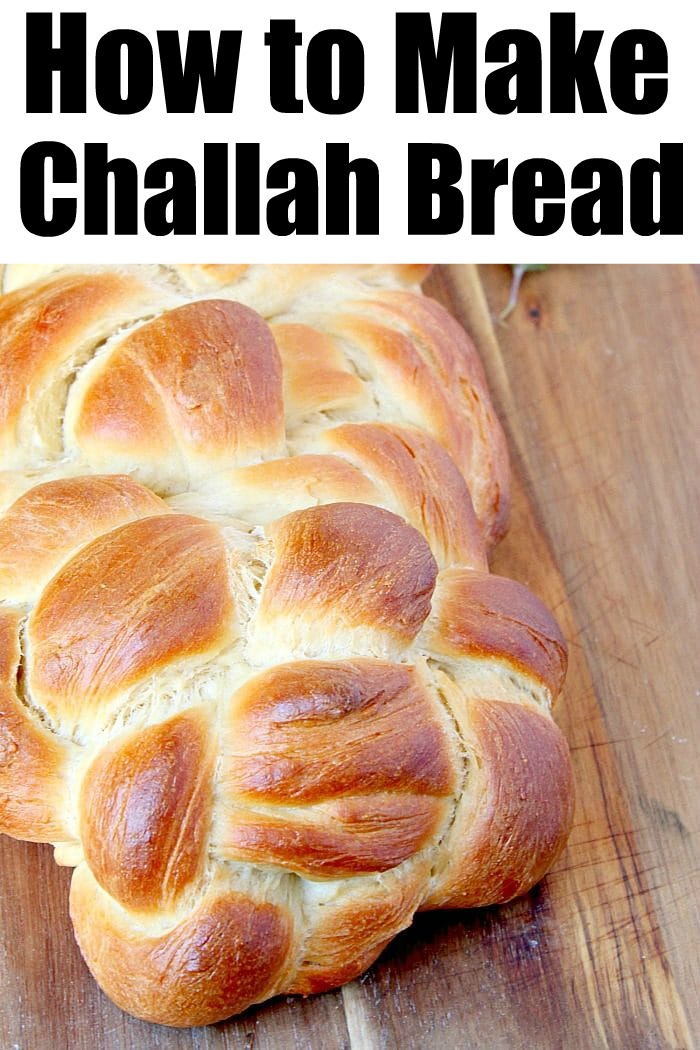 If you're looking for no yeast bread recipes we have a few of those too.
You can make things easy and use Rhodes frozen yeast rolls to make this Easter egg bread too.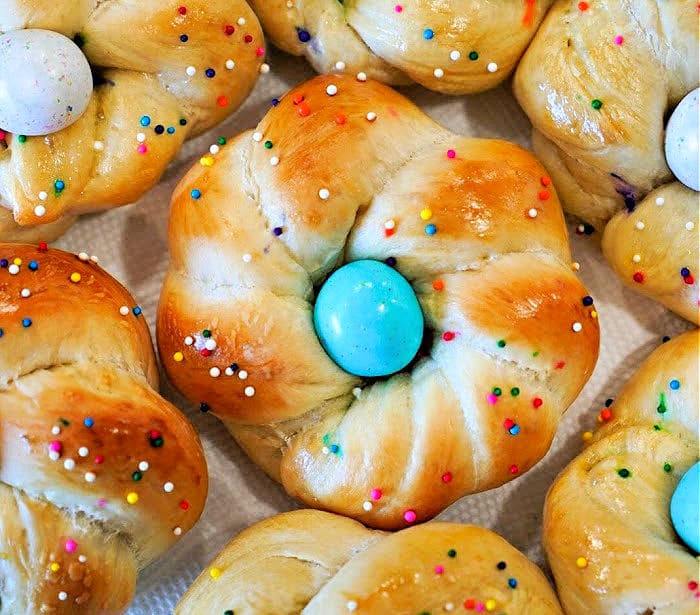 This beer bread is REALLY popular too with just 3 ingredients. Make sure to add the cheese so it's over the top yum.
Here is an easy homemade flour tortilla recipe that's perfect with taco meat or with cinnamon and sugar sprinkled inside.
Need a gluten free bread recipe or keto bread? Try these to start!