Baking a loaf of rosemary slow cooker bread is awesome! If you want to bake bread in a Crockpot this is a simple recipe that will make you a real believer in this method. Make a whole loaf or our slow cooker no yeast rolls as a side dish this week.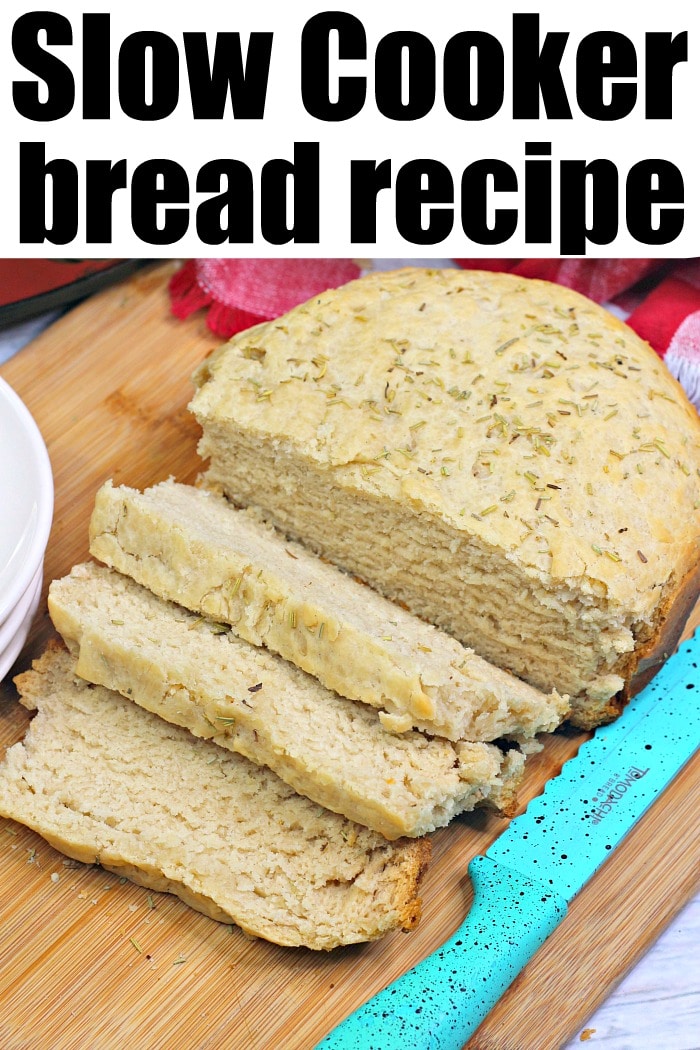 Have you ever wondered if you could actually make a slow cooker bread? Well you can!! If you want a tender and moist loaf of homemade rosemary bread, you've gotta try this! It's one of our favorite easy Crockpot recipes. (affiliate links present, originally published 3/20)
Crockpot Bread
If you love baking bread at home, but want to try something new you should give this a whirl. You can make lots of tweaks to it too like we did with our favorite herbs and seasonings. Leave plain if you like and use it for sandwich bread or toasted with garlic spread to serve with pasta for dinner.
Not only is this homemade white bread delicious once it is done, my kids think it's magic because it's something you'd never expect a slow cooker to make.
FIRST – You should sign up for my free newsletter so you get new posts emailed to you twice a week and never miss out on anything! Let's talk a little bit about slow cooking shall we?? First off I have a few different varieties and I love them all. Each one has an occasion to be used like….
This is my favorite 6 quart programmable one with a locking lid so it's great for bringing to a potluck too.
If you just want to serve a few appetizers you should get this one that sit side by side one another.
I prefer not to use liners, but rather just spray olive oil inside before adding my food for easier cleanups.
Let me give you a peek of my pretty thang I bought recently. It goes with my kitchen so I can just leave it out on the countertop all the time. 😉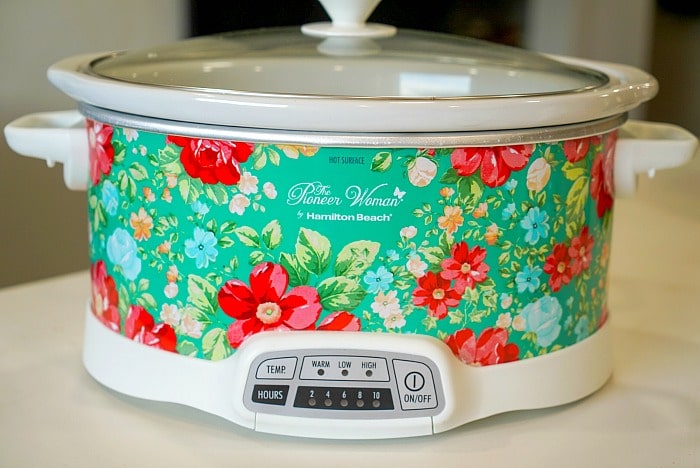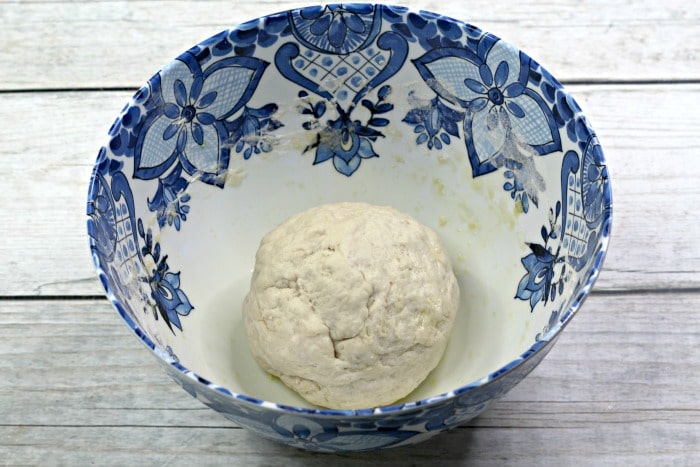 Easy Slow Cooker Bread
A huge plus is this once you have it situated is that you can walk away for a few hours and just let it bake. We added rosemary but you could really add any herbs you wanted, change it up each time. 😉
Baking Bread in Slow Cooker
Well there are slight variations as to whether you want to add in herbs and seasonings of course but typically:
What are the ingredients used in making bread?
Yeast. Active dry yeast is what's most commonly used in households.
All purpose flour

Can I use regular flour to bake bread?
Bread flour could be substituted with all purpose flour but you have to keep in mind that it has a higher gluten content. That means you'll have to alter the amount liquid in the recipe.

Liquid, typically warm water is used.
White granulated sugar adds flavor and a light brown color to a bread's crust which you would expect.
Salt
Oil or some other type of fat
Like I said, there are tons of variations like some adding eggs as well but these are the bases.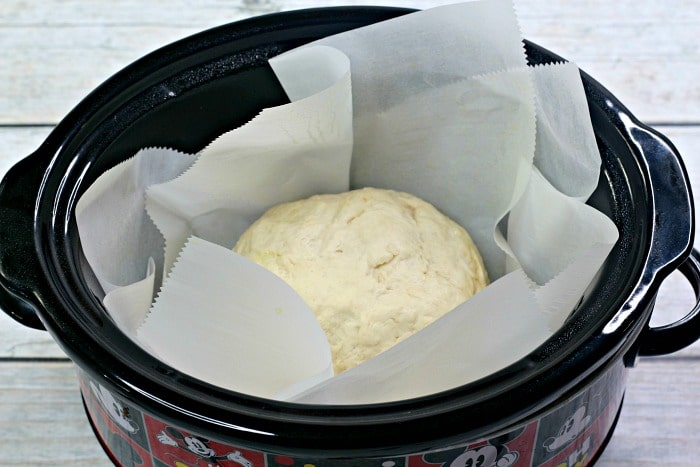 How do you make bread dough from scratch?
It's easier than you might think actually. It does take some time though so don't start this if you are in a real hurry.
Mix together the yeast, sugar, and water and stir.

Let this sit and become foamy.

Then add your salt and oil and combine.
Measure flour properly and then add in, mixing in with the liquid.
Knead dough on a lightly floured surface or cutting board for approx. 5 minutes.

or use dough hook with your mixer

Place this into a large bowl that has been rubbed lightly with olive oil.
Cover with plastic wrap and place in a warm area for 45 minutes.
Then you will proceed with baking homemade bread as you'd like. This time we are going to place it inside a Crockpot, but you could make dinner rolls too really.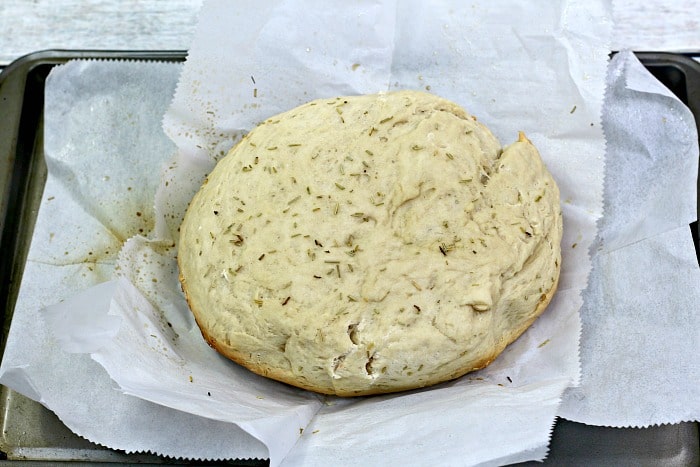 To make slow cooker bread you'll want to shape it into a ball and then flatten the dough slightly so it is the same thickness all the way across. You want it to "bake" evenly of course.
Place two pieces of parchment paper inside your Crock pot, spray this with non stick spray.
Place your ball of dough in the middle, drizzle with a bit of olive oil and rosemary.
Cover with the lid.
Cook on high for 2 hours and 15 minutes or until a knife comes out clean when placed into the middle of the rosemary white bread loaf.
If you want outside to be a bit browner set on a baking sheet and into your oven at 400 degrees until slightly crispy.
What is the best way to keep homemade bread fresh?
Keep it at room temperature as opposed to your fridge for 2-3 days. To keep bread soft, place loaf into an airtight plastic bag and only slice what you want to use right then and there.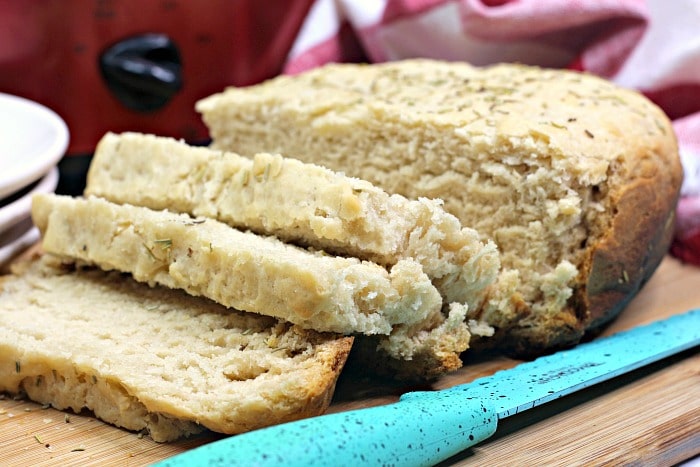 Baking Bread in a Slow Cooker
If you love oil and vinegar for a dipping sauce I would recommend extra virgin. It has a clean aromatic quality and clean taste that pairs well with a good vinegar.
All purpose flour
Sugar
Rosemary
Vegetable oil
Olive oil
Kosher salt
I'd suggest you use a stand mixer with a dough hook to make things easier
What is the best olive oil for dipping bread?
Want to make our Irish soda bread recipe now?? We have made that too and they're wonderful.
Printable recipe for this yeast bread in your Crockpot is below. For an easy meal idea you can serve this with some Crockpot appetizer meatballs and voila, dinner is served.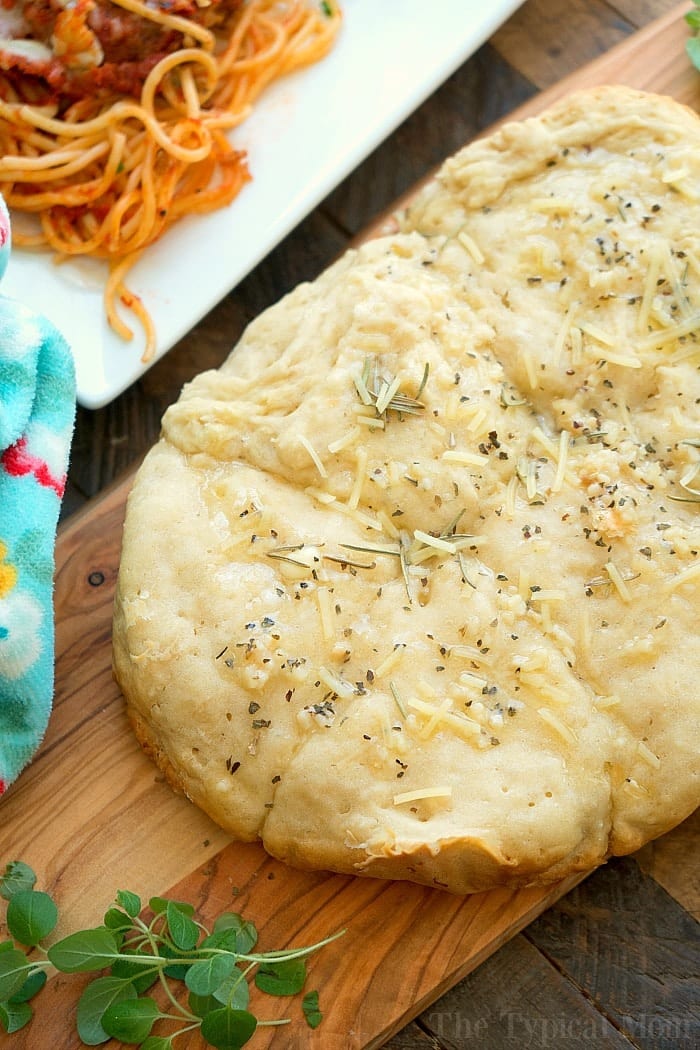 Want to see a few of my favorite things that I am totally obsessed with?? Take a peek and see how many you might already have…twinsies!
Looking for more easy family recipes and tips? LIKE The Typical Mom Facebook page?
Then sign up for my free newsletter, and follow me on Pinterest! 😉
***** If you LOVED this recipe give it 5 Stars below and let everyone know what you thought about it. 😉
Slow Cooker Bread
Rosemary slow cooker bread is awesome! If you want to bake bread in a Crockpot this is a simple recipe that will make you a real believer in this method.
Instructions
In a bowl mix together the water, yeast and sugar so it is well incorporated.

Allow to sit for 15 minutes in a warm location. After time the mixture should be foamy.

Add the salt and stir until dissolved. Then add the vegetable oil and stir to combine together.

Now add flour and mix with wooden spoon to incorporate. Then use hands at the end to ensure all flour is mixed/kneaded in well.

Put dough on lightly floured cutting board and knead with hands for approx. 5 minutes.

Coat a bowl lightly with olive oil and put kneaded dough inside. Cover this with plastic wrap and put into a warm location for 45 minutes.

At this time the dough should've doubled in size. Shape dough into oval so it is the same thickness all the way across and bakes evenly.

Take 2 sheets of parchment paper and line inside of your Crockpot. Spray with non stick spray.

Then place the dough on top of papers and lightly sprinkle with olive oil. Sprinkle rosemary on top.

Turn slow cooker to high and cook for 2 hours and 15 minutes. Check middle with knife to see if it comes out clean, if not add 15 more minutes and continue to check until it is done.

Pull out parchment paper, allow to rest for 15 minutes and slice with serrated knife.
Nutrition Facts
Slow Cooker Bread
Amount Per Serving (2 oz)
Calories 180
Calories from Fat 45
% Daily Value*
Fat 5g8%
Sodium 292mg13%
Potassium 46mg1%
Carbohydrates 30g10%
Protein 4g8%
Vitamin A 10IU0%
Vitamin C 1mg1%
Calcium 9mg1%
Iron 2mg11%
* Percent Daily Values are based on a 2000 calorie diet.