Baking bread at home isn't as scary as it sounds. It is easier to make than you probably think. If you wanna try making homemade bread here's an easy way.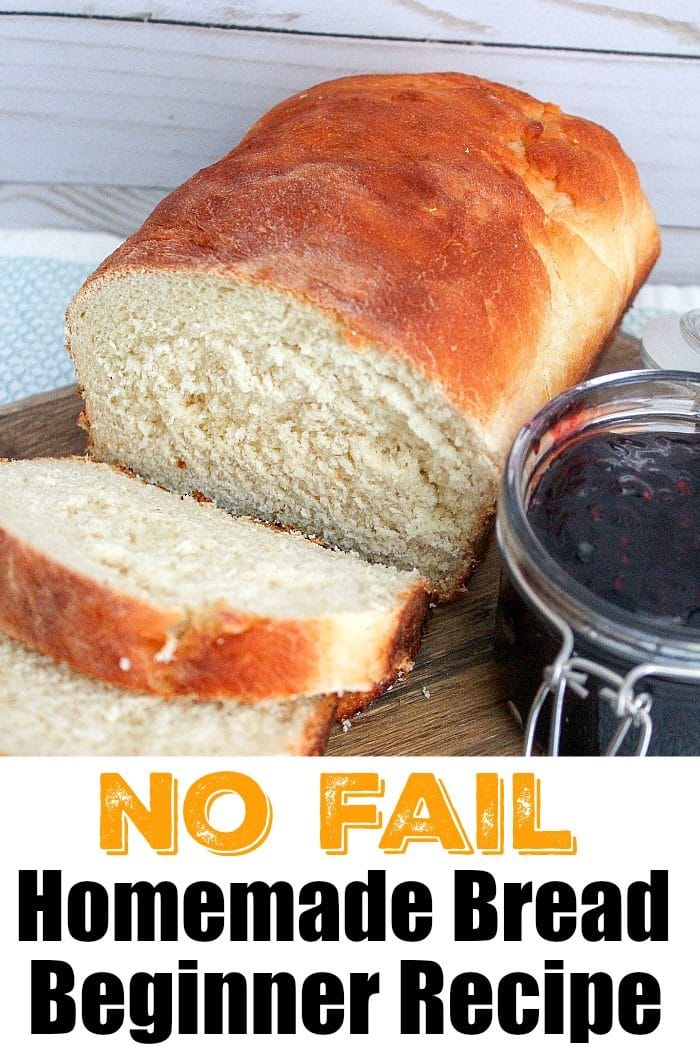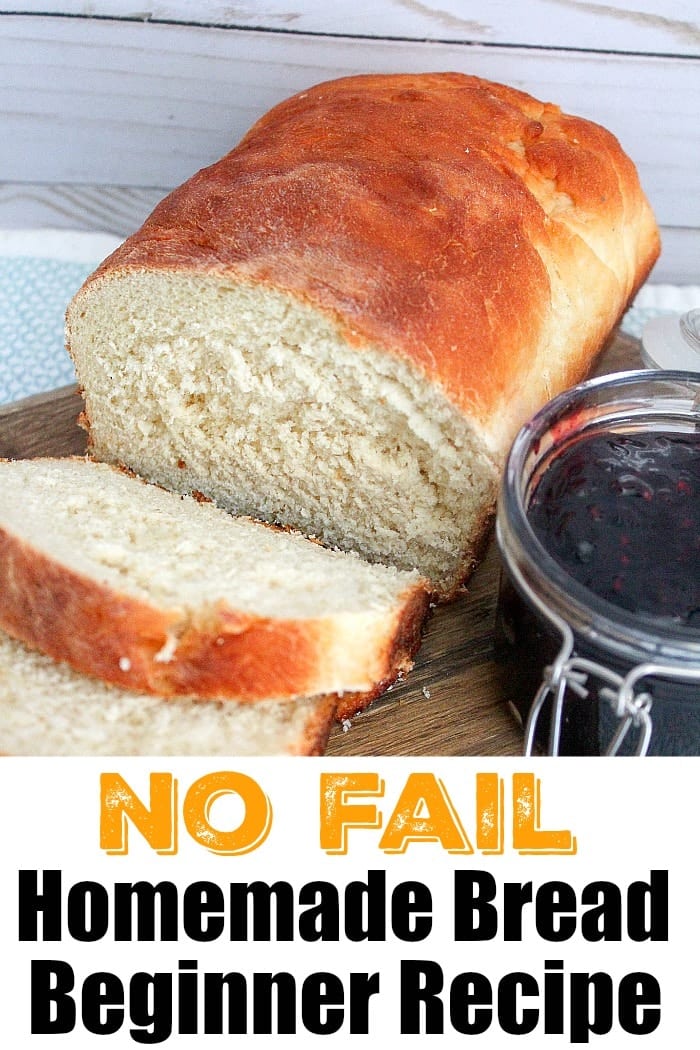 I once was totally against even the idea of baking bread at home because it just sounded too hard, until we tried it! I will now say we're believers that homemade when it comes to honey wheat and white bread. (originally published 4/18, affiliate links present)
How to Make Bread Step by Step
This was kind of an experiment and a way to get my girls involved in the kitchen when we started this journey. We didn't get it right the first time around, or the second, that is why I wanted to write and explain how to bake homemade bread to share with all of you too. Let's start off with;
No I don't make homemade bread on a regular basis.
But now and again when I want to make a treat I will make a few loaves of this (or my slow cooker bread) for all of us to enjoy.
This and our bread in a bag recipe are great when you want to bake with your kids too.

Use this for a honey wheat bread
The recipe below is for white bread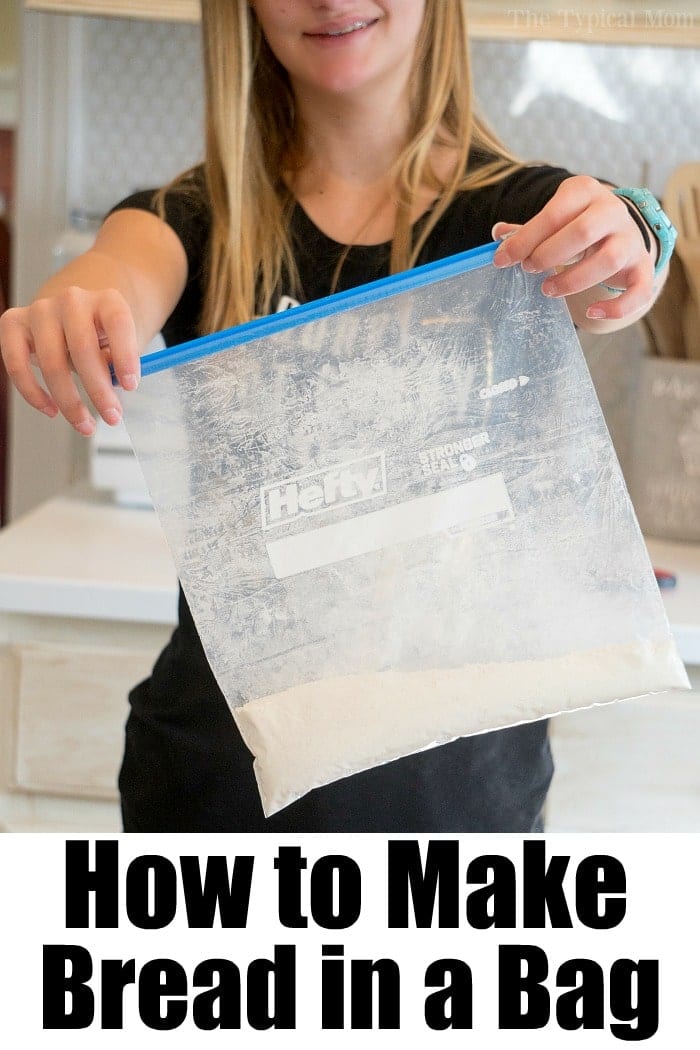 How to Make Homemade Bread Light and Fluffy
Use the right flour, bread flour is the best type of flour to use for making bread as it has a higher protein content which helps to create gluten, the protein that gives bread its structure.
Activate the yeast first and properly to ensure your bread rises properly. Dissolve the yeast in warm water and a little sugar and let it sit for a few minutes until it becomes frothy.
Knead the dough to develop gluten, which gives bread its structure and texture. Knead the dough for at least 10 minutes until it becomes smooth and elastic.
Let the dough rise in a warm draft free place until it has doubled in size. This can take anywhere from 30 minutes to 2 hours, depending on the recipe.

if you are in cold weather use the oven with JUST the light on to keep at room temperature

Punch down the dough: After the dough has risen, gently punch it down to release any air bubbles.
Shape the dough: Shape the dough into the desired shape and let it rise again until it has doubled in size.
Bake at the right temperature: Bake the bread at the temperature specified in the recipe. Too high of a temperature can cause the bread to burn on the outside while still being raw on the inside.
Use steam: Adding steam to the oven during the first few minutes of baking helps to create a crisp crust and a light, airy interior.
By following these tips, you can create a delicious and fluffy homemade bread. Happy baking!
Is it better to bake your own bread?
Of course homemade is always best no matter what it is you're eating right?? Whether you do this on an ongoing basis, or just want to try it out this is an easy bread recipe to try.
Benefits of baking your own bread

– The most obvious reason to bake homemade bread is to save money.
That's far from the only reason I think though. A simple quick bread recipe though can also be much tastier, more nutritious, and easier to customize to your personal needs.
It's so much fun to bake anyway right??
I will tell you it is amazing for french toast, sandwiches, for breakfast with some of our pressure cooker jam spread on top and once it starts to get a bit stale we use it to make apple pie bread pudding!
Here's a picture showing you a few of the steps you take to make this easy homemade bread recipe. This is white bread, we've made honey wheat as well using our bread in a bag process too.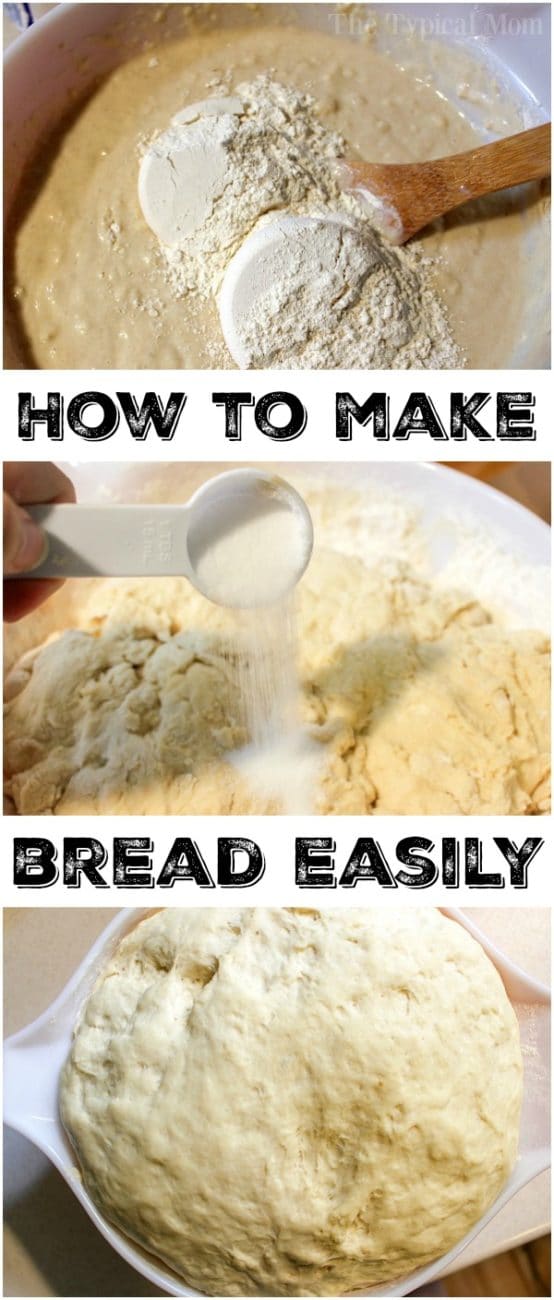 Why would you bother making homemade bread?
It has an amazing flavor, nothing like store bought
You know exactly what is inside, since you put all the ingredients in yourself
There are no preservatives
You can control how crunchy or soft your crust is
Making homemade yeast bread opens up a world of possibilities when it comes to making different types of breads

Add rosemary
Include some garlic
Make it sweeter with a bit more sugar, cinnamon and raisins

It is a fun learning experience in the kitchen you can share with your kids, let them help you bake some…they will love it!
You can make a month's worth of bread, freeze it, and be prepared for quite some time
Baking time is 30 minutes to 40 minutes which isn't long and you can double or triple it to make a bunch!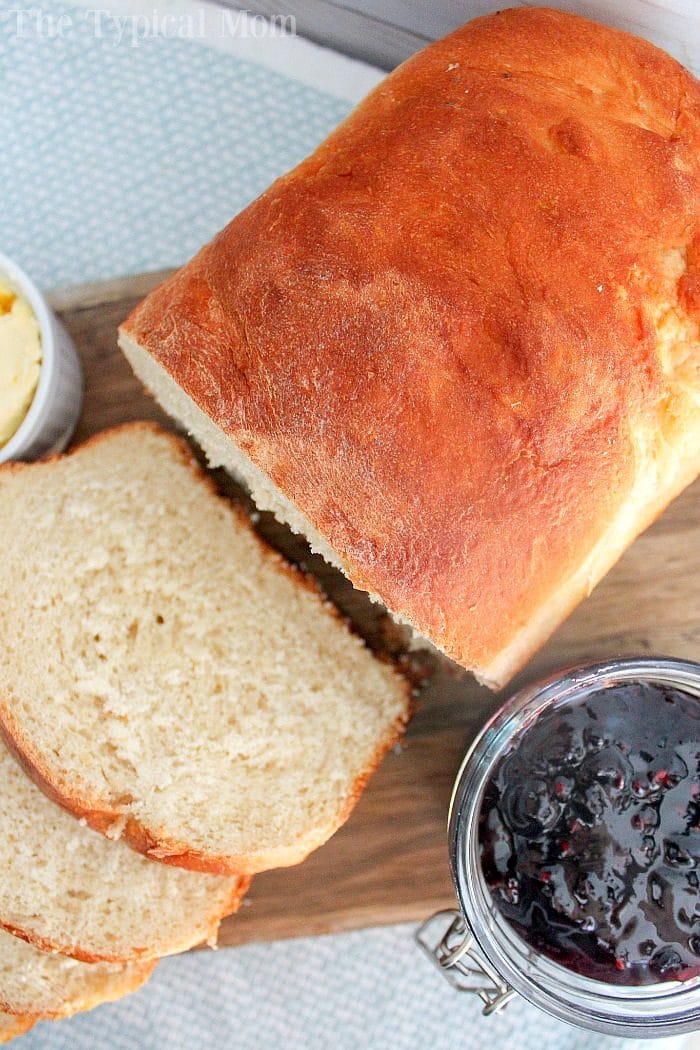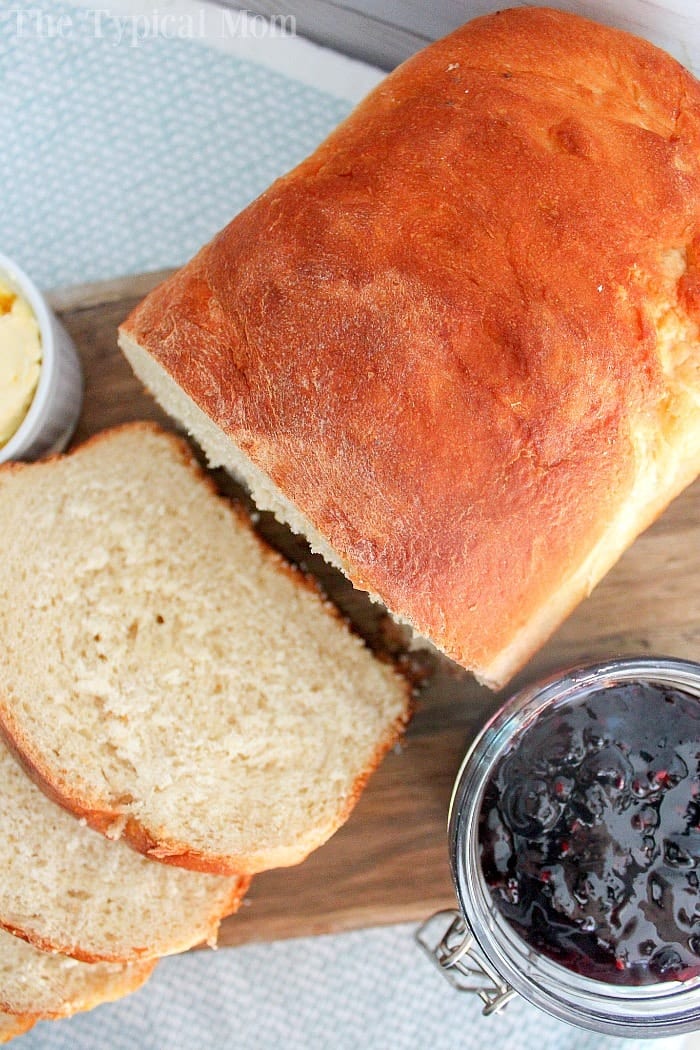 What you need for baking bread at home
Mixing bowl – a large bowl is helpful
A work surface – cutting board will do
All purpose flour – make sure to measure flour properly or this won't work right
Active dry yeast

We will use milk instead of warm water for this

Sugar
Butter
Milk
Bread flour
Salt
** If you ONLY have bread flour you can follow our white bread recipe that doesn't use all purpose at all.
Bread dough recipe below makes 3 loaf pans of bread. Seriously….that is all you need. No bread machine needed to make it this way.
I will tell you it takes a bit of patience but it is worth it if you are up for trying something new. Plus it tastes amazing.
Here's a photo of the honey wheat homemade bread in a bag we made before. Comes out nice and golden brown on top. It's a great recipe too.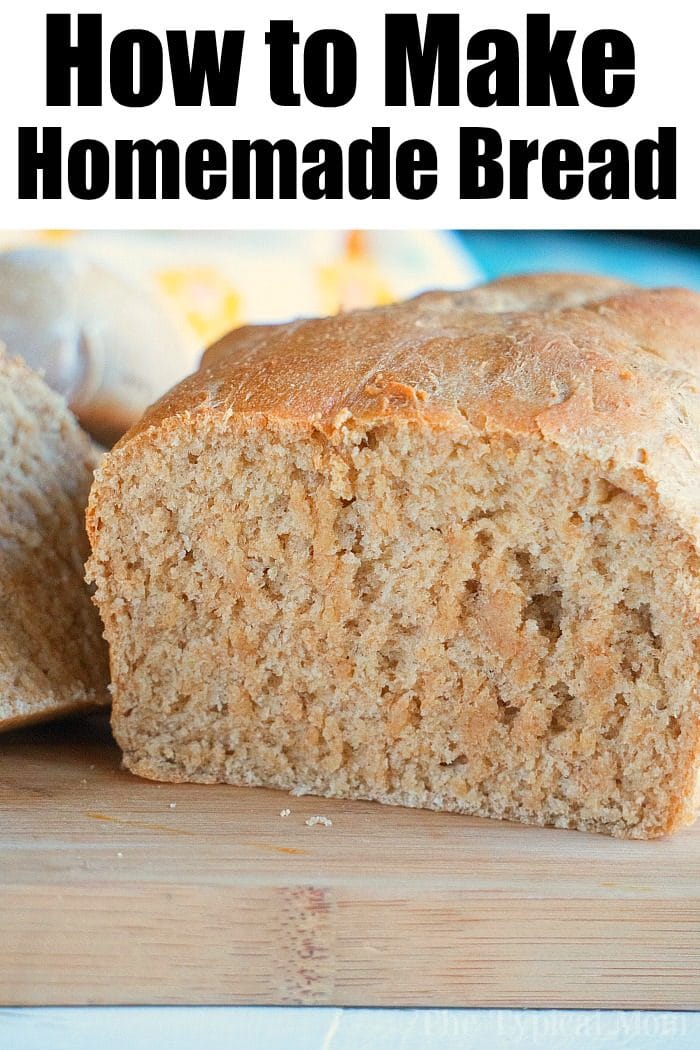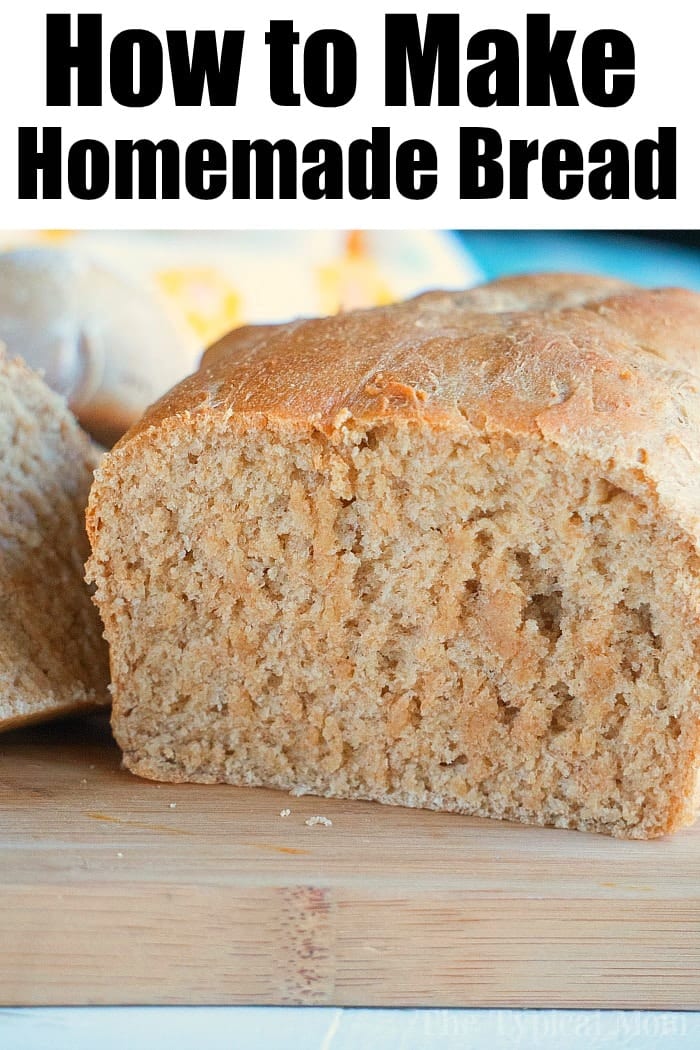 How do you freeze fresh baked bread?
If you do batch cooking and bake a bunch of loaves to save and freeze for the long haul the question then becomes; First, you'll want to wrap each loaf tightly inside a large piece of plastic wrap.
Then wrap that in foil or inside freezer paper.
Double wrap them for ultimate freshness.
Now here's a freezing bread tip: Slice each loaf before wrapping and putting inside your freezer so you can remove only one or a few slices each time!

This means you can keep the rest frozen solid and it will last longer.

Especially helpful if you are only a 2 person household and if you defrost the whole thing it is likely to go bad before you are able to eat it.
How long can you keep homemade bread in the freezer?
Storing it in the refrigerator makes it turn stale rather quickly. To keep bread soft, store in an airtight plastic zipper bag. For longer term storage, homemade bread should be kept in the freezer where it will keep fresh for up to 3 months.
Want to go a step further and try other versions like on a baking stone or a loaf of dutch oven bread? Go for it and see which one you like the best.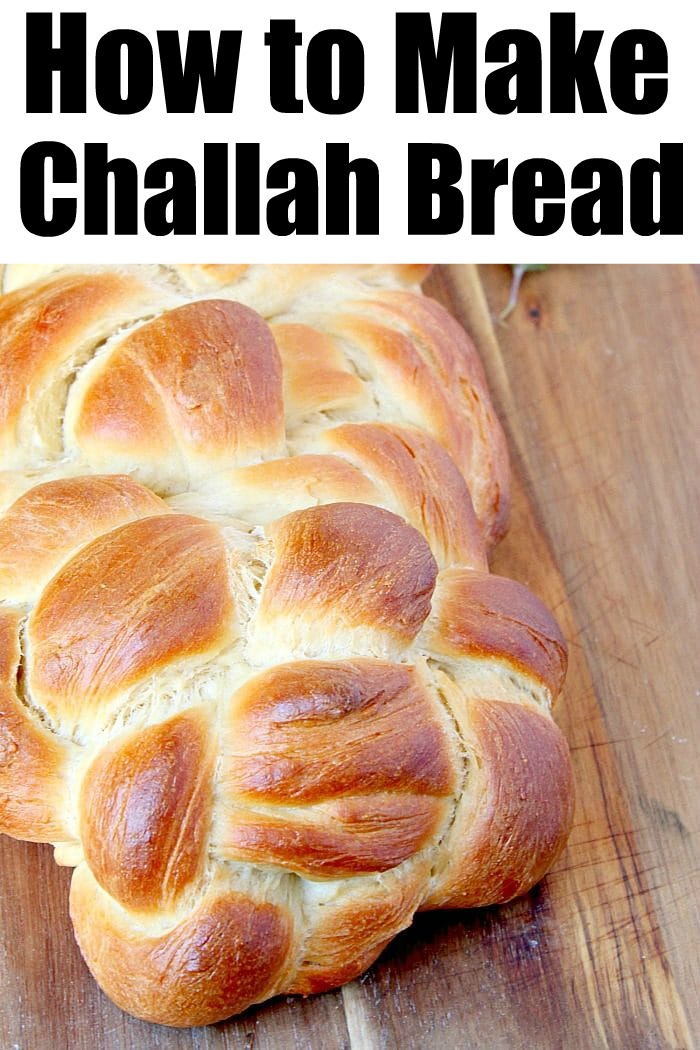 Recently we made a batch of this easy soft pretzel recipe that was the bomb! Plain or wrapped
What to serve with your homemade bread with yeast
Wrap up a loaf of bread for a neighbor and take it over too! It's a great bread for gifting and enjoying at home.
For more easy recipes and family fun ideas like this one sign up for our free newsletter here. More like these will be delivered to your inbox each week for you to try. Enjoy friends!
Here's the printable recipe for how to bake bread at home
Baking Bread at Home
Baking bread at home isn't as scary as it sounds, and is easier to make than you probably think. If you wanna try making homemade bread here's an easy way.
Instructions
In a bowl mix together 4 c all purpose flour, your yeast, salt, and sugar.

In another bowl pour 4 c milk and your butter. Put in microwave until butter is melted and mixture is warmed using 45 second intervals until reached.

Pour milk/butter mixture into the flour mixture, mix well.

Add 1 c of bread flour at a time mixing in between each add in.

Knead bread for 8-10 minutes until it is nice and has an elastic texture.

Spread a bit of oil into a bowl and put the dough in the bowl, cover and let rise for about an hour or until it has doubled in size.

Punch down the dough after that and divide it into 3 loaf pans. Cover and let rise again for an hour.

Bake in loaf pans at 375 degrees for 35 minutes or until tops are golden brown.

Allow to cool before slicing.
Nutrition Facts
Baking Bread at Home
Amount Per Serving (3 oz)
Calories 456
Calories from Fat 54
% Daily Value*
Fat 6g9%
Cholesterol 13mg4%
Sodium 926mg40%
Potassium 228mg7%
Carbohydrates 83g28%
Protein 14g28%
Vitamin A 190IU4%
Calcium 108mg11%
Iron 2.6mg14%
* Percent Daily Values are based on a 2000 calorie diet.