Best fluffy homemade white bread recipe you'll want to make over and over again! Easy sandwich bread you can make even if you've never baked bread before.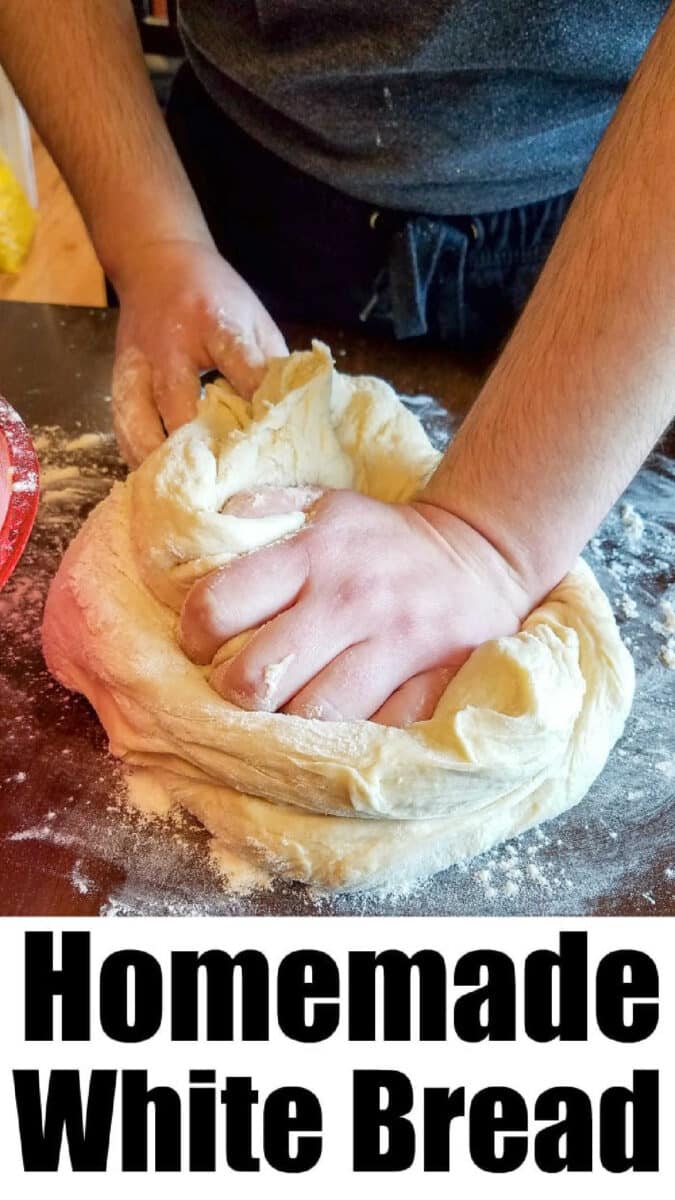 Ready to make homemade white bread you'll absolutely love right at home this week??!! You'll learn how to make the best bread dough around so you're loaf is fluffy and buttery golden brown. Let's get started with this guest blog post. (affiliate links present, originally published 4/21)
How to Make Homemade Bread
Ok so you may be new to this, I was too a while back so we are going to go step by step to walk you thru this whole process. Then you can have success and want to do it over and over again.
When baking bread at home you'll need a few things ready and at your fingertips.
A stand mixer with a dough hook
Active dry yeast
9×5 inch loaf pans
A lightly floured surface
Bread flour
Evaporated milk
Sugar and butter
Butter flavored Crisco
Homemade jam is great when it's done
Yes you're right, this bread recipe with bread flour does not use all purpose. That helps make it uber fluffy!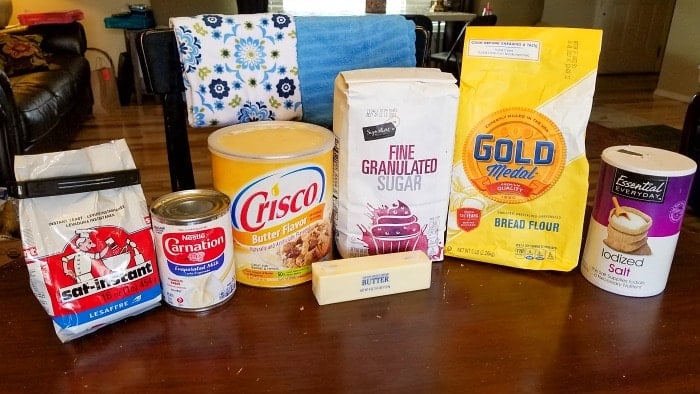 Fluffy Homemade White Bread Recipe
You can choose to make a healthy bread by using 100 percent whole wheat flour that has more fiber and nutrients than refined white flour types. If you're not so sure right now, try it!! I bet you'll become a believer after your first slice!
Fluffy Bread Recipe
First, let's gather all the ingredients and supplies you'll need on the table
In a small but tall container combine 1/2 Tbs sugar and yeast
Pour 2 cups of warm water (a little hotter than baby bath water) over your dry yeast mixture
Stir slightly and place in sunlight for 15 minutes. Bubbles will start to form, and mixture will rise. The more bubbles appear the better
In a mixer with a bread hook attacked, combine the rest of the sugar, melted butter, evaporated milk, and salt.
Why is homemade bread so good?
Well anything you make yourself typically surpasses the flavor of anything you would buy in the store. Let's be honest about that! When you make your own homemade bread, you also know EXACTLY what ingredients are in it.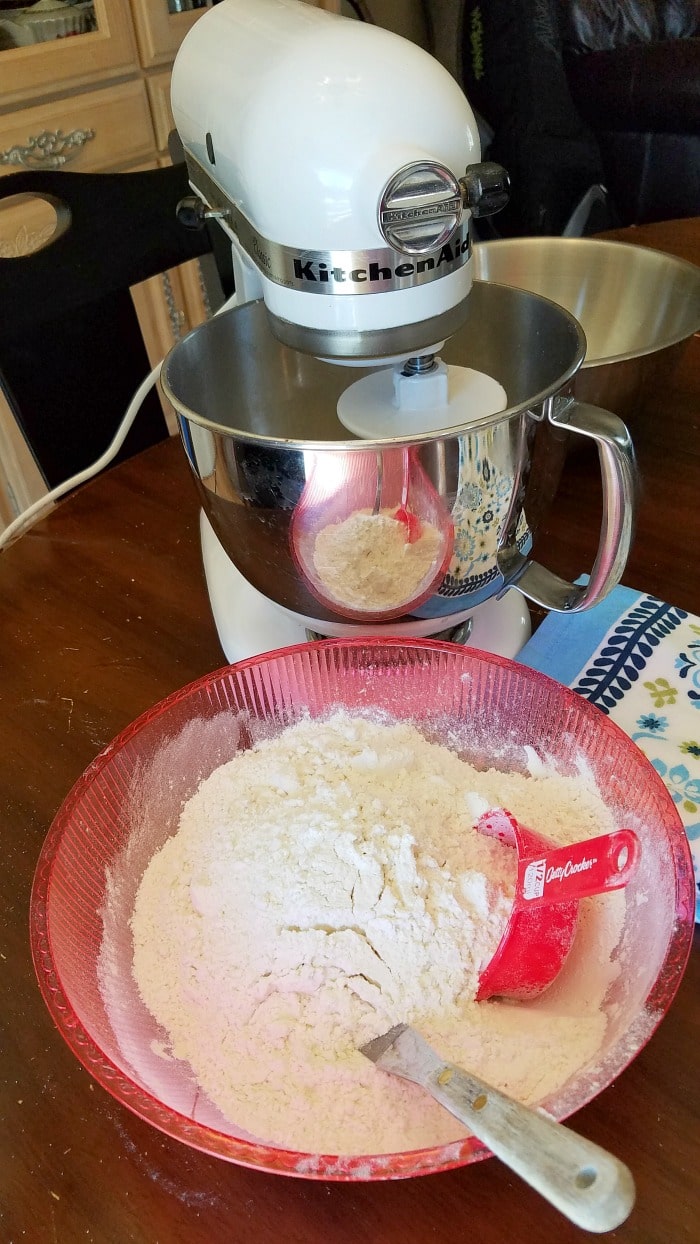 Place 7 cups of BREAD flour in a separate bowl.
Start by adding 3 cups of flour to the wet ingredients, mix on low.
Gradually add ½ cups of flour at a time until the mixture pulls away from the sides of the mixing bowl.
It will start to wrap itself around the hook at this time. Appearance will be smooth and elastic.

Hint

– Use a little Crisco on your fingers to remove the dough from the bread hook.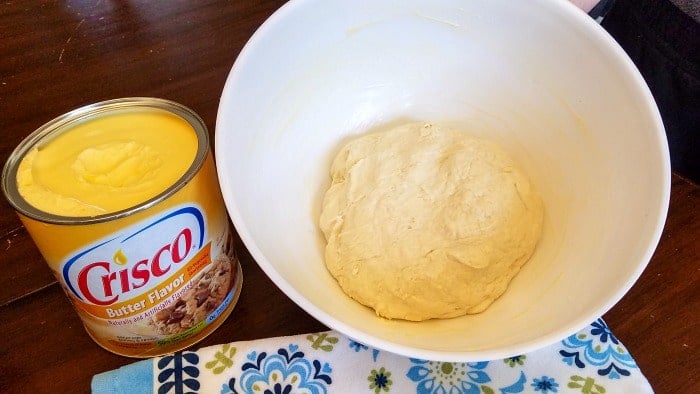 Easy soft white bread recipe
Using your hands, grease the inside of a large bowl.
Using the remaining grease on your fingers to lightly grease the dough ball before placing it into the grease bowl.
Cover the dough with a clean towel and place in a warm sunny environment to rise for 1 hour and 30 minutes. Do not disturb it during this time.

Tip

– If you place the bowl on a heated electric blanket on low it will help the dough rise even better! The dough should at least double in size.
You can even proof dough in an Instant Pot too.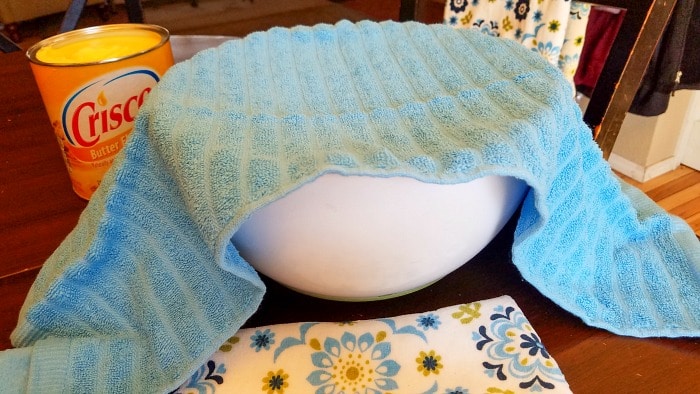 Is it necessary to punch down bread dough?
Yes! Punching down is a technique in bread baking that is essential to almost every style you bake.
When you punch down dough, it deflates it and releases the air so that you can knead it and form it into loaves.
It is very easy, there is a very good reason why it is required, and it takes less than a minute to do.
Let your kiddos get involved in this process, they'll love it! If you love doing new holiday activities with each other each year, this might be it! Kids love being able to say "I made that".
It also encourages them to try new foods (if they make it themselves, they'll likely eat it). Give it a whirl this year with your kids.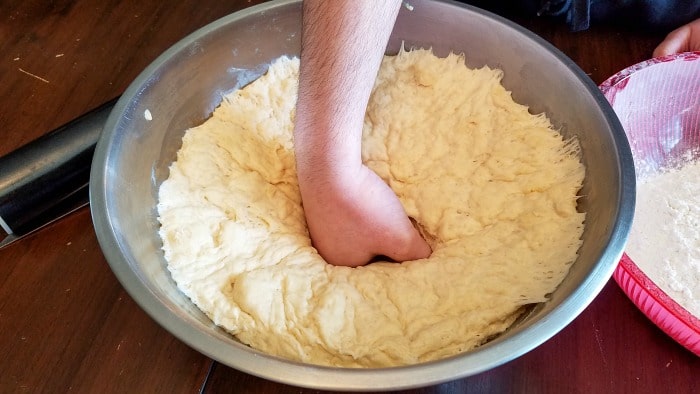 After the first rise, remove the towel and punch the dough in the middle causing it to deflate.
Flour your workspace to prevent the dough from sticking and start kneading the dough for 2-3 minutes.
A countertop or cutting board can be used for this.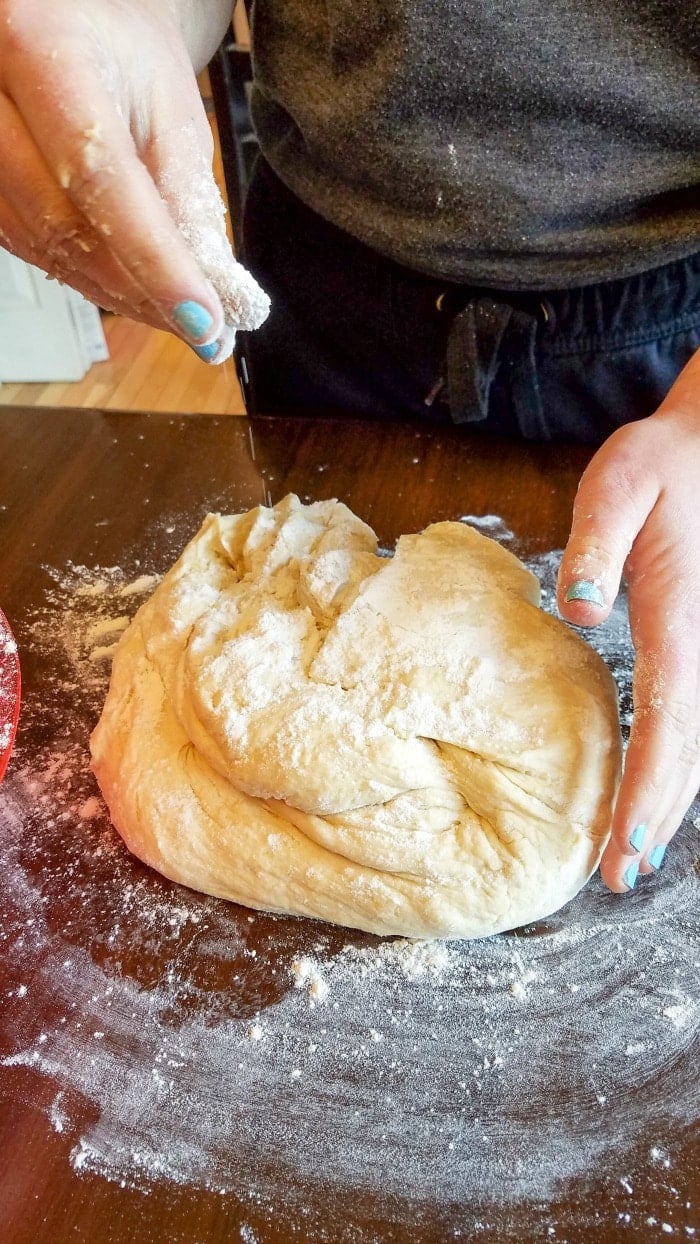 Using a knife cut the dough into two equal parts.
Flour a rolling pin and roll out the dough ball into a large rectangle.
Pushing the dough in all directions with the rolling pin to remove any air bubbles.

Tip

– you will be able to see and hear the bubbles pop.
Sounds like little birds chirping!

With your hands start to roll up the large rectangle until a dough log is created.
Tuck under each end of the dough and pinch dough together to seal the layers. Seen below.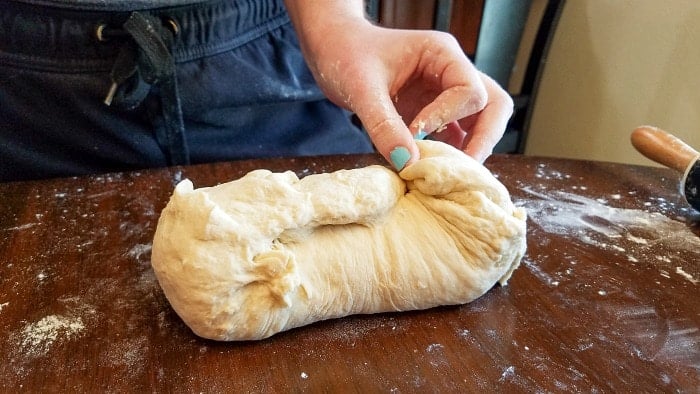 Grease with Crisco 2 loaf pans (glass is best) and place a dough log into the middle of each.
Cover with a clean towel and place the loaf pans into a sunny warm environment for at least an hour

During this time the dough needs to rise above the sides and spread out to fill the loaf pans. Do not let dough rise for more than 90 minutes.
Can you let bread rise too long?
You can. If you let the bread dough rise for too long the taste and texture of your loves will likely suffer. This is because the dough is fermenting during both rises. If the process goes on for too long, the finished loaf of bread may have a sour, unpleasant taste.
You can see what they should look like at this time below for your reference.
Now it is time to bake bread at home!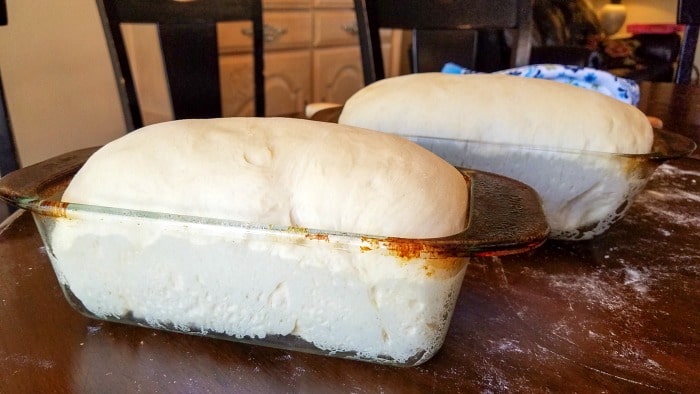 How you make the best homemade white bread
Once the dough has risen in the loaf pans place them onto the middle rack of a preheat oven set to 375 degrees for 34 minutes. The tops will turn golden in color.
Remove and turn the loaves out onto a cooling rack. Butter the tops slightly while hot.
Slice when cooled. Cooling may take a total of 45 minutes but it will slice more cleanly when they're no longer hot.
Place in bread bags to prevent loaves from drying out. Enjoy!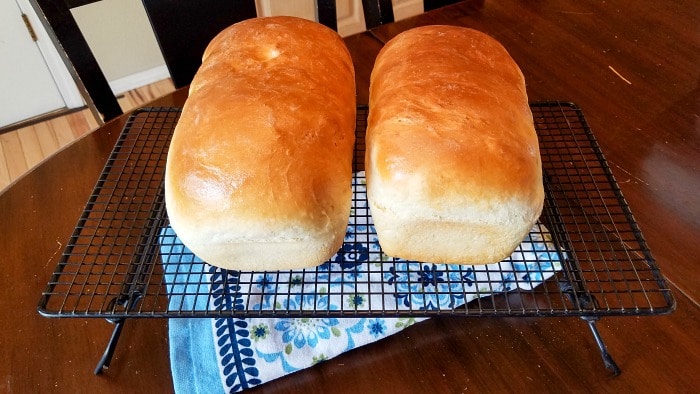 Homemade sandwich bread
Issues that may occur and answers for them: Why is my homemade bread so heavy? If your loaves are baked and they seem abnormally dense or heavy it may be the results of not kneading the dough mix enough.
Can you over knead bread dough?
If you think you have kneaded your dough, then try letting it rise a little longer before you shape it. You can't really undo over worked gluten, but if you allow it to rise longer, you can get the dough to relax a little.
Loaves made with over kneaded dough usually ends up with a harder crust and a dry interior you won't love.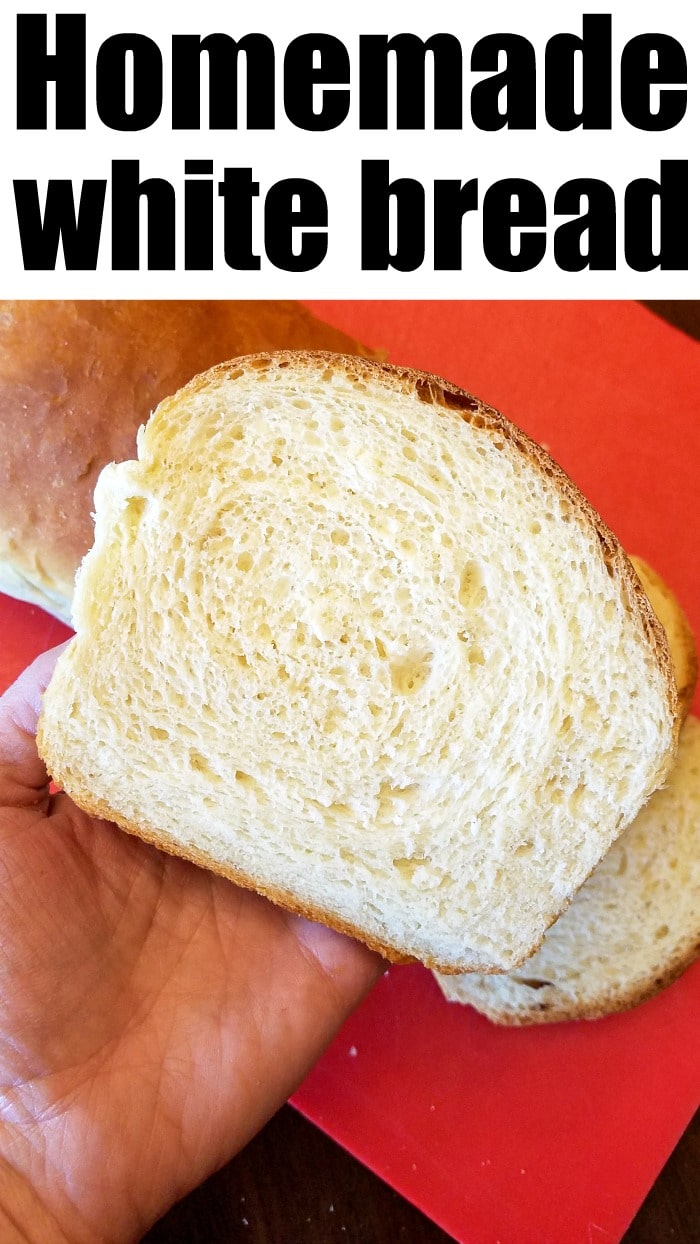 After this try making honey wheat bread in a bag or our easy Easter egg bread using ready made frozen dough with yeast. Your kids will love these! If you have any leftovers do not slice them. Instead save and cut them right when you're ready to make air fryer croutons. Slices should be thick for this and day old is best anyway.
Want to see a few of my favorite things that I am totally obsessed with?? Take a peek and see how many you might already have…twinsies!
Looking for more easy family recipes and tips? LIKE The Typical Mom Facebook page?
Then sign up for my free newsletter, and follow me on Pinterest! 😉
***** If you LOVED this recipe give it 5 Stars below and let everyone know what you thought about it. 😉
Homemade White Bread
Best fluffy homemade white bread recipe you'll want to make over and over again! Easy sandwich bread you can make even if you've never baked bread before.
Instructions
Place the yeast and sugar in a small bowl. Pour the warm water (not too hot) over the yeast mixture and let it sit for about 15 minutes, or until nice and bubbly.

Combine melted butter, sugar, evaporated milk and salt into a large mixing bowl. When your yeast mixture is ready add them together and mix.

If you are using a stand mixer put on your bread hook and then pour in 3 cups of flour. If not, you can stir/kneed it as well. Then add in 1/2 cup of flour at a time and mix until the dough is no longer sticking to the sides.

You'll know it's ready when your fingers no longer stick to the dough. (No more than 7 cups of flour max).

Then cover the ball of dough and sides of the bowl with shortening and cover the bowl with a towel. Set in the sun to rise (about 1.5hours).

When it has risen over the bowl (doubled in size) punch it down and place on a floured surface.

Knead the dough for 2-3 minutes. Cut dough into two pieces and roll them out into a rectangle. Roll the dough up and tuck the ends under. Then place into 2 greased bread pans

Let the bread rise again, and when it looks like a good loaf of bread place them in the oven at 375 degrees for 34 minutes. When the bread is done, coat the top with butter and remove onto a cooling rack. Enjoy!
Nutrition Facts
Homemade White Bread
Amount Per Serving (2 oz)
Calories 153
Calories from Fat 36
% Daily Value*
Fat 4g6%
Cholesterol 8mg3%
Sodium 319mg14%
Potassium 46mg1%
Carbohydrates 26g9%
Protein 4g8%
Vitamin A 87IU2%
Vitamin C 1mg1%
Calcium 19mg2%
Iron 1mg6%
* Percent Daily Values are based on a 2000 calorie diet.