This easy roll recipe needs just a few ingredients. A perfect side dish to any dinner, try these homemade yeast rolls and taste the difference. Much more delicious and fluffy than store bought and they save well for leftovers the next day too.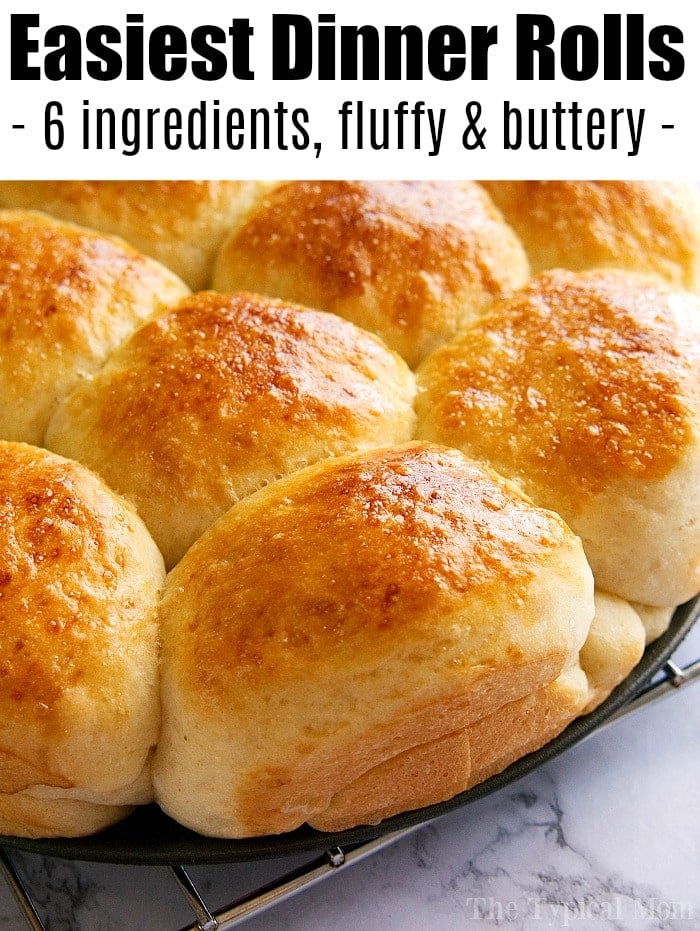 I don't bake homemade bread a lot, but I was bound and determined to come up with an easy roll recipe I loved. It needed to take only a few ingredients, use instant yeast, and come out as fluffy as ever. This. Is. It! My family loved them. (originally published 6/19, affiliate links present)
Homemade Rolls
If you aren't a really big from scratch person, like me, I will tell you right now that these are totally worth it! Taking the time to make these foolproof rolls will impress both your guests and family members for sure.
We started baking bread at home with this bread in a bag recipe.

It was a fun experiment I could do with my girls and it turned out really yummy too. Honey wheat is how I'd describe those loaves.
Then we went on to bake other homemade bread recipes with yeast, this one we made into dinner rolls. During the holidays I want buttery fluffy white rolls. Store bought is okay. I'll stop at that. There's just nothing like these babies though.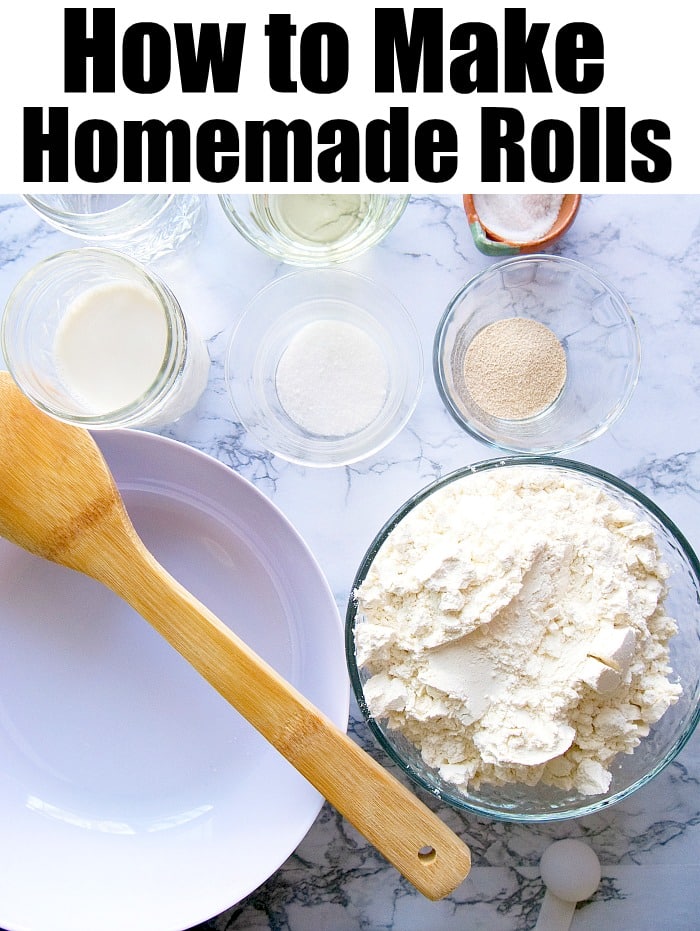 Easy Dinner Roll Recipe
Remember I said you'd need just 6 main items? It is totally true. I am assuming you just want them plain or else you'd want to integrate a bit of seasonings or diced fresh herbs like rosemary. Below is just the basic dough you can then tweak a number of different ways from there if you like. As is though just buttered is our favorite.
Sugar
Flour

making sure to measure flour properly, not scooping with your measuring cup

Milk

heat milk so you have slightly warmed milk

Oil
Egg
Salt and slightly warm water are added too but I don't really count those as ingredients since we all have them at home. Thus, 6 main ingredients are necessary.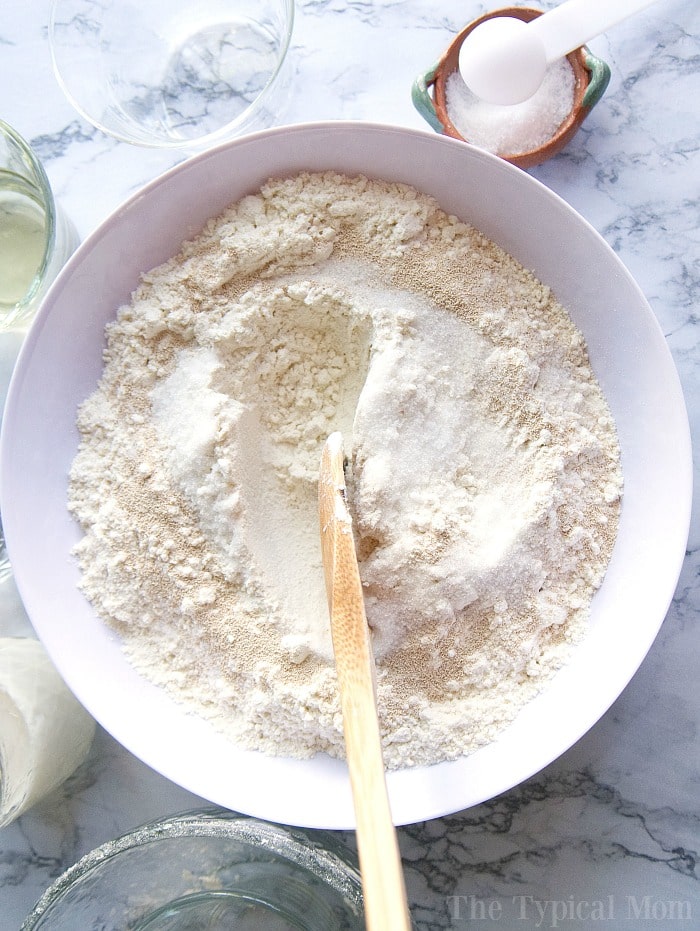 Quick Dinner Rolls
Just like any other baking project you'll need to combine all the dry ingredients into a bowl with our cups of flour. Then make a well in the center and add your oil and milk, then knead as you add in the water slowly.
You may use all of the water listed in the recipe card, or leave a little left over. You'll want to knead it until it is well combined and forms a ball of dough like you see here.
Differences will come depending on your altitude and the humidity in your kitchen. Thus, the variance. Using your hands is best so you can really feel the consistency of the bread dough.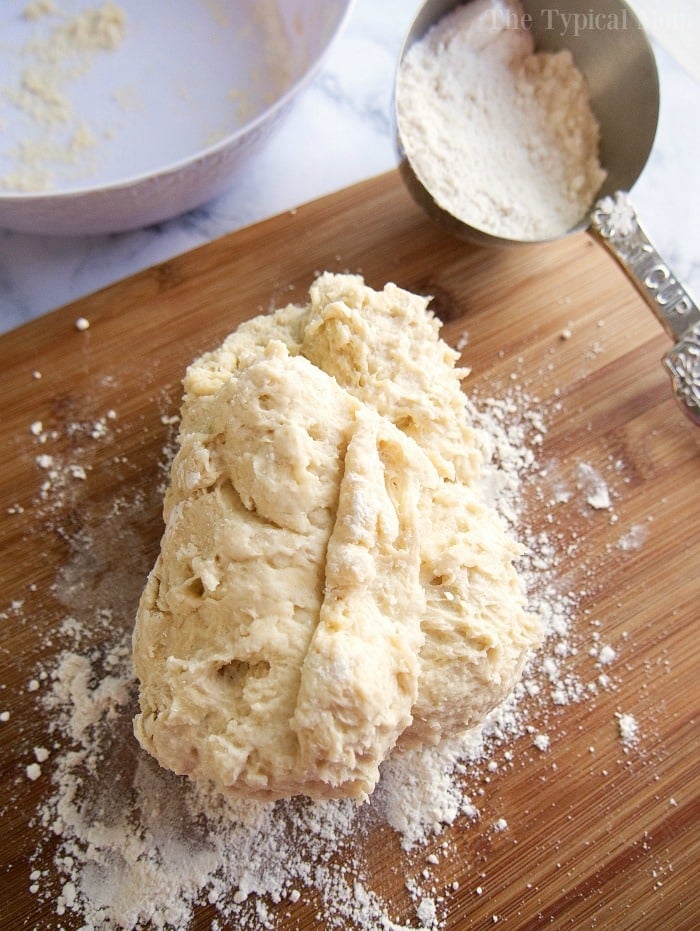 You could use a stand mixer and a dough hook on medium speed if you'd rather. Just make sure you scrape the sides of the bowl while you're mixing.
Instead of rolling the dough you'll want to roll similar pieces into balls and place them into a springform or round pan.
Make sure to spray it with non stick spray first so they lift out easily when done.
Then you'll need to let it rise and ideally double in size.
This will typically take 40 minutes to an hour. Don't rush it, 30 minutes usually won't do.
Just find a warm spot in your kitchen and put a towel over your pan, then find something else to do.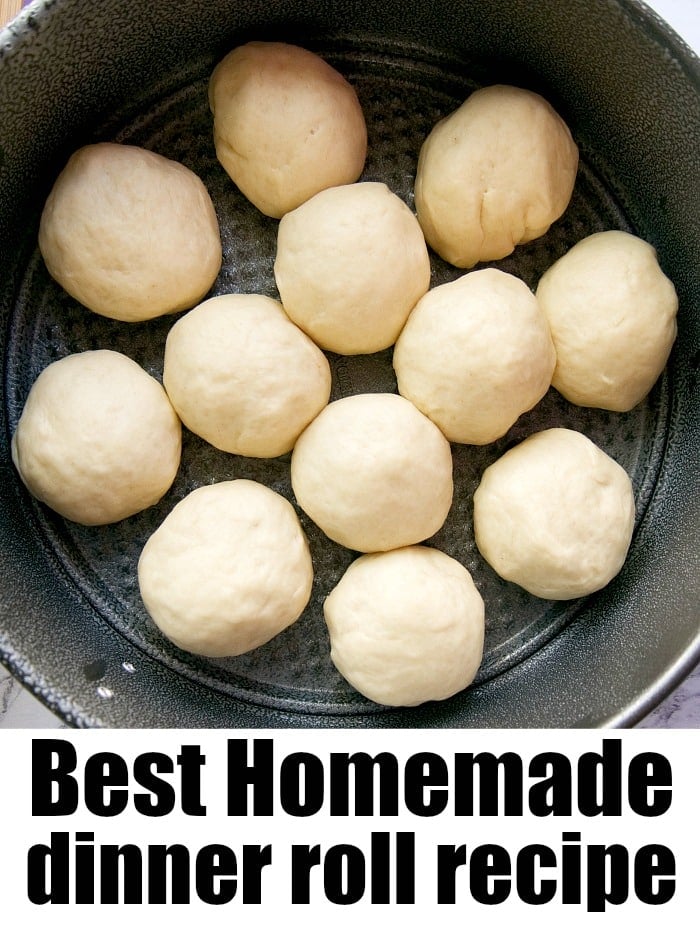 How to do make dinner rolls rise faster?
Proof dough in Instant Pot if you have one!
Preheat your oven to 400 degrees (the temp. your rolls will be baked at)
Rinse a kitchen towel under warm water until it is barely damp.
Lay the towel over your dough that has been placed in a dish. (do not use plastic)
Place your covered dough near, but not on your preheated oven.
Let the dough rise until it's doubled in size.
You'll want to check every 15 minutes until this occurs.
Once they're nice and fluffed up like you see here you will want to brush some egg over the top so they get golden brown. Of course you can skip this step but this is the trick to making them glossy and pretty when you pull them out. Now preheat your oven to 400 degrees. And you're ready to bake your homemade rolls.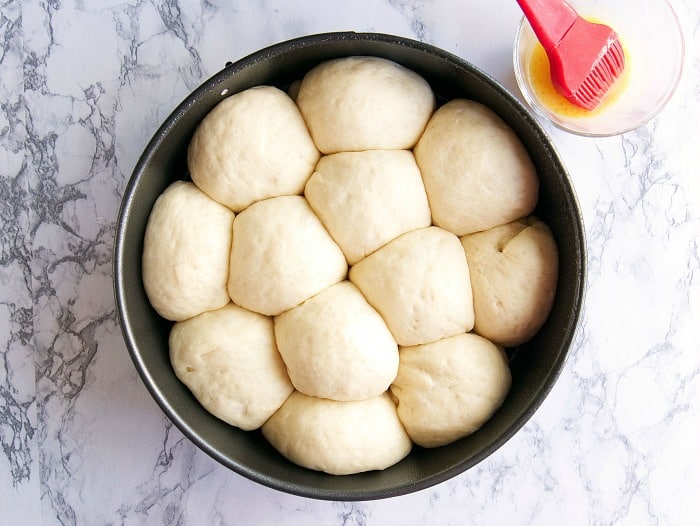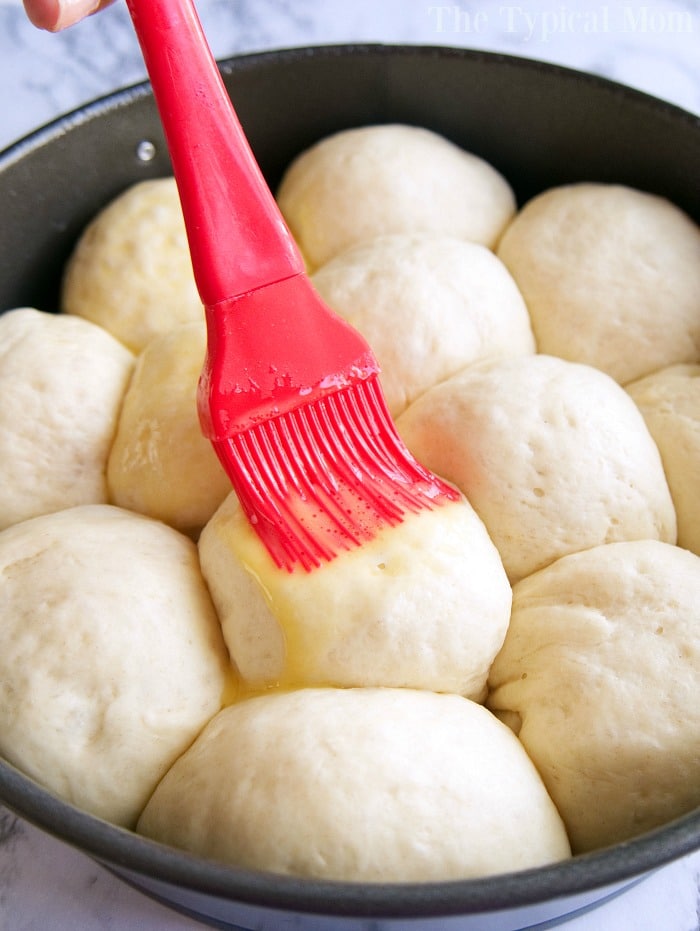 What do you do if yeast doesn't rise?
Try turning up the heat, yeast loves a warm moist climate. If that doesn't work and it hasn't risen after 30 minutes try adding a bit more to your dough kneading it really well. Here are 10 other ways of how to fix dough that won't rise.
Looking for other easy bread recipes?
For a sweeter treat try our 4 ingredient banana bread too. It is really popular since it uses cake mix which makes it so easy to throw together.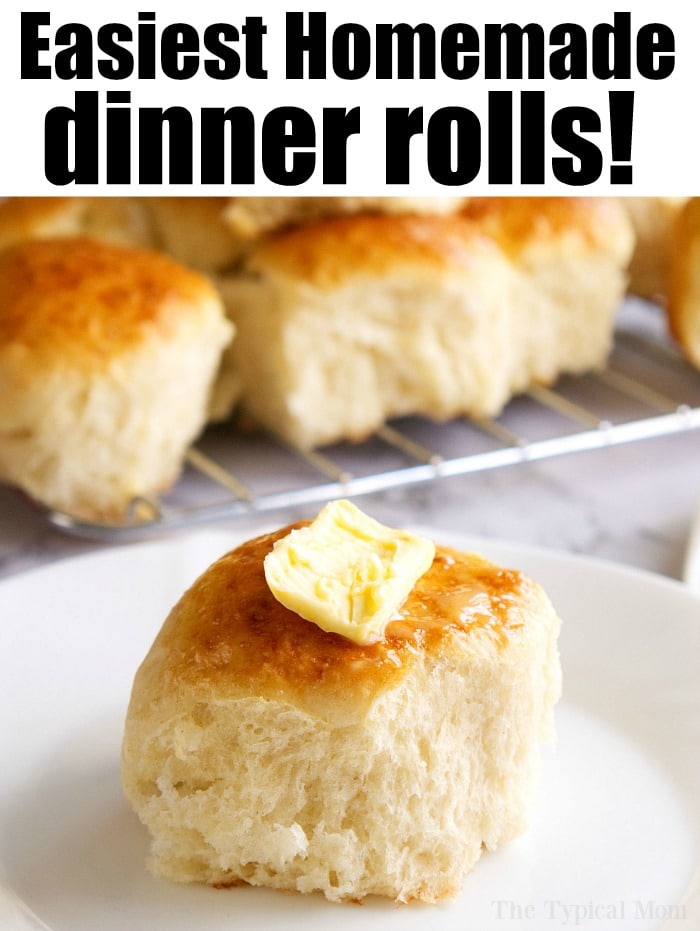 Best dinner roll recipe
Can you freeze fresh baked rolls?
Yes!! Make a double batch and throw half of them in the freezer for later!
Just allow them to cool completely

wrap them in foil
then place inside a freezer gallon bag
they will last up to a month for best results
Here is another easy pull apart bread recipe that's semi homemade for dinner. If you have a Foodi you can make our air fryer garlic rolls or homemade air fryer biscuits. Then try our easy monkey bread for dessert.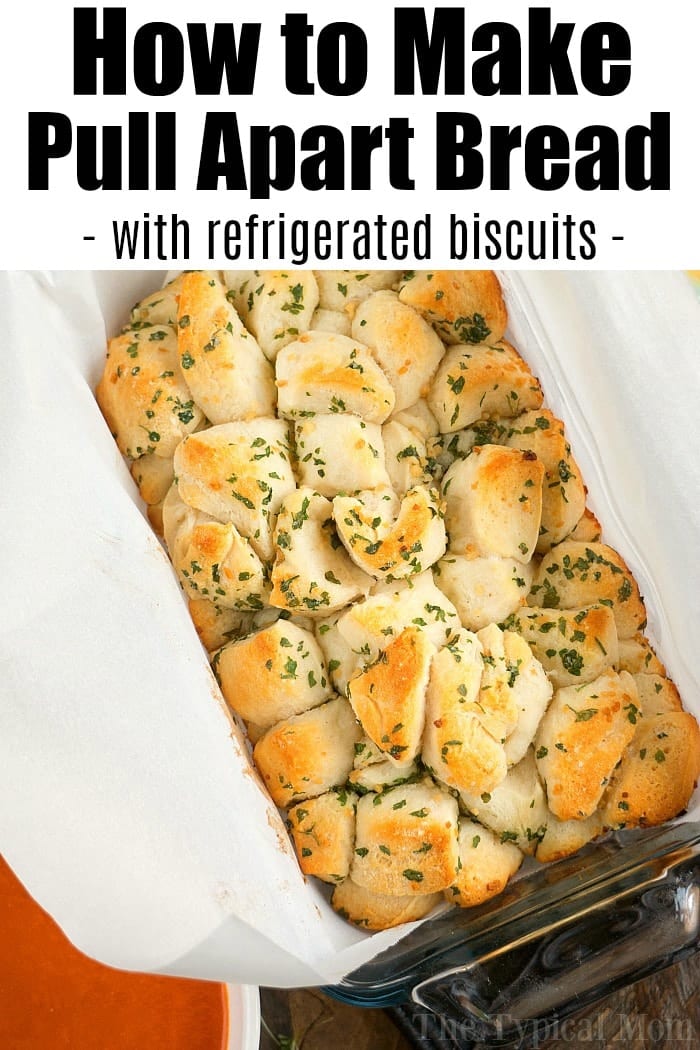 This is great to make if you don't have yeast or need a quick bread in a jiffy. What if you have leftovers?
How do you keep rolls fresh the next day?
Just wrap individual rolls tightly in plastic wrap
Store them in an airtight container
They can be stored like this for up to two days for best results
For the freshest taste bring the homemade rolls to room temperature before eating.
Olive oil and balsamic bread dip
Quick and easy mix is:
1/2 cup olive oil
2 tbsp. garlic, minced and dried or fresh oregano
1/4 cup grated parmesan cheese & balsamic vinegar
Serve this in a small dish for a burst of added flavors. So good when served with our 5 ingredient chili recipe.
Want to see a few of my favorite things that I am totally obsessed with?? Take a peek and see how many you might already have…twinsies!
Looking for more easy family recipes and tips? LIKE The Typical Mom Facebook page?
Then sign up for my free newsletter, and follow me on Pinterest! 😉
***** If you LOVED this recipe give it 5 Stars below and let everyone know what you thought about it. 😉
Easy Roll Recipe
This easy roll recipe needs just a few ingredients. A perfect side dish to any dinner, try these homemade yeast rolls and taste the difference.
Instructions
Place the flour in a medium bowl, then sprinkle in the sugar, yeast and salt and stir until well combined.

Make a well in the center and add the oil and all of the milk, begin to mix and slowly add the water until you have formed a dough — you may not need to add all the water or you may need to add a little more, this will depend on the humidity of your kitchen.

If more water is needed add a tablespoon at a time. Place the dough on a lightly floured surface and use your hands to knead the dough until you have a soft dough that feels a bit stretchy and doesn't have any dry flour lumps (it will only take you 5 minutes or less).

Divide the dough into 12 equal size balls. Spray a springform pan with non stick spray, then arrange the dough balls in the pan.

Cover with a clean dish towel and allow to rise until they double in size. (The rising time will also depend on how humid and how cold or hot your kitchen is. It can take from 40 minutes to an hour.)

Preheat the oven to 400F for 10 minutes. Lightly beat a small egg and use a pastry brush to coat the top of the risen dough balls.

Bake in center of oven for 12 to 15 minutes. Allow to cool slightly before removing from the pan and if desired brush with melted butter before serving while still warm.
Nutrition Facts
Easy Roll Recipe
Amount Per Serving (2 oz)
Calories 149
Calories from Fat 45
% Daily Value*
Fat 5g8%
Cholesterol 14mg5%
Sodium 59mg3%
Potassium 51mg1%
Carbohydrates 21g7%
Protein 3g6%
Vitamin A 35IU1%
Calcium 17mg2%
Iron 1.3mg7%
* Percent Daily Values are based on a 2000 calorie diet.