This easy soft pretzel recipe is fantastic! A copycat Auntie Anne's pretzels style snack, these large chewy and salty pretzels will make your mouth water.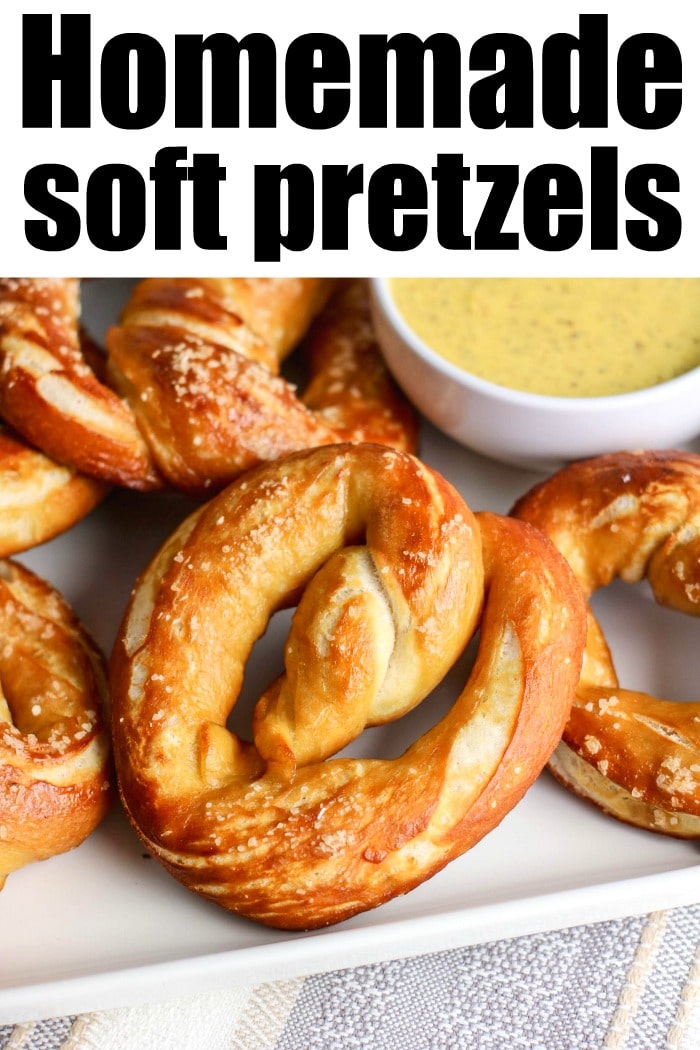 This easy soft pretzel recipe needs just 7 ingredients plus water to make! If you're looking for the ultimate comfort food you've come to the right place! (affiliate links present, originally published 3/20)
Let me tell you how much I love Auntie Anne's pretzel dogs and their regular salted varieties. I'm so slightly obsessed with them that when I was pregnant I would drive 25 minutes to the local mall, park, and walk all the way inside to get my hands on one. I'm. Not. Kidding.
Recipe for Soft Pretzels
Now I've come to my senses, somewhat. 😉 No but really, we moved out of state and I haven't seen one near us since! Heartbreaking I tell you. That's when I decided I had to figure out a copycat version of our own. Here's what you do.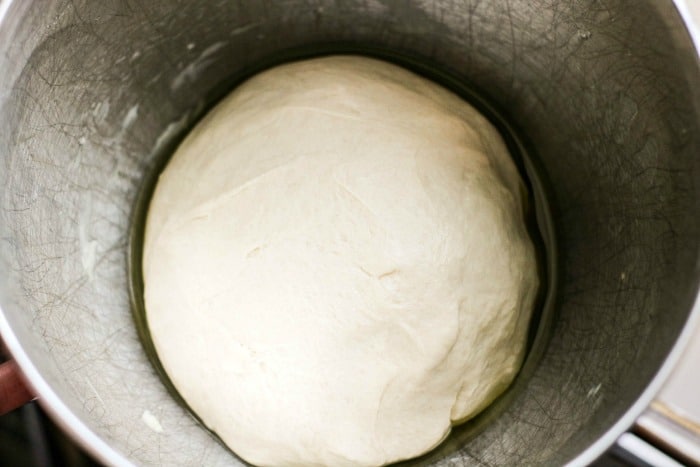 How to Make Homemade Soft Pretzels
I will start by saying that typically if I read a recipe and it needs yeast, I quickly turn away and find another. BUT there is no substitute here, you have to make this homemade from scratch.
It really isn't that hard, I just had to get over the idea that it would be easy to mess up. If you're anything like me and reading this, take my word for it and give this a whirl, then try baking bread at home too.
Homemade Pretzel Bites
You can cut these into bite size pieces instead if you wanted too. I suggest using our air fryer pretzel bites temp and timing for those. As with any recipe with yeast you'll need to use some warm water, sugar and salt. A stand mixer with a dough hook is very handy to have too so you don't have to hand knead the dough Once those are combined, sprinkle the active yeast on top and allow it to bloom.
What does it mean for yeast to bloom?
Yeast is alive (seriously). When in stored, yeast cells gradually die. This procedure is also known as "proofing the yeast". Blooming is the process where active dry yeast is made to be ready in a recipe such as this easy soft pretzel recipe.
Once you beat in the flour and added the melted butter, it will form a ball and start to pull away from the sides. Then you know it's ready to be placed in a warm location to rise.
This will take about an hour
You'll need to cover the bowl with plastic wrap
Finding a warm location without a draft is key to it being successful
Next you'll need to make a baking soda bath and get your pretzels shaped on a slightly floured surface so the pretzel dough resembles what you see below. Make sure you have equal pieces so your homemade soft pretzels bake evenly.
Why do you boil pretzels?
The baking soda is what gives the pretzels their brown and shiny crust. The browning makes the outsides of a soft pretzel crunchy while leaving the insides soft.
Yes, you can skip the "boiling in water + baking soda" step but the texture will be different and probably not as pleasing to the palate.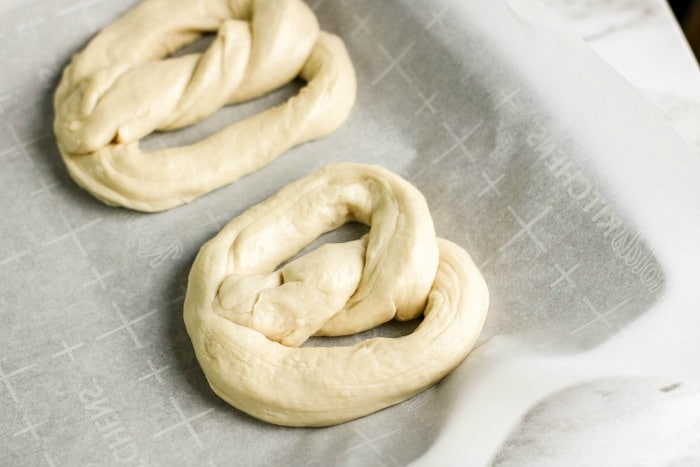 German Soft Pretzel Recipe
They only need a 30 second trip in the water and then on to your parchment lined prepared baking sheet. Here are all the items you'll need for homemade pretzels;
All purpose flour
Butter
Coarse sea salt

sometimes called Kosher or pretzel salt
if you wanted a sweet version, use cinnamon sugar instead

Water
White sugar
Baking soda
Egg yolks to brush on the top to make them shiny
Parchment paper is handy to have on your cookie sheet so they don't stick. Once they're all done, whisk together your egg yolks and a bit of water so you can brush it on the tops. Then sprinkle on your salt and they're ready for a trip in your oven.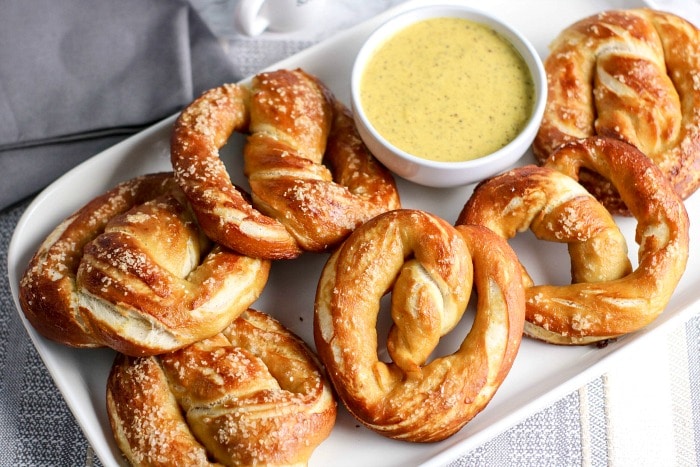 Once your dough is ready, this last process will take about 30 minutes until you're ready to enjoy these.
What gives pretzels their flavor?
Salt is the most common seasoning for pretzels, as well as the baking soda bath I spoke about earlier. This process will really give them the traditional skin you're used to, and flavor as well.
Of course you can add flavors like our copycat Dots honey mustard pretzels too.
Other seasonings known to be put on the tops are cheeses, sugar, chocolate, cinnamon, sweet glazing, seeds, and nuts.
Once you try this you should go on to add different toppings, the possibilities are endless really!
What goes good with soft pretzels?
Traditionally they're served with some type of mustard, but even those are numerous to count including; honey mustard, dijon, Cajun, yellow, the list goes on and on. Other yummy pretzel dip options are:
cheddar cheese sauce
pizza sauce
warm nacho beer cheese
or many other hot dip recipes
including this mustard pretzel dip recipe you see below
Best is to have all of them available to choose from in little ramekins. Make a pretzel bar of sorts when friends come over for sure. Sweeter choices could be offered too like cream cheese frosting or melted chocolate.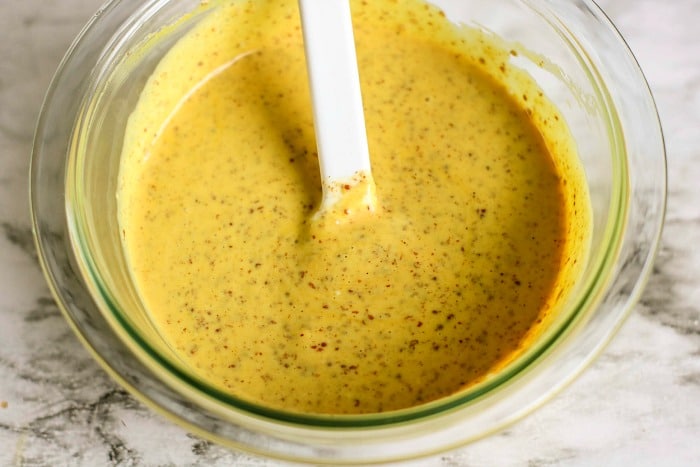 Cinnamon sugar pretzels
If you wanted to transition these into a sweeter creation you totally could. There are a lot of "toppings" you could use, dips, frostings etc…. like:
melted caramel
warm vanilla or cream cheese icing
softened cream cheese
Other snacks you should try after you've enjoyed this one are:
Want to see a few of my favorite things that I am totally obsessed with?? Take a peek and see how many you might already have…twinsies!
Looking for more easy family recipes and tips? LIKE The Typical Mom Facebook page?
Then sign up for my free newsletter, and follow me on Pinterest! 😉
***** If you LOVED this recipe give it 5 Stars below and let everyone know what you thought about it. 😉
Easy Soft Pretzel Recipe
This easy soft pretzel recipe is fantastic! A copycat Auntie Anne's pretzels style snack, these large chewy and salty pretzels will make your mouth water.
Instructions
In a stand mixer fitted with a dough hook, stir together water, sugar, and salt until the sugar is dissolved. Sprinkle yeast over the top and allow to bloom for approx. 5 minutes

Add the flour to the stand mixer bowl and beat adding butter in a slow drizzle. Beat with the dough hook on medium speed for 5 minutes or until a ball forms and the dough pulls together and away from the sides of the bowl.

Grease a bowl with olive oil and transfer dough to the bowl. Cover with plastic wrap and rest in a warm place, for 1 hour or until doubled in size.

Preheat oven to 450 degrees. Prepare a baking sheet with parchment paper. Spritz with nonstick cooking spray or lightly grease with oil.

In a large pot bring water and baking soda to a boil. Then, grease a cutting board lightly with oil. Divide dough into 8 to 10 equal pieces. Roll into a rope about 24 inches long.

Twist dough into pretzel shapes by creating a U. Then twist loose ends together and fold the twist back over to the middle of the U and press together.

One at a time, drop pretzels into the boiling water and allow to boil for 30 seconds. Remove using a slotted turner and immediately place on the prepared baking sheet.

Whisk together water and egg yolk in a bowl. Use pastry brush over pretzels and immediately sprinkle with kosher salt.

Bake for 12 to 14 minutes or until tops of pretzels are golden brown.

** Pretzel bites cut into 1.5" pieces will take about 5 minutes in a preheated 350 degree oven.
Nutrition Facts
Easy Soft Pretzel Recipe
Amount Per Serving (3 oz)
Calories 257
Calories from Fat 81
% Daily Value*
Fat 9g14%
Cholesterol 53mg18%
Sodium 2294mg100%
Potassium 63mg2%
Carbohydrates 38g13%
Protein 6g12%
Vitamin A 280IU6%
Calcium 20mg2%
Iron 2mg11%
* Percent Daily Values are based on a 2000 calorie diet.