Baking bread in a Dutch oven is easier than you'd think! With just a few ingredients mixed together right in your pot you'll have homemade bread in no time.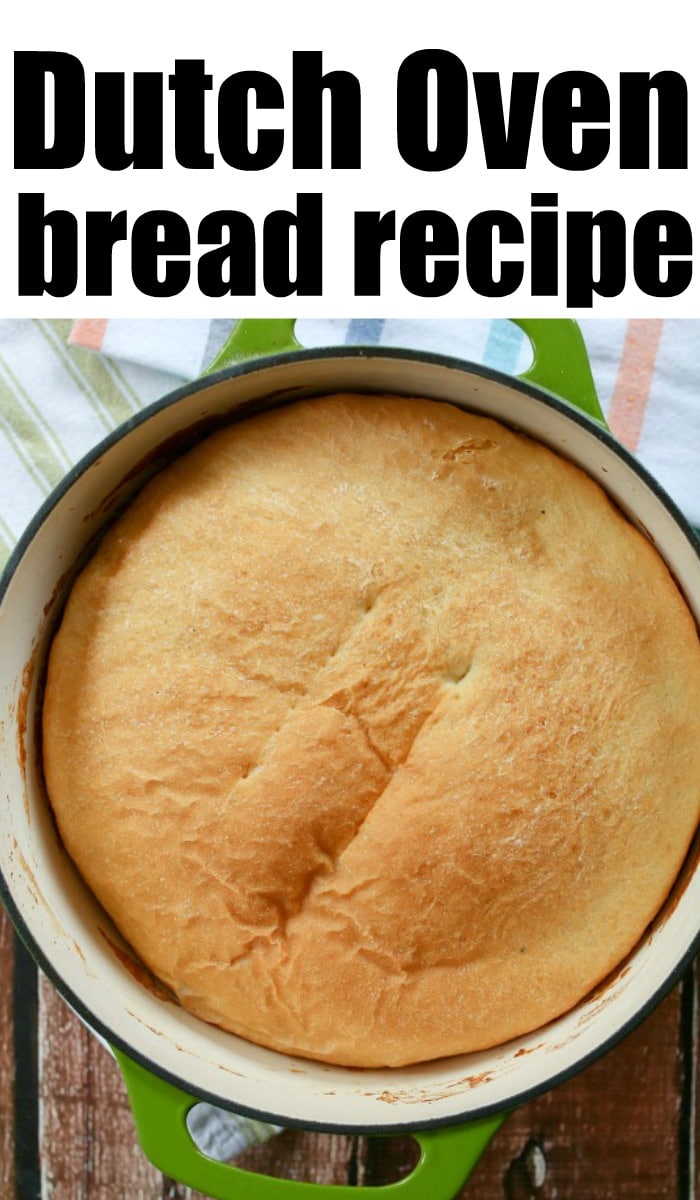 Ever thought about baking bread in a Dutch oven??!! If you love a fresh round loaf of homemade white bread, this might be your favorite Dutch oven recipe made in your favorite cast iron pot.
Dutch Oven Bread
If you've only thought about baking bread at home but never tried it because you thought it would be too hard, this is a good way to start. With just 6 simple ingredients and some water you too can be a true baker.
If you're new to using this enclosed cast iron pot, let me share a little information: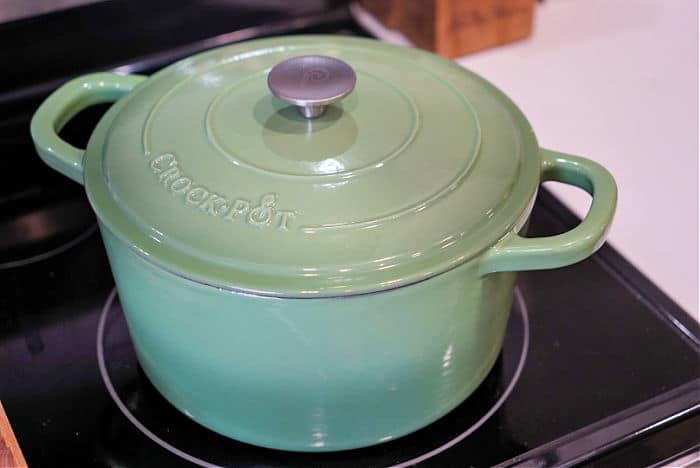 Grab your favorite cast iron baby and give this a white bread recipe whirl with your kids. They will love it too.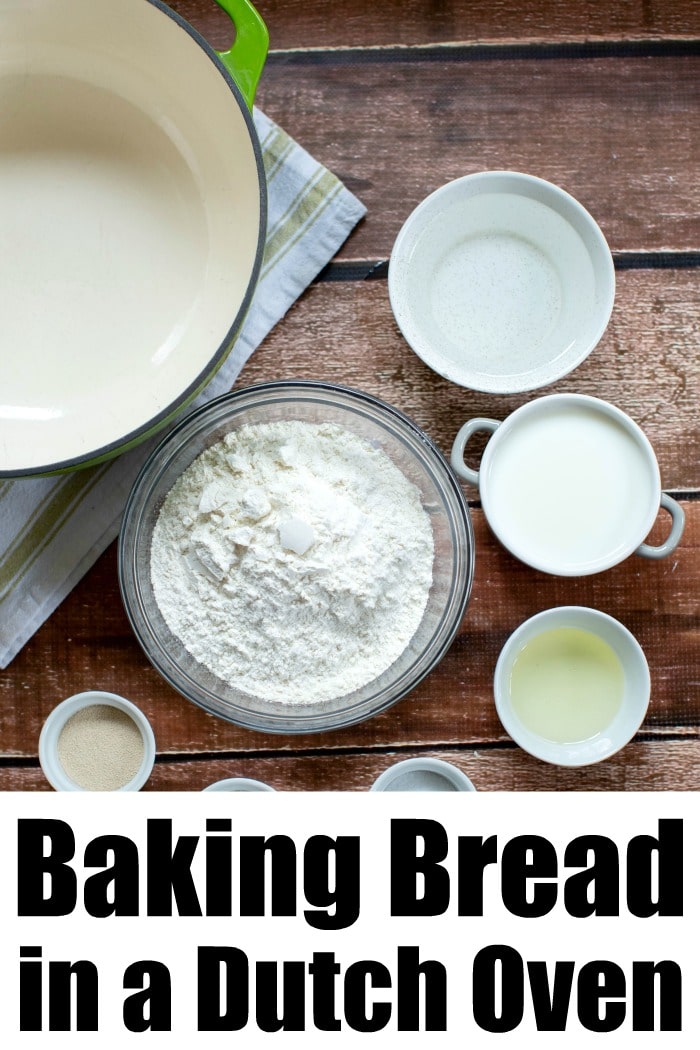 Question is: Do I need a Dutch oven? Yes, yes you do my friend! It is truly a magical piece of cookware I tell you. Every home cook should own one!
Every one needs to be well seasoned just like other cast-iron piece of cookware.
Most come "seasoned" so you can use it from the get go.
From there you should always keep in mind how to take care of cast iron pans so you don't ruin them.
Some cast iron dutch oven models are just black and others have brilliant colors on the outside as you see here. It is up to you which you choose, they will all work just fine.
Similar to making bread in a bag, you only need your pot and a lightly floured cutting board or surface to make white bread this way.
This one uses wheat flour so if you want that taste I would try this one as well.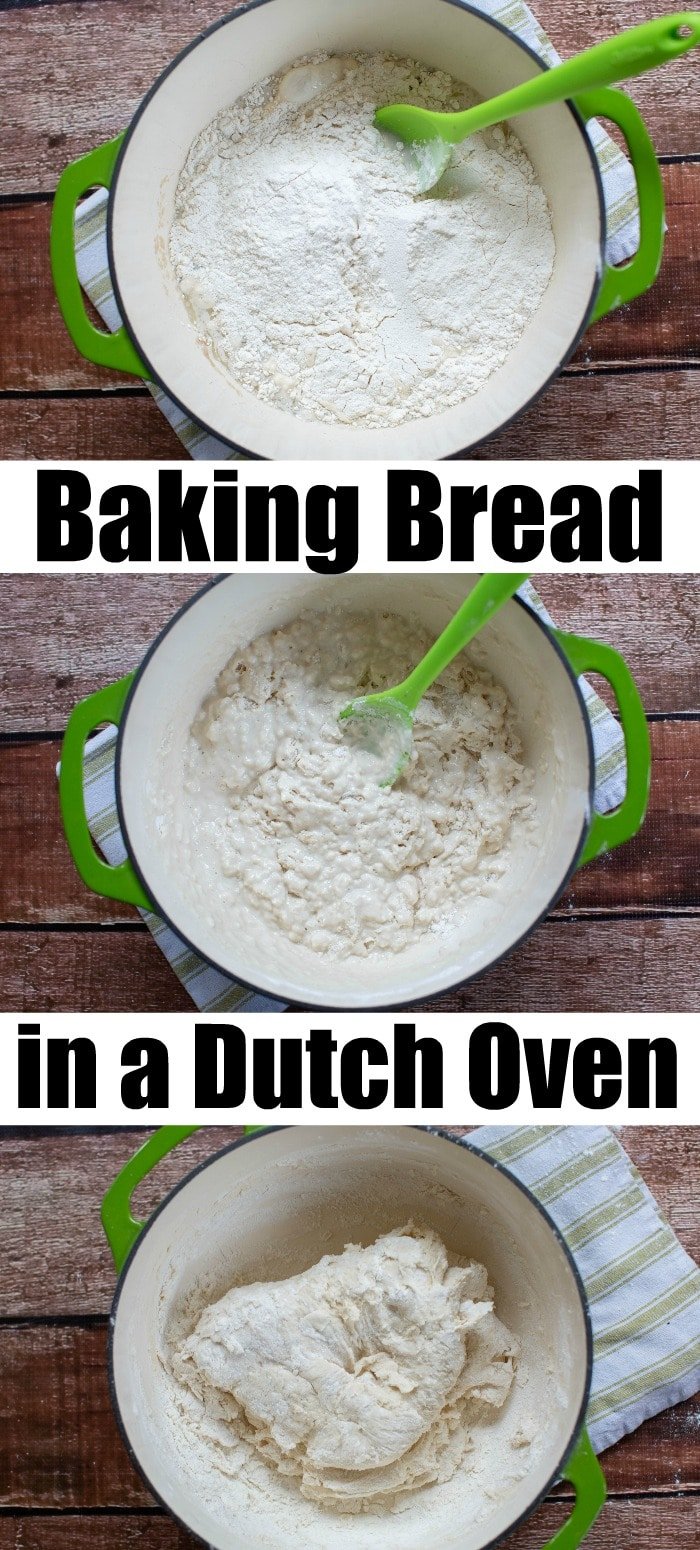 That is right! Don't bother with dirtying another bowl to mix your ingredients, just stir them together right inside of your pot. NO need for plastic wrap for it to rise and double in size either. Just use your lid y'all!
Homemade bread in a Dutch oven
All purpose flour
Water

warm and room temperature

Vegetable oil
Salt and yeast
Wooden spoon
Work surface such as a cutting board to knead your bread dough
Baking in a Dutch oven
First you'll want to combine the active dry yeast with 1/4 c. water and sugar. Stir together and set aside for a good 10 minutes so it begins to froth.
On the stovetop warm your milk. Once it is frothy in your pot, pour this and your last cup of warm water in.
Pour in vegetable oil and salt, stir together.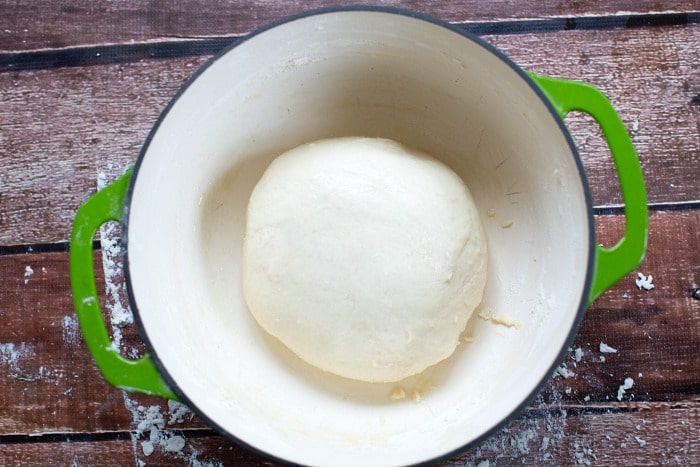 Add 2 cups of your flour into the pot and stir.
Continue to add flour one more cup at a time until bread dough sticks together in a ball.
Carefully remove from pot and knead dough 10-12 times on lightly floured surface, then leave undisturbed for 10 minutes.
Continue to knead for 5 minutes until it is smooth and elastic in texture.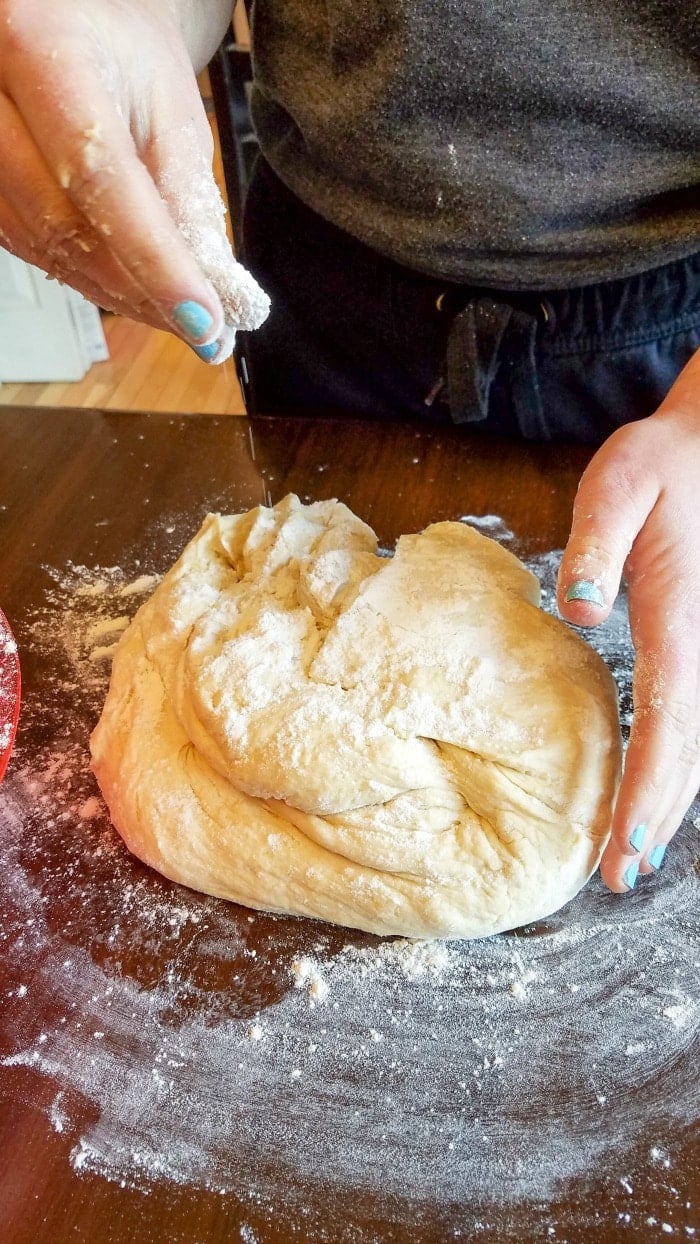 Pour a small amount of oil into your pot and place ball of dough in the center.
Put lid on and allow dough to rise covered for 60-90 minutes or until it has doubled in size.
Lift lid once it's doubled, punch dough in the center, form into a ball again and close lid for another 30 minutes to rise for a second time.
Now it is time to preheat your oven to 425 degrees.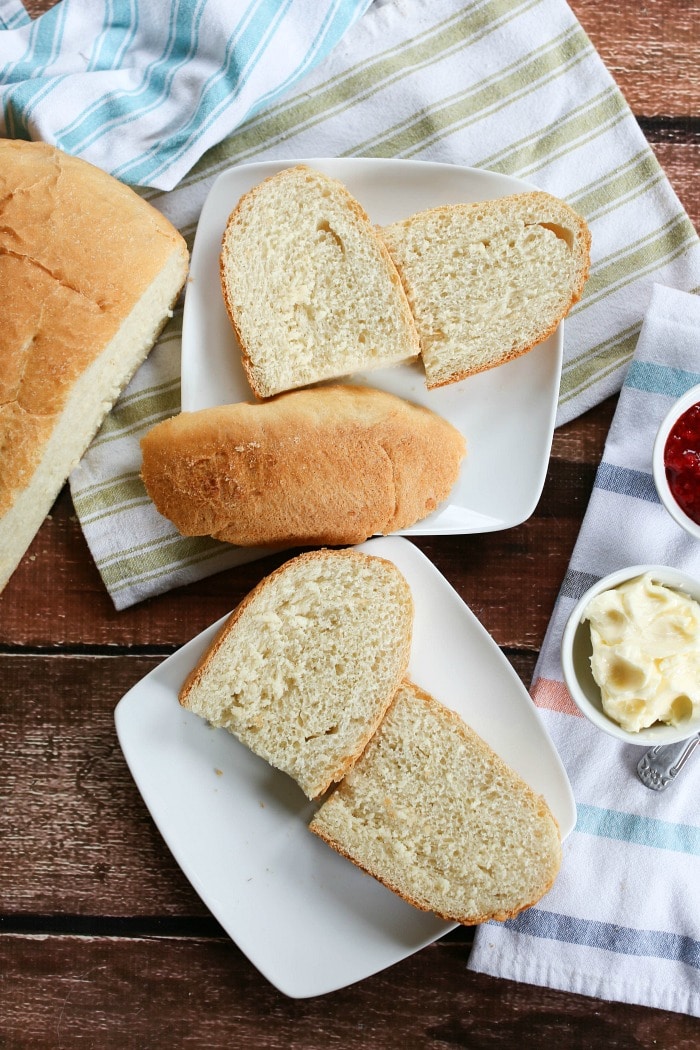 Place dutch oven bread into your oven and bake at this temperature for 15 minutes. Then lower temp. to 375 and continue baking for 30 minutes longer. (baking times may vary due to altitude)
Remove loaf, place on cooling rack and do not slice until it is fully cooled.
Once you take a bite you won't have to ask are Dutch ovens worth it? You will agree that for this and making Dutch oven stew and Dutch oven corned beef and cabbage they rock!
Yes it will take longer than 20 minutes like in your pressure cooker but many times low and slow is the way to deliciousness.
Looking for other delicious and homemade bread recipes? Try our air fryer bread too.
Want to see a few of my favorite things that I am totally obsessed with or visit my Etsy shop?? Take a peek and see how many you might already have…twinsies!
Looking for more easy family recipes and tips? LIKE The Typical Mom Facebook page?
Then sign up for my free newsletter, and follow me on Pinterest! 😉
***** If you LOVED this recipe give it 5 Stars below and let everyone know what you thought about it. 😉
Baking Bread in a Dutch Oven
Instructions
In your dutch oven, add 1/4 c. warm water, sugar and yeast. Stir and let sit for 10 minutes or until yeast becomes frothy.

While you're waiting for this to occur warm your milk on the stovetop in a pot. Once yeast is frothy pour this warm milk into your dutch oven with your cup of warm water.

Add vegetable oil and salt into dutch oven too and stir together.

Add 2 cups of your flour and mix together. Then add in remaining flour one cup at a time until it sticks together in a ball.

Remove dough, place on lightly floured surface and knead together 10-12 times. Let it sit undisturbed for 10 minutes.

Then knead again for 5 minutes or until it is smooth and elastic. Dough should bounce back when pressed with your fingers at this point..

Pour a small amount of oil into dutch oven. Rub top of dough into oil to grease inside of oven. Then place ito center and cover with your lid.

Let this dough rest for 60-90 minutes so the dough has doubled in size.

Lift lid, punch in center and form into a ball again. Set in center and cover again for second rise for 30 minutes.

Now heat your oven to 425 degrees.

After 30 minute rise put dutch oven into oven with lid on for 15 minutes.

Then lower heat to 375 degrees and bake for 30 more minutes.

Remove from oven, allow to cool completely on cooling rack before slicing.
Nutrition Facts
Baking Bread in a Dutch Oven
Amount Per Serving (2 oz)
Calories 43
Calories from Fat 27
% Daily Value*
Fat 3g5%
Cholesterol 2mg1%
Sodium 404mg18%
Potassium 36mg1%
Carbohydrates 3g1%
Protein 1g2%
Vitamin A 33IU1%
Calcium 26mg3%
Iron 1mg6%
* Percent Daily Values are based on a 2000 calorie diet.