This easy Dutch Oven stew is hearty & will bring you back to your childhood! Packed with tender beef and vegetables it's the perfect dinner or camping meal.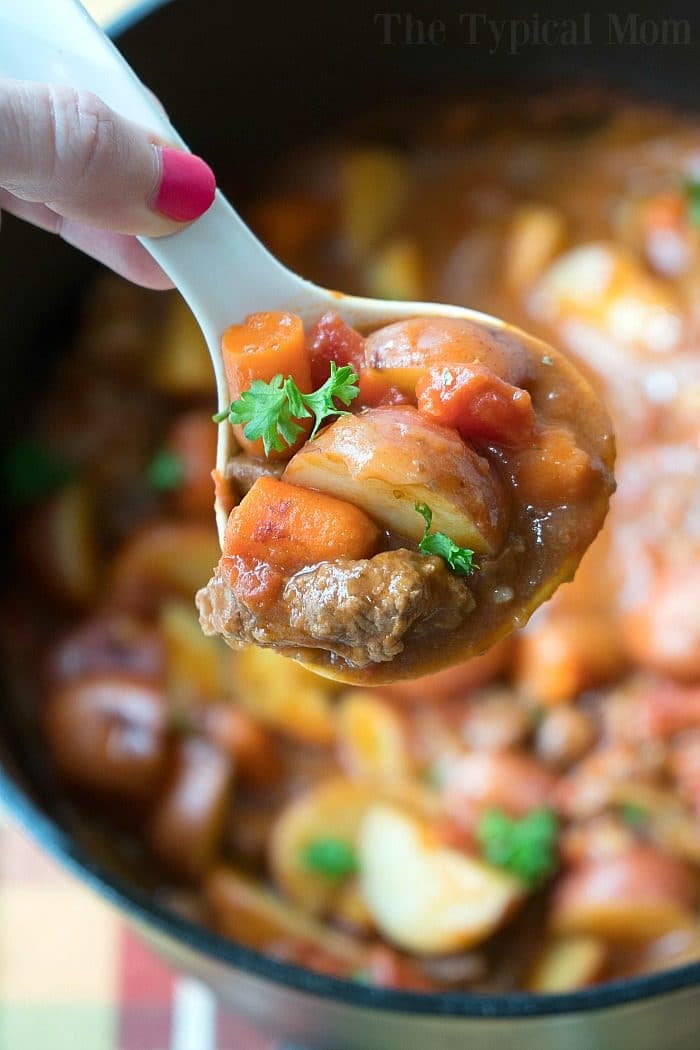 I was new to the whole idea of a dutch oven but saw one on a cooking show and was intrigued. I LOVE my cast iron skillet so a cast iron pot had to be amazing. The first few things were amazing so I tried dutch oven stew tonight and it was a huge hit!! Definitely one of our favorite dutch oven recipes. (originally published 11/17)
The first recipe I made in it was this dutch oven whole chicken and seriously that is probably the moistest chicken ever packed with flavor (even the vegetables were more delicious than in a regular pan).
So why a cast iron dutch oven??
Cast iron in general cooks or bakes everything more evenly than a pan that has hot spots, and it maintains great flavors the more you use it.
You see you don't want to scrub scrub this pan or pot. You merely rinse it off and over the years it becomes "seasoned" as they say.
My pan was my husband's grandmothers and it still looks great (as opposed to my Teflon pans that are totally shot after a few years).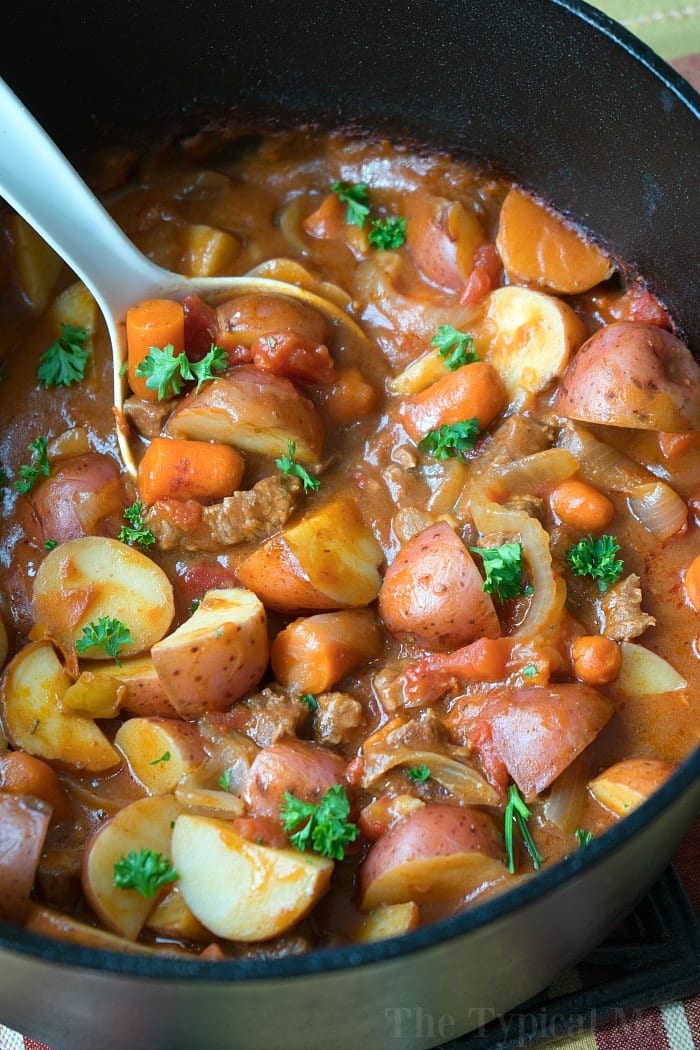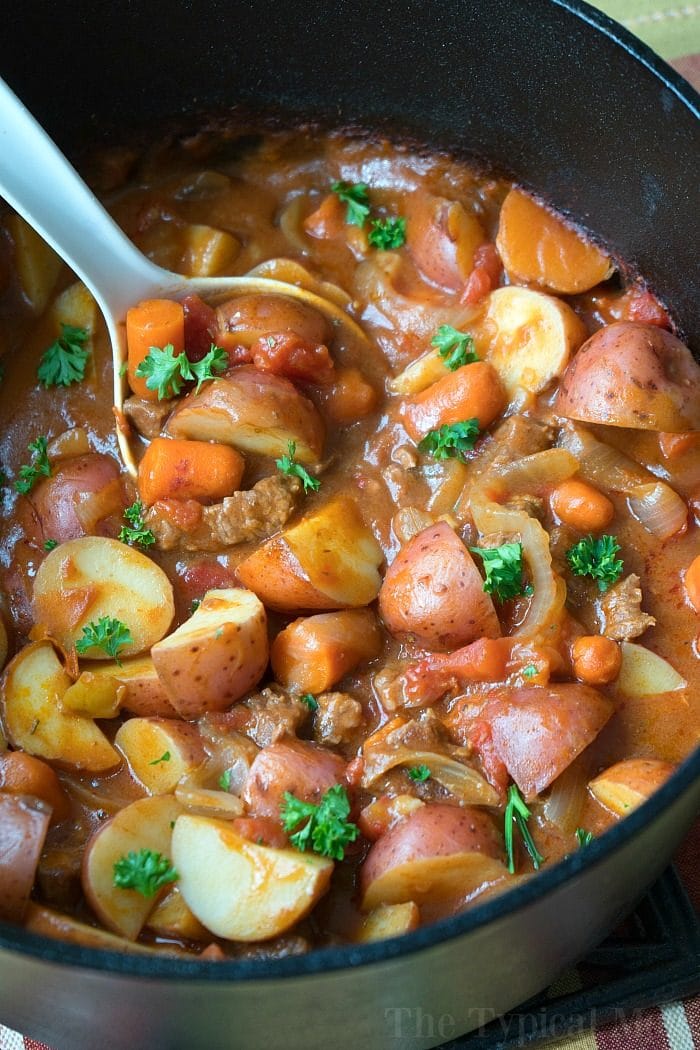 If you're around my age (40ish) you surely had stew growing up, beef stew is most common. Crockpots were big "back in the day" and I remember many many stew dinners cooked in that. That was good but seriously this dutch oven beef stew is WAY better!!
It is super easy to throw it in your cast iron pot too!
You literally throw everything in except the potatoes and mushrooms if you choose to add those. Then add them halfway thru. Stir and serve!
No need to thicken the sauce at the end. It is plenty thick and hearty when you take the lid off at the end of 3 hours total.
Throw in some rolls and voila, you've got yourself the perfect comfort food ever!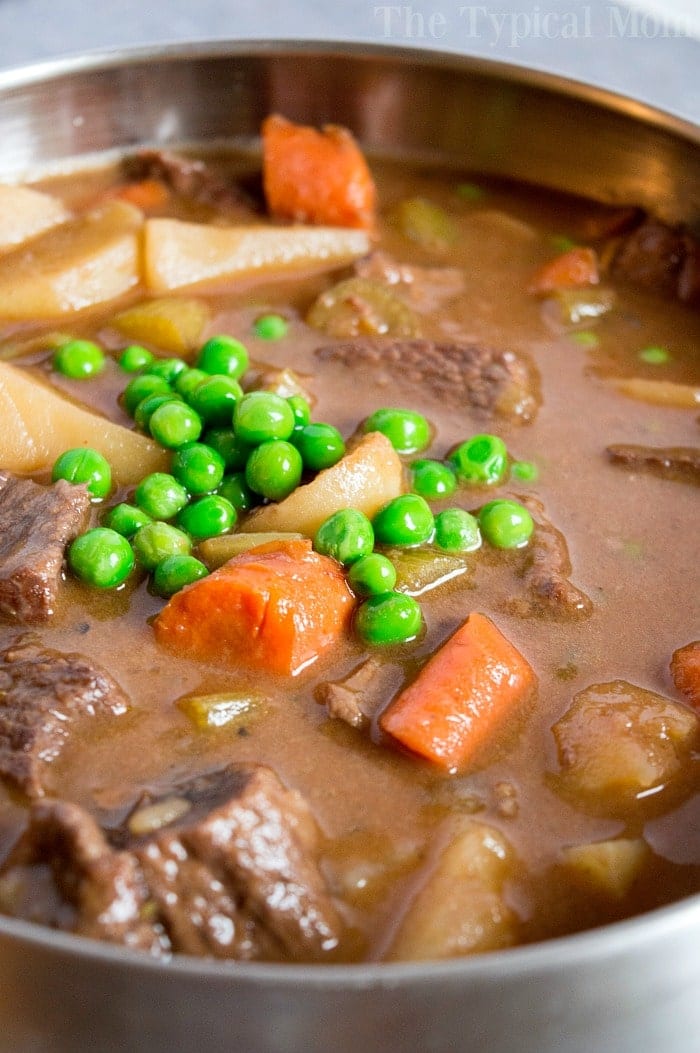 Here's what you'll need to make this dutch oven stew
Dutch oven – this is the one I have
Stew meat
Small red potatoes – I buy the bag of baby ones that is about 1.5 lbs. at the store, quarter them, and use the whole thing
Carrots – buy the mini snackable ones and just halve them
Flour – as a thickener
Diced tomatoes – I like the petite version
Tomato sauce
Onion
Spices – I gently season and then add a bit of salt when served because everyone is different
Can I use chuck roast for stew meat?
If you use an already tender cut cut of beef, it will dry out and get tough as the stew cooks. It's actually best to go with a tougher variety. The best beef stew meat is a boneless chuck roast.
It doesn't dry out, and offers up all the rich flavor you want in a beef stew
What is also great about dutch oven recipes is that you can use the pot when you're camping!!
You can also make this Crock pot slow cooked stew we love to make at home. If you want a shorter cook time, you can follow this Instant Pot beef tips version that is heavy on the protein, or pressure cooker stew here.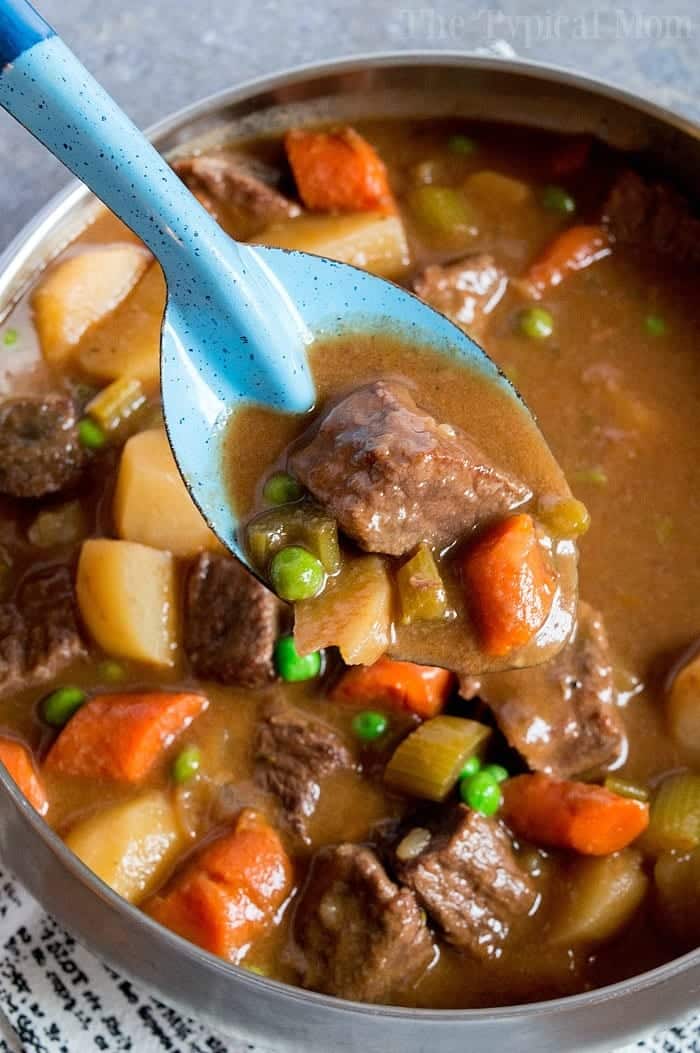 To thin any of these out you can add some beef broth or chicken broth. 1/2 cup of red wine can also be used for bolder flavors.
For more easy recipes, tips and free printables please LIKE The Typical Mom on Facebook and follow me on Pinterest!
You can also sign up for my free weekly newsletter which is packed with goodies I know you'll love. 😉
Dutch Oven Stew
This easy Dutch Oven stew is hearty & will bring you back to your childhood! Packed with tender beef and vegetables it's the perfect dinner or camping meal.
Instructions
Put stew meat inside your dutch oven with onions, carrots, salt, oregano, w. sauce, and diced tomatoes.

Pour beef broth on top ensuring all beef is covered and most veggies too, add a bit more than 12 oz. if you are adding more ingredients.

Whisk together your flour and tomato sauce in a small bowl and pour it on top of your mixture in the dutch oven, stir until combined and coated.

Put lid on and put into your oven at 350 degrees for 90 minutes.

Take out, add quartered potatoes and mushrooms if you're adding those.

Recover and cook an additional 90 minutes.
Nutrition Facts
Dutch Oven Stew
Amount Per Serving (6 oz)
Calories 276
Calories from Fat 54
% Daily Value*
Fat 6g9%
Cholesterol 58mg19%
Sodium 1144mg50%
Potassium 1050mg30%
Carbohydrates 29g10%
Protein 25g50%
Vitamin A 5405IU108%
Vitamin C 19mg23%
Calcium 58mg6%
Iron 4.3mg24%
* Percent Daily Values are based on a 2000 calorie diet.