This dutch oven ham needs to go on your list of the best dutch oven recipes this year! With a honey glaze it is perfect for Christmas or Easter dinner.
If you're looking for some easy dutch oven recipes this dutch oven ham is perfect for the holidays or year round. There's no real basting required as it is enclosed in your cast iron pot and absorbs all the sweet sauce as it bakes. Once it's done and resting ready to be sliced, you can make the most amazing honey ham glaze too. This just takes about 10 minutes using the liquid out of your pot. Then you're ready to serve! (participant in the amazon program, affiliate links present)
We have made this two different ways. One with the ham not sliced as you see below, and the second is above sliced. Overall it came out better when sliced. Whether you buy a spiral sliced ham in the store or slice it yourself (what I did) it cooks more evenly if it isn't in 1 big chunk.
Stay tuned for the best way to cook a ham this year.
This is what you'll need to make a delicious dutch oven ham this year
A dutch oven – this is the one I have, it's 7 qt.
Ham – I used a pre smoked, refrigerated, quartered ham that was about 4 lbs.
Onion – because I add onions to everything, your choice
Brown sugar
Pineapple juice – I use about half of one of these cans, you can use orange juice if you'd rather
Honey
A small bowl to whisk the ham glaze together.
You will use the last 3 items on the list to make your ham glaze at the end. It comes out amazing using just these things.
Choosing a ham
Keep the size of your dutch oven in mind when choosing a ham to bake

My 7 qt. comfortably fit a quartered ham
If you don't find the size you want ask your butcher. They may have more in the back or be able to cut a half ham in half.

Decide whether you want a smoked or a pre cooked traditional ham. Both will be in the refrigerated section in the meat department of your local grocery. Both will be pre-cooked.

Smoked will have a smokier flavor already. The outside will be a darker color and already be a bit tougher from the smoking process.
Traditional ham is fully cooked when you buy it in U.S. stores. It is lighter in color. They seem to absorb the liquid/glaze a bit more because the outside doesn't have a crust like smoked hams do.

Choosing a pre-sliced ham or uncut like we have here

A spiral ham will cook faster as it is already cut thin. The heat can reach into the middle of the ham easier.
A ham that isn't sliced will take a bit longer. There will be a much bigger difference in how done the outside pieces are vs. the middle.
In my experiences I think I prefer a spiral ham or pre-slicing your ham.
I will note that I have NEVER cooked or baked a ham that wasn't already pre-cooked. I've never even seen that as an option in the stores I've frequented.
Follow the guidelines below when it comes to accurate cook times. If you do purchase an raw ham you definitely need to be very careful when it comes to the internal temperature.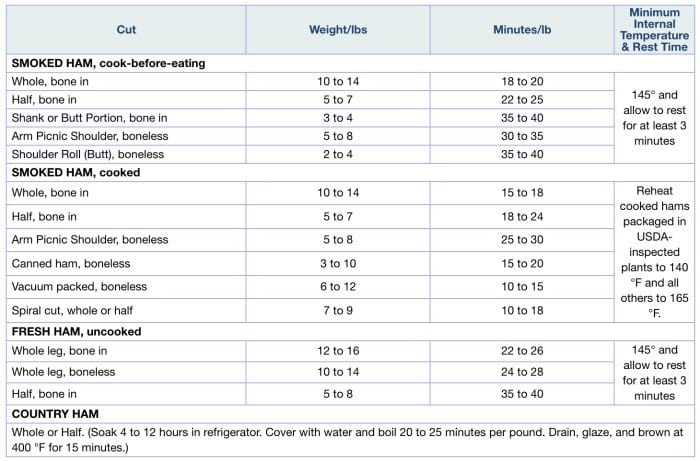 It is always very important to know the proper ham internal temperature
Cook time will depend on what cut you're using. Previously smoked, or pre cooked hams also have a bit different timings. The last slight variation is whether you're cooking a boneless ham or bone in ham. Typically 18 minutes per pound is accurate and works well for us.
Just make sure the internal temperature is 145 degrees in the middle. Take this after removing from the oven to get an accurate read.
Here is a screenshot of the ham cook time chart directly from the USDA to ensure the internal temperature of your ham is safe and the range of cook times for the type of ham you've chosen.
Ours is based on a smoked ham, bone-in and sliced. Cook time of 18 minutes of cooking per lb. was perfection!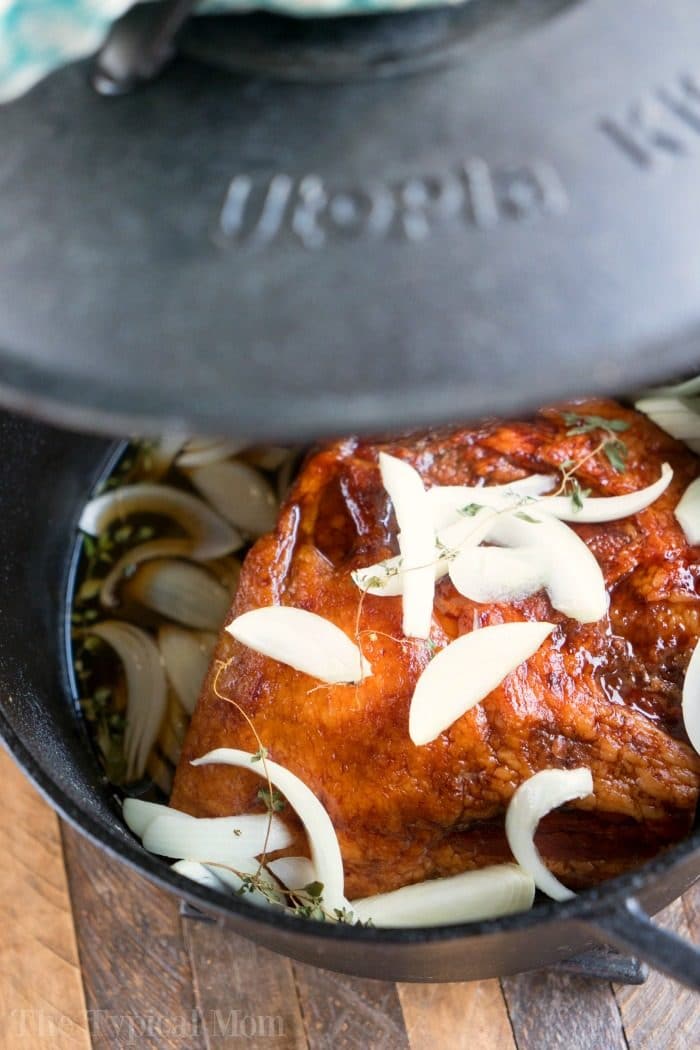 Cooking a dutch oven ham is really no different than baking in a pan in the oven. BUT it turns out a lot more moist.
The edges of each slice are wonderfully slightly crispy. The sweet sauce you pour on top makes the entire ham so flavorful too.
Our ham actually came from an entire pig we bought from a local farmer. The butcher didn't cut our quartered hams. I have cooked them both ways. If left alone, unsliced the middle section isn't nearly warm enough once the outside pieces are done.
I would highly suggest that you use a sliced ham, or slice it yourself before placing inside your dutch oven.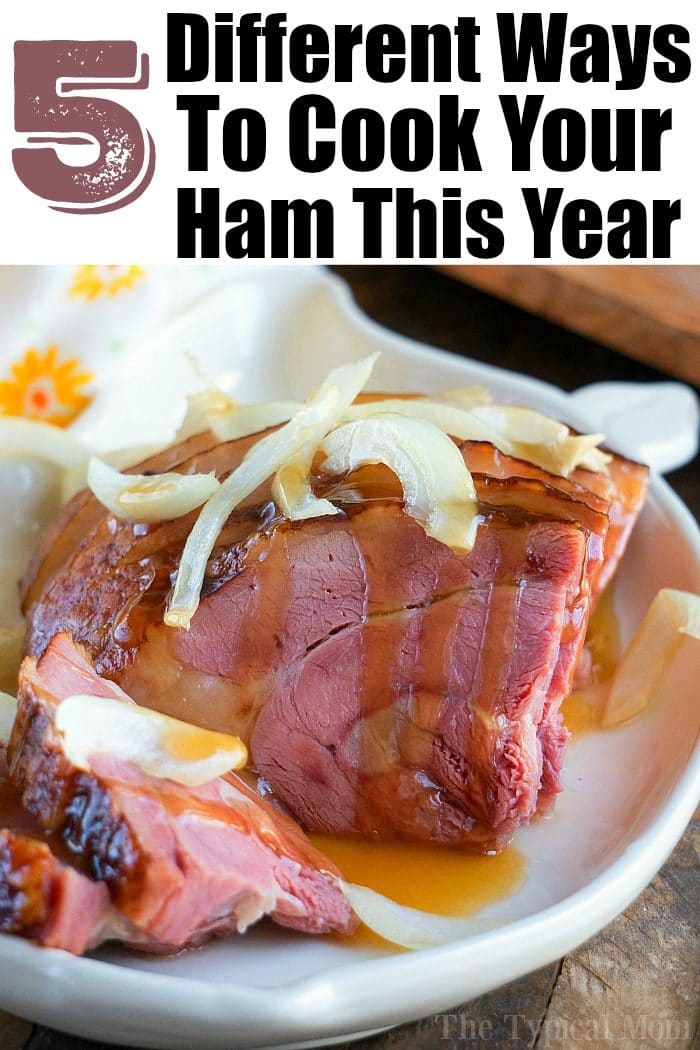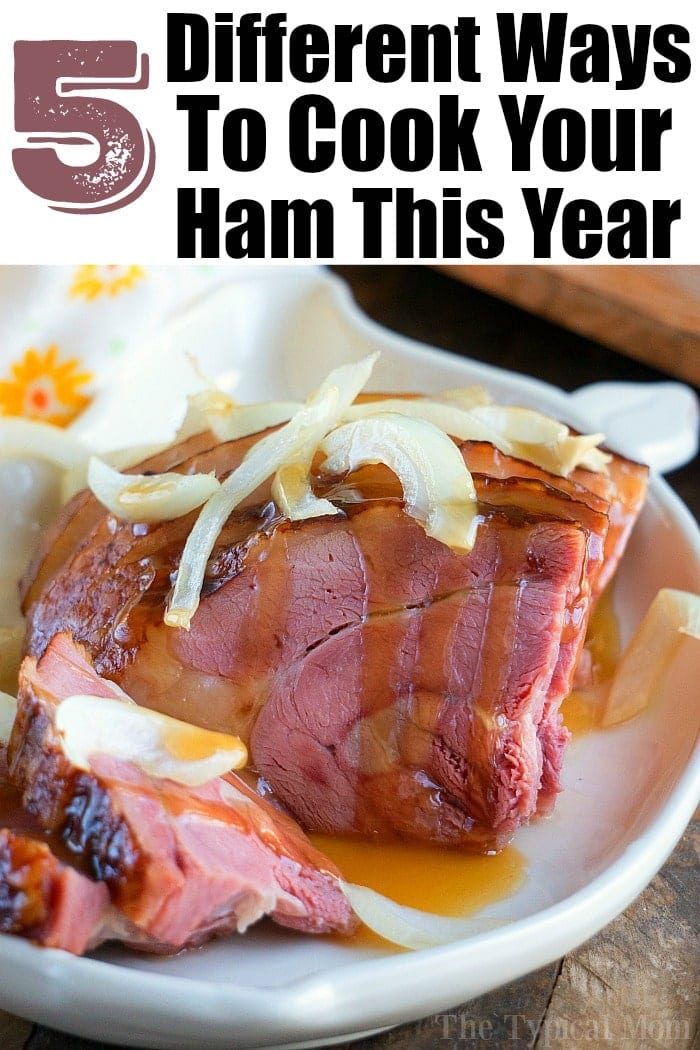 If you're looking for how to cook a fully cooked ham differently this year. Here are 5 other ways other than making this dutch oven ham method.
Of course the best way to bake a ham includes the best baked ham glaze which we've used here with pineapple juice instead of fresh orange juice, but either option is wonderful.
Looking for the best leftover ham recipes, here are a few
When you're done enjoying your dutch oven ham, you should try our dutch oven whole chicken recipe. Then take a peek at our cast iron skillet care post regarding how to clean your dutch oven etc…
Now go ahead and preheat your oven to 350 degrees!
Here's how to cook dutch oven ham: And make Dutch Oven bread to serve on the side.
Dutch Oven Ham
This dutch oven ham needs to go on your list of the best dutch oven recipes this year, and with a honey glaze it is perfect for Christmas or Easter dinner.
Ingredients
1

quarter

ham

boneless, pre-cooked or smoked, refrigerated - ours was about 4 lbs.

1/2

c

pineapple juice

or fresh orange juice

1

c

brown sugar

1/2

c

honey

1/4

c

water

cold

3

tbsp

cornstarch

1

onion

sliced

4

sprigs

fresh thyme

4-5

whole cloves

optional
Instructions
Preheat your oven to 350 degrees. Place your boneless, sliced, quartered, pre cooked/smoked ham cut side down into your dutch oven.

Slice your onion and sprinkle into pot. Push whole cloves into your ham if you want to add these for flavor.

Whisk together your brown sugar, pineapple juice, and honey well and pour this on top of your ham.

Lay fresh sprigs of thyme on top and around ham.

Put lid on and put into oven. Bake a smoked ham for 15 minutes per pound approximately or until internal temp. taken in the middle of your ham reaches 145 degrees. (refer to cook time chart in post, time depends on type of ham you have). Baste half way through if you're able.

Take ham out and put on to a cutting board, allow it to rest while you are making ham glaze.

Take out and discard sprigs of thyme. Take onions out and put into a bowl to serve on the side.

Put dutch oven on your stovetop on medium heat (or pour liquid into a small pot if you'd rather). In a small bowl combine 1/4 c. cold water and 3 tbsp of cornstarch. Whisk together.

Once ham liquid bubbles consistently, pour your cornstarch mixture into the pot and stir.

Continue to stir as it thickens (won't take much longer than a minute or so to reach a thick consistency once it's continually bubbling). Remove from heat and pour into a gravy boat to serve on the table and pour on top of ham slices.

Slice your ham if it isn't already and serve along side ham glaze and onions.
Nutrition Facts
Dutch Oven Ham
Amount Per Serving (3 oz)
Calories 155
% Daily Value*
Sodium 9mg0%
Potassium 69mg2%
Carbohydrates 40g13%
Vitamin A 20IU0%
Vitamin C 2.7mg3%
Calcium 25mg3%
Iron 0.4mg2%
* Percent Daily Values are based on a 2000 calorie diet.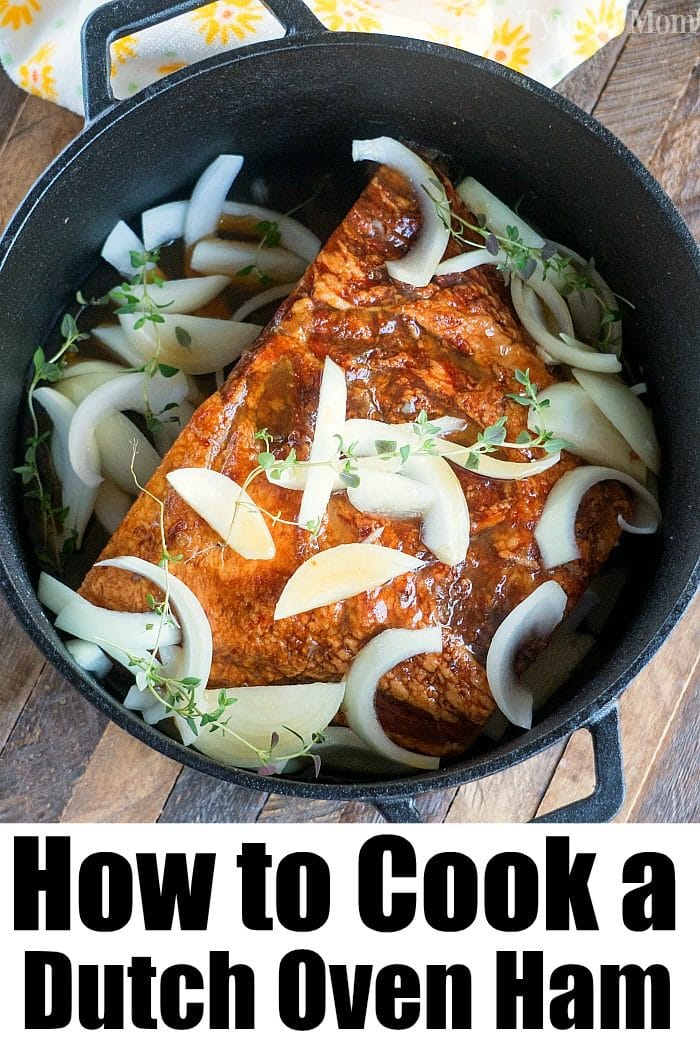 For more easy recipes, tips and free printables please LIKE The Typical Mom on Facebook and follow me on Pinterest! You can also sign up for my free weekly newsletter which is packed with goodies I know you'll love. 😉