Here is an easy slow cooker split pea soup with ham recipe that is so easy to make. Inexpensive slow cooker dinner when it's cold outside and year round. Perfect leftover ham recipe too after the holidays.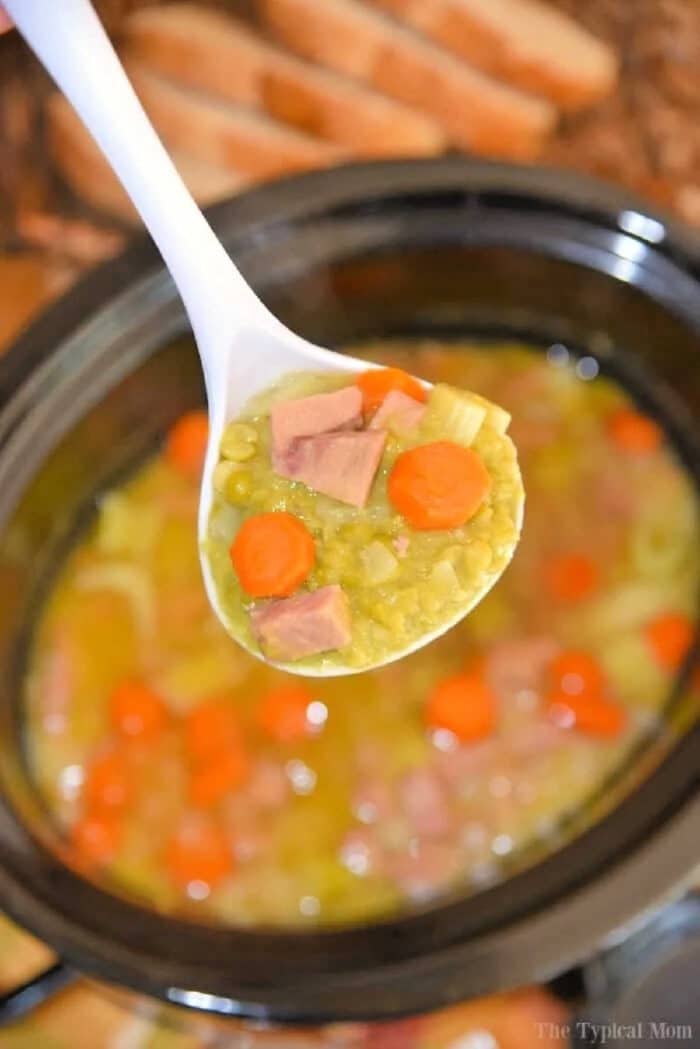 Once again I was looking for another meal to make with my leftover ham. I hadn't tried crockpot split pea soup before but figured it couldn't be that hard. It came out amazing! Here's one of our favorite easy easy crockpot recipes. (originally published 2/17, affiliate links present)
Slow Cooker Split Pea Soup with Ham
Honestly I had never used dried beans for anything so this was really a new experience. Seemed to me that it would take lot of work and time to start from scratch like this. I couldn't believe how well it turned out. After this I made all sorts of other creations with dried beans.
If you have a pressure cooker and want to make this FAST try our Instant Pot split pea soup. That takes about 17 minutes once it reaches pressure where this takes all day. What is nice about this one is you can throw it all in first thing in the morning and when you're home you just lift the lid!
FIRST – You should sign up for my free newsletter so you get new posts emailed to you twice a week and never miss out on anything! Let's talk a little bit about slow cooking shall we?? First off I have a few different varieties and I love them all. Each one has an occasion to be used like….
This is my favorite 6 quart programmable one with a locking lid so it's great for bringing to a potluck too.
If you just want to serve a few appetizers you should get this one that sit side by side one another.
I prefer not to use liners, but rather just spray olive oil inside before adding my food for easier cleanups.
Let me give you a peek of my pretty thang I bought recently. It goes with my kitchen so I can just leave it out on the countertop all the time. 😉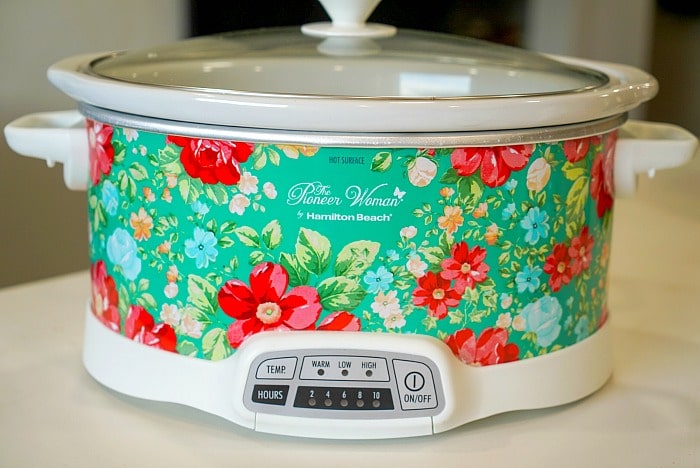 Thick Split Pea Soup Slow cooker
The dried peas I found in a barrel at our local organic market. I grabbed a few veggies in the produce section and that was literally all I needed. Most of the time I use leftover ham for something like this. Of course you could make it vegetarian too. I didn't have a ham bone so I diced the ham I had left over, about 2.5 cups.
During the year you can find smoked ham hocks really really cheap. They add a ton of flavor and throughout the day the meat on the outside will become really tender and just fall off. Then just scoop out the bones and discard those when you're ready to eat. 😉
A third idea is you can grab a small pork shank, those are great too. Lay in the bottom and the same thing will happen. The meat will just peel off after all the hours soaking, and you won't even need to add seasonings because the meat has enough.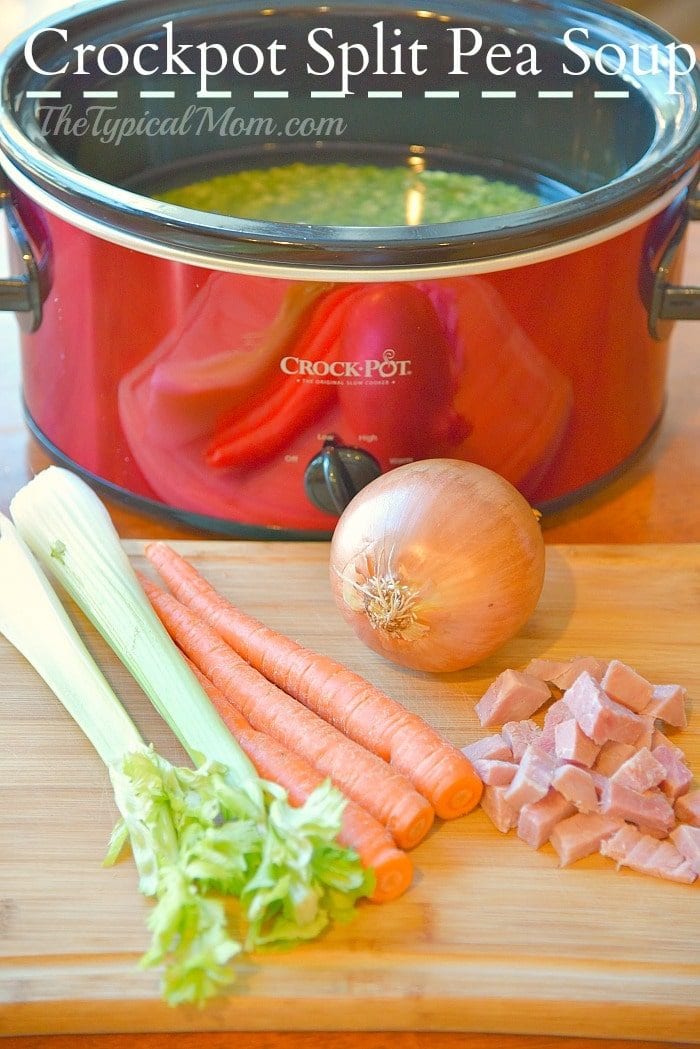 Slow Cooker Split Pea Soup with Ham and Potatoes
This crockpot split pea soup recipe is not only good and healthy but really inexpensive to make too! Seriously I only think I spent about $6, since I already had the meat.
Use whatever type of meat you want or can find in the meat dept for next to nothing. Precooked and diced ham can be purchased near the bacon which is also a great choice too. You'd want to brown that until just before it gets really crispy. Add a bit for flavor at the beginning with more as a topping.
Want to make it even heartier with a tweak? You can add a bag of diced frozen hashbrowns or cut up some yourself. I would recommend red or russets in small bits like breakfast potatoes size.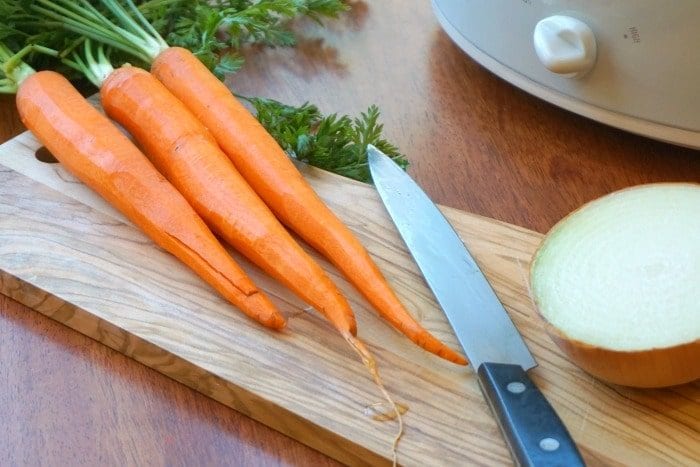 If you like it thick like you see in the picture at the top then just add 6 cups of vegetable broth or water. However, if you want a soupier consistency add 7 cups of water, like the picture at the bottom. Either way you make it, this is a hearty soup everyone loves.
Do split peas need to be soaked?
NO. I use them right out of the bag for our slow cooker and Instant Pot split pea recipe. Under high pressure or on low all day they soften nicely and create a smooth soup everyone loves.
Is split pea soup healthy?
Peas are a great source of fiber which can lower cholesterol. Of course if you're looking for a low fat version, omit bacon but ham is a great choice to add some protein to the meal.
How do you thicken split pea soup?
I have never needed to add anything. It becomes more thick as it cools and sits so keep that in mind. You could whisk together a bit of flour or cornstarch with 3 tsp. of water, and pour in to thicken.
If you have a pressure cooker we just added Instant Pot split pea soup recipe on our Instant Pot recipes tab for you to use too.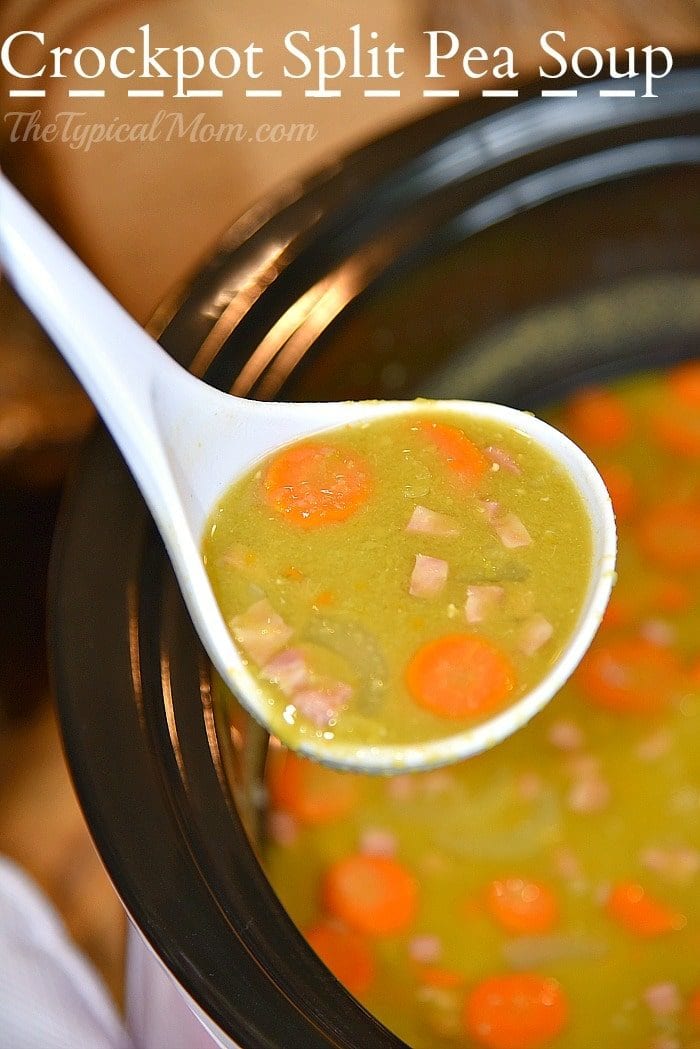 Crock pot split pea soup
Dry split peas
Vegetable broth – can use water but broth is so much better
Carrots and celery
Onion
Salt to taste
Leftover ham is great to add or a ham hock
Salt and pepper to taste
I love buying half a ham throughout the year though because we can get at least a weeks worth of meals out of it like our loaded baked potato soup we cooked this year, which makes it really cheap! I'd use my 6 qt. crockpot with a locking lid which is great especially if you're taking this to a potluck.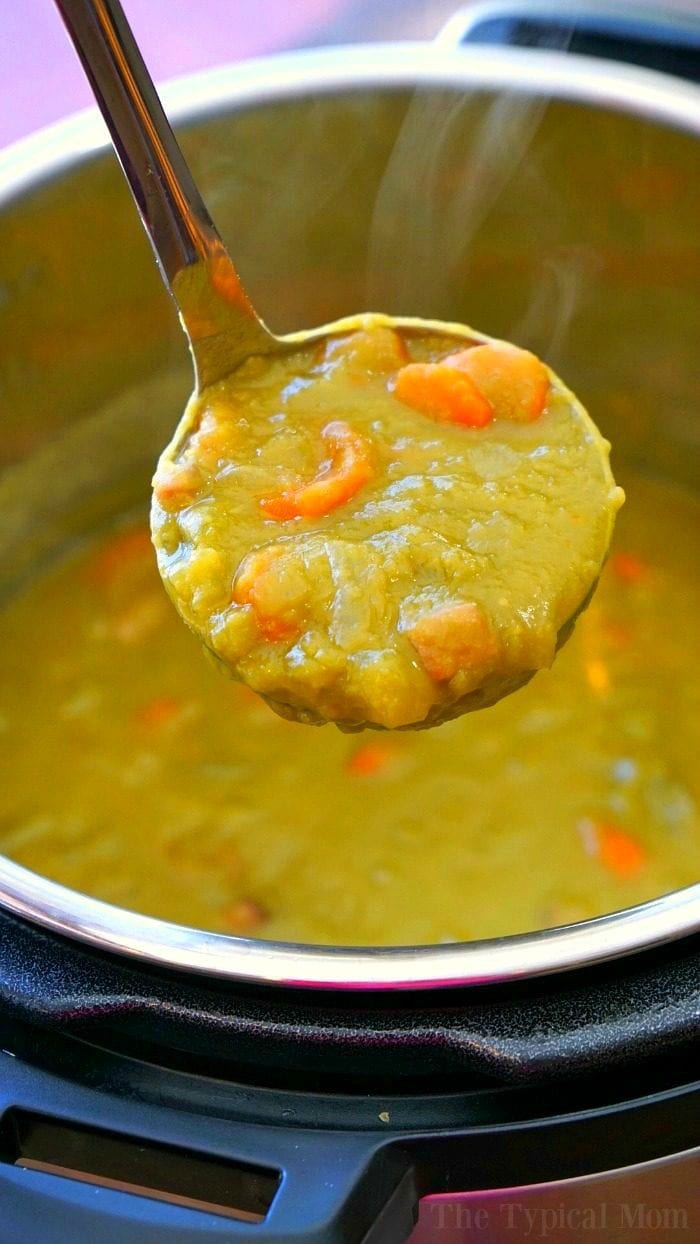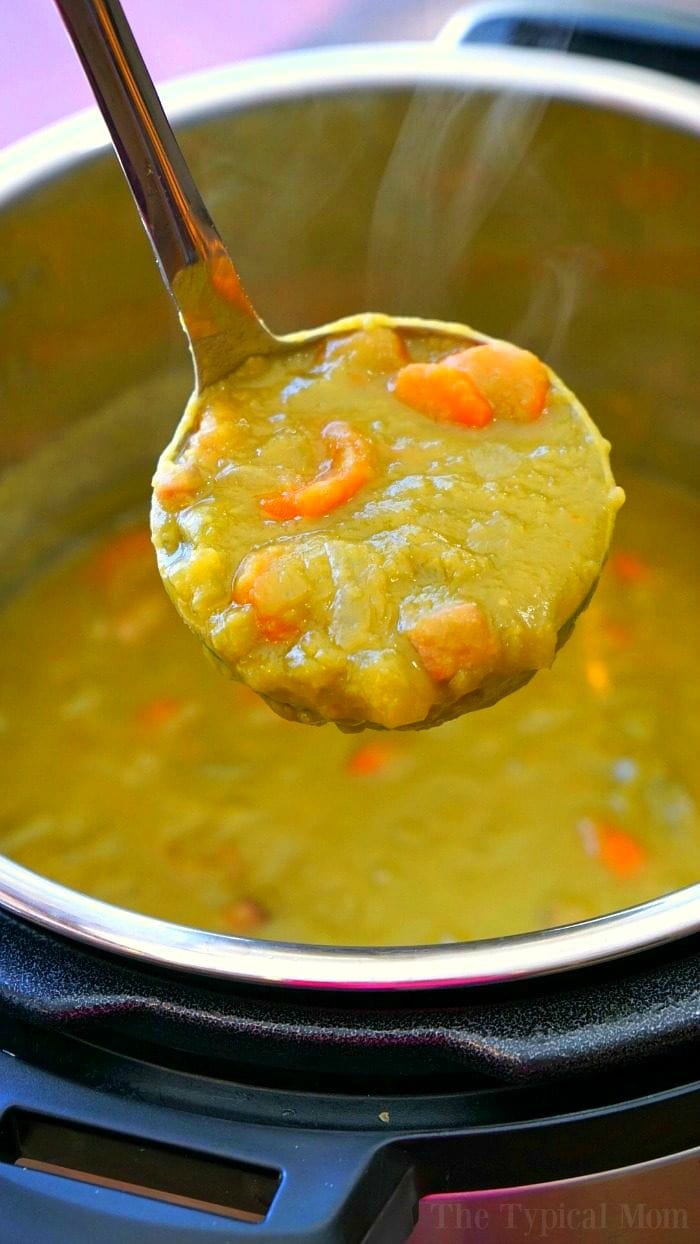 Old Fashioned Split Pea Soup Slow Cooker
I have exact ingredients in the printable recipe card below but here are quick step by step directions: Slice carrots, celery and onions. The larger the pieces the more firm they will stay. If they're sliced too thin they will disintegrate.
Dump your uncooked split peas, broth, vegetables into your Crockpot. Season with a bit of salt and pepper. Then add your ham hock to the center of the pot, or stir in already diced pieces.
Cover and cook soup on low heat for 8 hours cooking time until peas are tender. I do not recommend 4-6 hours on high as low and slow is the way to go for a perfect consistency.
If a ham bone is used, remove ham hock and use a knife to remove meat from outside. Dice and add into soup, discard bone.
Use ladle to serve in bowls. If you added bay leaves, remove and discard too.
If you do have leftovers it saves quite well. Always make sure it cools completely to room temperature before transferring it into a container. It will stay well for 3-4 days in the refrigerator until you're ready to reheat it. Reheat leftover soup in a microwave safe bowl. It will have thickened up so adds some broth.
Stir it in until it thins out a bit and become the consistency you want. Heat for 45 seconds and then stir. Again add another 45 seconds or so and stir again. Do this until it is as warmed as you'd like. It is nice to add some shredded cheese and bacon bits to the top too when enjoying again.
If you like these easy soup recipes you'll love these as well. Our Crockpot Italian wedding soup recipe is probably top on our list of favorites too. You can use frozen meatballs if you like but I do have instructions on how to make your own with raw sausage links.
Slow cooker split pea soup
And we have a lot of others too that you will love. Once the snow hits the ground around here I am all about soup with rolls on the side for dinnertime. I always like to use up the leftover meat I have from the night before so I kinda' go with that as far as what I add it into.
I have a video showing you how easy this split pea soup recipe is to make (I used water in the video but found broth is so much better). Use broth to thin it out once it is done or when you reheat your leftovers the next day. Add all the fun toppings you like when serving it up to your family.
Want to see a few of my favorite things that I am totally obsessed with?? Take a peek and see how many you might already have…twinsies!
Looking for more easy family recipes and tips? LIKE The Typical Mom Facebook page?
Then sign up for my free newsletter, and follow me on Pinterest! 😉
***** If you LOVED this recipe give it 5 Stars below and let everyone know what you thought about it. 😉
Slow Cooker Split Pea Soup with Ham
Slow cooker split pea soup with ham is so easy to make and a healthy slow cooker recipe you can make year round!
Instructions
Add dried peas and broth to slow cooker.

Cut veggies into med. sized sliced pieces and add to crockpot. Dice onion and add that as well as your salt too. (can salt at the end if you'd rather)

Put your ham hock in the middle (if you're using one), or sprinkle your diced ham pcs. into your pot.

Cover and let cook on low for about 8 hrs or until your peas are as soft as you'd like them. If using ham hock remove before eating and cut off meat, return to pot and stir into soup.

Add more broth to thin out if desired – will thicken as it sits as well as become thicker the next day if you have leftovers
Nutrition Facts
Slow Cooker Split Pea Soup with Ham
Amount Per Serving (6 oz)
Calories 288
Calories from Fat 54
% Daily Value*
Fat 6g9%
Cholesterol 21mg7%
Sodium 453mg20%
Potassium 737mg21%
Carbohydrates 36g12%
Protein 21g42%
Vitamin A 2675IU54%
Vitamin C 2.6mg3%
Calcium 49mg5%
Iron 2.9mg16%
* Percent Daily Values are based on a 2000 calorie diet.