This pressure cooker meatloaf and potatoes recipe shows you how to cook 2 different dishes in your Instant Pot at the same time! Pairing your favorite meatloaf recipe with russets or Yukon diced = dinner's never been easier.
Have you used these Instant Pot stackable pans yet??!! They're great when making this pressure cooker meatloaf and potatoes combo meal. Cooked together, but separately, they're perfect for those who don't like their foods to touch (my husband) or you want two different dishes cooked at the same time. Let me show you how this works! Special thanks goes out to Kitchen Deluxe for sponsoring this post so we could share this new recipe we added to our Instant Pot recipes roundup with all of you.
Ninja Foodi Meatloaf and Potatoes
You can use your Ninja Foodi to make this too. For that machine it is a bit easier though. You can use our recipe linked above and just put a cup of water with baked potatoes on the bottom as another option. It can pressure cook and/or air fry in the same pot.
Of course you have to start with the ingredients and get them prepared. I have this quick meatloaf recipe you can follow for that portion, or I have an egg free meatloaf recipe below too.
FIRST – You should sign up for my free newsletter so you get new posts emailed to you twice a week and never miss out on anything! Now let's start with a few basic tips:
Make sure to Bookmark our InstaPot recipes page. We add new ones each week!
Then PRINT this —–> Instant Pot cooking times cheat sheet that will help you understand how long meat, vegetables and beans take to cook in your pressure cooker.
For reference, this is the pressure cooker I have (a 6 quart) and use for all recipe creations.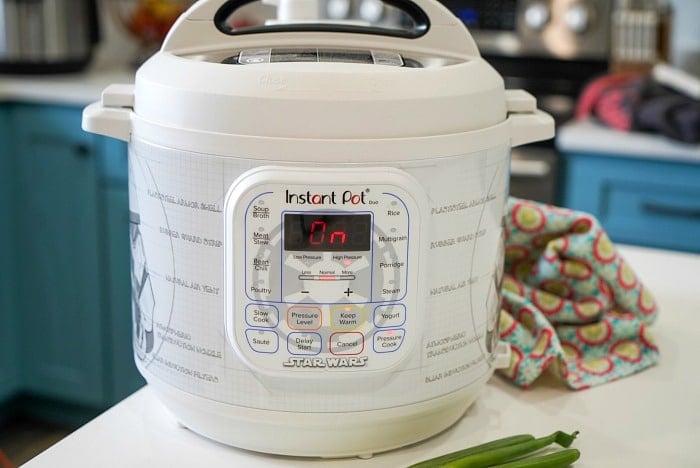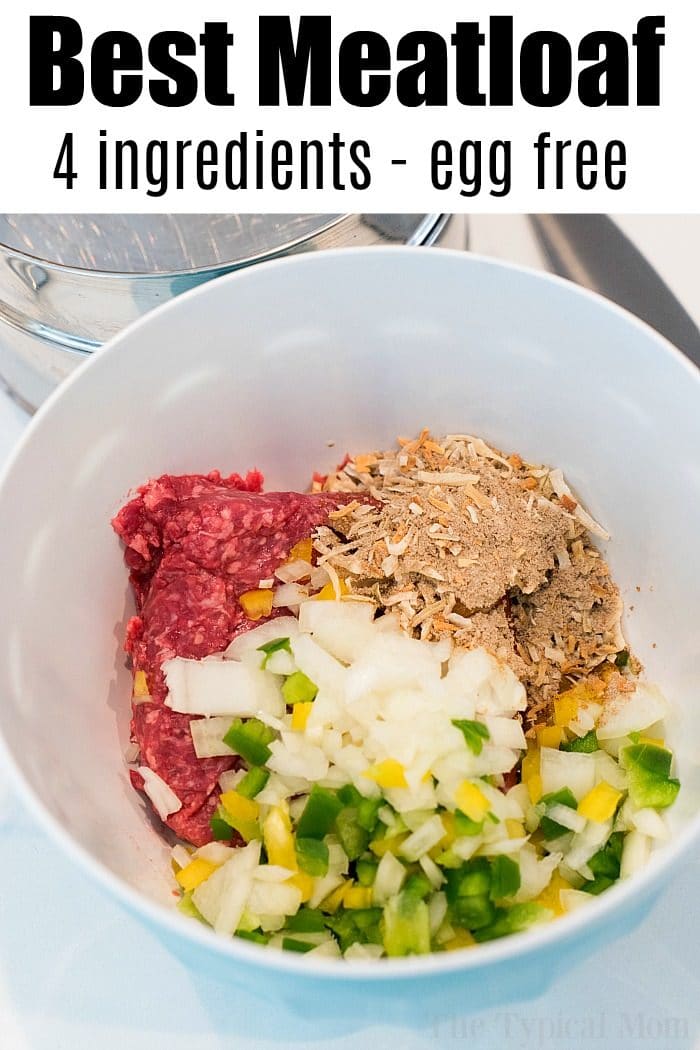 Instant Pot Meatloaf and Potatoes
You can use any brand of pot you might have at home. The Crockpot Express works just as well as any other brand. Either way you can't go wrong….in my house even my kids love good ol' fashioned meatloaf for dinner! This is what ours looks like below….. Then we get to the potatoes, here are my tips when preparing Instant Pot potatoes for this duo
Choose potatoes with lighter/thinner skins – if you're leaving the skins on that is

It will allow the skins to soften quicker so they get done at the same time as your meatloaf

Dice your potatoes up small

If the pieces are cut too large they won't cook all the way through
Almost as small as your diced bell peppers is a good size
For a baby new potato (which I used) I cut each one into about 15-20 pcs.

Make sure each piece is coated with the olive oil and seasoning you'll add so they're all tasty when done
Tip for getting your meatloaf to be cooked through is to make a patty and press down so it's as thin as possible. Use the entire inside of the pan to fill it with your meat so it's the same thickness all the way across and fills inside of the top pan.
Here are both stackable pans once I've loaded them up and ready to stack and secure them together.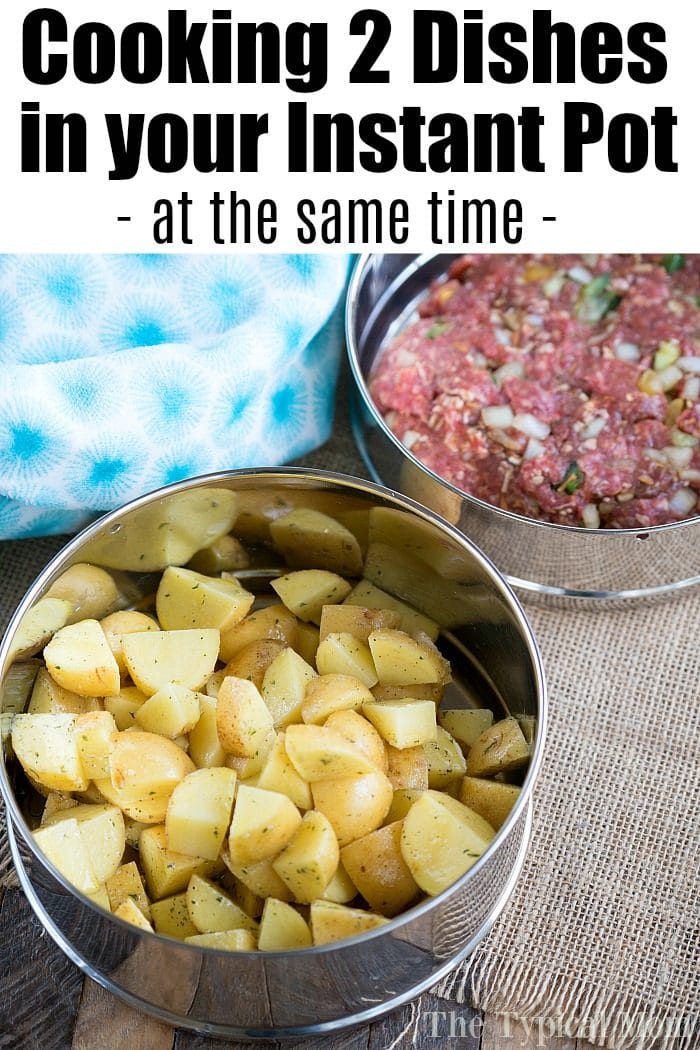 As you see at the bottom of this photo there is a piece for your Instant Pot steamer insert pans that easily secures the two pans together once the top is put on so they remain together and don't allow water into either one.
Whether you have a 6 or 8 qt. Instant Pot it doesn't matter, these pressure cooker stackable pans will fit inside either one. The water you add essentially steams the ingredients inside each pot but keeps them separate which is nice because in this case I wouldn't want the run off fat from the meat to submerge my potatoes.
Pressure cooker meatloaf mashed potatoes
This isn't the only thing you can make with these stackable pans
Instant Pot fish and vegetables
Meatloaf and vegetables
Vegetables and rice
Diced potatoes and vegetables
Oatmeal and hard boiled eggs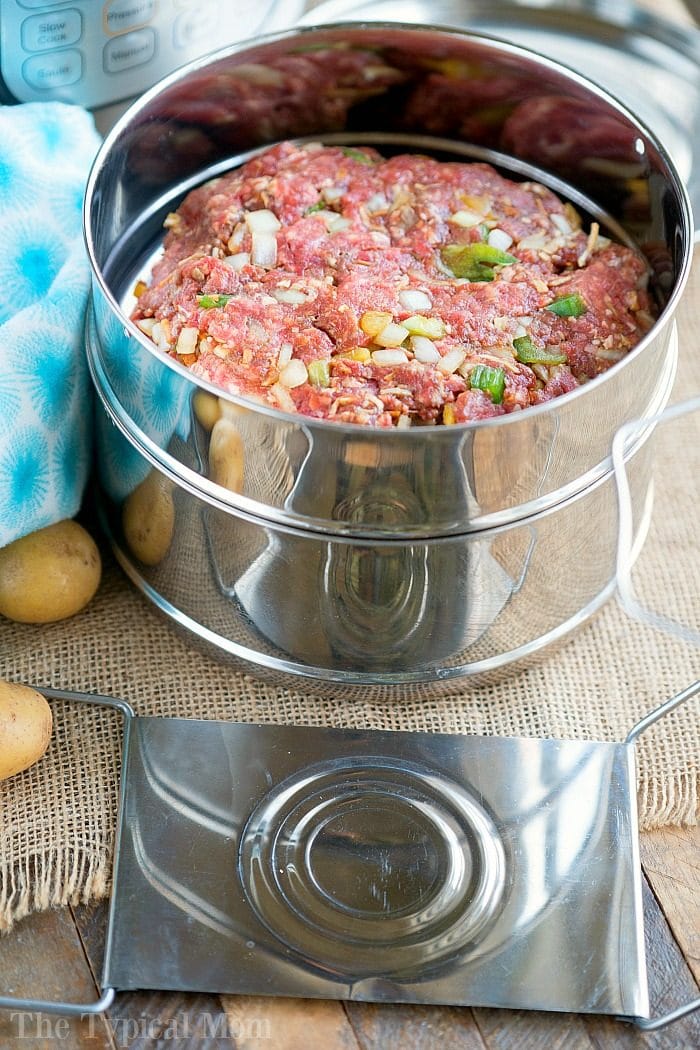 If you love a bit of crusty texture on the outside of your meatloaf like we do there's a simple way to do that too!
Remove meatloaf from stackable pan once it's been cooked
Set oven to broil
Put meatloaf on baking sheet (can put potatoes on too if you want to brown them)
Pour 1/2-3/4 c. barbecue sauce on top of meatloaf – optional
Broil for 3-4 minutes or until it is as brown as you'd like
Enjoy!!
Solution if potatoes aren't as soft as you'd like them
Remember to dice smaller next time you make this Instant Pot meatloaf and potatoes recipe
Put potatoes on a plate (similar to the one below)
Microwave for 1 minute to soften

Check, if you want them softer microwave again in 1 min. increments
Once soft enough you can add them to your baking sheet with your meatloaf if you'd like them a bit crisper.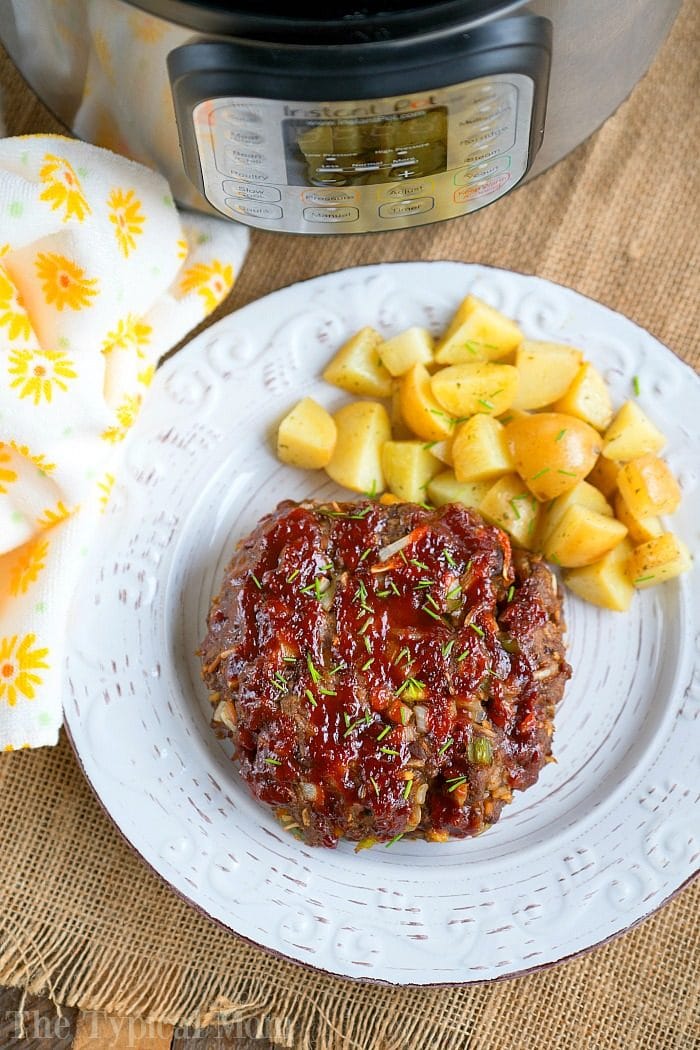 There you have it!! Two meals cooked at the same time in your Instant Pot has never been easier right….the possibilities are endless with these Instant Pot stackable pans!
What you need to make this pressure cooker meatloaf and potatoes meal
Ground beef – in case you forgot to thaw your meat here's how to defrost Instant Pot frozen ground beef first
Bell pepper
Onion
French onion soup mix packet
Small potatoes
Let us know which two items you cook after you try these dishes. Here's the printable and a video showing you how to use stackable pans and the recipe we made.
Want to see a few of my favorite things that I am totally obsessed with?? Take a peek and see how many you might already have…twinsies!
Looking for more easy family recipes and tips? LIKE The Typical Mom Facebook page?
Then sign up for my free newsletter, and follow me on Pinterest! 😉
***** If you LOVED this recipe give it 5 Stars below and let everyone know what you thought about it. 😉
Pressure Cooker Meatloaf and Potatoes
This pressure cooker meatloaf and potatoes recipe shows you how to cook 2 different dishes in your Instant Pot at the same time! Dinner's never been easier.
Instructions
Mix together your ground beef, diced bell peppers, onions and packet of dry french onion soup mix well. Form into a large meatloaf patty.

Wash and dice your small potatoes into small pieces (if they aren't small they won't cook all the way through). Toss together with olive oil and dry ranch dressing mix.

Pour potatoes into bottom of Instant Pot stackable pans, put top pot on and place meatloaf patty in that one (make as thin as possible to fill the entire pan so it cooks through).

Put the lid on and secure outside piece so it locks into place.

Pour 2 c. of water into your pressure cooker and lower your stackable pans into your pot.

Close your lid and steam valve. Set to high pressure for 25 minutes.

Allow to naturally release, remove pans.

Remove meatloaf and potatoes and serve or if you want to crisp up the top of the meatloaf (or both) set your oven to broil and put items on a baking sheet.

I like to pour 1/2 – 3/4 c. of barbecue sauce on top of the meatloaf and broil for about 4 minutes or until top is a bit crisp. Serve.
Video
Nutrition Facts
Pressure Cooker Meatloaf and Potatoes
Amount Per Serving (3 oz)
Calories 371
Calories from Fat 261
% Daily Value*
Fat 29g45%
Cholesterol 80mg27%
Sodium 360mg16%
Potassium 367mg10%
Carbohydrates 4g1%
Protein 19g38%
Vitamin A 465IU9%
Vitamin C 20.3mg25%
Calcium 24mg2%
Iron 2.3mg13%
* Percent Daily Values are based on a 2000 calorie diet.