This Instant Pot barley soup with ham is a tasty healthy dinner idea we all loved. Using uncooked barley and leftover ham we packed it with vegetables too.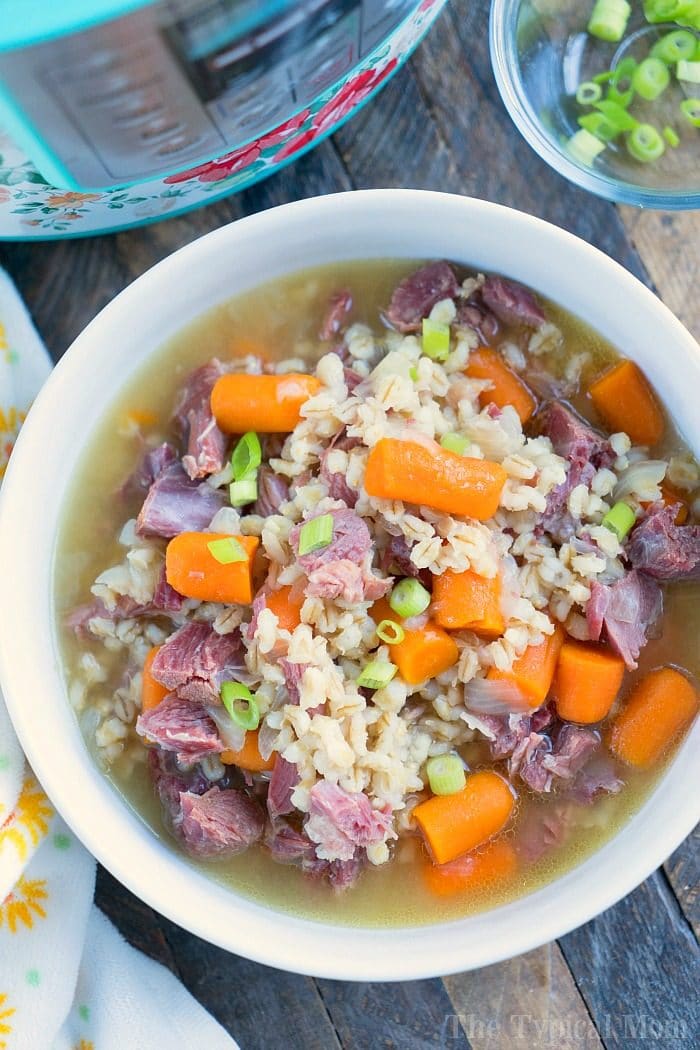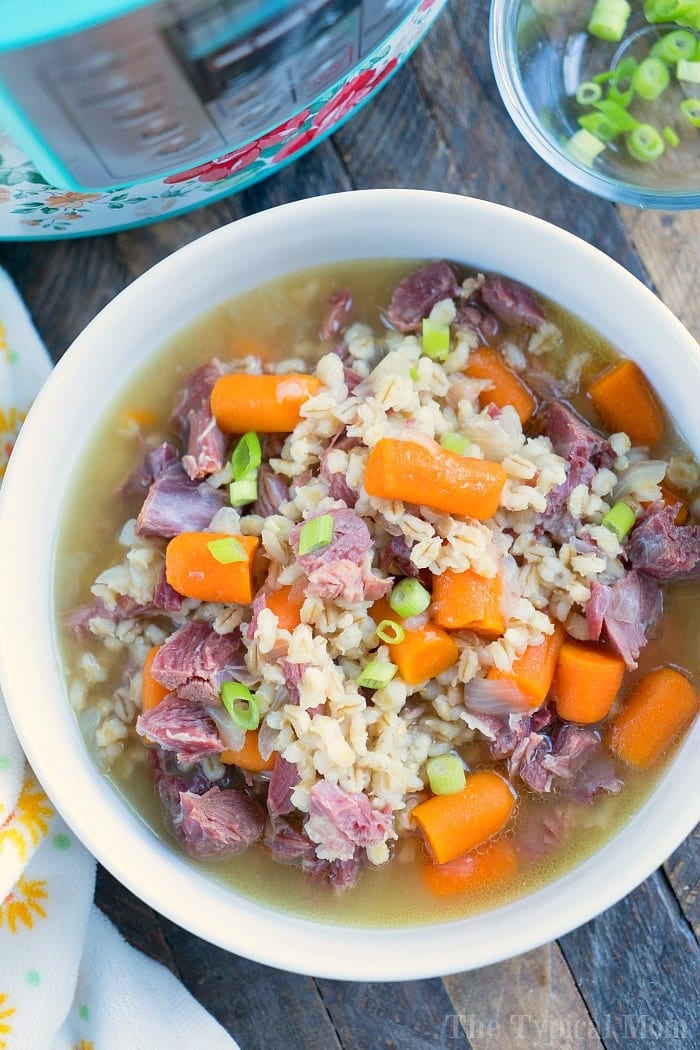 I am back adding this easy Instant Pot barley soup to my long list of 101+ easy Instant Pot recipes page today! I love using my pressure cooker to cook dry beans and grains because there is no soaking required. They come out so tender in no time at all! Honestly, I had never cooked barley before but I had it in soups at restaurants and it was delicious. So I thought I'd give it a whirl with the ham hock I had. (originally published 10/18, affiliate links present)
If it's around the holidays you are probably looking for some leftover ham recipes and this is a great one, though we have a bunch because I hate wasting food!
I have bought a ham hock and used that year round too though!
If you just have a ham hock you can use that too like I did here, either way just throw it in and go really with easy Instant Pot soup recipes like this one.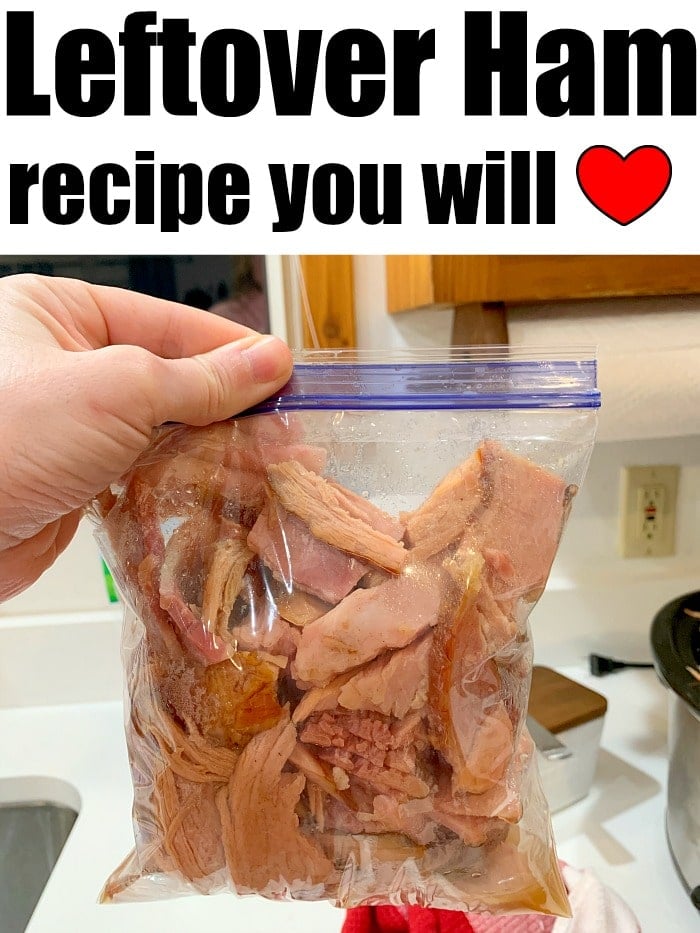 Is barley soup good for you? If you've never made anything with this overlooked grain, it's actually really yummy and very versatile! Rich in vitamins and minerals, it's also high in fiber which we all need.
To describe it once it's cooked I would say it is a bit like a cross between oatmeal and rice. It absorbs whatever flavors it is cooked in so using broth and salty/sweet ham bits is an incredibly delicious pairing.
Should you cook barley before adding it to soup? It is not necessary, which I love. Just like cooking rice, it is a good idea to rinse pearl barley before before adding it straight into a soup or stew recipe.
Take note: it will expand and somewhat thicken whatever it is added to. I love this but if you don't want the barley to thicken your creation, then by all means cook it separately.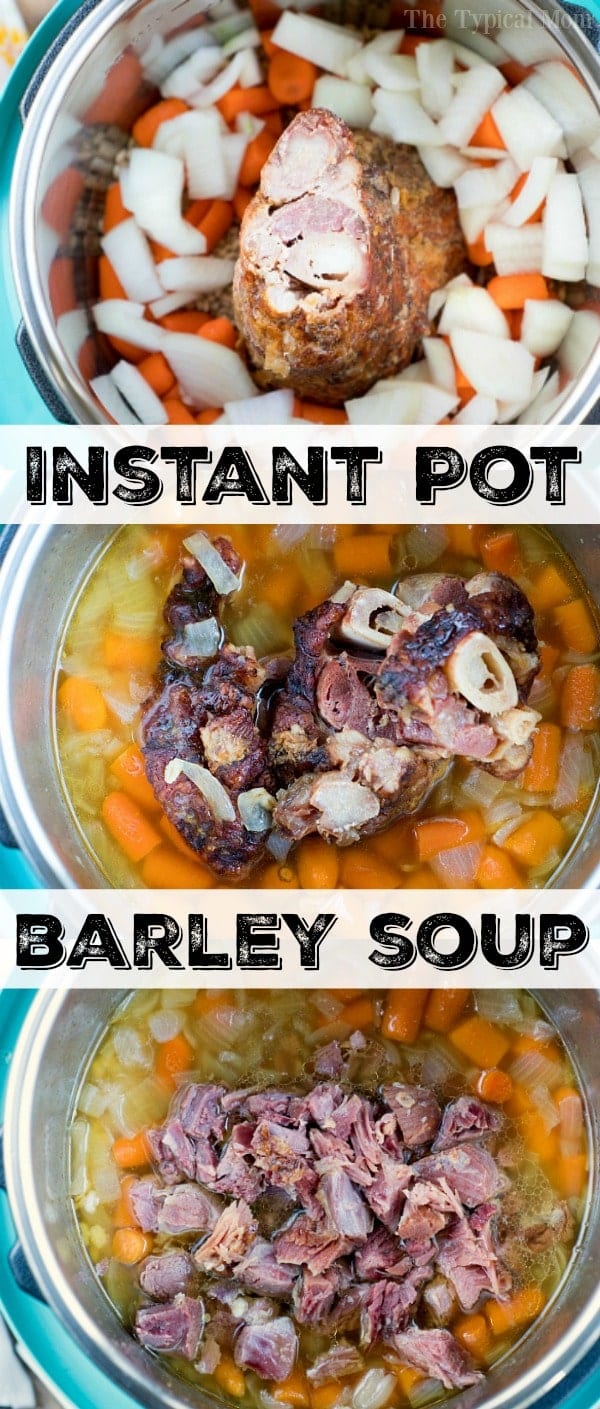 Since I used a ham hock for our Instant Pot barley soup and not leftover ham I removed it when the time was up.
I separated the bones and fat from the meat, then chopped it up and put it back into the soup before serving.
If your ham was already off the bone you could dice it up and throw it in initially avoiding the separating process later.
However….I will say using a ham hock gave this Instant Pot barley soup a lot more flavor than if I had just used diced ham in my opinion.
This piece of the ham tends to have tons of flavor and seeps out into the soup when it is under pressure cooking, but it is up to you.
Why pressure cooker soups are better than on the stovetop?
The pressure lends soup a lot more flavor
Soup cooks fast without having to watch a pot on the stove
You do not have to soak dry beans or grains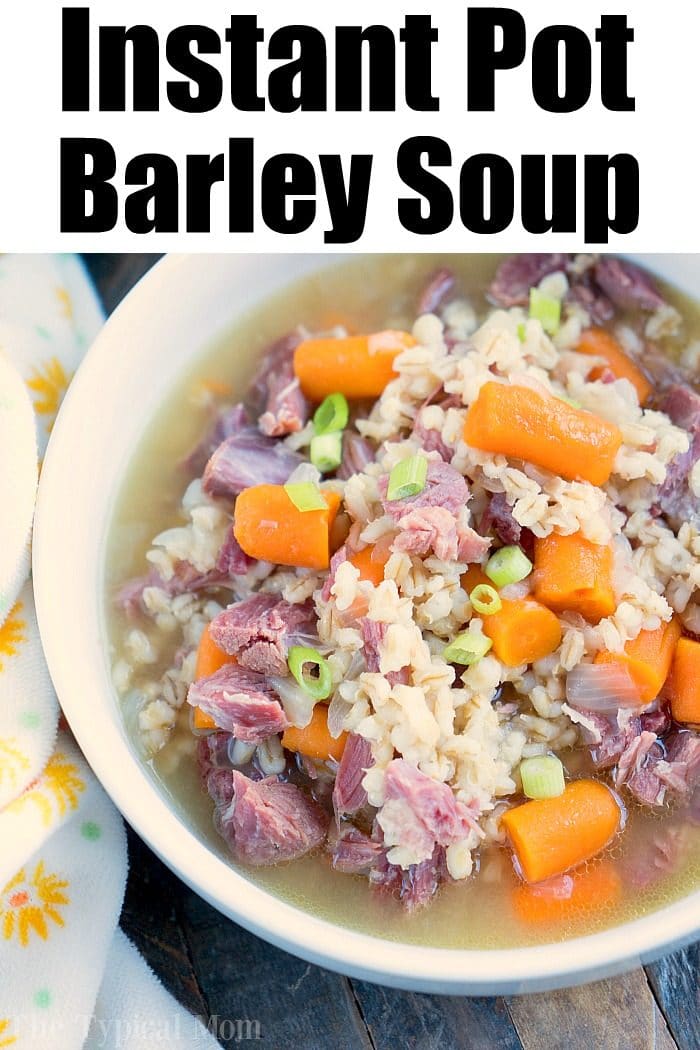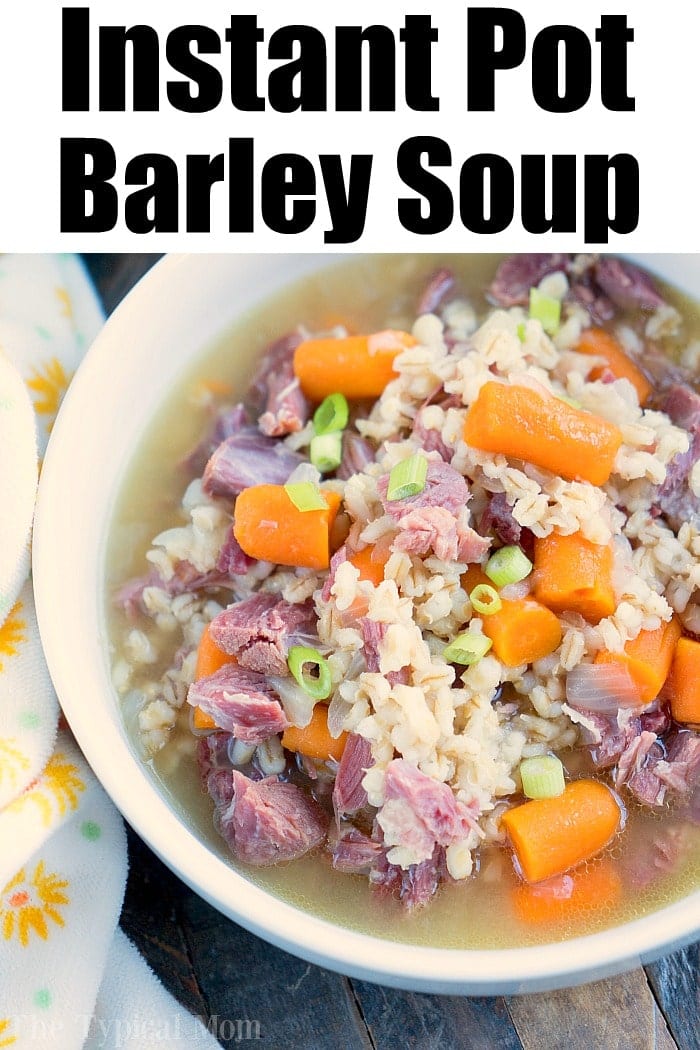 This is what you'll need to make this easy Instant Pot barley soup recipe
Ham hock

or diced leftover ham, turkey, beef

Pearl barley

Should barley be soaked before cooking?

No. This hulled type of barley does not need to be soaked before you use it or add it into a recipe. It will become tender while cooking.

How do you cook barley if you're making it separately?

Bring a pot of water to boiling.
Season if you'd like at this time.
Add barley, cooking on low heat.
Cover and cook tender which will take approx. 55 to 60 minutes
Drain with a colander and enjoy

Carrots

The smaller the pieces the more tender they will be
I suggest large chunks so they don't fall apart
You could add celery too if you'd like

Onion
Broth – I used vegetable broth, you could opt for beef broth for a richer flavor
Salt and pepper to taste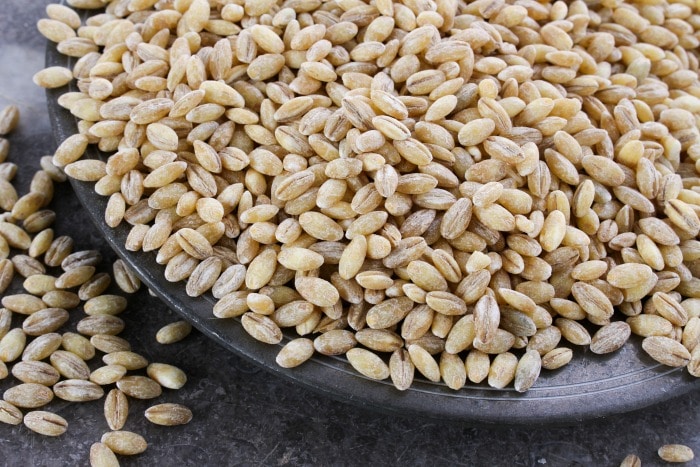 How to make Instant Pot beef barley soup
If you're using ham, put your ham hock in the center

if you're using diced precooked beef, throw that in with everything else
for raw pressure cooker beef pieces you'll want to cut it into bite size pieces

set pot to saute, add some olive oil, saute until they're no longer pink
turn pot off and scrape browned bits off bottom with some broth

Sprinkled my uncooked pearled barley around it
Added a sliced onion
Chopped baby carrots in half and threw those in (you could cut regular carrots into large chunks too but that is what I had on hand)
Poured my broth in
Closed the lid and walked away!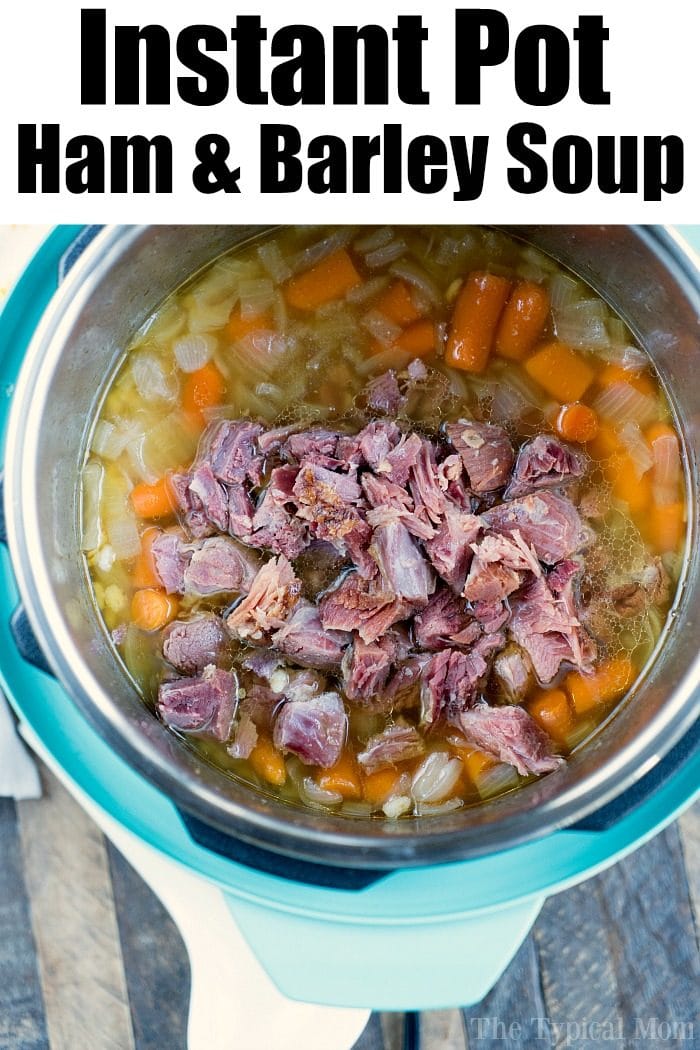 If you don't have a pressure cooker yet but looking for homemade soups this lentil soup on the stove top is a winner.
I do highly recommend you get one though because the cooking time is cut at least in half! This one takes just 30 minutes with a quick release to be SO soft and tender vs. in a slow cooker which would take all day for sure.
I will say this turned out great and I cook it year round. BUT when it's cold it's the bomb! Also using leftover ham is the best. You could turn this into beef and barley soup too using stew meat diced.
How do you save soup for later? If you're not going to eat it within a few hours of it being done you should cool and store in airtight containers in the refrigerator. 3-4 days is about max. If you're not going to eat it before then, store in freezer bags for up to 3 months.
What is the most effective way to cook a frozen soup?
To reheat soups do the following:
On the stovetop over low heat is best
Alternatively reheat in the microwave in 30 second intervals stirring in between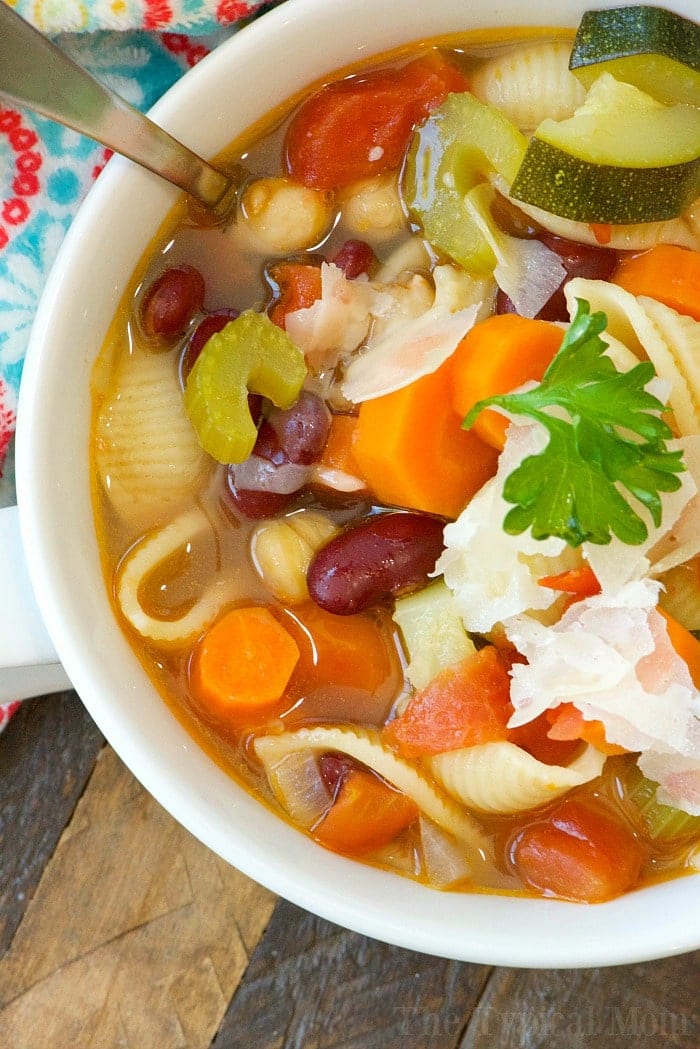 If you love pressure cooker soups here are a few others you might enjoy
You can make this in a Crockpot Express or as a Ninja Foodi recipe as well.
Make note it will take time, pressure for 15 minutes or so before it starts the countdown to cooking for 30 minutes. You don't want much of a natural release of pressure when it's done or the veggies will get quite soft in my opinion.
Instant Pot Barley Soup
This Instant Pot barley soup with ham is a tasty healthy dinner idea we all loved. Using uncooked barley and leftover ham we packed it with vegetables too.
Ingredients
Instructions
Place your ham hock in the middle of your Instant Pot. (you could add diced leftover ham too but a ham hock is delicious)

Add all vegetables and cup of uncooked pearled barley around ham hock, then pour broth in.

Close your lid and steam valve and set to high pressure for 30 minutes. Then do a quick release when done.

Lift lid and remove ham hock. On a cutting board remove all bones and fat, discard those. Dice your meat up into bite size pieces or shred. Put meat back into your Instant Pot and stir.

Serve!

I did not add any salt or seasonings because the flavors in the ham hock permeated the soup and gave it a wonderful flavor, it didn't need anything else at all as far as we were concerned but you could add salt and pepper to taste.
Nutrition Facts
Instant Pot Barley Soup
Amount Per Serving (3 oz)
Calories 223
Calories from Fat 45
% Daily Value*
Fat 5g8%
Cholesterol 23mg8%
Sodium 843mg37%
Potassium 336mg10%
Carbohydrates 34g11%
Protein 9g18%
Vitamin A 7530IU151%
Vitamin C 3.9mg5%
Calcium 32mg3%
Iron 1.4mg8%
* Percent Daily Values are based on a 2000 calorie diet.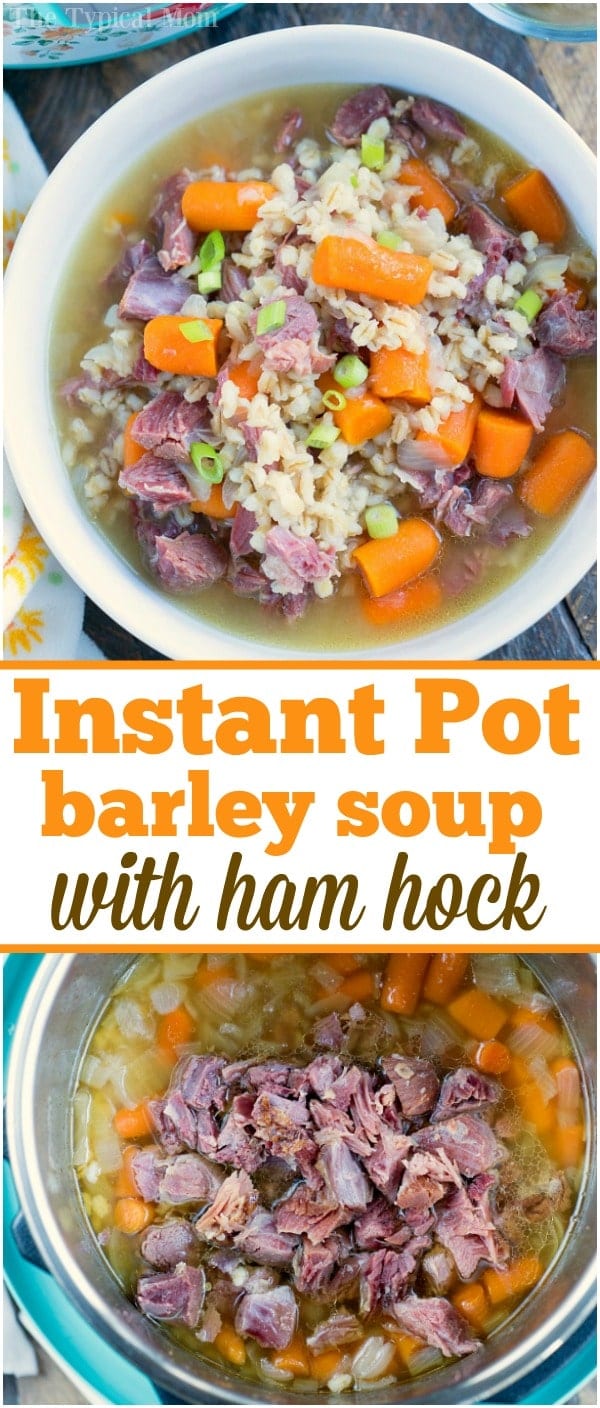 For more easy recipes, tips and free printables please LIKE The Typical Mom on Facebook and follow me on Pinterest! You can also sign up for my free weekly newsletter which is packed with goodies I know you'll love. 😉