Easy Halloween party ideas for kids you can do that are inexpensive to put together. Simple ideas that are fun plus Halloween printables.

My girls and I LOVE Halloween….ok Daddy gets into it too. 😉 Coming up with new costume ideas, deciding what we will pass out when our neighbors arrive, and having people over are some of the best parts of this season. We put our heads together and listed some of the best Halloween party ideas for kids we've done so far, and came up with one more you'll really enjoy too! I hope you enjoy our ideas and the free Halloween scavenger hunt printables we did too. (originally published 10/15)
Like I said, Halloween is one of our favorite holidays!
Creativity is the name of the game and occasionally when we run across a new treat that makes it even more fun…..check out the NEW Glow-in-the-Dark OREO 2-packs we found this year that are a festive and convenient (not to mention yummy) snack to celebrate Halloween. 😉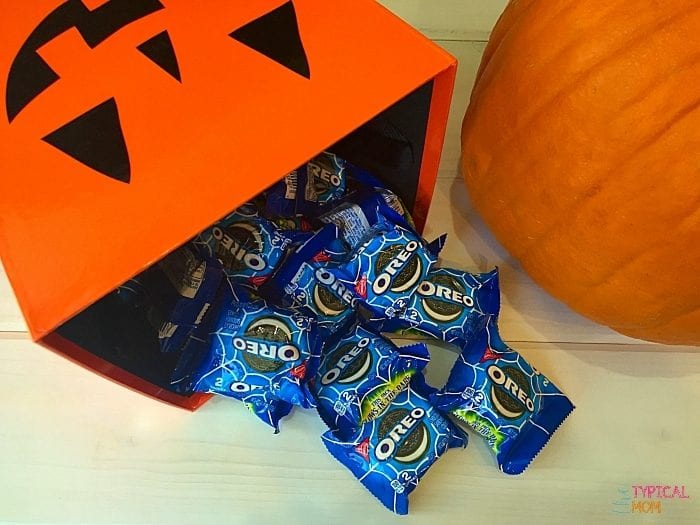 Anything glow in the dark is fun at Halloween time, and one that has the OREO chocolatey goodness inside gets our seal of approval.
We thought of how we could include these in this year's Halloween party games and had a few lightbulb moments…….let's start with our Halloween scavenger hunt!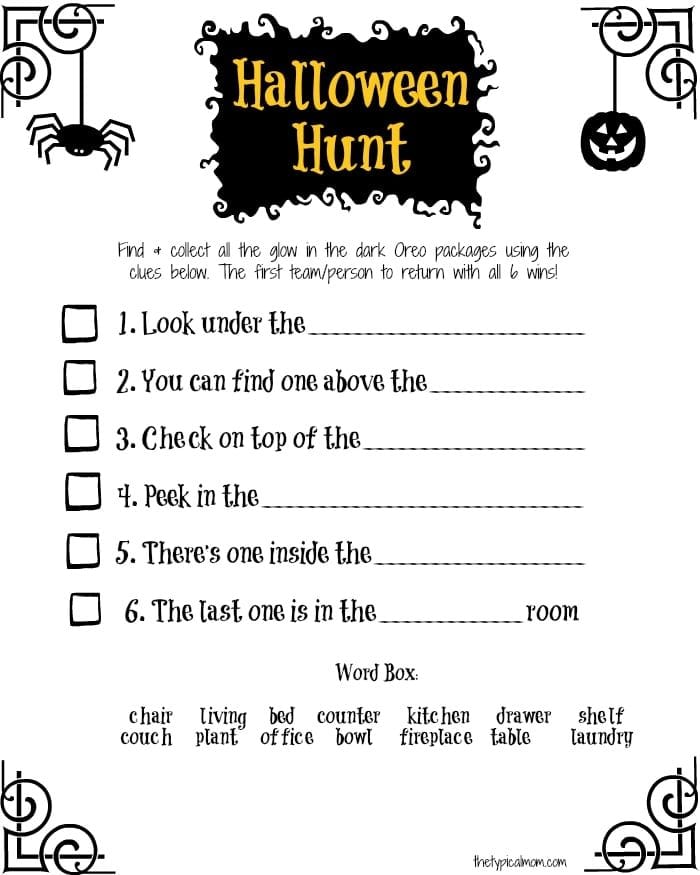 Since the packaging glows it would be easier to find in the dark, and part of the fun would be creating their own scavenger hunt when put into teams.
Using a word box on the bottom, teams could decide where they'd like to hide their 6 Glow-in-the-Dark OREO packages for the opposing team/person to find. It is always more fun to have an active roll in the game, and this Halloween Scavenger Hunt printable would do just that! 😉
Another great party game for kids is Halloween tic tac toe!
One person uses small pumpkins (we painted plastic ones with glow in the dark paint), and their opponent uses Glow-in-the-Dark OREO 2-packs as their markers.
You could play this before they do their scavenger hunt, or after when they've found their packages.
Print out your own Tick tac toe printable here and add that to your list of Halloween party games for kids this year.
We used glow in the dark bracelets (kept them straight) for some added fun for this Halloween game.
Halloween party games for kids
The last easy Halloween game we came up with is simple…..but really fun!
These new Glow-in-the-Dark OREO 2-packs are sold in grocery stores and come in packages of 18….so plenty for this game!
Each person gets a turn to see just how many 2-packs they can stack before it falls over, the person who stacks the most is the winner. 😉
Sometimes the simplest and easiest to put together games are the best.
Create some good ol' fashioned fun like these simple Halloween party ideas for kids for your next gooooulish get together.
What are some of your favorite Halloween party games?