Ninja Foodi ham is great if you want it done quickly and free up your oven during the holidays. Using a pressure cooker is a game changer y'all!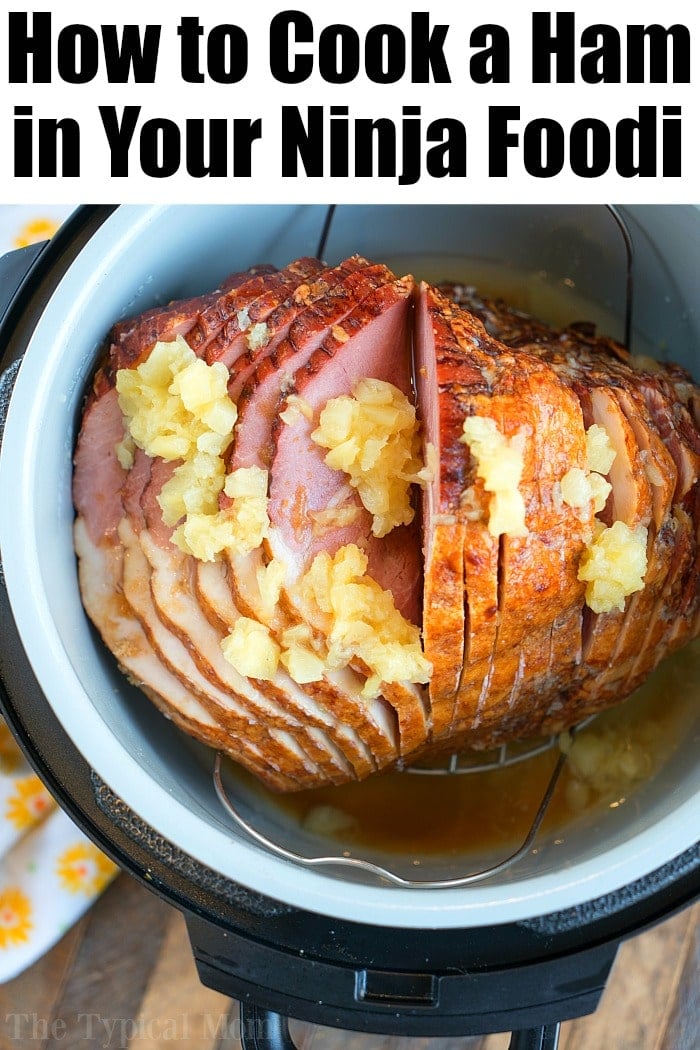 I cooked a Ninja Foodi ham with a pineapple glaze the other day and it came out so yummy! If you're getting ready for the holidays and want to make cooking as easy as possible, take a peek at our pressure cooker recipe here. It may change the way you cook Christmas dinner for good. Find this and many other easy Ninja Foodi recipes here.
I made a pressure cooker ham years ago, but now it was time to adapt that to work in my Foodi pot!
I'm telling you, you're going to love this during the holidays!
If you need to know how to cook frozen meat in a pressure cooker, we have information on that. NO, you aren't the only forgetful one. 😉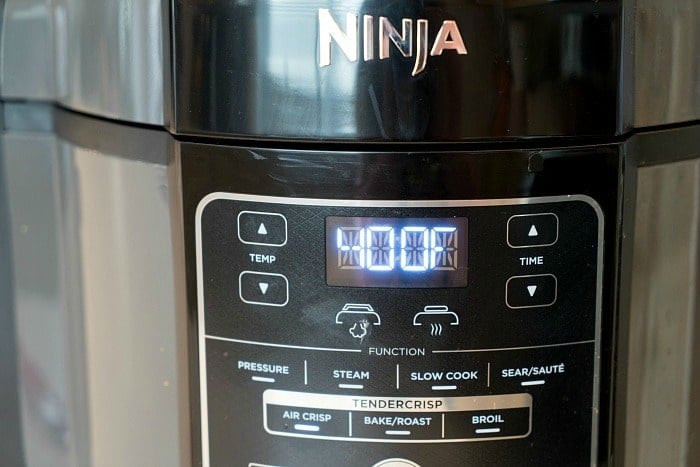 I did this TWO different ways: slicing the ham first with just 2 added ingredients, and cooking an unsliced ham with added sweetness. I will share both methods below.
How do you pick a good ham?
If you are buying a bone in ham (I always do) you'll need between 1/3 to 1/2 pound of ham per person. If you're planning on feeding 10 people, look for one that's around 5 pounds. This is the size we're using.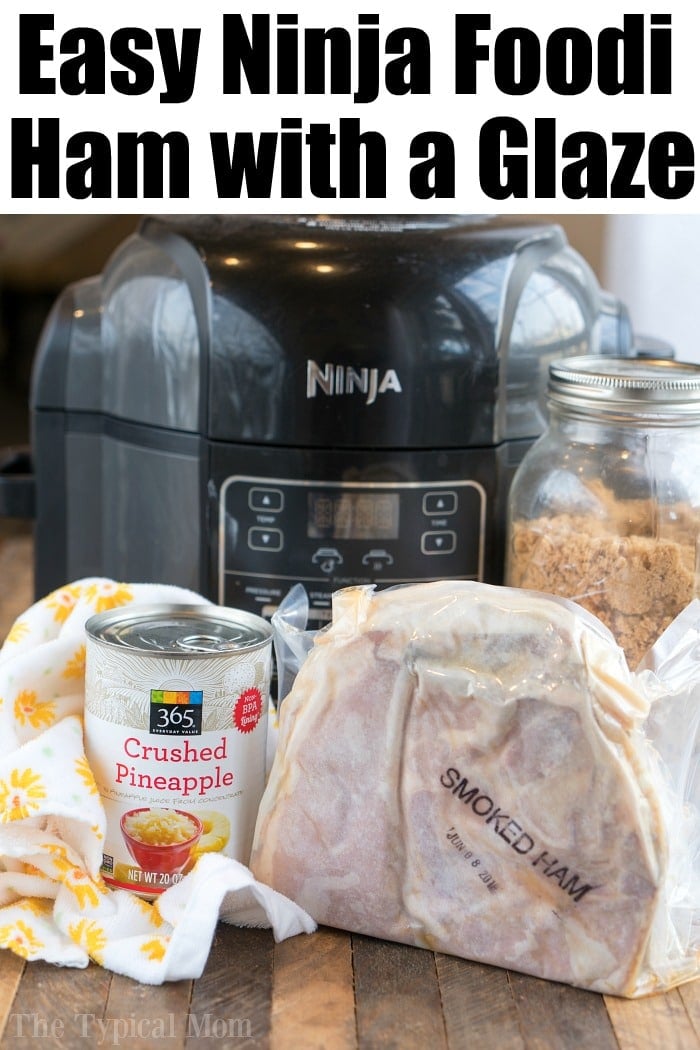 A boneless ham can be a bit smaller. You'll want 1/4 to 1/3 pound of ham per person for this type.
Pictured here is a bone in, smoked, pre cooked ham that is straight from the farm. Truly, we bought 1/2 a pig and this came from that hog. The butcher smokes them, and vacuum packs each one and we pick them up frozen.
You can't get any fresher than this! Of course most of you will purchase a quarter of a ham in the store and that is a okay.
The BIGGEST thing to remember is the size of your pot. I have a 6 quart pot to cook my Ninja Foodi ham so 5 pounds kinda' maxes it out to fit comfortably.
When I cooked by unsliced ham I had to cut a chunk off the side to get it to fit. I included that chunk in the pot though so it would cook too.
If you do have the larger version you could go up in size.
Another thing to remember is it is best to NOT slice it beforehand. Mine wasn't sliced. If you buy a spiral ham just know that it will come out more dry.
Remember: your ham is precooked and you're just warming it up. Timing will vary depending on how hot you want it but you don't want it to dry out either.
A 5 minute cook time is usually good for heating up a 5 lb ham that's sliced. If unsliced, 10 minutes worked better. Allowing a 5 minute natural release is best.
This is what you'll want to pick up at the store:
Quartered, precooked, bone in ham around 5-6 pounds
Crushed pineapple, or tidbits work well too
About 1 cup brown sugar
Honey
Cloves are optional
Cornstarch to thicken glaze if desired
For the first method I used this trivet with handles
Pressure cooker Ninja Foodi is what we used here of course.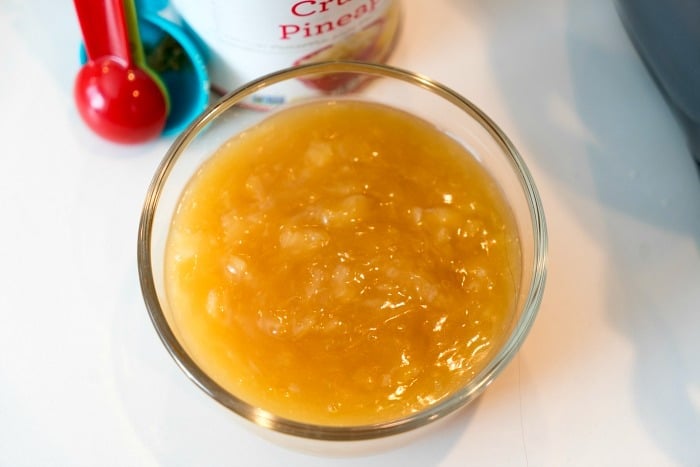 If you have another recipe for ham glaze you can use that. Just set your pot to saute and treat it like a pot on your stove.
That way you only have to clean one thing! I just included the one I made in case you love pineapple as much as we do.
Whether you make yours a bit less sweet using our sliced pressure cooker ham recipe, or this one below, the glaze is great.
If I had to choose which one was my favorite it would be the sweeter version with honey. I am a sucker for sweet everything though. Take your pick.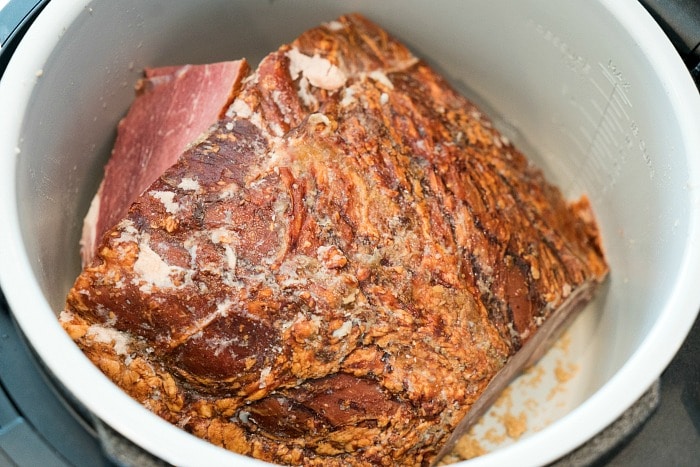 This is how you'll make your Ninja Foodi ham (unsliced)
Make sure your ham fits. If not trim the side so it will lower down to the bottom.
Sprinkle in about 1/2 cup brown sugar on to the bottom of your pot
Pour 1/3 cup water in too
Place your unsliced ham inside, sprinkle remaining brown sugar on top + crushed pineapple
You can push some whole cloves in if you'd like now.
Drizzle honey over top
Close pressure cooker lid and steam valve and turn machine on.
Set to pressure cook, high, for 10 minutes.
Allow steam to naturally release for 5 minutes when done, lift out and rest while making the glaze. The whole cooking process will take approximately 20 minutes. You can use air fryer function to crisp at end if you wish.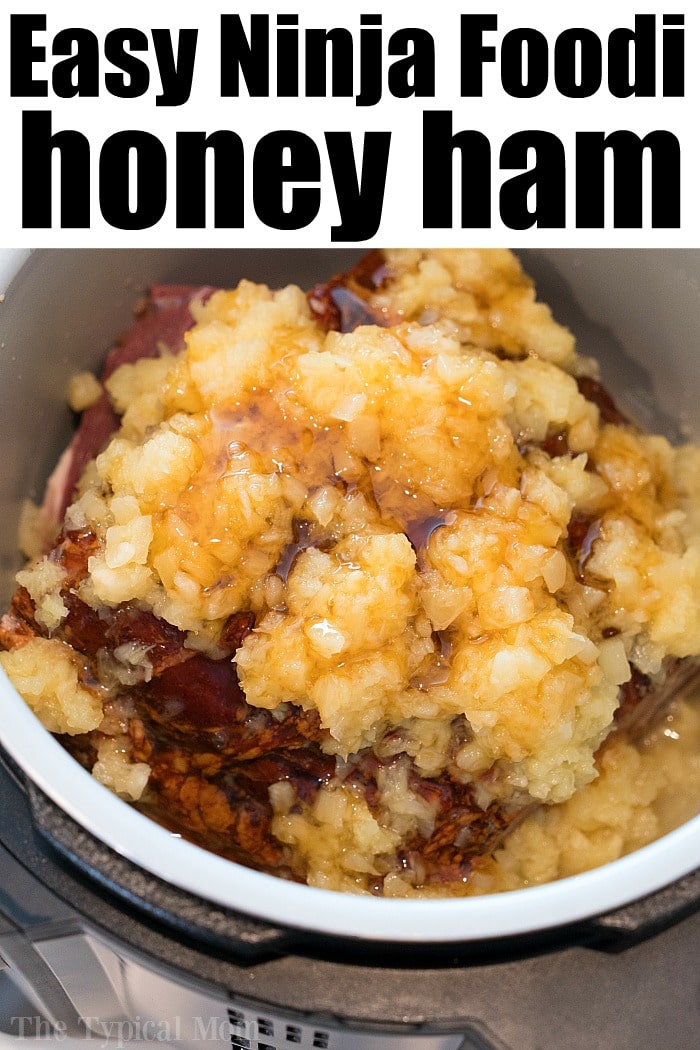 Instructions for a sliced ham recipe without honey:
If you don't want to make with any sort of honey you can use a trivet with your 1/3 cup of water underneath.
Set sliced ham on top
Sprinkle your brown sugar on top and in between slices
Pour can of crushed pineapple on top
Pressure cook for 5 minutes with a 5 minute natural release
Continue to make pineapple glaze as directed below on saute with 4 tbsp of cornstarch
This method will not come out as moist since slices are exposed and thinner
Immediately pour some glaze on top of ham when done to keep it as moist as possible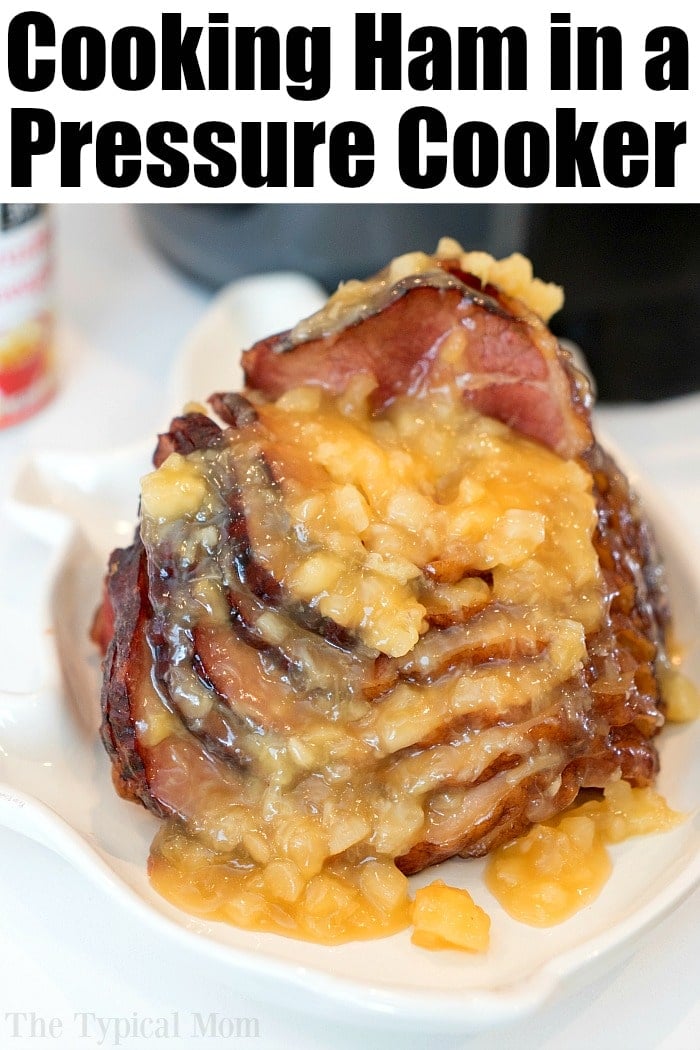 For the pineapple glaze you'll pour the liquid from the pot into a jar (you might use some later).
Set your pot to saute, low
In a small dish add cornstarch and hot liquid from pot, whisk until smooth
Pour this in and as soon as it begins to thicken turn the pot off.
Immediately stir so it doesn't clump
Add more pineapple juice, tidbits, or crushed pineapple into glaze if you want. Pour into a dish so it doesn't continue to cook.
Spoon on top of ham.
This is a QUICK process and you need to move fast so it doesn't get to thick. Then serve on the side or pour over ham and enjoy.
Want to make a dutch oven ham, or try cooking it 3 other ways other than these? I have a few other ways to cook ham.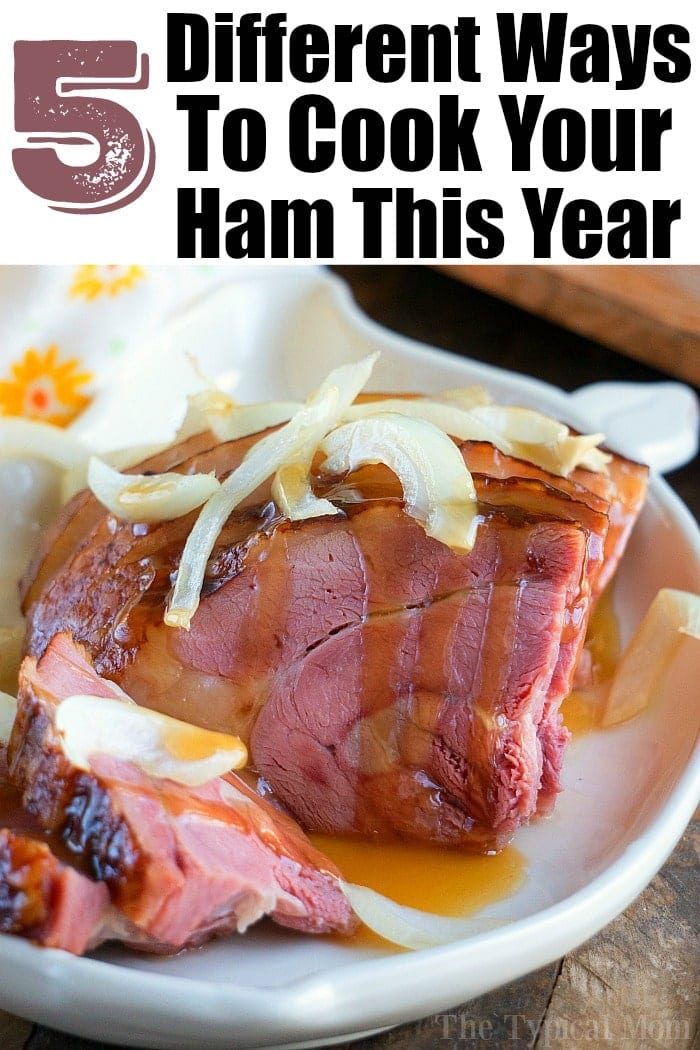 Of course a slow cooker will take a lot longer but some people prefer it this way. I share this method for those of us who want it fast, easy, and eliminate a dish from our oven.
I do agree that slow and low temps sometimes create a better dish.
If you're looking for a 25 minute or 30 minute ham recipe though this may be a game changer for you.
Printable directions for this pressure cooker ham are below.
If you want to make ham in the Instant Pot it is a similar process. I used this recipe as a base to create these two.  You can make an air fryer ham in your Foodi too. 😉
Want more easy recipes and tips from The Typical Mom blog? Sign up for my free newsletter, and follow me on Pinterest!
***** If you LOVED this recipe give it 5 Stars below and let everyone know what you thought about it. 😉
Ninja Foodi Ham
Ninja Foodi ham is great if you want it done quickly and free up your oven during the holidays. Using a pressure cooker is a game changer y'all!
Instructions
Pour 1/2 c brown sugar into the bottom of your pot, add water too and lower your unsliced precooked bone in ham inside your pot

Sprinkle the other 1/2 c of brown sugar on top of your ham. Pour your can of crushed pineapple on top.

Can push whole cloves inside meat now if you desire (just remember to remove once it is done). Drizzle honey on top.

Close pressure cooker lid (one that isn't attached), and seal pressure release valve.

Turn pot on and press pressure cook, high, for 5 minutes.

When done do not touch steam valve and allow pot to naturally release steam for 5 minutes. Then release rest of steam.

Lift ham out and on to cutting board. If you want to make pineapple glaze set pot to saute

In a separate bowl whisk together cornstarch and hot liquid from your pot until you have a smooth mixture.

Pour this into your pot and immediately stir together. Once it thickens turn your pot off. Add more pineapple juice or water to thin out to consistency you want.

Slice ham and put glaze on top or served on the side.
Nutrition Facts
Ninja Foodi Ham
Amount Per Serving (2 oz)
Calories 675
Calories from Fat 342
% Daily Value*
Fat 38g58%
Cholesterol 141mg47%
Sodium 2700mg117%
Potassium 682mg19%
Carbohydrates 32g11%
Protein 49g98%
Vitamin C 1mg1%
Calcium 36mg4%
Iron 2mg11%
* Percent Daily Values are based on a 2000 calorie diet.