This is the most amazing Instant Pot ham done in just 20 minutes! If you want an easy honey ham recipe you've gotta' try it in your pressure cooker.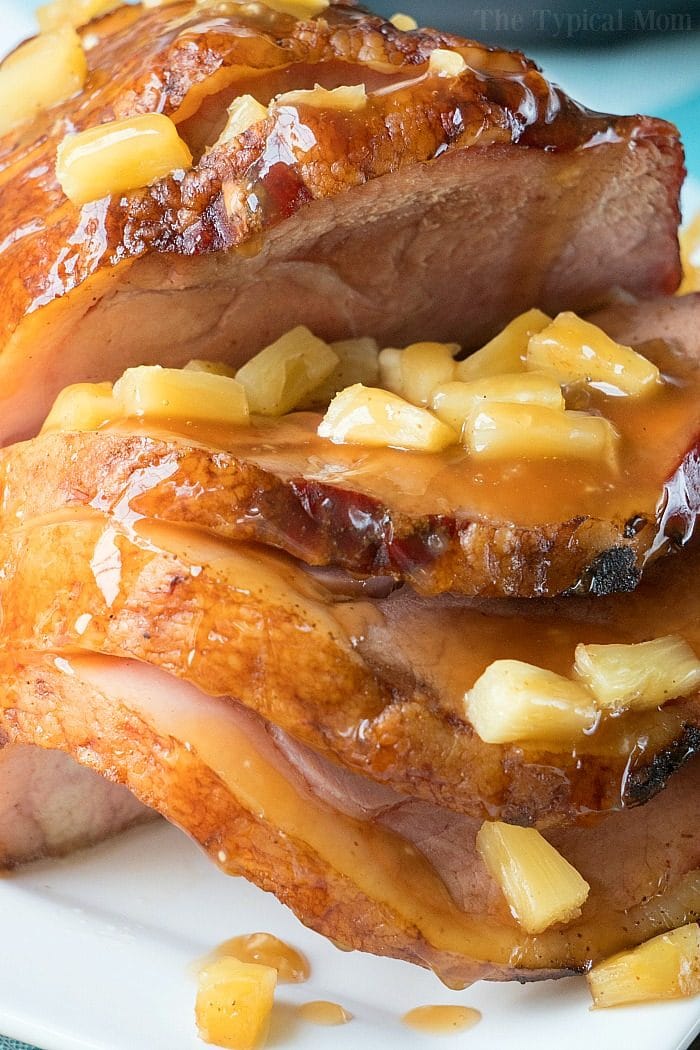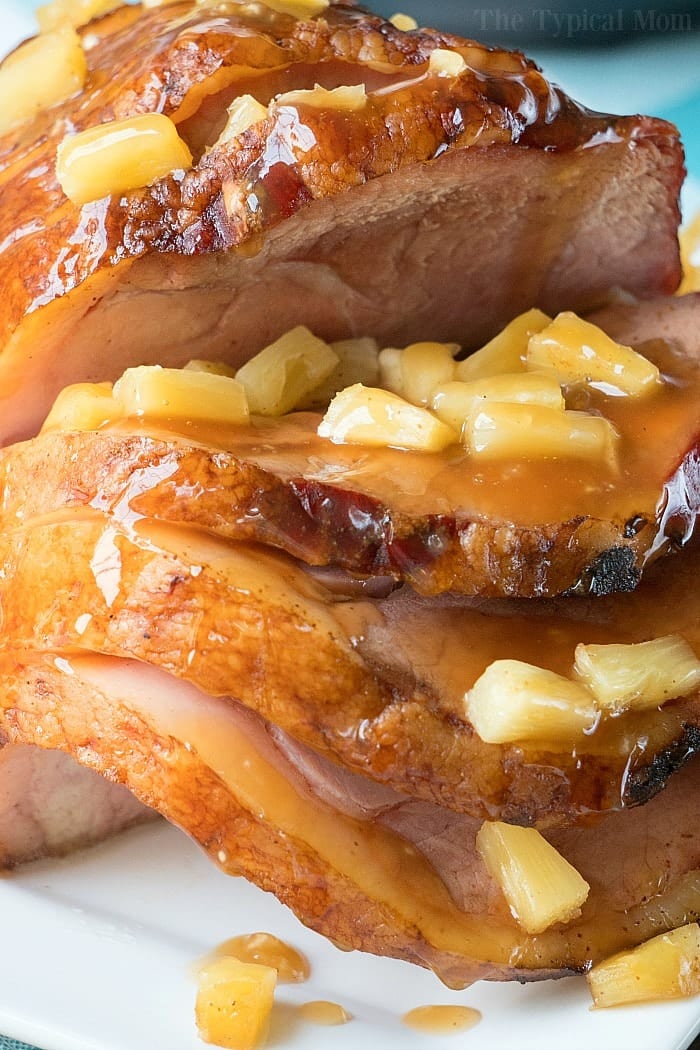 I'm back with an addition to our long list of easy Instant Pot recipes! If it's around Easter or Christmas you might be looking for an easy Instant Pot ham recipe but let me tell you that you shouldn't wait for the holidays to make this!! My family says I can only make ham in the Instant Pot now. lol
A few years ago after Christmas they had smoked hams clearanced out at the grocery store and I couldn't pass up a $5 hunk of amazing meat so I bought one…ever since then I've made ham throughout the year.
Not only does it make an amazing dinner but I have a bunch of leftover ham recipes I use too so one piece of meat can last us a few night typically which saves a lot of money and the taste is amazing.
Here's how easy it is to make a ham in your pressure cooker.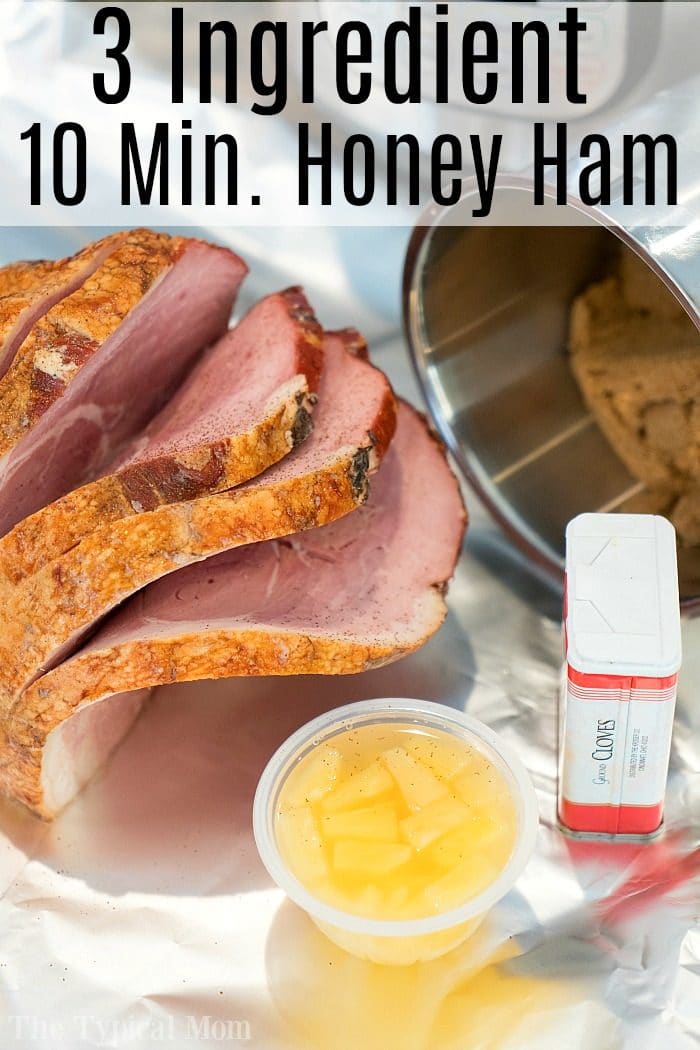 You just need 3 ingredients and with the time it takes to reach pressure and naturally release the pressure it is done in about 20 minutes flat!
This is what you'll need to make this easy Instant Pot ham recipe
Quarter of a ham – near the holidays they typically come in half hams but in my 6 qt Instant Pot that wouldn't fit, a quarter fit perfect. If you can only buy a half then cut it in half and you'll have 2 dinners to make…or you could ask your butcher if you can buy just a quarter ham, many times that is possible if you just ask.
Brown sugar
Pineapple tidbits and juice – I just used one of these snack packs you see above
Honey – optional
Tinfoil
That is it!!
Why would you cook ham in an Instant Pot rather than the oven?
Frees up your oven to be used for side dishes
Doesn't heat up your house (especially if it's 100 degrees outside during the summertime I never turn on my oven)
It cooks in a fraction of the time
You only have to clean one pot, even ham glaze can be made right inside your pressure cooker
If you want to thicken the ham glaze then you'll need some cornstarch too, that is up to you.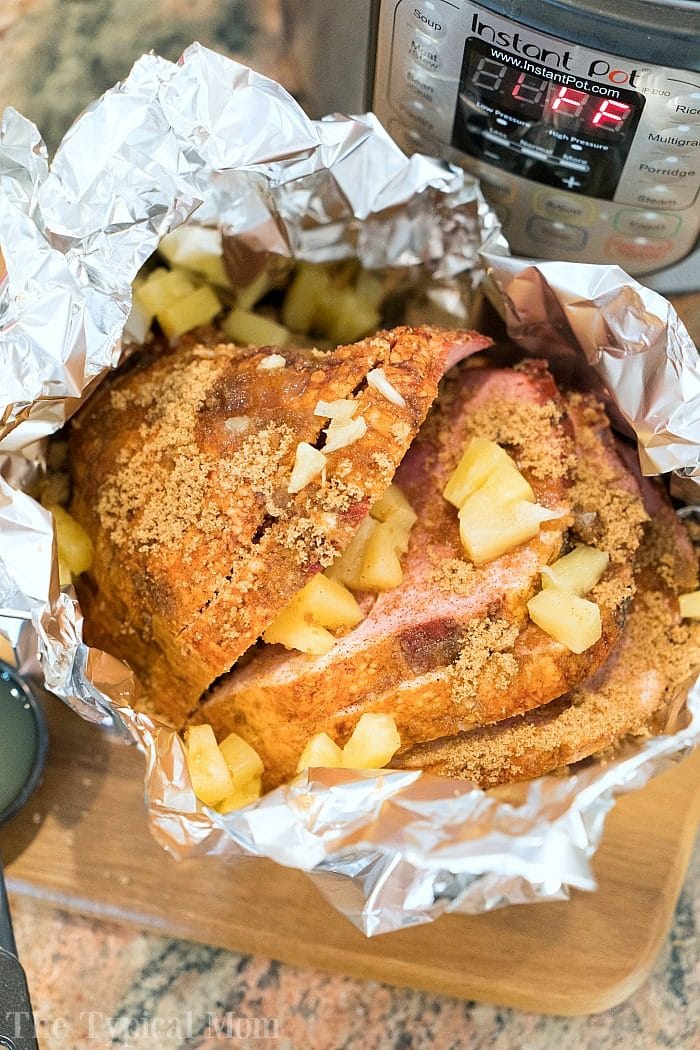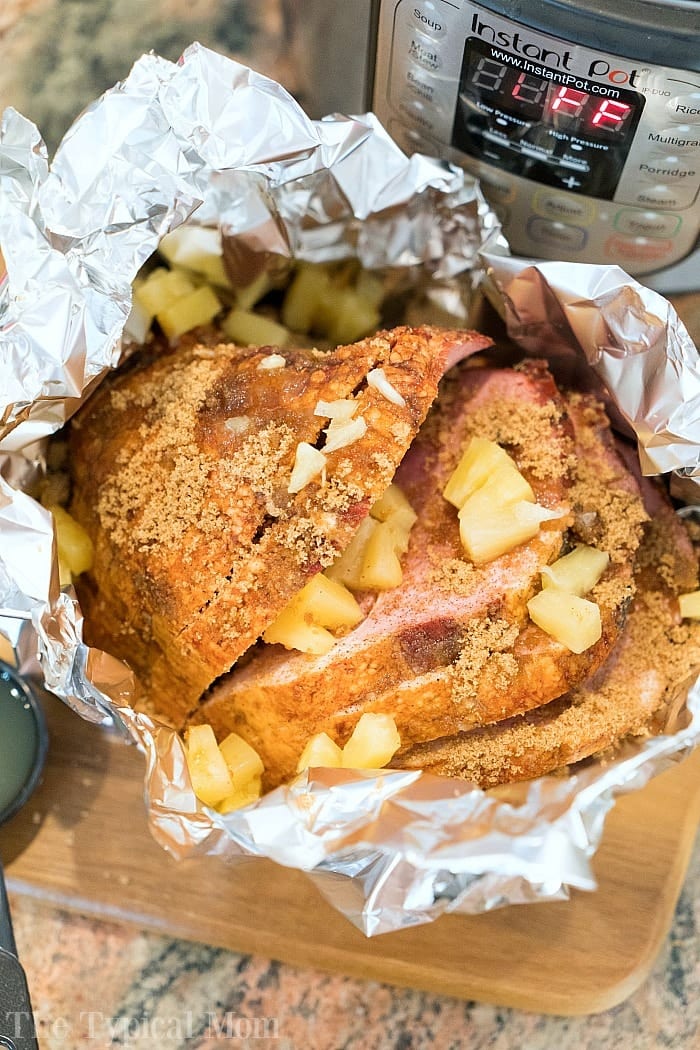 You'll want to slice your ham if it isn't already, ours wasn't, and then put it in a large piece of foil that will kinda' act like a bowl holding the pineapple, sugar and juices.
Ham almost always when bought in the store are already cooked, you're just warming them up.
Typically they are smoked, like ours, so it will come with some of that flavor as is but adding the fruit, juices, and sugar gives it a sweetness that is great.
I made the glaze with the juices that were left over after I took the ham out, set to saute and added a bit more brown sugar and cornstarch to thicken it up while whisking it up as it bubbled.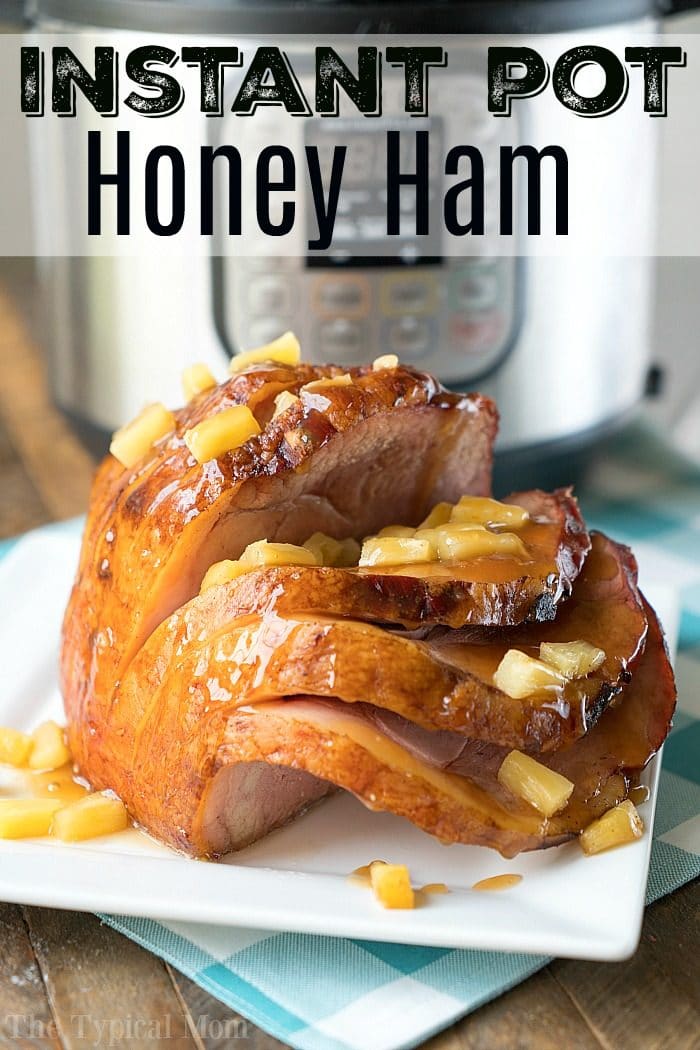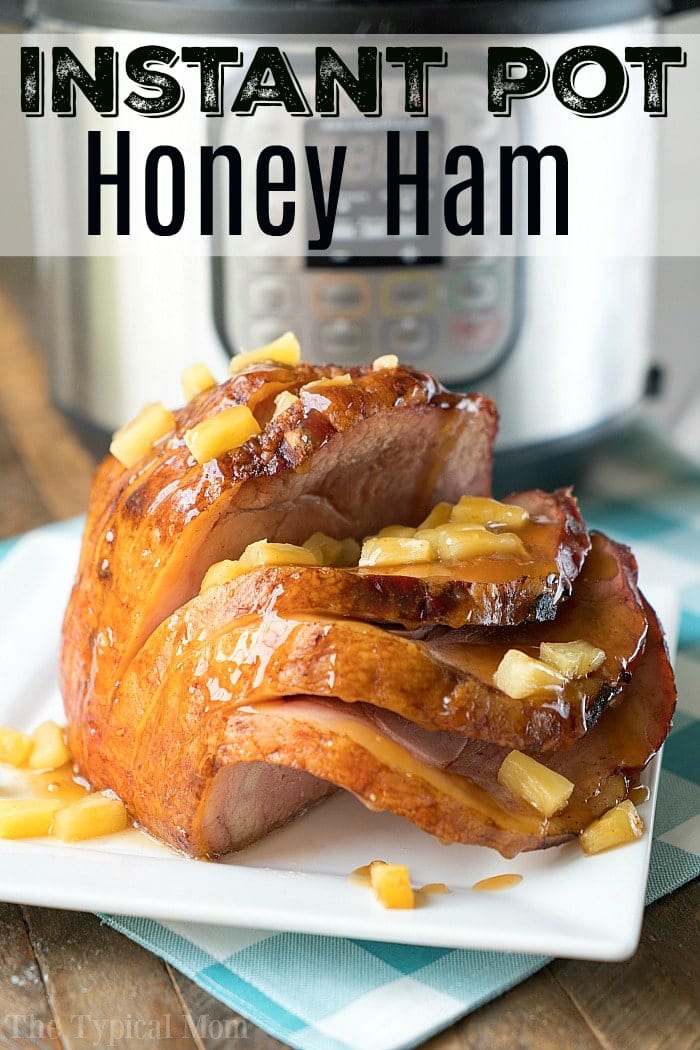 So…you literally don't need anything else and I will tell you it is so good!
My husband even said that he'd rather have it this way for Christmas rather than putting it in the oven.
It steams nicely leaving all the juices in tact and absorbing some of that sweetness while it cooks in your pressure cooker in just 10 minutes!
If you have an 8 or 10 qt. Instant Pot you may be able to fit more than a quarter ham size and if so I might increase the time by 5 minutes or so.
If you'd like to make a crockpot ham recipe this time or next we have that as well, or if you prefer turkey here's instructions on making a pressure cooker turkey for the holidays.
If you're ready to try this Instant Pot ham here are the printable directions and an instructional video as well. 😉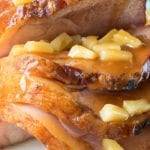 Instant Pot Ham
This is the most amazing Instant Pot ham done in just 20 minutes! If you want an easy honey ham recipe you've gotta' try it in your pressure cooker.
Course:
Entree, Main Course
Keyword:
easy, ham, honey, instant pot, pressure cooker, smoked
Ingredients
1

quarter

ham

precooked/smoked, quartered ham

1/3

c

brown sugar

1/4

c

pineapple juice

I used a snack pack with tidbits and juice, dumped whole thing in

1/3

c

pineapple

tidbits

4

cloves

or pinch of ground cloves

1.5

c

water

Glaze

3

tbsp

brown sugar

heaping tbsp

2

tbsp

cornstarch

1

tbsp

honey

optional

3-4

oz

pineapple juice

depending on how thin/thick you want it
Instructions
Put trivet and water into Instant Pot.

Slice your quartered ham if it isn't sliced already and put it in 1-2 large pieces of foil (large enough to wrap all the way around it - may need small piece for very top as well).

Fold foil up so just the very top is open.

Sprinkle brown sugar over top of ham and into slices.





Pour pineapple juice over ham and sprinkle cloves or push whole cloves into ham.


Sprinkle pineapple tidbits on top of ham. Drizzle honey on top if you want to add this as well (not totally necessary, sweet without)

Put a small piece of foil over the very top if needed to enclose.

Add 1.5 c. of water into your Instant Pot and add trivet to bottom. Lower ham into pressure cooker on to your trivet (make a sling to put on bottom to lift it back out if your trivet doesn't have handles).

Close lid and steam valve. Set to high pressure for 10 minutes (for a quarter ham, I might do 15 min for a half ham if you can fit that into your IP). Do a natural release for 10 minutes when done.

Release rest of pressure, lift ham out of foil and rest on a cutting board for 5 minutes.

Take trivet out and drain water in pot, put pot back into your Instant Pot. Empty the juices that are inside your foil into the bottom of your pot, set pot to saute low.

Add an additional 3 oz. of pineapple juice and 3 heaping tbsp of brown sugar into your pot and allow that to start bubbling.

In a small bowl add maybe 2 oz. of pineapple juice and 2 tbsp of cornstarch and whisk together....add 1 tbsp at a time to avoid clumping. Dump this "thickener" into your Instant Pot and stir/whisk together consistently until it is the consistency you want. Add more pineapple juice or a bit more cornstarch mixture if desired but will thicken in no time.

Finish slicing ham pieces all the way through, pour glaze over the top of each piece and serve!
Nutrition Facts
Instant Pot Ham
Amount Per Serving (3 oz)
Calories 57
% Daily Value*
Sodium 9mg 0%
Potassium 39mg 1%
Total Carbohydrates 14g 5%
* Percent Daily Values are based on a 2000 calorie diet.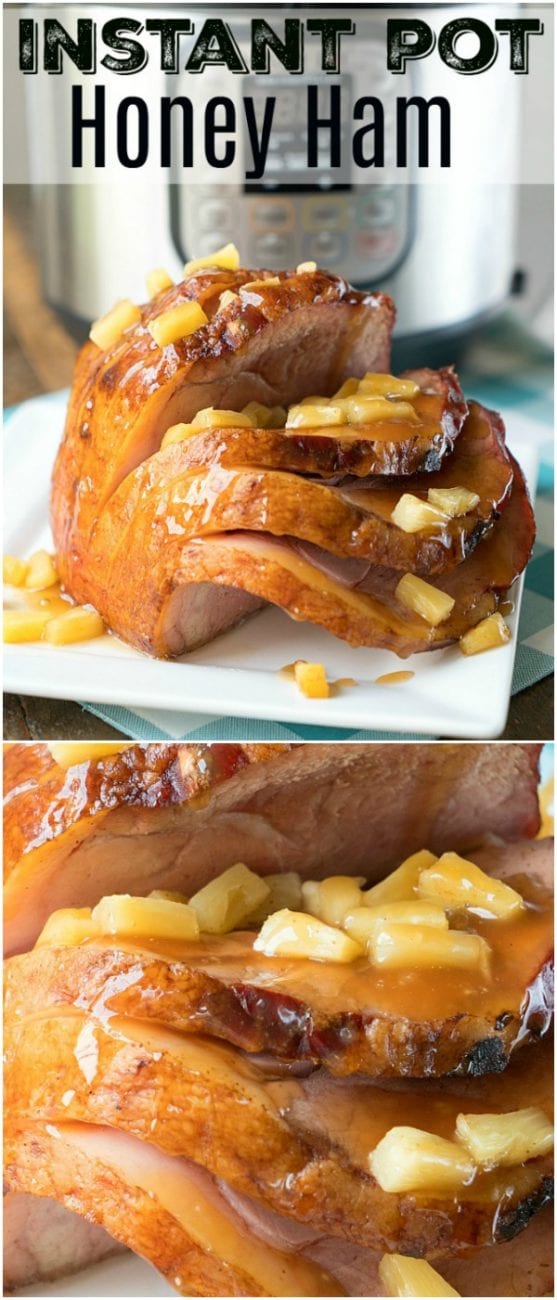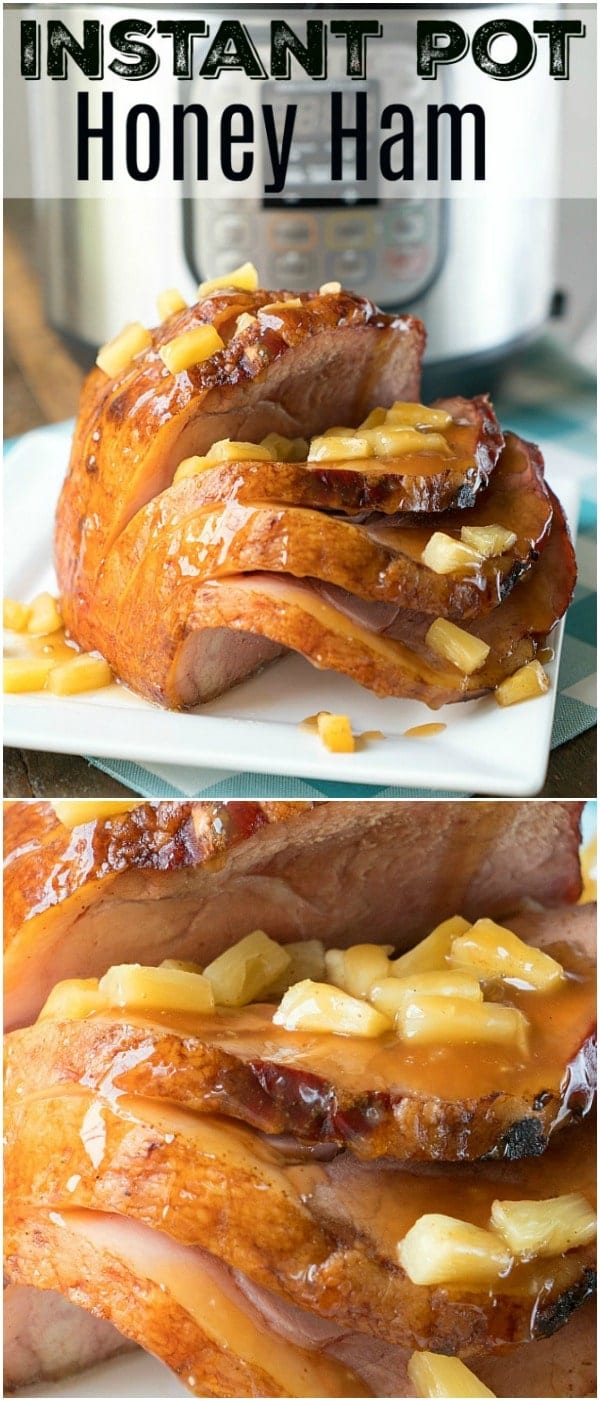 For more easy recipes, tips and free printables please LIKE The Typical Mom on Facebook and follow me on Pinterest! You can also sign up for my free weekly newsletter which is packed with goodies I know you'll love. 😉
Visit The Typical Mom's profile on Pinterest.