This is the best way of smoking a cooked ham in your pellet or electric smoker! Using a ham rub or leaving it as is. Smoked ham brings out the natural flavors. It is a great new way to cook your holiday ham this year.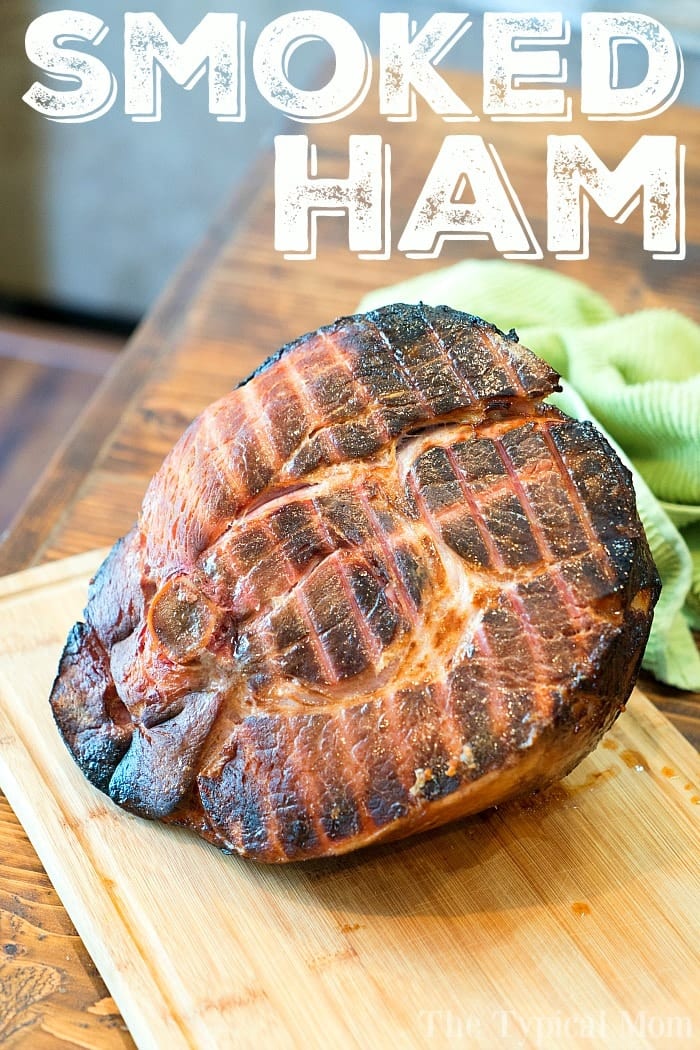 We were smoking a cooked ham last night and it came out so fantastic that we wanted to share how we did it in our electric smoker. You could use a pellet grill and smoker too. It's one of our favorite easy smoker recipes. (affiliate links present)
Smoked Cooked Ham
If you are new to smoking meats I will tell you that everything comes out amazing. Even if you don't use a ham rub it gives it such amazing flavor!
You can see the picture above and I will tell you that not only were the outside portions filled with rich apple wood smokey flavor, but it permeated throughout the meat.
FIRST – You should sign up for my free newsletter so you get new posts emailed to you twice a week and never miss out on anything!
To get your meats absolutely perfect we have this printable meat smoking chart to refer to so each and every time it will be fork tender.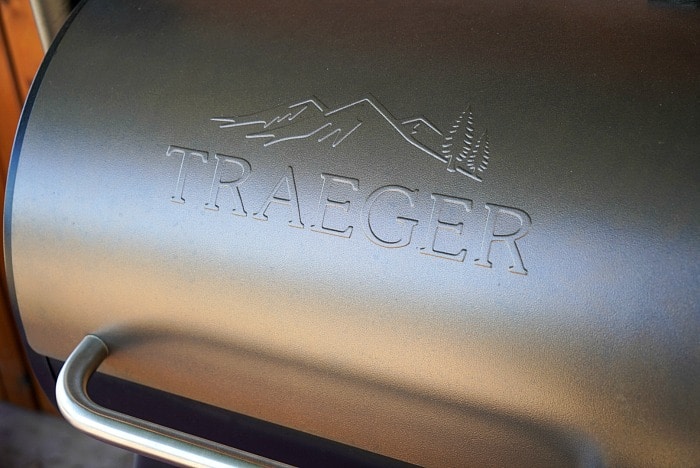 If you are looking for unique ways to cook ham, this is it.
We have tried and created many easy electric smoker recipes. This one is probably our favorite for Easter and Christmas.
I will start with the electric smoker we have and love. It is inexpensive but gets the job done.
Plus there's a built in probe you put into the meat. When it reaches the temperature desired it stops cooking on it's own, and lowers the temperature to keep it warm!!
There are a variety of smokers out there at a range of prices. Honestly we think this is the best smoker especially for beginners. It's easy to use and not an expensive unit.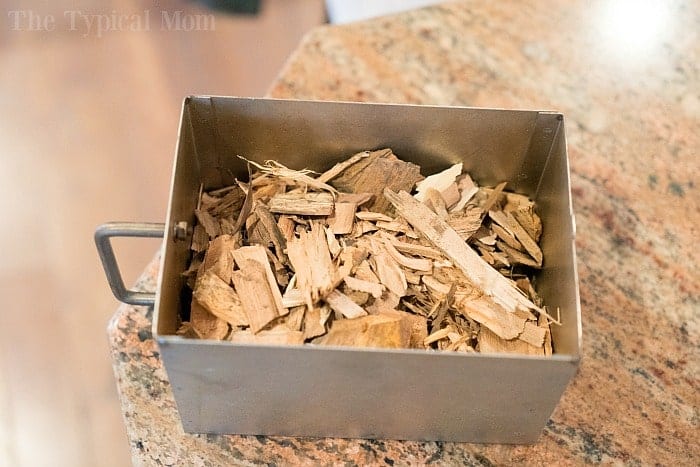 Choosing good wood chips is key. If you're using a pellet grill we like apple version.
They come in a variety of types and "flavors". For this smoked ham recipe we used a lighter apple wood you see above.
The variety box we buy is great because you can try different ones. Then see which you like best with which meat and go from there.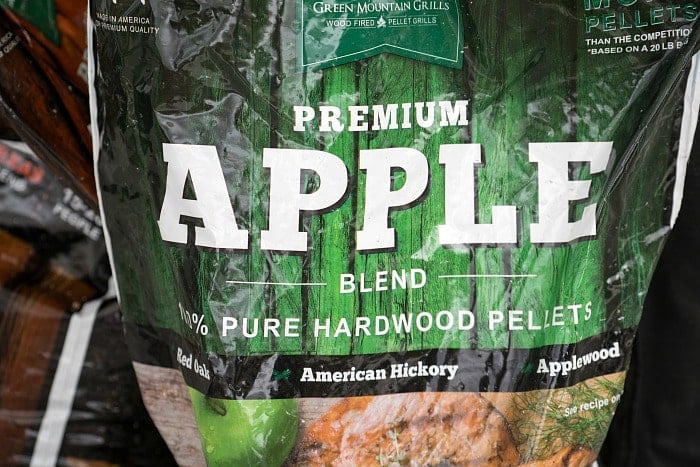 The directions on smoking a cooked ham are for an electric smoker or pellet grill are basically the same. Just remember that the desired temperature is 150 degrees.
Slower and longer is better when it comes to smoking a ham or any other meat really in our opinion.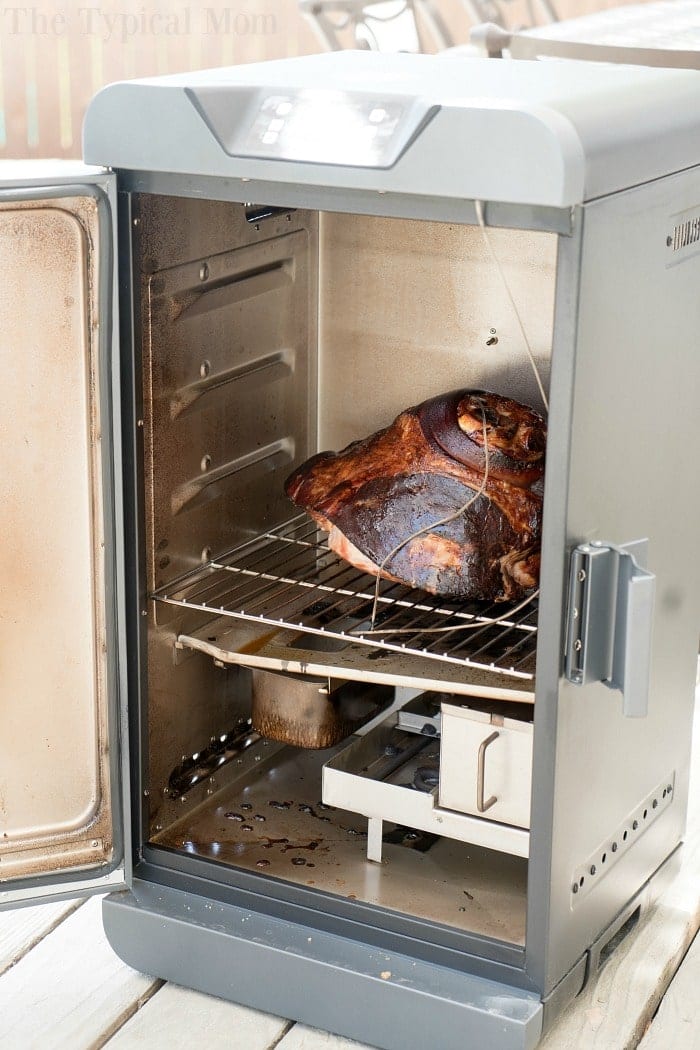 This is what you need when smoking a cooked ham
Ham – ours was store bought, about 11 lbs., precooked, and uncut (not a spiral cut ham)
Wood chips – we buy this box with several types & used apple for this
Instructions if you want to make a sweet and savory ham glaze – we didn't use one this time
After you're done with this and looking for more electric smoker recipes, you should give these a whirl
Need to cook more than 1, try our bourbon glazed oven baked ham so you have 2 types to choose from. With a large bunch that is always nice.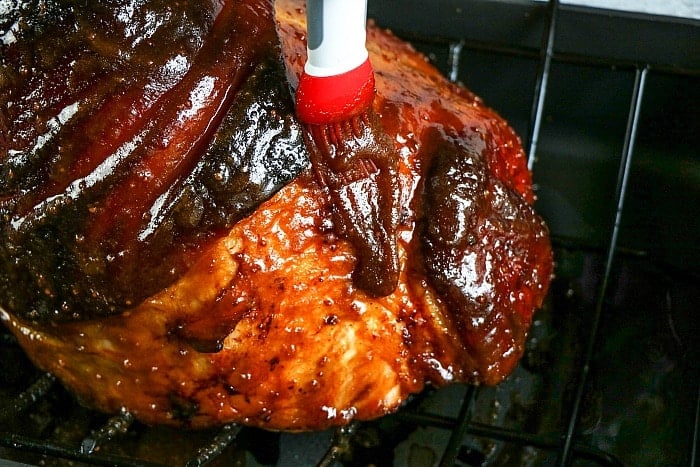 Want to see a few of my favorite things that I am totally obsessed with?? Take a peek and see how many you might already have…twinsies!
Looking for more easy family recipes and tips? LIKE The Typical Mom Facebook page?
Then sign up for my free newsletter, and follow me on Pinterest! 😉
***** If you LOVED this recipe give it 5 Stars below and let everyone know what you thought about it. 😉
Since this is precooked to begin with it's essentially a double smoked ham. Ensure internal temperature in middle of ham is reaches 140 degrees at least.
Remove the ham from the smoker to take temp. properly. If it's not hot enough, put ham back in, close the lid, and continue cooking.
Honey glaze can be served along side on the table.
Smoking a Cooked Ham
This is the best way of smoking a cooked ham in your electric smoker! Using a ham rub or leaving it as is, smoked ham brings out the natural flavors and is a great new way to cook your holiday ham this year. Here are instructions on how to smoke a ham easily at home.

Instructions
If you want to use a ham rub then mix all spices listed above together in a bowl, rub a bit of olive oil and then massage the ham rub over the whole thing.

Fill the wood chip drawer with wood chips of your choice, that is all that is necessary if you're using an electric smoker.

Place the flat side of the ham on the smoker rack and put the meat thermometer probe into the top and into the middle of the ham.

Close the smoker and set to cook until the ham reaches 150 degrees F. which took ours approx. 4 hours.

If you're using a pellet smoker or don't have a temp. probe such as this one set smoker to 225 degrees for 1.5, then check internal temp. after removing ham from smoker. Put probe into thickest, middle portion of ham to check. Put back in if it is not at 145 degrees yet and continue smoking. Timing will vary depending on whether your ham is cut and how many pounds it is.

Allow to rest, slice and serve.
Nutrition Facts
Smoking a Cooked Ham
Amount Per Serving (2 oz)
Calories 344
Calories from Fat 612
% Daily Value*
Fat 68g105%
Cholesterol 248mg83%
Sodium 5449mg237%
Potassium 1166mg33%
Carbohydrates 14g5%
Protein 86g172%
Vitamin C 1mg1%
Calcium 36mg4%
Iron 4mg22%
* Percent Daily Values are based on a 2000 calorie diet.