This is how to smoke salmon in your smoker right at home! The best rub for fish you will ever make that brings out the flavor and makes it melt in your mouth good. Easy recipe for those who have never smoked fish, or looking for something new. Healthy dinner idea.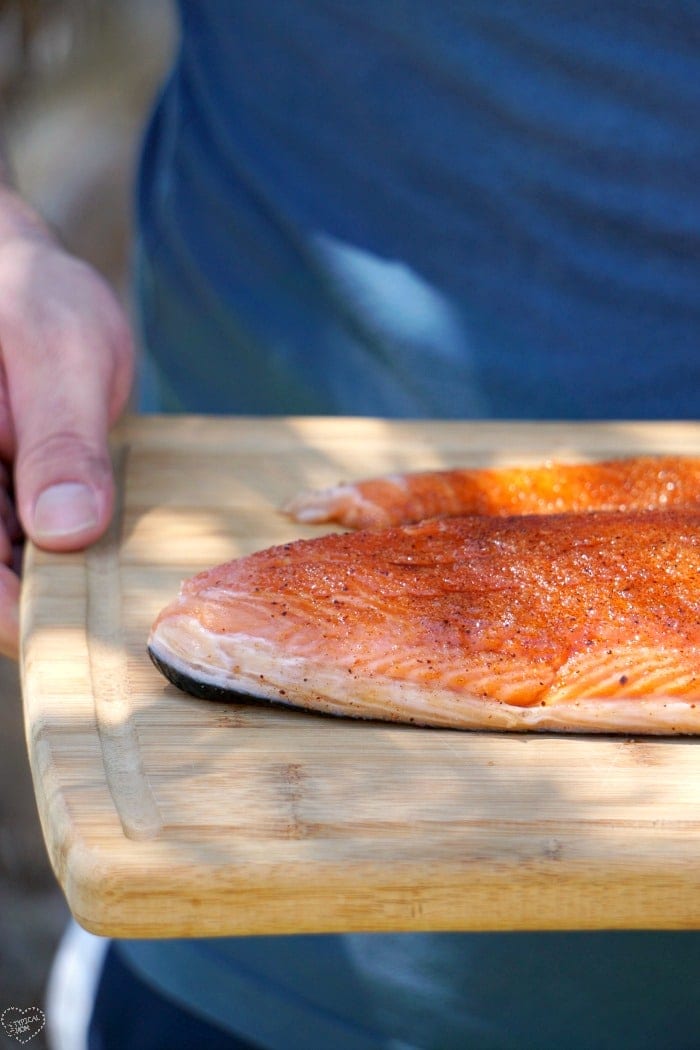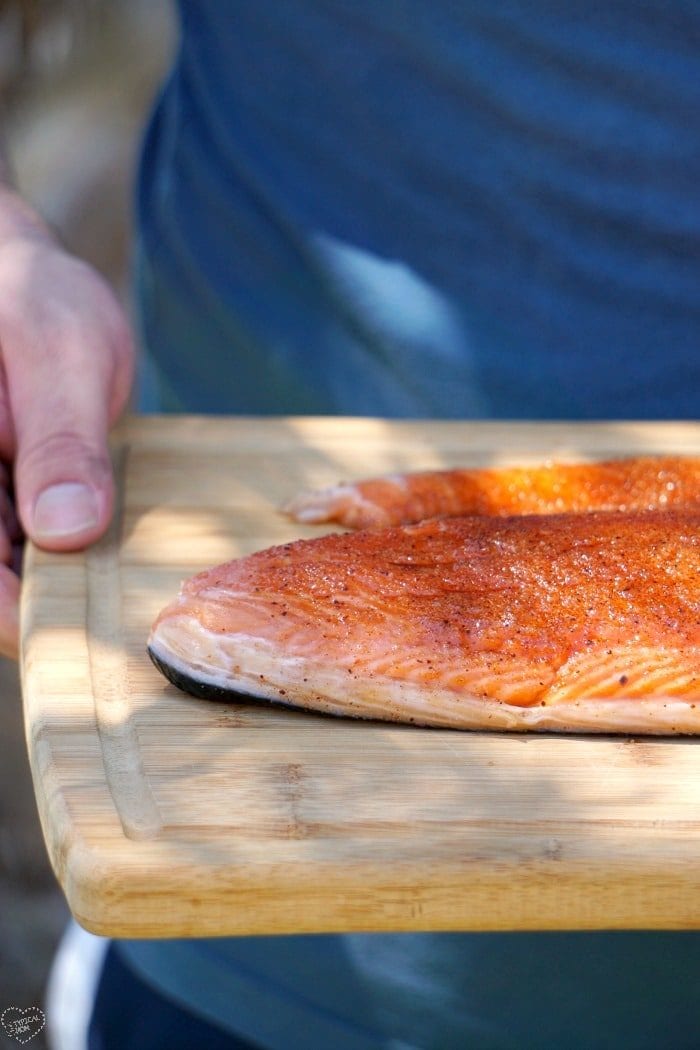 I got my husband a smoker last year and we've been making the most amazing salmon in it. Here's how to smoke salmon in your smoker so you can enjoy the deliciousness too! 😉 It's one of our favorite easy smoker recipes. This post brought to you by Seafood Nutrition Partnership. (originally published 8/16, affiliate links present)
The first thing about how to smoke salmon is the rub!
That is the key in my opinion.
You can have a really expensive piece of fish but if you have an amazing rub even an average piece of fish can become incredibly flavorful. Of course both including a wild caught or Atlantic salmon filet are best. 😉
Here's the secret salmon rub my husband swears by and I asked him to actually write it down for me to share this time.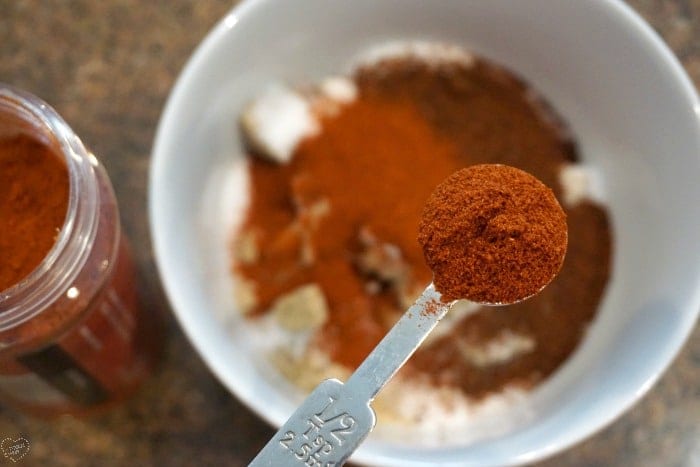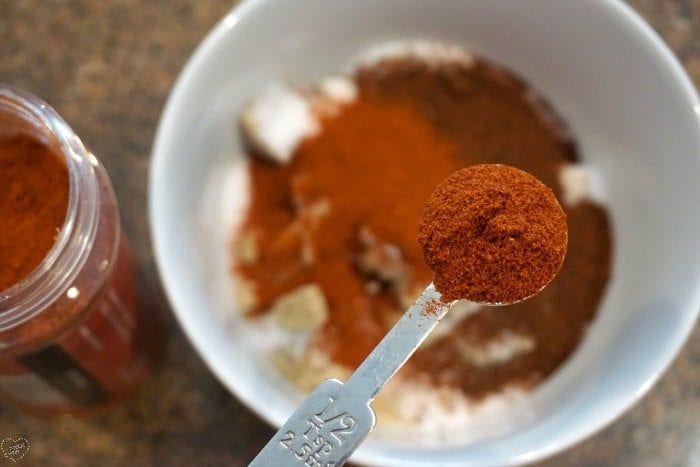 Once you've rinsed your beautiful piece of salmon, pat fish dry and lay it on a cutting board. Then begin to prepare your rub.
We're all about using spices when it comes to smoking fish. Combining sugar salt ingredients gives your smoked salmon an incredible flavor. You can add a bit of heat too if you desire.
Here is the smoked salmon rub recipe in it's entirety.
It is amazing how different salmon tastes when you massage a good rub into it before smoking. It's so much better than leaving it off in our opinion. Ours is a salty and sweet rub for fish that people comment on all the time and say this is now their go to smoked salmon recipe.
You'll have to let us know what you think…..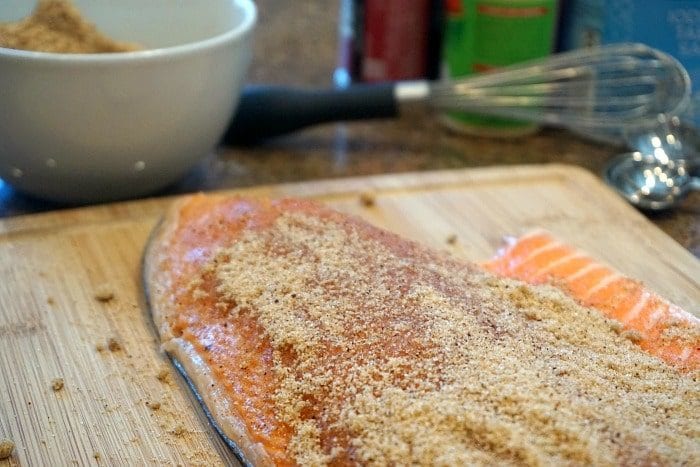 How to smoke salmon and what you'll need
Electric smoker or pellet grill / smoker
Salmon fillet (leave skin on)
Brown sugar (believe me it turns out wonderful with this rub)
Paprika
Sugar
Salt and pepper
Garlic powder
Chili powder (more or less depending on what heat level you desire)
Wood chips – great variety pack

or wood pellets

Combine your ingredients for the rub. Then massage it on to the top and bottom (yes on the skin side too) of your fillet, and you're ready to cook.
Once your smoker reaches 225 degrees lay it flat on one of the racks and really that is it!
Set your timer for 1.5 hrs. to check on it, and typically it is perfectly done in about 2 hrs.
You want the flavor of smoke to adhere to the fish so wrapping it in foil is not recommended.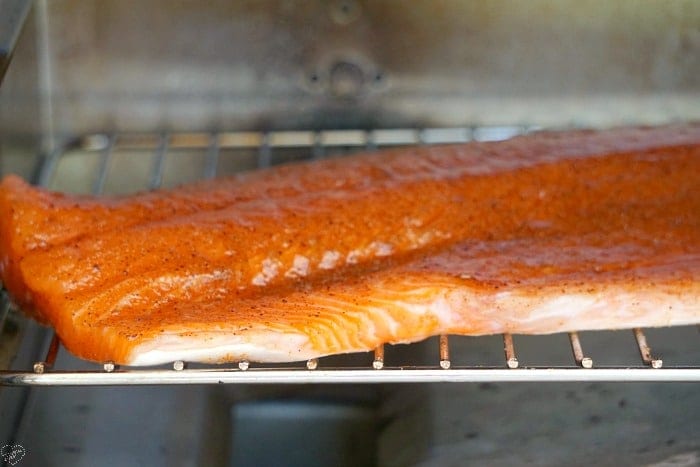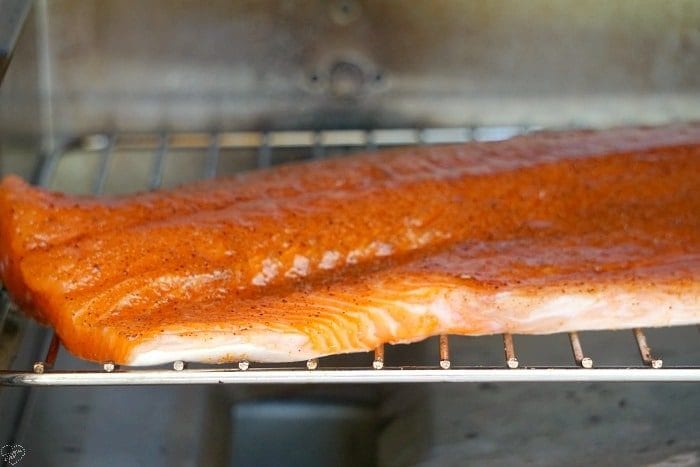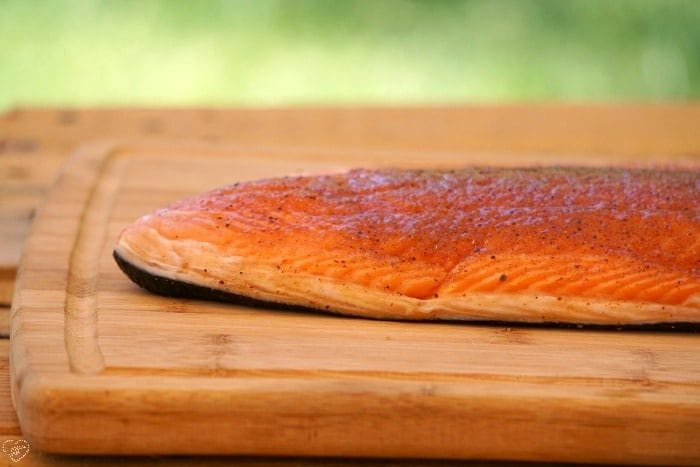 Once it's done pair it with some steamed broccoli and rice and you're ready for a healthy dinner! If you love fish as much as our family does, it's a real winner!
If you cook fish often and have a killer recipe let us know we'd love to try it next! This is of course the hot smoking method. If you have a cold smoking recipe we'd love to try it.
Salmon is not only great for dinner but on top of an everything bagel with a little cream cheese for lunch is amazing too. We don't really check the internal temperature when done. Fish just needs to be flaky to be perfect, and overdone isn't good. A bit underdone is better than dry.
Looking for more easy fish recipes?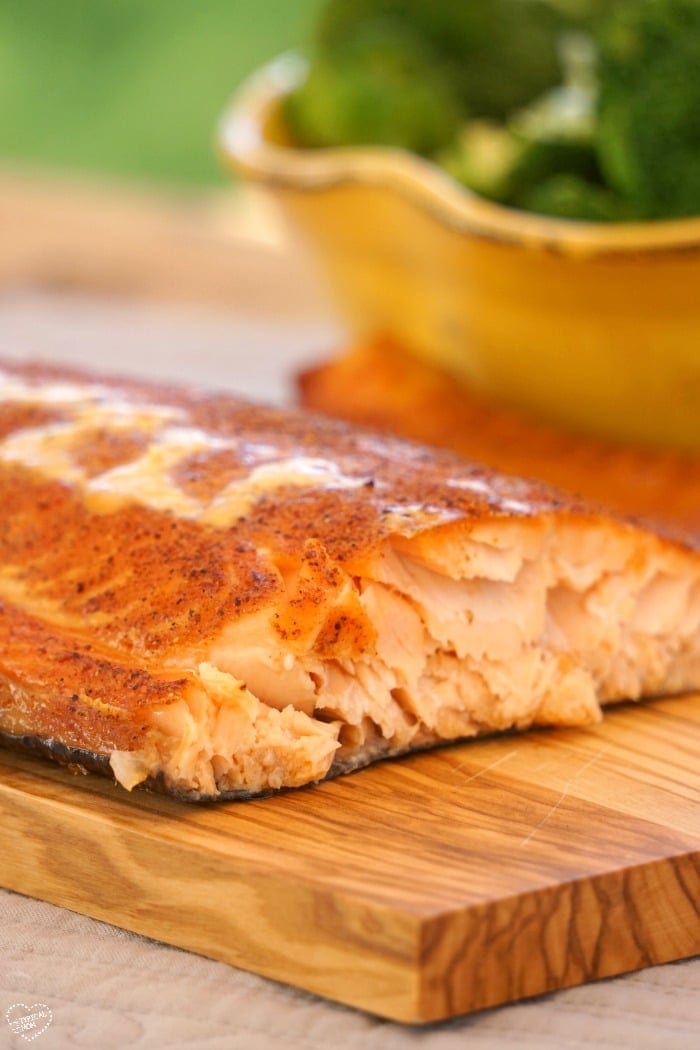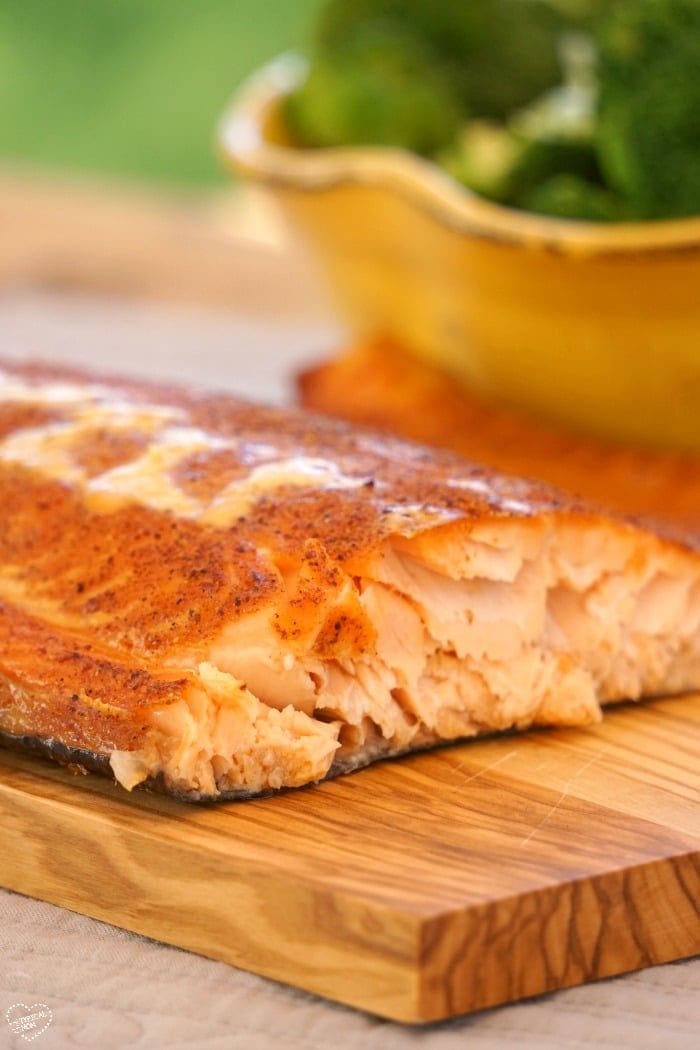 When you're ready to take it a step further and smoke meats like beef and pork, here is a meat smoking chart to get you started.
Here are a few other smoker recipes to try:
You can print recipe below.
Try air fryer salmon too!
For more easy recipes, tips and free printables please LIKE The Typical Mom on Facebook and follow me on Pinterest! You can also sign up for my free weekly newsletter which is packed with goodies I know you'll love. 😉
How to Smoke Salmon
How to smoke salmon in your smoker right at home! The best rub for fish you will ever make that brings out the flavor and makes it melt in your mouth good. Easy recipe for those who have never smoked fish or looking for something new. Healthy and delicious dinner idea.

Cook Time
1
hour
30
minutes
Total Time
1
hour
45
minutes
Instructions
Combine rub ingredients in a bowl and mix well.

Massage rub into top and skin side of salmon fillet.

Add chips to smoker by filling container/drawer 3/4 full.

Preheat your smoker to 225 degrees, lay fillet flat on a rack once it reaches this temperature and smoke for approx. 2 hours. Check at 1.5 hrs. to ensure all is going well.

Salt and pepper to taste at end if you want more seasoning (we like it as is). Enjoy.
Nutrition Facts
How to Smoke Salmon
Amount Per Serving (4 oz)
Calories 148
Calories from Fat 9
% Daily Value*
Fat 1g2%
Cholesterol 15mg5%
Sodium 2344mg102%
Potassium 182mg5%
Carbohydrates 27g9%
Protein 5g10%
Vitamin A 105IU2%
Calcium 19mg2%
Iron 0.5mg3%
* Percent Daily Values are based on a 2000 calorie diet.