Understanding the different types of onions and what each one is used for, most of the time. Once you do, you can make all sorts of great onion recipes!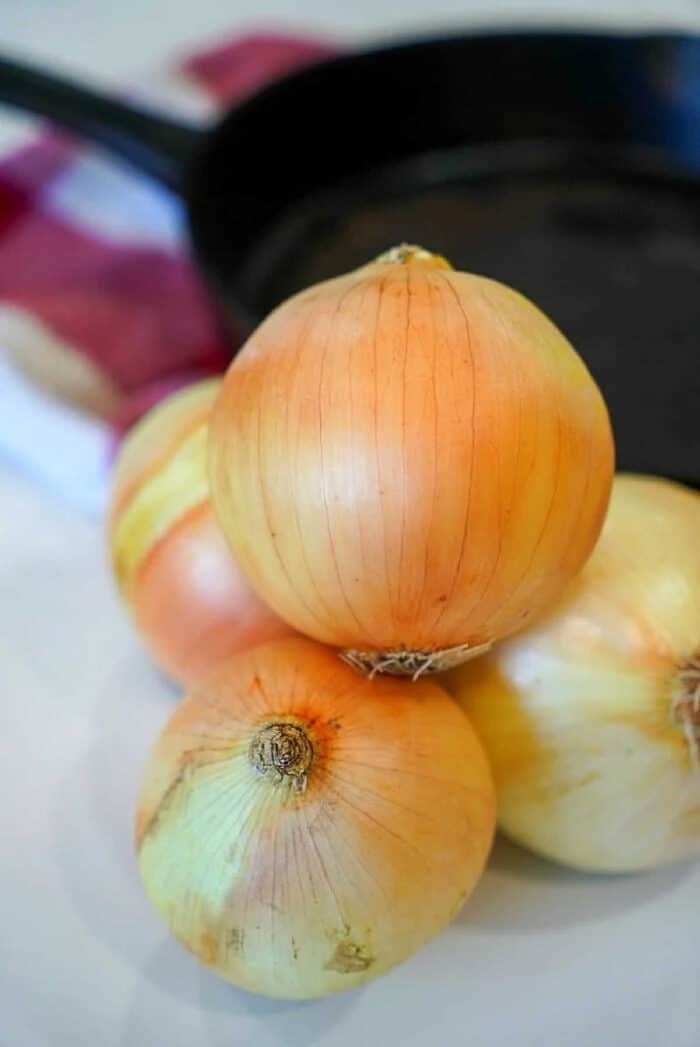 If you're ready to learn about all the different types of onions, you're in for a treat. Most people tend to think that there are only white and red onions, but it really goes a lot deeper than that. Let us share these cooking basics with all of you. (affiliate links present, originally published 1/21)
Types of Onions for Cooking
What you'll find in this post is great information about what onions are great in certain dishes and the various types of that you need to try as well.
Types of Onions and Uses
Because when you're educated about the best onions to use, you can easily change up the entire flavor and taste of an entire dish. We will talk a lot about each one and what to use them in below….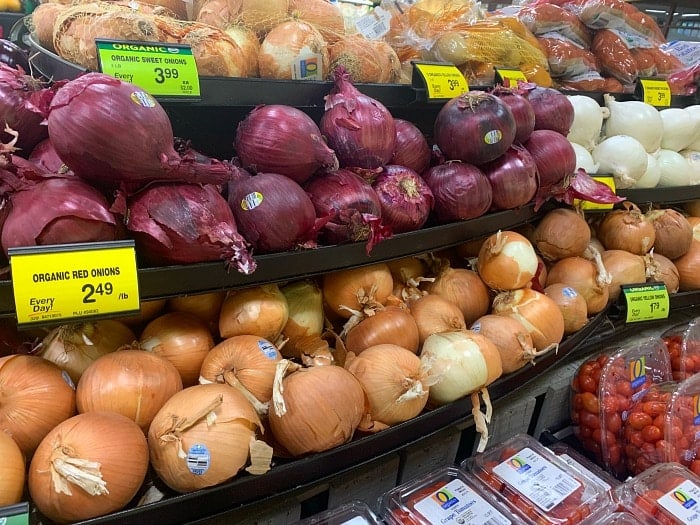 Best Onion to Eat Raw
Now keep in mind some of this is subjective. I am not crazy about any of them without being cooked but others think that is the only way they want to eat them. Over the years my tastes have changed slightly though, a bit. Only when I made chicken salad with finely chopped red onions, that was good.
How many types of onions are there?
There are actually many different types of onions. And once you open your eyes to the variety that can be used for cooking, you're going to realize just how much the flavor changes depending on the type that you use. The most popular and most well-known type are:
Pearl or Bermuda onions
Leeks
I love yellow onions and use them in just about everything. One must during the holidays is this onion gravy recipe.
Sweet or Spring onions
We use red onions in our chicken salad sandwich recipe you see below
White or Welsh onions
Shallots / Green Onions are great diced and sprinkled on top of dishes to add some color and texture
Scallions
I use them all in a variety of recipes combined with some diced air fryer roasted garlic too. Both are great add ins for flavor.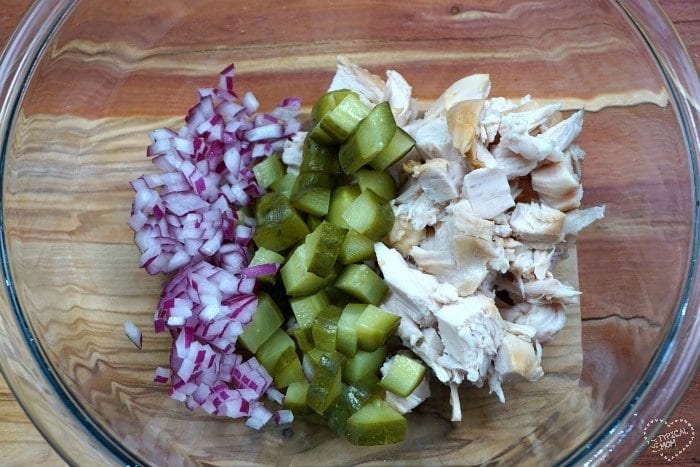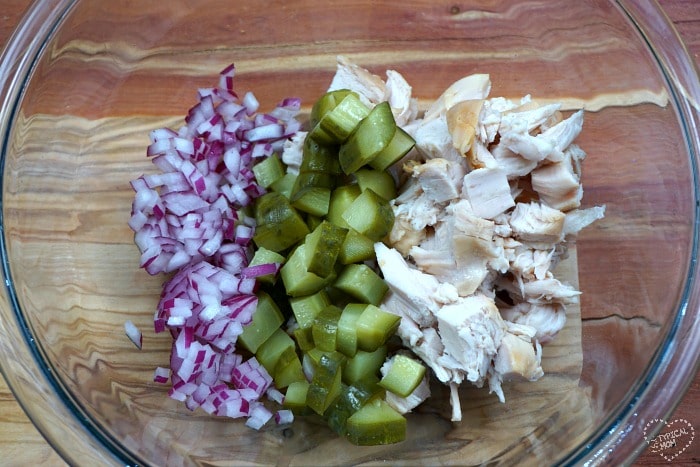 What is the most common onion?
This can vary depending on the location that you live, but if you reside in the US, the most commonly used onion are Spanish Onions. This type of onion can look quite different and is a great onion for most recipes.
Even though those are some of the most common, some of the lesser-known ones that deserve to be highlighted are of the Welsh variety (used most commonly in onion cake recipes).
Bermuda make some of the best caramelized onions and used in things like Instant Pot French onion soup.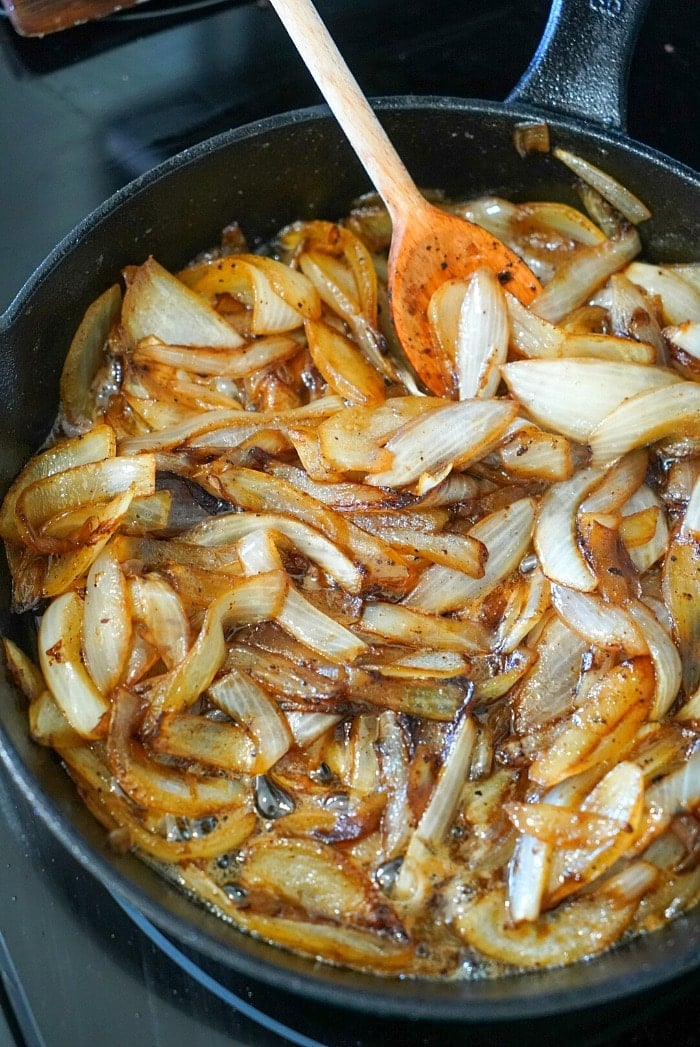 Which is the sweetest onion?
Red onions are actually the sweetest onion and saw people prefer to eat this type of onion either raw or cooked. When eaten raw, the taste offers a really good sweetness that is quite pleasant in salads or as toppings to other dishes.
If you're looking forward to eating raw onions, the red onion is the one you want.
Why do onions make us cry?
This is probably the worst aspect of onions. They like to make us cry – or at least it feels that way!
But the truth is, it's actually part of their chemical makeup that makes us release those tears. The stronger that reaction, the more quickly the tears are going to flow.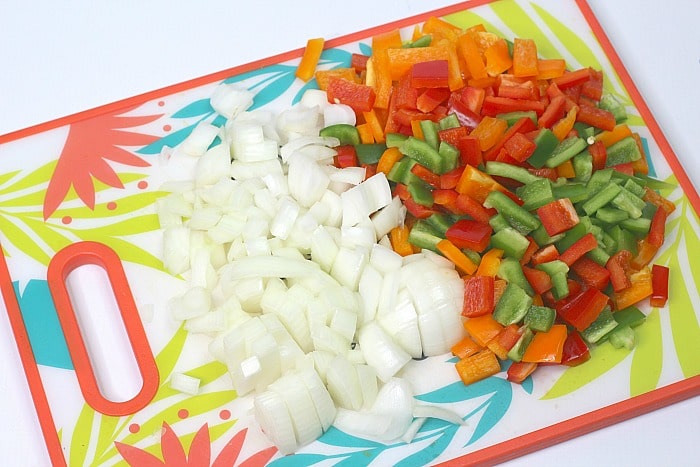 Now that we've answered a few of the main questions that people tend to have in regard to onions, let's dive a bit deeper into the various types of onions and fun ways that you can cook them up, too.
Different Types of Onions
As mentioned above, there are many different types of onions. The most popular are:
Leeks (good in soups and stir fry)
Pearl Onions (great for soups, stews, casseroles)
Yellow onions (perfect for almost any recipe that calls for onions)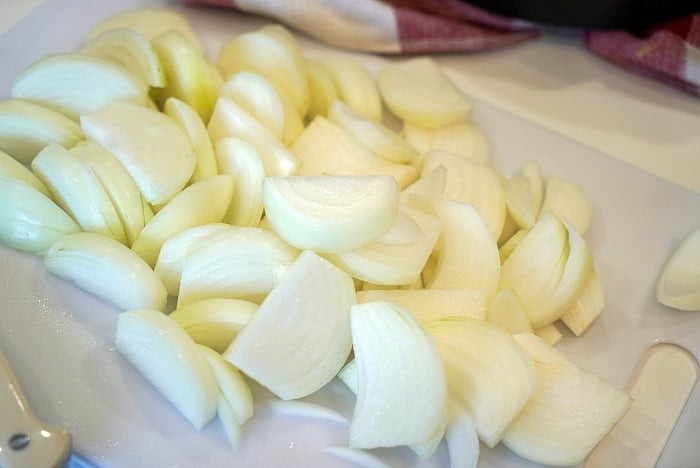 Sweet onions (great on salads or to eat raw)
Red onions (can be used on burgers or enjoyed raw)
White onions (perfect for toppings or dips)
Shallots (good for soups)
Scallions/Green onions (delicious topping options)
Each onion serves a purpose and has different flavors and tastes. Depending on the dish that you're making you can typically just use what you have on hand.
What type of onions work well for making homemade onion rings?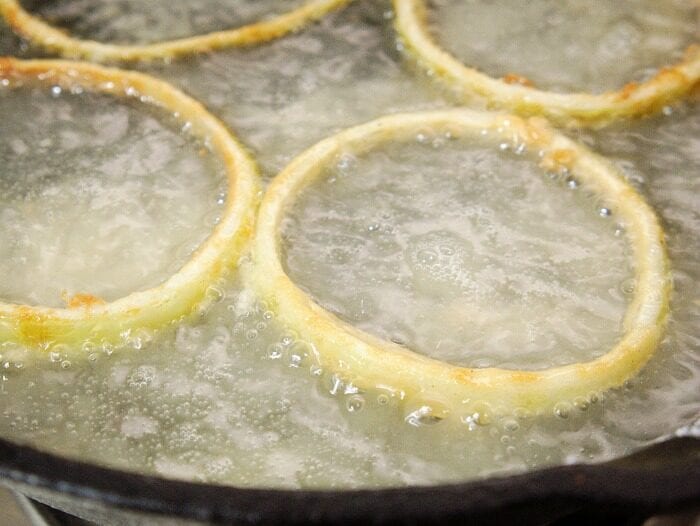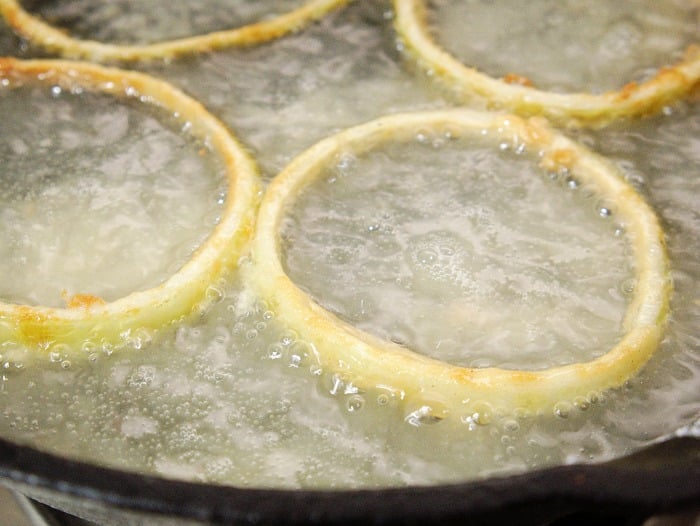 Sweet onions are great for making crispy fried onions rings, especially the Walla Wallas onion. They're typically a bigger and thicker onion which means that they're going to be sturdy for holding the batter easily.
We have used several different types to make a batch of air fryer onions to serve on burgers. They all turn out fantastic.
The added sweetness is also a great contrast to the outer layering of the onion ring as well.
What type of onion works great for stir-fries?
Yellow are great for stir fry dishes because they're versatile and have a mild flavor. You can also use green onions as a fun topping for stir-fries and pearl onions as a fun side dish to grill up and serve with the dish.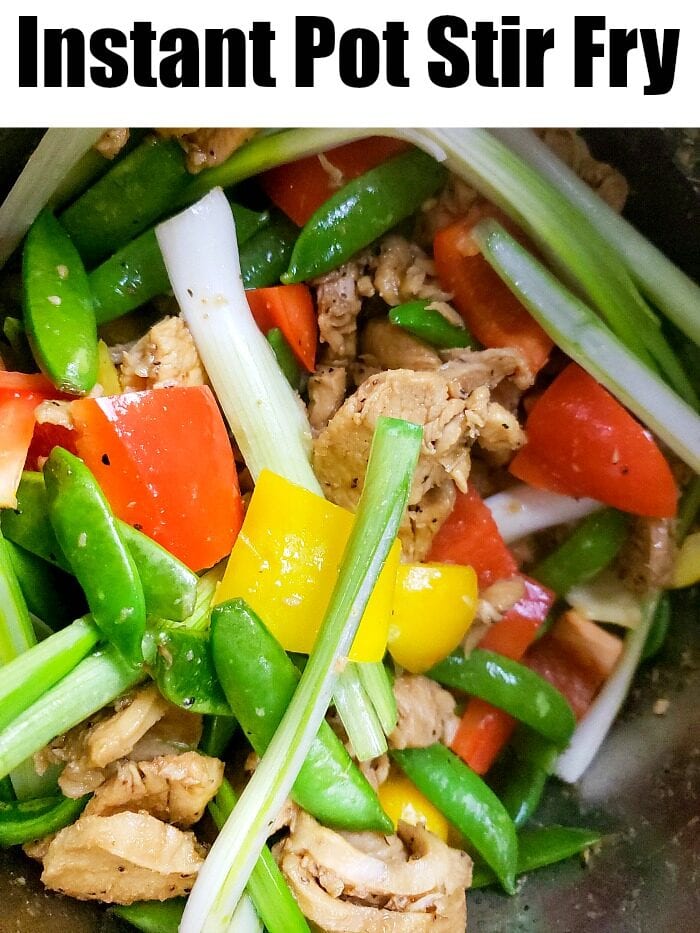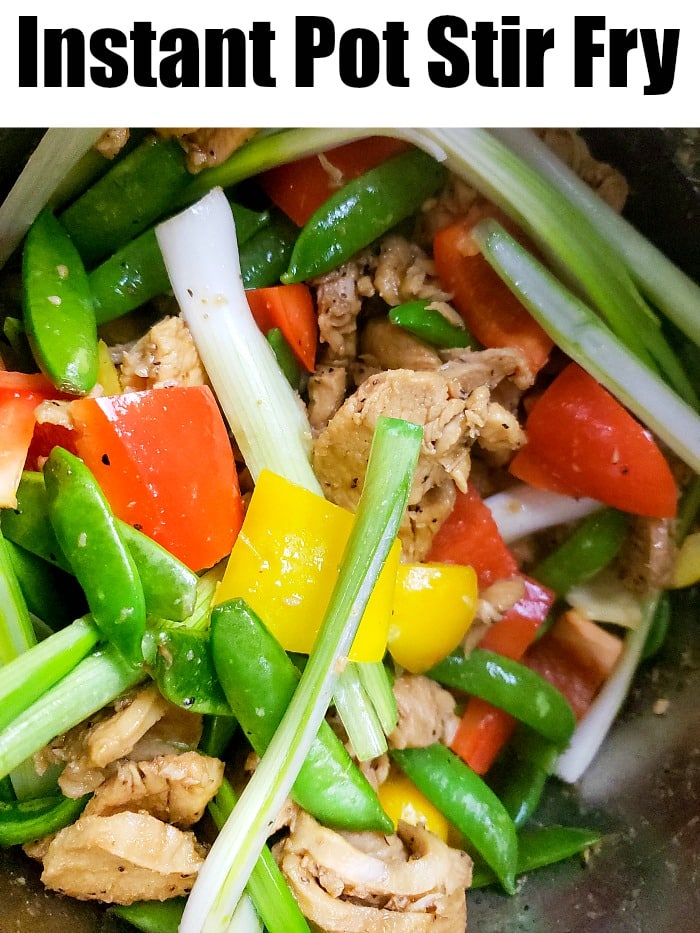 Which onion tastes best raw in salads or dips?
White onions are going to be your best bet for eating raw in salads, dips, or even on top of nachos or tacos. This is because it's a tad bit sweeter than other onions but not quite as sweet as your sweet onion or Vidalia onions.
What is the difference between a white onion and a Vidalia onion?
The main differences between these two types of onions is that the Vidalia onion is sweeter and not as strong flavored.
Vidalia onions are quite versatile as are white onions, so people do tend to use them in a wide variety of dishes.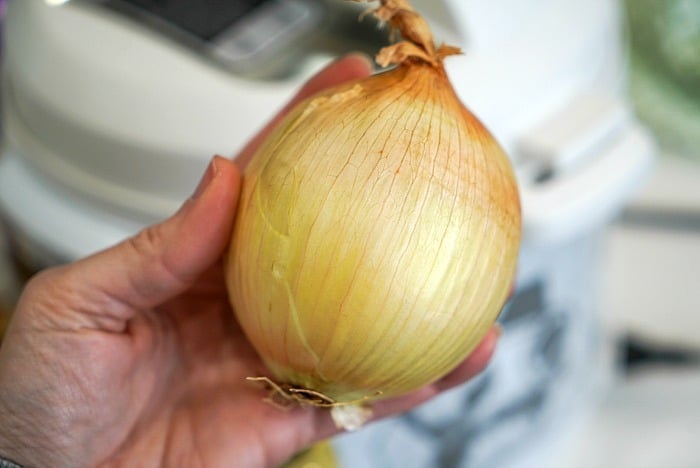 Onion Recipes
Like I said, I add diced varieties to almost every single Instant Pot recipe, Ninja Foodi recipe and oven baked dish on my site.
When it comes to something with primarily this ingredient though, these are probably our favorites:
Air fryer frozen onion rings just because they're quick
This Roast with onion soup mix is pretty darn fabulous
You can make Instant Pot liver and onions some night
I have a Crockpot French onion soup that even my kids love.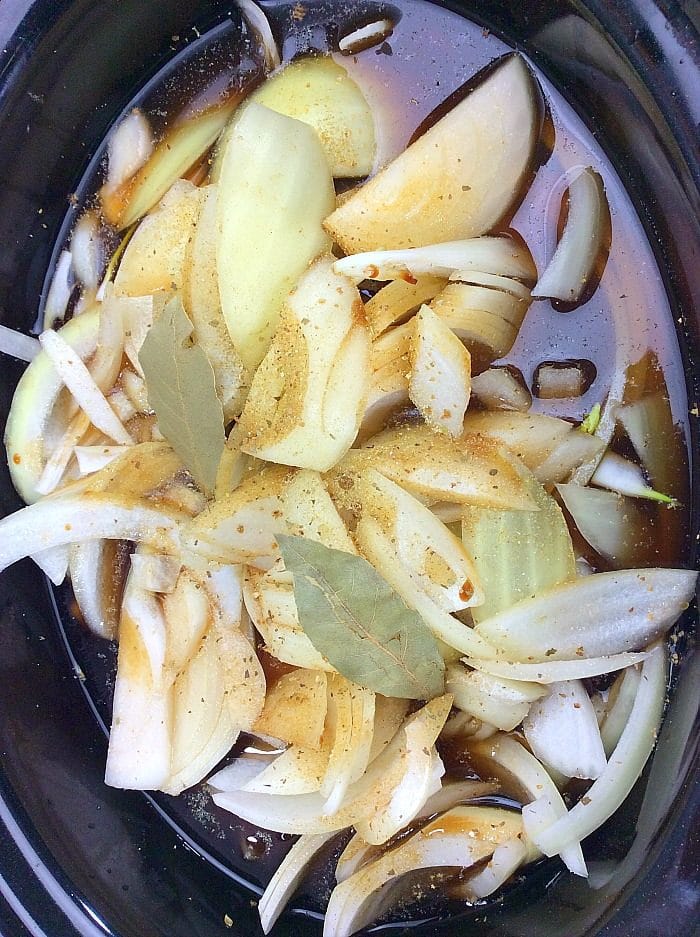 Other Uses For Onions
Even though most are great for tossing in recipes or eating raw, don't forget that many can be a great topping as well. If you're ever in doubt about the type that you have, cut a small piece and try a bite. You'll immediately know what type of it is (sweet or not) by the taste and flavor.
Once you do that, you'll know exactly how you should use it in your recipes as well.
When it comes to all the different types of onions, do you have a favorite that you love to cook with or add to your dishes? Want to learn more about other foods, here are different kinds of cheese too.