Pressure cooker liver and onions is here! If you love this classic dish you can now make it in your Instant Pot, Crockpot Express or Ninja Foodi in no time at all. Look!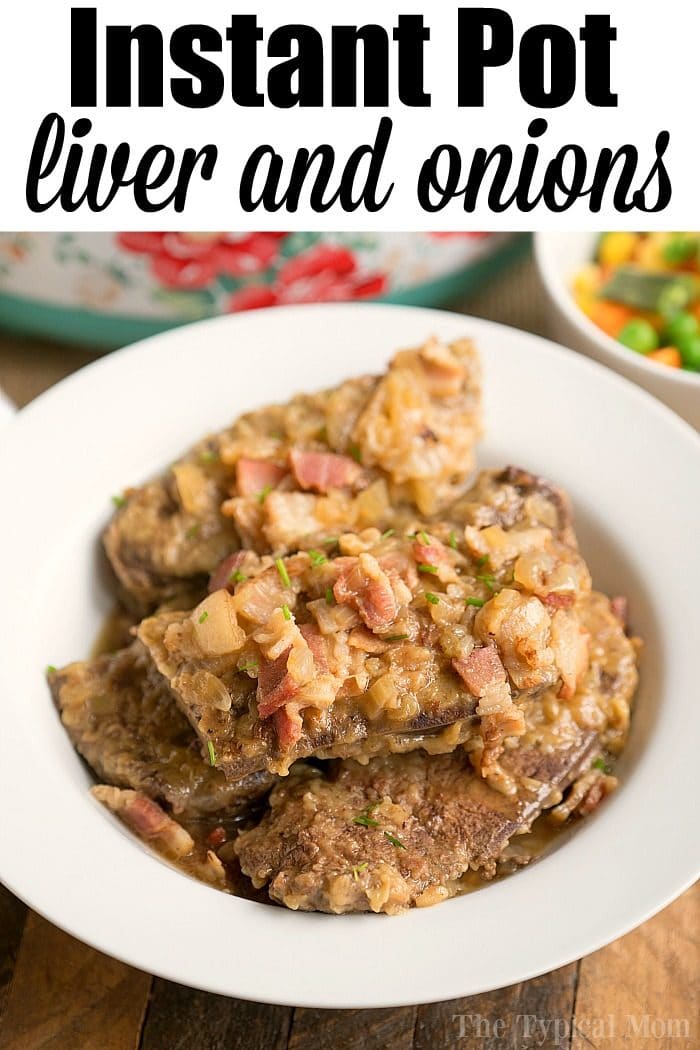 I will start by saying I never tried liver until I was an adult. This pressure cooker liver and onions was the first time I made it myself at my house. There was a reason to try it though because a special person was coming to our house and it was their favorite. Find this and more on our Instant Pot recipes page. (affiliate links present)
This dish reminds me of my Grandmother, she loved it.
Nothing went to waste back then and that included organs. Coated with seasonings it was made with a bit of crispy outer layer and tender inside. There are many ways of how to cook beef liver but this is our favorite by far.
Instant Pot Liver and Onions
FIRST – You should sign up for my free newsletter so you get new posts emailed to you twice a week and never miss out on anything! Now let's start with a few basic tips:
Make sure to Bookmark our InstaPot recipes page. We add new ones each week!
Then PRINT this —–> Instant Pot cooking times cheat sheet that will help you understand how long meat, vegetables and beans take to cook in your pressure cooker.
For reference, this is the pressure cooker I have (a 6 quart) and use for all recipe creations.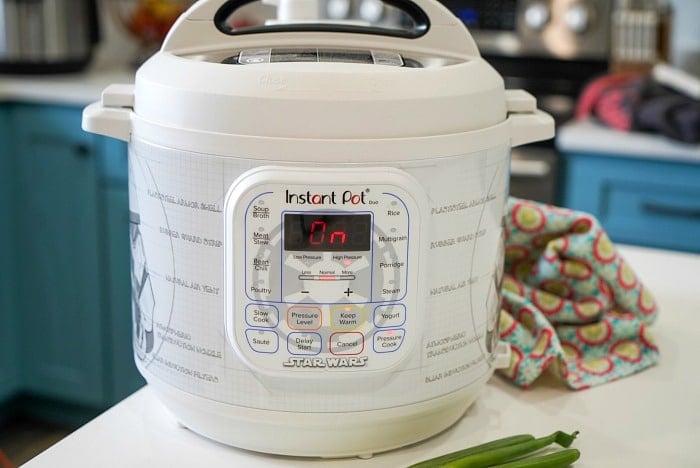 How to cook liver and onions
This comes with many answers depending on whom you might ask.
Since I use my Instant Pot and Ninja Foodi pressure cookers on a daily basis so it was only natural for me to use those.
You can also bake it in your oven or make it on your stovetop, it's preference really.
If you make Ninja Foodi liver and onions or make it on your stovetop you will see these differences:
You'll be able to brown the outsides – some prefer this and others like it as you see here with a softer outside texture.
Your onions will become more caramelized using a pan on the stove.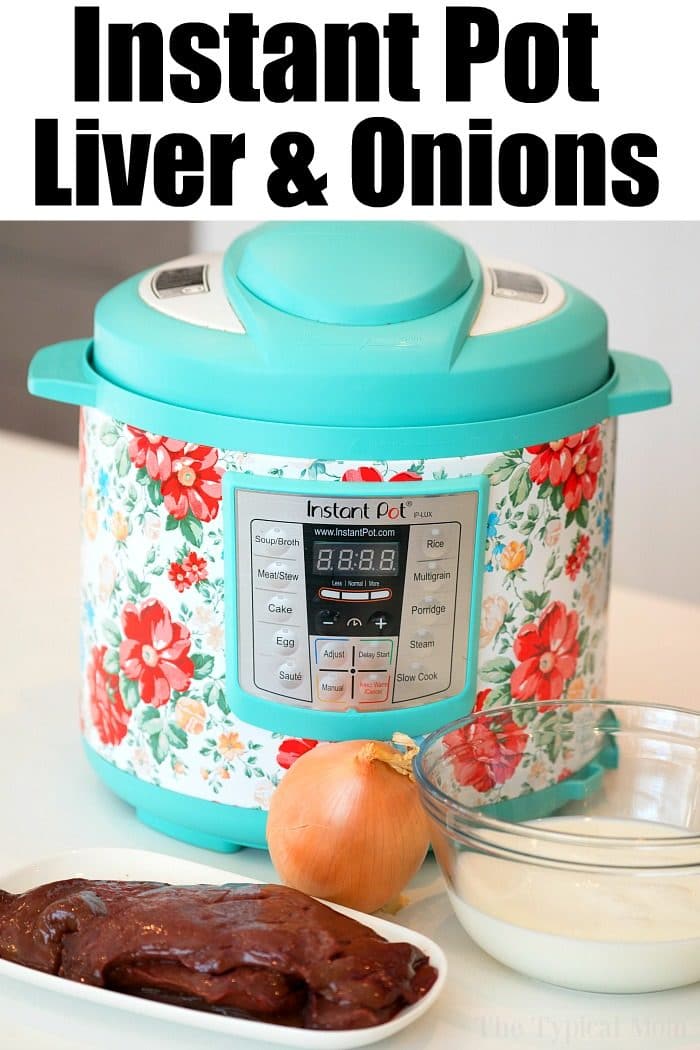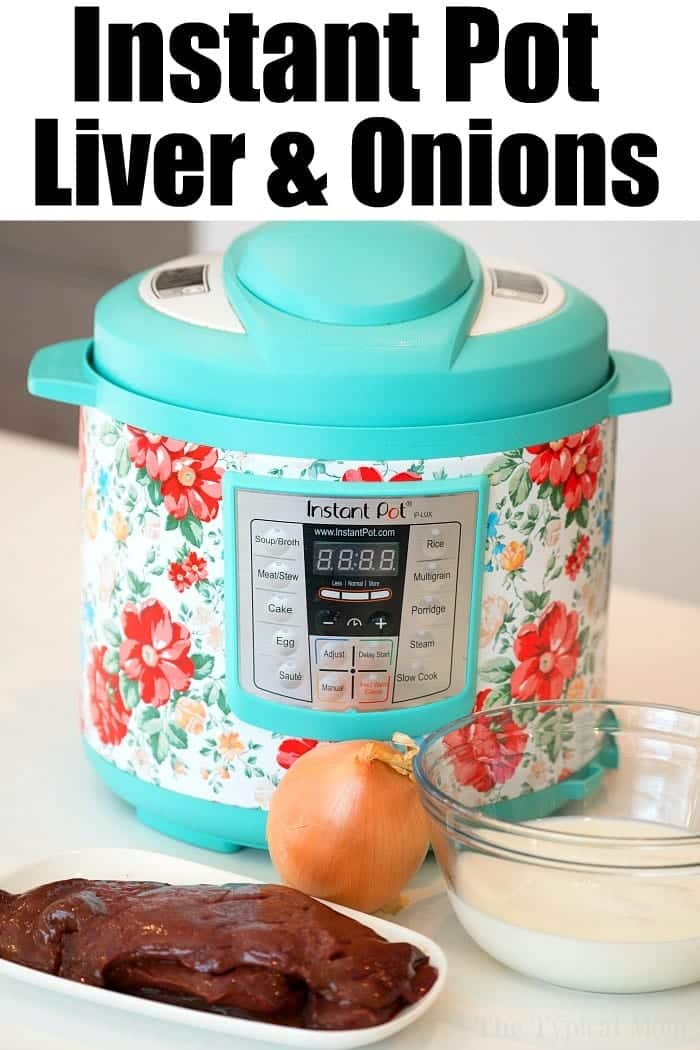 Liver and onions in pressure cooker
Liver comes out unbelievably tender.
Dish takes less time to cook overall.
How to combine the two
Make pressure cooker liver and onions
Put into a baking dish
Set oven to broil and cook for 3-5 minutes until outsides are browned
Or once done put liver and onions into a pan on the stovetop to caramelize the onions and brown the outsides of your liver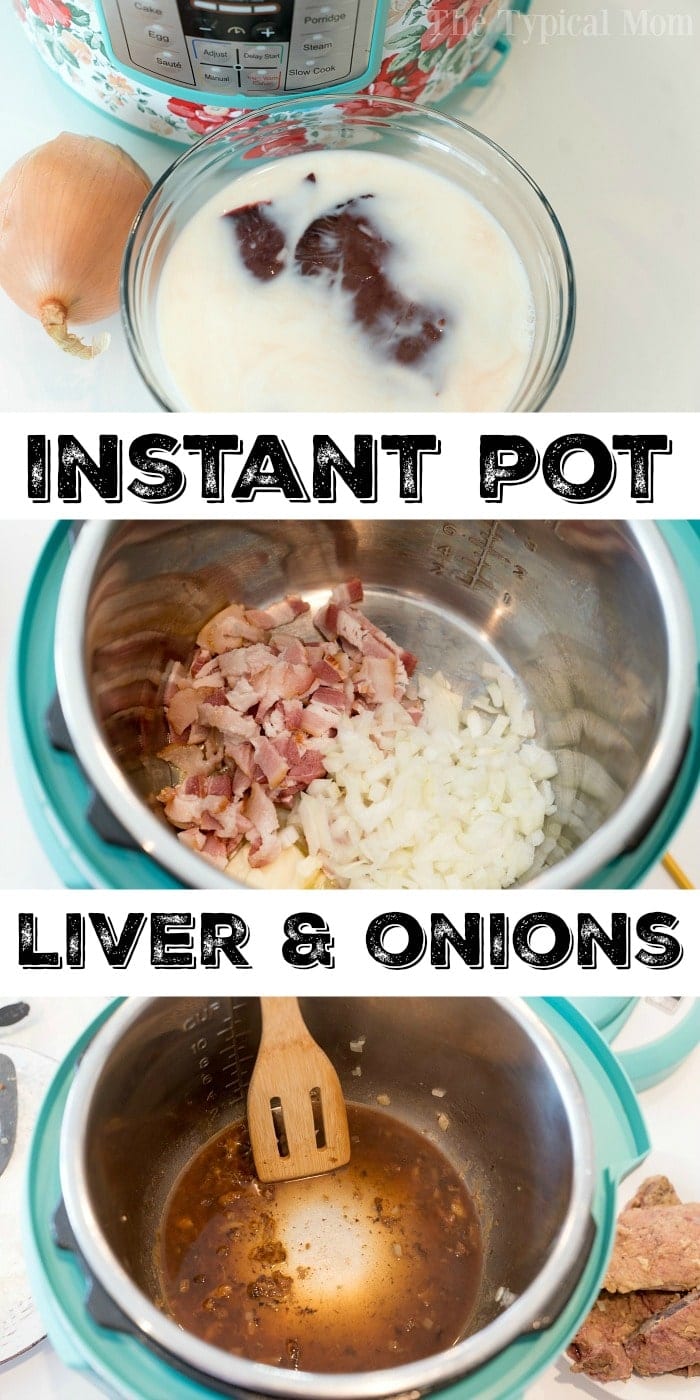 Ninja Foodi Liver and Onions
Either way you make this with bacon and onions you'll want to put your liver into a bowl of milk beforehand.
You can cook liver and onions without flour and omit that step in the instructions below, that is up to you.
Everyone has their preferences. Make the style you like and just use my timing and the amount of liquid you'll need for your pressure cooker to cook properly.
The recipe I share with you below is from a relative who has never made this in a pressure cooker, but I just adapted it to this so she (and you) could try this method as well.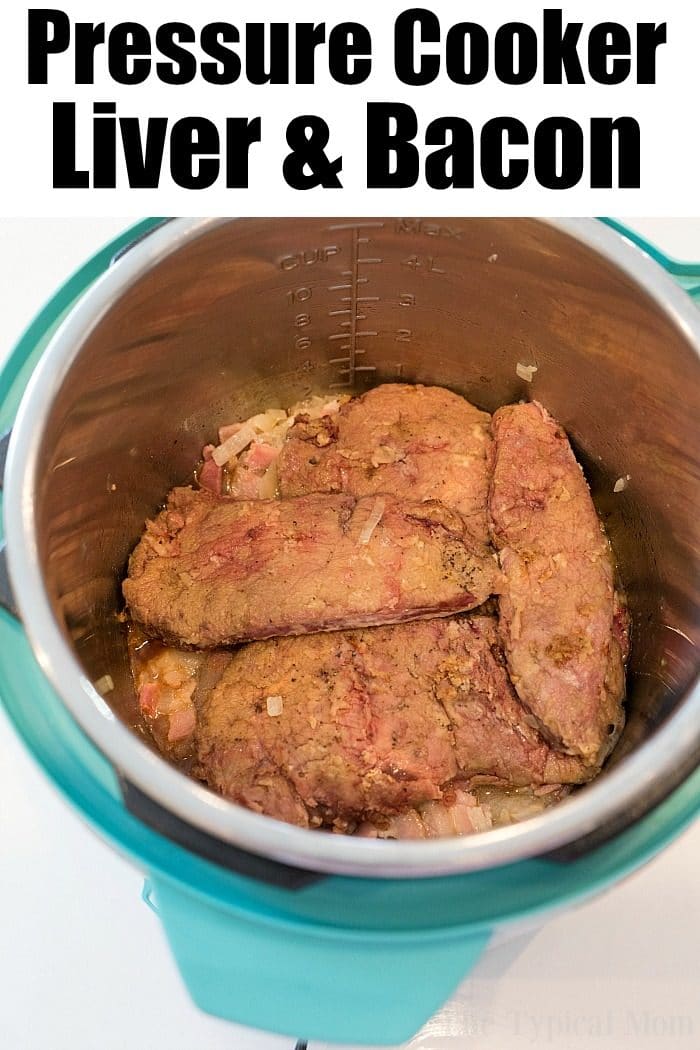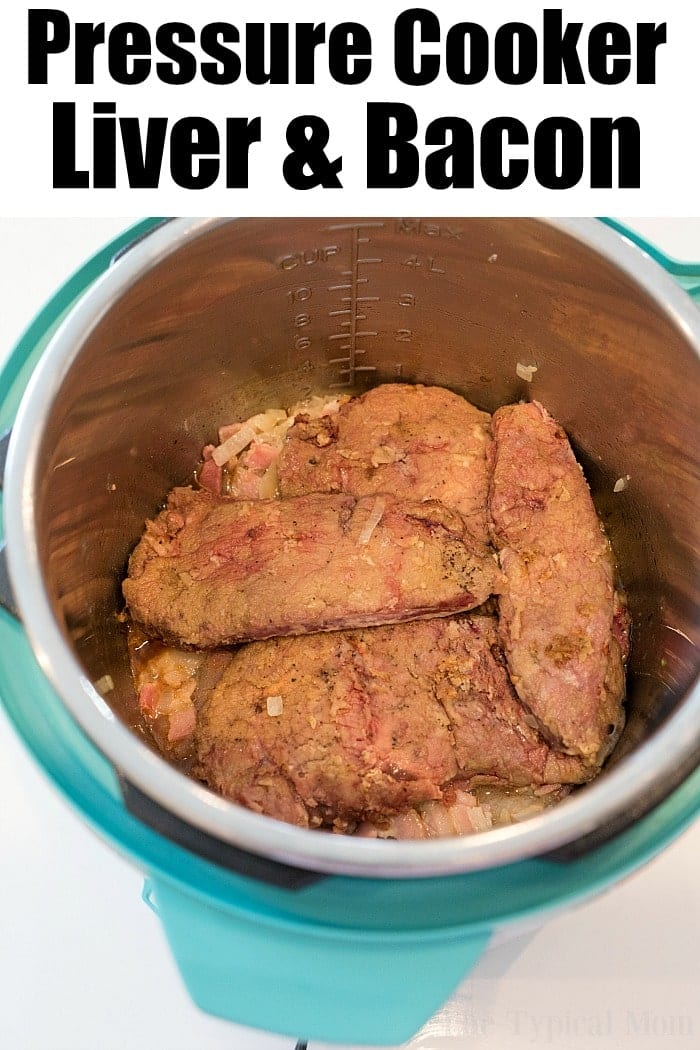 Searing the outsides is step 1
Then once it's done you're free to enjoy
If you'd like a deeper color / crispy recipe for liver on the outside at this point
Put under your broiler
Brown on the stovetop
Use the air fryer function on your Ninja Foodi for 3-5 min. or until brown (to your liking)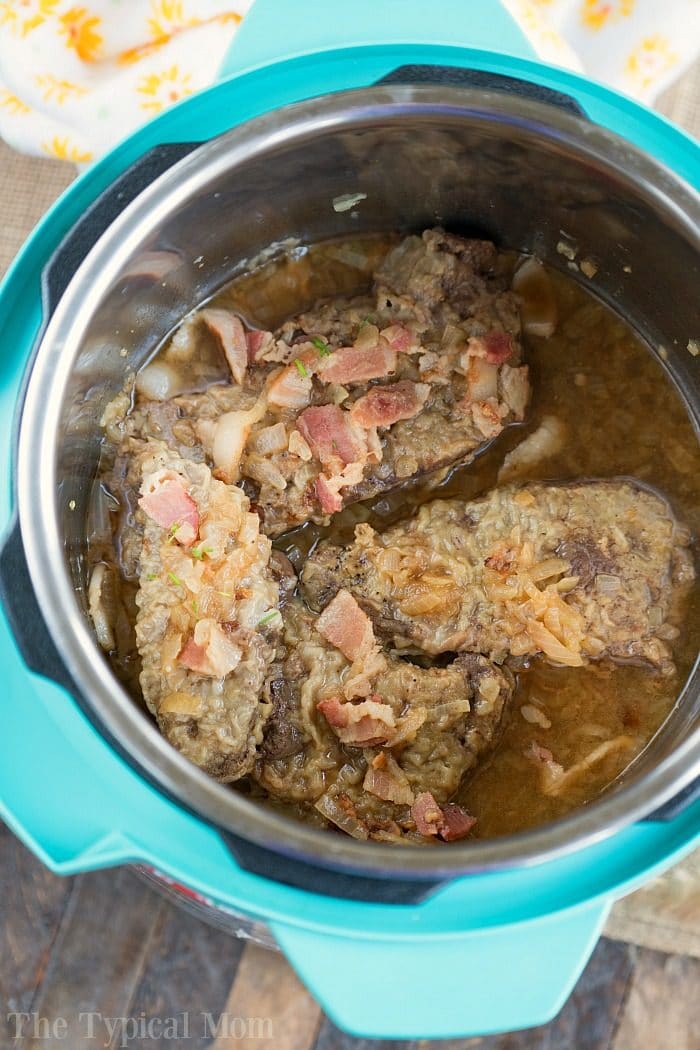 What you need to make pressure cooker liver and onions
Liver slices – we used beef livers
Flour – if you want to coat the outside you'll need this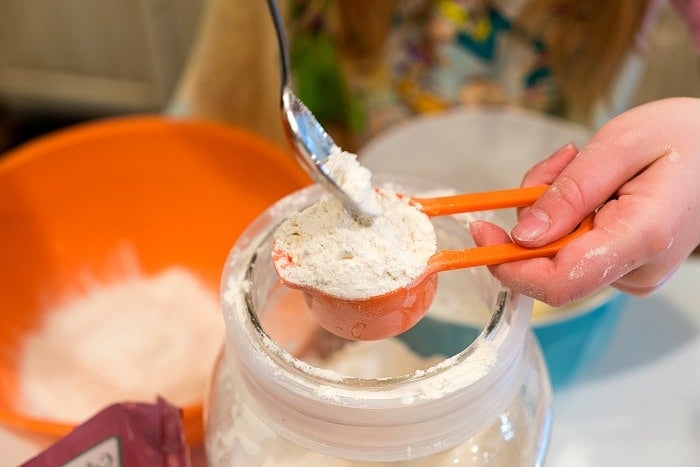 Milk – put liver in milk in beforehand
Onion sliced
Bacon
Butter
Salt and pepper (use any other spices you like on this dish)
Olive oil
Beef stock
Slotted spoon
Great seasoned with salt and pepper again when done and served over pressure cooker mashed potatoes.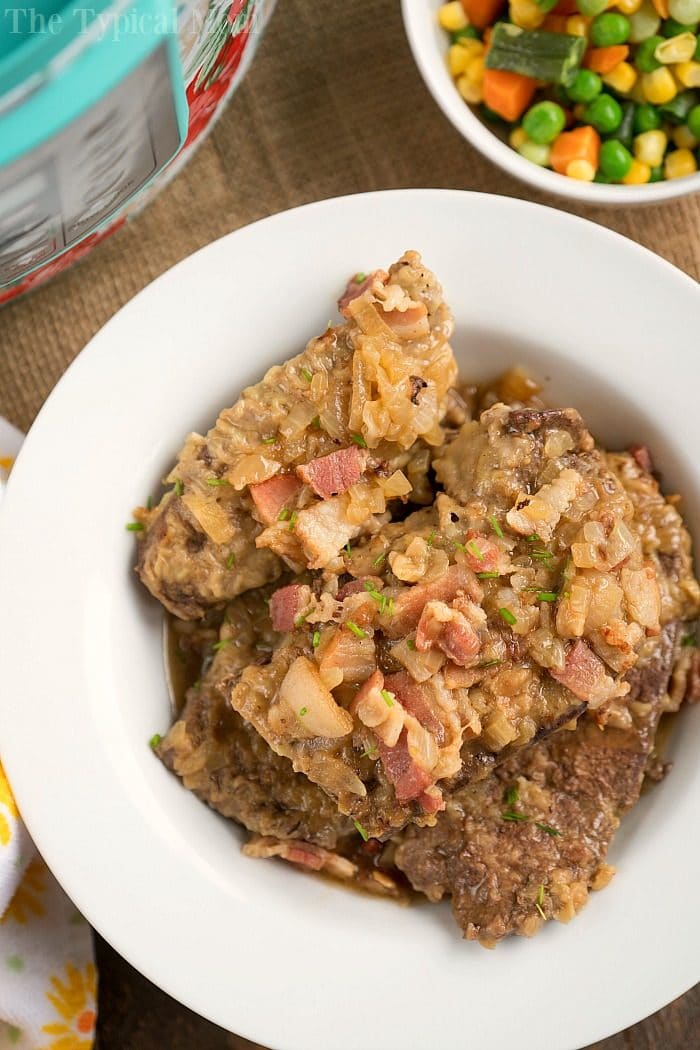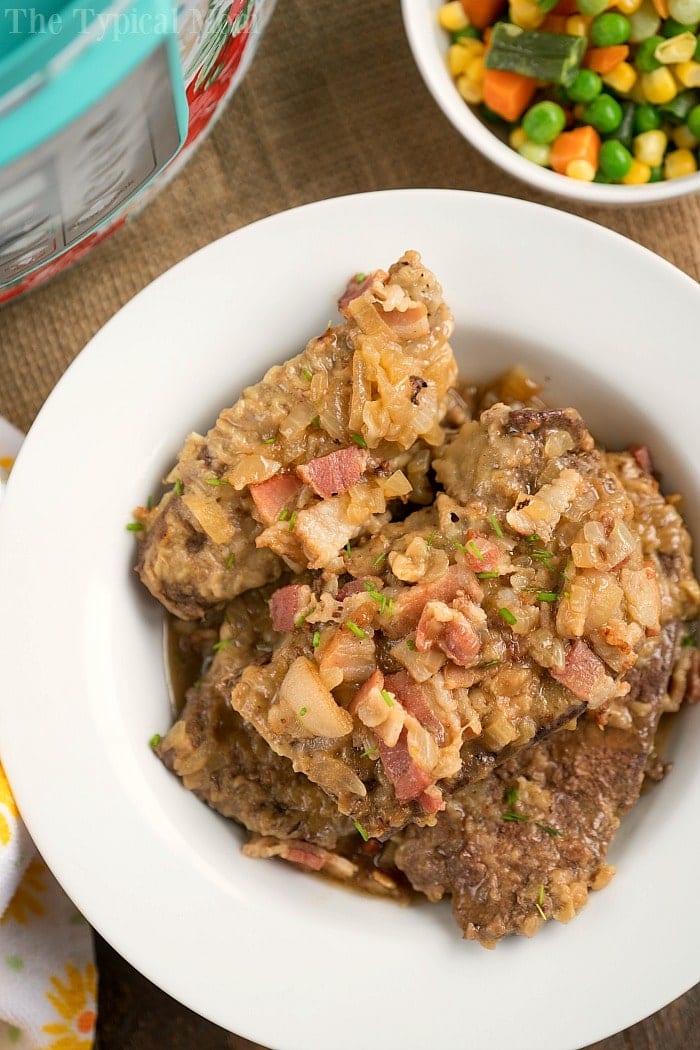 Basic steps to follow:
First you'll want livers to soak in milk for a good hour.
Then caramelize your onions and cook your bacon in your pot using the saute setting.
Remove that but leave the grease as this will provide more flavor to your meat.
Once you've soaked the liver, dip each piece in flour and sear on both sides

not necessary, but our preference

Then remove the liver and put back the bacon/onion mixture with broth. Add the liver back on top of everyting.
Cook on high pressure for 5 minutes with a natural release for 10 minutes to maintain the moisture.
If you love eating liver but only have a stove top, use medium high heat and follow these instructions for that method.
Want to see a few of my favorite things that I am totally obsessed with?? Take a peek and see how many you might already have…twinsies!
Looking for more easy family recipes and tips? LIKE The Typical Mom Facebook page?
Then sign up for my free newsletter, and follow me on Pinterest! 😉
***** If you LOVED this recipe give it 5 Stars below and let everyone know what you thought about it. 😉
Pressure Cooker Liver and Onions
Pressure cooker liver and onions is here! If you love this classic dish you can now make it in your Instant Pot or Ninja Foodi in no time at all. Look!
Instructions
Put liver pcs. in a bowl with your milk and soak for 45 min-1 hour.

Set Instant Pot to saute and add butter, garlic salt, diced bacon and onions. Saute until onions are softened. Remove from pot. Turn pressure cooker off/cancel.

Put flour on a plate and put 1 piece of liver on top of the flour, sprinkle with salt and pepper, then flip over and do the same thing so both sides are coated.

Turn Instant Pot to saute, normal setting, again and add 1 tbsp of olive oil.

Place 2 pcs. of liver that has been coated in flour in the pot and sear/lightly brown both sides. Remove from pot. Do this to all pcs. of liver you are cooking. Add remaining olive oil with additional pcs. to avoid sticking to the pot.

Turn pressure cooker off/cancel.

** Deglaze your pot!

Full instructions for this above recipe card but basically add 1/2 c. of your beef stock into the pot and use a spatula to scrape all the pcs of stuck on meat off the bottom of the pot so it doesn't trigger the burn message during the next step.

Pour onion/bacon mixture back into the pot followed by remaining 1/2 c of beef stock.

Lay seared liver pieces on top of everything and close your lid and steam valve.

Set to pressure high for 5 minutes. Do a natural release for 10 minutes when it is done, then release rest of steam.

Serve topped with additional onions and broth at bottom of the pot.

If you like the outsides crispy put liver pieces inside air fryer basket in Ninja Foodi, set to 400 degrees for 3-4 minutes until outsides are browned. Can do the same with CrispLid on Instant Pot or Crockpot express or put under broiler for a few minutes.
Nutrition Facts
Pressure Cooker Liver and Onions
Amount Per Serving (3 oz)
Calories 578
Calories from Fat 297
% Daily Value*
Fat 33g51%
Cholesterol 513mg171%
Sodium 1104mg48%
Potassium 899mg26%
Carbohydrates 22g7%
Protein 44g88%
Vitamin A 29120IU582%
Vitamin C 4.2mg5%
Calcium 157mg16%
Iron 9mg50%
* Percent Daily Values are based on a 2000 calorie diet.