Beef or chicken Instant Pot stir fry and vegetables is a great dinner idea that's healthy and packed with lemon pepper flavor! Add fresh, defrosted or frozen chicken breasts with bell peppers and onions and your one pot meal is done in no time!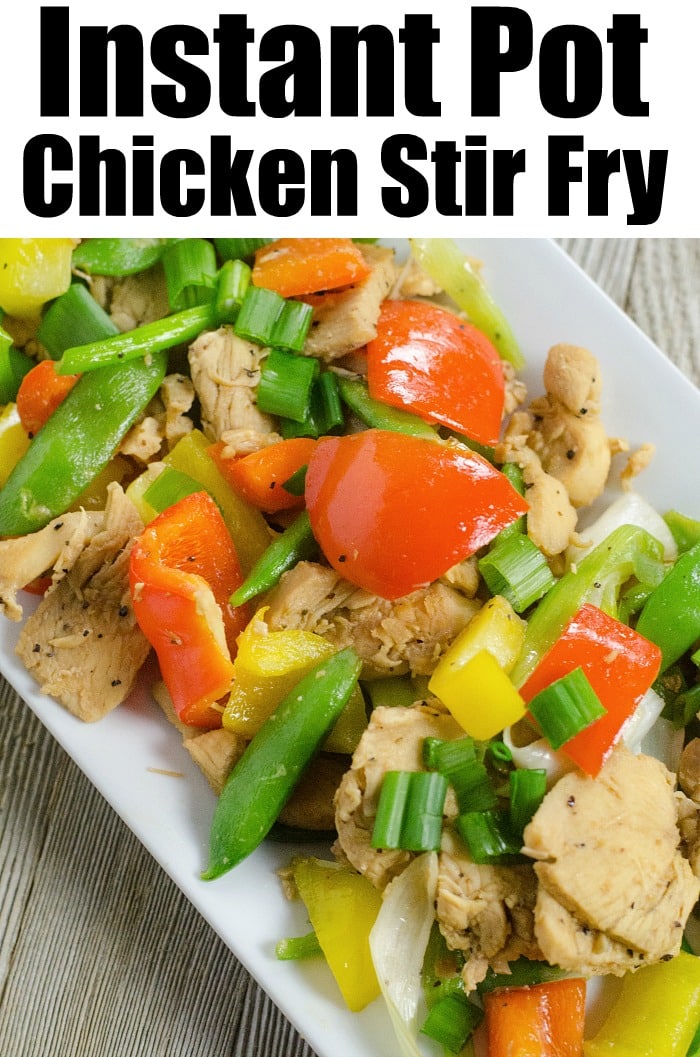 Instant Pot stir fry. Sounds interesting right?? It's probably one of your favorite meals when you go out but haven't tried it yourself. It's easier than you think. We used chicken but steak stir fry would be an easy swap out too. It's not only healthy but Keto friendly and gluten free too! Find this and many more on our roundup of easy Instant Pot recipes. (affiliate links present, originally published 4/19)
Instant Pot Chicken Stir Fry
Of course you could use any pressure cooker you have to make this. They all have the saute function. That's all you need. So grab your Crock Pot Express or Ninja Foodi pressure cooker and air fryer and let's get going on this one, you'll love it for sure.
You could use chicken thighs if you'd rather for this one if you love dark meat, we do too. Breasts work as well and even if they are still rock hard you can still throw those in at the beginning. With these you will need to cook first for 12 minutes and then proceed to the next steps listed below.
FIRST – You should sign up for my free newsletter so you get new posts emailed to you twice a week and never miss out on anything! Now let's start with a few basic tips:
Make sure to Bookmark our InstaPot recipes page. We add new ones each week!
Then PRINT this —–> Instant Pot cooking times cheat sheet that will help you understand how long meat, vegetables and beans take to cook in your pressure cooker.
For reference, this is the pressure cooker I have (a 6 quart) and use for all recipe creations.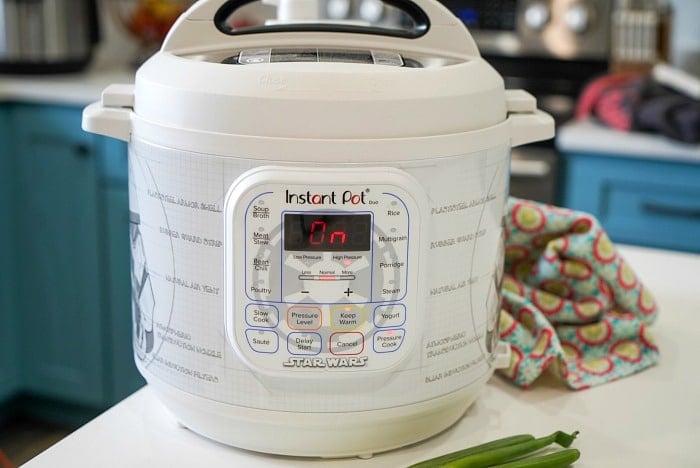 Ninja Foodi Stir Fry
If you are using this machine you will use the pressure cook button. The lid that is NOT attached is the correct one for this dish. If you needed to double everything for a larger crowd that would work just fine in your 6 quart or larger pot.
Instant Pot Stir Fry with Frozen Chicken
If you're cooking frozen meat in Instant Pot you'll want to cook under high pressure for 12 minutes first with a cup of broth, quick release and then that part is set. Then pour out the water you used to steam the meat, add items from step 5 for the sauce and skip to steps on step 6 below.
Can you fry in an Instant Pot?
Stir fry isn't really frying, or deep frying.
It's merely a mixture of meat, vegetables and sauce.
No you cannot deep fry in a pressure cooker, it won't get hot enough.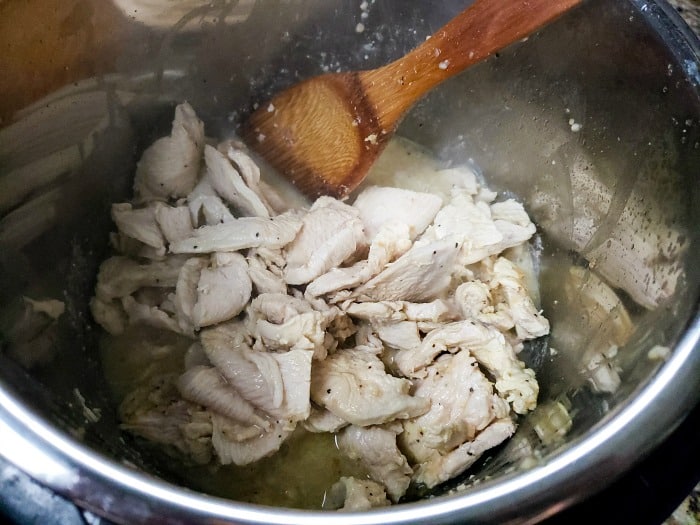 Which Instant Pot is best?
Depends on how large your family is but our 6 quart is great for the 5 of us. You'll want to begin by setting your pot to saute. Now you're going to whisk together your teriyaki sauce, soy sauce and olive oil (or avocado oil) in your pressure cooker. Add your thinly sliced chicken breast and saute.
This will be a 5 minute cook time. Since the meat is thin it won't take long for the pink to disappear. If you have the option select cooking on high for your saute feature. On my Instant Pot and Ninja Foodi I can choose low, normal or high. You want "all the heat".
It's best to prepare all of your veggies beforehand because this entire cooking process will be quick. You don't want the chicken to overcook while you're trying to dice green onions or slice bell peppers.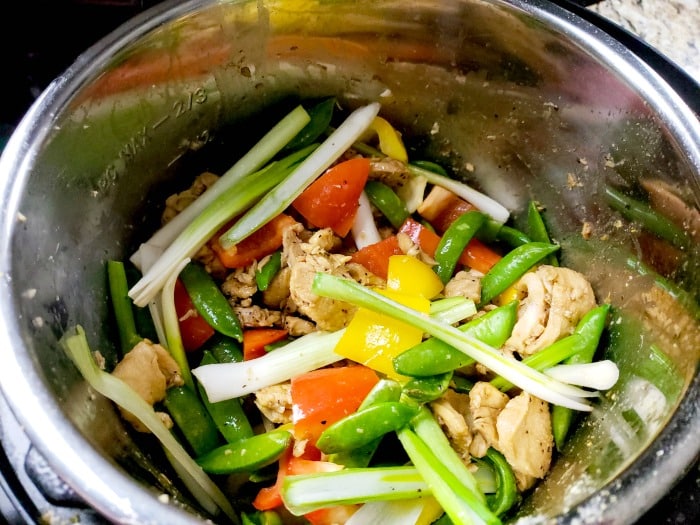 How do you cook frozen vegetables in an Instant Pot?
If you choose frozen for this recipe the timing would not change. Just periodically test the tenderness and adjust timing accordingly. Keep in mind you could add more vegetables and spices like broccoli and red pepper flakes for some spice. Nowadays you can find a variety of mixtures at the grocery store.
Most places offer an Asian blend sorta speak so if you can find that one that typically has snap peas, onions and peppers in it you're good to go. Just open the bag and throw all that in. Of course fresh produce is best but if you live in a smaller town like we do that isn't always possible to find year round.
I would also start your pressure cooker brown rice or Instant Pot white rice before cooking your stir fry so it will be done at the same time. Jasmine rices are our favorite choice.
Just add a few cups water with your rice into a separate pressure cooker and in less than 30 minutes it will be time to eat.
Talk about an easy meal prep!! Great for those busy days we all have.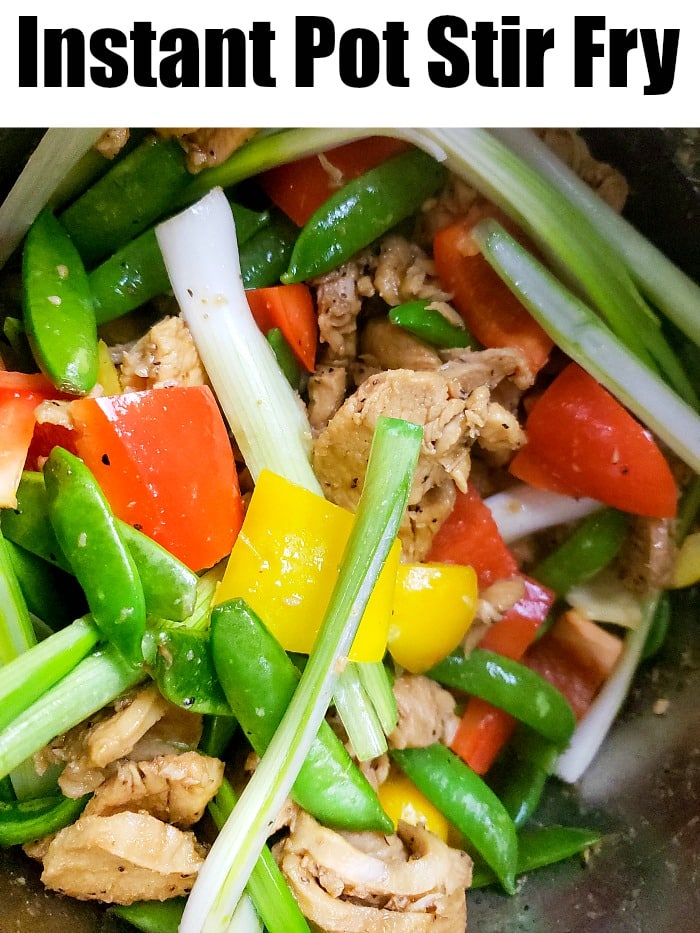 You will NOT ever completely close and seal the lid on your Instant Pot to make this chicken stir fry. It is all made using the saute function. The vegetables get tender by merely steaming with the lid on but not locked.
You should never lock the lid when the saute function is on. Yet keeping the pot on and creating steam with the lid slightly ajar will allow your peas, bell peppers and onions to become the perfect tender texture you want.
Just leave the valve to venting, set lid on top gently and check every few minutes to see if they're to your liking yet. Remove lid when veggies are perfect and serve immediately for ideal results.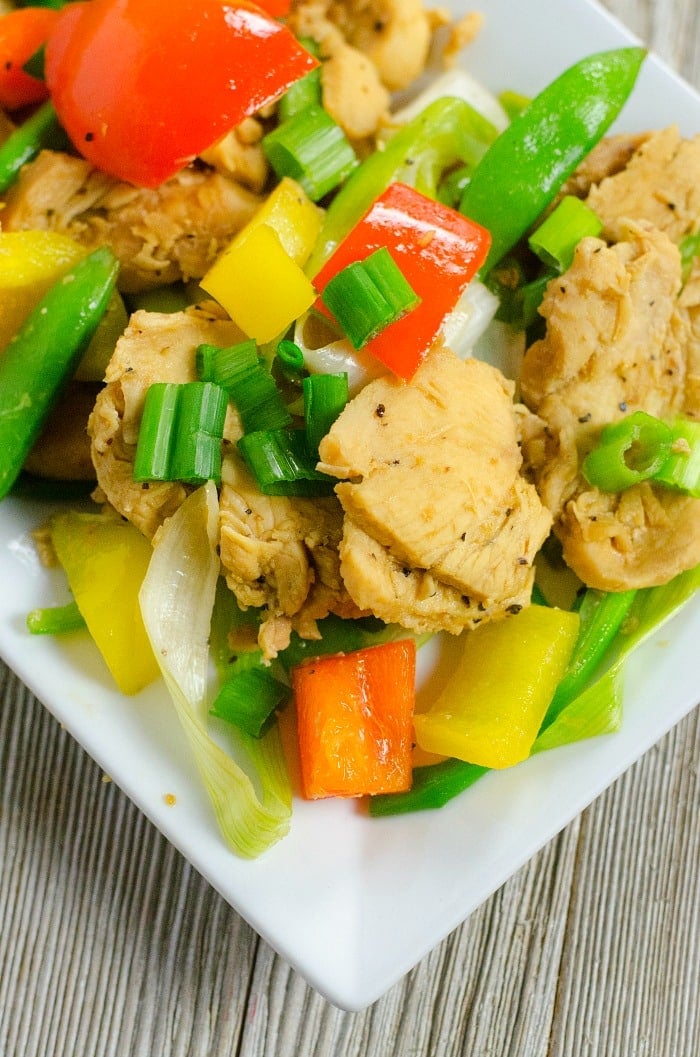 Pressure Cooker Stir Fry with Chicken
You do not need much liquid to cook this either. Realize there will be chicken broth created when you saute the meat. And you're not really pressuring cooking this meal since that function isn't used. So no worries that there isn't enough.
Pressure cooker

if you have an Instant Pot I highly recommend you get a non stick pot

Chicken
Soy sauce – you can use coconut aminos if you need a gluten free option
Brown sugar
Olive oil
Vegetables

bell peppers
green onions
snap peas
If you wanted a touch of sweetness you could add a dab of maple syrup when done. More savory drizzle more soy on the top with a side of your favorite grains.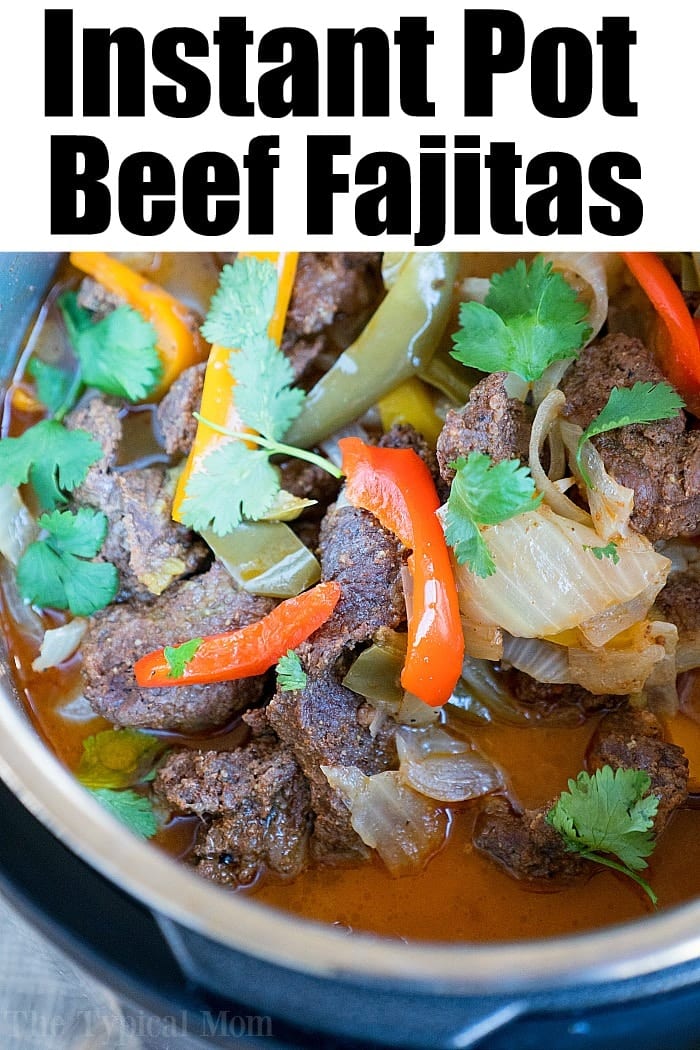 If you're looking for more Ninja Foodi recipes we have those too. Here are a few others you will enjoy.
You can print recipe here.
Want to see a few of my favorite things that I am totally obsessed with?? Take a peek and see how many you might already have…twinsies!
Looking for more easy family recipes and tips? LIKE The Typical Mom Facebook page?
Then sign up for my free newsletter, and follow me on Pinterest! 😉
***** If you LOVED this recipe give it 5 Stars below and let everyone know what you thought about it. 😉
Instant Pot Stir Fry
Instant Pot stir fry with chicken and vegetables is a great dinner idea that's healthy and packed with lemon pepper flavor! You've gotta' try this one.
Instructions
Dice bell peppers into large chunks (smaller they are the softer they will become). Place in a bowl.

Wash snow peas, put into bowl. Chop spring onion tops and put in a small separate bowl.

Cut off the long onion bottom and slice in half, add to bowl with peppers and peas.

Thinly slice chicken breasts the short way across. Set pressure cooker to the saute mode.

Put chicken and 1 tbsp teriyaki, soy sauce + olive oil into pot together. Saute for 5 minutes or until chicken is cooked and no longer pink on the outside.

In a small bowl whisk together brown sugar, rest of teriyaki and lemon pepper seasoning. Pour over chicken and toss so it is all coated.

Add vegetables to the pot and toss with chicken. Set lid on pot so everything can steam but do NOT lock lid. Leave lid on for 3 minutes to soften veggies. Stir.

If you want them softer put lid back on without locking for 2-4 more minutes to soften them further.

Serve with rice, soy sauce, topped with green onions.
Nutrition Facts
Instant Pot Stir Fry
Amount Per Serving (3 oz)
Calories 233
Calories from Fat 54
% Daily Value*
Fat 6g9%
Cholesterol 86mg29%
Sodium 575mg25%
Potassium 728mg21%
Carbohydrates 11g4%
Protein 31g62%
Vitamin A 1955IU39%
Vitamin C 86mg104%
Calcium 34mg3%
Iron 1.9mg11%
* Percent Daily Values are based on a 2000 calorie diet.