Ninja Foodi steak and mashed potatoes comes out great, all in one pot! Tender pressure cooked meat and potatoes, then air fried steak with the best dry rub.
I have two ways to make this Ninja Foodi steak and mashed potatoes. You can use foil as you see here, or just lay your t-bone right on top of your side dish! It's one of our favorite Ninja Foodi pressure cooker and air fryer recipes.
Ninja Foodi Steak
I know you love this combo right?? Ninja Foodi ribeye is great but add the side right in there into the same pot for this one pot meal and it's even better.
How can you resist both potatoes and beef together. I mean…..it's my husband's favorite.
FIRST – You should sign up for my free newsletter so you get new posts emailed to you twice a week and never miss out on anything!
If you too are obsessed with your Ninja Foodi pressure cooker air fryer machine, here are a few resource to start with:
You can

bookmark

our Ninja air fryer recipes page, we add to that weekly.

Here's a printable air fryer cooking times chart here for your fridge.
Be sure to save this link to Instant Pot recipes for beginners too. You can use any of those in your pot too.
Grab a set of wooden utensils to work with. They are great so your pot doesn't get scratched!
Then join our

Ninja Foodi EASY Recipes

– Facebook group where you can share and find more ideas you'll love. Thousands of others share both pressure cooker and air fryer recipe ideas there daily and you can too!
If you need to know how to cook frozen meat in a pressure cooker, we have information on that. NO, you aren't the only forgetful one. 😉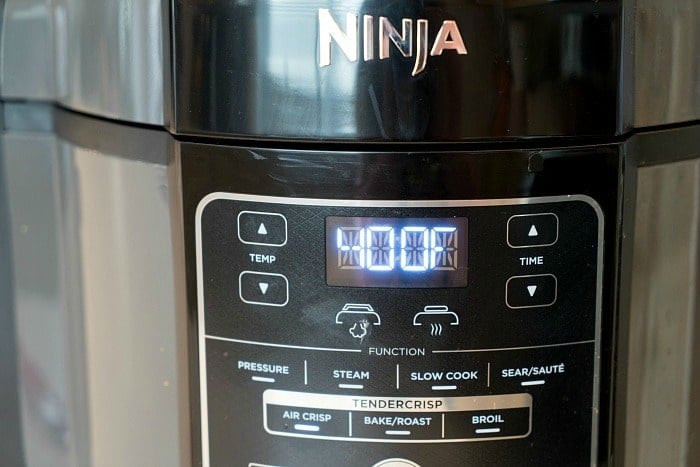 This is the base of what you will need here. The type of steak is up to you but I happened to have 2 t-bone on hand.
You'll want to have your machine ready with the air fryer basket taken out.
You will use the pressure cooker lid which is the one that isn't attached for the first step so get that out too. For the starches that is up to you. I will tell you that red potatoes are great but will be more firm than others. Russets are another great choice that break down a bit better. Beyond that yellow aren't my favorite in regards to texture.
One thing to remember when making taters like this is to not over mash or mix them. This will make them gummy with a sort of sticky texture to them, not what you want. Just enough to mush them and other ingredients together, then stop and serve.
If left at room temperature for a bit while other items are being cooked, cover with a dishtowel or foil to keep them warm.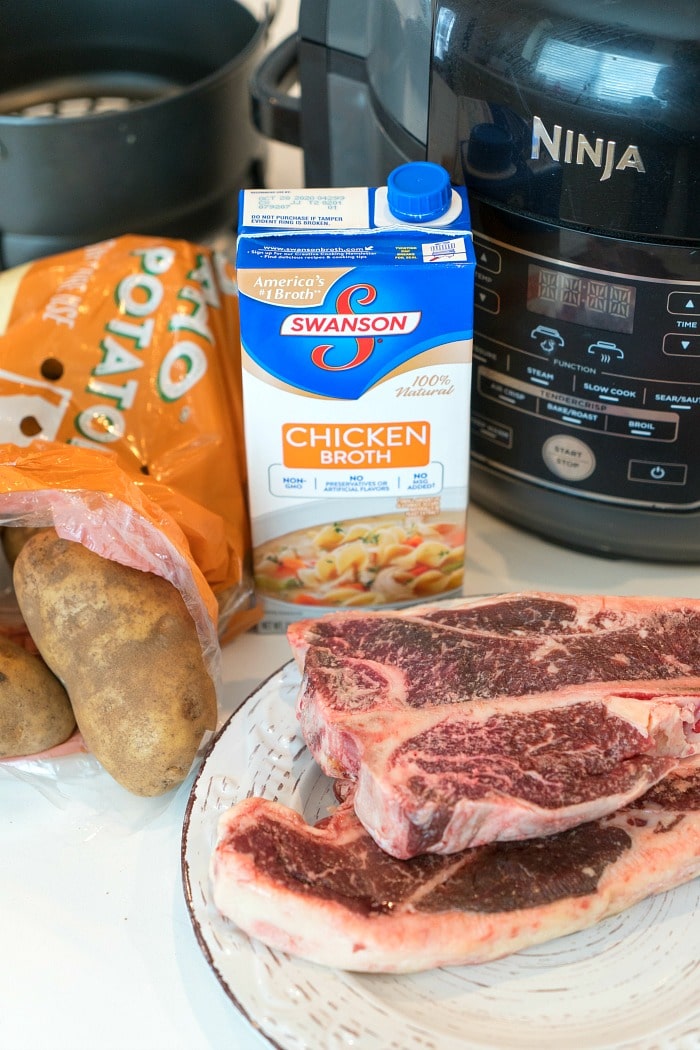 Ninja Foodi steak and potatoes
Steaks – we used 2 large t bone

you could instead make air fryer flank steak

5 large or 6 small to medium potatoes
Broth – I had chicken on hand so that is what I added

you could use beef or vegetable broth too
think about the flavor you'd like to incorporate into your mashed potatoes for this

Garlic salt
Salt
Pepper
Needed for this homemade steak dry rub of ours
Salt
Garlic powder
Paprika
Chili powder
Brown sugar
Feel free to use a jarred steak rub if you prefer, or use ours which is excellent.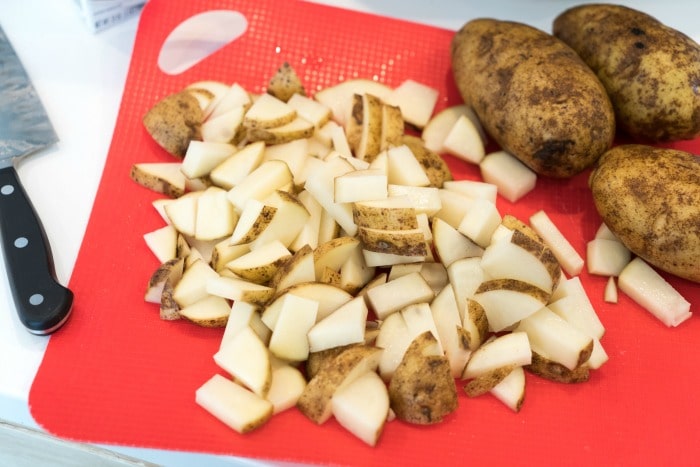 To make your pressure cooker mashed potatoes you'll want to dice them about this size. I really like leaving the skins on for texture and because they're great for you.
Just slice the potato in half lengthwise.
Then put one half on the cutting board with the flat / cut side down
Slice it twice lengthwise so there's three equal sized pieces
Dice it this way into smaller pieces
You want them to be the same size so they cook evenly and get nice and tender. 6 minutes works well for a pot that will serve about 6 people as a side dish.
What can I add to mashed potatoes?
Sour cream
Butter
Bacon bits
Chives
I usually don't need liquid because I leave the broth in there after they're cooked but if they need to be thinned out, milk works great.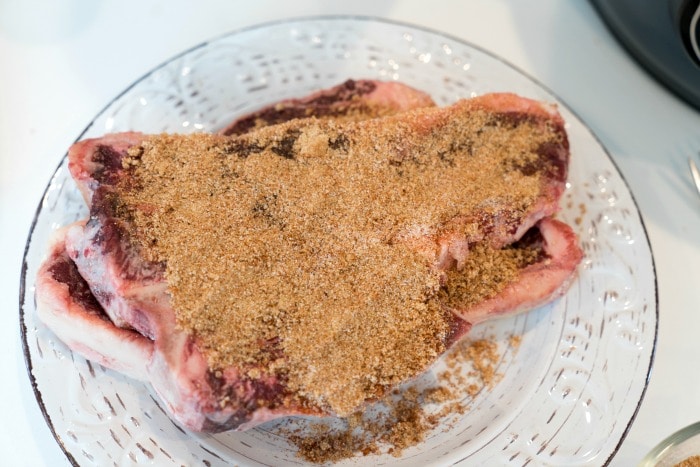 Now for your steaks. You'll want to mix together the ingredients for your dry rub and press it on to both sides. Pick it up and allow the excess to fall off.
Either place them right on top of the diced potatoes in your Ninja Foodi after you've added the broth and seasonings.
Or you can use a piece of aluminum foil in between the steak and mashed potatoes to keep the flavors separate.
I've done both of these and they're both fantastic.
If you have a Ninja Foodi indoor grill you won't be able to make this unfortunately. It doesn't have a pressure cooker function but you could grill steaks and then make air fryer baked potatoes!
Steak in the Ninja
Here are the basic steps to follow
Mix together steak rub and press on both sides of meat, shaking off excess
Dice potatoes and put them into your multi cooker
Pour in your broth and seasonings for mashed potatoes
Lay your steak on top or put a piece of foil with edges folded up in between the steak and potatoes
Cook on high pressure for 6 minutes with a 2 minute natural release, then quick release rest of steam
Take steak off and out, pour potatoes into bowl and add mix ins for mashed potatoes, keep warm
Put steak(s) into air fryer basket and close lid, do not overlap the meat for best results
Air crisp at 400 degrees for 5 minutes cook time for perfect steak that is medium rare to medium depending on thickness. Always allow steaks to rest for at least 10 minutes before slicing. Refer to our steak cook time chart to determine how "well done" the internal temperature shows that it is.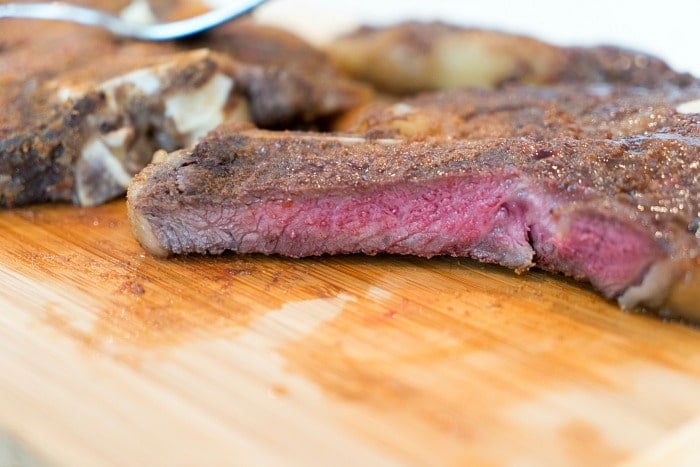 If you want to make just the meat you can follow our air fryer steak or filet mignon posts. We wrapped these in bacon and they turned out incredibly awesome served with air fryer mushrooms!
Want more one pot dish Instant Pot recipes? We have over 100 on our site and they are interchangeable. It doesn't really matter what brand of pressure cooker you have, they'll all work.
The beauty of the Foodi though is you can add an extra layer of melted cheese or crunch to your fried chicken with NO oil involved.
Of course you can grill this meat on an outdoor grill but during the Winter time this pot is beyond amazing. In under 30 minutes you can make a complete one pot meal everyone will love.
Try our Ninja Foodi steak and mashed potatoes this week and let us know below, or send comments by email so we can hear how you enjoyed it!
Want to see a few of my favorite things that I am totally obsessed with?? Take a peek and see how many you might already have…twinsies!
Looking for more easy family recipes and tips? LIKE The Typical Mom Facebook page?
Then sign up for my free newsletter, and follow me on Pinterest! 😉
***** If you LOVED this recipe give it 5 Stars below and let everyone know what you thought about it. 😉
Ninja Foodi Steak and Mashed Potatoes
Ninja Foodi steak and mashed potatoes comes out great, all in one pot! Tender pressure cooked meat and potatoes, then air fried steak with the best dry rub.
Instructions
Put diced potatoes into pot with broth and garlic salt, pepper, and 1/4 tsp salt.

Mix together brown sugar, rest of salt, garlic powder, chili powder and paprika in a bowl. Sprinkle over top and bottom of steaks, press down so they're well coated, shake off excess.

Place steaks directly on top of potatoes or if you don't want potatoes to have brown sugar transfer make a "boat" out of 2 pcs. of foil and rest steaks inside that and then on top of potatoes.

Close pressure cooker lid and set to high pressure for 6 minutes followed by a 2 minute natural release. Then release rest of pressure.

Take steaks out, pour potatoes into a bowl so you can make mashed potatoes. Add sour cream, butter, bacon bits, etc…as you would normally make them.

Rinse out inside of pot, put back into machine with air fryer basket inside. Place 1-2 steaks inside, ours only fit 1 at a time as you don't want them to overlap.

Close air crisp lid and press air crisp 400 degrees for 5 minutes. Remove and allow to rest 5 minutes before slicing.
Nutrition Facts
Ninja Foodi Steak and Mashed Potatoes
Amount Per Serving (3 oz)
Calories 622
Calories from Fat 153
% Daily Value*
Fat 17g26%
Cholesterol 69mg23%
Sodium 3418mg149%
Potassium 2308mg66%
Carbohydrates 88g29%
Protein 35g70%
Vitamin A 870IU17%
Vitamin C 53mg64%
Calcium 172mg17%
Iron 18mg100%
* Percent Daily Values are based on a 2000 calorie diet.