Ninja Foodi Grill steak and potatoes recipe + how to use this new air fryer and indoor grill. I share a review of what I think and what I like about it.
Looking for a Ninja Foodi Grill review before you buy one?? Well I am sharing my thoughts with all of you today! I have a Ninja Foodi pressure cooker and air fryer but this is something all together different. Do you need one? What are the benefits vs. the downsides of having one? Let me tell you all about it. 😉 (affiliate links present)
I will tell you what I have already so you understand how many kitchen gadgets I've tested out:
Yes I have a few traditional slow cookers too and now I just added this Ninja Foodi Grill!
I know that seems excessive but since I cook and do reviews for a living I have been lucky enough to receive several of these free of charge so I can share my thoughts with all of you. I received this Ninja Grill because I contributed a recipe to a Ninja Foodi cookbook they are currently creating.
Honestly, I wasn't so sure I really needed this. I really wanted a Foodi in white but they ran out and I was left choosing this to try out.
We have a large outdoor grill at our home and a smoker so I thought the last thing I needed was an indoor grill. BUT at our cabin up in Northern Idaho we didn't have any way to grill so I had this sent there.
I made this Ninja Foodi Pro Grill review video while I made the first thing in it which was brats and air fryer vegetables!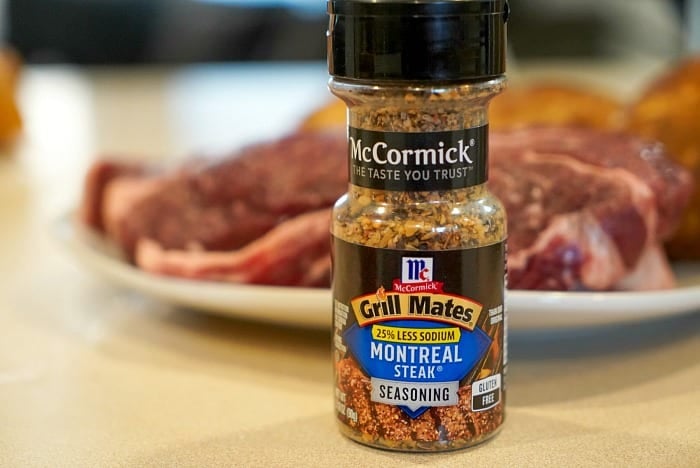 I only used a few ingredients to make dinner tonight, and took a few photos to show you here.
To make Ninja Foodi Grill steak you need:
Steak – we used 2 sirloin and 1 filet mignon
Potatoes
Salt
Avocado oil

do not use olive oil (which I normally do) because it tends to smoke
I tried it and in fact it turned on the smoke alarm so I won't be doing that again

Grill grate
I wanted just an easy throw together meal so this premade steak seasoning is all I used and it worked really great.
If you want a killer homemade steak seasoning on it use the one here on my air fryer steak recipe.
To make a batch of simple air fryer baked potatoes you just need:
Russet potatoes
Sea salt
Air crisper basket
I just used the temperature and timing on our air fryer cooking times chart here. You can print that off for reference here too.
No this Ninja Foodi Grill steak and potatoes isn't all cooked at the same time, that isn't possible. You will need to use the air fryer function, and then grill your meat.
I suggest air frying potatoes first because they will stay warm longer and take the longest to cook.
I had 2 sirloin steaks and 1 filet mignon in my freezer so that is what I used. The cook time will vary depending on how well done you like your meat.
The nice thing about using this indoor grill is you can easily lift the top up and look at them. You can generally do a touch test for steak doneness. If it is too rare then just close the lid again and continue cooking.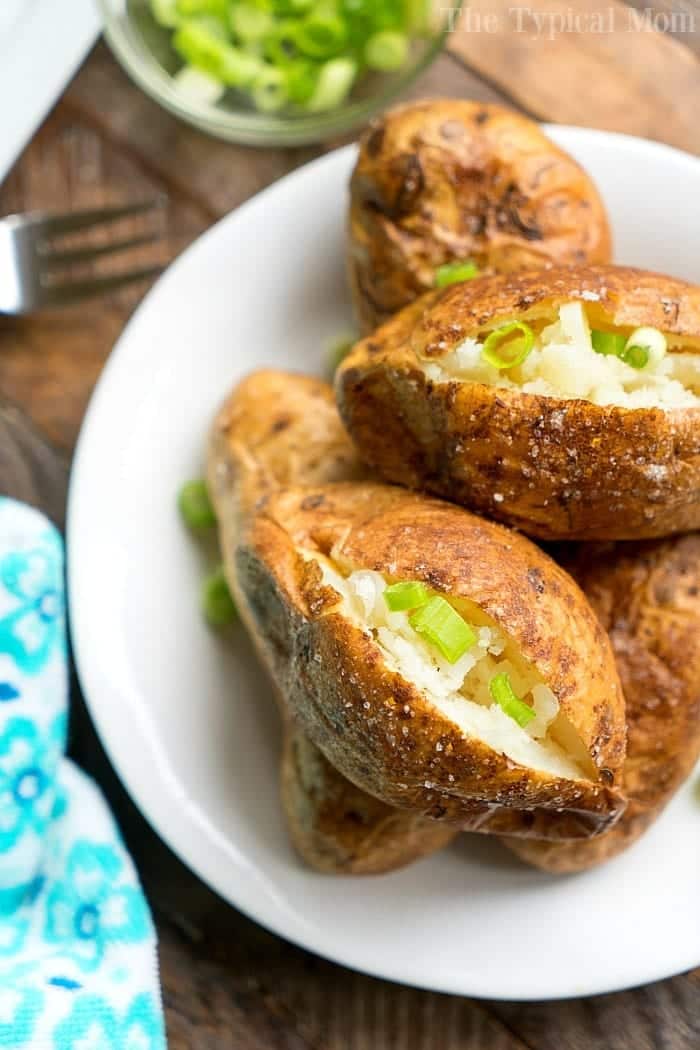 So what are my thoughts?
Since we don't have a barbecue or grill at our cabin this is REALLY nice to have. Even if we had one the winters are pretty tough here and we wouldn't be cooking outside at all, so an indoor grill is perfect.
It is easy to clean, I love that. Pieces are dishwasher safe too.
Foodi grill vs propane gas is cheaper and no need to remember to fill up your tank.
I do have a stand alone air fryer so that function isn't a huge plus to me as you have to use one function at a time. It would be faster for me to have the potatoes in the other machines and just make char grilled steaks in this.
BUT if you don't have another machine like this and have limited counter space I think this combo is a great choice.
What would I like to be different?
I do wish it had all 3 functions.
Air crisp, Ninja Foodi indoor grill AND be a pressure cooker. Now that would be killer!
So that's that!
I didn't do a mom unboxing review (because who wants to see a box) but I did a review and demo of the Ninja Foodi grill and air fryer here you can watch for more info.
Best Ninja Foodi Grill Recipes
are here if you ask us. We make these air fryer vegetables and the others shared in this post all the time!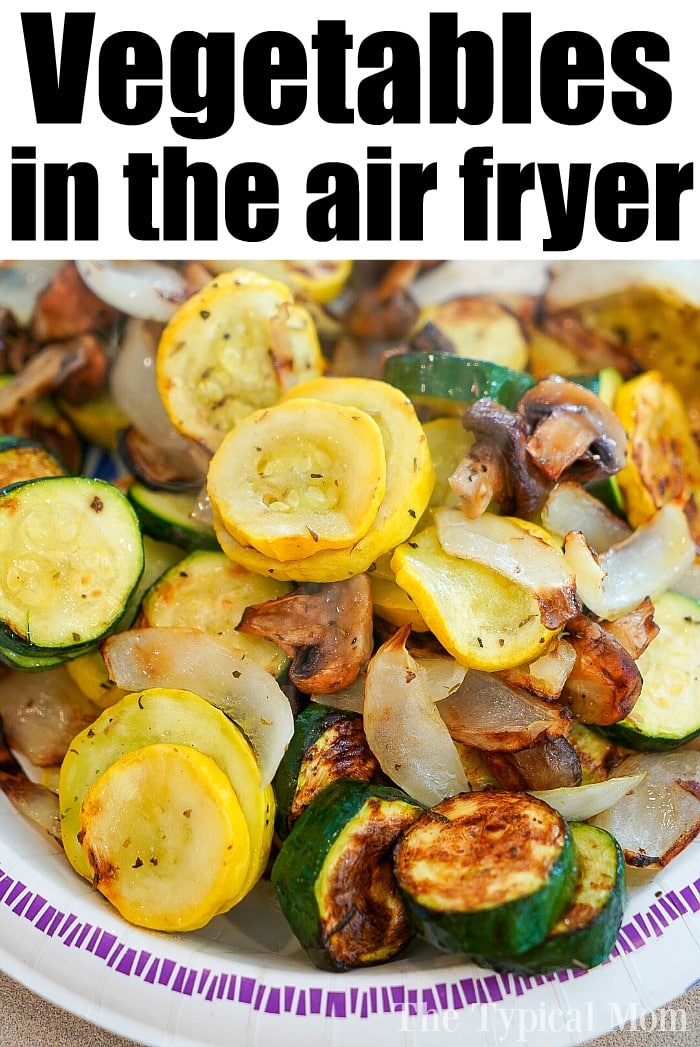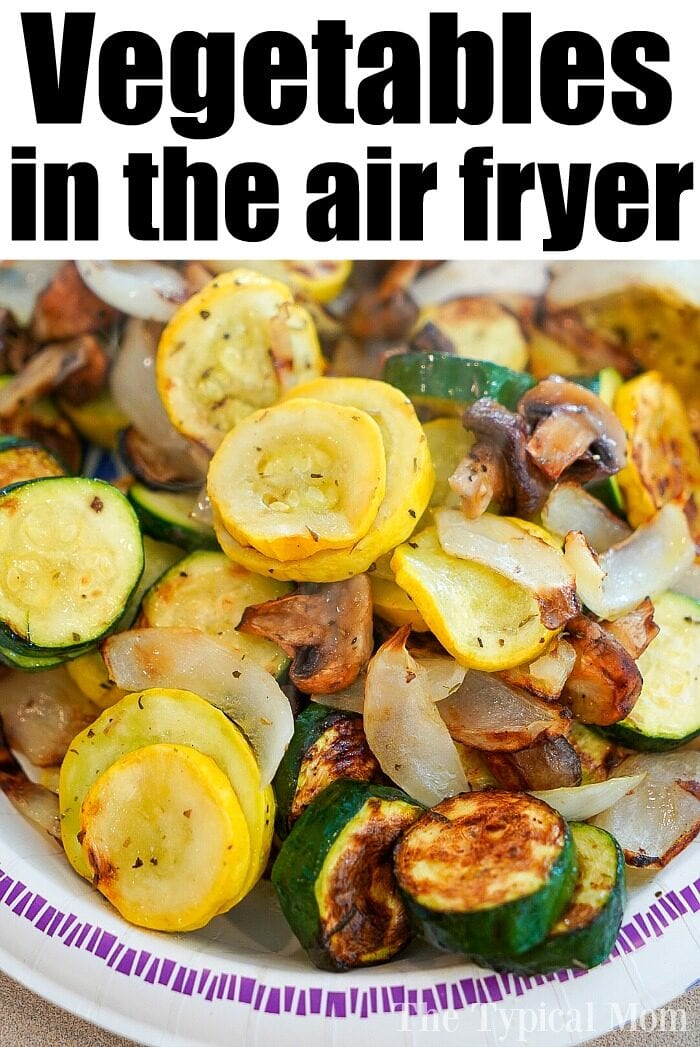 Air fryer zucchini is another great side dish.
Use kebab skewers and make our air fryer chicken kebabs too.
Timing below got our sirloins med/well done, and our filet was rare/med. New York strip duration is 13 minutes or so. Just keep an eye on them the first time around so you can get them perfect just the way you want them when you slice it.
Want more easy recipes and tips from The Typical Mom blog? Sign up for my free newsletter, and follow me on Pinterest too!
Ninja Foodi Grill Steak and Potatoes
Ninja Foodi Grill steak and potatoes recipe + how to use this new air fryer and indoor grill. I share a review of what I think and what I like about it.
Instructions
Wash potatoes, dry, and poke with a fork all over them.

Rub avocado oil all over each one so they are well saturated. Sprinkle salt on outsides and put into air fryer basket.

Close lid and set to 400 degrees, air fryer function, for 35 minutes. Flip, then cook for an additional 10 minutes (for med/large sizes) or until middle is fork tender when poked.

Remove potatoes and cover with foil to keep warm. Remove air fryer basket and replace with grill piece inside machine. Close lid and set to grill, 500 degrees for 10 minutes. Allow to preheat.

Sprinkle both sides of steak with seasoning and press down so it sticks well.

When Ninja Foodi Grill is done preheating it will say lift add food. Add steaks now.

Sirloins we cooked 8 minutes flipping halfway through, filet cooked for 6 minutes flipping after 4 minutes.

Remove once you feel it is done to your liking. Allow to rest for at least 5 minutes to maintain juiciness before cutting.
Video
Nutrition Facts
Ninja Foodi Grill Steak and Potatoes
Amount Per Serving (3 oz)
Calories 572
Calories from Fat 342
% Daily Value*
Fat 38g58%
Cholesterol 103mg34%
Sodium 1849mg80%
Potassium 1128mg32%
Carbohydrates 21g7%
Protein 38g76%
Vitamin A 78IU2%
Vitamin C 18mg22%
Calcium 80mg8%
Iron 9mg50%
* Percent Daily Values are based on a 2000 calorie diet.