Grab a free Ninja Foodi cookbook right here! That is right, we have chicken, beef, pork and vegetable recipes for your air fryer pressure cooker for you to try.
Loving your new machine but wish you had a free Ninja Foodi cookbook to pair with the one in the box? Here it is! Once you've tried these 28 you'll have to go on to make our other Ninja Foodi recipes too, all FREE for you! (affiliate links present, originally published 6/20)
Ninja Foodi Recipe Book
Why do I love to pressure cook and air fry? OH let me count the ways. I seriously air fry everything now and every item I make comes out as crispy as at any restaurant around here.
Ready for a lot of one pot meals where you can cook meat and vegetables or side dishes at the same time? This is the answer y'all.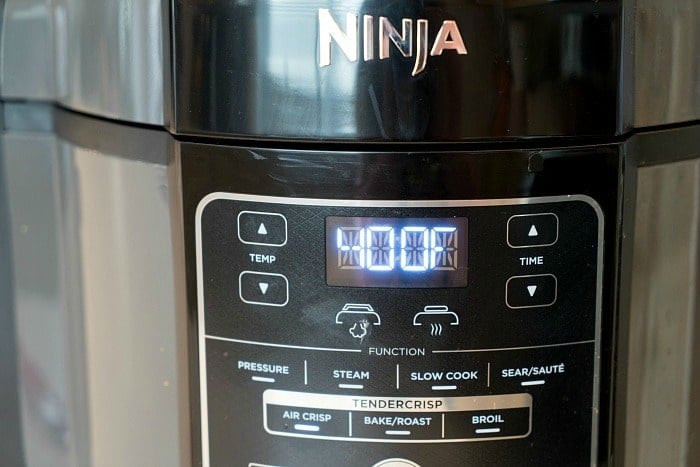 Does the Ninja Foodi have a recipe book?
Yes it does come with one. If you ask someone who has worked thru it they will say do NOT make their mac and cheese because it is awful.
That is why I created the best Ninja Foodi macaroni and cheese recipe to replace that. I continued to improve on theirs and added others so you would know that they were easy and no fail.
If you need to know how to cook frozen meat in a pressure cooker, we have information on that. NO, you aren't the only forgetful one. 😉
Ninja Foodi Cookbook for Beginners
I do have a Ninja Foodi Grill but don't use it nearly as often as my "regular" one because it can't pressure cook.
For indoor grilling or making air fryer vegetables to perfection though it is fabulous.
Free Ninja Foodi Cookbook
If you saw my countertop at dinnertime you'd probably laugh. Many times I have my Instant Pot, Foodi and IP mini all working on something at the same time. Yes I make a lot of one pot meals but I like separating items too.
The most common thing I make by itself is Ninja Foodi rice.
I have paired it together for pork chops and rice before and it turns out great.
My husband prefers everything cooked individually so I typically have a countertop full of appliances. I hardly ever use my oven anymore unless I am making a frozen pizza or sheet cake of some kind.
During the holidays I thank goodness I have multiple units because my oven is always full.
Being able to cook green beans in one, and baked potatoes in another really makes it easier. on me the (cook).
Best Ninja Foodi Cookbook
I tried to make this free Foodi complete cookbook for beginners as user friendly as possible.
Including side dishes and main dinners as well that kids and adults will love, it's a great start to your journey. I'm adding to my website every day so sign up for our free newsletter below too and get ready for more yummy ideas every single week.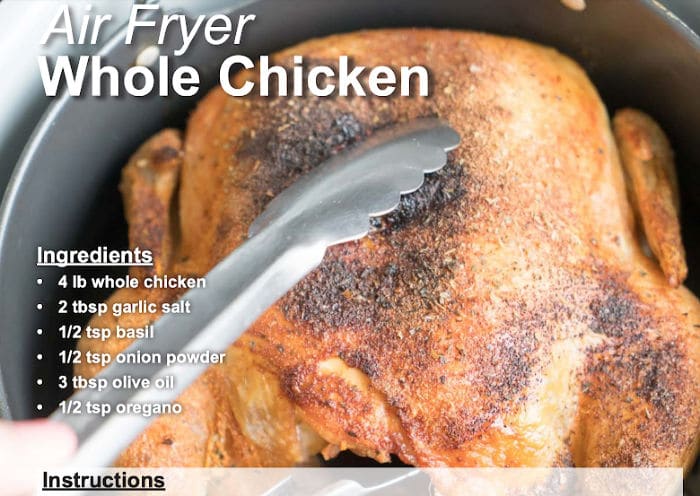 Yes you can buy an Official Ninja cookbook too beyond these but who wants to spend money when you don't need to right??!!
After you try the 28 I included in the printable version below, make sure you BOOKMARK THIS PAGE.
I add new Foodi recipes to it weekly so you'll never run out of ideas.
Free Ninja Foodi Cookbook with Pictures
Yes I included images in the book too. I mean we all eat with our eyes first right? This is just a great way to start especially if you are new to this machine. Remember to bookmark my site because I add new meals to try every single week.
Time needed: 5 minutes
Ninja Foodi Cookbook
Print

Feel free to print this air fryer and pressure cooker cookbook here

and keep it handy. Share the link with your friends and enjoy.
Save

You can save this in your drawer and refer back to it often, or only choose one page to grab if there is just something specific you want to keep.
Now you'll notice I don't use the slow cooking function for any meal. I will be honest and say that the slow cooker function doesn't work well.
I just whip out my good ol' Crockpot for those meals.
Hope this gave you a resource that will help you along the way. If you're brand new to all of this I know it can be quite overwhelming.
What I can say to ease your mind is to take it slow.
Start with something simple like our air fryer whole chicken. I promise it will turn out amazing every time and is so much better than store bought rotisserie.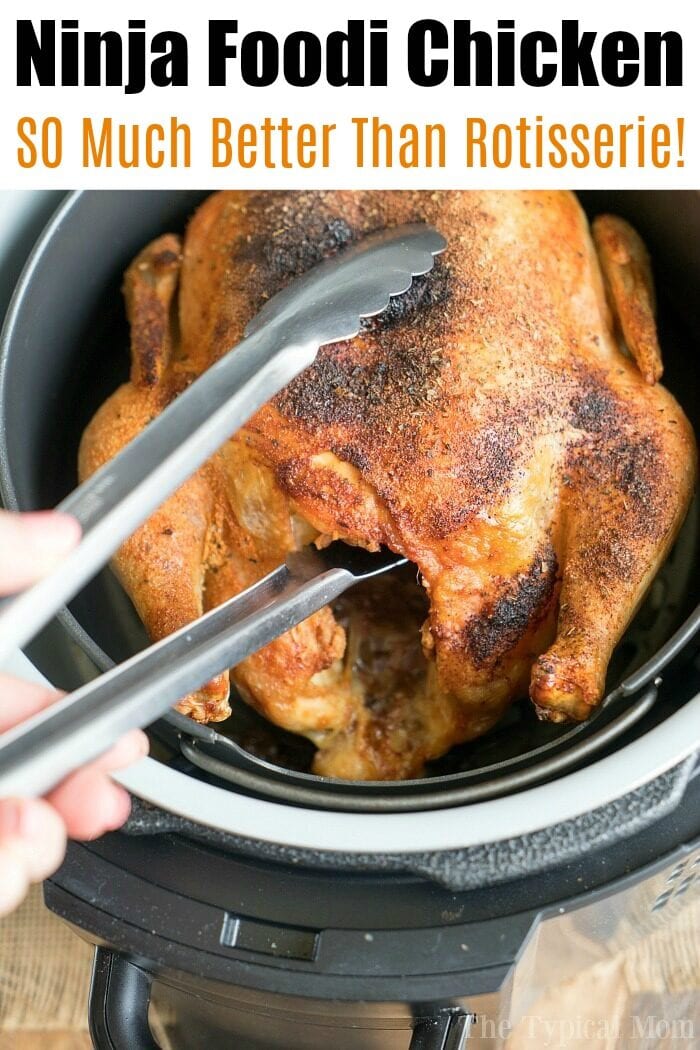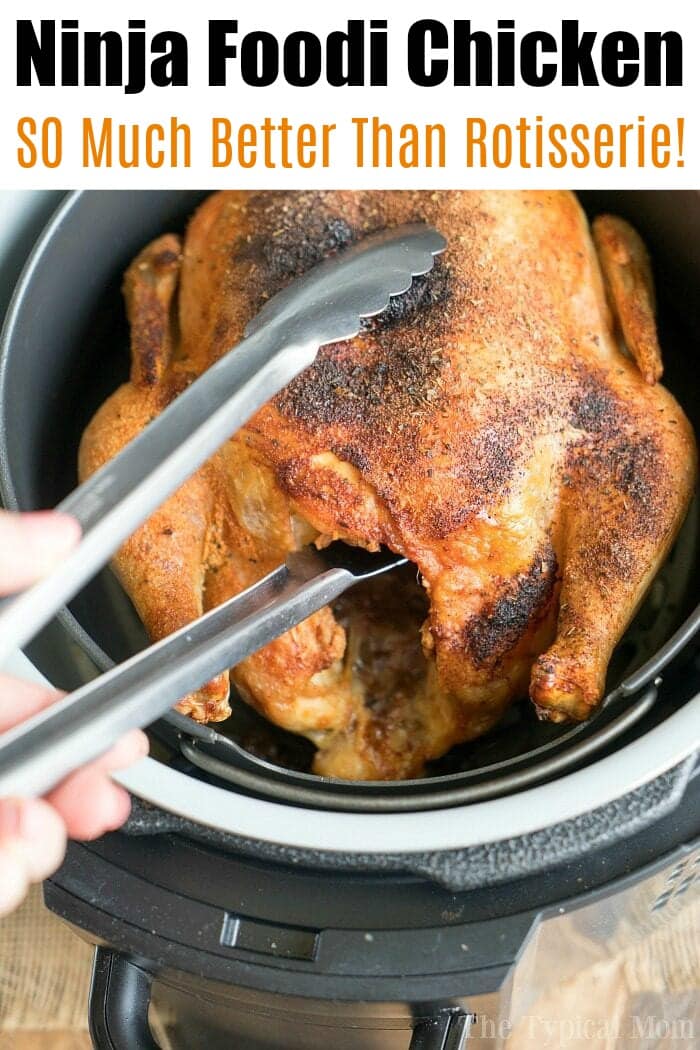 Remember that with anything you should add the seasonings you really love. That is a no brainer.
Stick with the timing and amounts of liquid listed in a recipe though, especially at first until you get the hang of those ratios.
Once you make a few following recipes like I have here on my site you'll be able to stray a bit and add your own twists to it. Then you'll be a pro and have no apprehensions when using any of the functions on the machine.
Have you made a pressure cooker recipe or something using air crisp that you've really loved?
Maybe you have already created something that isn't online yet. Let us know! I love trying new ideas from all of you.
Want to see a few of my favorite things that I am totally obsessed with?? Take a peek and see how many you might already have…twinsies!
Looking for more easy family recipes and tips? LIKE The Typical Mom Facebook page?
Then sign up for my free newsletter, and follow me on Pinterest! 😉
***** If you LOVED this recipe give it 5 Stars below and let everyone know what you thought about it. 😉