How long to cook frozen meat in Instant Pot. From rock hard to tender chicken, beef or pork in a pressure cooker is totally possible! Try these this week.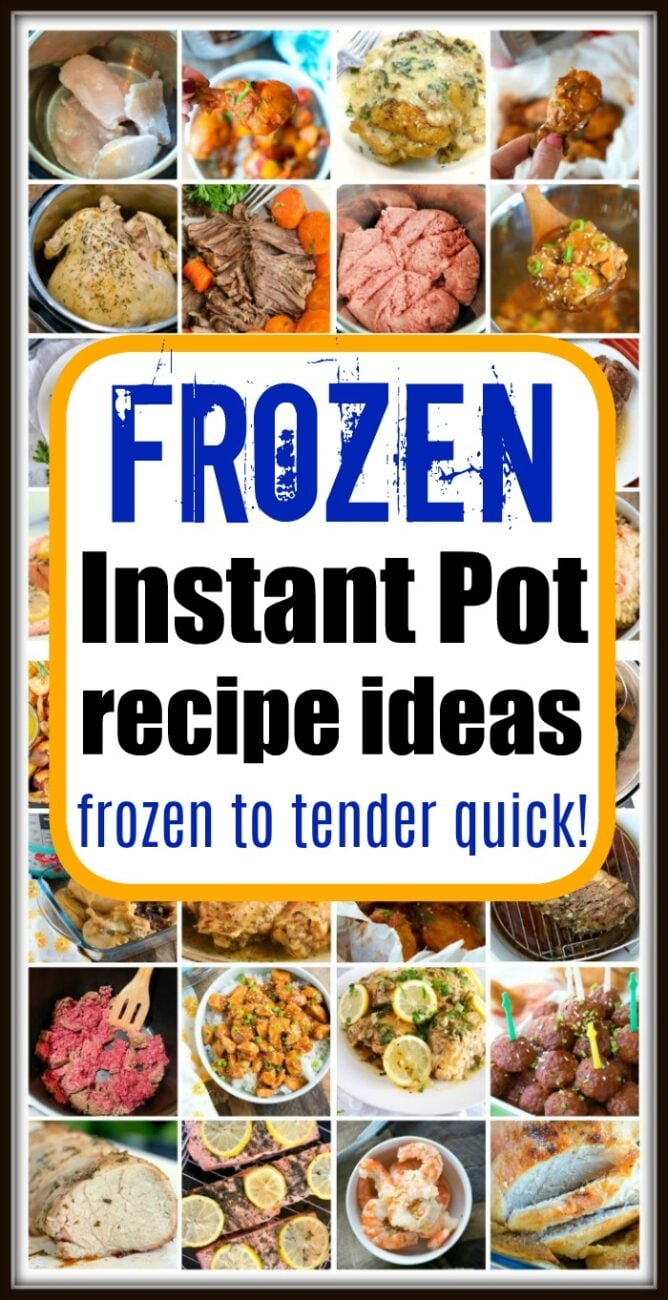 Wondering if you can cook frozen meat in Instant Pot? You can! Not only can you but it goes from rock hard to tender in no time at all. You've gotta' try all of these easy Instant Pot recipes and let us know what you think. (affiliate links present, originally published 8/20)
How to Cook Frozen Meat in a Pressure Cooker
If you need easy Ninja Foodi recipes, you can use that pot instead. Any brand will work just the same really. As long as you have the high pressure function, a Mealthy or Crockpot Express will work similarly using the same directions.
I kid you not, you can make a huge piece of meat that's rock solid and make a really tender Instant Pot frozen pork shoulder in no time. Get ready!
FIRST – You should sign up for my free newsletter so you get new posts emailed to you twice a week and never miss out on anything! Now let's start with a few basic tips:
Make sure to Bookmark our InstaPot recipes page. We add new ones each week!
Then PRINT this —–> Instant Pot cooking times cheat sheet that will help you understand how long meat, vegetables and beans take to cook in your pressure cooker.
For reference, this is the pressure cooker I have (a 6 quart) and use for all recipe creations.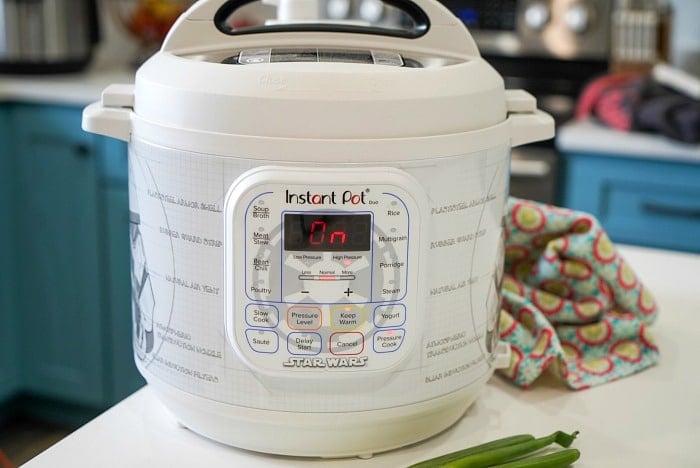 How long to cook frozen meat in Instant Pot
The thought of cooking frozen meat might freak you out. It did for me at the beginning of this whole IP journey. You may have tried Instant Pot frozen broccoli and stopped there.
Now that I have been using on almost daily for 4 years I have the hang of it. I'm here to share all the things with you!
Cooking frozen ground turkey in Instant Pot has been a real game changer. Not only can you "thaw" it out but then brown it in the same pot and make spaghetti or chili mac from there!
How to Cook Frozen Meat in Pressure Cooker
Let's start with one of our most popular InstaPot recipes on our site! If you want to cook a pressure cooker roast it's not too difficult.
In Feb. you might want the other variety, Instant Pot frozen corned beef to eat. Comes out tender as ever and you'd never know it was rock hard a few hours before.
BUT what if you have an Instant Pot frozen roast or frozen chuck roast Instant Pot? It will come out just as tender I tell you. I have instructions for frozen pork roast Instant Pot style too.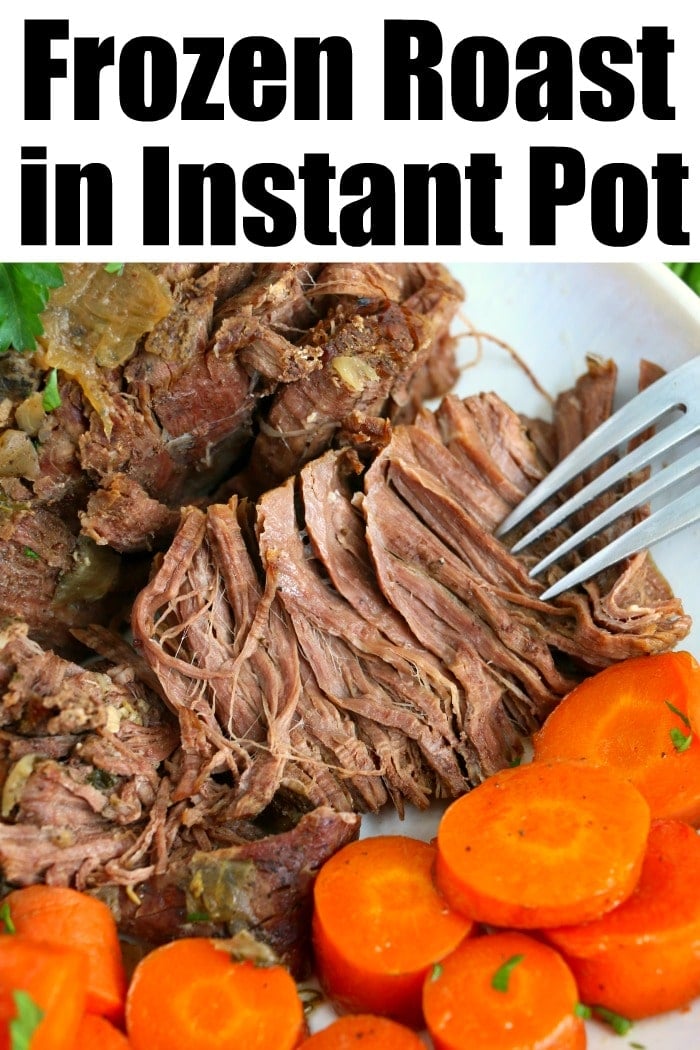 How to Cook Frozen Food in Your Instant Pot
The biggest differences are that the cook time will of course increase, and you won't be able to add vegetables at the beginning.
The reason you can't add "all the things" at the beginning is your veggies will become mush.
Pressure cooker carrots for instance only take a few minutes vs. a roast which takes at least an hour, maybe more.
SO you'll just need to throw in some air fryer vegetables when the timer goes off. Then during the time it's naturally releasing the steam everything will be done together.
Let's move on to an Instant Pot frozen chicken! OH Yes, you can do this too y'all. 😉 Start with smaller frozen chicken tenders Instant Pot style. Brush on your favorite sauce when done and enjoy.
These are frozen chicken breasts you buy in a bag in bulk at the store with a bit of chicken broth. Make plain like this and shred, or cook Instant Pot frozen chicken breast with sauce this way.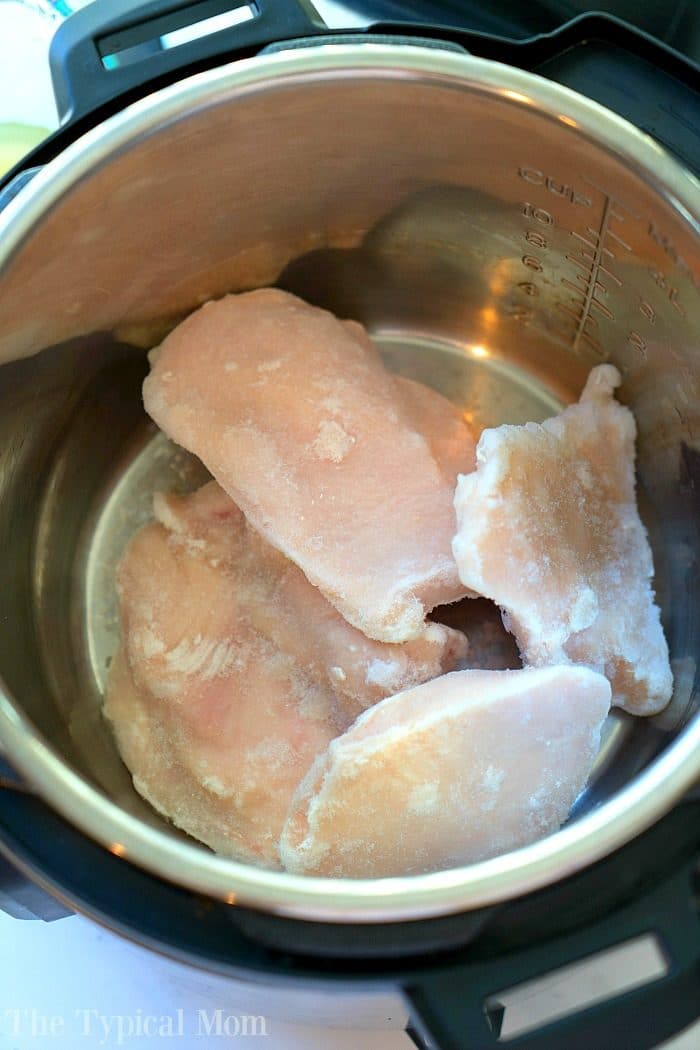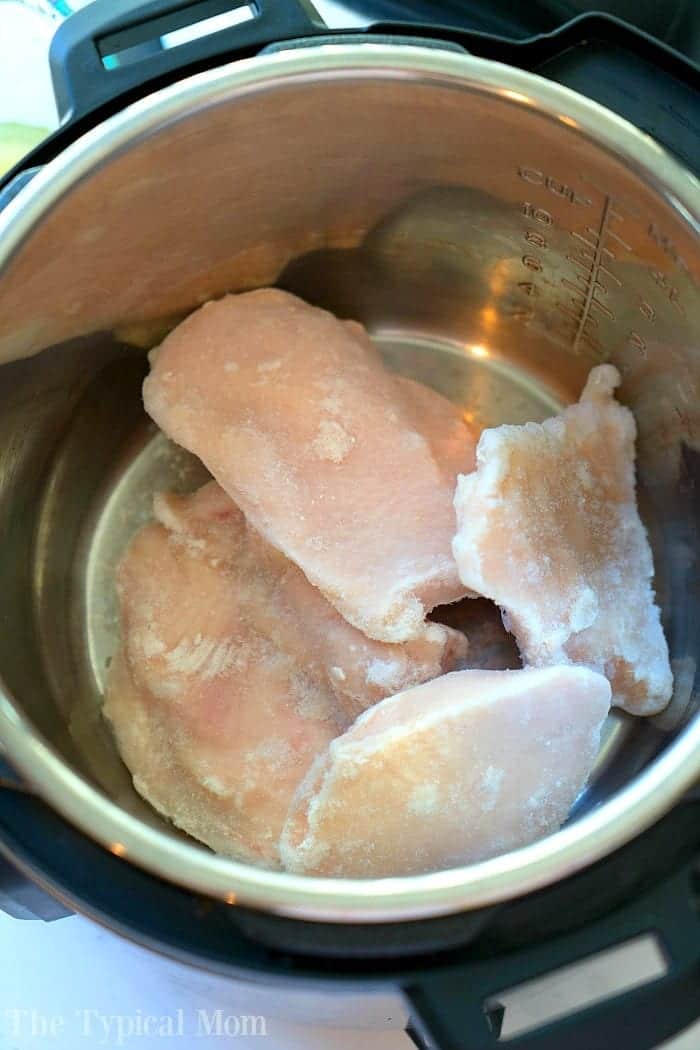 Instant Pot Frozen Meat
You might have other pieces of the bird you want to cook, but forgot to defrost them. NO problem my friend. We have done it all with all of the animals. From large thick pieces to thinner like cooking frozen pork chops once you get the timing down you'll never have to skip a home cooked meal again.
You'll need to add a bit more pressure cooking time, but not much.
Sometimes if they are really thick you need to release in the middle to break it up. This is the case with frozen stew meat in Instant Pot.
Remember to allow pot to do a natural pressure release when done, at least for 15 minutes natural – if not the entire time.
Make sure your pieces are broken apart. For example if you have a bunch of frozen chicken legs, don't put them in with 4 stuck together. Break them apart so they cook evenly.
Same goes with how to cook frozen raw shrimp.
The easiest one to start with is make pressure cooker chicken tacos where you basically just need a jar of salsa and meat.
Then let's move on to an Instant Pot frozen whole chicken! Of course you'll want to choose one that doesn't have a bag of inners inside the cavity, but my organic brand doesn't.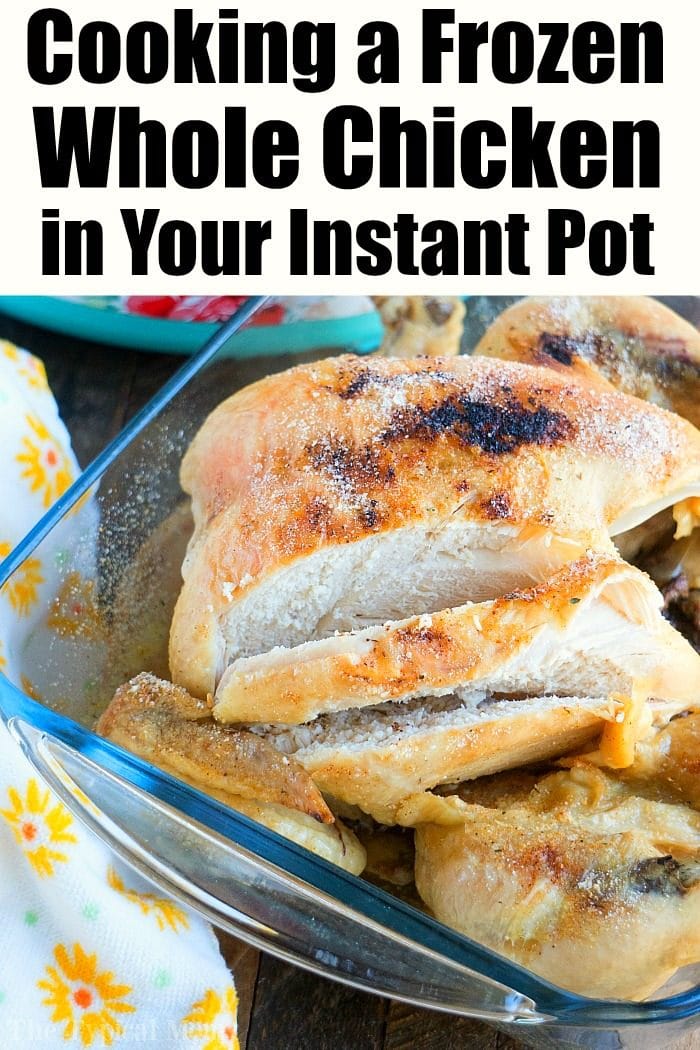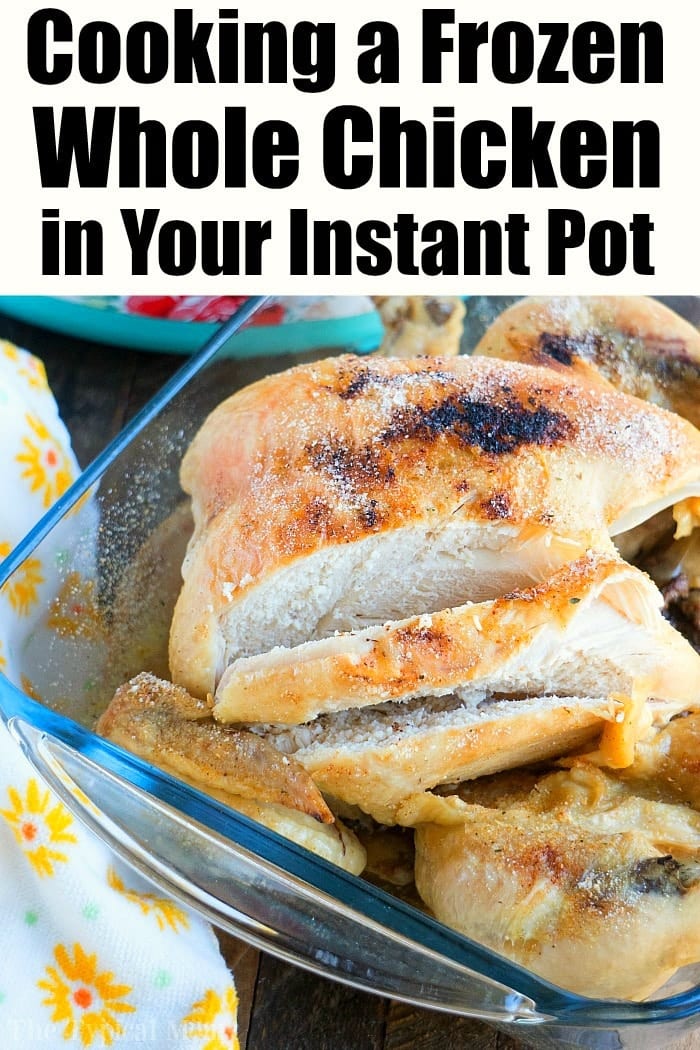 Frozen Meat in Instant Pot
How to cook frozen meat in Instant Pot pressure cooker from frozen to tender in no time. Frozen whole chicken featured below, frozen pork, beef, shrimp and more.
Instructions
Pour chicken broth or water into your Instant Pot with your finely diced onions. Place your trivet on top of that. Unwrap your frozen chicken with breasts facing up on top of your trivet. Sprinkle some water or olive oil on top and sprinkle seasonings so they stick on top.

Close your lid and steam valve and set to high pressure for 60 minutes. Allow to naturally release steam for 15 minutes. Carefully remove chicken (it will want to fall apart).

Shred meat now if you wish and serve, or if you want to crisp skin move into an 8×8 dish. Sprinkle a bit more seasonings on top of your whole chicken. Turn your broiler on and put your chicken in oven for 3-4 minutes or until skin crisps up as much as you'd like.
Nutrition Facts
Frozen Meat in Instant Pot
Amount Per Serving (2 oz)
Calories 284
Calories from Fat 171
% Daily Value*
Fat 19g29%
Cholesterol 96mg32%
Sodium 622mg27%
Potassium 261mg7%
Carbohydrates 2g1%
Protein 24g48%
Vitamin A 179IU4%
Vitamin C 3mg4%
Calcium 18mg2%
Iron 1mg6%
* Percent Daily Values are based on a 2000 calorie diet.
Frozen Chicken in InstaPot
Speaking of chicken, we have a lot of Instant Pot chicken recipes here on The Typical Mom blog! It is probably my girls' favorite protein to eat.
Using a simple lemon pepper marinade you too can give your pieces tons of flavor this way. Instead of using water, you can use other combinations such as this one. Liquid is a necessity for steaming in a pressure cooker.
That brings us to frozen chicken thighs in Instant Pot and how that is done perfectly. I love this cut because they're so tender, flavorful, and the cheapest pieces overall.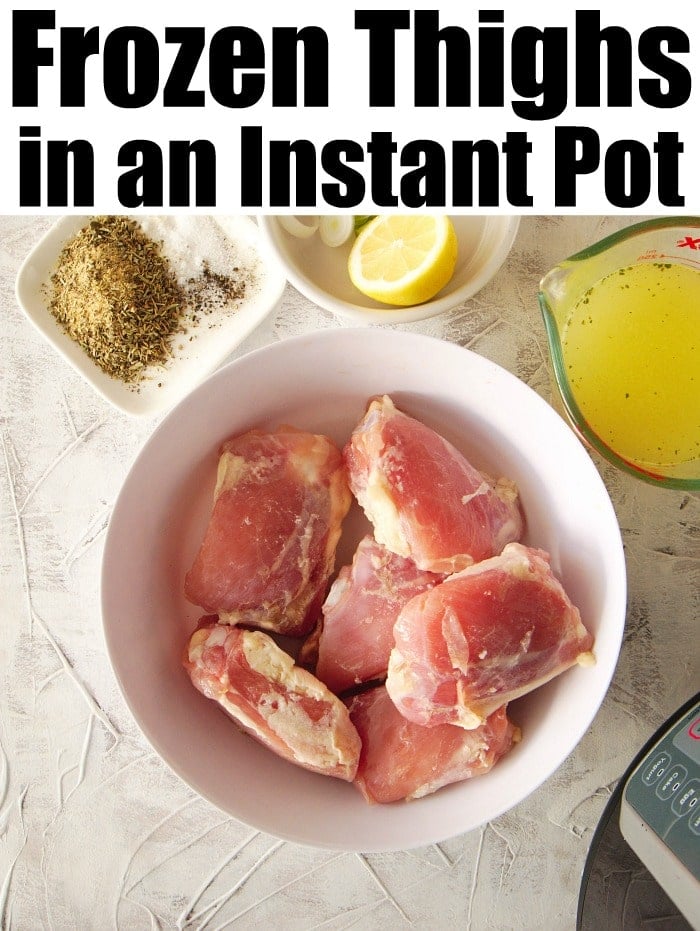 What is your favorite appetizer or snack? I bet it's a batch full wings! We have made them in so many different ways because they're just mouth watering I tell you.
InstaPot Frozen chicken wing recipes
We love air fryer frozen chicken wings.
If you're cooking for a crowd, this is how to bake crispy chicken wings in the oven.
We've even made a pot full of slow cooker wings with teriyaki sauce.
Now you can make frozen chicken wings in Instant Pot though!! They come out fall off the bone delicious I tell you. From there you can crisp the skin in an air fryer or under the broiler.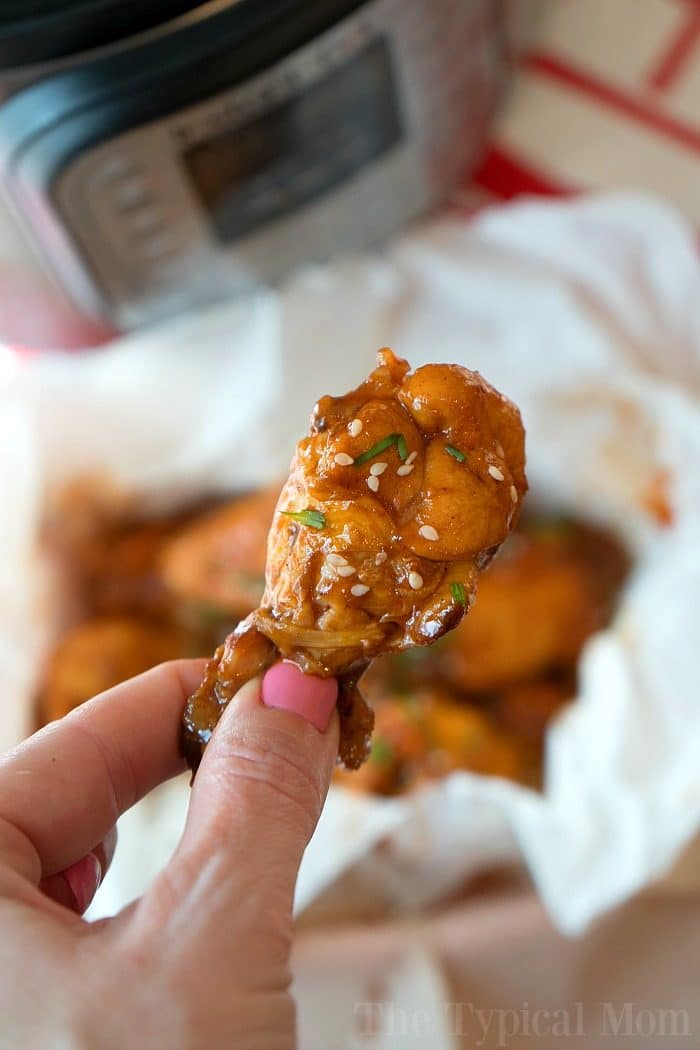 Here are a few questions you might have to get started.
Can you put frozen meat in the Instant Pot?
Absolutely! We will show you how to cook frozen ground beef, chicken, a roast and pork here! With a cup of water or beef broth you can cook meats from rock hard to tender in no time.
Can I do a frozen roast in the Instant Pot?
YES, we do this often. In a little more than an hour on high pressure you can achieve the most tender beef that's fork tender melt in your mouth delicious meat. We will show you how in this post.
Do you have to thaw meat before cooking in Instant Pot?
No you don't. We share here how to cook frozen meat in Instant Pot easily. It is recommended if you have the time, but in a pinch you can still create the most delicious meals.
Does meat get more tender the longer you pressure cook it?
It really does. Just like slow cooker recipes where it is cooked slowly for a long time, you can get this same result in less time this way. Our pressure cooker carnitas are a incredibly tender.
Now let's move on to Instant Pot frozen ground beef shall we? It is pretty easy and doesn't take much time. I use this kitchen hack pretty regularly.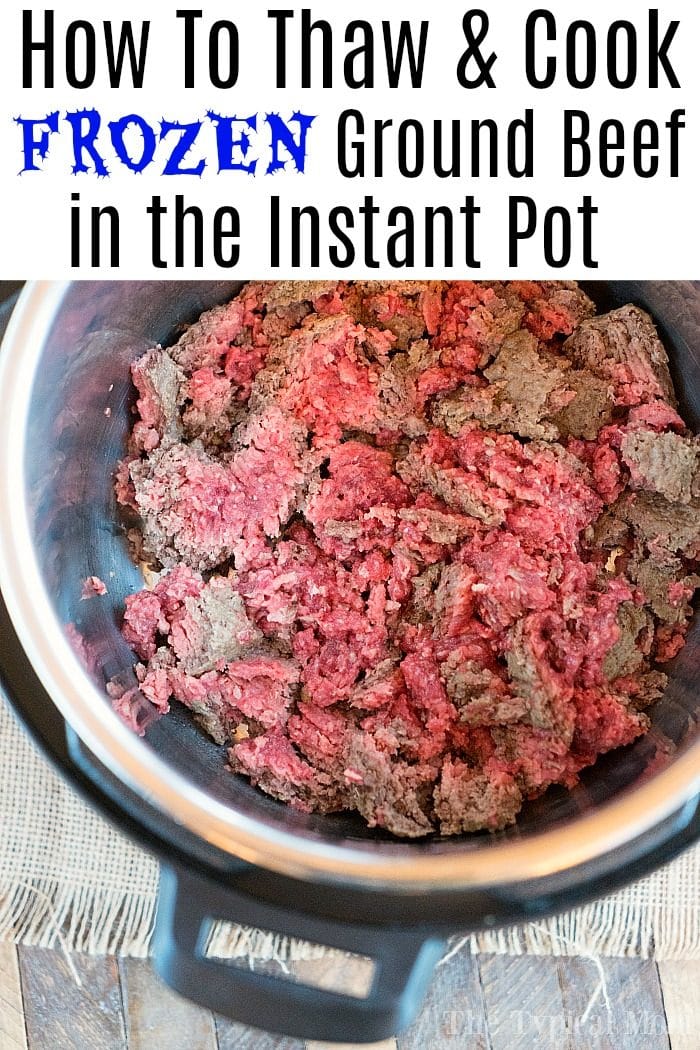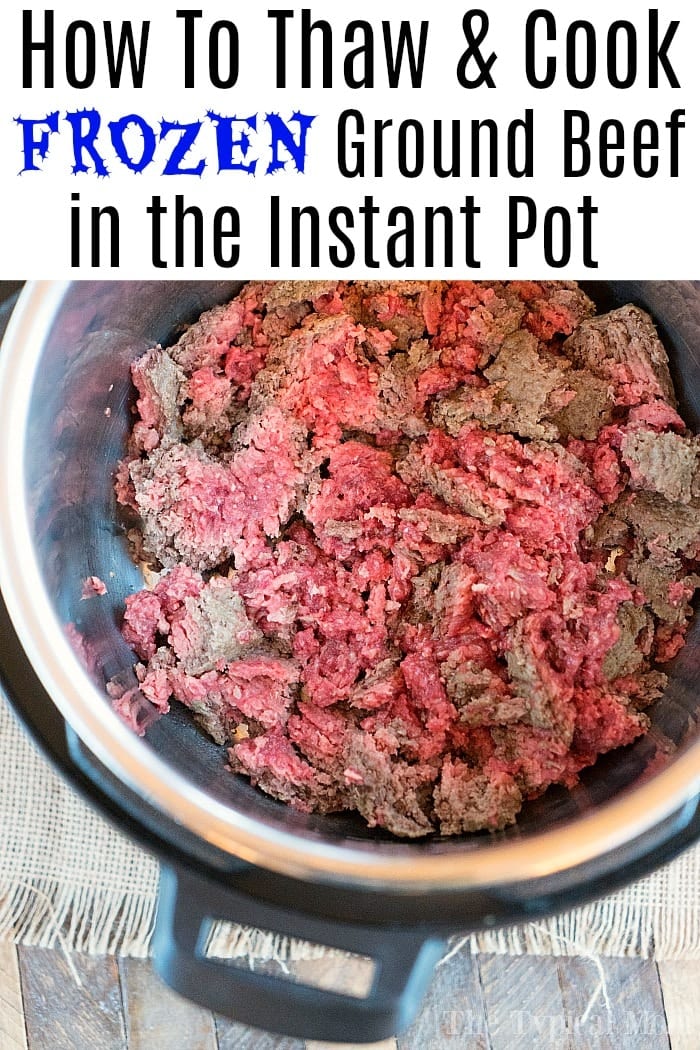 That is great if you want to use it in a recipe like Instant Pot chili or a hamburger casserole for dinner.
What if you have frozen hamburger patties though? Is it possible to essentially steam them so you can have burgers for dinner too? Totally!! You'll want a large trivet or vegetable steamer basket to keep it out of the water below.
Directions for Instant Pot hamburgers either fresh or frozen are here. They're great with a side of mashed potatoes or air fryer chips!
Instant Pot Frozen Pork Recipes
Any cubed meat that has been in the freezer, but broken up could be cooked in a pressure cooker. The general rule I follow is to add a few minutes to the original InstaPot recipe.
The one thing I cook fairly regularly are Instant Pot frozen pork chops as well as frozen pork loin in Instant Pot.
2 lbs. is the size I like for us. You just have to make sure before you throw it in the freezer that it's shaped in a way where it will fit inside your pot. If you want to make shredded pork I would opt for this frozen pork butt Instant Pot recipe instead. It makes more and becomes fork tender when done.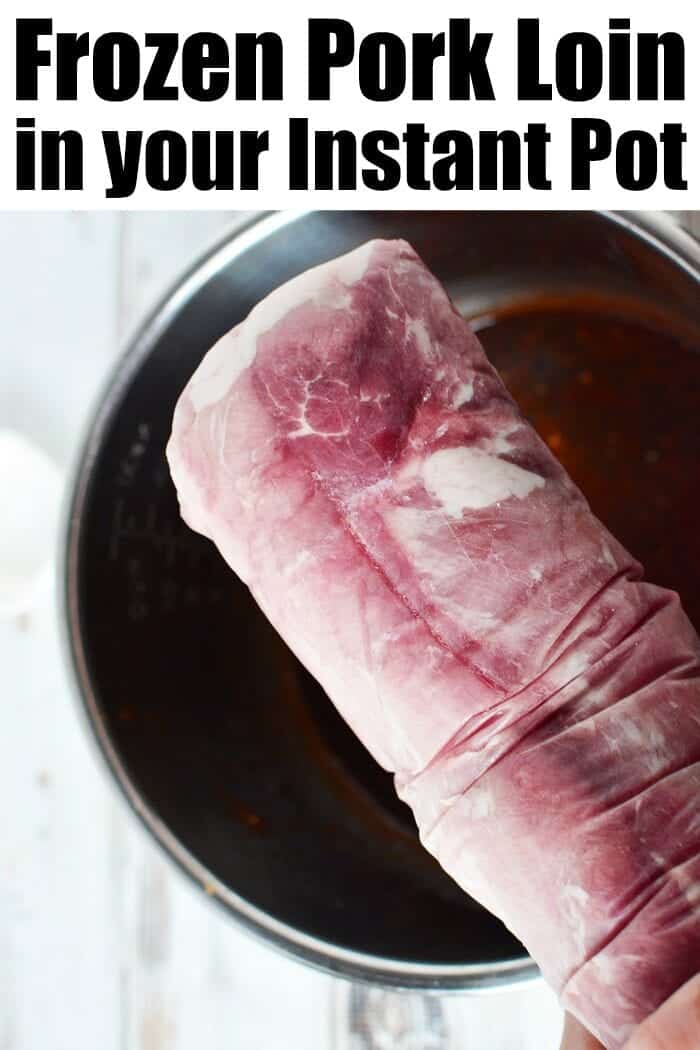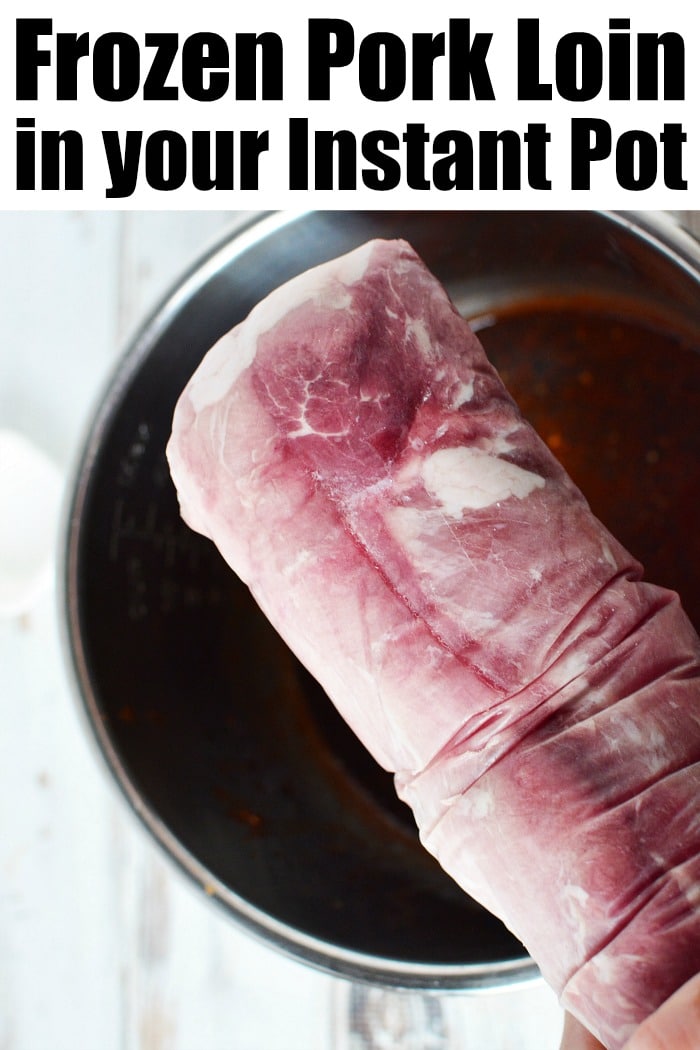 That's right, this too comes out tender even though it started as a rock hard piece of meat. The biggest tip is to make sure you allow the steam to naturally release, this will help keep it soft.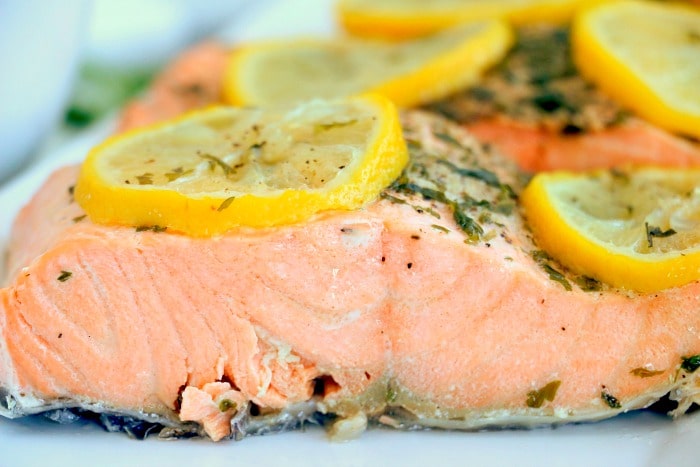 We love fish at our house so anything that comes out of the sea is a winner here. Yes I do forget to take it out so if I can cook seafood straight from the freezer, I love it!
One exception to the rule that frozen takes longer is our Instant Pot shrimp. It doesn't really matter whether they're fresh or rock hard, more than 1 minute is too much. Sounds crazy but they cook that fast.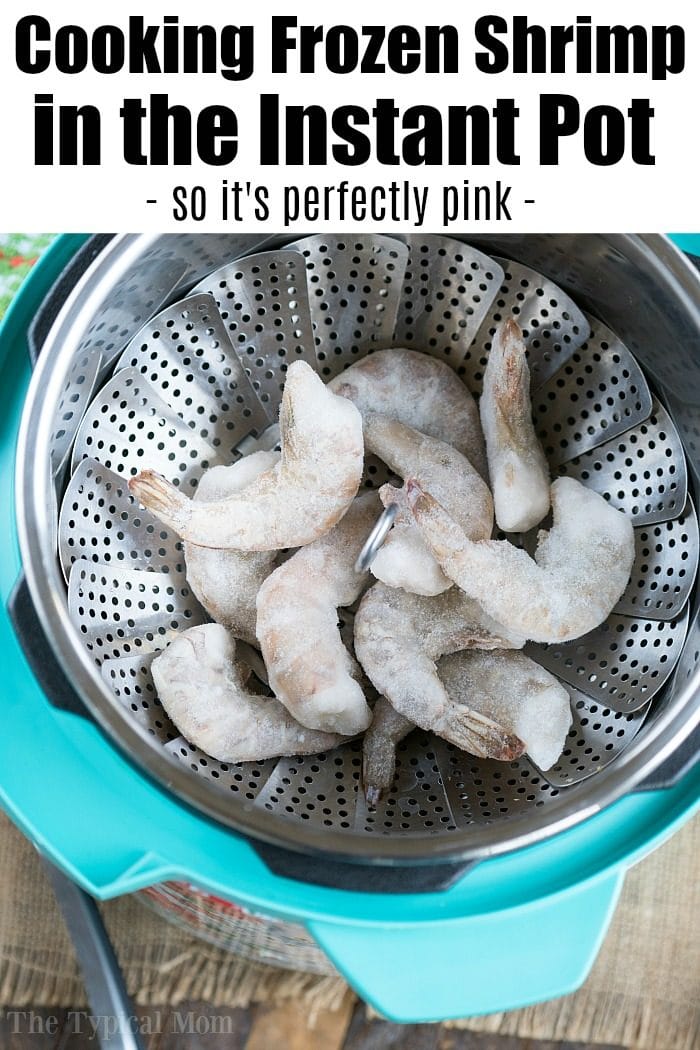 Cooking Frozen Turkey in Instant Pot
For instance, if you wanted to make pressure cooker beef stew it shouldn't an issue using stew meat. That is already cut up into smaller pieces which will help make it tender and cook thru quickly.
Just break the pieces up if they're frozen into one large mound. Add other ingredients with your liquid and increase time from 15 minutes to about 20.
Especially for beef the longer you cook it using this method the more tender it will get so no worries.
Last but definitely not least we're sharing how to cook an Instant Pot frozen turkey breast today too! Great year round, not just for Thanksgiving y'all.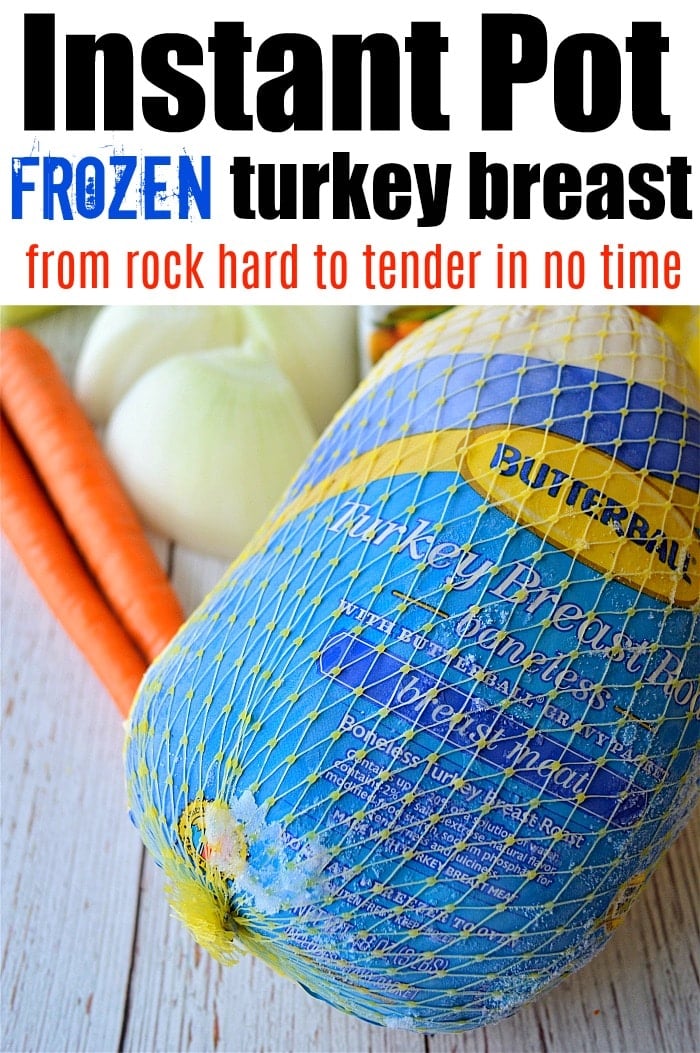 NOW, if you have the CrispLid here are the best frozen foods for air fryer. This is a game changer y'all. From after school snacks to crispy frozen french fries and frozen shrimp in air fryer. I LOVE this new device of mine.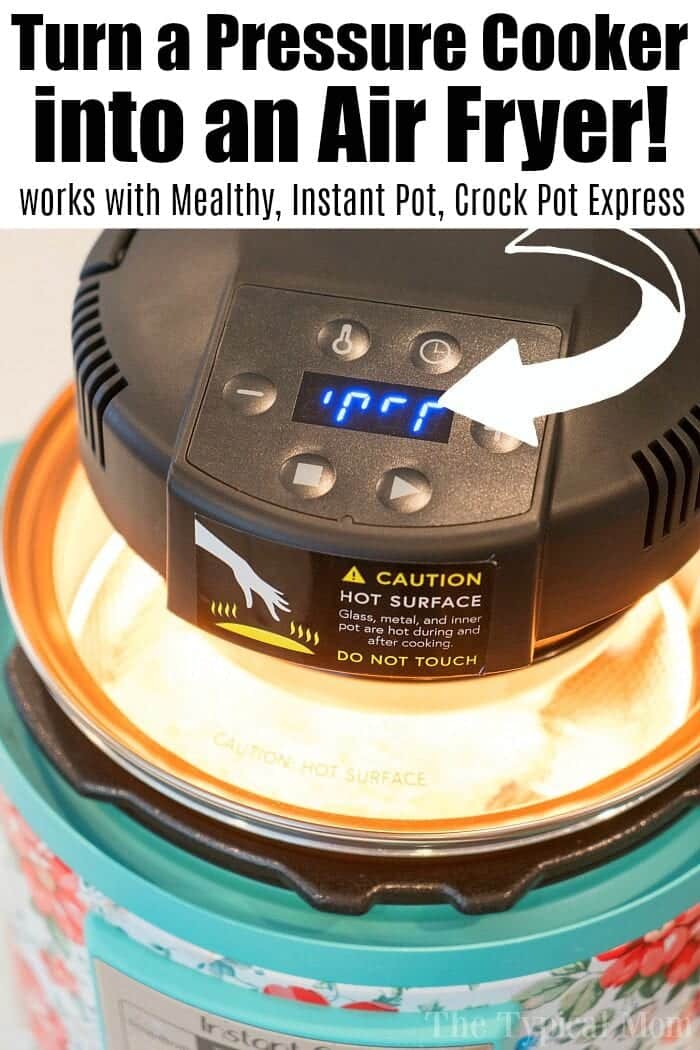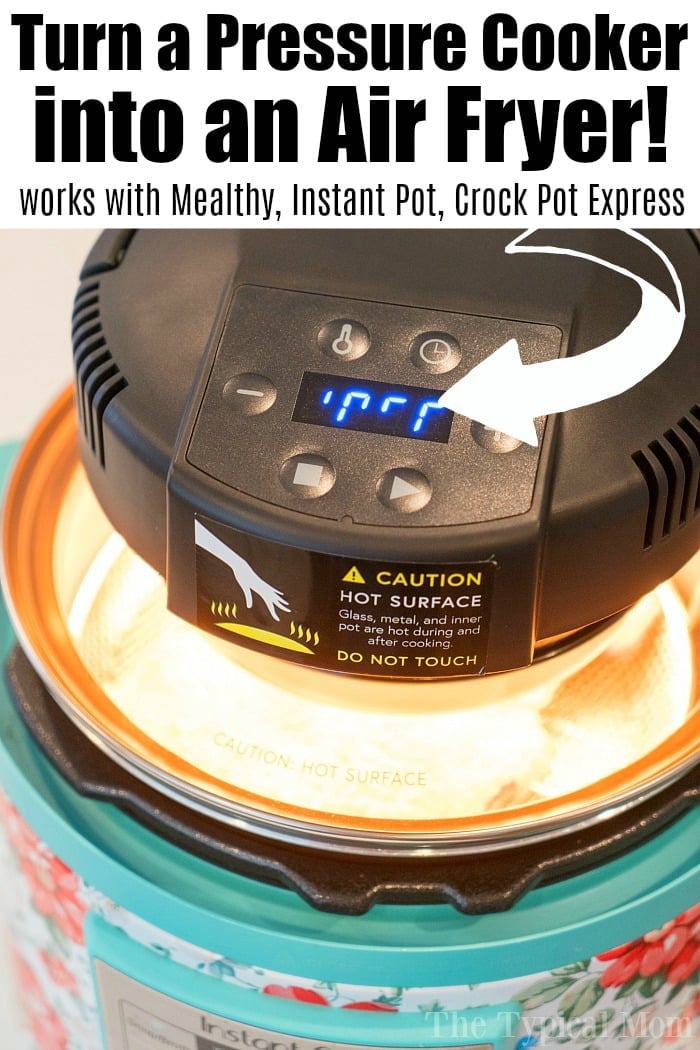 Let me elaborate on my opinion of this versus buying a separate electric air fryer though. I do have strong opinions on this after having both options for some time now.
I really do recommend you get a separate appliance.
Even after having a Ninja Foodi, I will like a pressure cooker and another piece of equipment that only air fries.

I just think that they each do something great on their own.
Combining the two is great for space but if you want really crispy crunchy foods I prefer both.
Cooking frozen food actually turns out better than you might initially think. If you haven't tried it in either machine I would give it a whirl for sure. Let us know what you think!
Want to see a few of my favorite things that I am totally obsessed with?? Take a peek and see how many you might already have…twinsies!
Looking for more easy family recipes and tips? LIKE The Typical Mom Facebook page?
Then sign up for my free newsletter, and follow me on Pinterest! 😉
***** If you LOVED this recipe give it 5 Stars below and let everyone know what you thought about it. 😉