Instant Pot frozen chicken breast with sauce turns out tender and juicy every time. A protein packed barbecue dinner done in less than 30 min.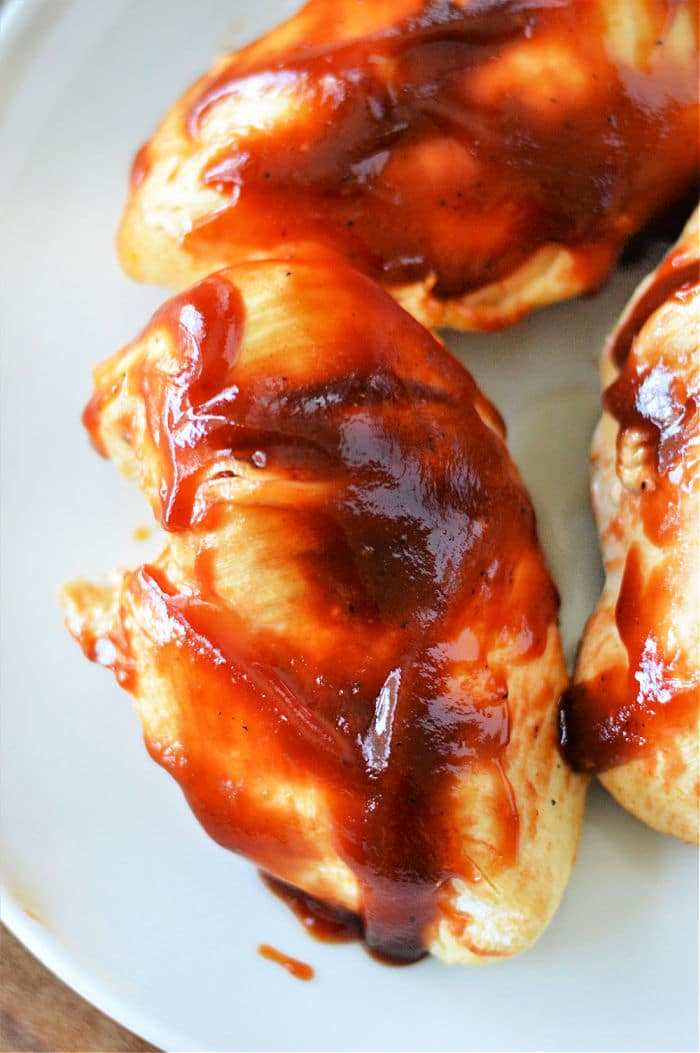 You may be forgetful, like me, and need Instant Pot frozen chicken breast with sauce instructions. You'd never know they were rock hard less than an hour before which means dinner is saved! Just one of many easy and quick Instant Pot recipes on our blog. (originally published 10/21, affiliate links present)
Instant Pot Frozen Chicken Breasts
I always have a bag of these babies at home in the deep freezer. It's a cheap and nutritious meal you can pop in quickly and enjoy. Yes it is best to defrost them ahead of time but I don't always have it together to remember.
You can cook frozen chicken in the Instant Pot so it comes out shredded, then you toss with some barbecue sauce. I don't always want it that style though. If you want them tender and juicy with every slice, follow the recipe below.
FIRST – You should sign up for my free newsletter so you get new posts emailed to you twice a week and never miss out on anything! Now let's start with a few basic tips:
Make sure to Bookmark our InstaPot recipes page. We add new ones each week!
Then PRINT this —–> Instant Pot cooking times cheat sheet that will help you understand how long meat, vegetables and beans take to cook in your pressure cooker.
For reference, this is the pressure cooker I have (a 6 quart) and use for all recipe creations.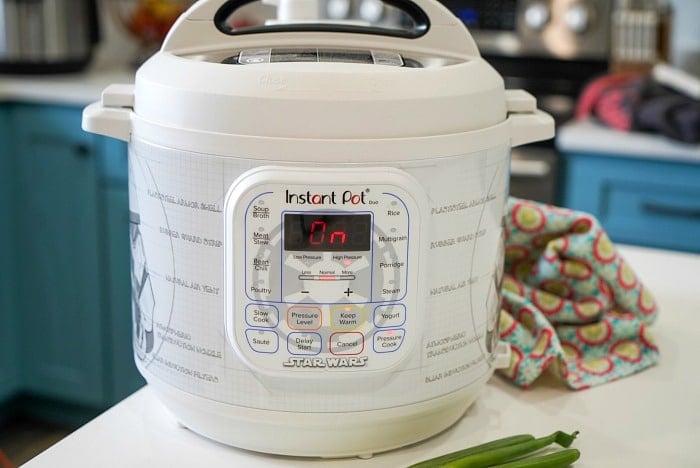 Frozen Chicken Breast in Pressure Cooker
Yes you can use any brand of pot you might have at home. Want to use your Ninja Foodi instead? You can actually air fry the top to get it a bit crispy at the end if you do. Alternatively with this you could use our directions for air fryer frozen chicken breasts as well. They both turn out amazingly well.
Mealthy, Crockpot Express, they all work the same y'all with high pressure and a natural release. Why is the last part important? It's a must so it stays moist in the middle. If you don't the juices will seep out in the quick release and the meat will be more dry for sure.
You can use chicken broth or water but the first obviously has more flavor to it. Season with your choice but salt and pepper is a must. I love Old Bay on just about everything too. Use what you like on top y'all, I always say that.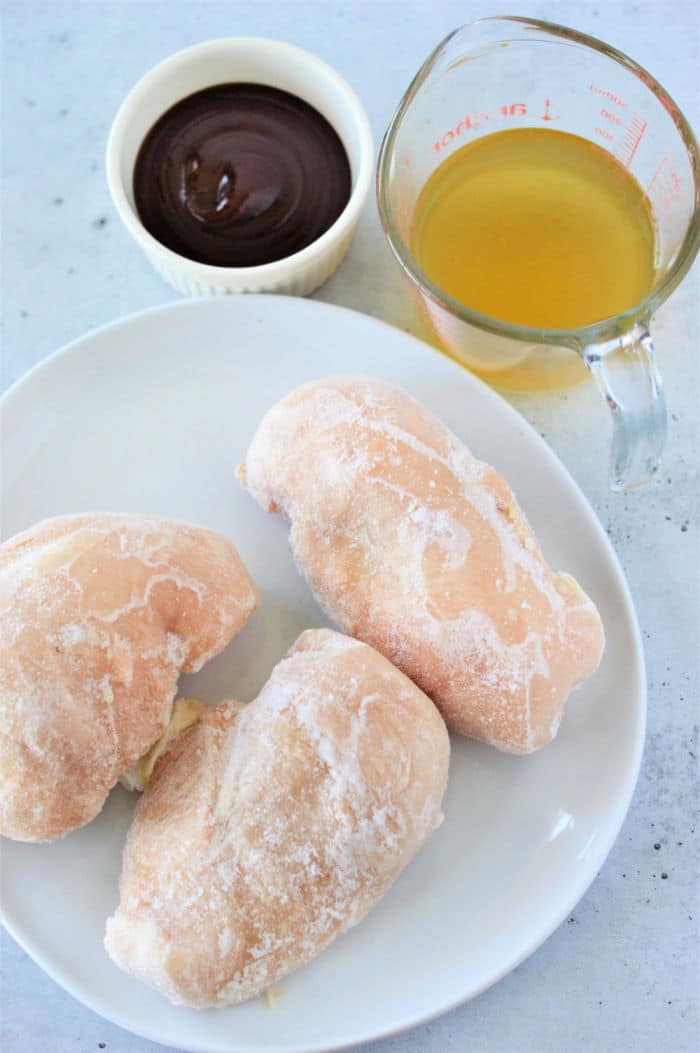 Ninja Foodi Frozen Chicken
I always recommend buying medium size pieces. You're more likely to get a bag full of this size if you buy organic. They are smaller but honestly taste better and have a better texture too. If you like to buy fresh and freeze on your own that works just as well too. Use freezer bags so they last as long as possible without freezer burn.
Frozen medium size chicken breasts

if you have smaller pieces follow our frozen chicken tenders Instant Pot timing

Your favorite bbq sauce
Broth or water for the liquid so they steam in your pot
Salt and pepper to taste
You'll want a trivet with handles too
Usually we serve this with Jasmine rice in Instant Pot on the side and some acorn squash too. I mean anything goes really with this, or just enjoy it plain as a keto dinner. You can have the whole shebang done in about 40 minutes flat with prep, cooking and seasoning at the end.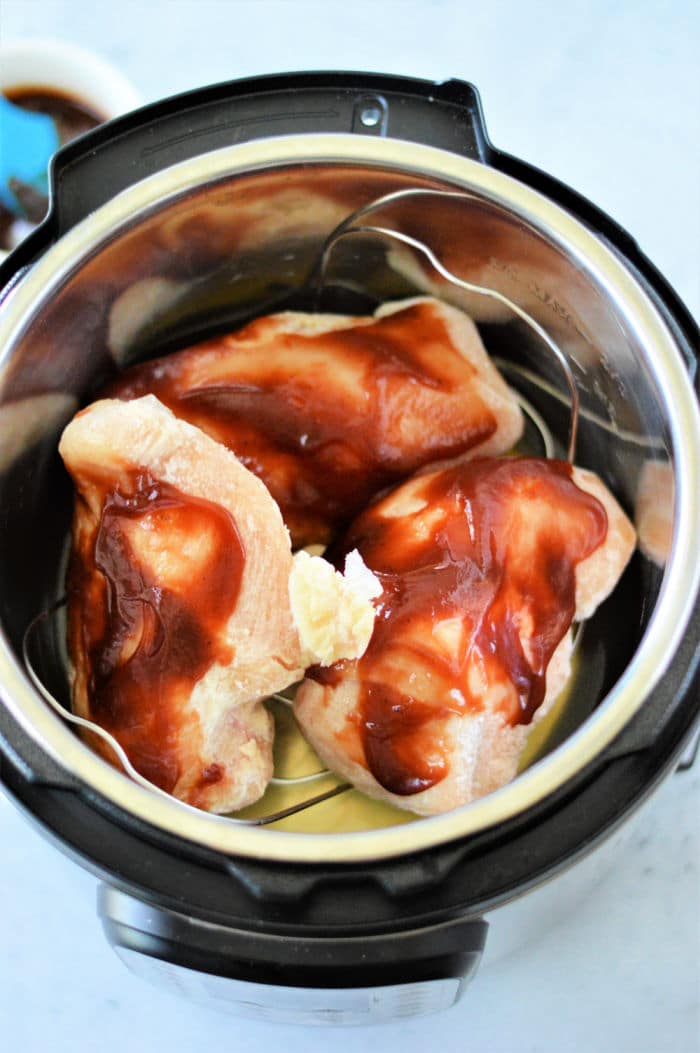 Frozen Chicken Breasts with Sauce
Just one of the quick and easy chicken recipes we eat probably a few times a week. You can vary it up with different sauces of your choice. Teriyaki or hot sauce are other choices. That way you can make this more often than not and not get bored at all.
Does frozen chicken take longer in Instant Pot?
The only real difference in time is how long it takes to come to pressure initially. Beyond that the only variation in cook time would be depending on how thick your pieces are. I always recommend purchasing medium sizes vs. very thick that can dry out on the outer edges by the time the inside is safely cooked.
Ninja Foodi Chicken Breast with Sauce
Pour your chicken broth or water into the pot and lower down your trivet or vegetable steamer.
Put frozen breasts on the Instant Pot trivet and pour 1/2 of your sauce on the top of each one. Can sprinkle salt and pepper on sauce too for seasonings.
Close the lid and steam valve and set to manual high pressure cooking for 17 minutes for medium sized, or 20 minutes for thick pieces.
Allow remaining pressure to release naturally. This takes about 12 minutes to 15 minutes depending on how much is inside. Remove meat and spoon on remaining sauce on top of each one. Slice and serve.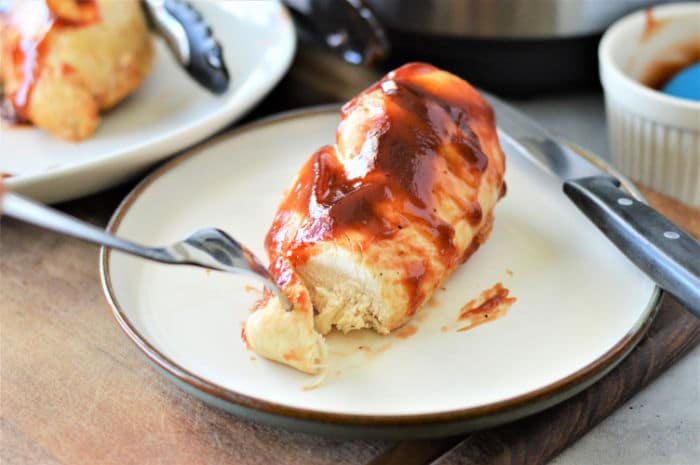 Using steam essentially to cook the chicken this way keeps it incredibly moist as you can see here. Add as much or as little sauce as you'd like. I personally pile it on and with kids it is fun to serve with little cups full of all different ones. You can offer up some Ranch, buffalo sauce, fry sauce, ketchup, etc…
That makes dinner time a bit more fun with choices right? Cut them up into bite size pieces with your little cups and I assure you they will ask for "chicken dunkers" again and again.
What can I add to chicken breast for flavor?
I mean there are thousands of seasonings out there to choose from. You can buy an already blended mix with heat, something with a lemon hint, and dry rub is popular if your pieces were thawed. If frozen that won't really stick well. A few other popular choices are to add;
Soak for a few hours in this lemon pepper marinade
Mix garlic, soy sauce and hoisin together and brush that on
Add a squeeze of lime
Want to cook Instant Pot frozen chicken legs too? Do it!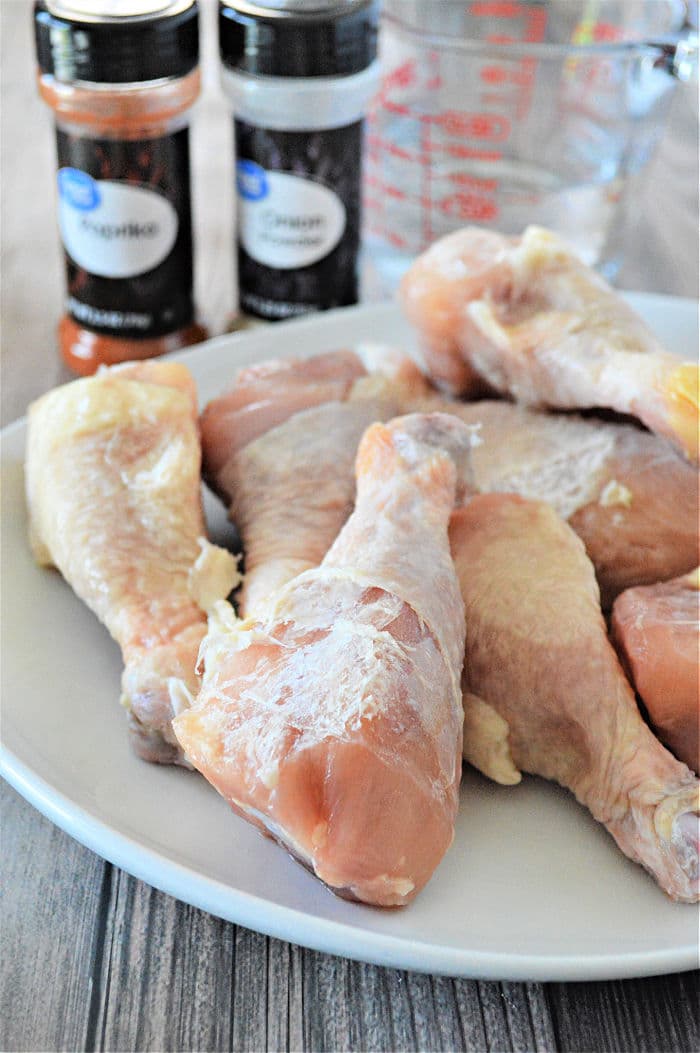 What should I serve with chicken breast?
I haven't made anything that didn't go well with these. You can go healthy with broccoli and brown rice or give the kids what they want with some macaroni and cheese. If you want something with no prep I often times will buy one of those ready made bagged salads at the store. Paired with some baked rolls in the bakery section and done.
Saving leftover chicken: You always want to make sure you store inside airtight bags, or containers. Suck all the air out so it doesn't dry out at all while being stored in the refrigerator. When you reheat it later on I would slice it in half lengthwise. This way it will heat up evenly without dry it out.
Brush more sauce over the top liberally and microwave for about 1 minute or warmed all the way to the middle. You can dice it up and toss it with sauce too and that will take less time. Add it into some fried rice for a heartier meal the next day. Then you get two meals for the price of one essentially.
Want to see a few of my favorite things that I am totally obsessed with?? Take a peek and see how many you might already have…twinsies!
Looking for more easy family recipes and tips? LIKE The Typical Mom Facebook page?
Then sign up for my free newsletter, and follow me on Pinterest! 😉
***** If you LOVED this recipe give it 5 Stars below and let everyone know what you thought about it. 😉
Instant Pot Frozen Chicken Breast with Sauce
Instant Pot frozen chicken breast with sauce turns out tender and juicy every time. A protein packed barbecue dinner done in less than 30 min.
Instructions
Pour broth or water into pot and lower down a trivet. You could put into broth directly but it will break down more this way, for shredded chicken.

Put frozen breasts into trivet and pour or brush 1/2 of your sauce on the top of each one. Can sprinkle salt and pepper on sauce too.

Seal the lid and steam valve and set to high pressure for 17 minutes for medium sized, or 20 minutes for thick.

Allow pressure to release naturally for 15 minutes. Remove meat and spoon on remaining sauce on top of each one. Slice and serve.
Nutrition Facts
Instant Pot Frozen Chicken Breast with Sauce
Amount Per Serving (2 oz)
Calories 340
Calories from Fat 45
% Daily Value*
Fat 5g8%
Cholesterol 96mg32%
Sodium 1441mg63%
Potassium 841mg24%
Carbohydrates 39g13%
Protein 33g66%
Vitamin A 260IU5%
Vitamin C 8mg10%
Calcium 44mg4%
Iron 1mg6%
* Percent Daily Values are based on a 2000 calorie diet.